Years ago, a friend of mine made zucchini fries as an appetizer before our dinner – I'd never had them served this way! She did them in the oven and I've always remembered how tasty they were!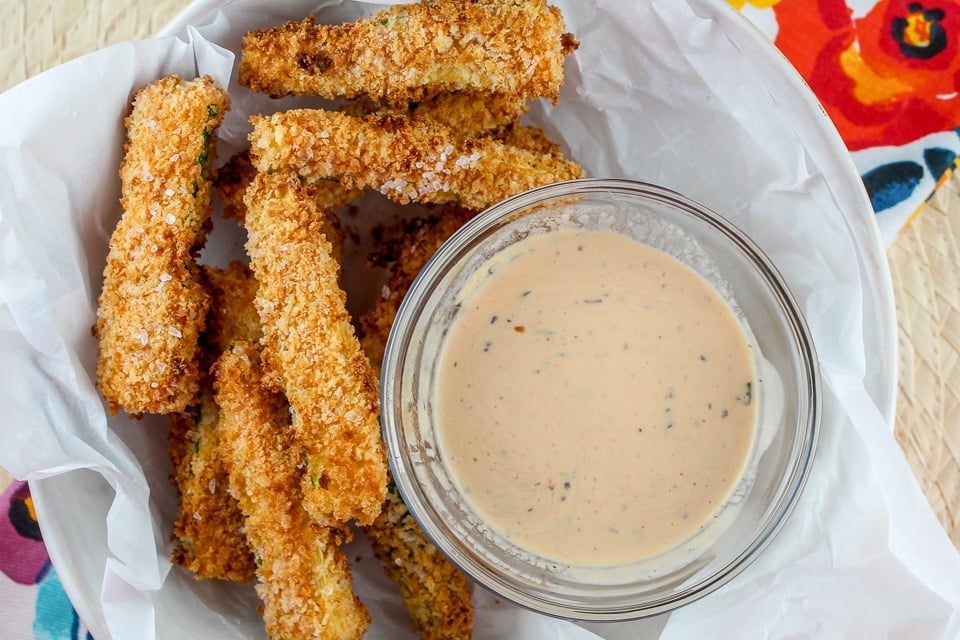 Now that I'm air fryer obsessed – I knew I had to resurrect this idea and make air fryer zucchini fries! They're crispy and so easy to make! It's like the perfect little crunchy side dish or appetizer!
How do you make zucchini fries in the air fryer?
It couldn't be easier! Cut your zucchini into wedges, bread with flour, egg/hot sauce and panko bread crumbs and into the air fryer they go!
(And wow – aren't my nails awesome!?! I'm obsessed with my nail tech Rhonda – if you're in Cinci – message me for her info!)
Are zucchini fries good?
Unbelievably good! They're crunchy, juicy, spicy and delicious! This truly is the only way to eat zucchini! And think about it – so cheap too! I mean – a zucchini is all of 79 cents! And you're getting fresh veggies! The kids will eat these up!! You'll never have to fight with them again to eat their vegetables. 🙂 #win
What to serve with air fryer zucchini fries?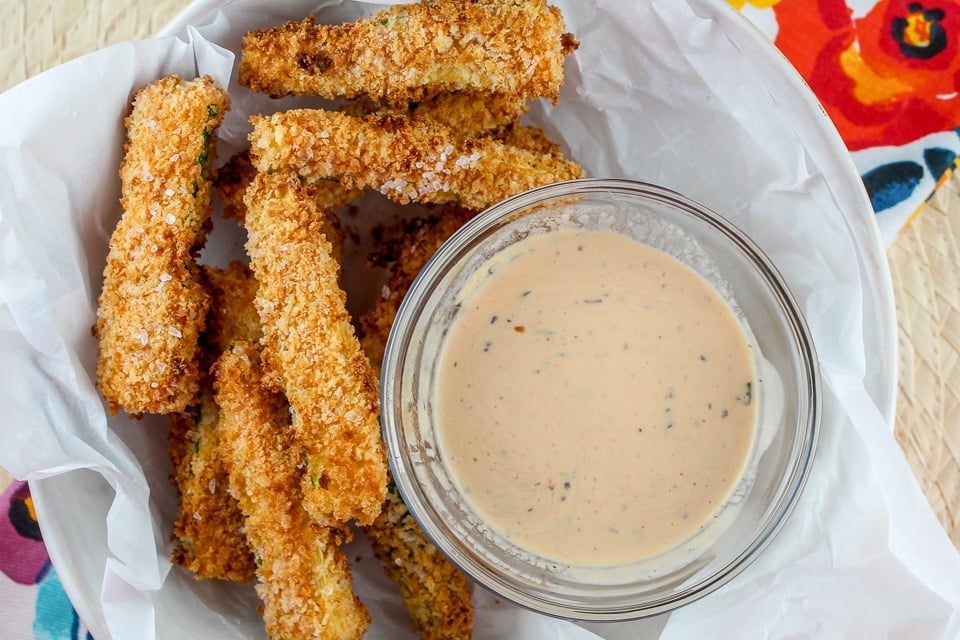 Air Fryer Spicy Zucchini Fries
prep time: 5 M
cook time: 8 M
total time: 13 M
Zucchini fries are such a delicious side dish to serve with any meal! You'll be amazed at how crunchy and delicious they are. These zucchini fries are also really easy to make. #zucchinifries #airfryer
instructions:
How to cook Air Fryer Spicy Zucchini Fries
Slice zucchini in half – then in half lengthwise – then slice each 1/4 into 4 wedges – you'll have 16 wedges when you're done
Place wing breading on a plate and panko crumbs on another plate.
In a bowl beat eggs and add Franks Red Hot Sauce – the more you add, the spicier it will be – leave it out if you don't want to add any spice
Coat zucchini in wing breading
Transfer with fork to egg mixture and toss in egg and be sure to roll it around multiple times to coat all breading flour
Transfer with fork to panko and coat all sides with panko
Place wedges in air fryer and spritz with olive oil spray (or non-stick cooking spray)
Air fry at 400 for 4 minutes
Flip all wedges and air fry for additional 4 minutes
Place wedges in bowl and squeeze juice from half lime over wedges and sprinkle with coarse sea salt.
Serve with dipping sauce (or spicy ranch!)
NOTES:
– You can use regular flour instead of Hooters Wing Breading if you like
– You can leave out the hot sauce if you don't want to have any spice
– You can use any sort of ranch dressing for the dip as well if you don't want to make one – or even salsa!
– You can swap with regular breadcrumbs but I think Panko are much crunchier
Recommended Products:
Phillips XXL Air Fryer
Olive Oil Sprayer
Hooters Wing Breading