What are Cherries in the Snow? It's pretty much a super easy no-bake cherry cheesecake with a graham cracker crust. You are going to LOVE IT!! I have literally been craving it ever since I made it!!!!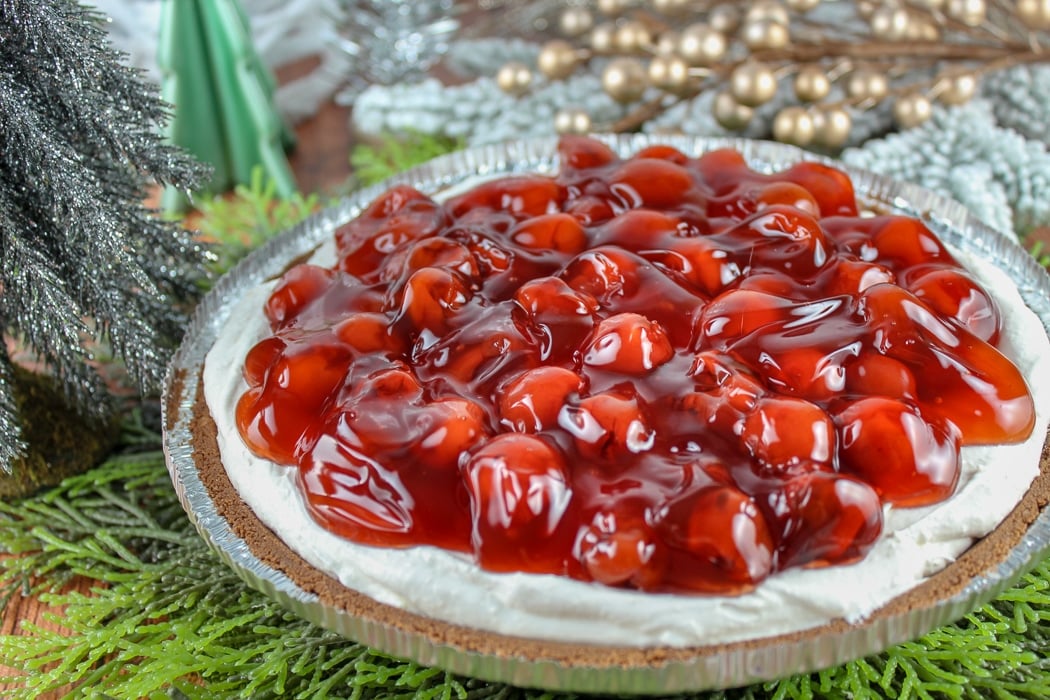 My nail tech Rhonda has become a close friend and we talk about EVERYTHING. Around the holidays, she mentioned some recipes she was going to make and it took me about 2.5 seconds to beg for the recipes – especially this one!
What is Cherries in the Snow?
Truly – it's a no bake cherry cheesecake. But I choose to think of it as a pie tin of heaven. Seriously – I promised my neighbors that I would take half the pie to them. I do my best to not eat every bite of everything I make – I want to still fit through the door! But let me tell you – after my first bite – I was regretting my generosity!
How do you make Cherries in the Snow?
It's super simple – you mix together cool whip, cream cheese, powdered sugar and vanilla – pour it in the crust and top it with a can of cherry pie filling.
The thing I like is that
you can change it up to what you like! I used a chocolate cookie crust – but you could use a regular graham cracker crust or even a pecan crust. I used cool whip – but you could use dream whip. I used cherry pie filling but who says you can't have blueberries in the snow with blueberry pie filling?!
Just be sure you keep the cream cheese and powdered sugar in there – those are must have ingredients! This dish is also egg-free!
This dessert is heavenly! I enjoyed every bite of the half of the pie that I kept for sure! If you're looking for other egg-free desserts – you could try these peanut butter & chocolate cheesecake bites, my Mom's famous peach cobbler or even some slow cooker cinnamon sugar pecans (you won't want to share those either)!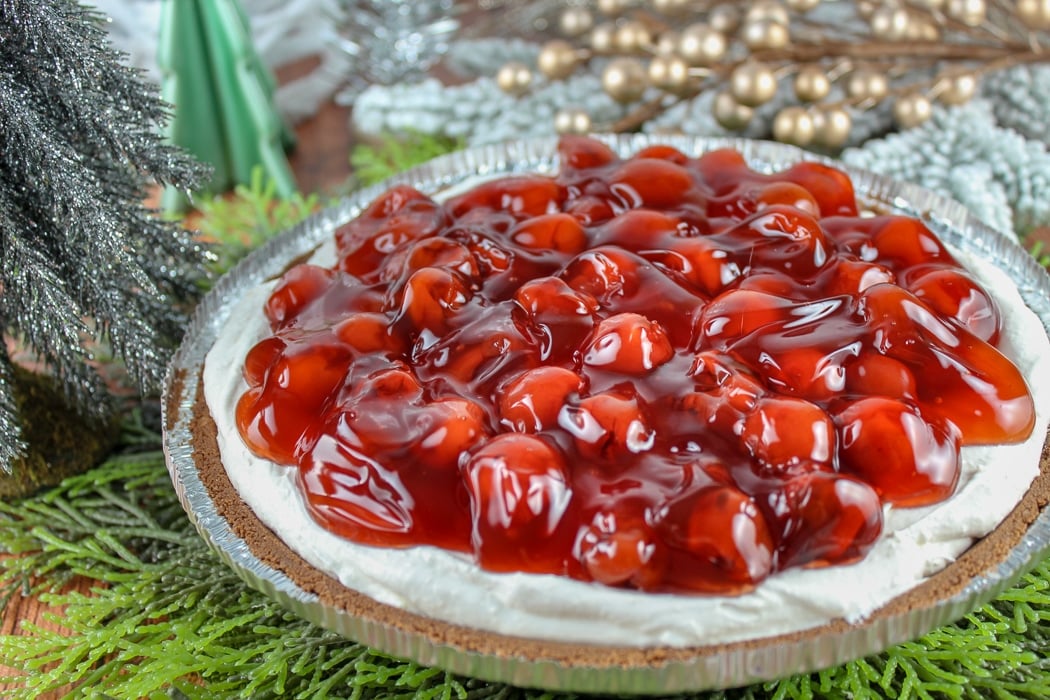 Cherries in the Snow (aka The Best & Easiest No Bake Cherry Cheesecake EVER!)
prep time: 10 M
cook time: 4 hour
total time: 4 H & 10 M
My nail lady is the best and now I love her even more because she gave me this recipe. It's a family recipe and I now CRAVE this no bake cherry cheesecake! Cherries in the Snow is amazing!!!!
ingredients:
1 chocolate cookie pie crust (or graham cracker)
1 1/2 cups powdered sugar
8 oz cool whip
8 oz cream cheese
1 tsp vanilla extract
1 can cherry pie filling
instructions:
How to cook Cherries in the Snow (aka The Best & Easiest No Bake Cherry Cheesecake EVER!)
in a large bowl, using a hand mixer, blend powdered sugar, cool whip, cream cheese and vanilla
fill pie crust
top with cherries
chill 5 hours – if you want super clean slices, freeze for an hour before you put on cherries
Recommended Products:
Chocolate Pie Crust
Pie Slicer
Fancy Cherry Pie Filling
Did you make this recipe?
Tag
@foodhussy
on instagram and hashtag it #foodhussyrecipe