Applebee's new Irresist-a-Bowls are tasty – but even better at home! I headed out to try their new bowls last week and came home and made the Crispy Orange Chicken Bowl right away – it's so good!!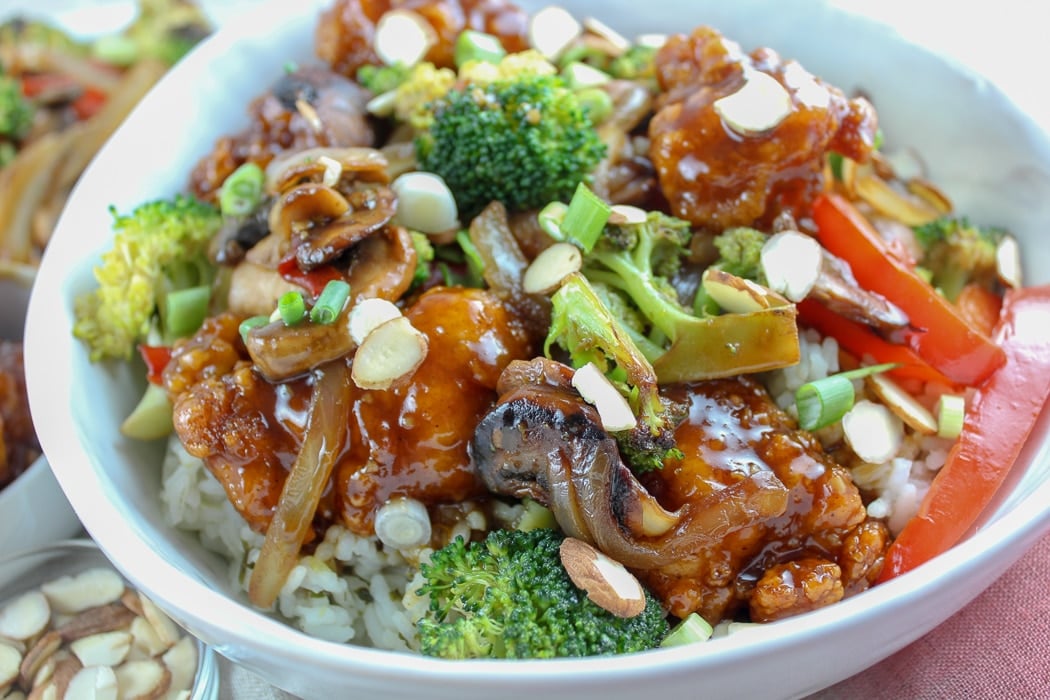 This Crispy Orange Chicken Bowl has Breaded chicken tossed in a tangy orange sauce, served over fresh stir-fried veggies and cilantro rice. Then you top it with toasted almonds and green onions. So good!
Applebee's newest special are their Irresist-a-bowls! We tried their Southwest Lime-Grilled Chicken Bowl and the Crispy Orange Chicken Bowl. They were both VERY GOOD!


The Southwest Chicken bowl has all of my favorite toppings and is served on greens and cilantro rice so there's a lot of good stuff in there. The Applebee's Crispy Orange Chicken bowl is served on cilantro lime rice (which is so easy to make) and has loads of vegetables and tender chicken.


I really liked both of these and would definitely get them again – but I might just make them at home instead!



I knew I had to make a Copycat of the Applebee's Crispy Orange Chicken Bowl! It's so good – with all those veggies. I wondered about the orange sauce but I was shocked at how EASY it was to make!! This recipe has a few moving parts but was on the table in less than 30 minutes!!



How do you make Applebee's Crispy Orange Chicken?
Applebee's Crispy Orange Chicken Bowl is pretty quick – but you have to juggle a few things at once. First you want to get your chicken baking/air frying and your rice cooking! Here is where I saved a lot of time!!
To save time, I used a bag of breaded chicken bites and popped them in my air fryer for 10 minutes – boom done! While the chicken is cooking – pop your rice in the microwave – I used Minute Rice – 6 minutes in the microwave!
While the rice and chicken are going – saute the vegetables in one pan and make your zingy orange sauce in the other! For the orange sauce – it calls for a dash of cayenne – now I'm not one for spicy things but do not skip the cayenne! You need a little bite – you'll love it!!
After everything is cooked – you layer it all together. Making the cilantro lime rice is so easy – I squeezed the juice of one lime into the rice and threw in cilantro. I buy that Cilantro in a tube – so I always have it on hand. There you have Cilantro Lime Rice!



If you're looking for other great copycat bowl recipes – I have a few! Panera has their Warm Grain Bowls and I made both – the Mediterranean Warm Grain Bowl is my favorite because I love all things Greek-inspired! Their Baja Grain bowl is very similar to the Southwest Chicken bowl that Applebee's has – you'll love it! I also have a copycat of the Panera Broth Bowl!


Bowl it up and enjoy!!!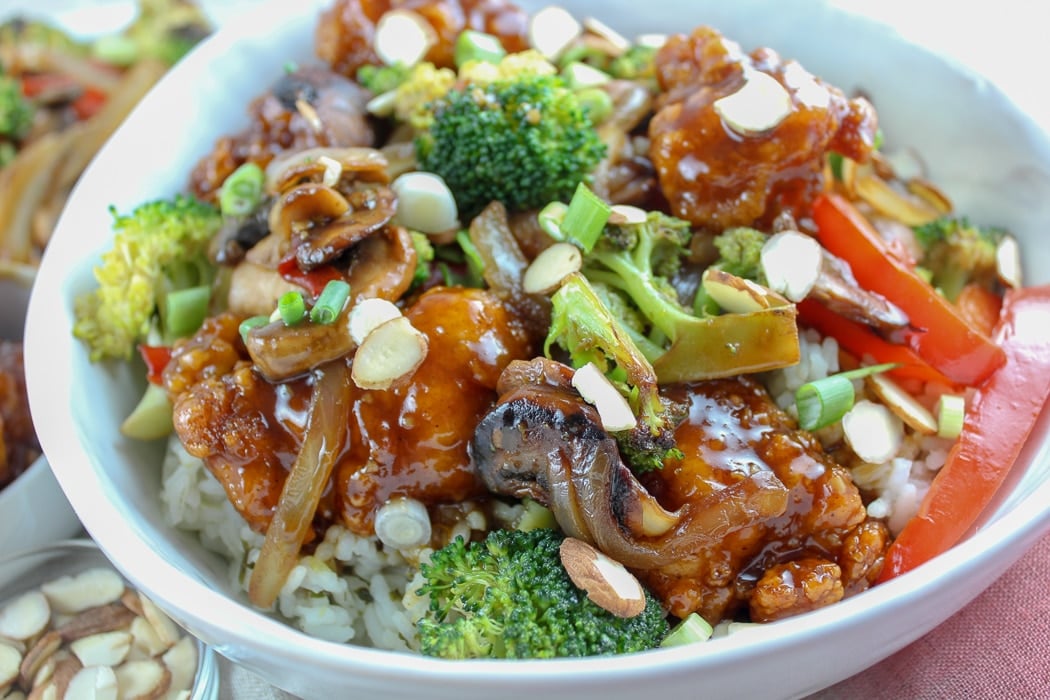 Copycat Applebee's Crispy Orange Chicken Bowl
prep time: 15 M
cook time: 15 M
total time: 30 M
Breaded pieces of tender boneless chicken breast tossed in a sweet and tangy orange sauce, served over fresh stir-fried veggies and cilantro rice. Topped with green onions and toasted almonds.
ingredients:
1/2 bag frozen breaded chicken bites
2 tbsp oil (peanut, olive or vegetable oil)
2 cups sliced mixed vegetables – 1/2 crown broccoli, 1/2 red pepper, 1/2 onion, 4 oz mushrooms
2 tbsp olive oil
1 teaspoon minced garlic.
1 1/2 teaspoons grated orange rind.
1 cup orange juice.
1/2 cup hoisin sauce.
Dash cayenne pepper.
1/4 cup granulated sugar.
2 cups cooked rice
juice from 1 lime
3/4 cup cilantro, stems removed and roughly chopped

or use the Cilantro in a tube – about 2 Tbsp

2-3 green onions, diced
Toasted sliced almonds
instructions:
How to cook Copycat Applebee's Crispy Orange Chicken Bowl
Prepare chicken bites according to package directions –

16-20 min in oven at 400
10 min in air fryer at 400

Prepare Rice according to package directions

I used minute rice – 1 cup rice, 1 cup water, 6 min in microwave

In a wok-style skillet, heat oil. Once oil is hot – add vegetables and stir fry for 5-7 minutes
At the same time in a separate skillet – turn heat to medium and add two tbsp olive oil
Once second skillet is warmed (not on high – like a 6-7 of 10) – Add garlic and sauce for for 1 minute (if the oil is too hot the garlic will burn).
Add orange rind, orange juice, hoisin, cayenne and sugar and bring to boil. Allow to boil for 3 minutes, stirring constantly. Reduce heat and simmer until sauce thickens to your liking, stirring frequently.
After rice is ready – add lime juice and cilantro and toss
In a mixing bowl, add hot chicken – pour thickened sauce over chicken and toss to coat
In serving bowls, place 1 cup rice in each bowl. Top with orange chicken and vegetables. Sprinkle with green onions and sliced almonds
Recommended Products:
Hoisin Sauce
Stir Fry Pan
Serving Bowls
Did you make this recipe?
Tag
@foodhussy
on instagram and hashtag it #foodhussyrecipe