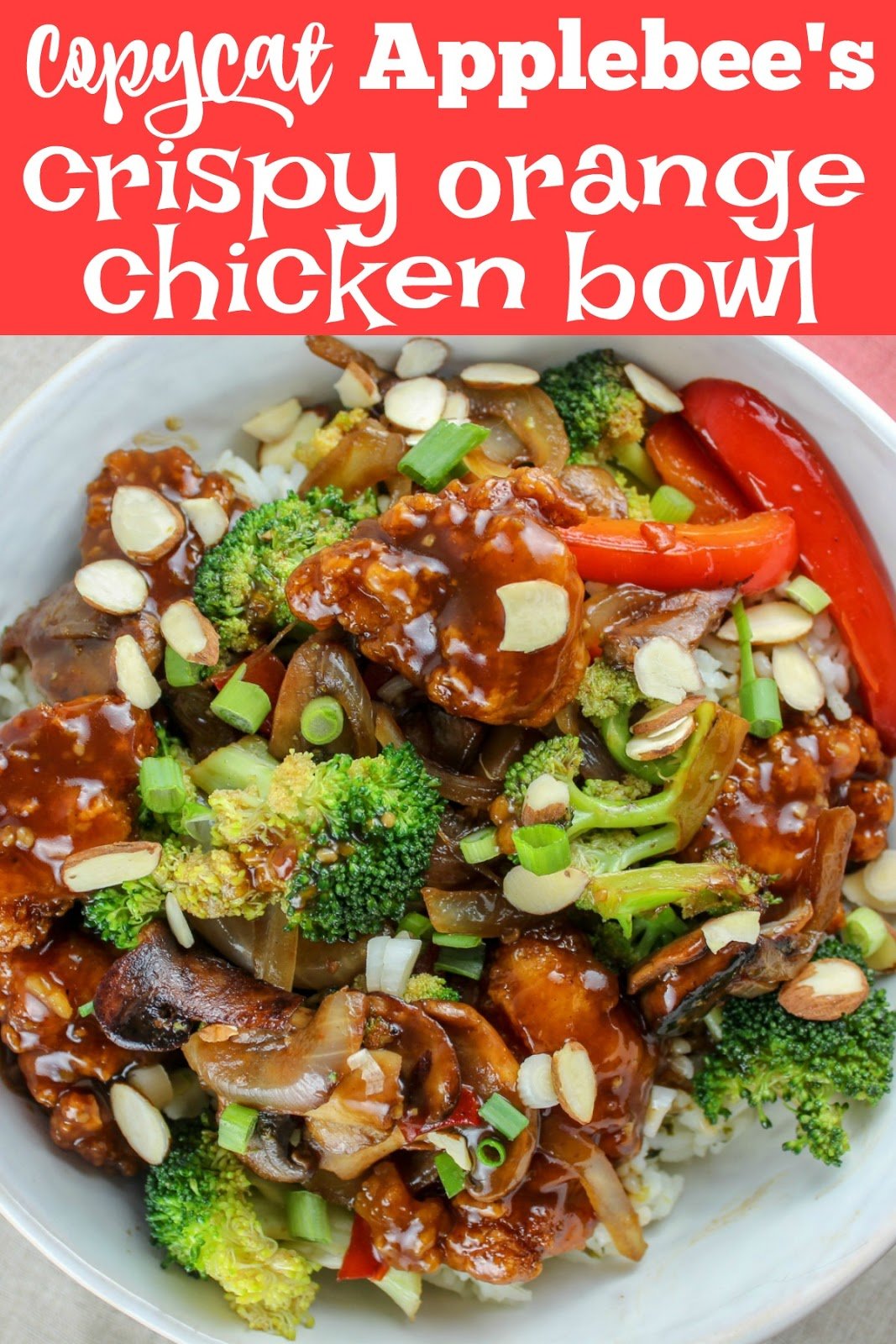 Applebee's Irresist-a-Bowls are tasty – but even better at home! I tried their new bowls and immediately came home and made the Crispy Orange Chicken Bowl – it's so good!!
Jump to Recipe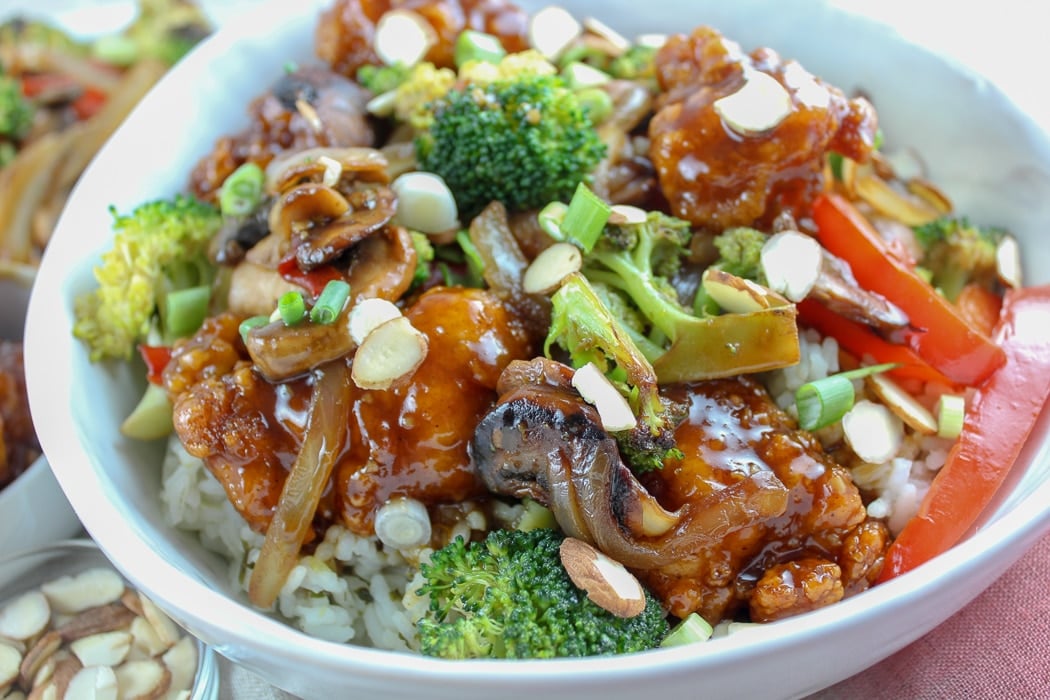 This Crispy Orange Chicken Bowl is a big bowl – it's full of breaded chicken tossed in a tangy orange sauce, served over an array of stir-fry vegetables and cilantro rice. Then you top it with toasted almonds and green onions. So good!
Applebee's newest specials are their Irresist-a-bowls – they all have these delicious flavor combinations! We tried their Southwest Lime-Grilled Chicken Bowl and the Crispy Orange Chicken Bowl. They were both VERY GOOD! (The Crispy Orange Bowl was only available for a limited time! Now they have a Tex-Mex Shrimp Bowl I might need to check out.)
The Southwest Chicken bowl has all of my favorite toppings like pico de gallo and tortilla strips served on greens and cilantro rice – so there's a lot of good stuff in there!! The Applebee's Crispy Orange Chicken bowl is served on cilantro lime rice (which is so easy to make) and has loads of vegetables and tender chicken.
Crispy Orange Chicken Bowl Ingredients
frozen breaded chicken bites

if you want to be a little healthier you could use grilled chicken chunks
if you want to use chicken fingers – just chop them into more bite-sized pieces after cooking

oil – peanut, olive, vegetable – any will do
mixed vegetables – broccoli, red peppers, onion, mushrooms – you can use fresh or frozen bagged
orange – you'll need zest & juice
hoisin sauce – there are some substitutions (bean paste, bbq molasses) but it's not that expensive and very handy so I recommend purchasing a bottle
cayenne pepper

you can add red pepper flakes if you like an even MORE spicy orange sauce

white sugar
cooked rice
lime
cilantro
green onions or scallions
toasted sliced almonds
I knew I had to make a Copycat of the Applebee's Crispy Orange Chicken Bowl! I wondered about the orange sauce but I was shocked at how EASY it was to make!! This recipe has a few moving parts but was on the table in less than 30 minutes!!
How do you make Applebee's Crispy Orange Chicken Bowl?
Applebee's Crispy Orange Chicken Bowl is pretty quick – but you have to juggle a few things at once.
Prepare chicken bites according to package directions

16-20 min in oven at 400
10 min in air fryer at 400

Prepare Rice according to package directions

I used minute rice – 1 cup white rice, 1 cup water, 6 min in microwave
Once cooked, add lime juice and cilantro and toss

Prepare veggies:

In a wok-style heavy skillet, heat oil on high heat.
Once oil is hot – add vegetables and stir fry for 5-7 minutes and remove from heat

Prepare glaze:

At the same time in a separate skillet – over medium heat and add two tbsp olive oil
Once second skillet is warmed (not on high – like a 6-7 of 10) – Add garlic.
Sauté garlic for 1 minute (if the oil is too hot the garlic will burn).
To the garlic, add orange rind, orange juice, hoisin, cayenne and sugar and bring to boil. Allow to boil for 3 minutes, stirring constantly. Reduce heat and simmer until sauce thickens to your liking, stirring frequently.

Put together!
In a large bowl, add hot chicken pieces – pour glaze over chicken and toss to coat
In serving bowls, place 1 cup rice in each bowl. Top with orange chicken mixture and vegetables. Sprinkle with green onions and sliced almonds
Helpful Tips
I used frozen breaded chicken bites and Minute Rice to save time on this recipe
Fresh veggies and fresh fruit will make this recipe much more vibrant in color and taste
Can I make my own breaded chicken bites?
Yes for sure! It's easy!
Dice boneless skinless chicken breast into 2-inch pieces
Dredge chicken pieces in a beaten egg
Bread in a flour mixture with one cup of flour and 2 tablespoons cornstarch and 1 tsp each of salt and black pepper
Fry in small batches in at least 2 inches of oil – or a deep fryer – until meat thermometer reads 160 in center of chicken
Remove with a metal slotted spoon
Let drain on paper towels
More Copycat Bowl Recipes
If you're looking for other great copycat recipes – I have a few FAVORITE bowls! Panera has their Warm Grain Bowls and I made both – the Mediterranean Warm Grain Bowl is my favorite because I love all things Greek-inspired! Their Baja Grain bowl is very similar to the Southwest Chicken bowl that Applebee's has – you'll love it! I also have a copycat of the Panera Broth Bowl!
More Delicious Applebee's Grill Copycat Recipes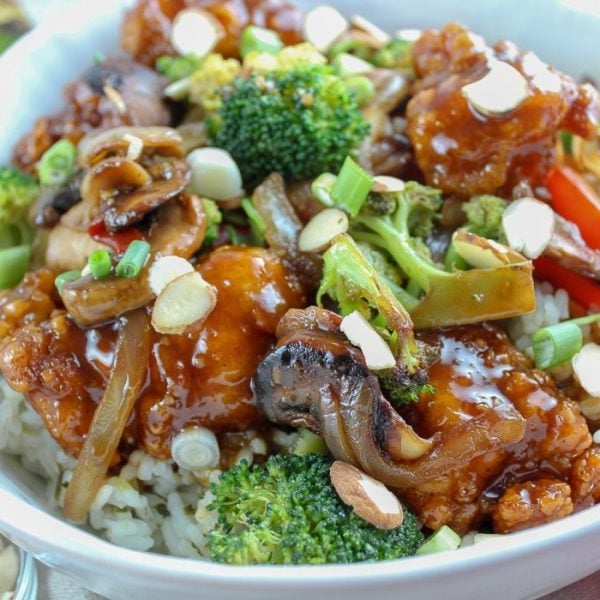 Copycat Applebee's Crispy Orange Chicken Bowl
Breaded pieces of tender boneless chicken breast tossed in a sweet and tangy orange sauce, served over fresh stir-fried veggies and cilantro rice. Topped with green onions and toasted almonds.
Ingredients
1/2

bag

frozen breaded chicken bites

2

tbsp

oil

peanut, olive, vegetable

2

cups

mixed vegetables

broccoli, red pepper, onion, mushrooms – fresh or frozen

2

tbsp

olive oil

1

tsp

minced garlic

1 1/2

tsp

grated orange zest

1

cup

orange juice

1/2

cup

hoisin sauce

dash

cayenne pepper

1/4

cup

granulated sugar

2

cups

cooked rice

1

lime

juiced

3/4

cup

cilantro

stems removed, roughly chopped

2-3

green onions

diced

2

tbsp

toasted sliced almonds
Instructions
Prepare chicken bites according to package directions

– 16-20 min in oven at 400

– 10 min in air fryer at 400

1/2 bag frozen breaded chicken bites

Prepare Rice according to package directions

– I used minute rice – 1 cup rice, 1 cup water, 6 min in microwave

After rice is ready – add lime juice and cilantro and toss

In a wok-style skillet, heat oil. Once oil is hot – add vegetables and stir fry for 5-7 minutes

2 tbsp oil,

2 cups mixed vegetables

At the same time in a separate skillet – turn heat to medium and add two tbsp olive oil

Once second skillet is warmed (not on high – like a 6-7 of 10) – Add garlic for 1 minute (if the oil is too hot the garlic will burn).

Add orange rind, orange juice, hoisin, cayenne and sugar and bring to boil. Allow to boil for 3 minutes, stirring constantly. Reduce heat and simmer until sauce thickens to your liking, stirring frequently.

1 1/2 tsp grated orange zest,

1 cup orange juice,

1/2 cup hoisin sauce,

dash cayenne pepper,

1/4 cup granulated sugar

In a mixing bowl, add hot chicken – pour thickened sauce over chicken and toss to coat

In serving bowls, place 1 cup rice in each bowl. Top with orange chicken and vegetables. Sprinkle with green onions and sliced almonds

2-3 green onions,

2 tbsp toasted sliced almonds
Notes
Helpful Tips
I used frozen breaded chicken bites and Minute Rice to save time on this recipe
Fresh veggies and fresh fruit will make this recipe much more vibrant in color and taste
**We are not dietitians and recommend you seek a nutritionist for exact nutritional information. The information in the nutrition box are calculated through a program and there is room for error. If you need an accurate count, I recommend running the ingredients through your favorite nutrition calculator.**
Nutrition
Serving:
1
bowl
Calories:
1181
kcal
Carbohydrates:
156.2
g
Protein:
31
g
Fat:
50.4
g
Saturated Fat:
7.3
g
Cholesterol:
57
mg
Sodium:
2331
mg
Potassium:
877
mg
Fiber:
14.3
g
Sugar:
54.1
g
Calcium:
180
mg
Iron:
10
mg