Chicken Piccata is one of my favorite dishes at The Cheesecake Factory! It's light and creamy – and just plain delicious! The chicken is tender and juicy with just a hint of lemon.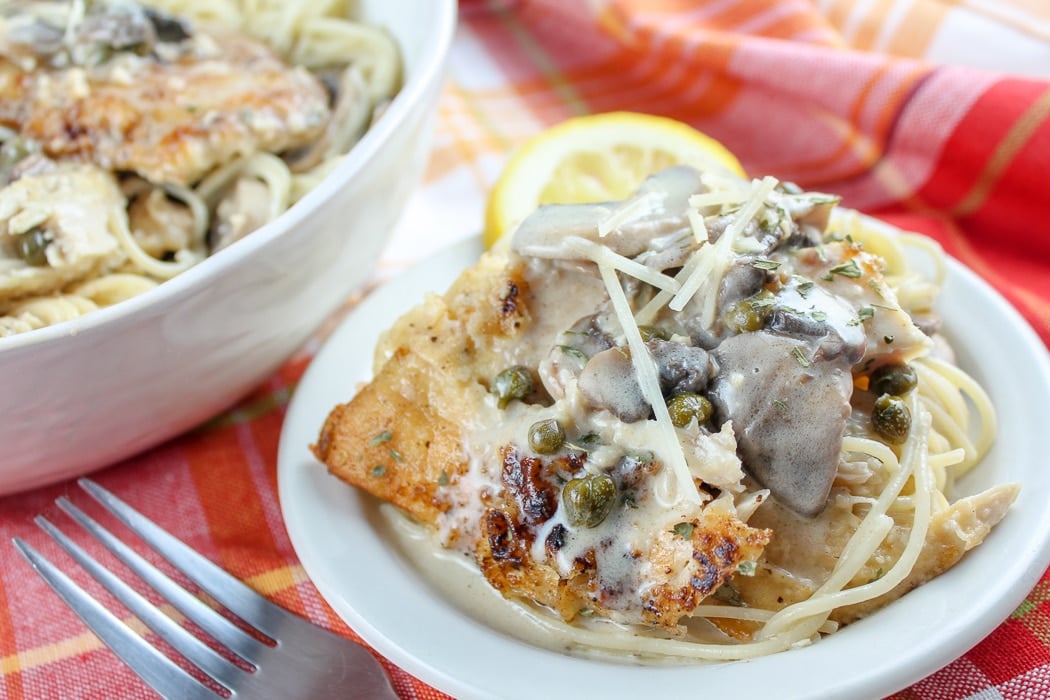 This creamy chicken piccata starts with sautéed chicken breast with a light and creamy lemon sauce, with mushrooms and capers, served with angel hair pasta.
My good friend and I love going to the Cheesecake Factory – cuz – the cheesecake!! It's also a great meeting spot since she lives in Dayton and I'm in Cincinnati. Every time we go – I try something new – but this Chicken Piccata quickly became a favorite! It's so light!!!


This chicken piccata recipe can be for 2-4 people. It's 4 slices of chicken – but if you serve it with a salad – you could definitely have it serve four people.
What's in Chicken Piccata? How do you make Chicken Piccata?
It's really easy to make! I started with thinly sliced chicken breasts but if you have regular chicken breasts you slice them and pound them to 3/8-1/2 inch thickness. You do a light breading of seasoned flour and then into a hot pan for just a couple of minutes on each side. After your chicken is done – you set it aside – then cook the mushrooms in the same pan. Once the mushrooms are done – set them aside with the chicken.
Then it's onto the sauce! The sauce is easy – white wine (or chicken broth), cream, butter, lemon juice and garlic. Bring that to a light simmer and add your capers and a little Parmesan cheese. Then add the chicken and mushrooms back to the pan!
My favorite part of the Chicken Piccata is definitely the mushroom and capers. I could eat mushrooms in pretty much everything – and I'm on a bit of an olive kick right now – and capers taste a lot like little mini green olives. This Chicken Piccata is a little lemony but definitely not overwhelming – and if you like lemon – add a little more juice.
Can Chicken Piccata be made ahead of time or frozen?
I wouldn't make Chicken Piccata ahead of time – it only takes 25 minutes or so to make. It does reheat well though. You could freeze your leftovers – but I wouldn't make the whole thing ahead of time and freeze it as dairy doesn't love to be frozen.



What to serve with Cheesecake Factory Chicken Piccata recipe?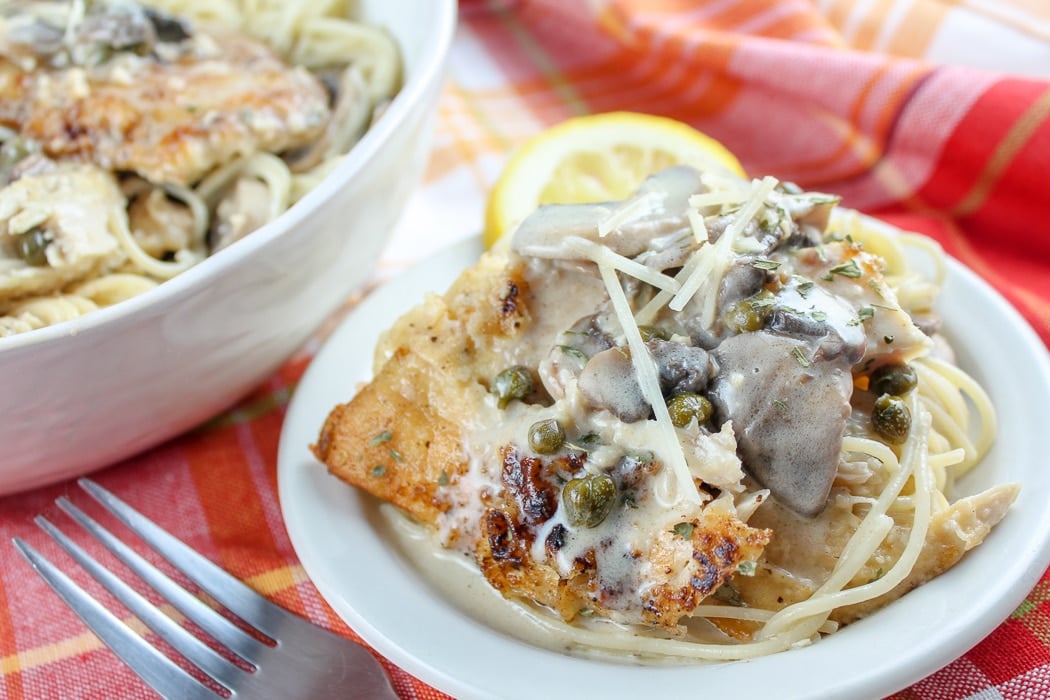 Copycat Cheesecake Factory Chicken Piccata
Prep time: 5 M
Cook time: 25 M
Total time: 30 M
Chicken Piccata is one of my favorite dishes at Cheesecake Factory! It's light and creamy – and just plain delicious! The chicken is tender and juicy with just a hint of lemon.
Ingredients:
1 lbs Boneless Chicken Breasts (prefer thinly sliced)
1/3 cup flour
1/2 tsp Salt
1/2 tsp Pepper
1 tbsp Butter
1 tbsp Oil
4 oz sliced Mushrooms
3 Tbsp Butter
1/4 tsp Salt
1/4 cup Dry White Wine
6 tbsp Butter
1 tsp minced garlic
1 tbsp Lemon Juice (juice from 1/2 lemon)
3 tsp Capers
1/2 cup Heavy Cream
1/4 cup grated parmesan cheese
Cooked Angel Hair Pasta
Instructions:
How to cook Copycat Cheesecake Factory Chicken Piccata
If using full size chicken breasts, slice chicken breasts in half to 3/8 to 1/2 inch thick. Place chicken breast in a ziplock bag and pound thin with a meat tenderizer
If using thinly sliced chicken breast slices – you can go right to the breading!
Mix together the flour, salt and pepper . Rinse the chicken pieces in water. Dredge them thoroughly in the flour mixture.
Boil water for pasta
Heat non-stick skillet over medium and add 1 tbsp of butter and 1 tbsp of vegetable oil
Cook chicken breast until brown on both sides and remove from the pan. Cover with foil to keep warm. (about 3-4 min per side)
Reduce heat slightly and add mushrooms, 3 Tbsp butter, and salt
Saute mushrooms until they begin to brown and remove from pan and set aside with the chicken.
Add wine to the pan and scrape up any brown bits to mix with the wine
Add butter, garlic and lemon juice to the pan. Stir until butter melts then add cream, cheese and capers
Raise heat until the mixture begins to bubble and thicken slightly. Then return the mushrooms and chicken to the pan
Stir in fresh parsley and serve immediately over angel hair pasta with sliced lemons
Recommended Products:
Meat tenderizer
Capers
Serving Bowls
Did you make this recipe?
Tag
@foodhussy
on instagram and hashtag it #foodhussyrecipe