Happy 2020!!! We all know that a bunch of us are starting off the new year with high hopes of weight loss and monetary abundance! Well – I can't help with the money – but I can try to help with the weight loss!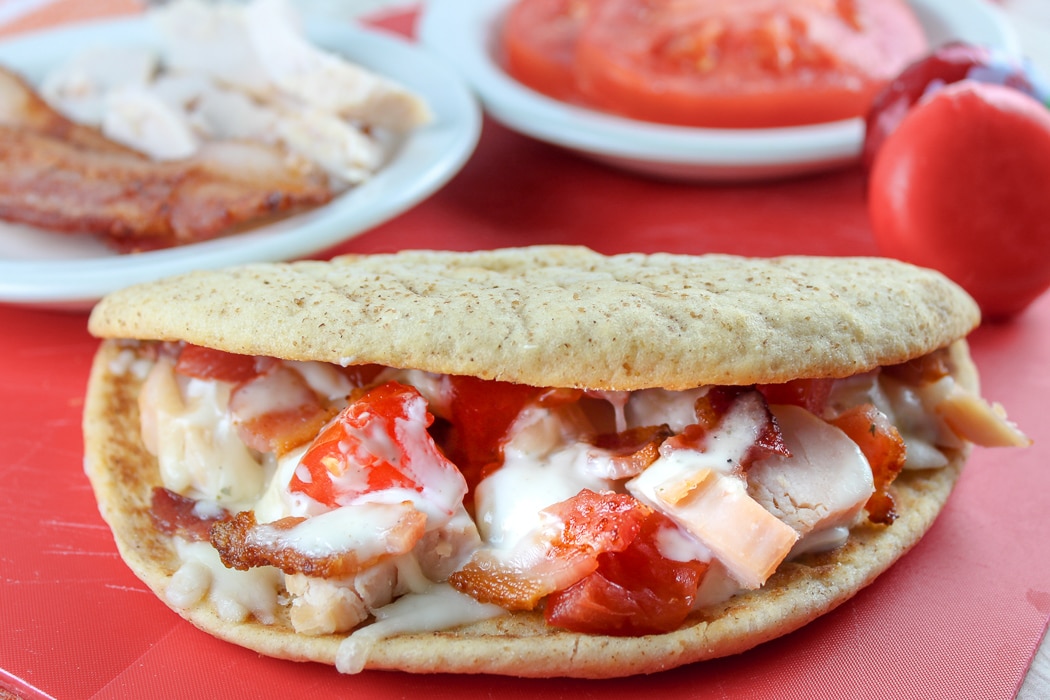 I'm a big fan of Intermittent Fasting. I lost 50 pounds in 2019 doing it and I'm starting back up in 2020! On top of that – I'm going to share some great healthy recipes – including a few copycat Lean Cuisine recipes!
Lean Cuisine makes a ton of delicious light and healthy frozen meals and the Chicken Ranch Club Flatbread Melt is my #1 favorite! Soft and fluffy flatbread topped with white meat chicken, bacon, cheese and ranch – hell yeah!



The tricky thing about creating a copycat of a well-known "light" recipe is that I can't just throw the best and tastiest ingredients in there – I need to think about the nutritional element! I like the Chicken Ranch Club Flatbread because it's simple ingredients and I could go with "whole foods" for the most part.



I came in REALLY close to the nutritional levels! Same calories, a little higher fat, double the fiber, 50% more protein and nearly half the carbs! I'm good with that!!! (Full nutrition in the recipe.)
How do you make the Lean Cuisine
Chicken Ranch Club Flatbread Melt?
– Flatbread – I'm super picky on flatbread – especially for this – I knew it had to be soft and healthy. I spent a few extra calories on the Kontos brand which actually added protein!
– White meat chicken – I chose the Oscar Mayer pre-cooked grilled chicken strips
– Bacon – I eat a lot of bacon and have recently become addicted to making air fryer bacon! I took a couple of slices of bacon – 1 slice for dogs, 1 slice for flatbreads! You'll see too – my bacon is much better than the one on the Lean Cuisine version!
– Tomato – that's easy – 1/2 diced tomato
– Cheese – I know Lean Cuisine had yellow and white cheese – I kept it simple by just using one wheel of Babybel cheese. You could save more fat/calories by using their Light Babybel!
– Ranch – lastly – a dab of fat free or low-cal ranch
I promise you will LOVE this copycat Lean Cuisine recipe – it's so much better than the original. And it takes about the same time to make – even in the oven! Using pre-cooked ingredients helps it go together quickly so you still have a quick lunch option!
I've got you covered with other healthy lunch ideas! Here are some great ideas for Healthy Packed Lunches! This Zero Point Turkey Chili is also great – it's something you can make on a weekend and then pack during the week! Lastly – these air fryer fish tacos are so delicious – and you know if the air fryer is in play – it's quick!!!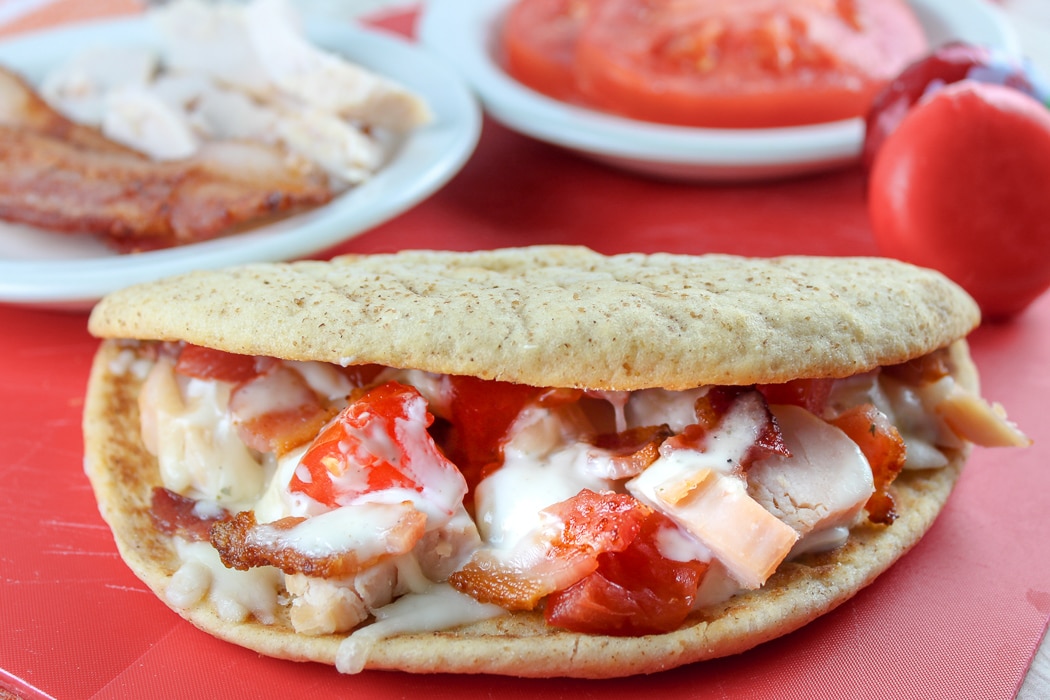 Copycat Lean Cuisine Chicken Ranch Club Flatbread Melt
prep time: 10 M
cook time: 5 M
total time: 15 M
Lean Cuisine makes so many delicious light and healthy frozen meals and this is my #1 favorite! This flatbread melt has all the things I love – chicken, bacon, ranch and cheese! Mine is just as healthy without all the preservatives and it's so delicious!
ingredients:
1 slice bacon, cooked and diced
1/2 tomato, diced
2 wheels Babybel cheese, shredded
2 Tbsp fat free ranch
instructions:
How to cook Copycat Lean Cuisine Chicken Ranch Club Flatbread Melt
Preheat oven to Broil – LOW
Lay out flatbread on non-stick cookie sheet
Top half of flatbread with chicken, bacon, tomatoes, cheese and ranch
Broil on low for 5 minutes until cheese is melted
Remove from oven and fold over
Enjoy!
Recommended Products:
Baking Sheets
Light Babybel
Pre-cooked Bacon
Calories
378
Fat (grams)
14.5
Carbs (grams)
29.7
Fiber (grams)
8
Protein (grams)
33.6
Sodium (milligrams)
1257
Original Lean Cuisine
Calories 410
Fat 9g
Fiber 4g
Protein 21g
Sodium 530mg
Carbohydrates 52g
Did you make this recipe?
Tag
@foodhussy
on instagram and hashtag it #foodhussyrecipe