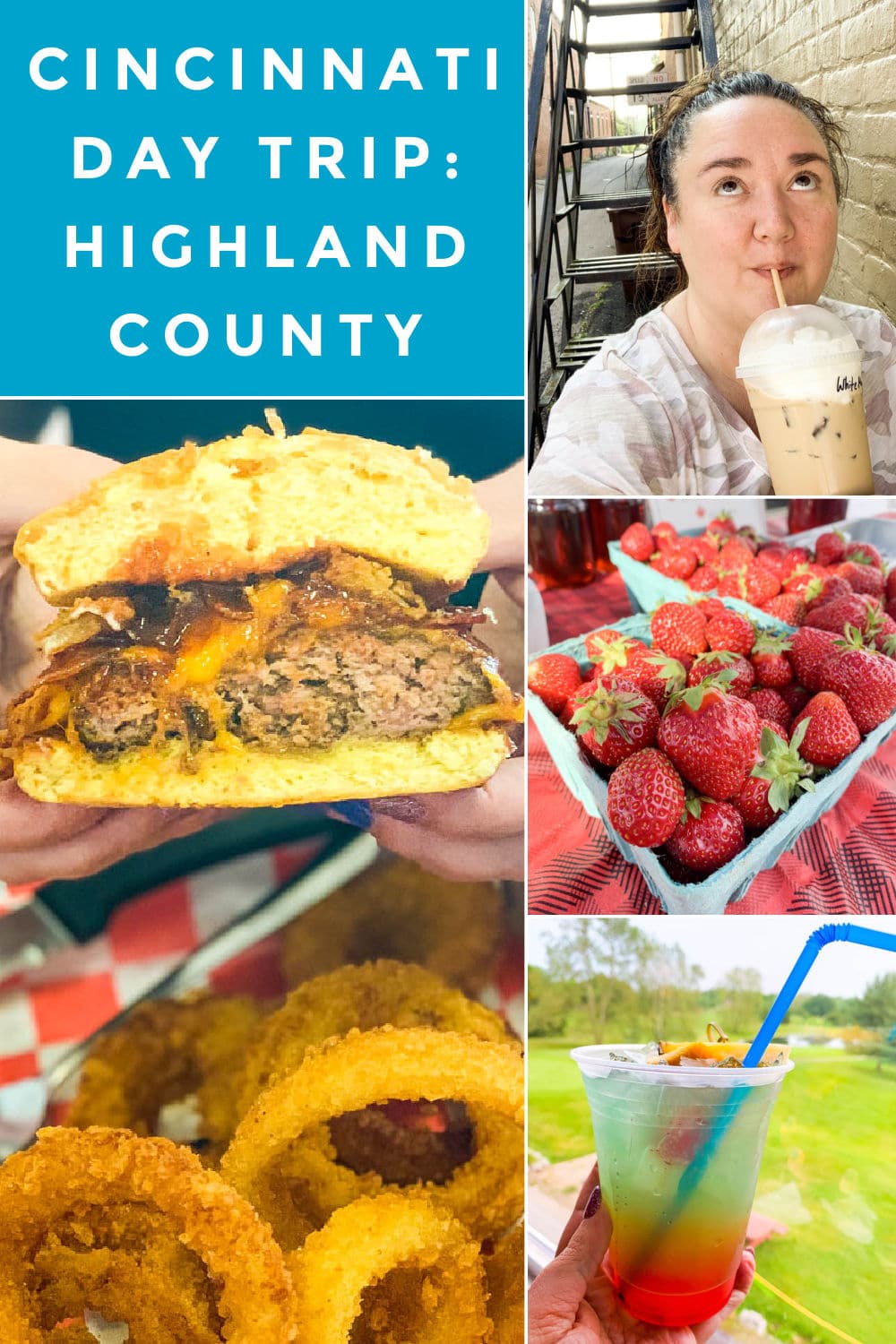 Day Trips are a great way to get out of town – but not have to worry about planning ahead too much! Living in Cincinnati – there are a ton of ways to head – but today – it's all about Highland County, Ohio.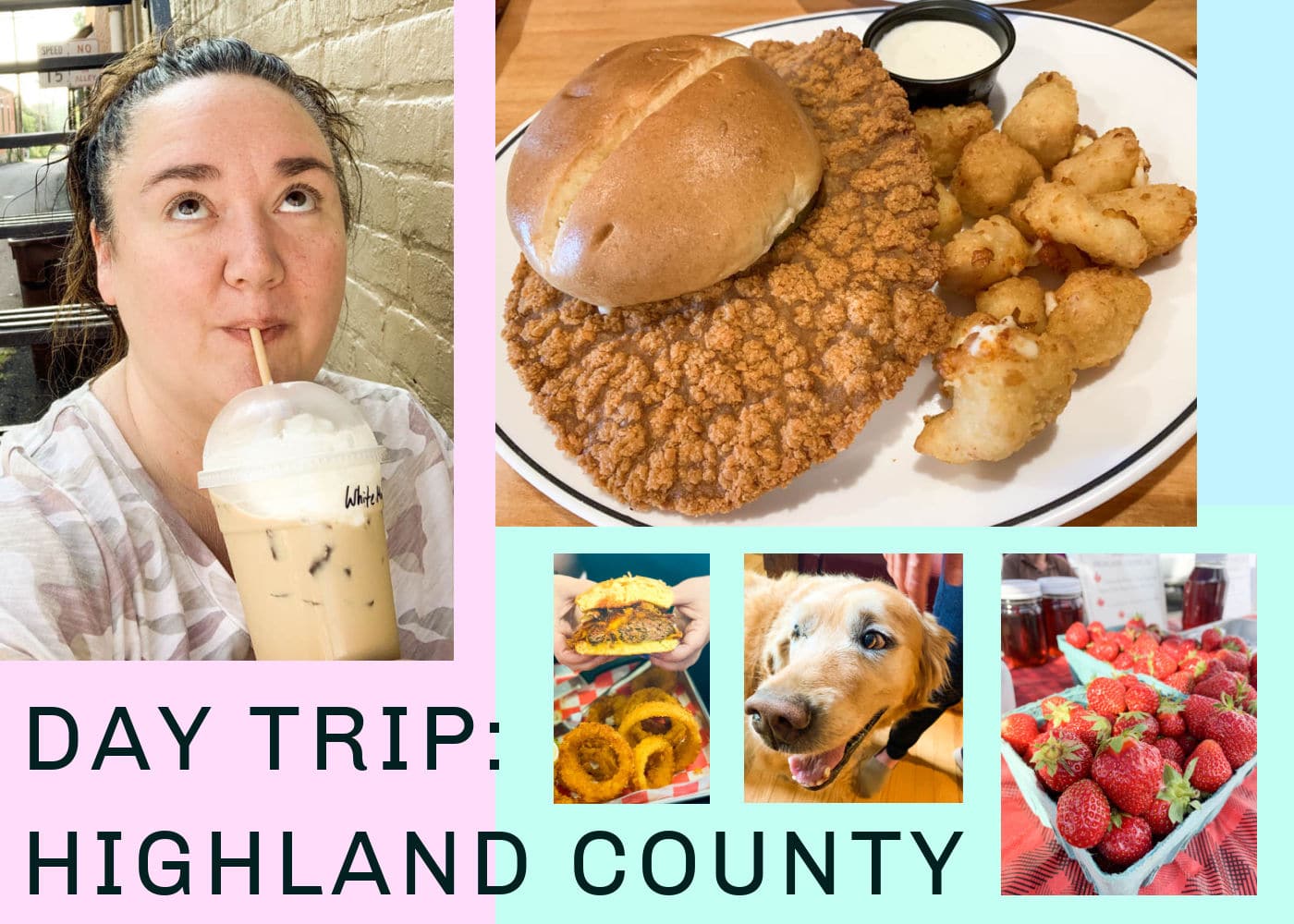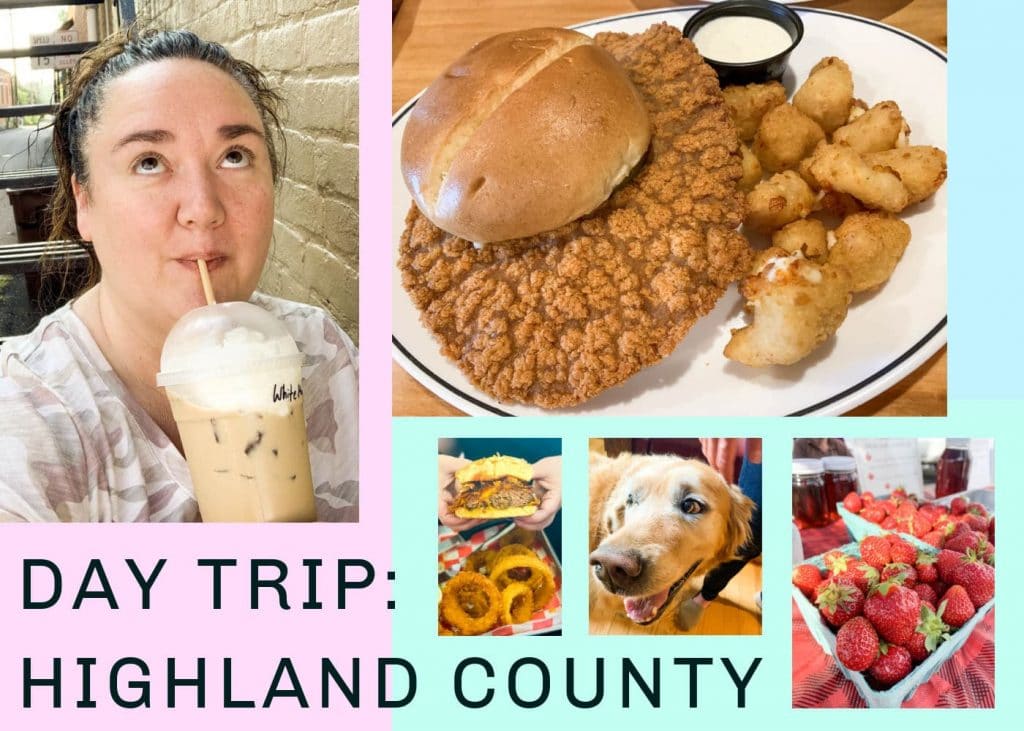 I live on the north side of Cincinnati – so Highland County is only about 45 minutes for me – but if you're downtown – it's probably 90 min. That said – it's worth it! I'm going to share with you my favorite places for coffee, shopping, lunch, dinner, outdoor activities – and a great place to stay if you want to make an overnight out of it.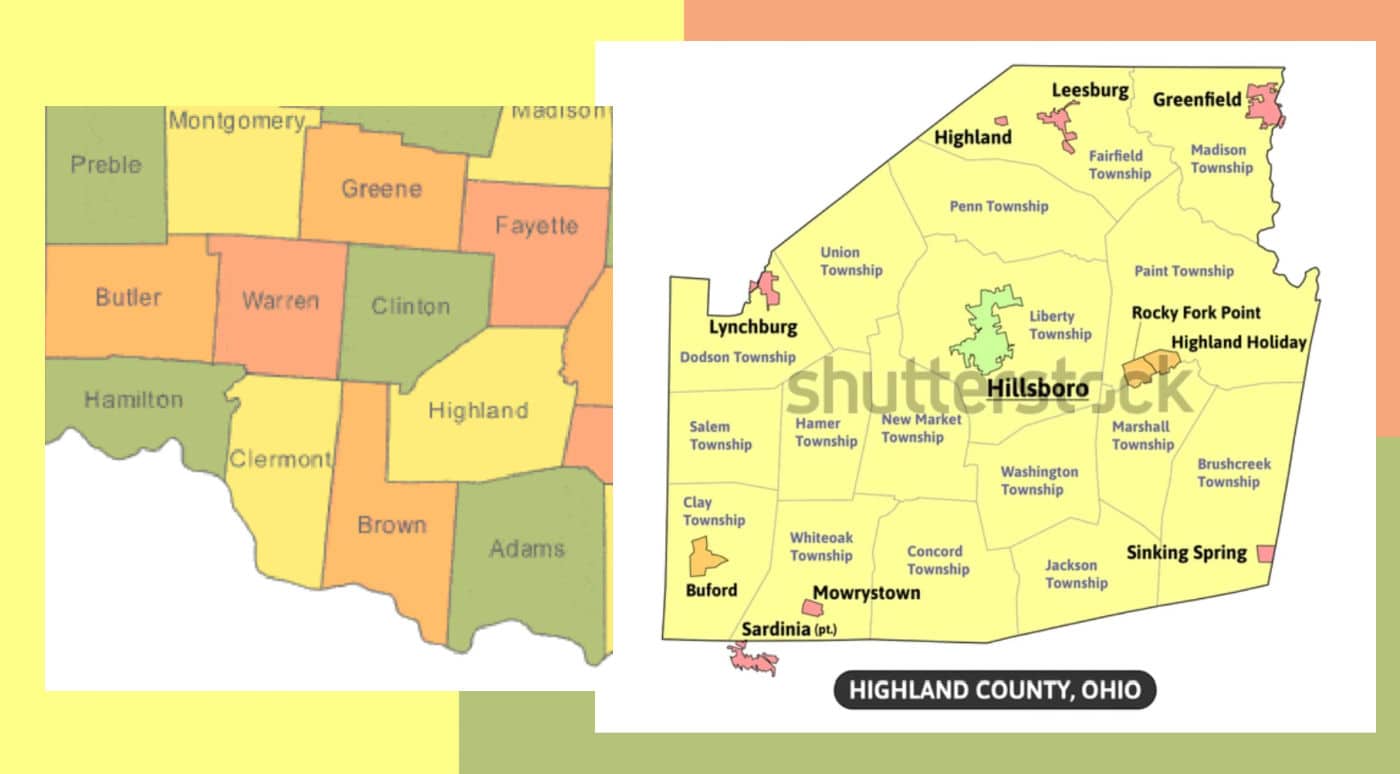 Where is Highland County?
Highland County is east of Hamilton & Clermont County – the main cities you'll find are Hillsboro, Highland, Leesburg, Greenfield and Lynchburg. I spent most of my time up around Greenfield, Leesburg and Hillsboro.
What can you do in Highland County?
I partnered with the Highland County Visitors Bureau for this little trip and went with a few other friends: Casey Lavie, Fueling Mamahood and Adventure Mom. We had a packed 24 hours and here's just a few things you can explore:
Breakfast – whether you're having breakfast in a diner, bakery or coffee shop – you'll find lots of options around the area. My favorite is Batter Up Bakery in Leesburg.
The World's Largest Horseshoe Crab in Hillsboro – I mean – who DOESN'T need to see that?
Lunch – If you want pizza, burgers or some good ol' chicken fingers – we've got you covered! My favorite stop was Catch 22 in Greenfield – the Buffalo Chicken Flatbread is not to be missed! Momma's in Hillsboro is great for a meal you'll think your momma made you!
Amish Stores in Bainbridge & Hillsboro – You know if there's a place named Yoder's – there's Amish! There are a whole bunch of little Amish stores to explore with furniture, baked goods and more.
Dinner – Lots of options here too – nothing is too fancy in Highland County but we did have a delicious steak dinner on the golf course at the Frog and Club in Hillsboro
Rocky Fork State Park – whether you want to camp, boat, hike or fish – you can do it there!
Spending the night? There are tons of campgrounds and cabins but we stayed at cutest B&B, Woodhaven Farm – and I pretty much fell in love with their dog, Luke!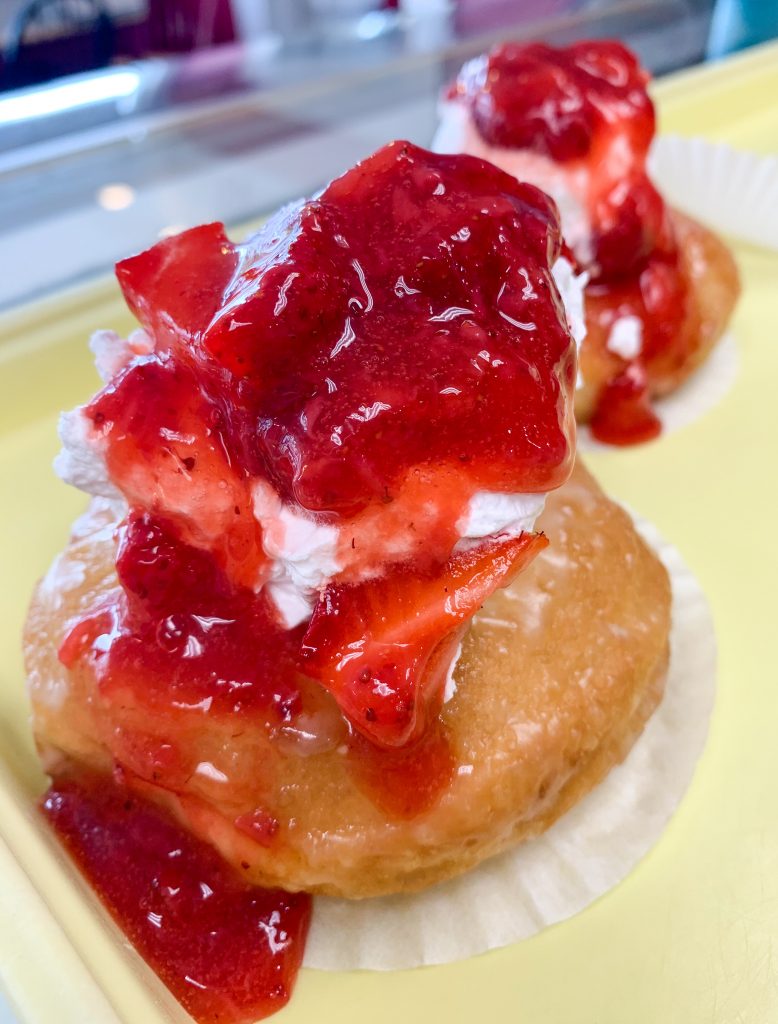 Breakfast Spots in Highland County
As I mentioned, Batter Up Bakery is always my #1 stop! I met Casey & crew a few years back and have been a loyal customer ever since! My favorite thing about Batter Up is that they use FRESH SEASONAL ingredients. When we were there, it was all about the strawberries. They even taught us how to make long johns and strawberry shortcakes with FRESH glazed donuts right out of the fryer. They'll have you saying Krispy who???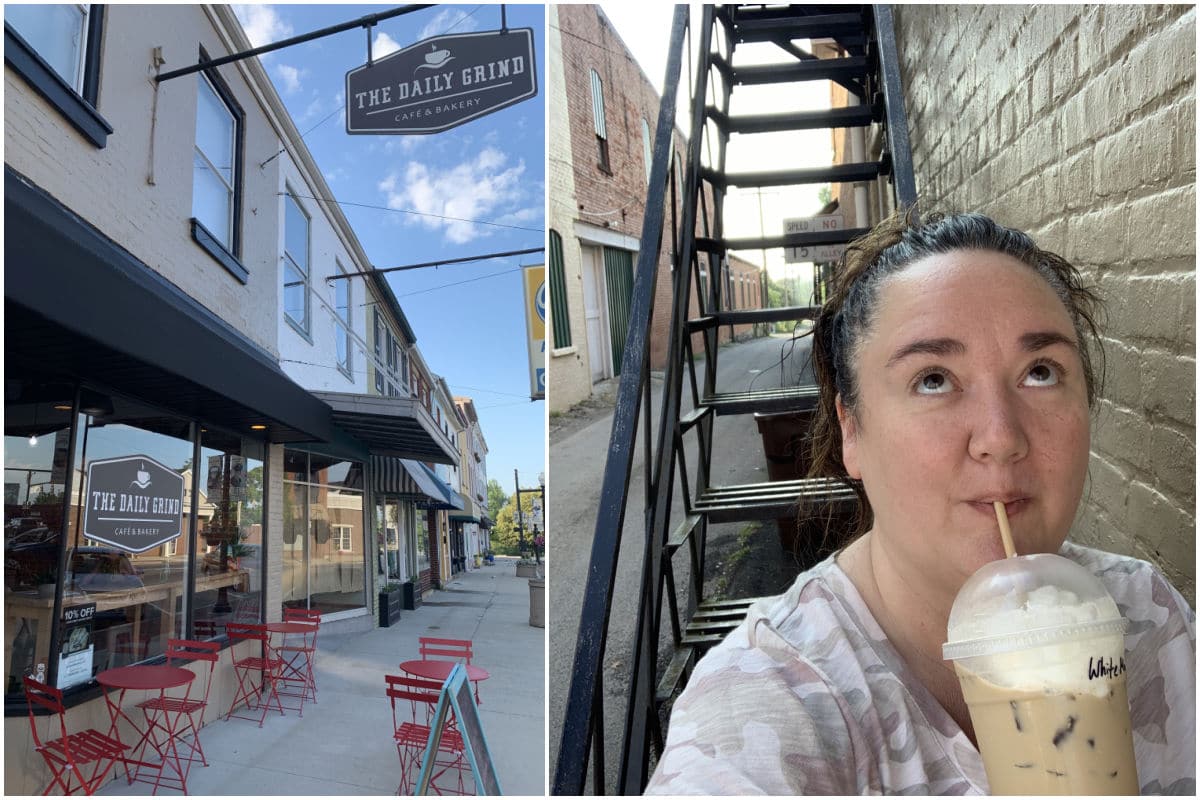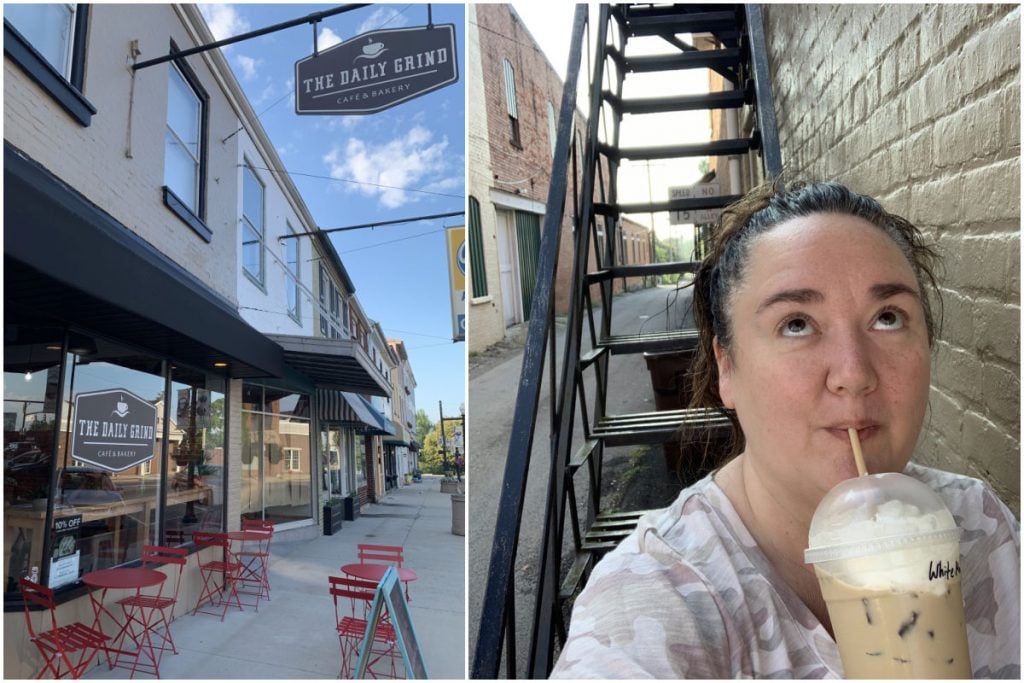 We also enjoyed coffee at The Daily Grind in Hillsboro! Their story is so interesting – it's two sisters that started the coffee shop and are also the chef's behind the delicious breakfast & lunch treats they have. I can't wait to go back for the Garlic Grilled Cheese!!!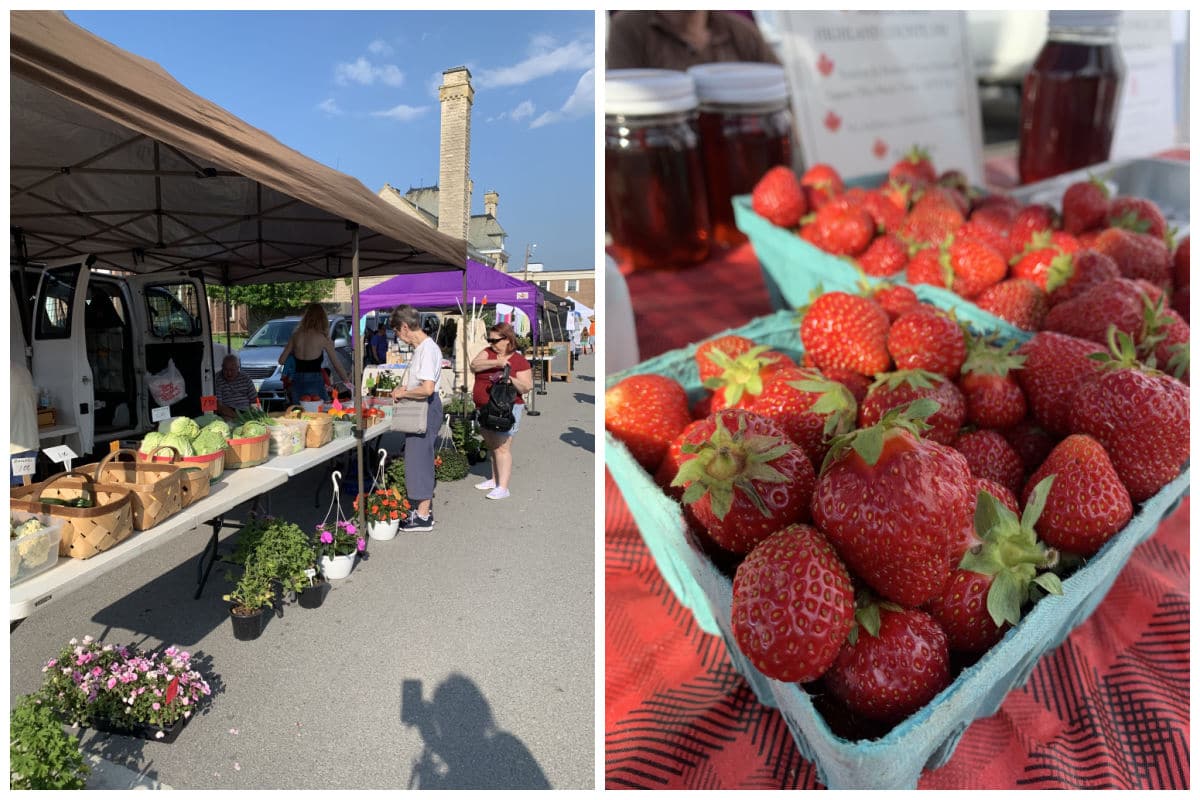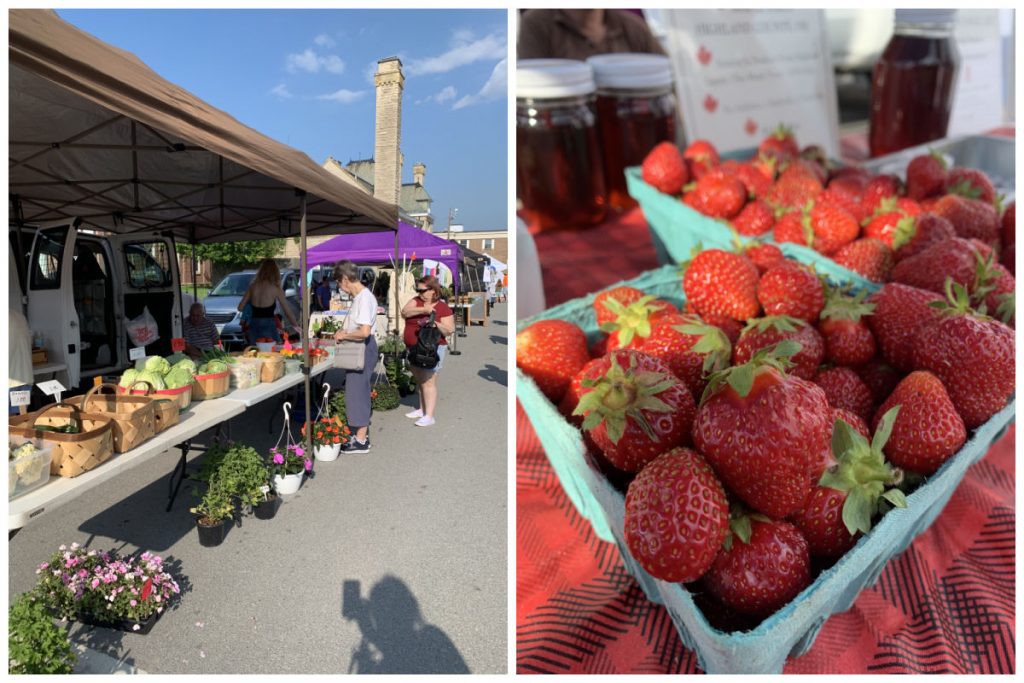 Fun Things To Do in Highland County
We also got to browse the Hillsboro Farmers Market while we were in town. It's every Saturday from 9am-1pm on Government Square. I got some fresh strawberries, a cute keychain and some homemade dog biscuits. There was a great variety of local vendors!
You can also make some of the stops mentioned above or: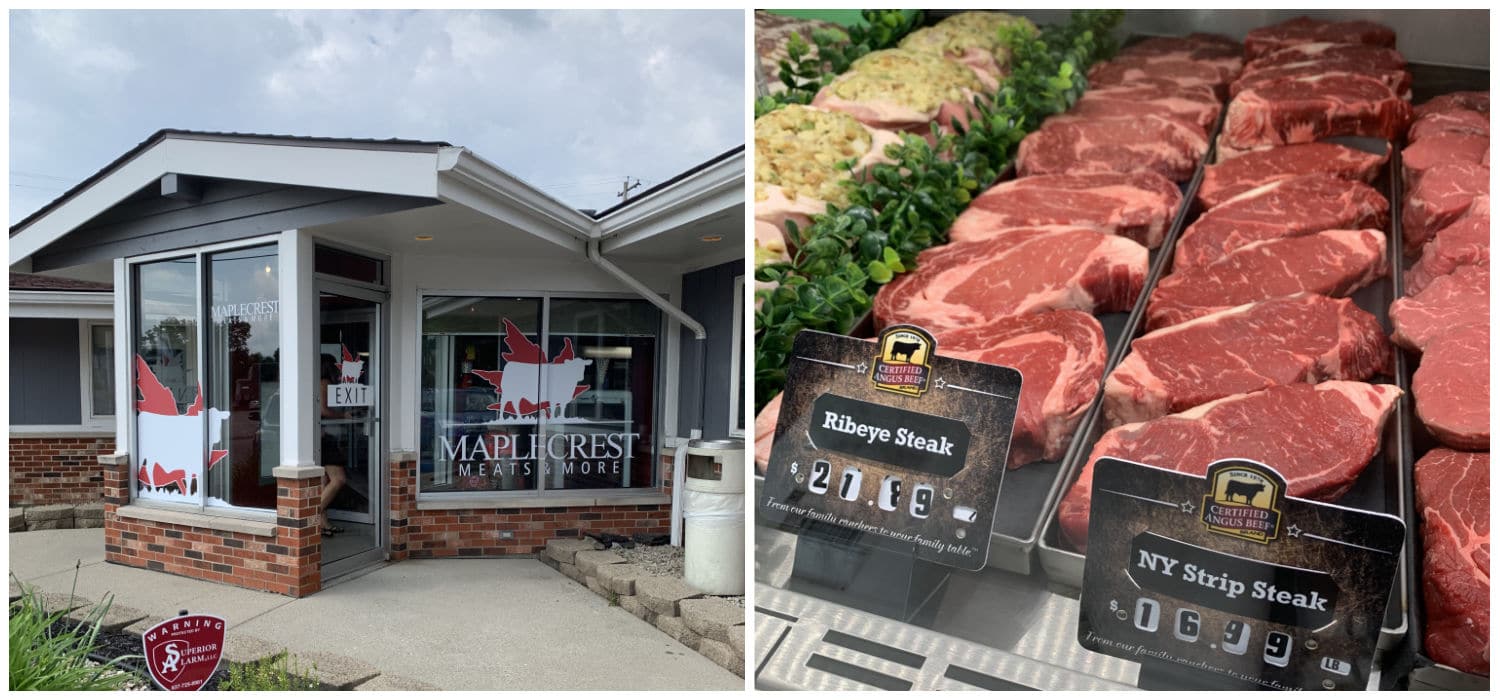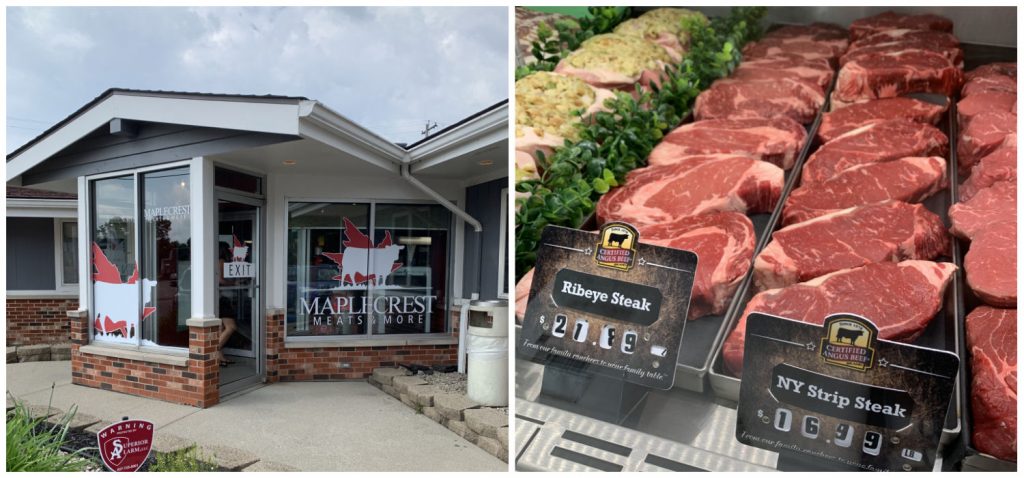 Check out Maplecrest Meats in Hillsboro! They are a Certified Angus vendor (trust me – that's the BEST beef you can buy!) and they have very unique sauces and rubs. Plus – they grow their own beef and you can get high quality freezer beef any time (at great prices!) They are definitely on my favorite stops list from now on!
After all that – I was hungry again!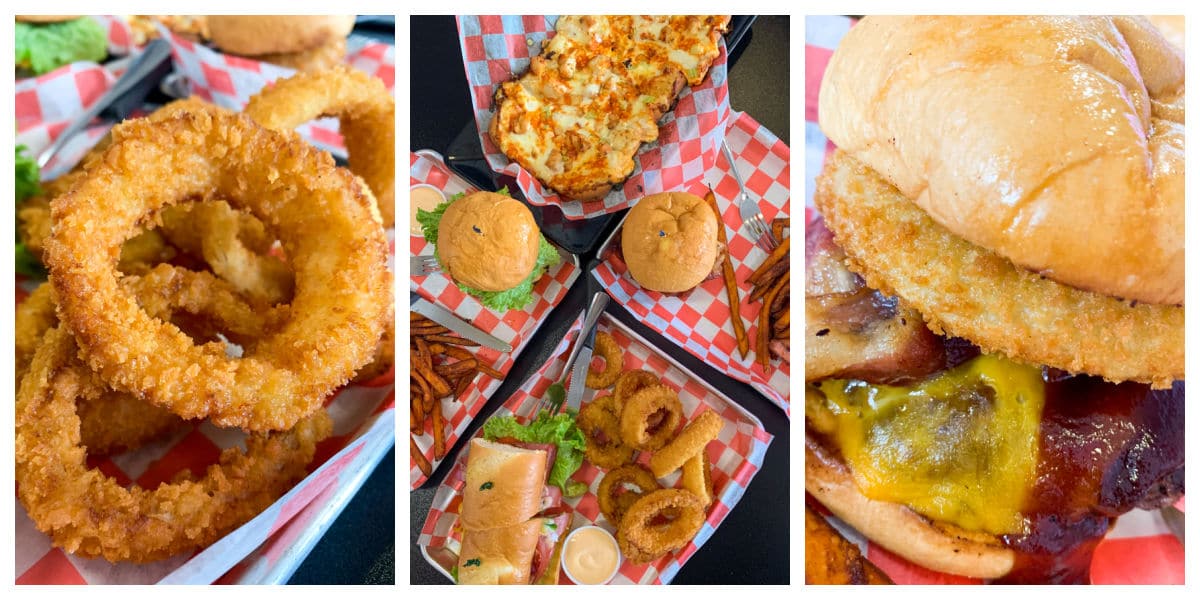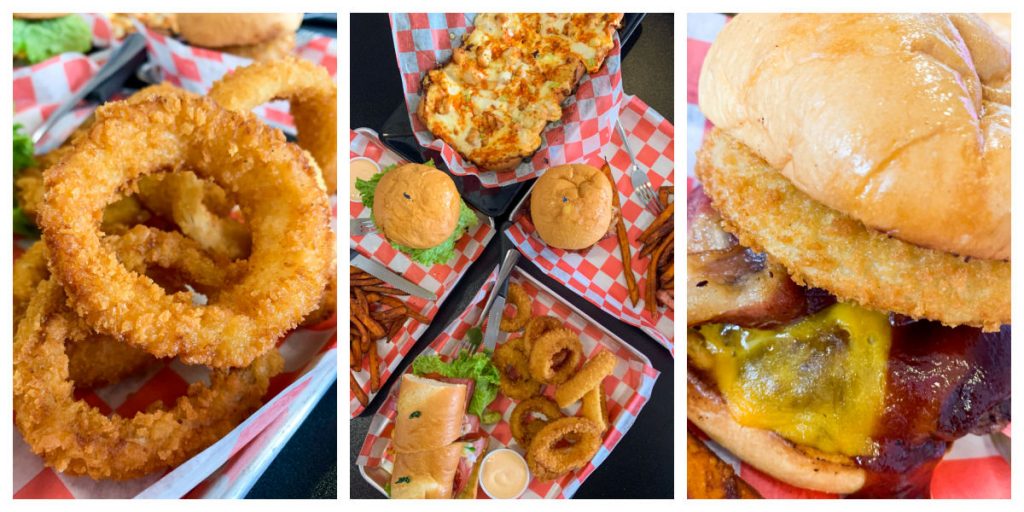 Delicious Spots for Lunch & Dinner in Highland County
Here's the thing – you can definitely make a day trip – but it's also not too far that if you're just wanting to explore someplace new – head over for lunch or dinner! We stopped at:
Catch 22 Sports Pub, Greenfield – This bar & grill had a wide array of delicious beers and yummy food. The burgers were great but everybody's favorite was the Buffalo Chicken Flatbread. Keep an eye out too – there is a cool Microbrew opening next door – they have the smallest brewery I've ever seen but it's so cool! I can't wait to go back for their ciders – which are made with fruits from local orchards.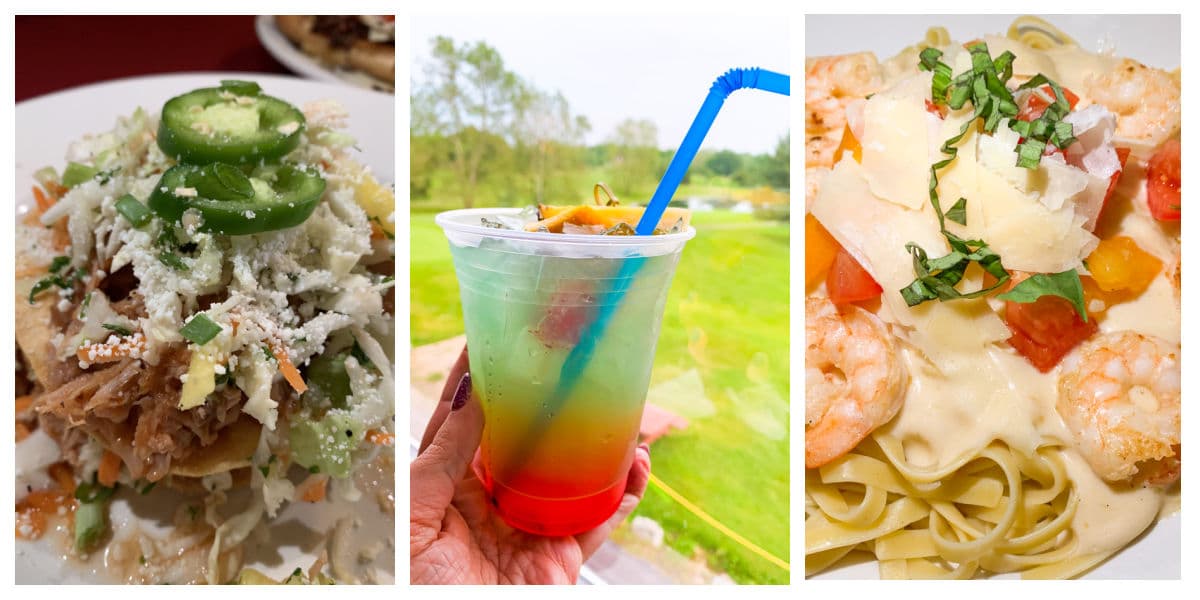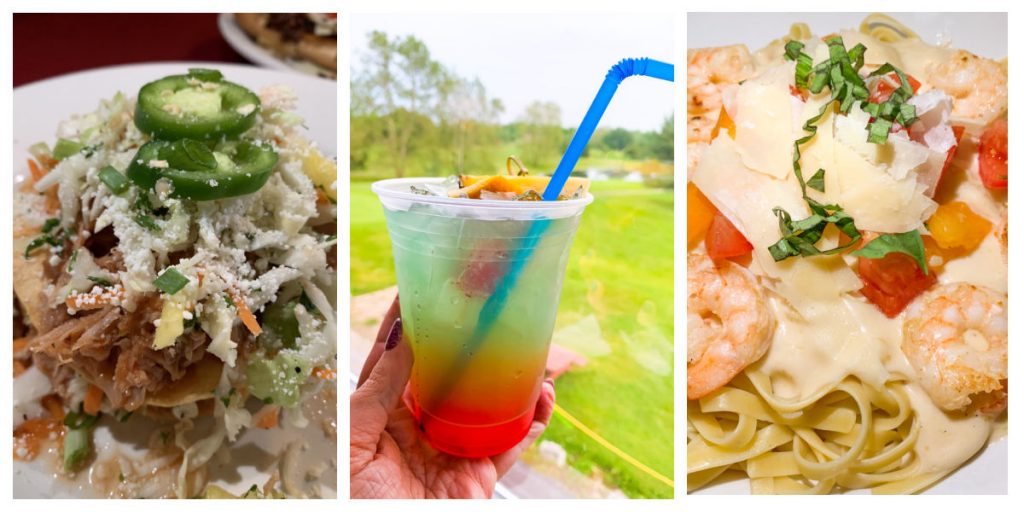 The Frog & Club Restaurant, Hillsboro – Steak, shrimp and lots of other goodies – including drink specials – all with views of a great looking golf course! Not to be missed and I'm pretty sure it's THE place to be since it was PACKED!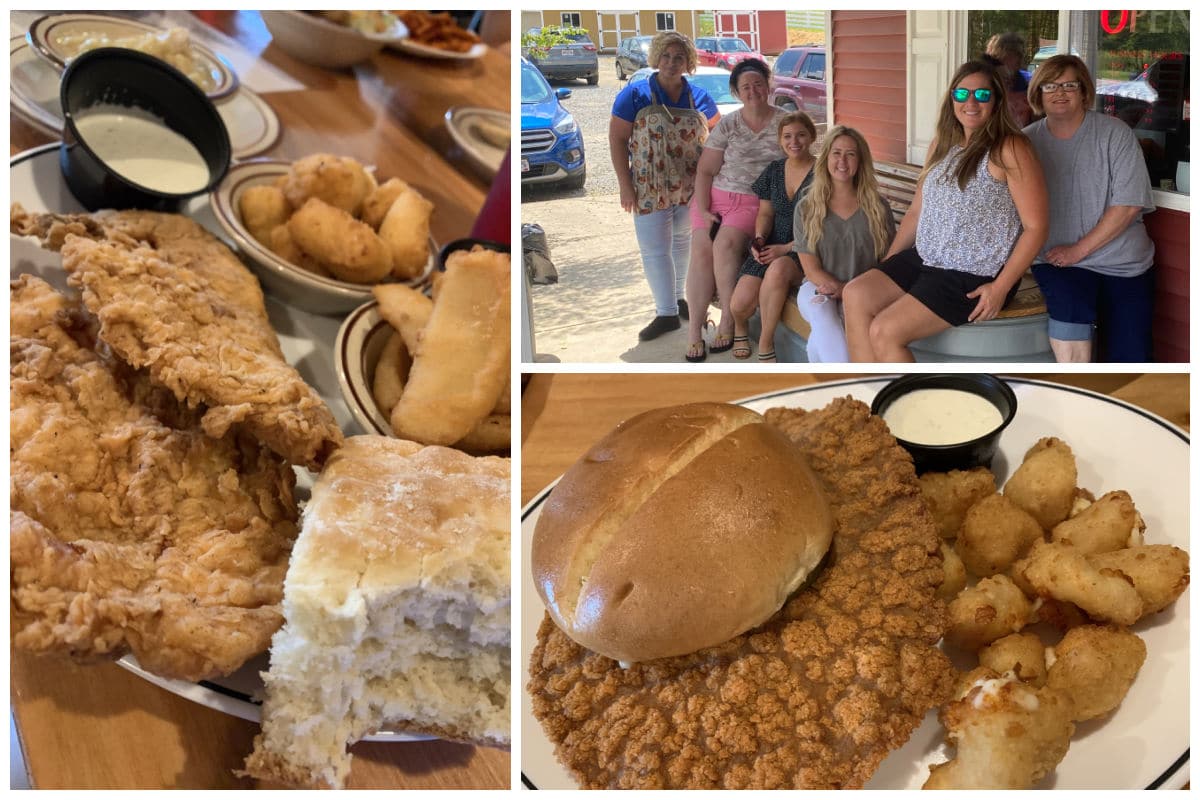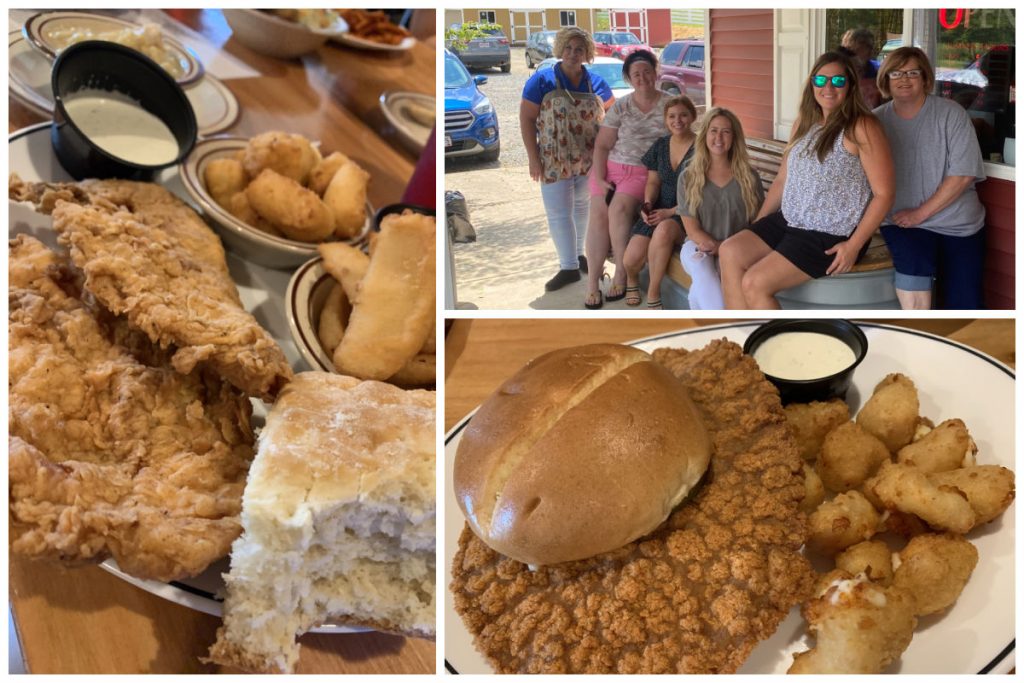 Momma's Cafe, Hillsboro – Let me tell you – if you want a diner that makes you feel at home – this is IT! We met the two "mommas" behind Momma's and got our girl crush on real quick. Then – the food was amazing!!! I – of course – had a giant pork tenderloin with cheese curds and was NOT disappointed!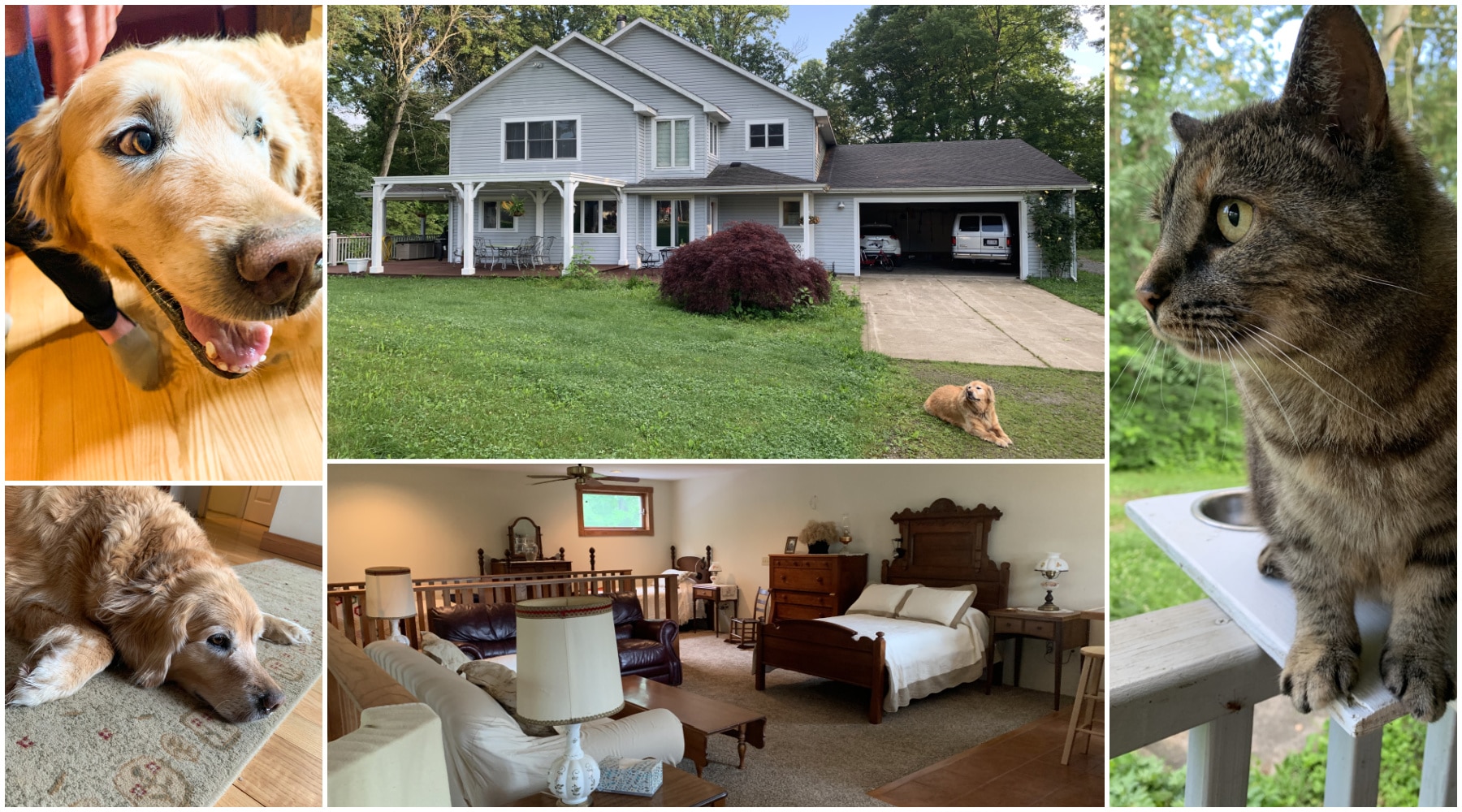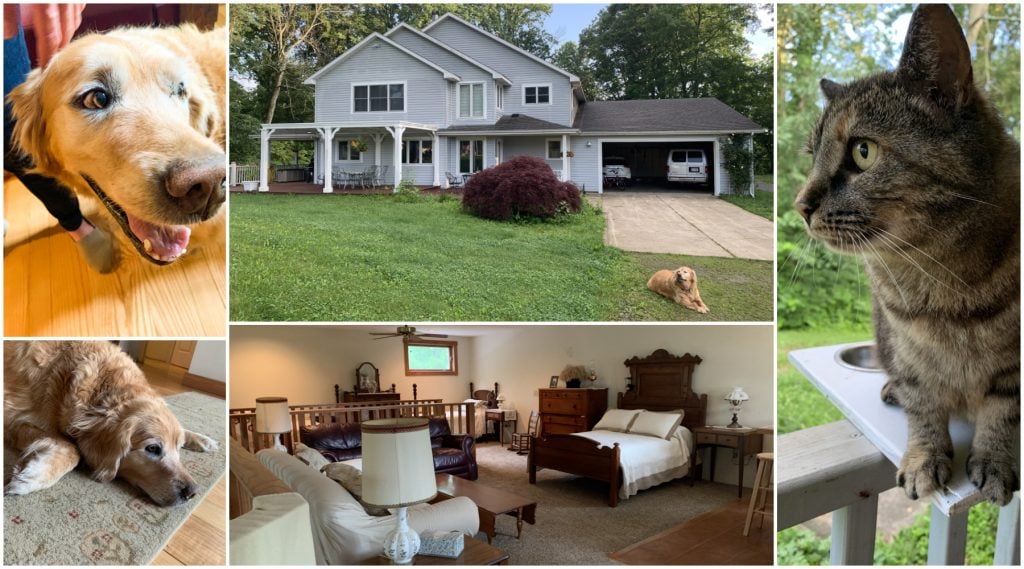 Where to stay in Highland County?
There are loads of cabins, campgrounds and mom & pop hotels in the area – we opted for the Woodhaven Farm Bed & Breakfast. It's a unique space with a single room with on-suite bath downstairs and then the upstairs is a wide open space with four antique beds. It was a great space for a girls weekend like we had.
The highlights for us were:
Luke – the cutest golden retriever ever!! He got in my car when we went to dinner cuz he loved us so much!
The screened in porch on the back is the best!!! We got to see some wild life while wed relaxed in the woods. You can also close the patio doors so you have privacy while relaxing out there.
Breakfast & Cookies – The owners made fresh chocolate chip cookies for us when we got there and then an amazing breakfast the next morning.
Night-time Walk – We took a walk around the property in the dark – the owner gave us flashlights – and we got to see the most beautiful display of lightning bugs!
All in all – a great time was had by all! Plus each of us had a laundry list of things we wanted to come back and do on another visit!