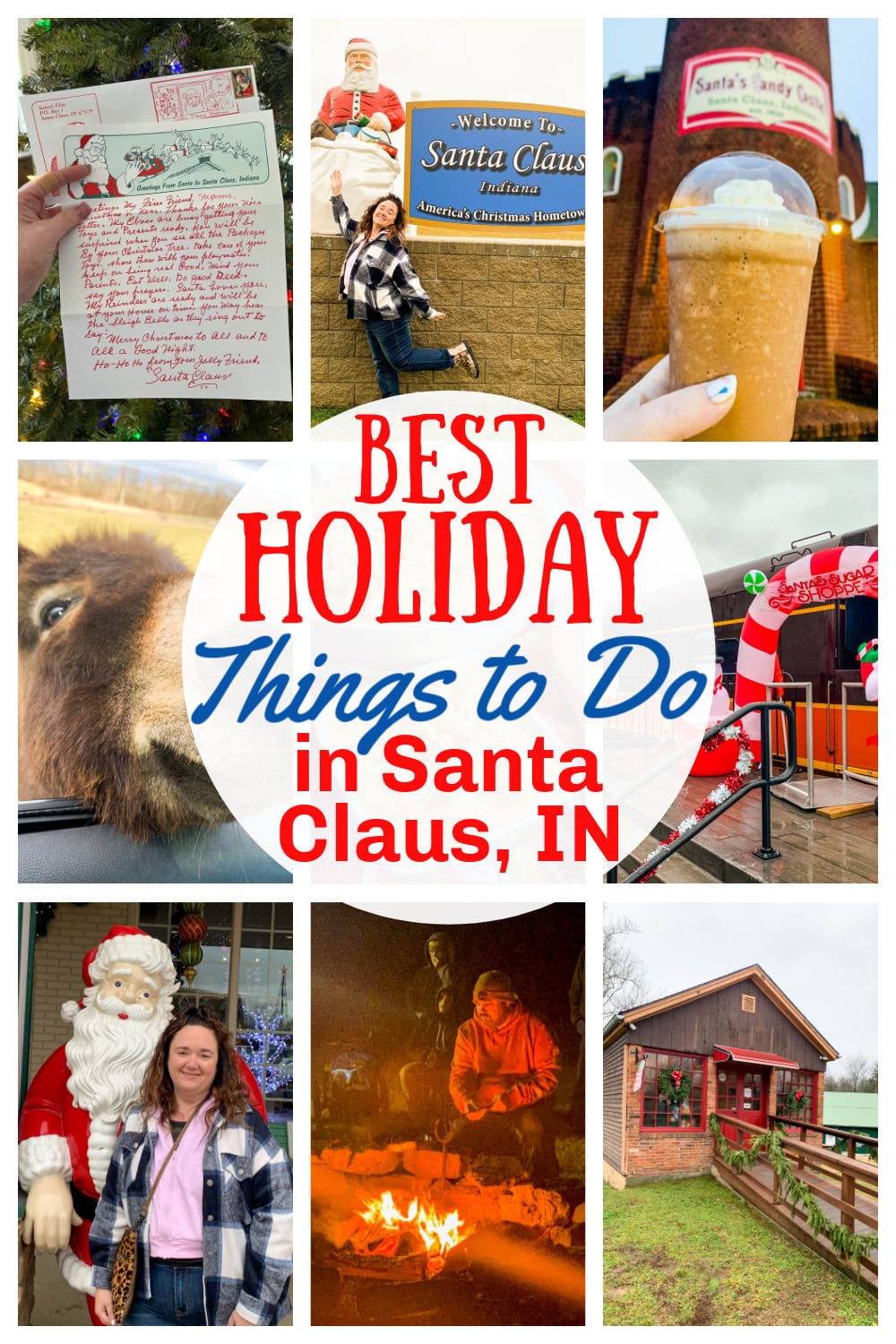 Is it Christmas in your town? Or perhaps you just want to get away for the holidays. We've got the best Christmas Things To Do In Santa Claus, Indiana.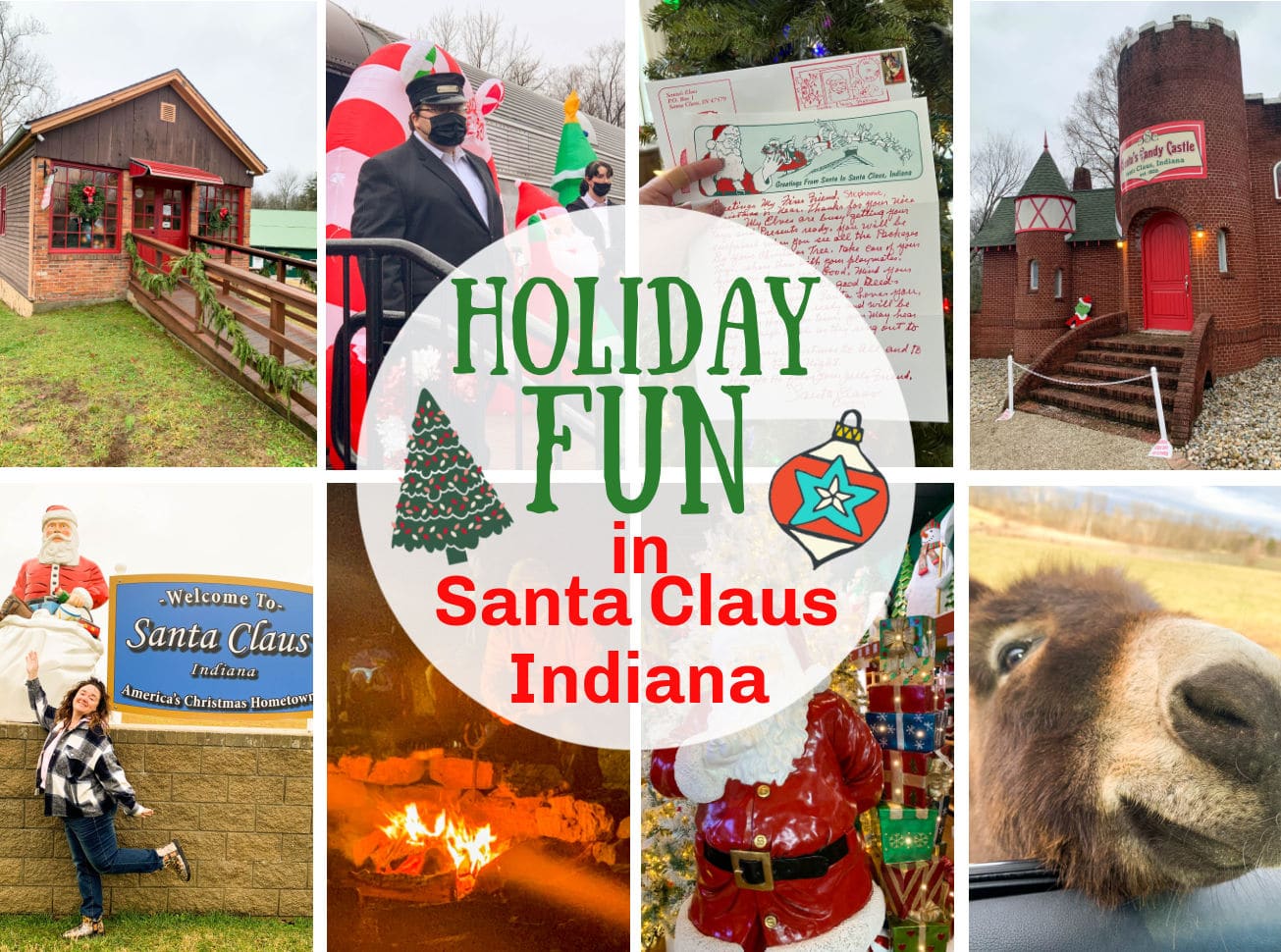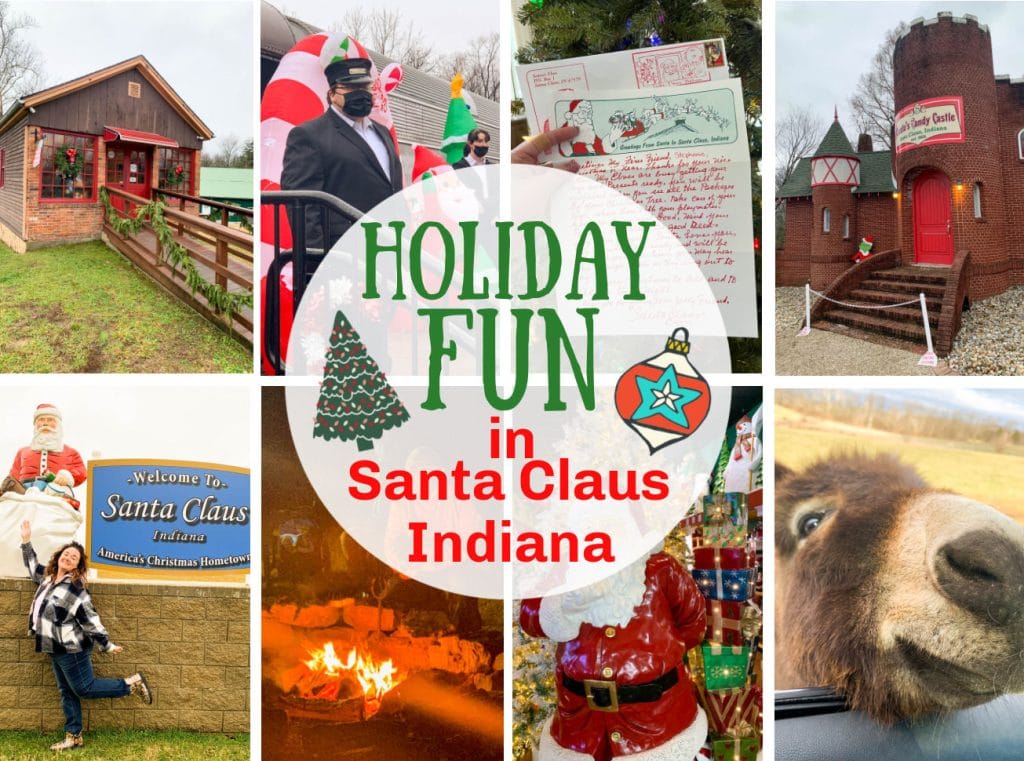 Visiting Santa Claus Indiana during the holidays is a pretty magical experience! You can roast chestnuts on an open fire, go through numerous holiday lights displays, ride the Candy Cane Express with Santa, shop at the coolest Christmas store and even get a letter from Santa himself! You'll feel like you're in a Hallmark movie the whole time you're there!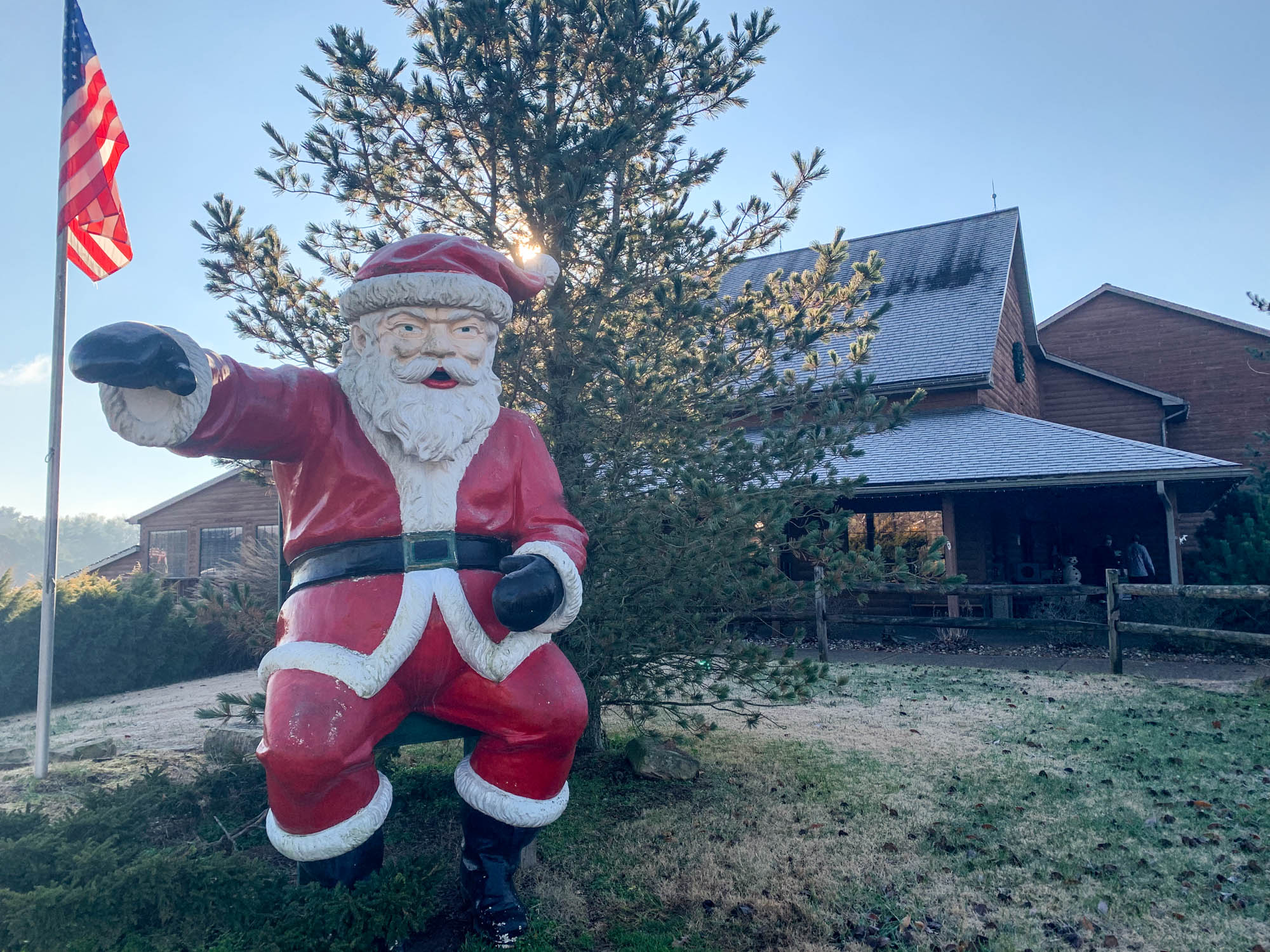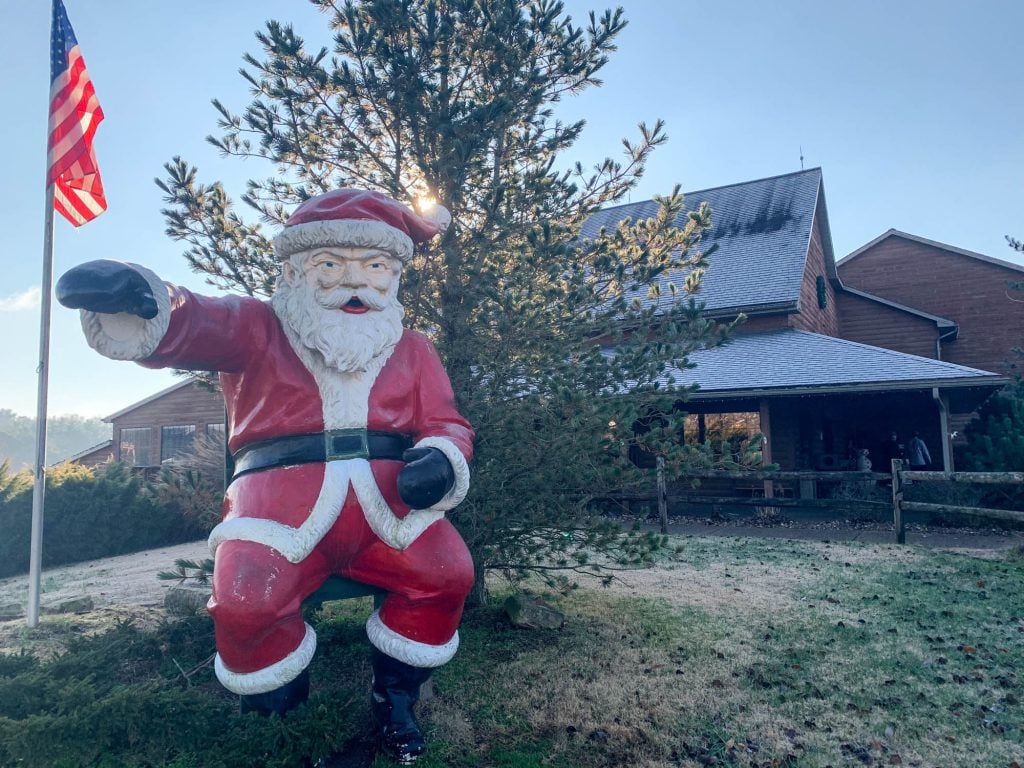 Where to Stay in Santa Claus?
We chose to stay at Santa's Lodge – it just felt like the place we had to stay! It was a positive experience – the lodge is honestly nicer and in better shape than we thought it might be. We had a room with two queen beds and it was ample size and space. The beds were comfortable. The TV and cable were a little old – but we were out and about the whole weekend – so we didn't really mind. There is an indoor pool & hot tub which we didn't know about ahead of time. It gets pretty busy with kids by the evening but in the afternoon when we arrived – it was empty!
They also have a zipline course for the warmer months and special holiday packages that include the dinner with Santa and more. We were happy with our stay.
There are also a number of places to stay in Santa Claus from B&Bs, camping at the Lake Rudolph Campground, motels and more. When we go back, we'll probably opt for a cabin or one of the cottages for a bit more quiet, woodsy atmosphere. I have to admit – we chose Santa's Lodge because we assumed the proprietor would be very sexy and shirtless and in financial trouble needing the assistance of a marketing guru (like myself) from the big city. (i.e. the plot of every Hallmark Christmas movie – haha!)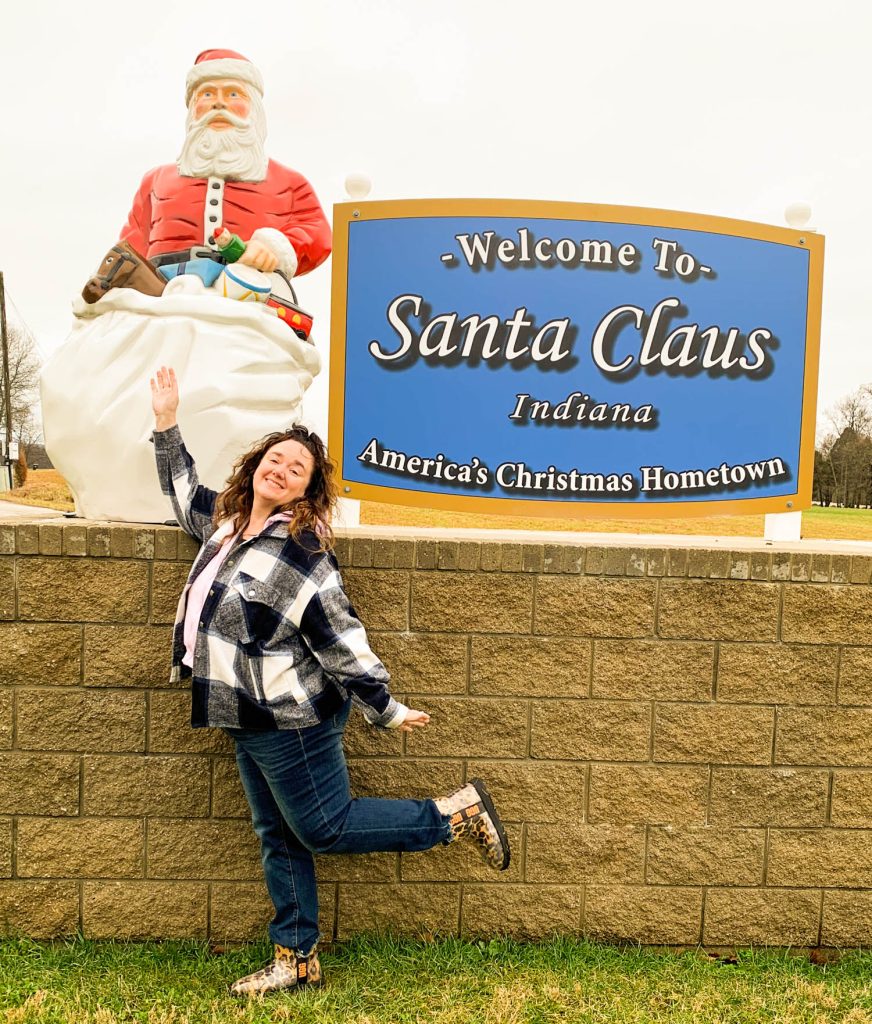 What to Do in Santa Claus, Indiana in December
The fun holiday activities start at Thanksgiving in the town of Santa Claus. We found the weekend before Christmas was packed FULL of activities around town. There are other weekends prior that have activities as well – so plan early! And – you'll be shocked at how many of the activities are FREE – and every place has free parking as well.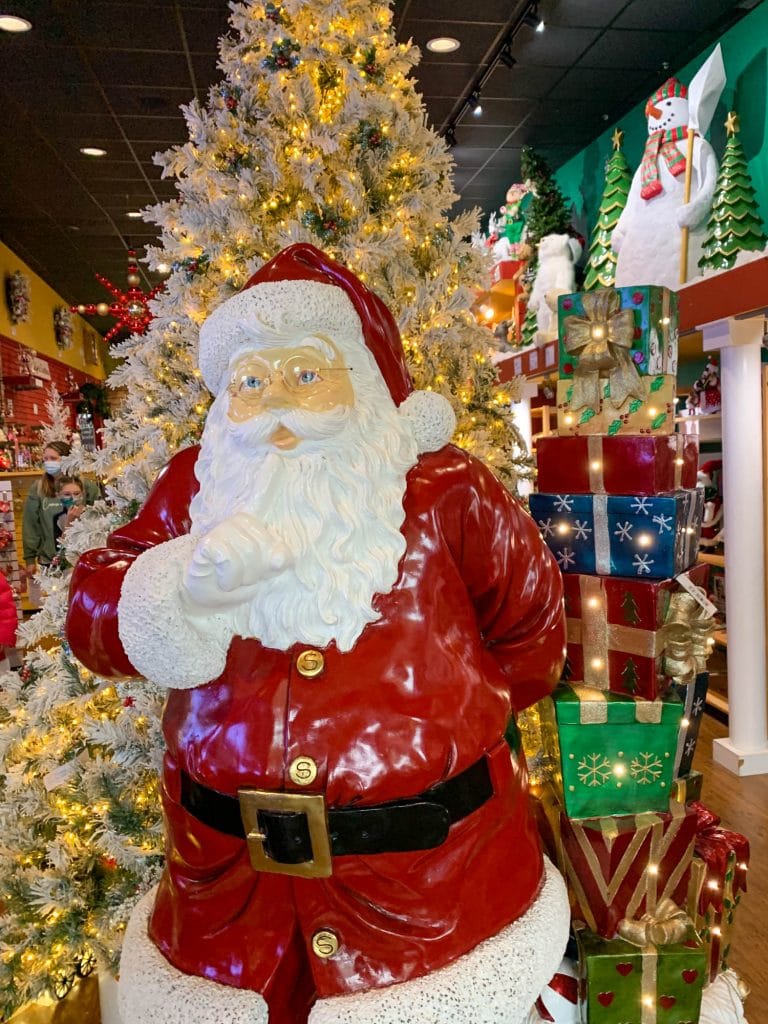 1. Purchase a customized ornament at the Santa Claus Christmas Store – This Christmas Store has EVERYTHING – including a bakery & coffee shop! I picked up a cute white ceramic tree with lights and a giant cookie! (Cost: whatever you spend, the cookie was about $3)
2. See live reindeer at Santa's Toys – Santa's Toys is right next to the Christmas store and they have different events throughout the holiday season including LIVE reindeer as well as toy drives. (Cost: FREE)
3. Have breakfast with Santa at this Historic Santa Claus Campground – this was offered another weekend before we were in town and is an annual event. I'm putting it on my list for next year because the campground has a giant Saint Bernard pup that greets all it's visitors! (Cost: not available at this time)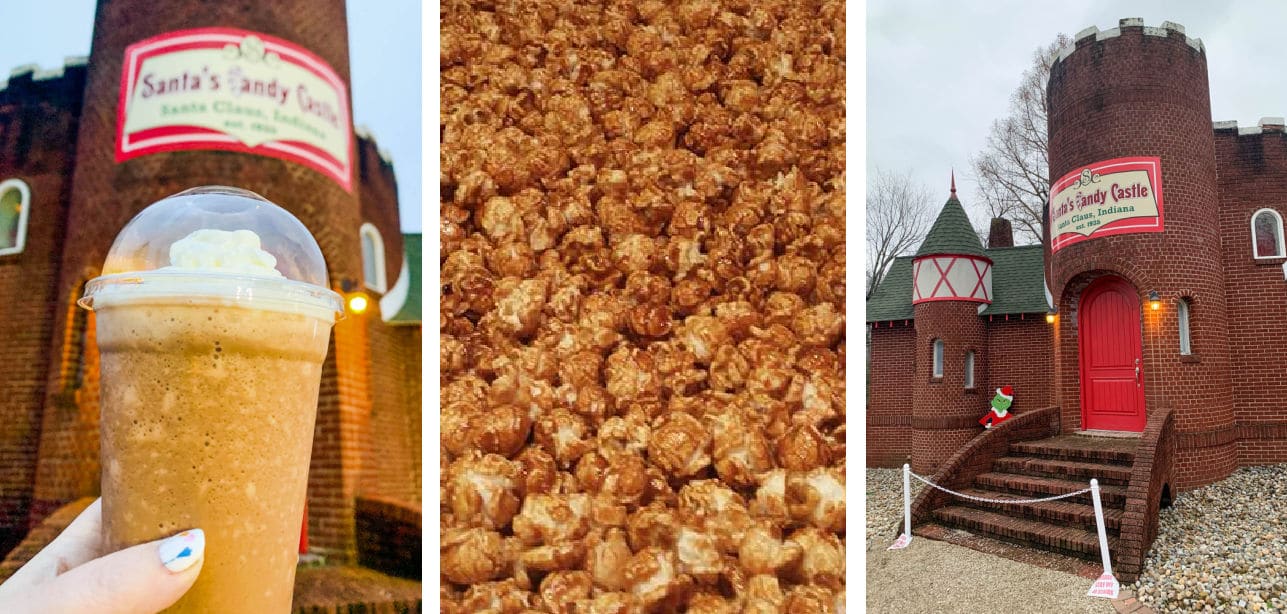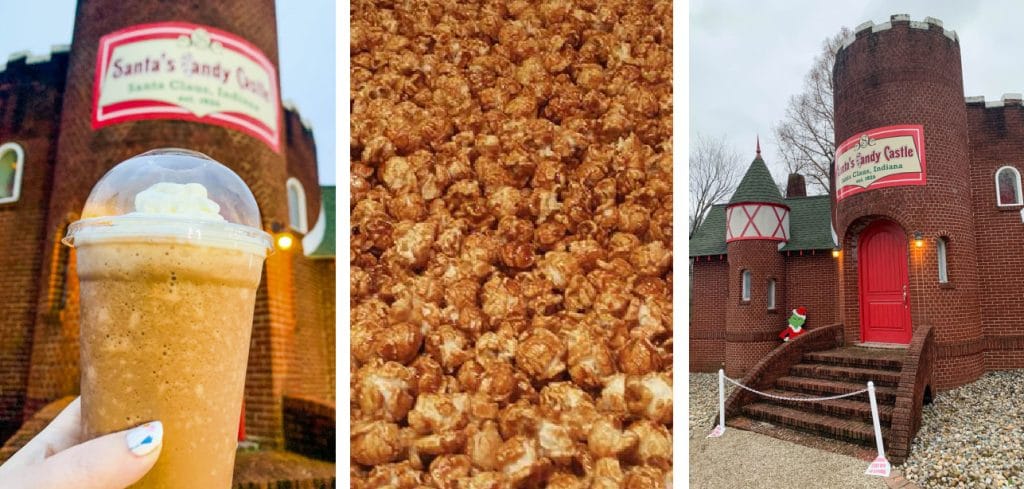 4. Santa's Candy Castle for a Frozen Hot Chocolate – This candy castle is an EXPERIENCE! Pro Tip: Go early in the day for shorter lines! The line wraps through the store – so you don't miss anything – and you can get all sorts of unique candy from your childhood. Plus – they are known for their frozen hot chocolate – which was pretty much like the coldest chocolate milk ever! But their CAN'T MISS ITEM is their flavored popcorn! I devoured the cheddar popcorn one day and the dill pickle popcorn the next day – man they were so good! I'm wishing I could get it sent to me! (Cost: Frozen Hot Chocolate was $4.50)
5. Play games and have pizza at Frosty's Fun Center & Arcade – located across the parking lot from Santa's Lodge, Frosty's is an arcade and pizza parlor. They also have a putt putt course in the summer months. They actually have a really big menu with breakfast, lunch, dinner and dessert offerings. (Cost: depends on your purchase)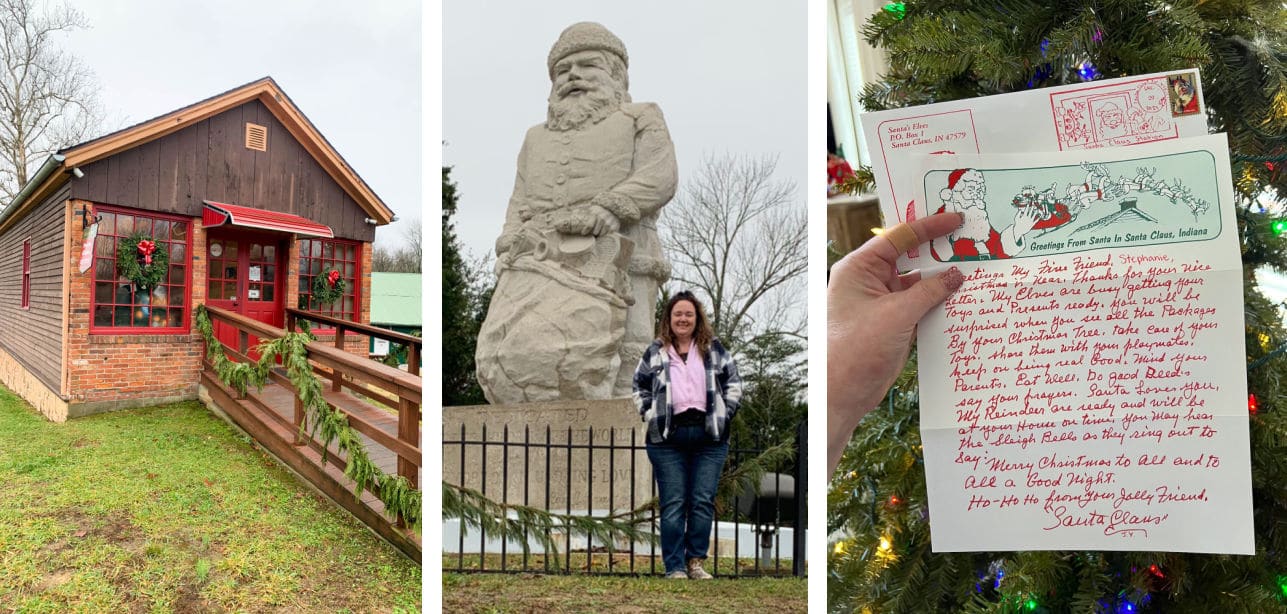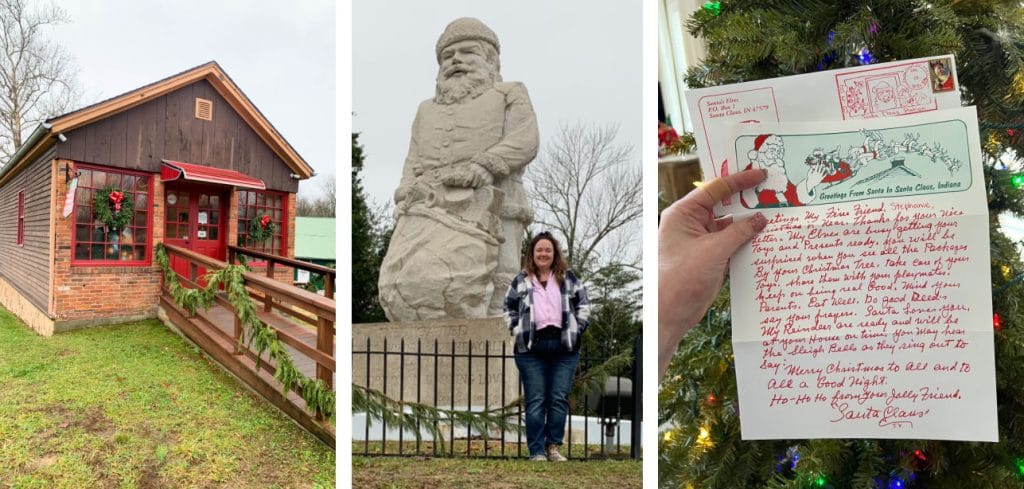 6. Write a letter to Santa at the Santa Claus Museum – this is so fun! The Santa Claus Museum has the first original post office for Santa Claus, Indiana. You can go inside and write a letter to Santa and pop it in the mail. Then be sure to ring the bells so the elves know to get your letter. Then you – or your recipient – will get a real letter from Santa for Christmas! While there, you can visit the Santa Claus Museum as well! (FREE! Donations appreciated)
7. Get a Christmas card postmark at the Santa Claus Post Office – If you want the only postmark in the country that says it's from Santa Claus – head to the post office and send your cards from there! (Cost: a stamp)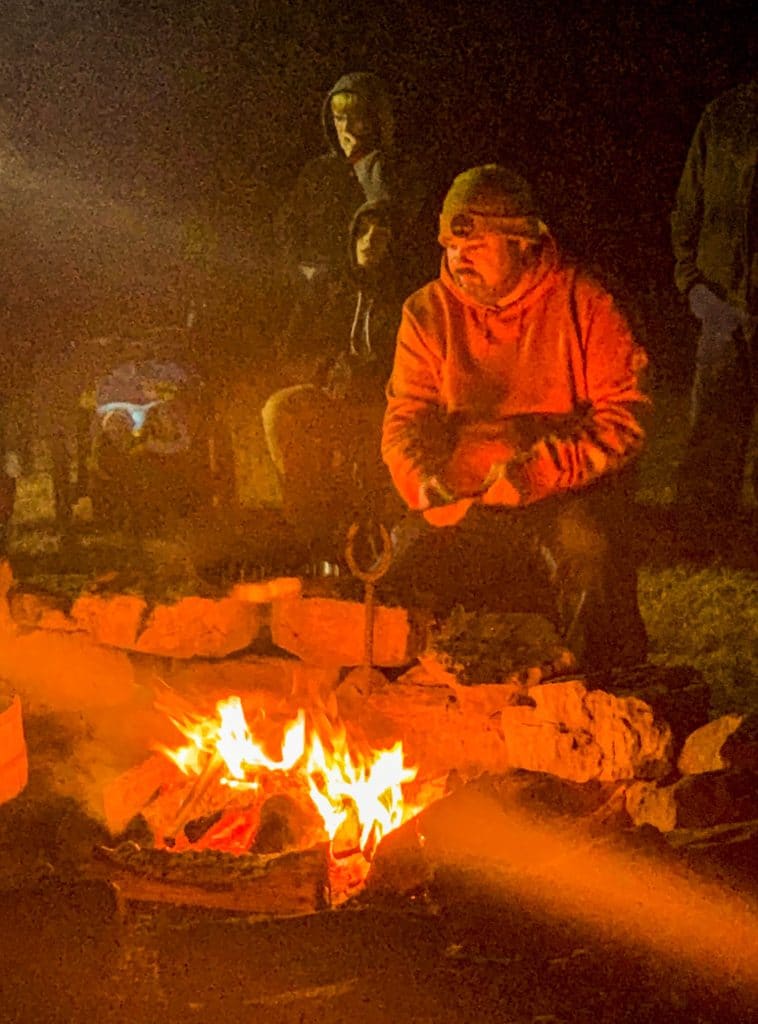 8. Roast Chestnuts on an Open Fire – this is a real thing! Santa's Candy Castle is bringing this tradition back by roasting those chestnuts. They have a big campfire in the back and tell the story of the tradition! Stick around and you get to try them for yourself! Chestnuts are pretty sweet – who knew?! (FREE!)
9. Visit the Treemendous Village at the Lincoln Pioneer Museum – Stroll through 13 Lincoln-era replica cabins decorated for the holiday season inside Lincoln Pioneer Village & Museum. The festive atmosphere will include carolers, music, refreshments, and more. This holiday event is only offered one day and is part of the City of Rockport's Christmas Festival. (Cost: Adults $3, Kids FREE!)
10. See a Holiday Play at the Heritage Hills Auditorium  – This year's play was "It's a Wonderful Life". It's put on by the Lincoln Boyhood Drama Association. (Cost: Ticket prices unavailable at this time – but it was less than $10)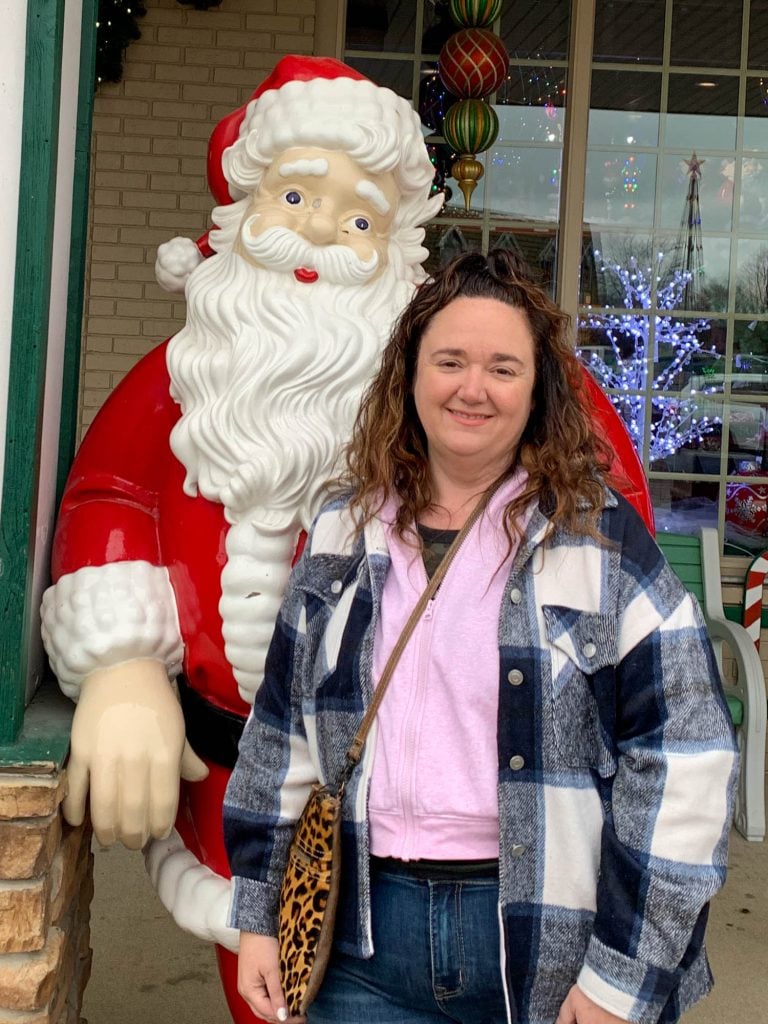 11. Take a selfie with one of 20 Santa statues around town – everywhere you go – there's a big Santa statue! Be sure to use #SantaSelfie as you're snapping shots around the village. (FREE!)
12. Drive thru the Santa Claus Land of Lights display and learn the story of Rudolph – there are a few different holiday light show displays in the area. We enjoyed the Land of Lights the most at the Lake Rudolph Campground. They tell the story of Rudolph that the kids can follow along with along the way. (Cost: $15/car)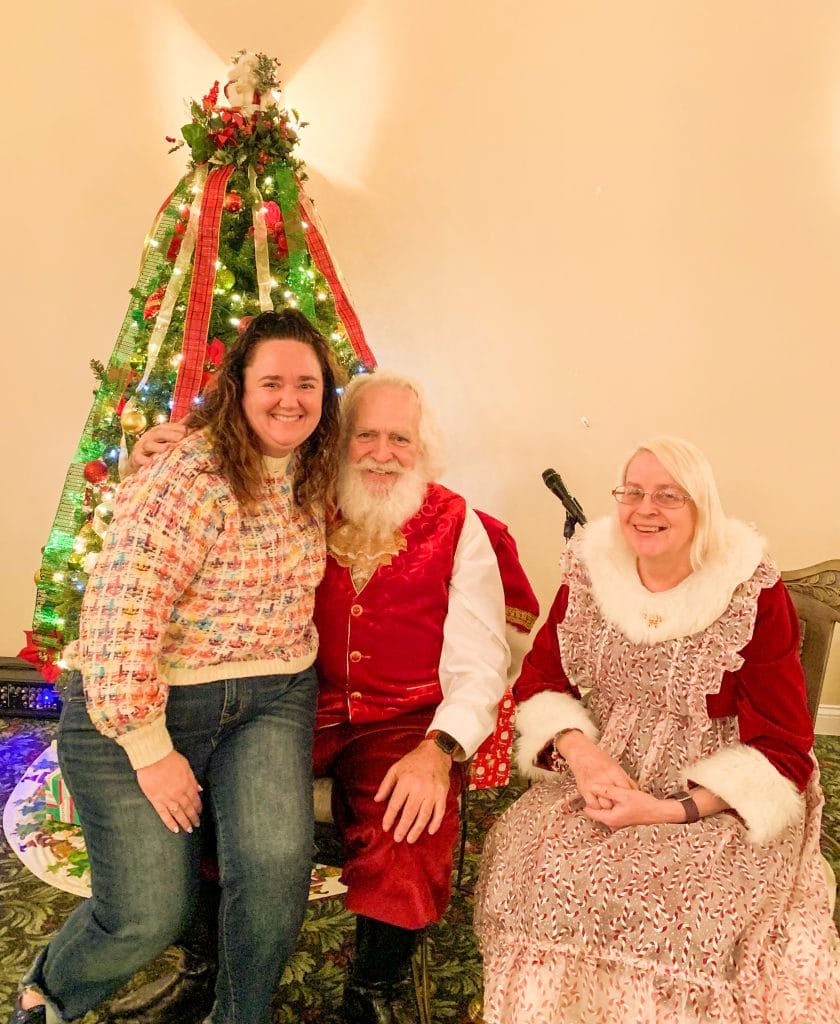 13. Have dinner and story time with Santa at Santa's Lodge – whether you're staying at the lodge or not, you can stop in for dinner and story time with Santa! It's a buffet dinner & dessert and Santa & Mrs Claus are in attendance. After dinner, they take pics with all the guests and read a story. I will say – the dinner wasn't great – but you're really there for the quaintness and that was nice. Plus – you don't pay any extra for pics. (Cost: $17.50/adults, $10.95 for ages 4-10)
14. Shop for gifts at the many cute shops – you'll find cute little boutique shops in Santa Claus and a few nearby towns. We liked Evergreen Boutique the best – it's a Christmas shop and a clothing boutique. I picked up a couple of ornaments with me and my boyfriends names on them for the tree! (Cost: whatever you purchase)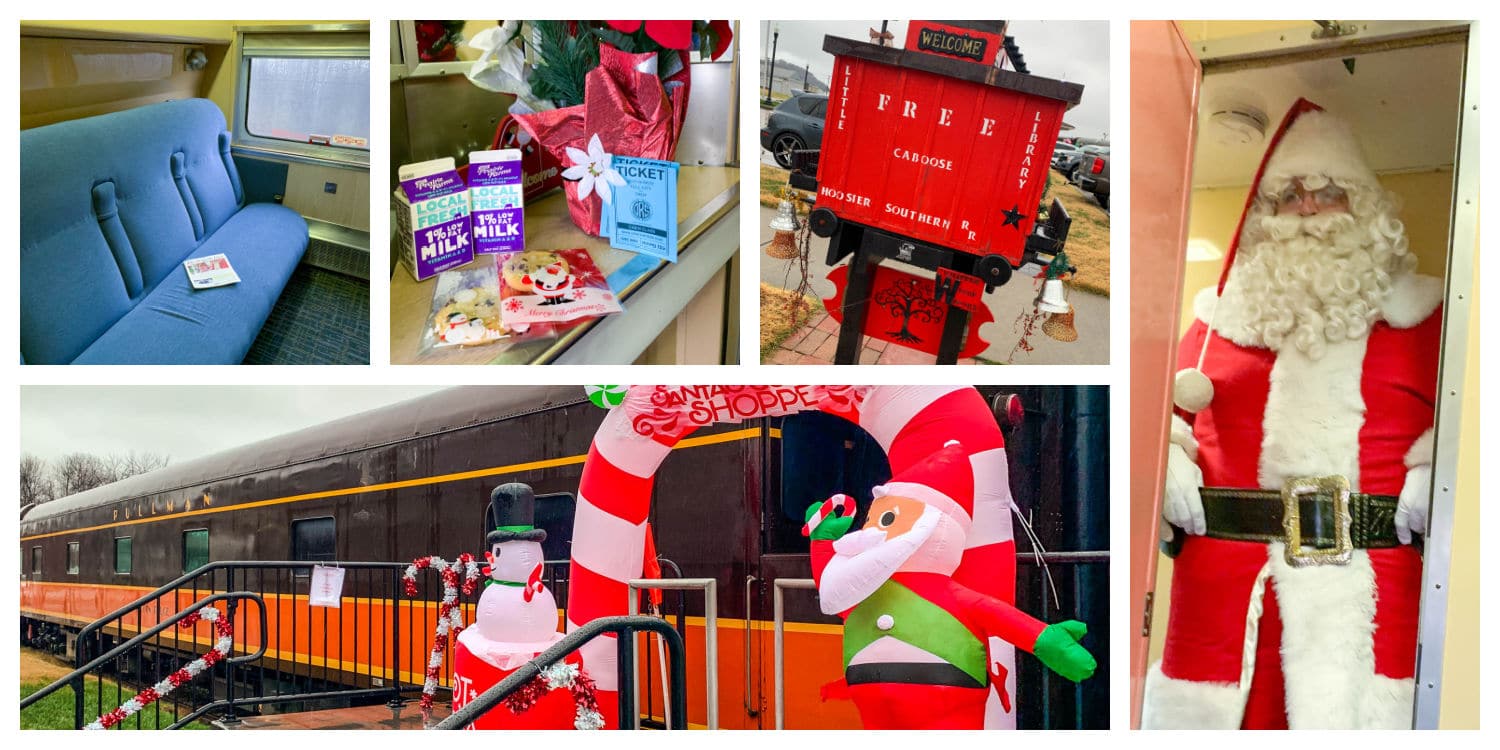 15. Ride the Candy Cane Express train and have milk & cookies with Santa – there are a couple of different train rides you can go on. Our train left Tell City (about 20 minutes away from Santa Claus). We paid extra to get a little room to ourselves with a sofa – which was nice since we were kidless. They tell a story over the PA system on the train and you get a visit from a cousin of Rudolph and from Santa. Let me also say – they had the BEST Santa! At the end of the ride each passenger gets milk & a cookie! The ride itself isn't that interesting in terms of scenery but they did a great job with the story and the staff on board. There's also a free library outside, a little gift shop inside and a photo station. (Cost: Tickets for the train start at $15)
* After the train ride, stop by the Domestic Goddess Boutique! It's just a block away and I got a super cute purse!
16. Visit the Lincoln Boyhood National Memorial, Lincoln State Park and see historical sites from where Abraham Lincoln lived for 14 years of his childhood. Visit the Spencer County Visitors Bureau for more information. (Cost: FREE!)
17. Enjoy the Santa Claus Christmas Parade – the parade starts at Holiday World and was held on Dec 11 in 2021 – so keep in mind – it's a couple of weeks before Christmas. (Cost: FREE)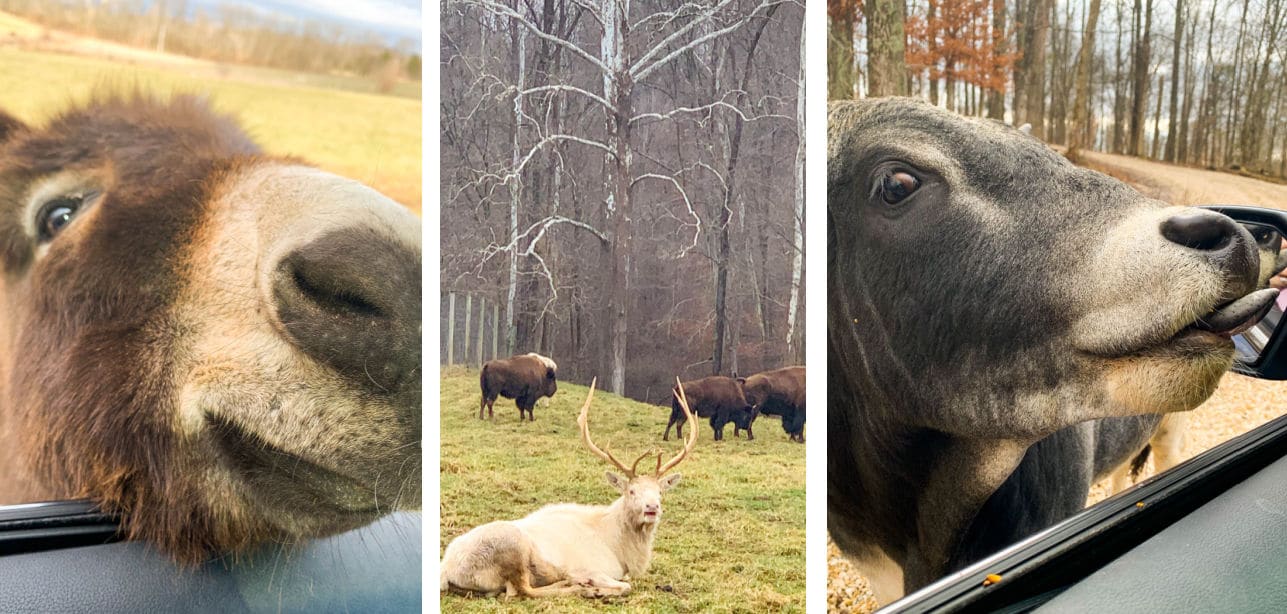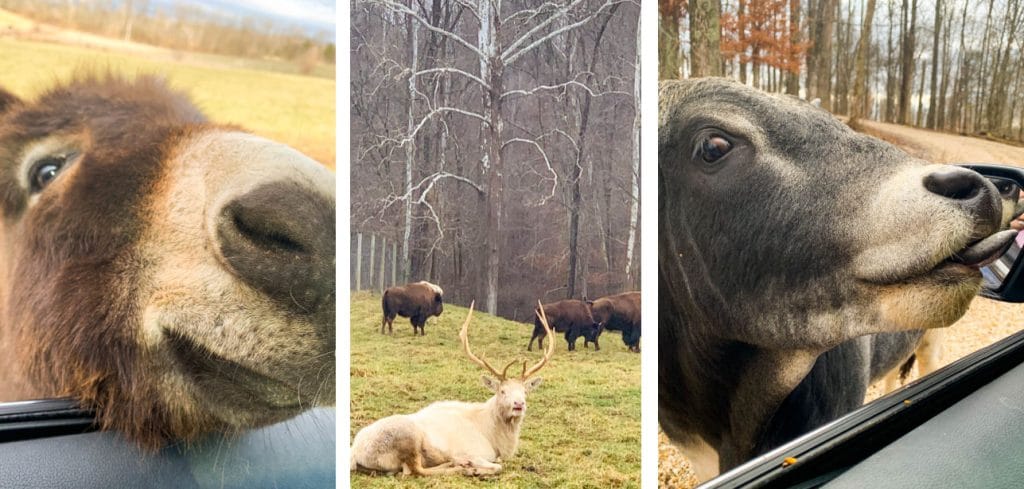 18. Tour the Holiday Lights at Twilight at the Wilstem Wildlife Park! We came across Wilstem Wildlife Park on our drive from Cincinnati to Santa Claus – it's about an hour away. They have a holiday light show which we were going to attend. But – since it's an hour away – we decided to skip the light show and just do the drive through safari tour on our way home. It was so fun! (Cost: Tickets start at $17, cup of food is $3)
One thing I really liked is that nearly all the animals have free roam of very large areas. The bear area was especially cool and we met with their handler Jeff. He's had shows on Discover+ and more and the bears are sort of Hollywood stars as they've been in several movies, etc. Jeff is available during the tour for as much Q&A as you can come up with!
Where to eat in Santa Claus, Indiana?
You'll find a few chain restaurants but most of the dining in Santa Claus and surrounding towns are local places. Here's where we went: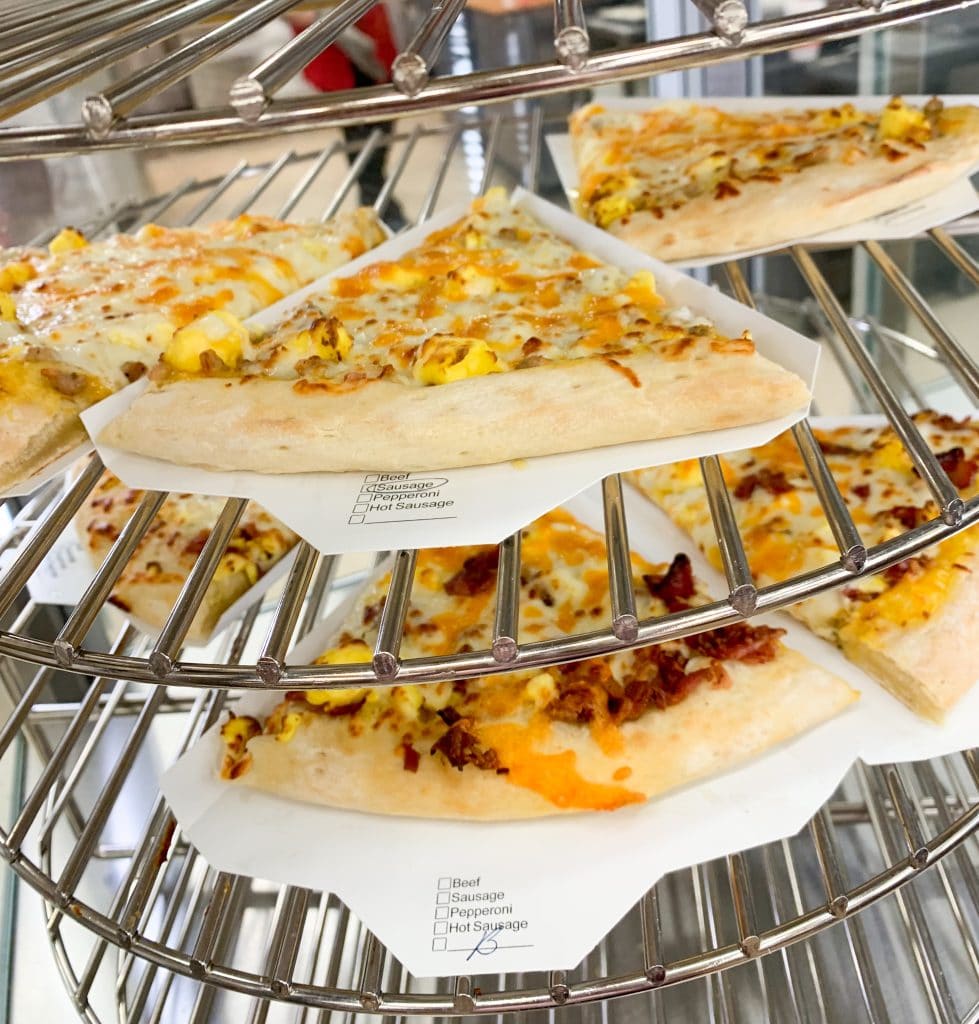 * Casey's General Store – Here's the thing – if you haven't had Casey's Breakfast Pizza – you do NOT know what you're missing! I was giddy to find a Casey's just a block from our lodge! My friend wasn't much of a breakfast fan – so we stopped there each morning and I got a piping hot piece of breakfast pizza – OH SO GOOD! My friend even said "This is the happiest I've ever seen you!". (I also have a copycat recipe on my blog if you don't have a Casey's near you.) They're also known for their homemade donuts and taco pizza.
* Hoosierland Pizza – I forgot to take a pic – but frankly – we were starving and took the pizza to the Land of Lights and ate while we oohed and ahhhed over the lights. We got a pepperoni pizza – it was fine. Nothing magical but good!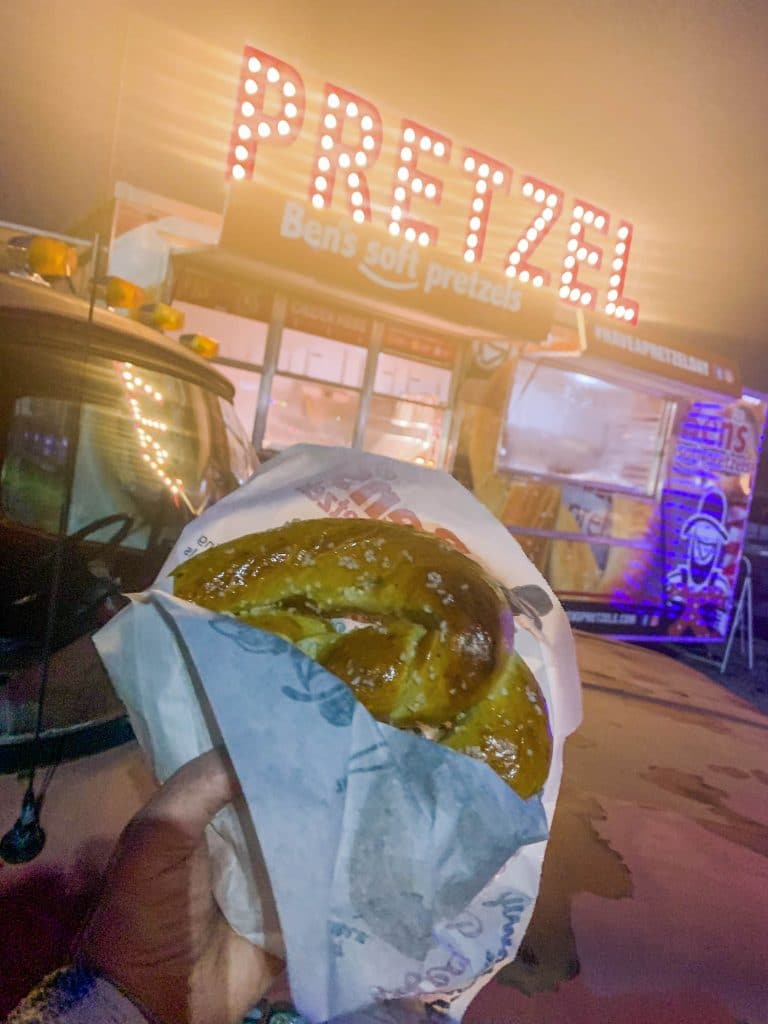 * Ben's Pretzel Truck – On Saturday, there was a host of food trucks at the Christmas shopping mall. We were eating other places – but did grab one of Ben's Soft Pretzels. The bearded young man working there even flirted with me…made my day. It's a good pretzel!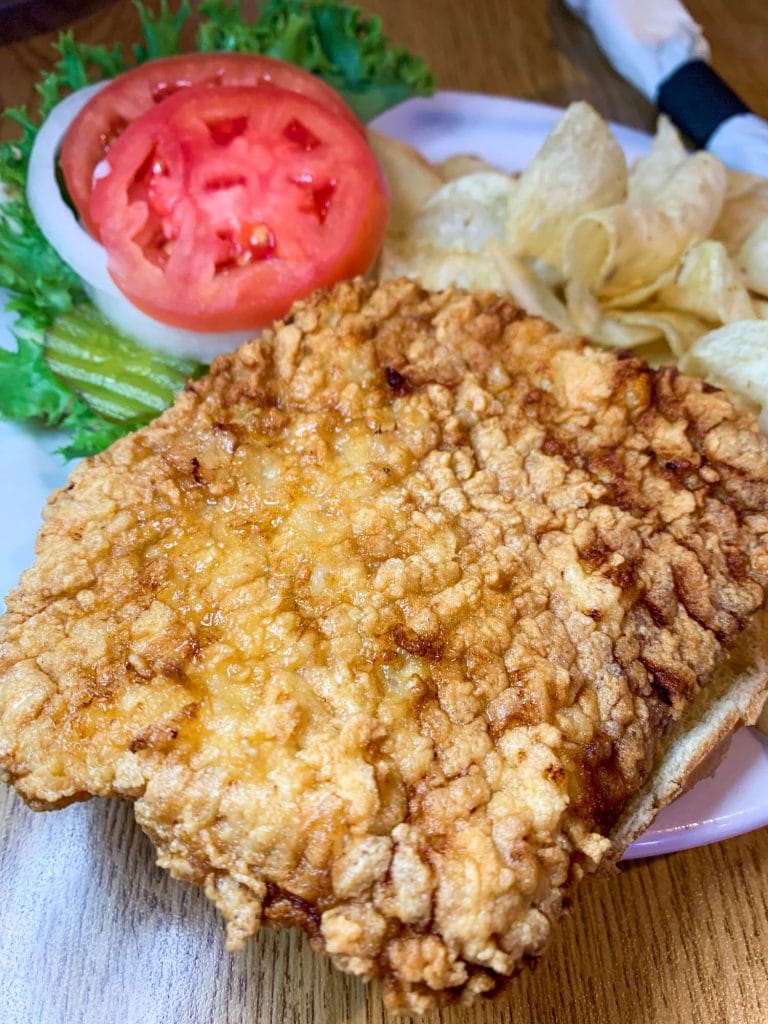 * The Chateau – We went to The Chateau – which has such a fancy name and a fancy building – for lunch. It's about 15 minutes from Santa Claus and you don't know what to expect from the outside. Inside – it's a very casual sports bar with pretty good food. The breadsticks weren't so great – but the breaded pork tenderloin sandwich was yum! (I have a copycat of that too!)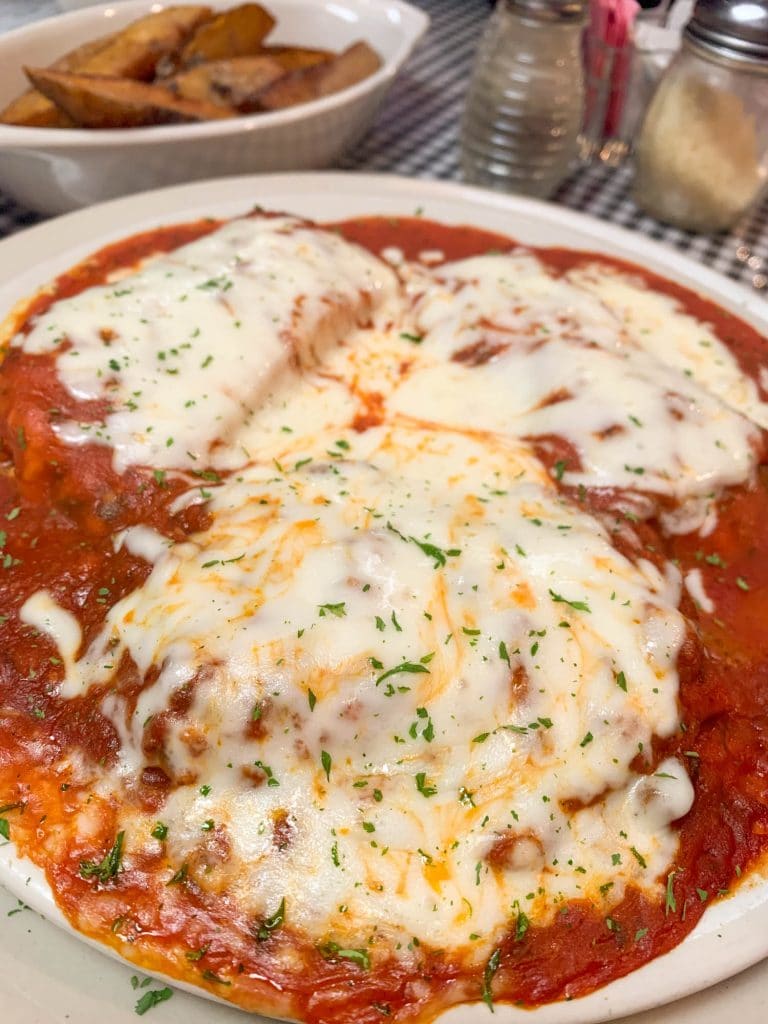 * Mama T's – while we were at Evergreen Boutique – they recommended we try Mama T's Italian Restaurant in Huntingburg, IN (about 20 min away). There are quite a few shops in their downtown as well if you're looking for shopping. They are really known for their steak but we'd had a lot of food during the day – so I stuck with pasta and got their Lasagna trio – so much cheese!!!!
What is closed during the holidays in Santa Claus?
Unfortunately, not all the attractions in Santa Claus are open during December. So keep in mind that Holiday World amusement park, Santa's Stables horseback riding and many of the Abraham Lincoln Boyhood Home buildings are closed during the holidays.
There are a lot of events but they're not all going on every weekend. The website for Santa Claus Indiana is very comprehensive and lists out all of the fun events.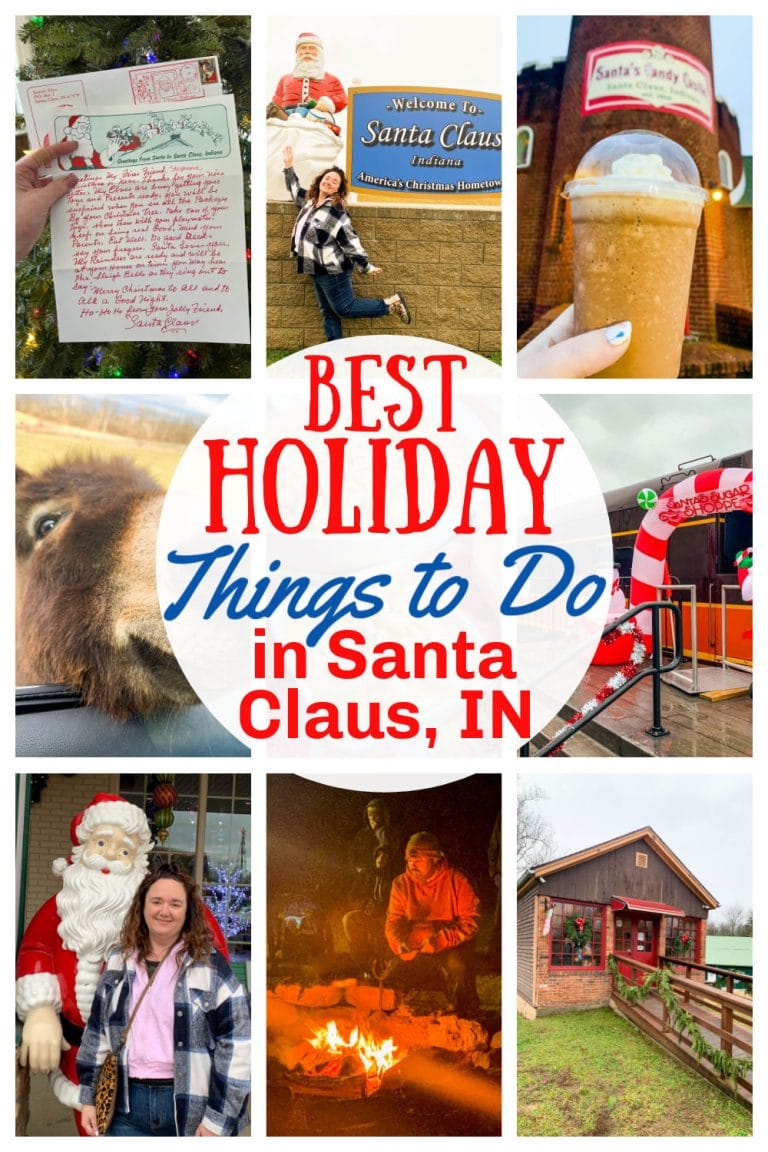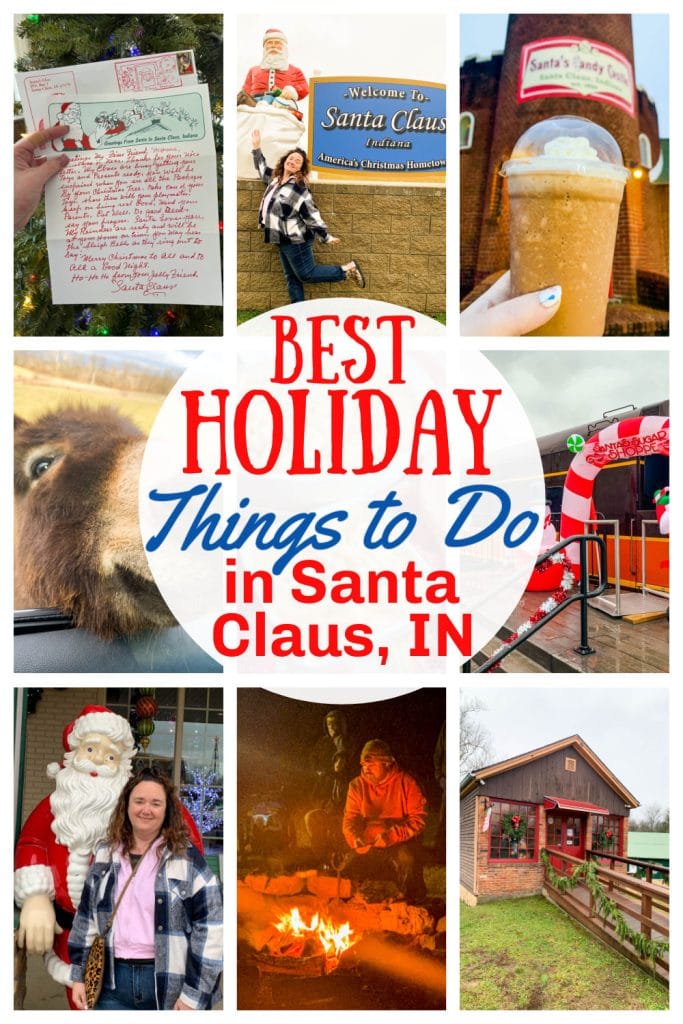 Overall Thoughts on Santa Claus Indiana
While I wasn't scooped up in some Hallmark movie plot – our visit to Santa Claus was very fun. I'm not even that big of a Christmas fan – literally the only Christmas decor I have is the ceramic tree I bought there last weekend – and I really enjoyed it. Go into it looking to have some kitschy fun – and you'll enjoy it!