I've become mildly obsessed with my Air Fryer and if you haven't jumped on the train – I don't know why?! I literally took the Instant Pot and put it in a closet – this is so fast and easy and you can cook nearly anything in it! I use it almost daily!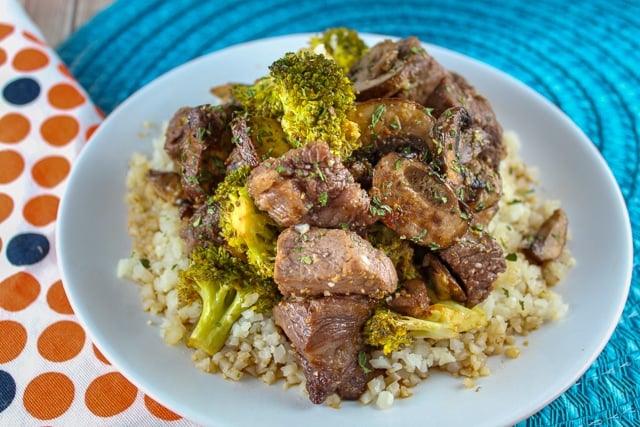 I've been trying some "easy" stuff to get a good handle on how it works and this time it's Air Fryer Steak! At the same time – I've started doing Intermittent Fasting for weight loss. There are a lot of folks finding success with it – especially when combined with a Keto Diet. This recipe is a perfect fit!
If you're curious about Intermittent Fasting – you eat for a specific number of hours each day – for example you fast for 16 hours and eat in an 8 hour window. Basically – I don't eat breakfast. There's a lot of info online about it.
I found a lot of recipes online for air fryer steak bites – but I found they all cooked the steak far too long. I'm a medium rare fanatic and the key is not overcooking your steak. I put the steak, broccoli and mushrooms all together and tossed them with a little butter, garlic, Worcestershire and salt – and into the Phillips Air Fryer they went!
While that was going – just 6 minutes – I heated a bag of Cauliflower Rice in the microwave. This gives you a super quick, Keto-friendly dinner on the table in less than 10 minutes! How can you beat that?!
What Can You Cook in the Air Fryer?
– Hot Dogs/Metts 6 minutes
Yield: 2
Air Fryer Steak & Veggie Bites
The Air Fryer has literally changed my life! It's so easy to use and everything comes out delicious! I had to try air fryer steak and I was not disappointed! A little butter, some veggies and you have perfection!
prep time: 5 mins
cook time: 6 mins
total time: 11 mins
ingredients
1 lb. ribeye , cut into cubes
8 oz. sliced mushrooms
2 Tablespoons Butter , melted
1 broccoli crown, broken down
1 teaspoon Worcestershire sauce
4 cloves garlic, minced
1 tsp coarse sea salt
Cauliflower Rice
instructions
Combine the steak, mushrooms and broccoli. Coat with the melted butter and then season with Worcestershire sauce, minced garlic and salt.
Add steak & veggies in even layer in air fryer basket. Air fry at 400°F for 6-8 minutes, shaking and flipping twice through cooking process (time noted is for medium rare – add time in 2 minute increments if you want it more done – but watch closely).
Heat Cauliflower Rice according to package directions
Serve Steak & Veggie Bites over Cauliflower Rice and enjoy!