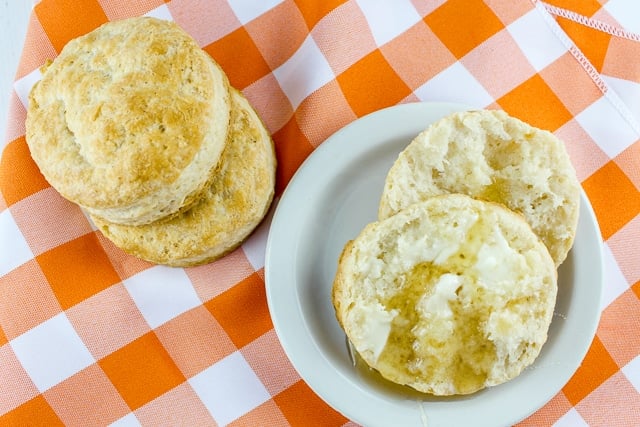 One of the highlights of the trip was our visit to Ruby Slipper Cafe! Ruby Slipper originated in New Orleans but is quickly expanding across the south and they know their biscuits! They top them with everything you can think of – but before you can top the biscuit – you need to perfect it!
How do you make Ruby Slipper's Buttermilk Biscuits?
I think they've done an amazing job and I have to say what I loved most was how simple this recipe is! It's 3 ingredients! THREE! The recipe they gave us made like a million biscuits – oye – I'm a single lady – I don't need that many! So I cut this down and it made 6 biscuits which was perfect for me and a friend to have dinner and a couple left over for breakfast!
It's self-rising flour, frozen butter and buttermilk – that's it! You mix the flour, butter and buttermilk together and add a little water to make it that tacky texture (see photo below). Their tip was to grate the frozen butter and be sure it's frozen! As you grate it – it will soften a little.
The kind folks at Ruby Slipper invited us to a biscuit-making class and we had a blast!!! Here's some shots of my girl Plain Chicken really enjoying shoving her sticky dough-hands in my face! Look at those amazing biscuits!!! And yes – we're eating straight butter – duh!
So when I made the biscuits at home – they didn't come out quite as high – but my friend said it's partly because when I cut them out – I twisted the cutter. You should just cut down and pull up – no twisting! Who knew – but she's convinced it affects the height of the biscuit. Even though they weren't quite as tall – they were JUST as delicious!!!
What to serve with Ruby Slipper's Buttermilk Biscuits
Yield: 6-8 Biscuits
Copycat Ruby Slipper Buttermilk Biscuit
On a recent visit to Gulf Shores, we discovered Ruby Slipper Cafe and have been biscuit-obsessed ever since! We even got to make some of their famous biscuits and take home the recipe!
prep time: 10 mins
cook time: 20 mins
total time: 30 mins
ingredients
1 2/3 cups self rising flour
1 stick frozen salted butter – grated
2/3 cup buttermilk
2 tbs water
instructions
Preheat oven to 350
In large bowl, mix flour, grated butter and buttermilk
Mix with hands until tacky (see photos) – should still be "wet"
Add water if necessary for texture to remain sticky/wet
Light dust counter with flour and roll out dough – Do not over work the dough! Keep dough about 1″ thick
Cut biscuits with round cutter or glass – when you cut – just cut down – do not twist cutter
Place on non-stick cookie sheet that has had a light spray of nonstick spray
Bake at 350 for 22 min oven until top and bottom are golden
If not golden on top – broil on low for 1 minute – but WATCH CLOSELY!
Air Fryer Instructions: Bake at 350 for 16 minutes – they were even fluffier!