Air fryer tilapia is so simple and easy! It's a fish you can't screw up and it cooks quickly because it's thin. I love it! I used a light breading and made a flavorful crunchy fish dinner in minutes!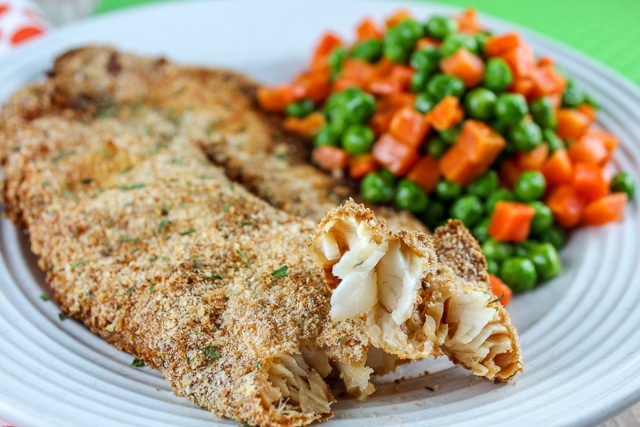 Tilapia is a light white fish and the perfect thickness for the air fryer. This fried fish flakes so easily and is made with a light and easy breading and within a few minutes – it was in the air fryer and dinner was on the table!

What air fryer would you recommend for 1-2 people?
I knew with Lent coming up – there would be a lot of folks requesting new ways to make fish and this is so simple – you can't pass it up! If you have not yet pulled the trigger on an Air Fryer – here's the Phillips air fryer I purchased – this is good for 1-2 people. I would say if you have more people in your family – then you might want to get a larger one. But for me – it's perfection!
How do you cook tilapia in an air fryer?
Air fryer tilapia is super simple – just dip in egg and then seasoned breadcrumbs. This breading is so simple – but I loved it because it puts all the focus on the fish! It crispy and delicious!


Once it's breaded, pop it in your air fryer basket and spray it with olive oil – that helps it get the browned color in the air fryer. I used a pump spray – not an aerosol cooking spray.


I served this with just a big ol' side of veggies. I did add a little tartar sauce (I used the new Spicy Tartar Sauce from Frisch's!) and it was perfect!


If you're looking for a recipe for air fryer tilapia with no breading – check out my Air Fryer Fish Tacos – they're delicious!
What is the cooking time for tilapia in the air fryer?
Tilapia cooks perfectly flaky in about 12 minutes in the air fryer!
I always have people asking me what are the best things to make in the air fryer?! Well I'm trying a lot of different things!
What Can You Cook in the Air Fryer? Cooking times for Air Fryer:
– Hot Dogs/Metts 6 minutes
If you're looking for more ideas on what to cook in your air fryer – I've got you covered with this basic starter guide!
You can also find all of them in my Air Fryer Recipes section or in my Air Fryer Facebook group!

Yield: 2
Air Fryer Tilapia
I'm fully obsessed with my air fryer and was determined to master fish in it and this tilapia recipe is perfect! The fish was crunchy on the outside and perfect on the inside!
prep time: 5 mins
cook time: 12 mins
total time: 17 mins
ingredients
2 Tilapia filets
1 cup Italian breadcrumbs
1/2 tsp coarse sea salt
1 egg, beaten
instructions
Set out two plates and put breadcrumbs and salt in one – mix lightly
Place beaten egg in the other plate
Dip tilapia filet in beaten egg and then breadcrumbs
Set in your air fryer
Set to 350 for 12 minutes and hit start!