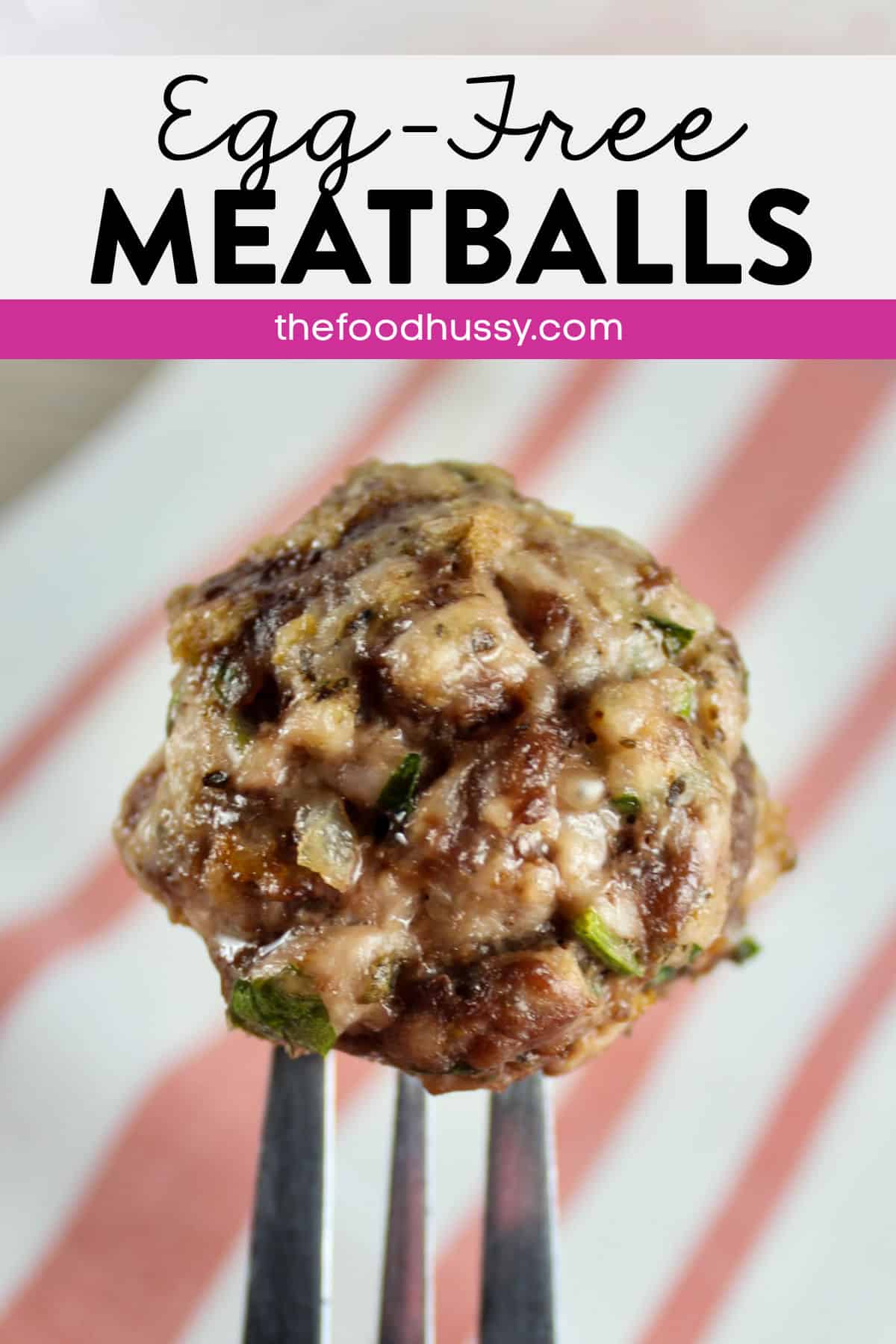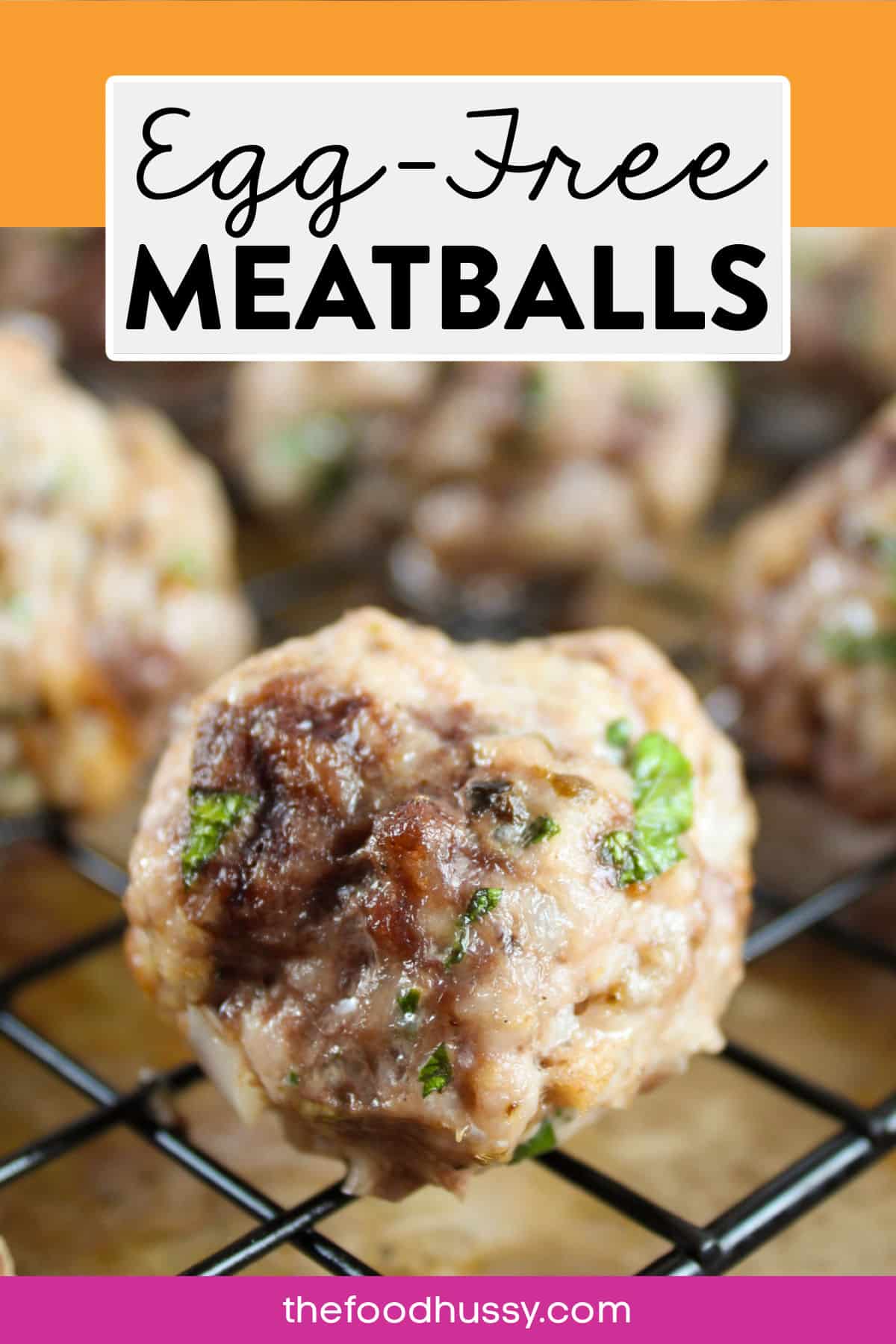 Finally – the best way to make egg-free meatballs! The secret to this meatball's recipe comes from some of the top chefs in the country. Plus these are easy to make!
What You Will ❤️ About Egg Free Meatballs
No Eggs! My ex-husband is allergic to eggs so I was always looking for ways to make things for him that he typically could not eat because they had eggs.
Taste! Once I took these out of the oven – I had to grab a bite. With my dogs drooling at my feet, I then at 3-4 in a row because they were delicious!!!
Versatile! I love making a batch of meatballs because I use them in so many ways: pasta, sandwiches, wraps, salads and more!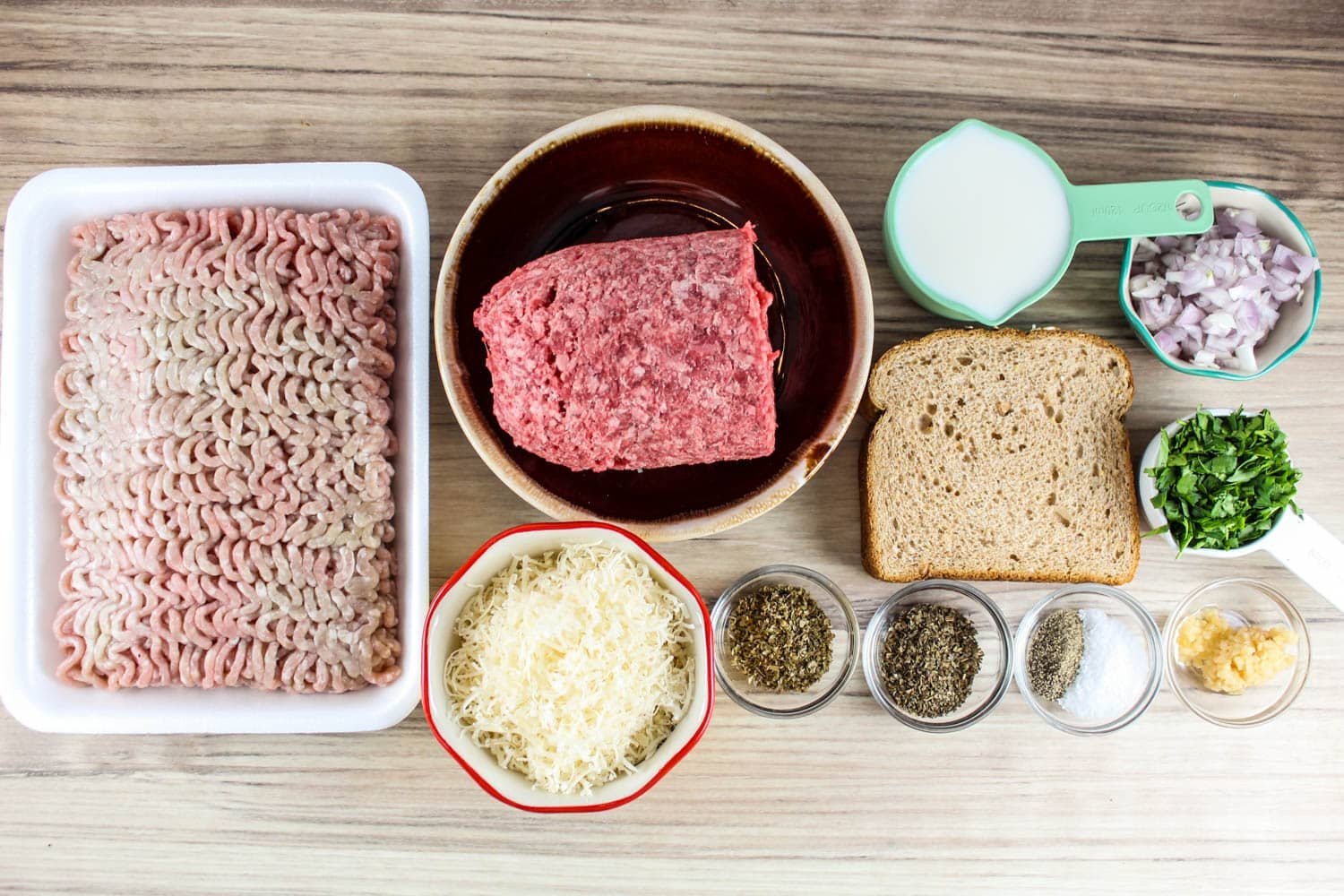 Egg Free Meatball Ingredients
The secret to these egg-free meatballs is to make a panade. I actually called into America's Test Kitchen's podcast to get the answer for this one! They explained that mixing milk and torn bread together will act as a binding agent and a swap for the eggs!
Ground pork & ground beef – I've always used a combination of ground beef and pork – ground pork has a ton of flavor and the fat necessary to make these meatballs delicious
Bread – any type of bread will do – you can use breadcrumbs but the torn slices of bread will act as a better binder
Milk – this will work with the bread to make a binder – any type of milk will work
Shallot – or 1/4 cup minced yellow onion
Garlic – fresh garlic is great but the pre-minced is fine, you could also use garlic powder
Parmesan cheese – fresh Parmesan is best, but the pre-grated is fine
Butter – you can use salted or unsalted – I always use salted butter
Fresh parsley – Italian parsley adds so much flavor – be sure to NOT get the curly kind!
Basil & Oregano – you could also use Italian seasoning
Salt & Black Pepper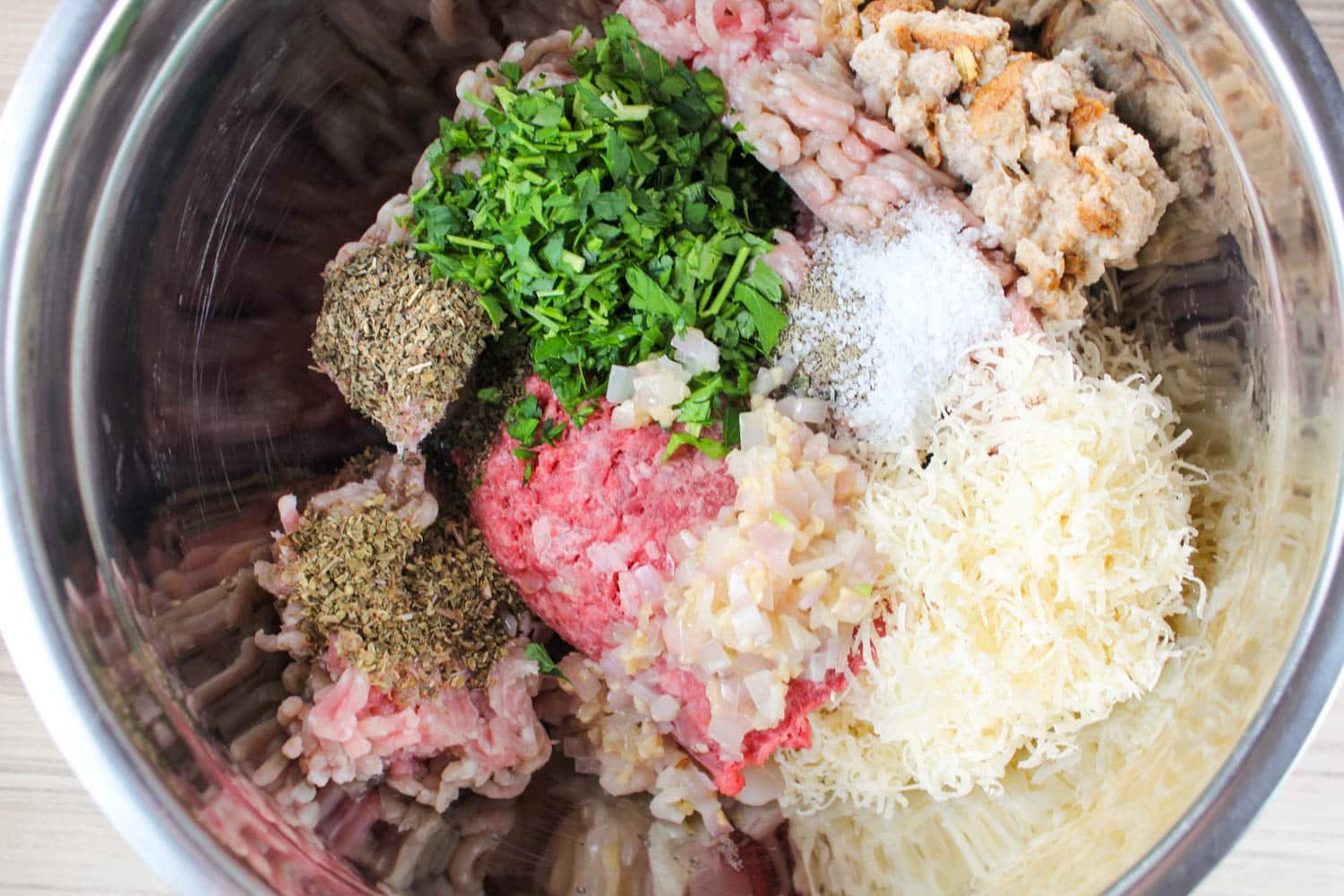 Recipe Variations
There are lots of ways to tweak these meatballs based on your preferences or dietary needs. Here's how:
Stuffed – take a 1″ cube of cheese and stuff it in the middle of the meatball
Ground Turkey – lighten this recipe up by using ground turkey or ground chicken instead of pork/beef
Gluten Free – swap the bread for a gluten free bread and it will still serve the same purpose
Dairy-Free – swap the milk for any dairy free milk or beef broth and swap the butter for olive oil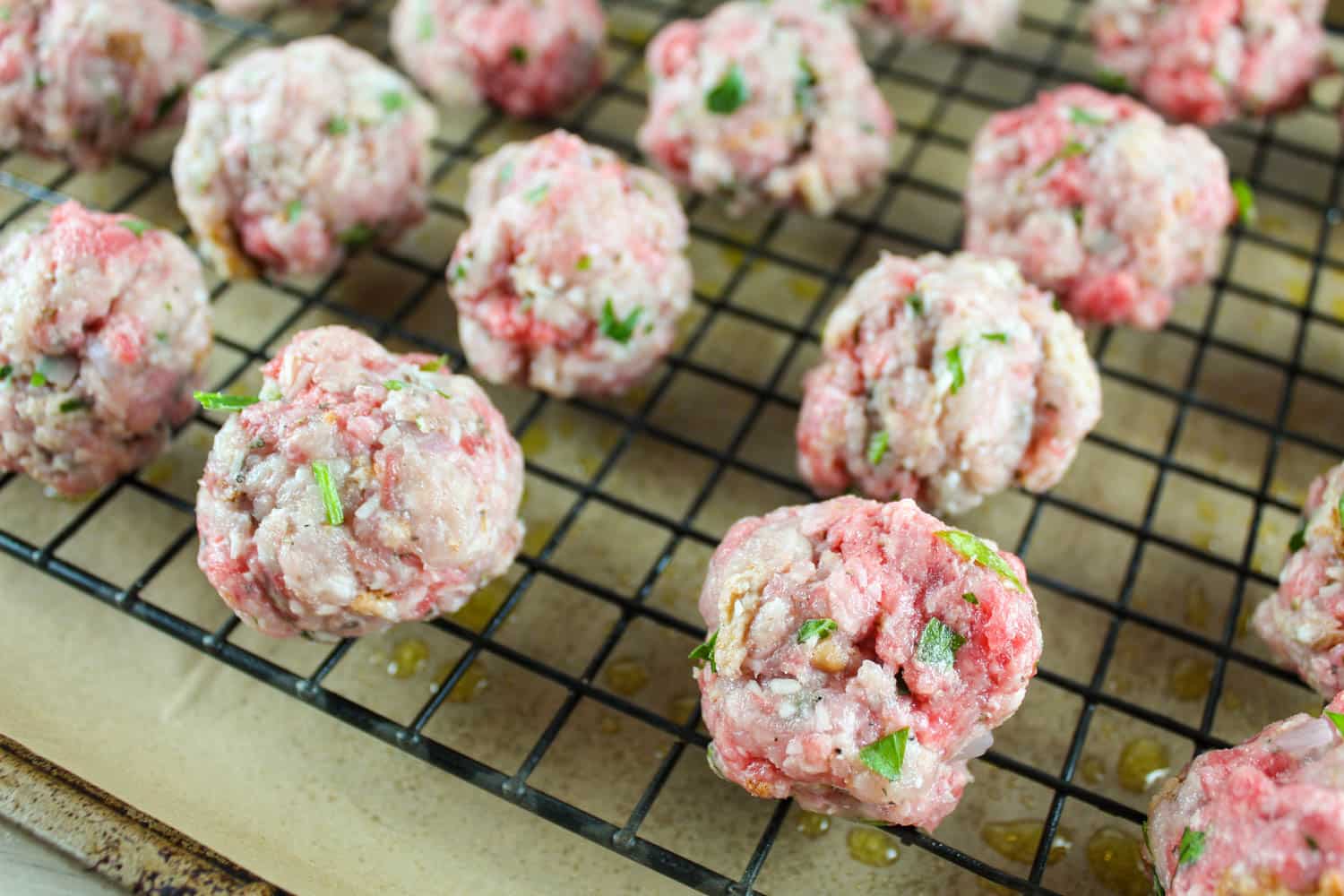 How to make Meatballs without Eggs
The panade will serve as your binder for these tender and flavorful meatballs. Then oven-bake them for the easiest cleanup! Here's what we'll do:
Preheat oven to 400ºF. Line baking sheet with foil or parchment paper, top with a wire rack and spray with cooking spray.
To make a panade, pour milk into a small bowl and add torn pieces of bread. Mush the bread with a fork into the milk until it's a thick pasty mixture.
In a small skillet, melt butter over medium high heat. Add shallot and garlic and Saute for 2-3 minutes
In a large bowl, mix together ground beef, pork, shallot, garlic, basil, salt, oregano, salt, pepper, parmesan cheese, parsley and some of the panade mixture. Add the panade gradually to the large mixing bowl and just use enough for the meat to bind properly – you don't want it having too much liquid. Do not overwork – you'll make the meatballs tough.
Grab a pinch of the meat mixture and form into balls. Meatballs should be about 2" in diameter. Roll gently to a ball shape and set on the baking rack.
Bake in preheated oven for 25 minutes, or until meatballs are browned and cooked through. Temp to 160 and let rest for 5 min
This post contains affiliate links which I make a little money on purchases. Thanks in advance! I am an Amazon associate as well as a member of other affiliate programs.
Tips, Tricks & FAQs
What can I use instead of egg in meatballs?
I went to the chefs and they recommended a panade which is a mixture of bread and milk. There are other folks that use plain yogurt or a flax egg which is a mixture of ground flax seeds and water.
Can I freeze these meatballs before cooking them?
Yes definitely! After you roll the meatballs, set the cookie sheet into the freezer for 2-3 hours for the meatballs to freeze. Once frozen, pop them into a freezer bag and freeze until ready to cook and serve.
How do you store and reheat leftover meatballs
Store leftovers in an airtight container (I like these glass ones) in the refrigerator for up to a week. You can freeze up to three months. Reheat in the microwave for 1-2 minutes or for 4-5 minutes in the air fryer.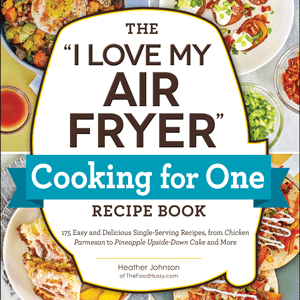 Get Heather's NEW cookbook – Air Fryer Cooking for One today!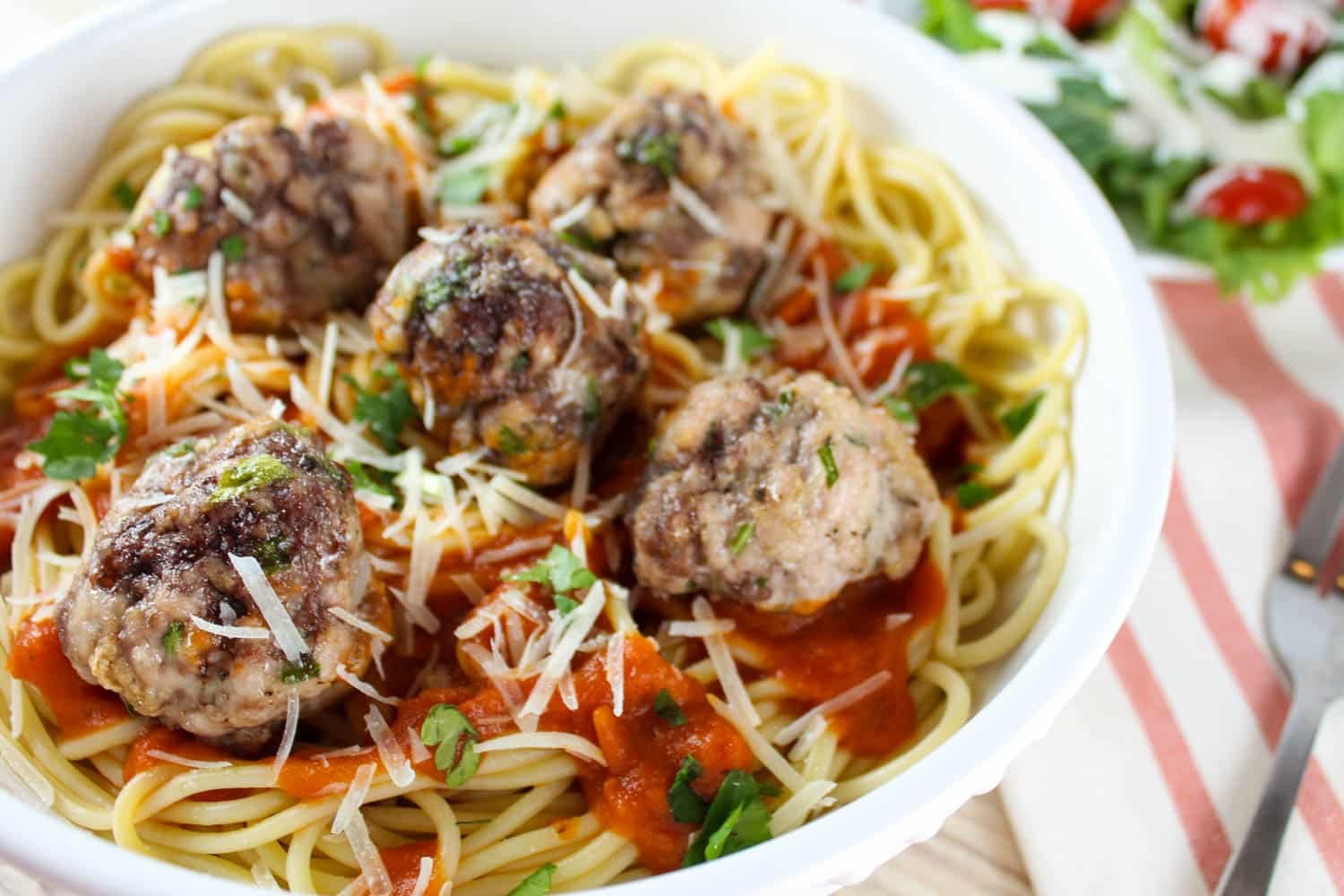 How to use Meatballs
What to serve with Spaghetti & Meatballs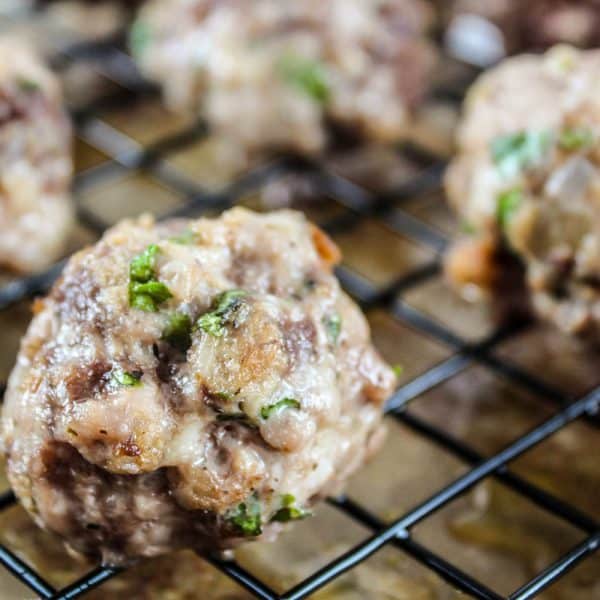 Egg Free Meatballs
Finally – the best way to make egg-free meatballs! The secret to this meatball's recipe comes from some of the top chefs in the country. Plus these are easy to make!
Ingredients
Instructions
Preheat oven to 400ºF. Line baking sheet with foil or parchment paper, top with a wire rack and spray with cooking spray.

To make a panade, pour milk into a small bowl and add torn pieces of bread. Mush the bread with a fork into the milk until it's a thick pasty mixture.

2 slices bread,

1/2 cup milk

In a small skillet, melt butter over medium high heat. Add shallot and garlic and Saute for 2-3 minutes

1 shallot,

1 tsp garlic,

1 tbsp butter

In a large bowl, mix together ground beef, pork, shallot, garlic, basil, salt, oregano, salt, pepper, parmesan cheese, parsley and some of the panade mixture. Add the panade gradually to the large mixing bowl and just use enough for the meat to bind properly – you don't want it having too much liquid. Do not overwork – you'll make the meatballs tough.

1 pound ground pork,

1 pound ground beef,

1/2 cup Parmesan cheese,

1/4 cup parsley,

1 tsp basil,

1 tsp salt,

1/2 tsp oregano,

1/2 tsp black pepper

Grab a pinch of the meat mixture and form into balls. Meatballs should be about 2" in diameter. Roll gently to a ball shape and set on the baking rack.

Bake in preheated oven for 25 minutes, or until meatballs are browned and cooked through. Temp to 160 and let rest for 5 min
Notes
**We are not dietitians and recommend you seek a nutritionist for exact nutritional information. The information in the nutrition box are calculated through a program and there is room for error. If you need an accurate count, I recommend running the ingredients through your favorite nutrition calculator.**
Nutrition
Serving:
6
meatballs
Calories:
486
kcal
Carbohydrates:
8
g
Protein:
30
g
Fat:
36
g
Saturated Fat:
15
g
Polyunsaturated Fat:
2
g
Monounsaturated Fat:
15
g
Trans Fat:
1
g
Cholesterol:
123
mg
Sodium:
695
mg
Potassium:
515
mg
Fiber:
1
g
Sugar:
2
g
Vitamin A:
384
IU
Vitamin C:
4
mg
Calcium:
145
mg
Iron:
3
mg