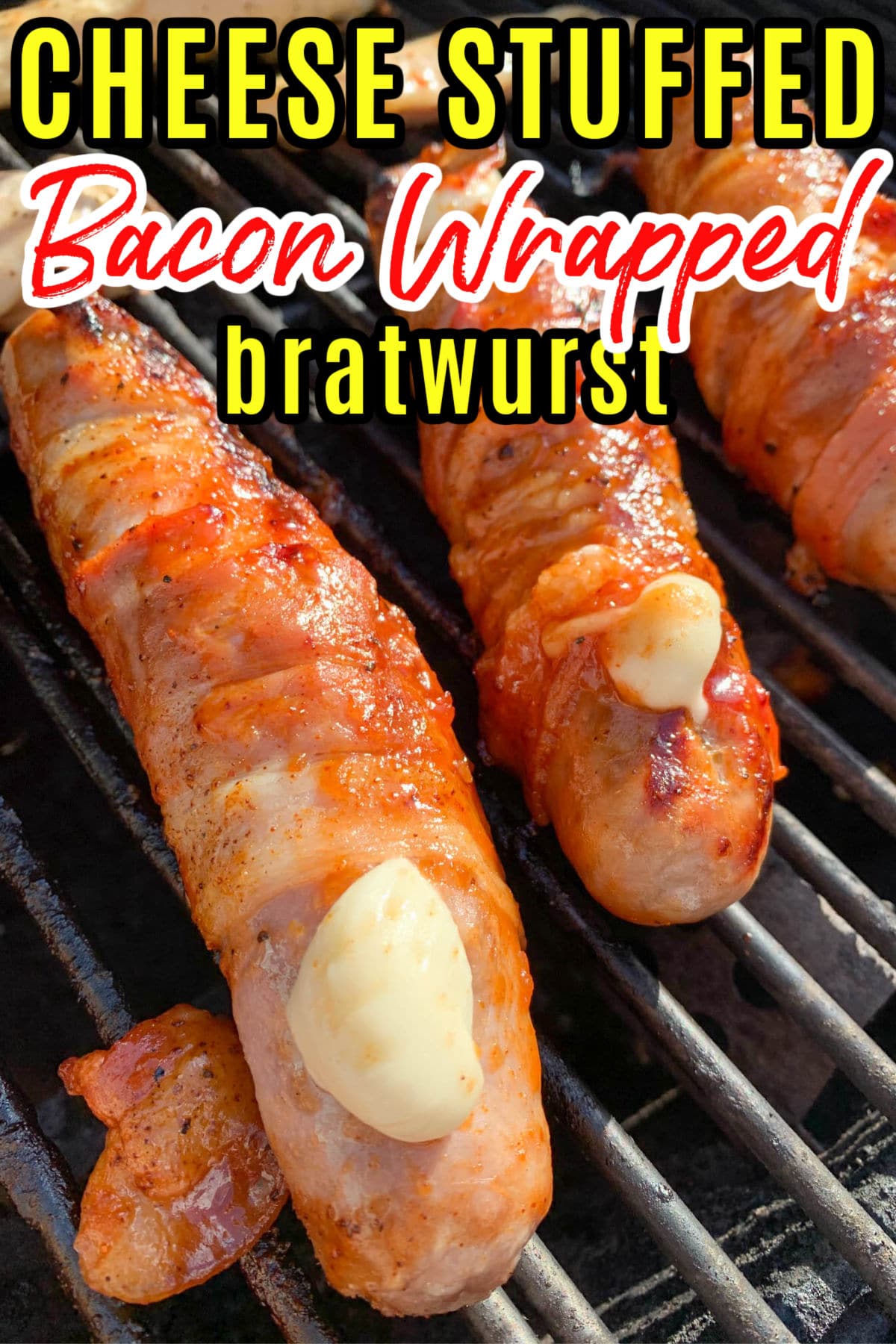 Cheese-stuffed brats are easy to make and amazingly delicious on the grill! I saw these bacon-wrapped delights on TikTok and HAD to make them at home! So easy to make too – just takes 15 minutes of prep and it's worth it!
Jump to Recipe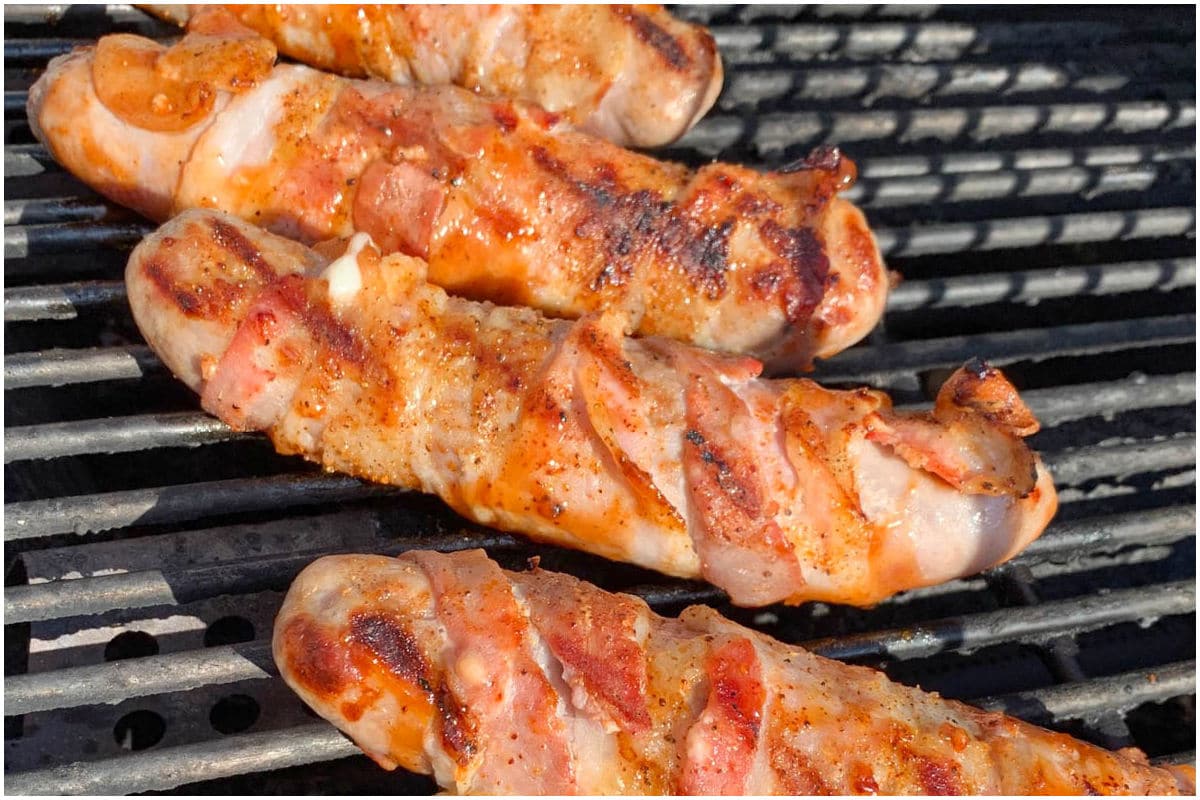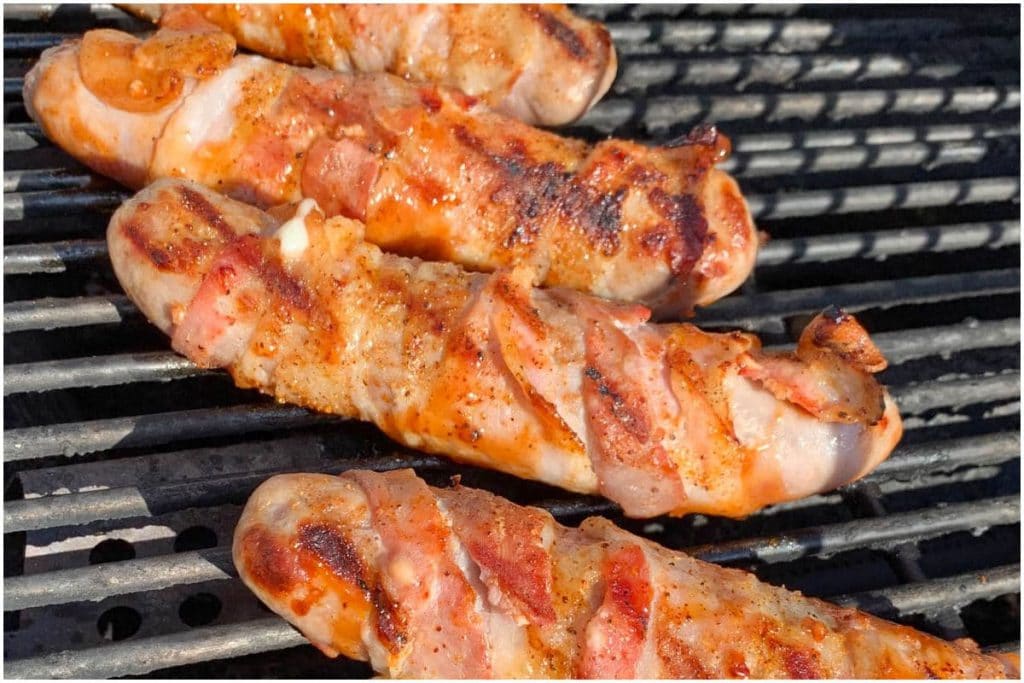 TikTok – if you're not familiar – is the newest social media sensation and it's really full of nonsense – but they have these magical little food videos that are really taking off! This was one of them I ran across late one Saturday night (jealous are you?) – and I woke up the next day and went to the grocery store to get everything for it!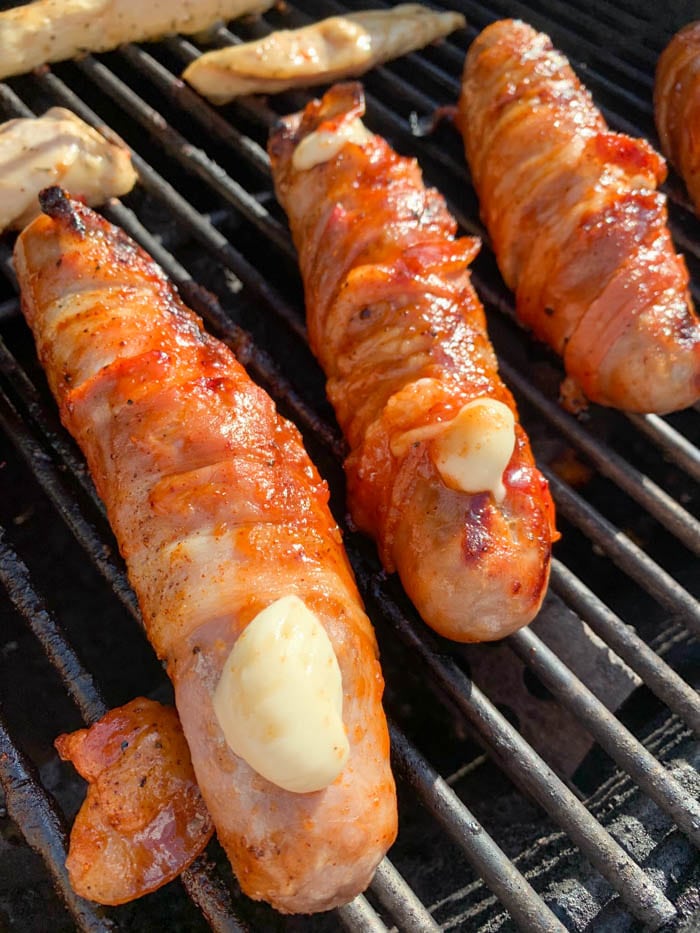 What goes in Cheese Stuffed Brats?
First – you need to gather up all the ingredients – we went for:
Beer Bratwurst – be sure to get the raw brats not smoked that are pre-cooked
Mozzarella sticks
Thick sliced bacon – you want it to stand up to the heat of the grill
BBQ Rub – I love Historic BBQ – they are the only ones I use – for this I used the RED which is made for chicken and pork
BBQ Sauce – I love Williamson Bros – you can get it online at Walmart and let me tell you – it's worth it!!! It's so delicious! It's a very light and seasoned sauce – perfect for basting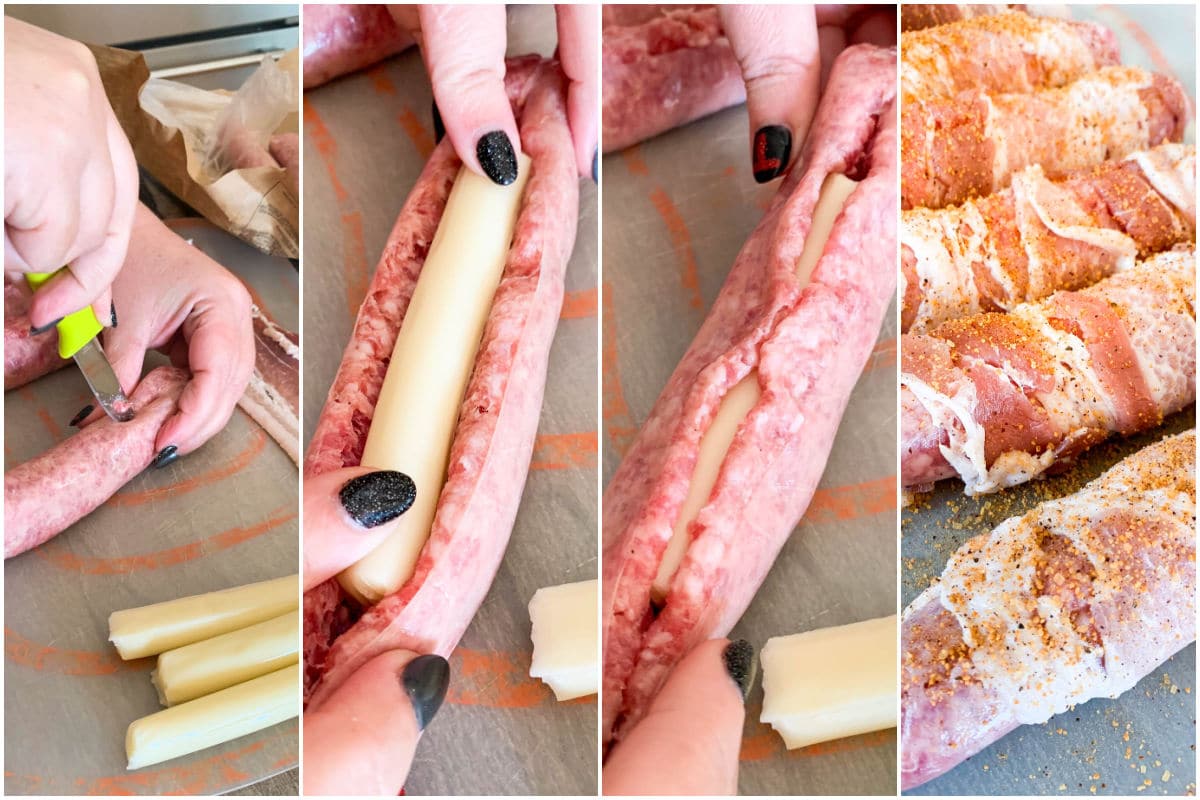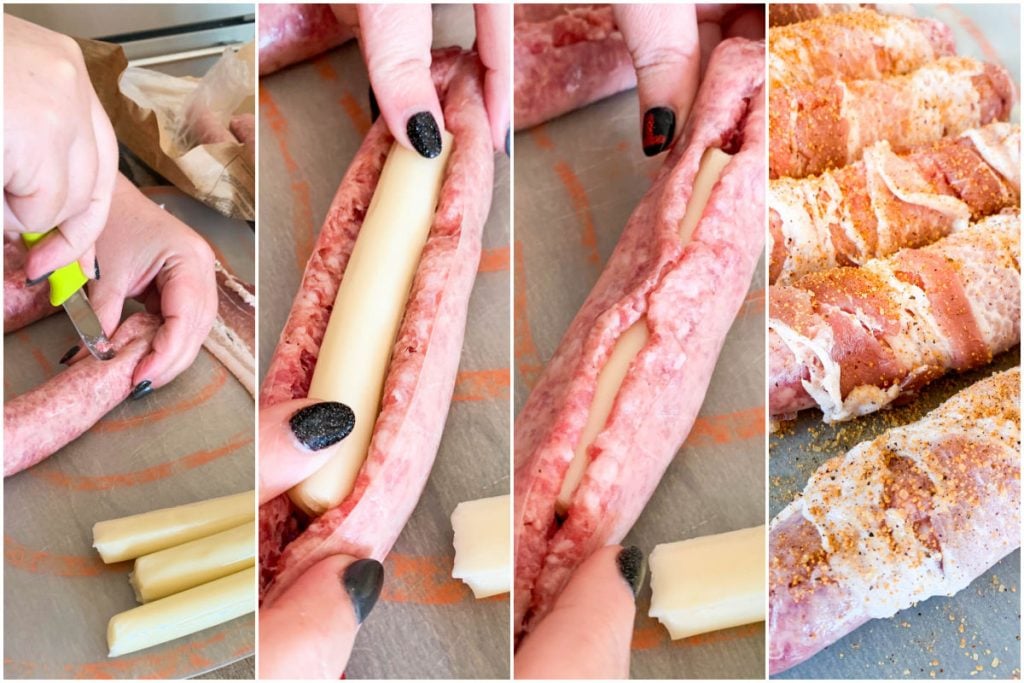 How do you stuff and grill bratwurst?
First thing you need is a sharp knife! I like to use a boning knife – they're not expensive but so helpful. Here's what to do:
Make a sharp cut lengthwise down the brat and cut about 2/3 of the way down
Unwrap your cheese stick (just making sure you're paying attention) and shove it into the brat opening. Because the pork is raw you can really mush it in there!
As you smush the cheese in – wrap the sausage around the brat so it all comes back together to hold the cheese in.
Wrap each brat TIGHTLY in a thick slice of bacon. This will be the best way to seal in the cheese so it doesn't pop out!
Sprinkle your BBQ rub seasoning all over the bacon-wrapped brats
Then onto a grill over medium heat – it should take about 15-20 minutes to cook them
You'll want to basted them every five minutes with the bbq sauce and turn as you go
Don't be alarmed if the cheese pops out! It'll happen – just keep the cheese side up for the rest of the grilling time
Temp check and remove when they're 160-165 degrees! (This meat thermometer is a necessity!)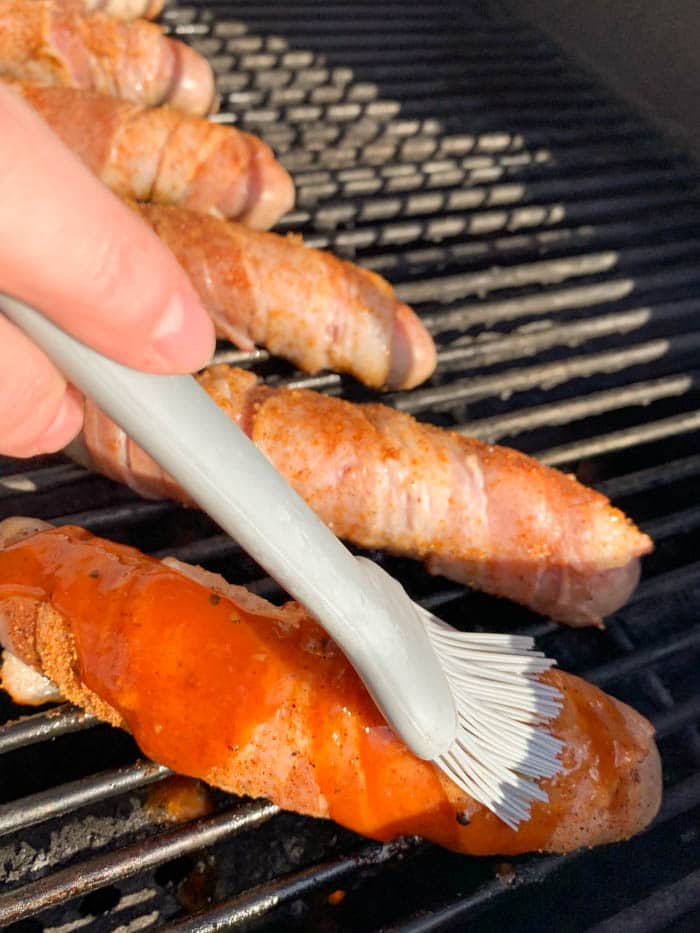 What to serve with grilled brats?
There's so many delicious side dishes that go with grilled brats – here are my favorites: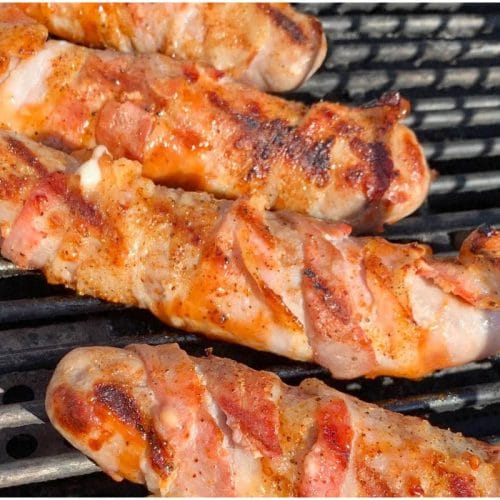 Grilled Cheese-Stuffed Bacon Wrapped Bratwurst
Cheese-stuffed bacon wrapped bratwurst are amazingly delicious on the grill! I saw this on TikTok and HAD to make them at home. So easy to make too – just takes 15 minutes of prep and it's worth it!
Instructions
Preheat grill on medium heat

Slice bratwurst lengthwise – about 2/3 of the way thru the brat

Stuff a regular sized mozzarella cheese stick into the opening in the brat. Smush the brat back around the cheese stick to seal it.

Wrap a thick slice of bacon around the brat very tightly

Sprinkle with Historic BBQ Red seasoning (or your favorite BBQ rub)

Lay brats on the grill over medium heat

Grill for 15-20 minutes – basting with Williamson Bros bbq sauce on each side

Check temp and remove at 165 degrees
Nutrition
Serving:
1.5
bratwurst
Calories:
475
kcal
Carbohydrates:
9
g
Protein:
25.7
g
Fat:
36.4
g
Saturated Fat:
14.6
g
Cholesterol:
89
mg
Sodium:
1199
mg
Potassium:
278
mg
Fiber:
0.1
g
Sugar:
4.1
g
Calcium:
33
mg
Iron:
3
mg