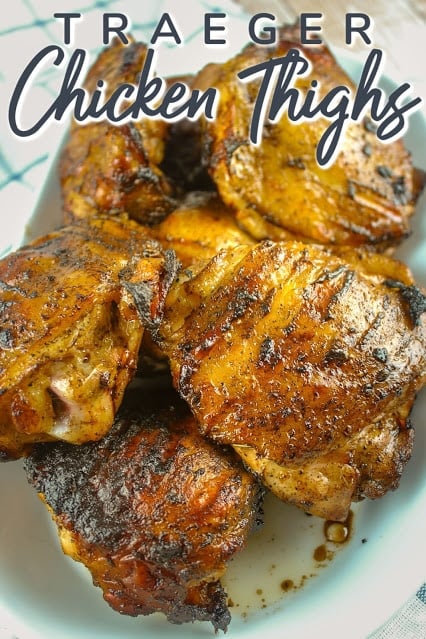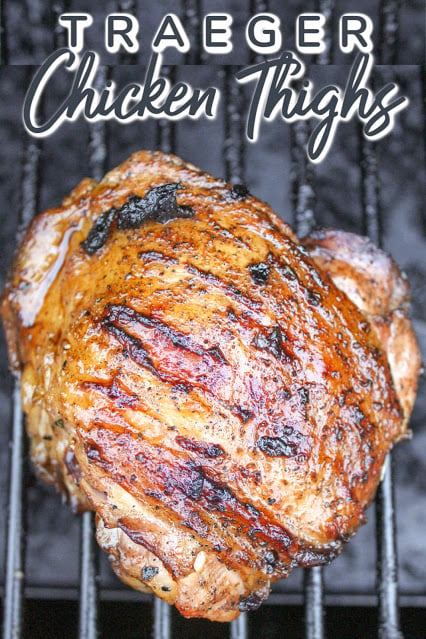 I've loved getting to know how to use my Traeger pellet grill – it's truly the easiest grill I've ever used! You plug it in, turn it on, set the temp and grill! Just make sure it has pellets and that's it! No watching it to make sure it doesn't get too hot – it's awesome!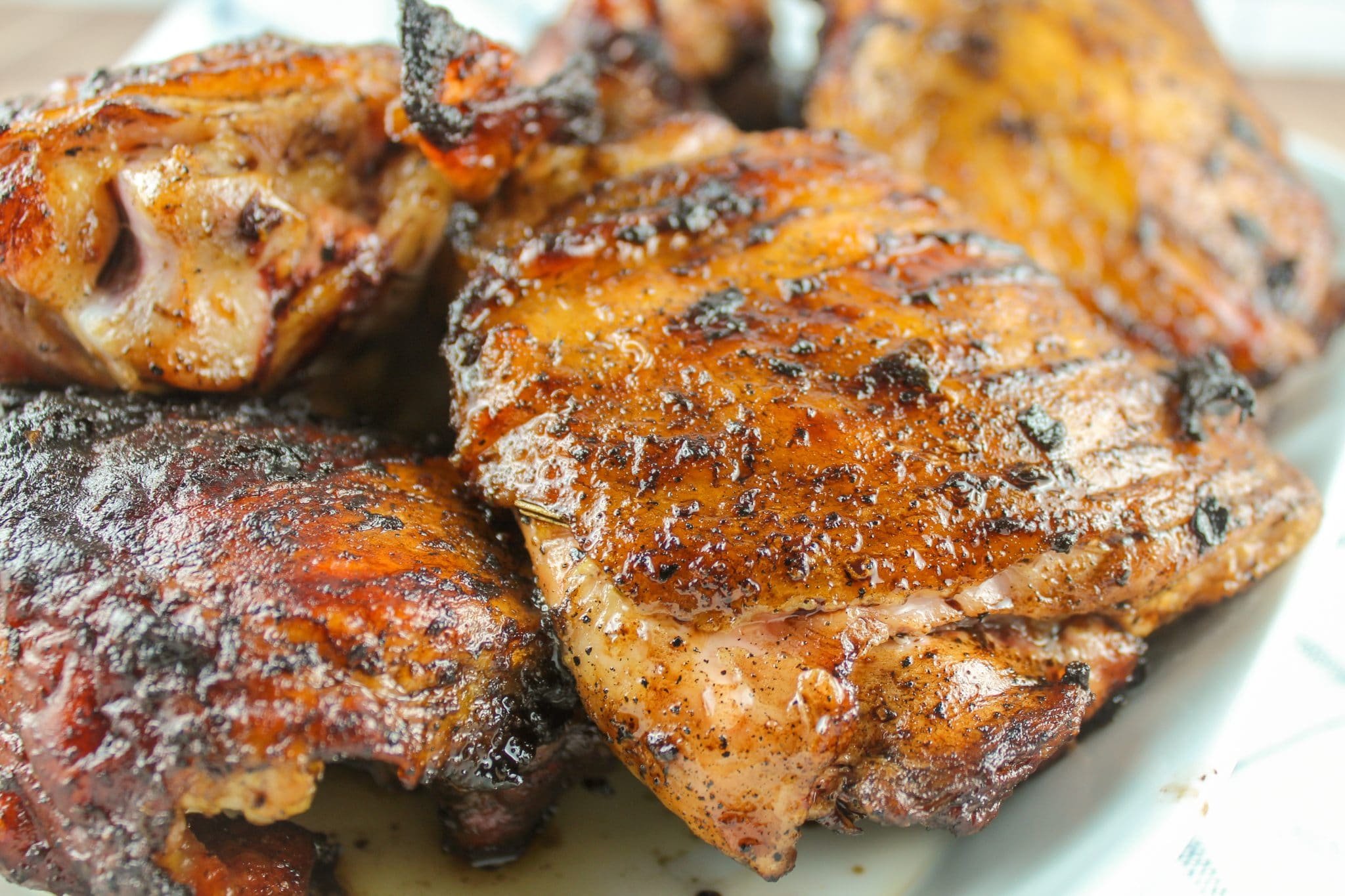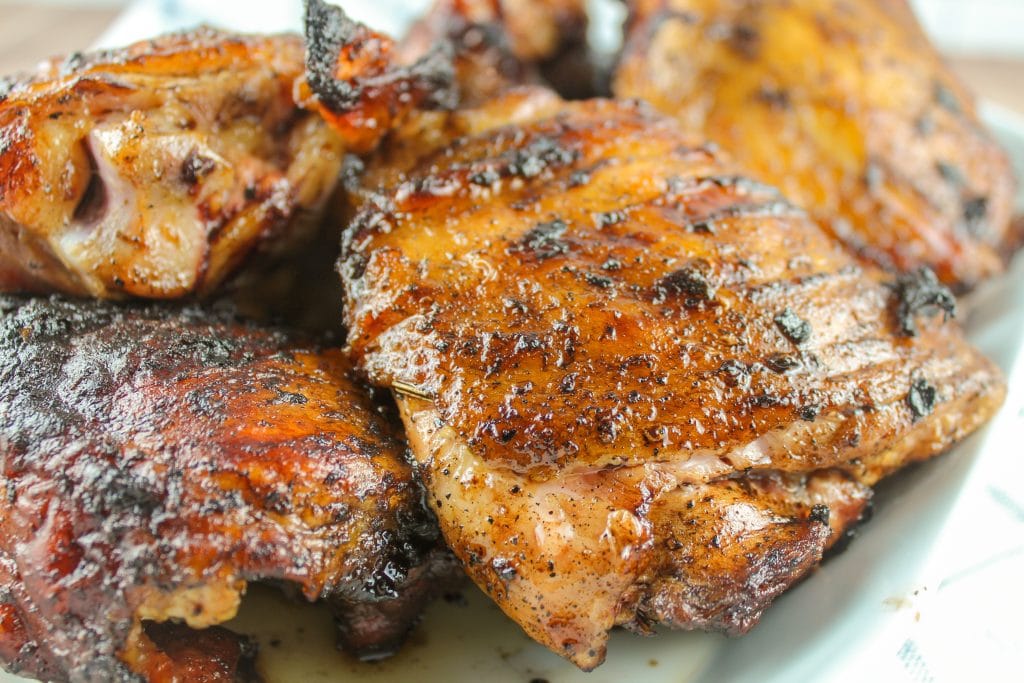 How long do you cook Chicken Thighs on the Traeger Grill?
These bone-in chicken thighs grill in 35 minutes to grill at 400 degrees. I did not "smoke" them (smoking meat is usually done at a low temperature like 225 degrees) – but these grilled chicken thighs still get that smoky flavor because they're cooking with pellets! What about different cuts of chicken?
Boneless skinless chicken thighs – 15-20 minutes
Boneless chicken breasts – 20-25 minutes
Chicken wings – 20-25 minutes
Chicken legs – 25-30 minutes
Chicken Kabobs – 15 minutes
Whole chicken – check out my recipe for Beer Can Chicken for full details on time & temp
Always temp check your meat – chicken should cook until the internal temperature reaches 155-160 degrees when you remove it from the grill. They'll continue to heat up once you remove them and get to 165.
How can I add smoke flavor when grilling at a higher temperature?
If you want to smoke chicken thighs – but still grill them at a higher temperature (so they're done more quickly) – you can do it! Here are a couple of ways to get the best smoked chicken thighs:
Wood chips – Soak them in water for 30 minutes before starting the grill. One cup of Traeger wood chips will last for about 20 minutes. Place the soaked chips in a disposable aluminum foil pan and place on the grill.
Pellets & Smoke Tubes – If you're looking for a quicker smoke – especially if you're at a grilling temp (350+) vs a slow smoke temp (225) – the easiest ways are to use smoke tubes and pellets! Fill a smoke tube with your favorite wood pellets, light the pellets on one end and then once they light, blow out the flame. Place smoke tube on the grill (behind the meat or on the top rack) and shut the lid. The pellets will smoke throughout your cook and add that smokiness into your meat!
These Traeger chicken thighs will not disappoint! I'm only one person and ended up getting five pounds of chicken thighs and made them all! I figure if I'm turning on the grill – might as well make them all! I used the leftovers on salads and pastas all week!
How do you reheat leftover Chicken Thighs?
My favorite way to reheat grilled chicken is in my air fryer – it cooks and reheats more quickly so you won't dry out the meat. I have the Instant Omni Pro Air Fryer and it has a reheat setting that I often use.
How do you store wood pellets?
There are a lot of ways to store your pellets – from a pet food container that you can find at your local Ace Hardware store to a 5-gallon bucket with a water-tight seal. I use an outdoor storage container I found on Amazon and the pellets have stayed completely dry for years!
What flavor of Traeger smoker pellets go with chicken?
Pecan, Apple and cherry wood are the best for chicken because chicken is not a very strongly flavored meat so you can use lighter flavored pellets. I tend to use the Traeger Signature Blend of pellets which are a combination of Maple, Cherry and Hickory. It goes well with everything from pork to chicken to beef!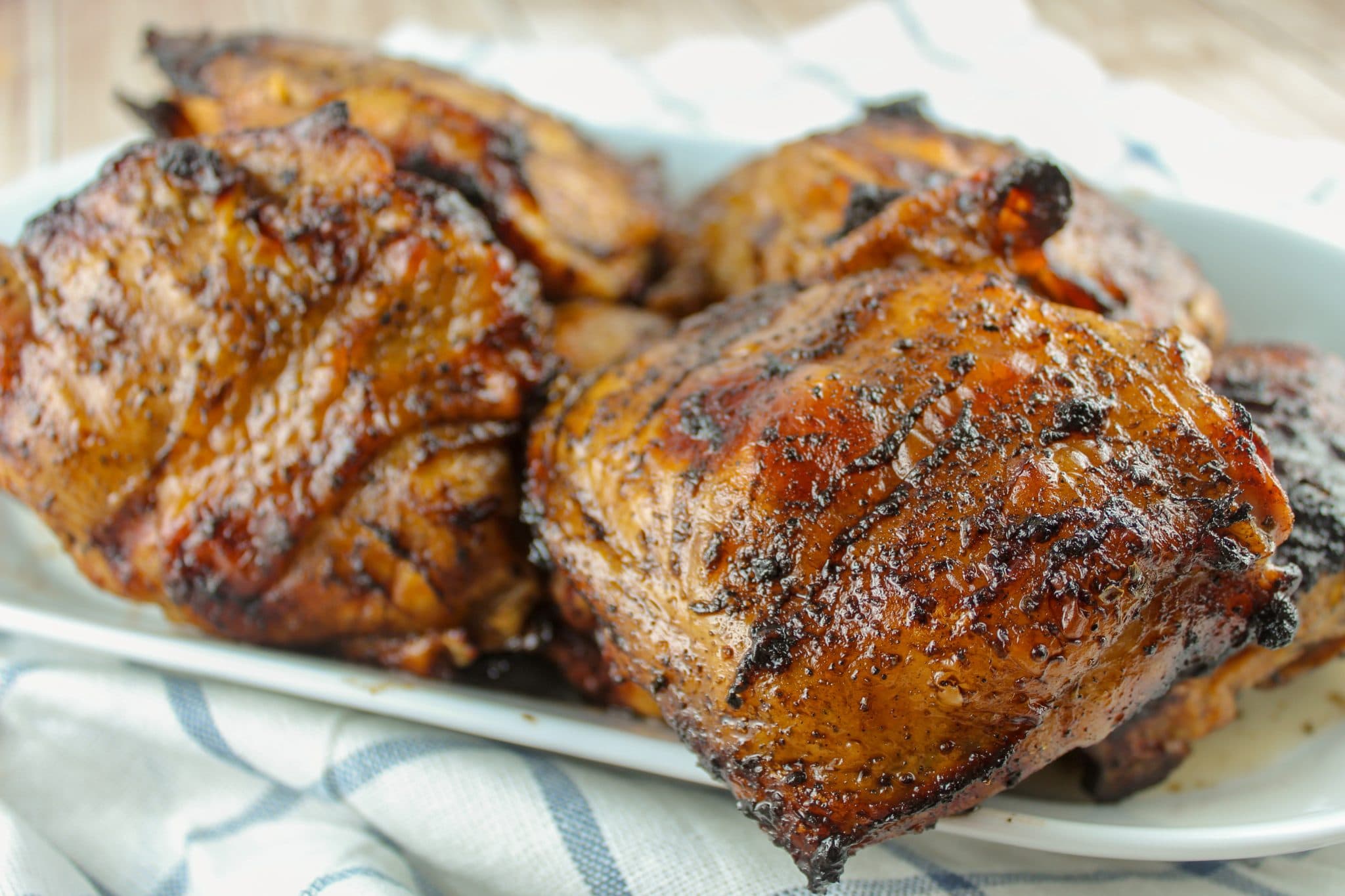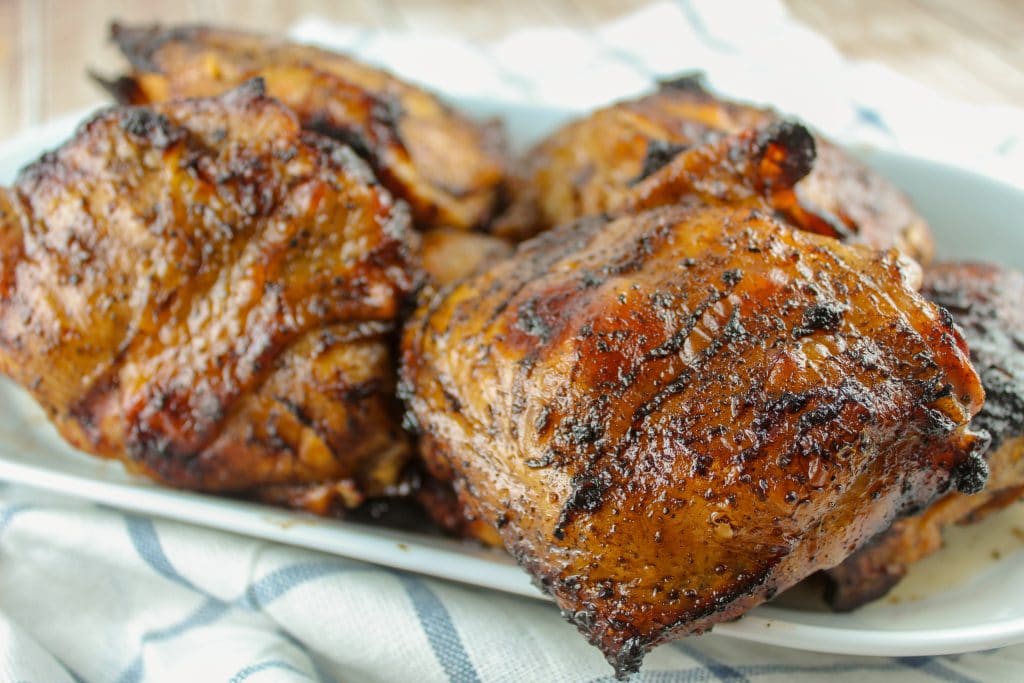 What to serve with Traeger Grilled Chicken Thighs?
Easy recipes for leftover chicken?