Healthy Fish & Chips may not seem like a real possibility – but I had to figure it out! After a recent trip to Scotland – I got the bug for eating fish and chips all the time – and I couldn't give that up just because I'm eating better.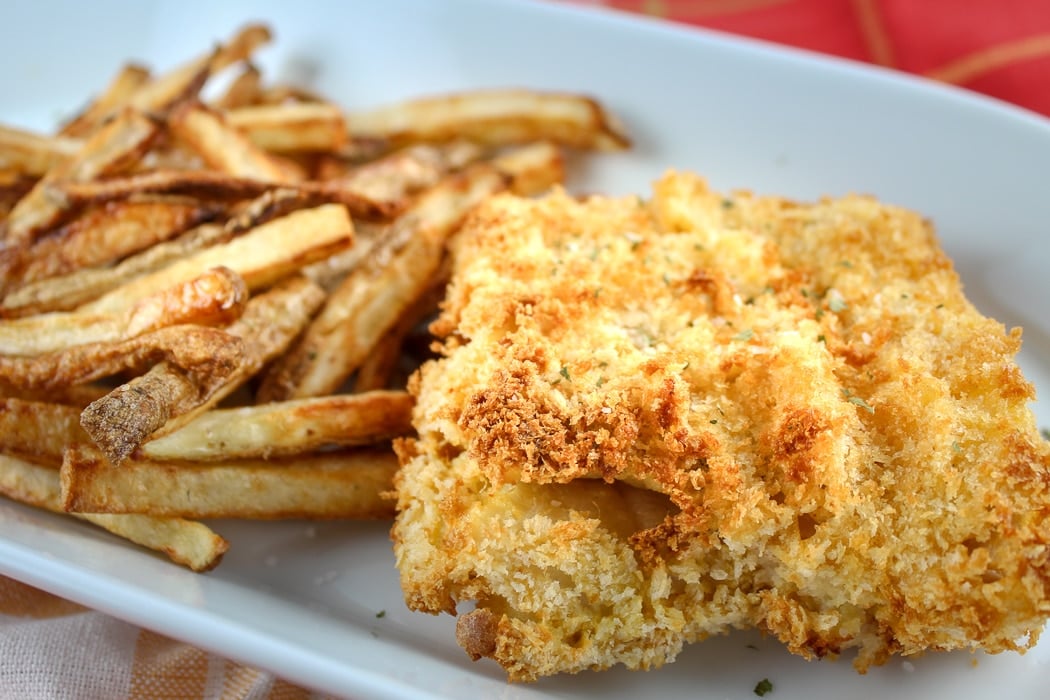 And yes – I'd prefer a giant basket of battered fish – this panko battered cod fish and chips recipe is really delicious! I even made the fries from scratch! Look how golden brown everything is – how did I do it?
How to make healthy fish and chips
Of course – I made my healthy fish and chips in the air fryer!!! This air fryer cod recipe is super simple! For the potato – just slice up a russet potato into evenly sized strips and toss in a little olive oil, salt and pepper. You can even spritz them with oil if you want to really go sparingly!

For the cod part of the recipe, I use a very simple breading technique that is a sure-fire success in the air fryer. First up – coat the cod in Hooter's Wing Breading, dip in a beaten egg and then into the panko! That's it.

Then put the fish and chips into the air fryer for 16 minutes.
While I love battered fish – batter and the air fryer don't work out so well. I've tried a couple but it's not working – so I like to go tried and true with panko on my fish and chips. The panko gets so golden brown and crunchy!
The fries were great as well! That little bit of oil just helps the fries brown – and I go simple on seasonings – coarse sea salt is all I need!
If you're looking for other of my best fish recipes – especially for the air fryer so they're healthy – these healthy fish tacos are my #1 favorite! The marinade is the best and they're so easy to make. Salmon is also super easy in the air fryer and needs no breading at all. Tilapia also works great in the air fryer and cooks up quicker than a thick fish like cod. You can find all of them in my Air Fryer Recipes section or in my Air Fryer Facebook group!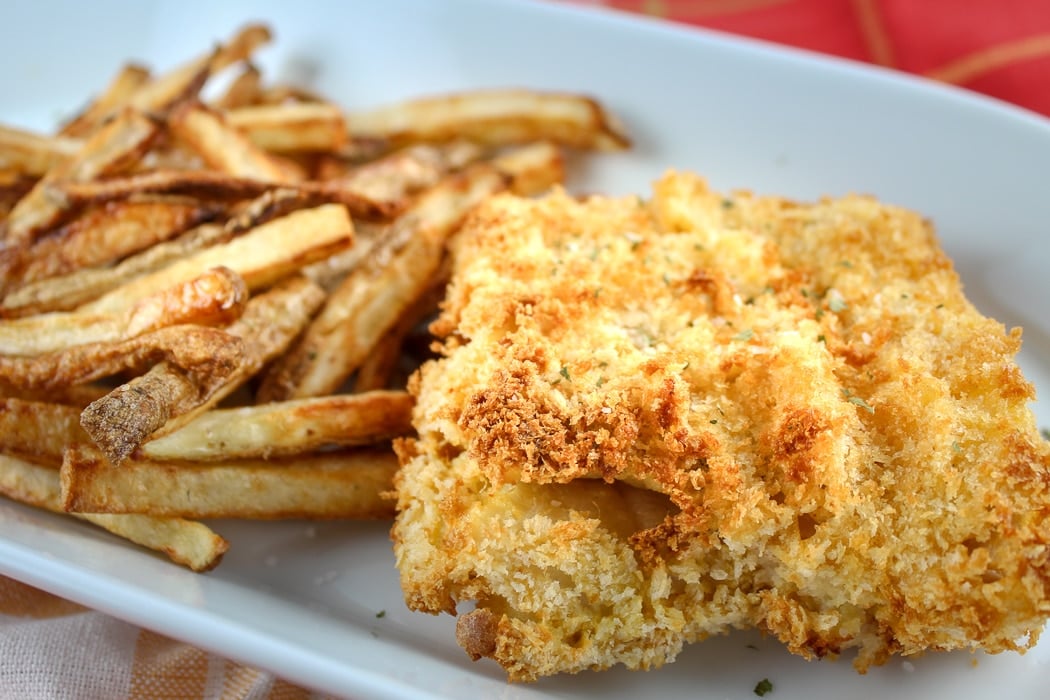 Healthy Fish & Chips In The Air Fryer
I love Fish & Chips – but with the new year upon us – I'm really trying to eat healthy! So I decided to take my favorite fish and chips dish and give it a makeover by making it in my air fryer. It's still crunchy and delicious but a whole lot healthier!
Instructions
Slice Russet potato in half and then into 1/4" sticks

Rinse sticks with cold water, drain and pat dry

Toss sticks in bowl with olive oil and sea salt

2 tbsp olive oil,

1 tbsp coarse sea salt

Place 1/2 sticks on one side of air fryer

Dip cod in Hooters breading, then egg, then panko

2 tbsp Hooter's Wing Breading,

1 egg,

1/2 cup Panko Bread crumbs

Add one piece of breaded cod to air fryer and spritz with olive oil spray

Air fry at 400 for 8 minutes. After 8 minutes, toss fries, turn fish and spritz with olive oil spray.

Air fry at 400 for 8 minutes more.

Once these are done – remove and keep warm (Regular oven set to 200 or set in microwave covered)

If air fryer isn't large enough to do all at once, repeat for second batch
Nutrition
Serving:
1
piece cod
Calories:
455
kcal
Carbohydrates:
48
g
Protein:
28.5
g
Fat:
17.6
g
Saturated Fat:
2.7
g
Cholesterol:
137
mg
Sodium:
3066
mg
Potassium:
799
mg