Fresh green beans are tasty on their own but these Italian Green Beans are irresistible! Green beans with tomatoes and garlic are a perfect side dish for any meal and they're really easy to make!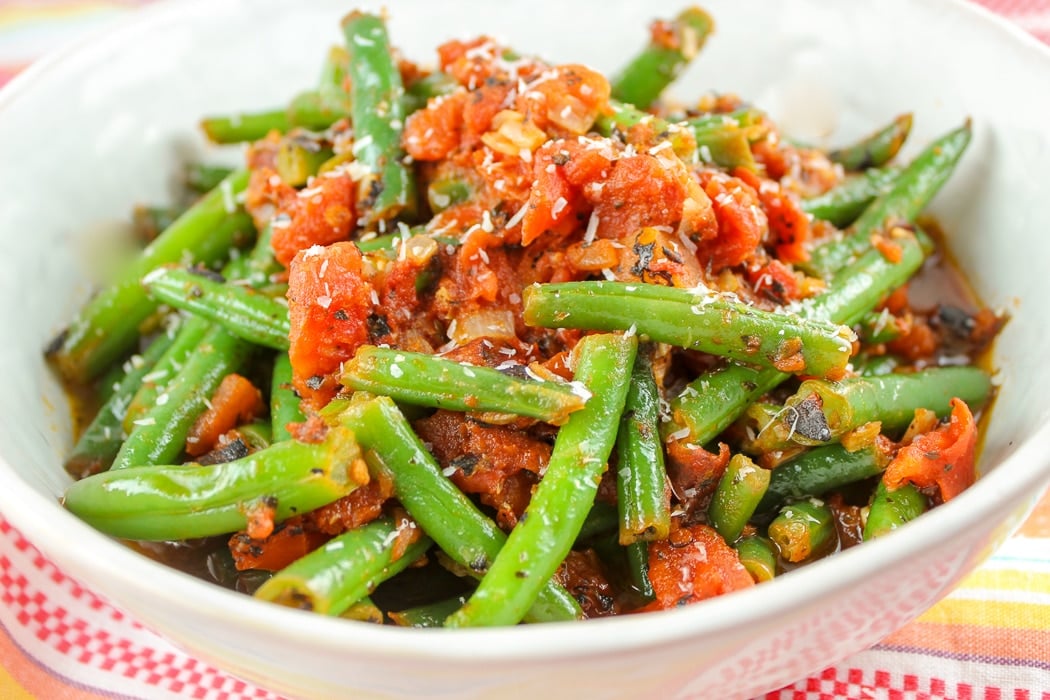 I love cooking with fresh green beans and this recipe is also
keto-friendly. I served these green beans with a chicken recipe I have coming up later this week and then had the leftovers all week for lunch!
How to cook fresh green beans
There are lots of ways you can cook fresh green beans – whether you steam them, saute them or roast them! For this recipe – I actually cooked them a couple of ways!
First I blanched them in the microwave! I just put them in a bowl and covered them with press & seal and then microwaved them for 3 minutes. This just pre-cooks them a bit so they won't take as long when you saute them. You could microwave/steam them like this to fully cook them – it takes between 7-10 minutes – depending on how crunchy you like them.
After the blanching, I sauteed these with garlic, fire roasted tomatoes and some seasonings – so delicious! They're ready in about 15 minutes!
These Italian green beans with tomatoes and garlic were so tasty the first night but also great as leftovers. I had some leftover Spanish Rice and then those Air Fryer Chicken Legs you see peeking in there. 🙂 So good! The combo was my lunch all week!
After you saute all the veggies together – I just grated a little Romano on top and served them. I really like the Fire Roasted tomatoes for recipes like this where you really taste the tomatoes. It just adds an extra layer of flavor.
If you're looking for other easy side dishes to make – I've got you covered!
– Air Fryer Broccoli – it's so easy and delicious!
– Copycat Mary Mac's Macaroni & Cheese – a classic dish and so cheesy!
– Copycat Honey Baked Ham Cinnamon Apples – these are so good and great as a side dish or a dessert.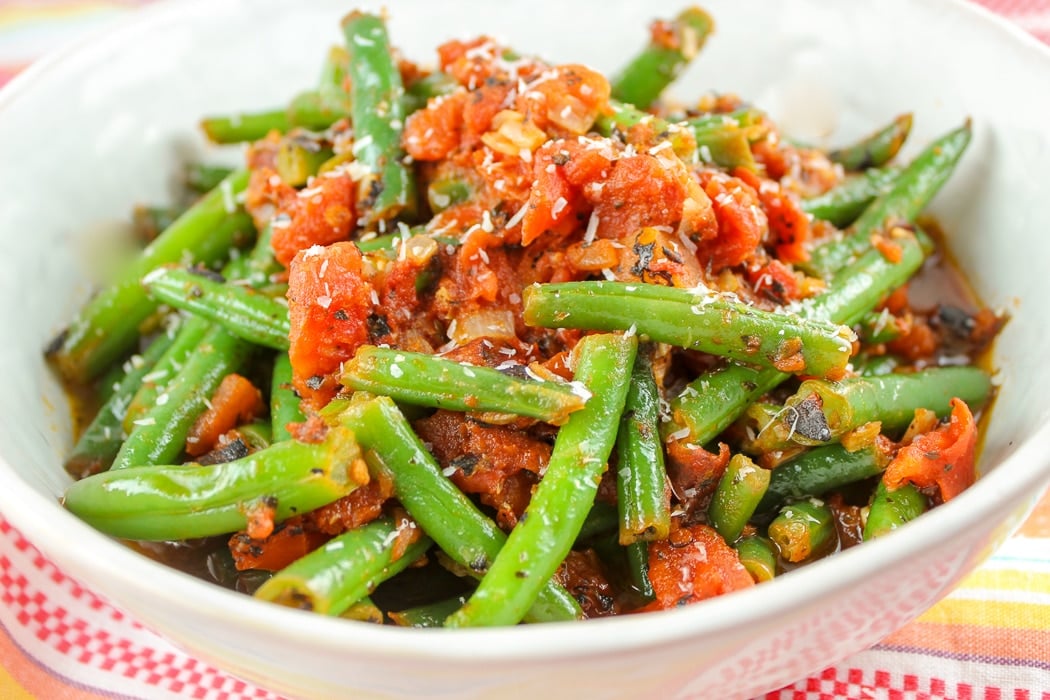 Italian Green Beans
Prep time: 5 M
Cook time: 20 M
Total time: 25 M
Fresh green beans are tasty on their own but these Italian Green Beans make them irresistible! It's a perfect side dish for any meal and is really easy to make!
Ingredients:
1 lb fresh green beans
2 T butter
1 T olive oil
1 shallot, diced
2 garlic cloves, minced
1 14 oz can fire roasted diced tomatoes
1 tsp dried basil
1 tsp dried oregano
1/4 cup white wine
1/2 tsp salt
1/2 tsp pepper
Parmesan cheese
Instructions:
How to cook Italian Green Beans
steam green beans in microwave about 3 minutes (put in a bowl – cover with press & seal)
drain and rinse with cold water
melt butter and olive oil in a heavy skillet over medium heat
add shallots & garlic and saute until tender, about 2 min
add tomatoes, basil and oregano and cook about 3 minutes
add the green beans and cook until the juices have almost evaporated and the beans are almost tender, stirring often, about 7 minutes
add the wine and simmer about 2 minutes
add salt and pepper and grate on a little fresh parmesan cheese
Recommended Products:
Serving Bowls
Silicone Tongs
Fire Roasted Tomatoes
Did you make this recipe?
Tag
@foodhussy
on instagram and hashtag it #foodhussyrecipe