Recently I went to the Delwood here in Cincinnati for a bite to eat after work with friends and had these Crispy Brussels Sprouts that nearly broke my Instagram with all the LIKES!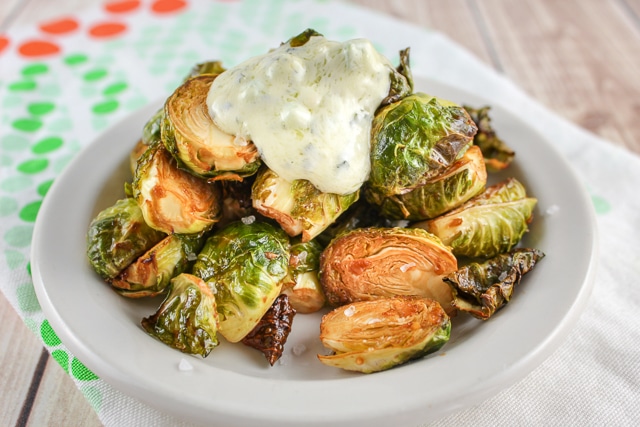 I had been wanting to try Brussels sprouts in the air fryer so this seemed like the perfect reason! They're super simple and cook up in less than 10 minutes. They were served with this Peruvian Aji Verde sauce (fancy name = easy sauce) so whipped that up too! Fun for dipping!
How long do you cook Brussels sprouts in the air fryer?
I'm using a Phillips Air Fryer and love it! I actually think the restaurant ones were a little overdone – so I cooked them for 6 minutes total. If you want them crispier – then 8 minutes is perfect!
How do you season Brussels sprouts in the air fryer?
Brussels sprouts are best when you go simple! I sliced them in half and added in Balsamic vinegar, olive oil, minced garlic, salt and pepper. Stir your Brussels sprouts with the ingredients and you're ready for the air fryer!
What can you serve with Air Fryer Brussels Sprouts?
You can find more ideas in my Air Fryer Recipes section or in my Air Fryer Facebook group!



The Aji Verde Sauce is really simple and is great for dipping the Brussels sprouts in (makes it more kid-friendly!). The recipe is below – and I gave you just enough for dipping – so you won't be left with a bunch of sauce!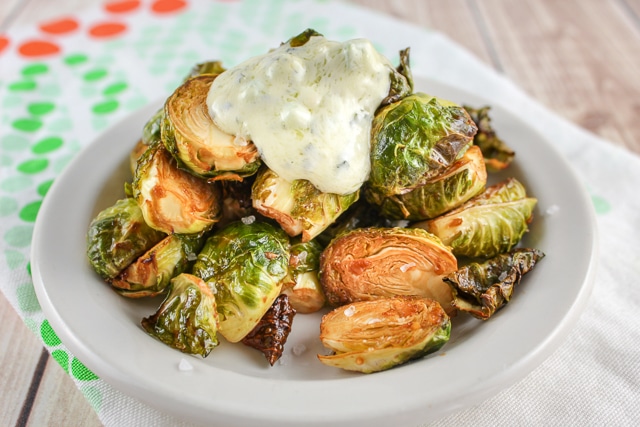 Crispy Air Fryer Brussels Sprouts
prep time: 5 M
cook time: 6 M
total time: 11 M
I had crispy Brussels sprouts at a restaurant last week and knew I needed to make them in my air fryer! These are delicious and so easy to make – plus I added in a recipe for a simple Aji Verde sauce (spicy & creamy)! This is a great side dish for any meal!
ingredients:
Brussels Sprouts
1 pound Brussels sprouts, sliced in half (keep the loose leaves)
2 Tbsp olive oil
2 Tbsp Balsamic Vinegar
2 teaspoons coarse sea salt
1 tsp ground pepper
Aji Verde Sauce
1 tsp Cilantro paste (or 1-2 Tbsp fresh Cilantro chopped)
1 tsp diced Jalapeno
1 tsp minced garlic
1 tsp salt
2 Tbsp mayo
2 Tbsp olive oil
instructions:
Crispy Air Fryer Brussels Sprouts
Toss sliced Brussels sprouts with olive oil, balsamic vinegar, salt, garlic, pepper
Place in Air Fryer at 375 and cook for 3 minutes
Open and shake Brussels sprouts
Cook for an additional 3 minutes
– If you like them crispier – add 1-2 minutes for a total of 8-10 minutes
Aji Verde Sauce
Wisk together all ingredients
Serve as a dip for Brussels sprouts