I'm always one to try new menu items from restaurants when they first come out – what can I say – marketing works! I've been hearing tons of commercials for Panera's new warm grain bowls.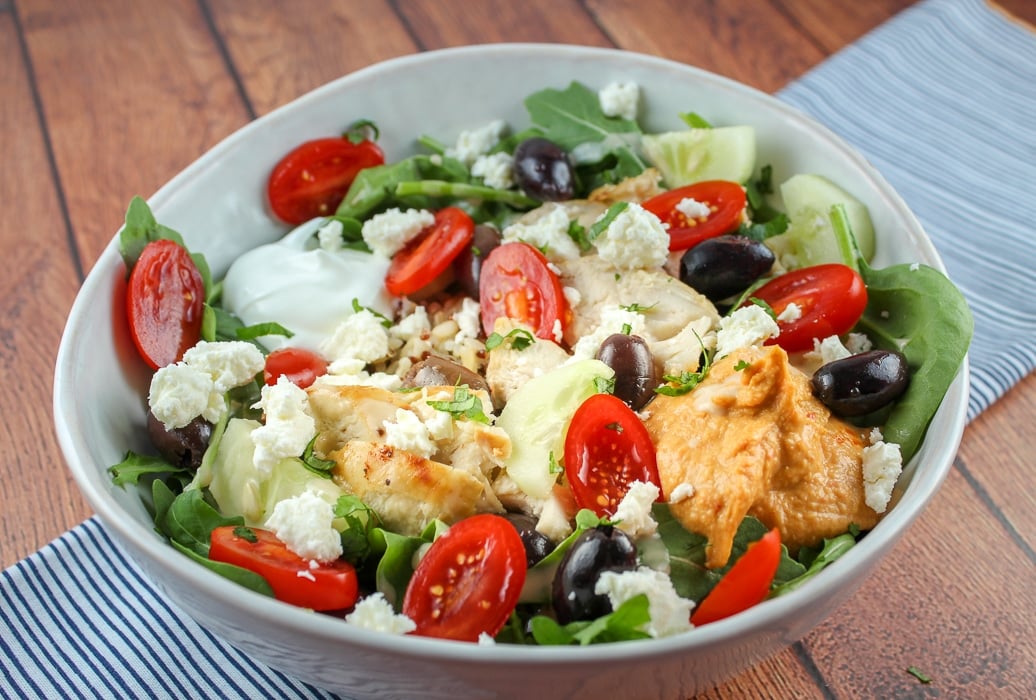 Before I even tried them – I knew I was going to copycat them! They sounded delicious – and frankly – pretty easy to remake! I have some tricks to make them even easier. 😉 Of course – that's what I do. First up – Panera's Mediterranean Warm Grain Bowl recipe!
Review: Panera Warm Grain Bowl – Are the Panera Warm Grain Bowls good?
Panera recently came out with two warm grain bowls – pictured above. (Left – Baja, Right – Mediterranean) I went out right away and got both of them!!! I definitely liked them!
What is in the Panera Grain Bowl?
Panera's Mediterranean grain bowl has arugula and I liked the addition of the greens to it. I'll say – the Med was my favorite of the two – it's why I made it first! I loved the hummus in with the chicken. Their chicken didn't have much flavor but it wasn't dry – which was nice. I love all the ingredients in the Baja bowl – but it just didn't have as much flavor as the Med. (I'm remaking the Baja bowl next week!) I'm not a fan of brown rice and quinoa – but it was fine in these bowls – there's enough other ingredients to cover the blandness of brown rice and quinoa. (haha)
What are the ingredients in the Panera Mediterranean Warm Grain Bowl?
I went straight to the Panera site to make sure I had all the ingredients correct. The Mediterranean Warm Grain Bowl from Panera has arugula, brown rice and quinoa, chicken in a citrus marinade, grape tomatoes, Kalamata olives (did you know – kalamata means olive – so you're basically saying olive olives!), cucumber, hummus, feta, plain greek yogurt and a lemon tahini dressing.
I didn't even notice the tahini dressing in the original bowl and with the hummus and yogurt – you don't even need it. If you're unsure about the greek yogurt – it's basically a healthier version of sour cream.
The Panera Mediterranean Warm Grain Bowl really has all of my favorites. The hummus they used is a plain "regular" hummus – I had some roasted red pepper in my fridge so I used that – just as delicious.


Another tip for this – I didn't want to cook brown rice and quinoa – takes too long. Turns out they have some in the freezer aisle! I got a bag of frozen and it heated up in less than 5 minutes in the microwave. Or Minute Rice sells a brown rice and quinoa in little cups as well that heat up in a minute.



Panera Copycat Recipes & Other Favorites
My review of the Panera Broth Bowls is one of my most viewed pages so then I recreated them at home. The broth bowls and grain bowls are so healthy – you can even splurge a little on these copycat Chinese Buffet donuts!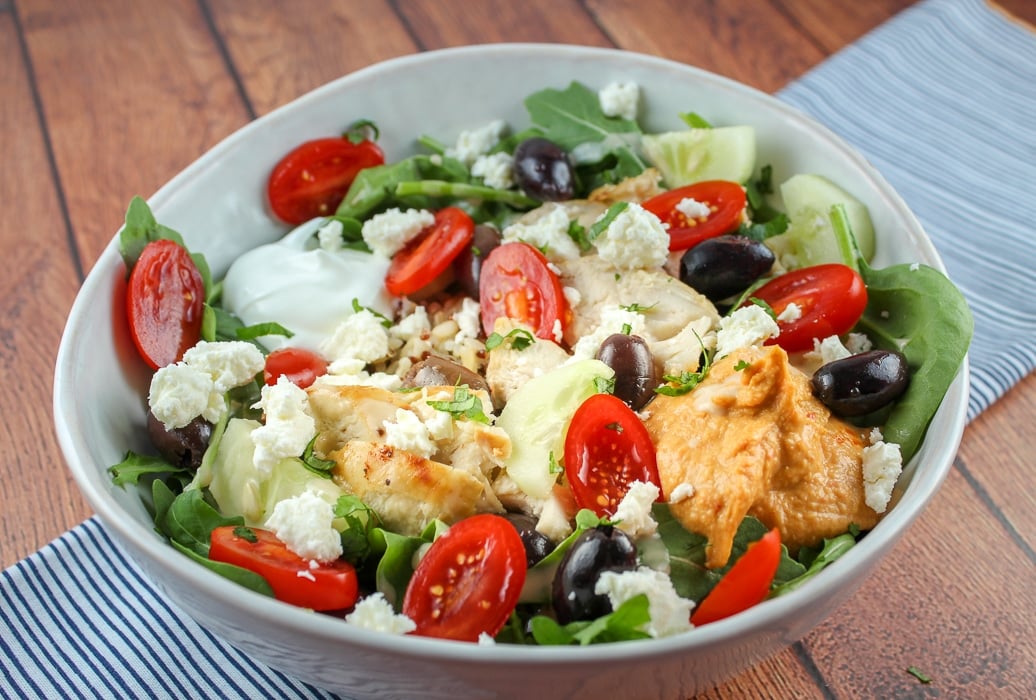 Copycat Panera Warm Grain Bowl
prep time: 10 M
cook time: 20 M
total time: 30 M
Panera has introduced their new Warm Grain Bowls – there are two varieties – the Mediterranean and Baja. I had to try them both! They're both delicious!!! This week I'm sharing my copycat version – it's super easy to make and really tasty! So healthy!
ingredients:
2 cups arugula (or spinach)
2 cups cooked brown rice and quinoa (found in frozen section!)
2 chicken breasts
lemon/garlic marinade (My favorite!)
10 grape tomatoes, sliced
1/3 cup kalamata olives
1/2 cucumber, diced
1/2 cup hummus
1/3 cup feta crumbles
1/2 cup plain greek yogurt
1/2 lemon
1/4 cup tahini dressing (optional)
instructions:
How to cook Copycat Panera Warm Grain Bowl
Marinate chicken breasts in your favorite citrus/garlic marinade overnight.
Bake chicken breasts for 20 minutes at 350 until cooked to 165 degrees.
During last ten minutes of baking, microwave frozen rice/quinoa for 4 minutes in a microwave safe bowl.
In two large serving bowls, place arugula around edge of bowl.
Prep veggies: slice tomatoes and dice cucumbers
When quinoa is cooked, divide between two serving bowls
Remove chicken from oven and let rest for 5 minutes
Top quinoa/argula with tomatoes, cucumbers, olives
Slice chicken and place on top of quinoa.
Add a heaping spoonful of hummus and yogurt to the bowl
Top with crumbled feta and squeeze lemon over warm grain bowl
If you like, you can add a tahini dressing – it really doesn't need it.
NOTES:
– You can use rotisserie chicken if you like
– For the brown rice/quinoa – you can either use a bag of frozen rice/quinoa or Minute Rice makes a microwavable one! Super quick!
– Tahini dressing is expensive and not easy to find – I found that it wasn't necessary with the yogurt and hummus – and when I tried the Panera version – I didn't even taste it!
– Arugula is lighter than spinach but a little bitter – I found a mix of the two at the store that was really good
Recommended Products:
Minute Rice & Quinoa
Serving Bowls
Mojo Criollo Marinade