A few years ago, Panera Bread came out with these new broth bowls – and they really have been a big hit! I was one of the FIRST to try them and the blog post review has been huge ever since (revisit the initial review here). So in 2019, I'm really working on creating a lot of Copycat recipes for you! It seems like a great way to merge my restaurant reviews and recipes – and you seem to like them!
So I had to create a Copycat recipe for this most popular restaurant review!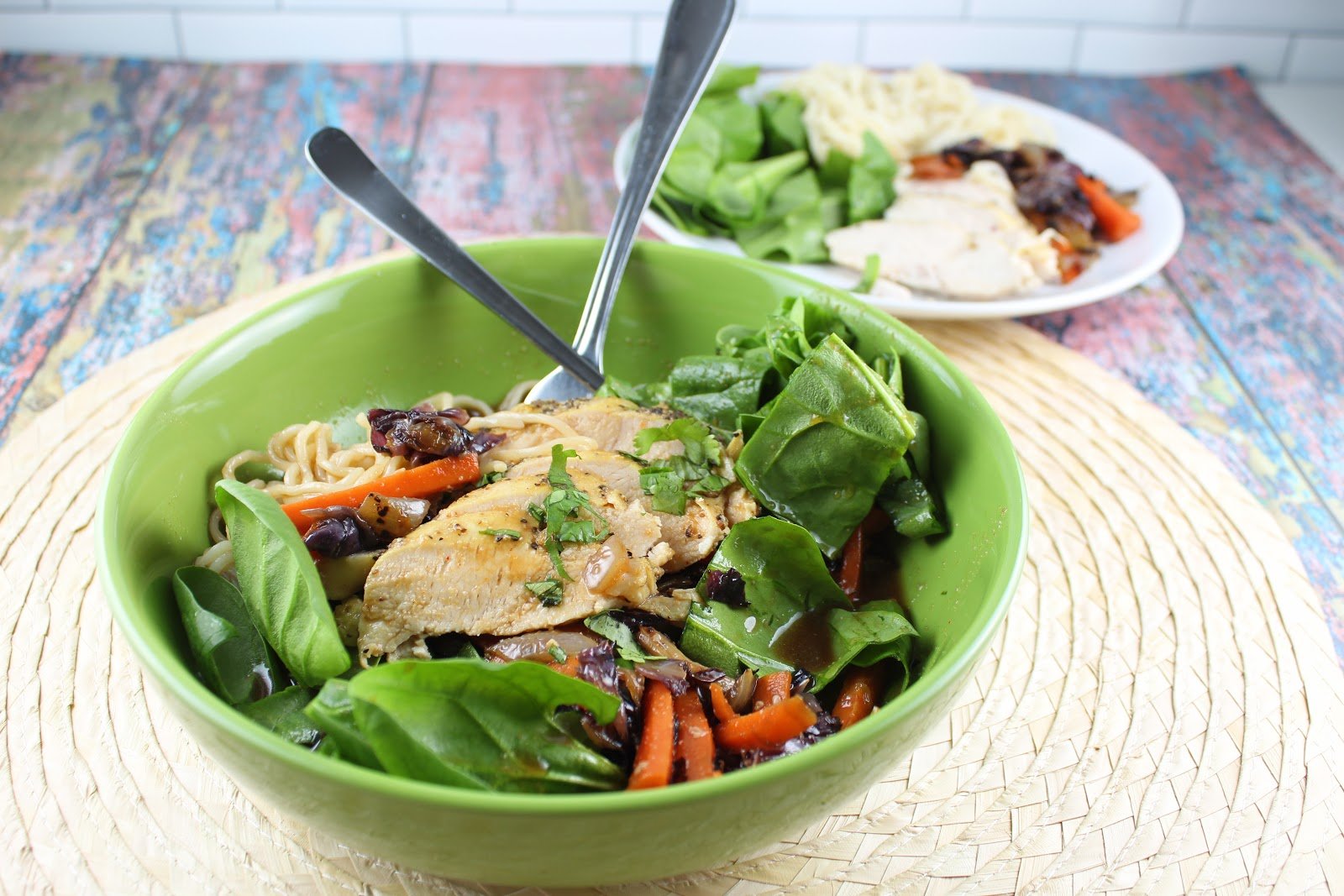 These Panera Broth bowls have a complex broth and they really meld a lot of flavors together. It doesn't take long either – especially when you combine ingredients that are flavorful to begin with.



I was really excited to try this broth bowl at home! I'm eating out a lot less in the last few months – so I enjoy going into the archives and finding some of my favorite things to make at home!
This is a layered dish – you make the components separately and then put them all together at the end – but it's still fairly quick. I baked the chicken in parchment bags and while that's cooking you can basically get everything else together. You saute some veggies, whisk together the broth and cook your pasta.


Now here's where I made a change – which – if you've had the noodle bowl at Panera – you'll spot right off the bat!
I did it. I used Ramen instead of Soba noodles. Now this is COMPLETELY a personal preference thing. I just didn't love the soba noodles. I even bought them – then last minutes – pulled a switcheroo. I would note – if you make the switch – two things! 1. Get authentic ramen and preferably MISO flavored so you get a tiny little miso to add. 2. Undercook the ramen a touch – it's going to be in broth – so it will continue to cook. And when I say a touch – I just mean 1-2 minutes if you use stove top (which I did).
So long story – short – you can use the Soba – I just didn't like them. They're a little gritty for me – so I went with ramen.
So now – for the fun of it – let's do a theirs vs. mine! Above you'll find the original Panera Broth Bowl from 2015! (Just about 4 years ago!! Wow my photography has improved a bit! haha)
And here's my Copycat Panera Broth Bowl (well minus the broth – that's coming next!). How funny that my bowl is so similar – pure accident! Look at how fresh and full of nutrition
While it is a broth bowl – there's so many veggies in there – you'll want a fork and a spoon! I loved the red cabbage I found – it was about the size of an onion – which was perfect for just two bowls! I didn't need some giant head of cabbage! So I just went with the little red one – same flavor and crunch.
After your layers are all together – pour the broth over the top and enjoy! You can garnish with cilantro and sesame seeds if you like. I will say – resist the urge to salt/season along the way. The lemon herb seasoning has salt, then you've got soy & worcestershire in the broth – which is salt & salt.


Also – I ran out of soy sauce when I was making this – so the worcestershire was my sort of swap – and because it's sweeter – I left out some brown sugar that I was originally planning on. Keep things like this in mind – recipes are made to be tweaked and if you run out of something – don't panic – think about the flavors in that ingredient and see what you can do to switch it out!


Now – ENJOY!
Yield: 2
Copycat Panera Noodle Broth Bowl with Chicken
Panera Broth Bowls are rich and complex – the flavors are layered on top of each other producing a rich broth. This copycat recipe brings you all the best of the broth bowl much quicker and easier – and still healthy and delicious!
prep time: 15 mins
cook time: 30 mins
total time: 45 mins
ingredients
Bowl Components
2 boneless skinless chicken breasts
lemon herb seasoning
1 tsp sesame oil
1/4 yellow onion, large dice
1/2 cup sliced mushrooms (shitake or cremini)
1 medium carrot, peeled & juliened
1/2 cup red cabbage, sliced thin
2 cloves garlic, minced
1/2 cup loosely packed fresh baby spinach
Broth
1/3 cup soy sauce
1 Tbsp Gochujang (or red thai chili paste)
1 tsp Worcestershire sauce
Miso packet from ramen noodles (see below)
1 tsp Ground Ginger
1 tsp Garlic Powder
splash of lime juice
3/4 cup pasta water
3/4 cup water
Extras
3.5 oz package Sapporo Ichiban Miso Ramen Noodles (or Soba noodles)
1/2 tsp sesame seeds
1 tsp chopped cilantro
instructions
Sprinkle chicken with lemon herb seasoning and bake at 350 for 30 minutes (40 minutes if frozen) in a parchment bag (helps seal in moisture)
Saute onions in sesame oil over medium heat. Add mushroom and carrots after about 2 minutes. Add cabbage after another 2 minutes. Add garlic last and cook until fragrant (about 2 minutes.) Remove from heat and transfer to a separate bowl. (Resist the urge to season/salt the veggies – there's enough salt in the broth.)
Cook ramen (or Soba) according to package directions. Be sure to keep 3/4 cup pasta water.
Prepare broth in a small saucepan by whisking together soy sauce, gochujang, worcestershire, ginger and garlic. Bring to a simmer while noodles cook. Continue whisking and cook down 2-3 minutes. Add 3/4 cup pasta water to thin broth. Depending on how much broth you want, you can also add the extra water as needed. Heat through.
To build bowl, combine noodles, sauteed vegetables and spinach in serving bowl.
Place sliced chicken over top of noodles and pour hot broth over top.
Garnish with cilantro and sesame seeds.