Yes – I'm obsessed with my Phillips Air Fryer! I probably use it every other day – it's so quick and easy – I just love it. Garlic Parmesan Chicken Wings are one of my favorite foods – I used to order them all the time from my favorite pizza place.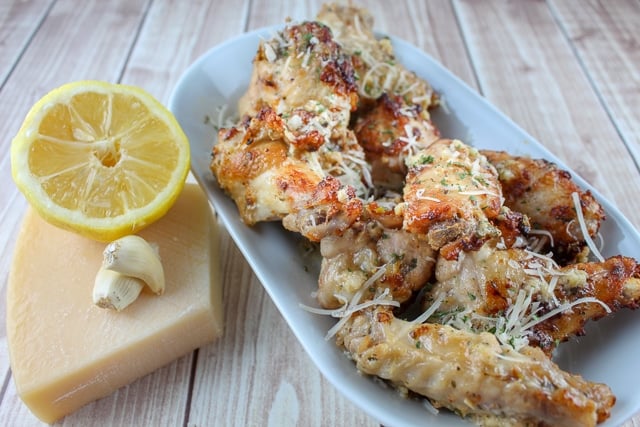 But with the air fryer – I can now make Garlic Parmesan Chicken Wings at home in less time than it takes for the delivery guy to bring them – and they're better and healthier!
How to Air Fry Chicken Wings
Chicken wings are so easy to make in the Air Fryer! I like to add my sauce or seasoning before putting them in the air fryer. Then cook them for 10 minutes at 350 – turn them – then do another 10 minutes at 400. The higher temp at the end helps brown the wings.
Can you make Air Fryer Wings without Flour?
Yes!!! I've got two recipes for Air Fryer Chicken Wings and neither uses flour. My other recipe is for Extra Crispy chicken wings and does have a breading – but not any additional flour. This recipe has none!
These Air Fryer Garlic Parmesan Wings were so delicious and not greasy like the ones I used to get from the pizza place up the street! I love them and make them all the time now!
Air Fryer Garlic Parmesan Chicken Wings
prep time: 3 M
cook time: 22 M
total time: 25 M
Garlic Parmesan Chicken Wings are my FAVORITE – I used to order them all the time from the pizza place up the street – but not any more! Now I make them at home in less time than the pizza delivery! These Air Fryer Garlic Parmesan Chicken Wings are the perfect dinner or party appetizer! #garlicparmesan #chickenwings #airfryer
ingredients:
12 wings
1/2 stick butter
1/2 cup freshly grated Parmesan cheese
1 tsp salt
juice from 1/2 lemon
1 tsp garlic salt
parsley
instructions:
Melt together butter, Parmesan, salt, lemon juice and garlic salt in microwavable bowl for 1 minute (cover with Glad Press 'n Seal to keep it from splattering)
Toss wings in butter sauce
Place wings into air fryer
Sprinkle with additional garlic salt
Heat in Air Fryer at 350 for 11 min
Open Air Fryer and turn all wings and rotate them in the fryer
Heat in Air Fryer at 400 for 10 min more
Sprinkle with parsley