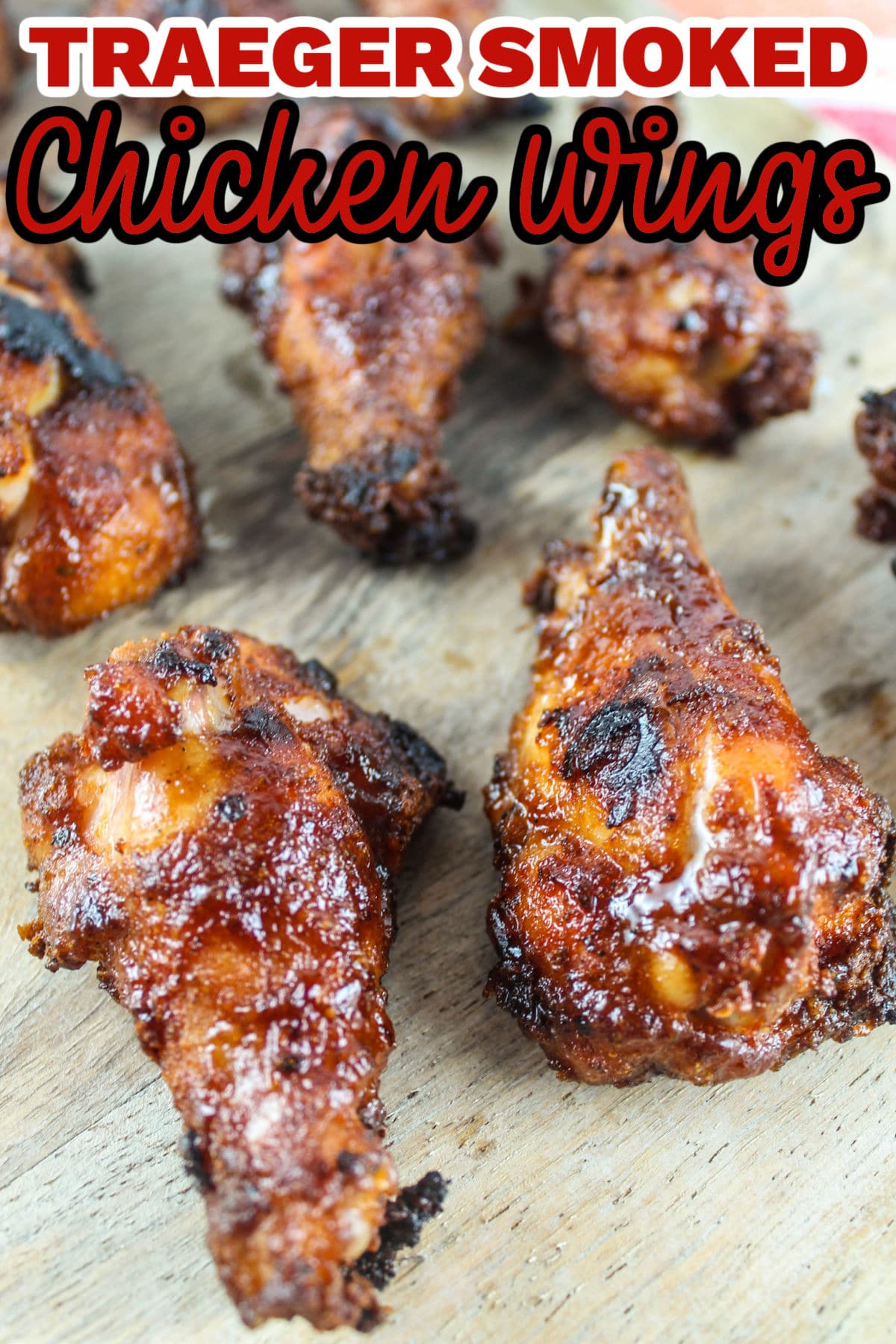 Pellet smoker chicken wings are one of my favorite appetizers that I've discovered since getting my Traeger. The smoky flavor from the wood pellets soaks into the wings and gives them an amazing aroma and taste.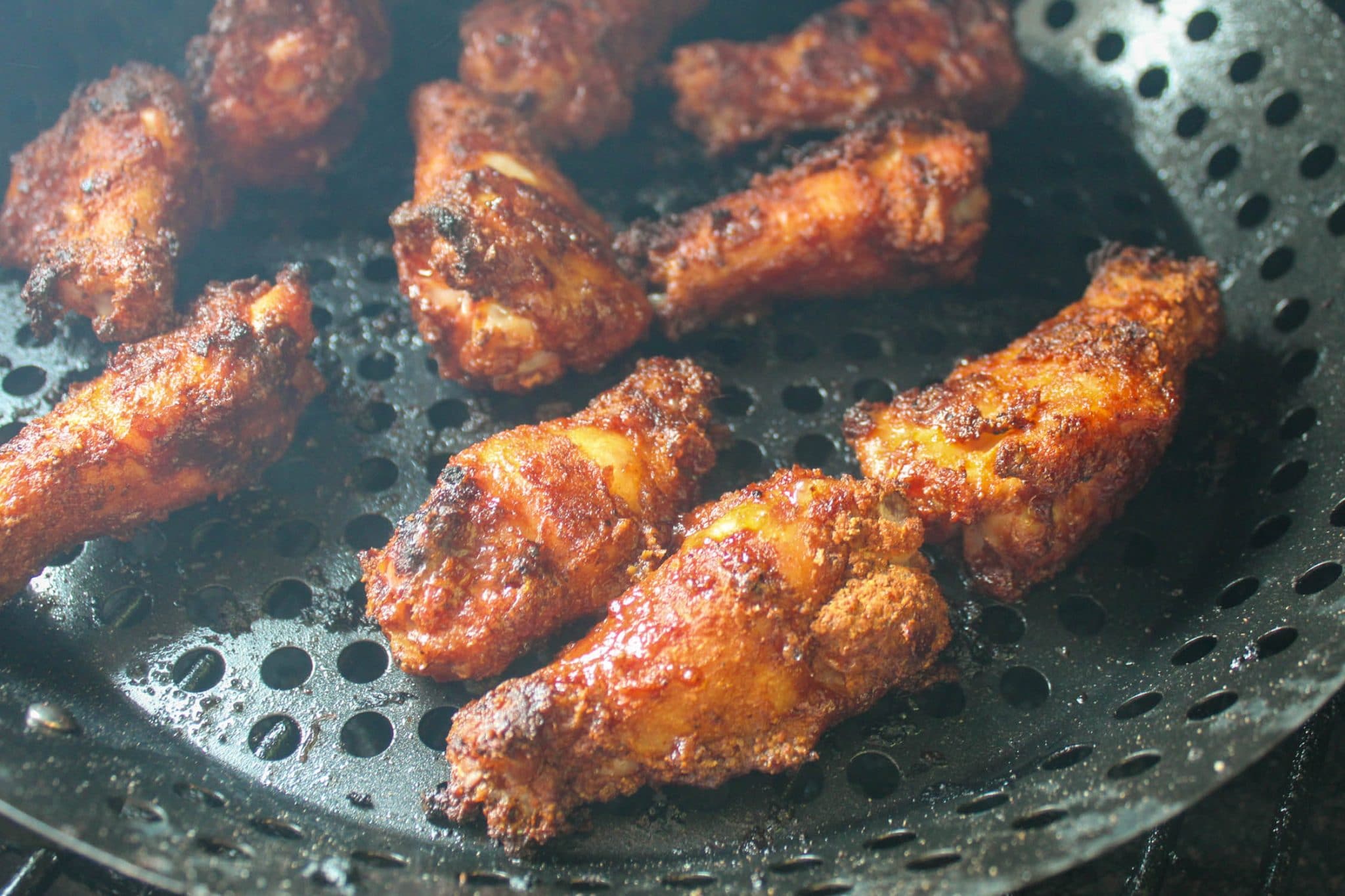 The bonus with this recipe is that you can have a different flavor every time you make them! By changing the flavor of wood pellets, the seasoning rub, the sauce, etc. you can have a new batch of wings every time.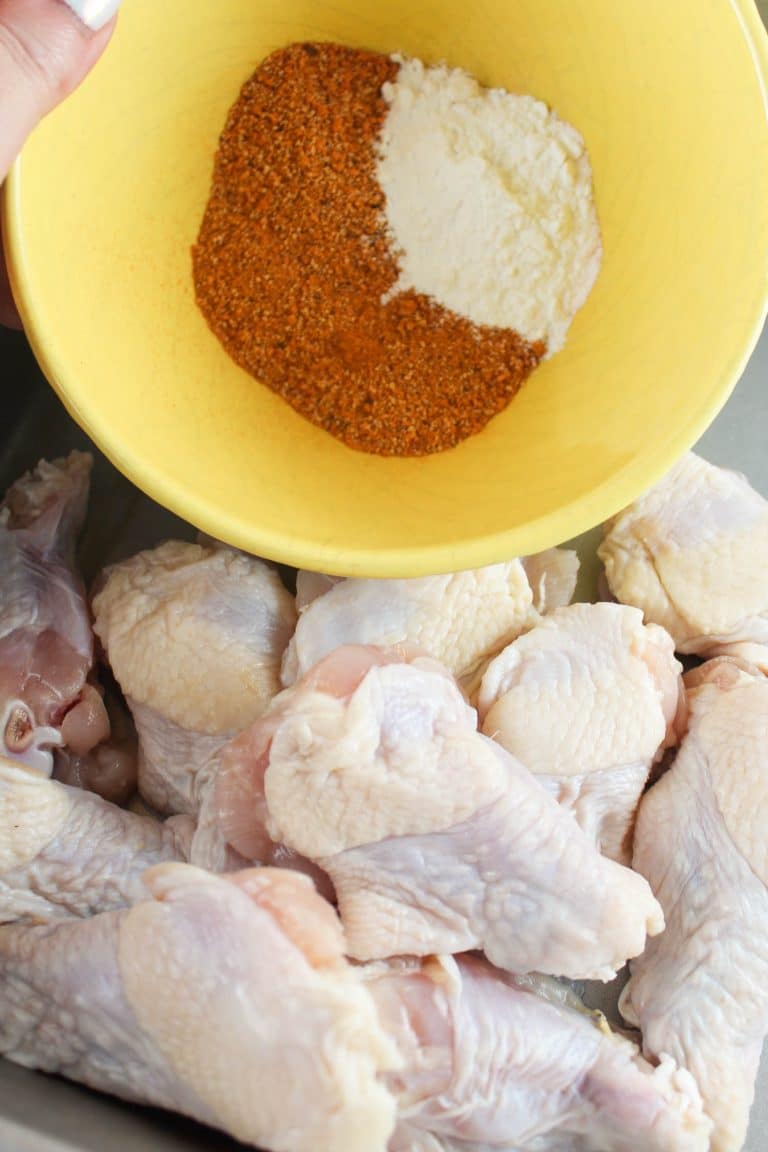 Ingredients for Smoked Chicken Wing Recipe
Here's the thing about smoking any meat – you actually don't need hardly any ingredients! Some folks even say just meat, salt & pepper! For wings, you'll need:
Chicken Wings – I went with drumettes because they were in my freezer
Baking Powder – this helps get the chicken that crispy skin you're looking for
BBQ seasoning – I always use Historic BBQ but you can use your favorite seasoning. I feel like every Traeger owner has their favorite spices & dry rubs!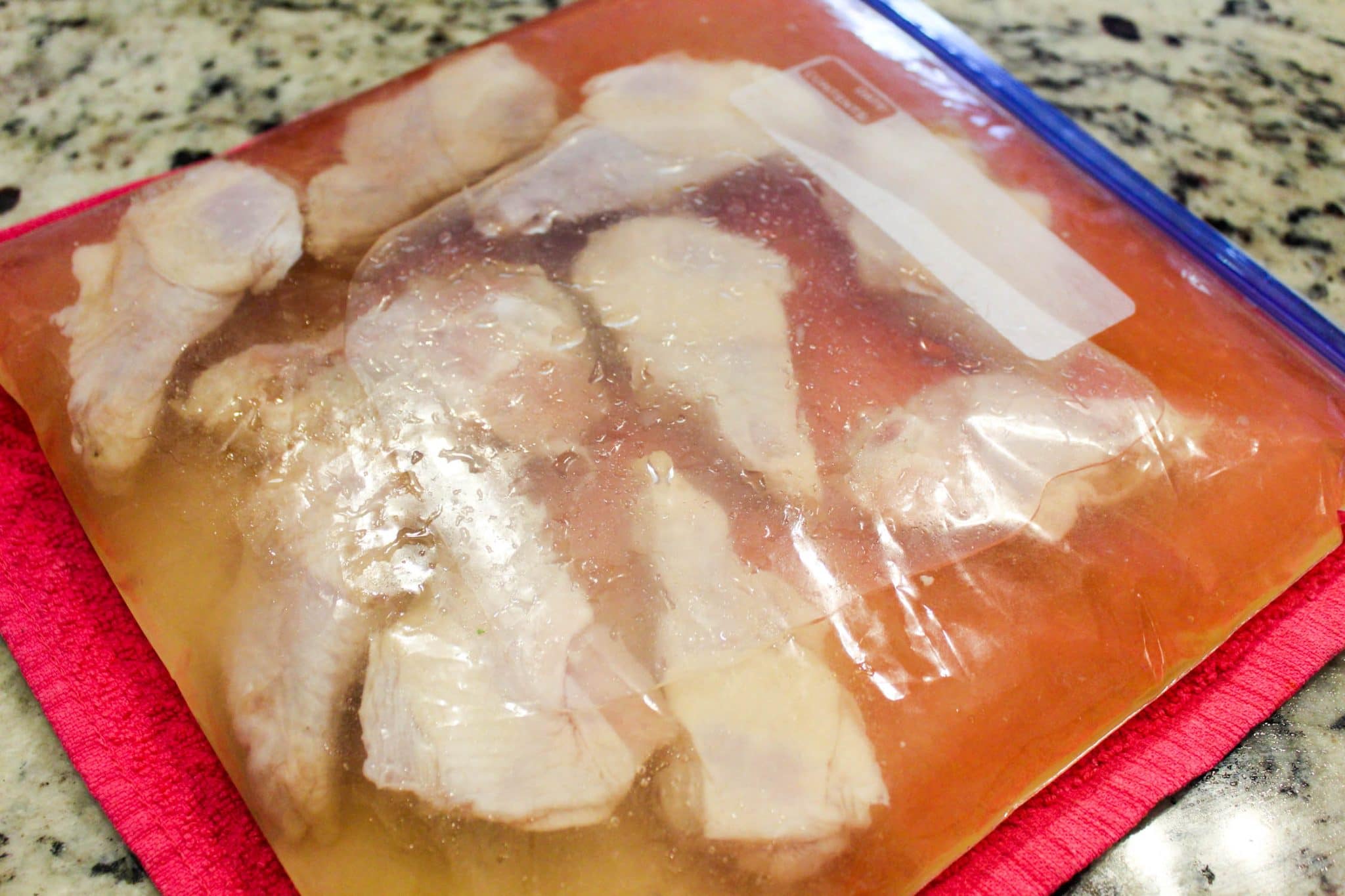 How & Why to Brine Chicken Wings
Brining your wings is simply soaking them in salted water for many hours. Why do it?
Because wings are pretty small and you're smoking them for 90 minutes – you don't want them to dry out. Brining is a great way to help the wings absorb moisture while also soaking in any seasonings that are in your brining liquid. The brown sugar adds a touch of sweetness while the salt helps break down muscle proteins, which prevents the meat from losing moisture as it cooks.
Now – the how to brine chicken wings!
Add water, brown sugar and salt into a large zipper plastic bag
Add wings to bag and seal
Refrigerate 8-12 hours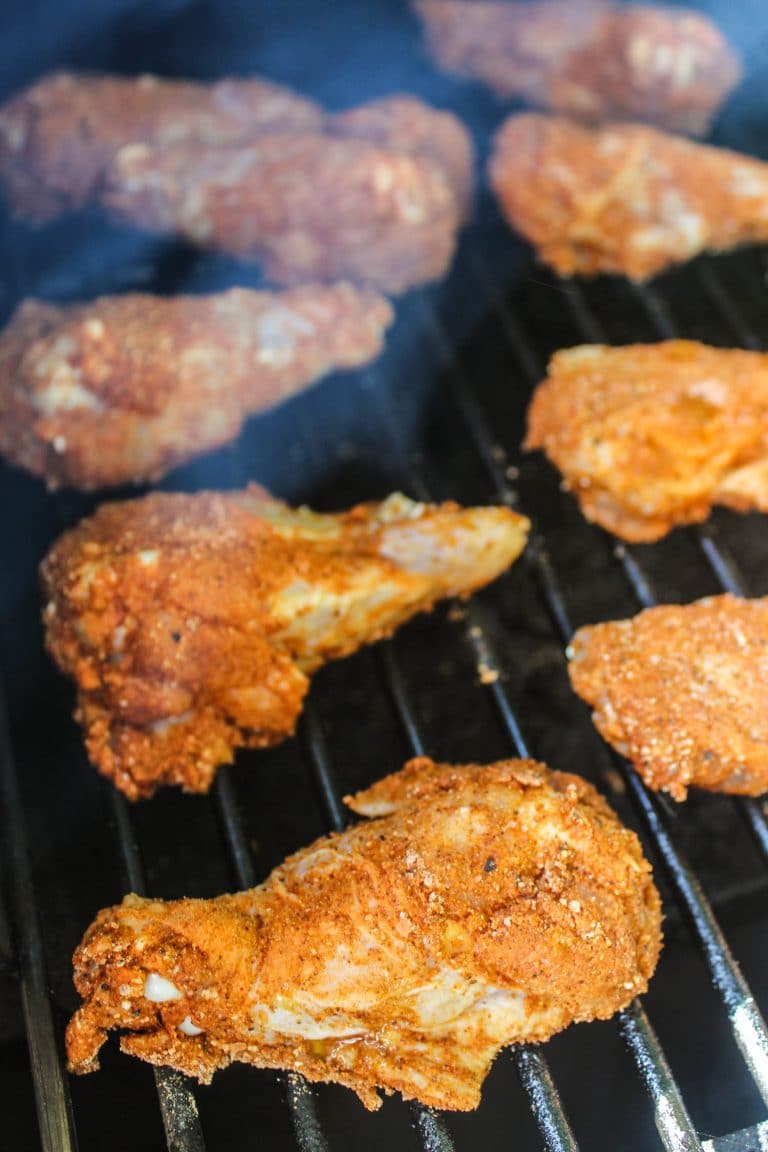 How to make crispy smoked chicken wings on pellet smoker
Smoking is pretty easy – especially with an electric pellet smoker like a Traeger. Start it up and by the time you're done seasoning – it's ready to go!
Drain wings from brine. Rinse off and pat dry with a paper towel.
Turn Traeger on and to the Smoke setting. In about 3-5 minutes, the grill will smoke and then the smoke will dissipate.
Once smoke clears (literally), set temperature on Traeger to 200ºF – check your pellet hopper!
Head in the house and mix baking powder & bbq seasoning in a bowl. Coat wings completely with seasoning mix.
When pellet grill is up to temp, place wings on grill grates and smoke at 200ºF for 90 minutes. Test with instant read meat thermometer to be sure internal temperature of chicken is 160º. Be sure to place the probe into the meat and not touch the bone.
Remove wings from grill into a large bowl and increase grill temp to 450º. While the grill is coming up to temp, get the wings ready by tossing them in barbecue sauce.
Place wings back on grill for 5 min to get crispy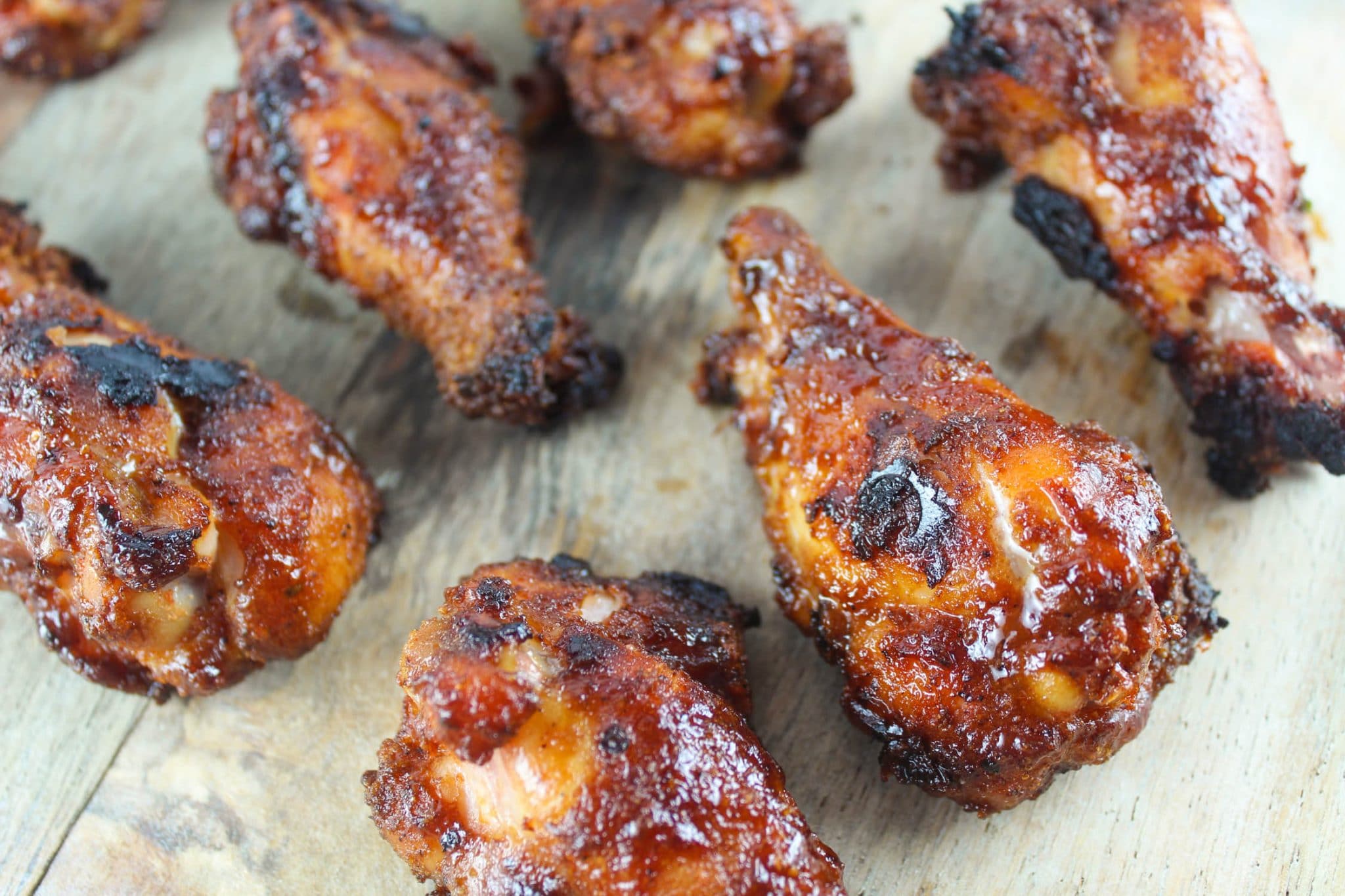 Tips, Tricks & FAQs
How do I get crispy wings on the smoker?
I went to the experts at Historic BBQ for this one and they said adding baking powder to your seasoning will help crisp up your wings!
How long do you smoke chicken wings?
I smoked these wings at 200ºF for 90 minutes. If you go with a higher temp, they'll cook in less time.
When are smoked wings done?
Using an instant read thermometer, place the probe into the thickest part of the wing – not touching the bone. When the internal temp is 160º, the wings are done!
What is the best wood for smoked wings?
There are many flavor pellets that work in your Traeger pellet grill. I keep it simple and always use the Traeger Signature Blend which is a blend of Maple and Cherry. That said if you're looking for something specific for chicken: Pecan, mesquite, cherry and apple are all popular flavors.
Can I make smoked wings on a regular grill?
Yes – definitely! If you want more smoky flavor – you've got a couple of options! Both of these options work on a regular charcoal or gas grill – or will ADD MORE smoke to your smoker.
– Wood chips – Soak them in water for 30 minutes before starting the grill. One cup of wood chips will last for about 20 minutes. Keep adding chips to the grill throughout the process.
– If you use a charcoal grill, light the coals, when the coals are ready, place them on one side of the grill. Place some of the wood chips on top of the coals. Place your food on the side without the coals to cook it with indirect heat.
– Smoker Tubes – My friend Nick introduced me to the wonderment of a smoke tube! It's a metal tube with holes – fill that tube with Traeger pellets and then light it with a butane lighter. Once the pellets catch fire – let them get started – then blow the flames out. Set them in the grill and shut the lid. The smoke flavor is all those tubes will leave behind!
How do you store and reheat leftover wings?
Store any leftover wings in an airtight container in the refrigerator for up to 5 days. I find it best to reheat in the microwave for 1 minute so they don't dry out with more cooking.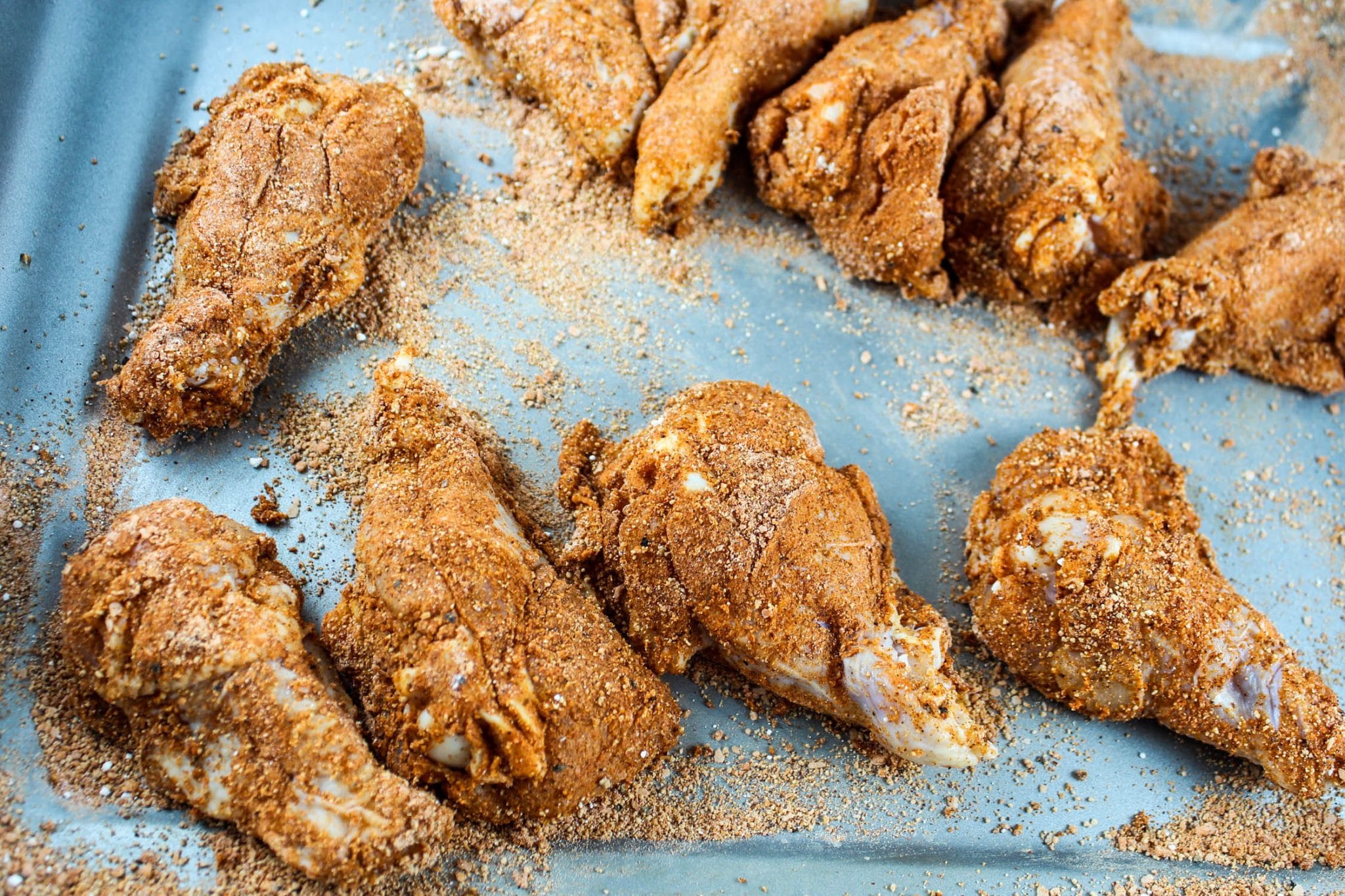 Variations for Chicken Wings Recipes
If you'd like to add different flavors to your wings, instead of brining them, you can marinate them or just season them with a different rub/sauce. Here are a few favorites:
Citrus Marinade – my favorite quick and easy go-to is a Mojo Criollo Marinade – there are many of them in the store and they're cheap. Throw the wings in a ziploc bag with the whole bottle.
Cilantro Lime – if you're looking for a zingy cilantro lime marinade – check out this one I used on my Chicken Kabobs – omg – it's my new favorite!
Buffalo – grab a Buffalo Wing dry seasoning & your favorite buffalo sauce – then serve with ranch dressing for dipping
Plain – you can also go with plain wings with just garlic powder, salt, black pepper and baking powder and then toss in your favorite wings sauce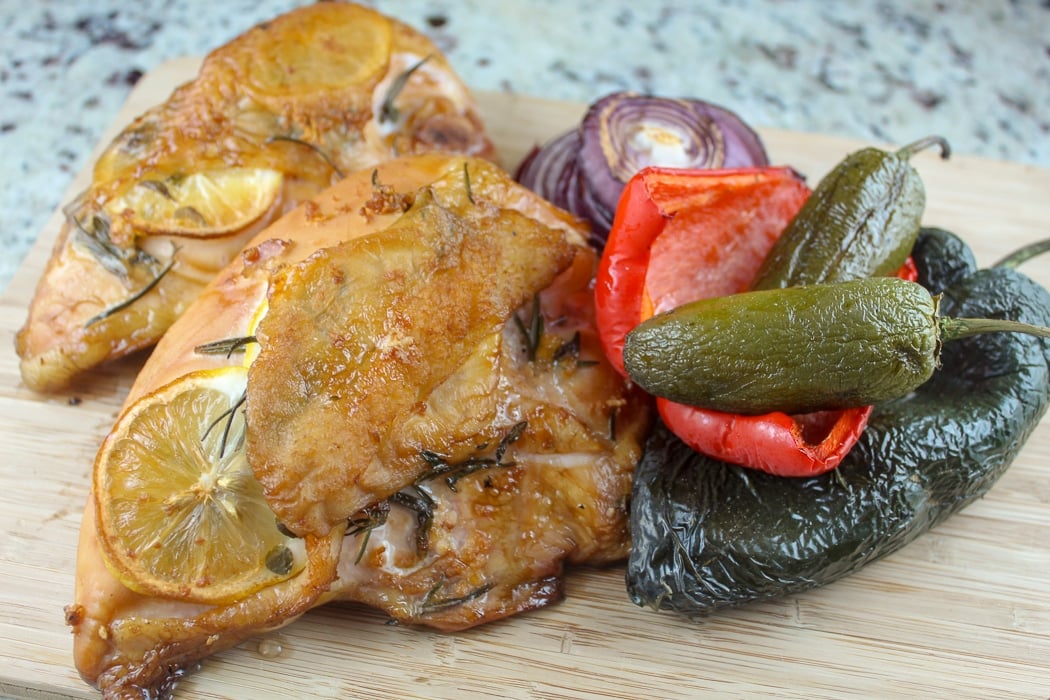 More Smoked Meat Recipes for your Pellet Grill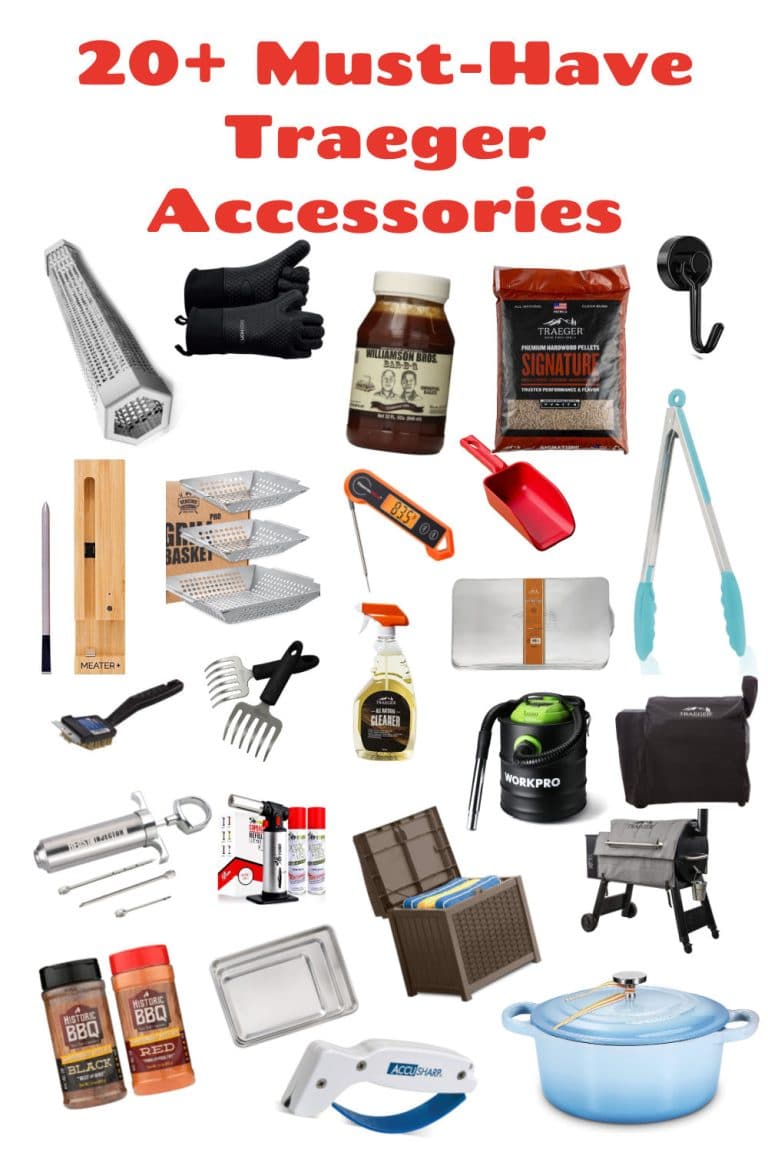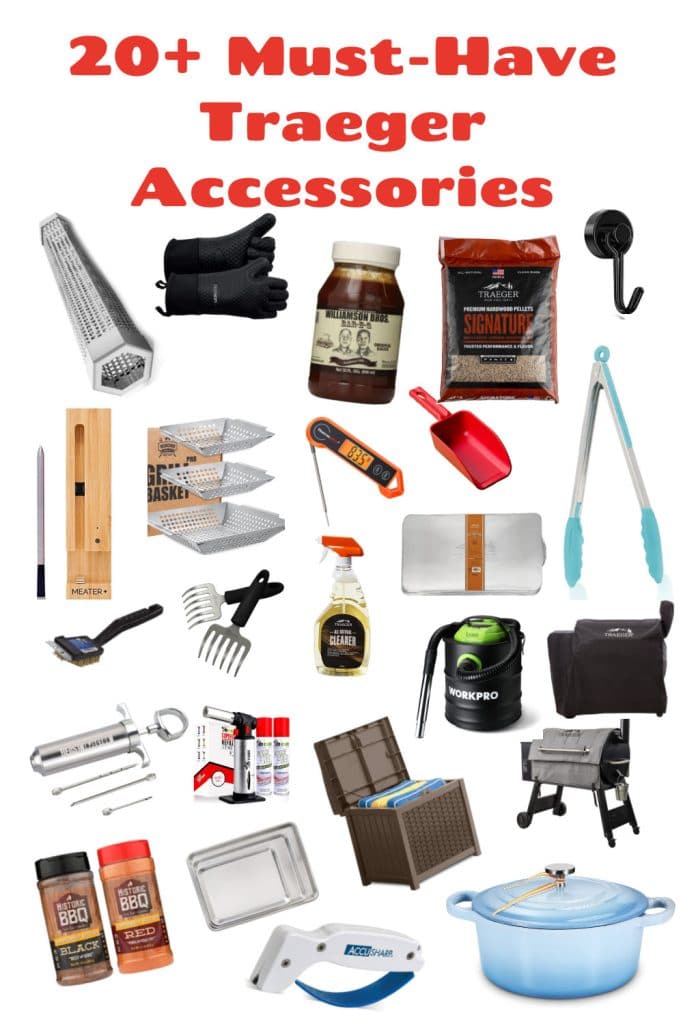 I absolutely love my Traeger Pellet Grill and you can pretty much use it right out of the box! But over the years I've definitely found that there are some Traeger smoker accessories that make everything a lot easier!
More Chicken Wing Recipes
What to Serve with Chicken Wings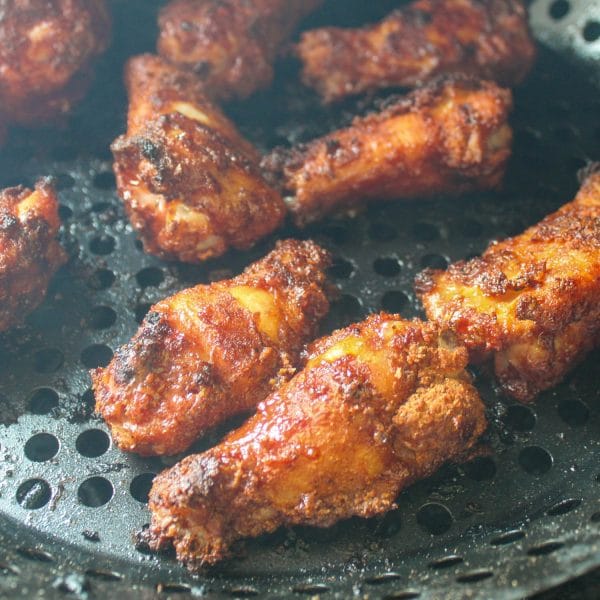 Traeger Pellet Smoker Chicken Wings
Smoked wings are one of my favorite appetizers that I've discovered since getting my Traeger pellet grill. The smoky flavor from the wood pellets soaks into the wings and gives them an amazing aroma and taste.
Instructions
In a large ziploc bag, mix together water, brown sugar and salt until salt dissolves. Add chicken wings to bag and seal. Refrigerate for 8-12 hours.

5 cups water,

1/4 cup brown sugar,

1/4 cup kosher salt,

1 lb chicken wings

Drain wings from brine. Rinse off and pat dry with a paper towel.

Mix baking powder & bbq seasoning in a bowl. Coat wings completely with seasoning mix.

1 tbsp baking powder,

3 tbsp Historic BBQ Red seasoning

Smoke at 200ºF for 90 minutes until chicken internal temp is 160º

Remove wings from grill, increase temp to 450º

Place wings back on grill and baste with bbq sauce. Grill for 5 min to get crispy

1/4 cup Williamson Bros. BBQ sauce
Notes
**We are not dietitians and recommend you seek a nutritionist for exact nutritional information. The information in the nutrition box are calculated through a program and there is room for error. If you need an accurate count, I recommend running the ingredients through your favorite nutrition calculator.**
Nutrition
Serving:
6
wings
Calories:
566
kcal
Carbohydrates:
35.1
g
Protein:
65.6
g
Fat:
16.9
g
Saturated Fat:
4.6
g
Cholesterol:
202
mg
Sodium:
789
mg
Potassium:
1404
mg
Fiber:
0.4
g
Sugar:
26.7
g
Calcium:
396
mg
Iron:
4
mg