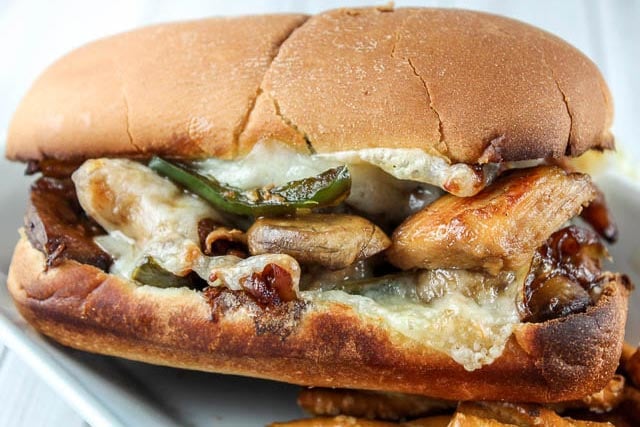 But every once in a while – I go rogue and get the Chicken Teriyaki Sub. It's my friend Kelly's favorite sandwich and I have to say – it's rubbed off on me! It's loaded with veggies and melted Swiss – plus the Teriyaki sauce is so delicious!
I think a lot of people don't think to make sandwiches like this at home – but it's so easy! You'd probably make these ingredients anyway and serve them on rice – so instead of rice – just grab a pack of sub rolls. The key is that you need to broil them to get the cheese melty and bubbly like they do at Penn Station.
And that's the other thing – the broiler heats up the bread the PERFECT amount!!! It gets the outside crispy but the inside stays soft. My favorite teriyaki sauce for sure is the Soy Vay brand – you can also make your own – but I always have a bottle of Soy Vay in the fridge!
If you don't have Penn Station in your neck of the woods- this is a great way to enjoy it in your own home and have one of their best sellers that is also one of my favorites!!
Yield: 2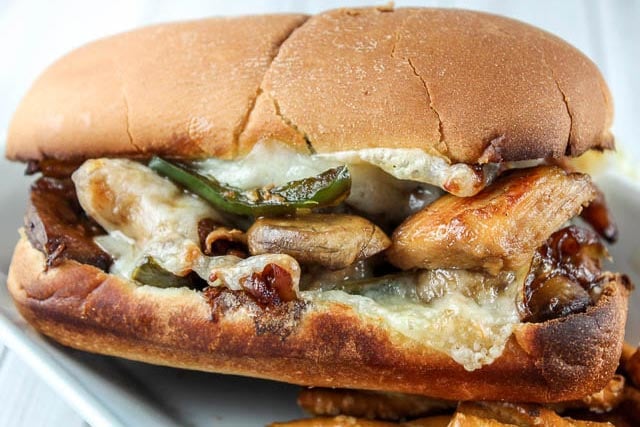 Copycat Penn Station Chicken Teriyaki
Penn Station is one of my favorite Cincinnati restaurants and their Chicken Teriyaki sub is so delicious! It's tangy and filled with chicken, veggies and – of course – cheese! You'll love it!
prep time: 10 mins
cook time: 20 mins
total time: 30 mins
ingredients
2 sub rolls
Olive oil
2 chicken breasts
1/2 green pepper, sliced
1/2 onion, sliced
4 oz mushrooms, sliced
3-4 slices Swiss cheese
instructions
Preheat oven to broil on low
On stovetop, heat oil in skillet to medium high
Saute chicken breasts, peppers onions and mushrooms until vegetables are softened and start to carmelize (3-5 min).
Remove veggies and set aside.
Flip chicken and cook until internal temp is 160-165.
Remove chicken from pan and slice to thick slices.
Add chicken and veggies back to pan and add 1/4 cup teriyaki sauce. Stir until sauce is evaporated and all items are heavily coated.
Line a cookie sheet with parchment paper and lightly spray with non-stick spray
Open sub roll and lay on parchment
Top both sides of sub roll with chicken & veggies
Top with Swiss cheese
Broil for 2-3 minutes until cheese starts to bubble and brown SLIGHTLY. (This time can vary greatly according to your broiler. Start with broiler on low and watch it closely – you just want the cheese to melt.)
Remove from oven
Fold over subs and serve!