What does this look like?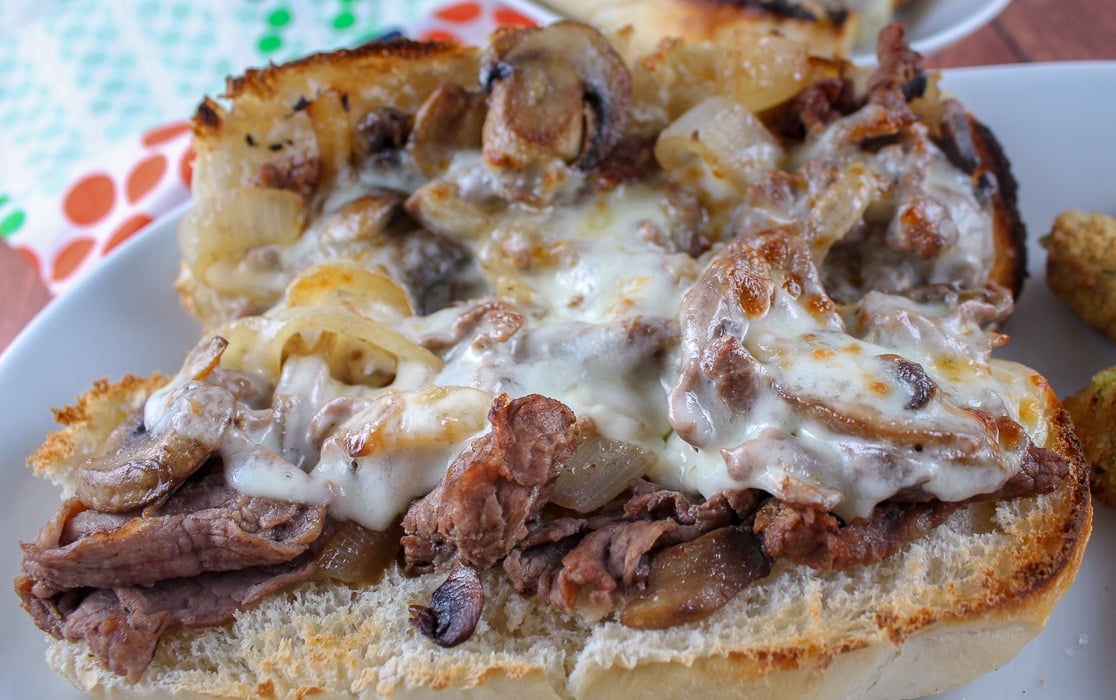 Penn Station – right? I absolutely LOVE Penn Station – I go probably at least a couple times a month – my standard order is Philly Cheese with extra mushrooms, extra cheese & mayo.


Last month I was at Meijer and saw that there was a tray of Certified Angus Beef shaved/sliced steak. Actually – I can't remember the specific name of the cut – but it's in the meat counter at Meijer between the ground beef and the steaks. I asked the meat counter guy (who I quickly made friends with) what you would use that for – he said, "Oh I guess something like Steak-Umms" – which I hadn't heard of in YEARS!


My brain then jumped to Penn Station and I knew what we were having for dinner!!!
To recreate my favorite Penn Station – I pulled out the cast iron and sauteed mushrooms and onions. That's ALWAYS on my Penn Station order!
Once the veggies are tender – add the sliced steak. It cooks up VERY quickly – literally just a 2-3 minutes or so and you're done! This is a super quick dinner! As far as seasoning – I just add a little salt & pepper – I don't think you need much – the steak is a good quality – so that's good on its own.
After the steak is ready – grab your favorite roll (you can go for the crispy ones – I went for a little softer sub roll version) – open it up and pile on the toppings. Top with a thick slice of provolone and pop it under the broiler or in the toaster oven.





Boomio – Penn Station at home! The great thing about this is you can buy as much or as little as you need for your family. One pound makes 4-6 sandwiches depending on how much you fill them and how large your sub rolls are.


I put a thin layer of mayo on the roll before I added the beef and then a little more after the broiler but top it however you like.
Now that I make this at home – I hardly ever go to Penn Station any more! Between this and my Maid Rite recipe – I'm coming into my own with recipes in a rotation that we have all the time.


Again – I've never seen this meat anywhere else or in another form or brand – so if you'd like to try it – check Meijer's meat counter and enjoy!



Yield: 2
Copycat Penn Station Philly Cheesesteak
Penn Station is one of my favorite fast casual restaurants and this Philly Cheese has been my regular order for 15 years! Then I came across sliced steak at the Meijer meat counter and realized – I can make it at home!!! Yum!! Delicious!!
prep time: 5 mins
cook time: 15 mins
total time: 20 mins
ingredients
1 pound Certified Angus Beef – Sliced Steak (at the meat counter at Meijer)
1/2 onion
4-8 oz mushrooms, sliced & chopped
salt & pepper
sub rolls
provolone cheese
mayo
instructions
Saute mushrooms and onions in cast iron pan for 3-4 minutes until soft.
Add sliced steak (temp on high) and fry for 2-3 minutes.
Open favorite sub roll and pile on the steak mixture.
Top with thick slice of provolone and heat under broiler or toaster oven for 2-3 minutes until cheese is melted and bubbly.
Remove from toaster oven and top with mayo
Check out my recipe for the CopyCat Penn Station Chicken Teriyaki Sub too!