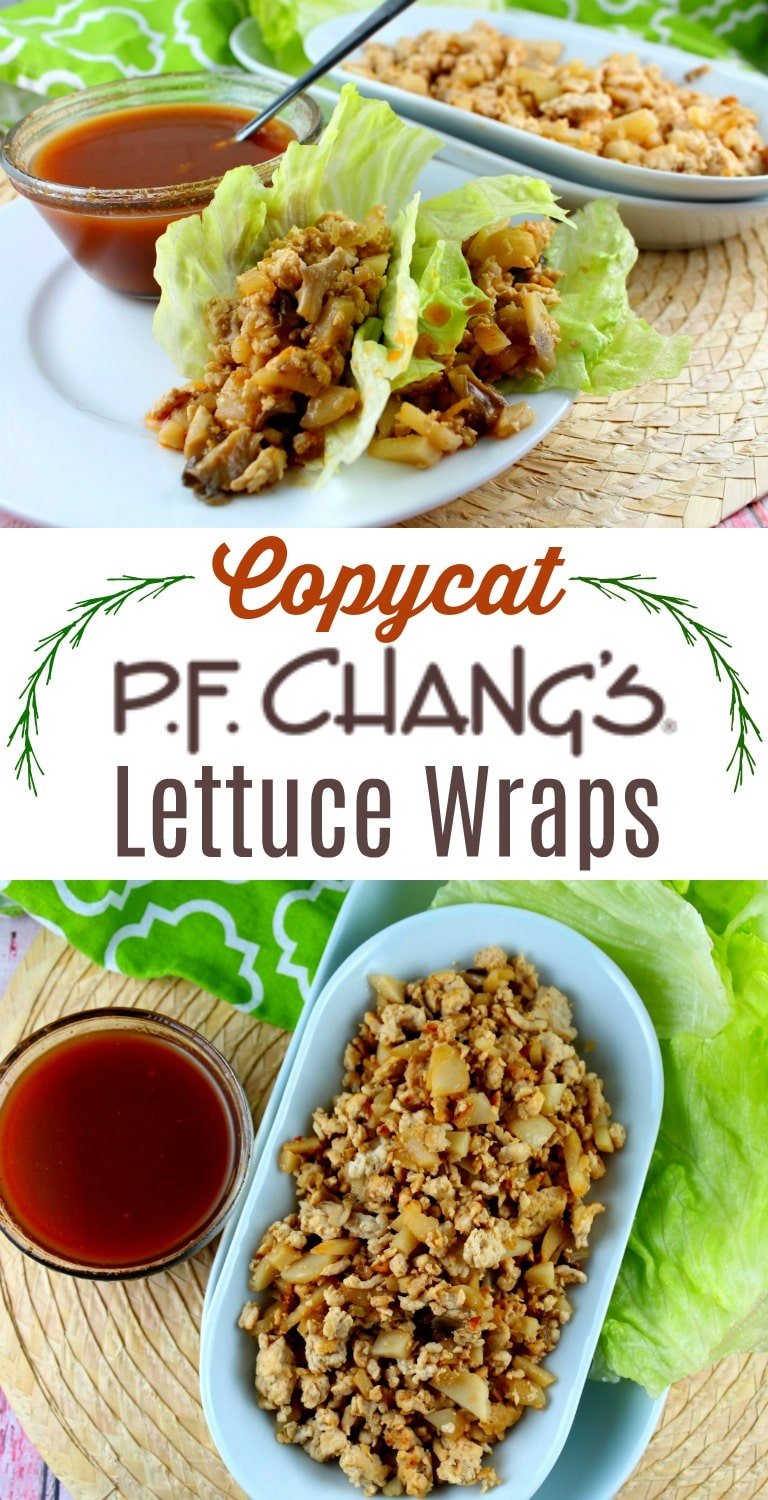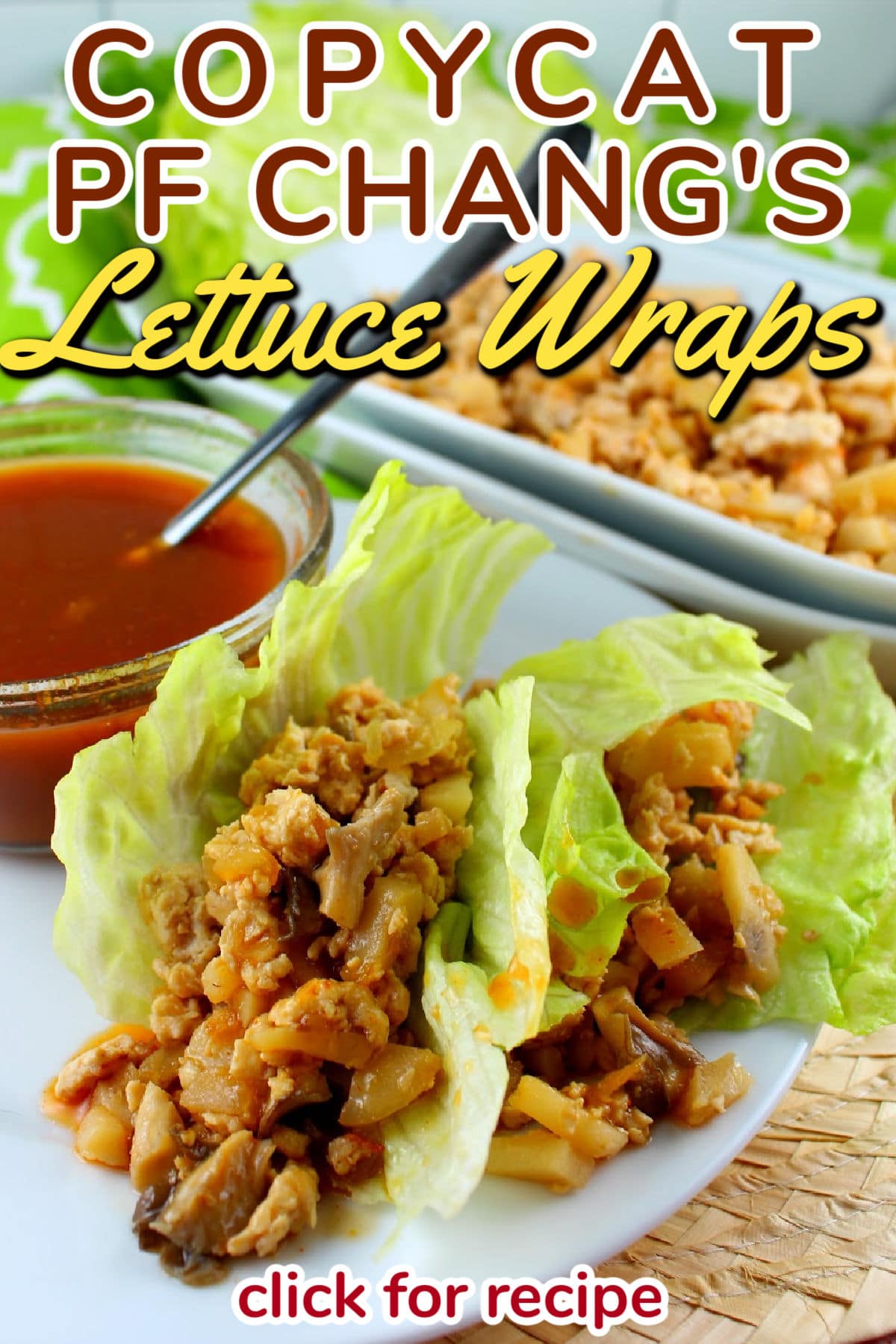 One of my favorite dishes has always been the PF Chang's Lettuce Wraps! I remember when I moved to Cincinnati – it was one of the first places I went and it was so much nicer than the Chinese restaurants we had back home. Now I make these copycat lettuce wraps recipe all the time at home!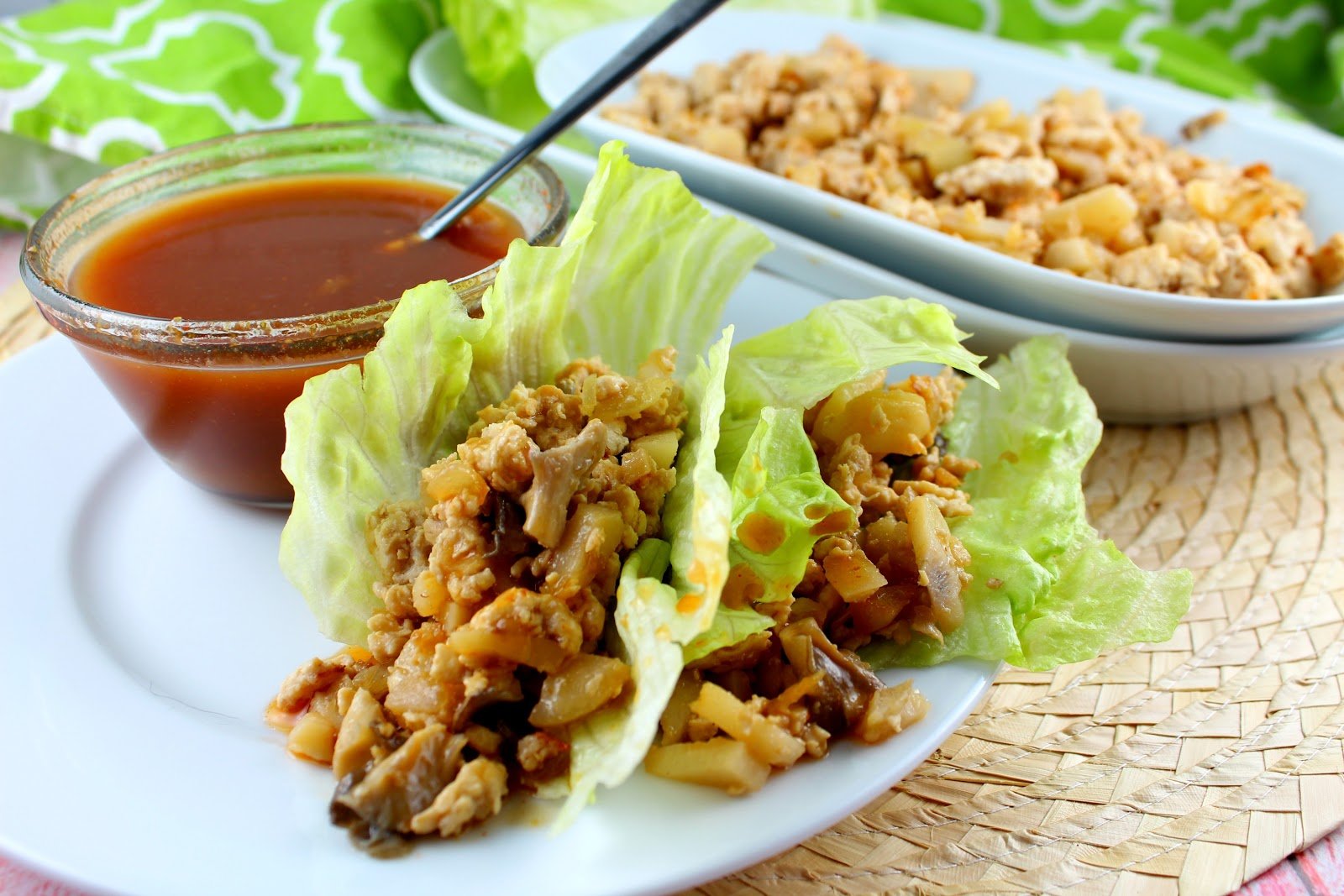 This recipe does have a few steps and sauces but I made sure to use items you have in your kitchen already – and if you don't – I can help you find a substitution!!!
What's in PF Chang's Lettuce Wraps?
There are a few sauces you have to make with this recipe – but they're not difficult – and they use a lot of the same ingredients – you mix together the topping sauce and a stir fry sauce as well as the ground chicken mixture. You could also swap out and use chicken thighs chopped very fine – or ground pork!
What is the PF Chang's Lettuce Wraps Dipping Sauce?
Actually there are two sauces that are mixed together to make that dipping sauce! The first is what I called a sugar sauce – it's got sugar, water, soy sauce, mirin (or rice wine vinegar, ketchup, lemon juice and sesame oil. The second sauce is super simple and made with hot mustard, gochujang and a little water. Then, before you serve, whisk them together!
What kind of lettuce do you use for lettuce wraps?
I like to use Boston lettuce but to stay true to the original dish – I used iceberg lettuce. Romaine lettuce would also work. You really just want a firm leaf that can hold some substance.
Do PF Chang's Lettuce Wraps have nuts?
No! The crunch comes from water chestnuts (which are not actually nuts!). They do have onions and mushrooms though – so yummy!
This Copycat PF Chang's Lettuce Wraps recipe is so delicious! If you have ever had them – you already know it – and if you aren't lucky enough to have a PF Chang's in your city – now you can make their signature dish in your own kitchen! You'll love them!!!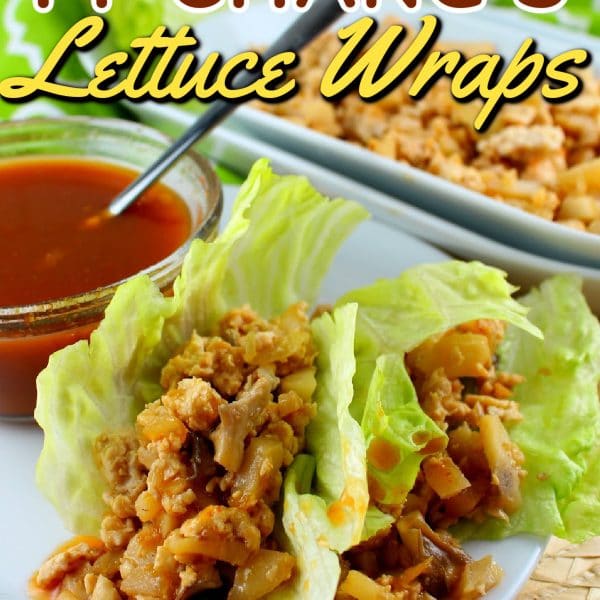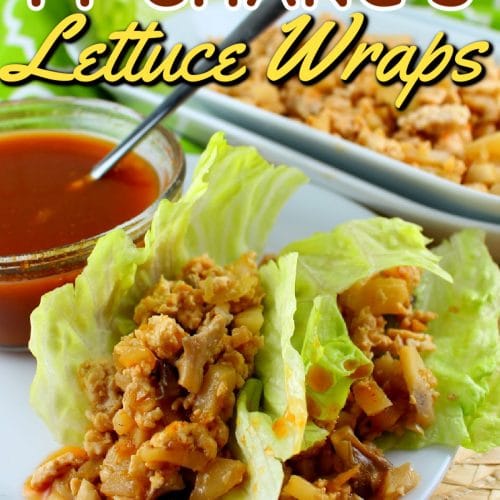 Copycat PF Chang's Lettuce Wraps Recipe
I love the Lettuce Wraps at PF Chang's and had them over the holidays – then I got home and wanted them again!!! So I made my own! They're pretty simple and make a great main dish too!
Ingredients
Instructions
Make the special sauce-sugar sauce by dissolving sugar in water in a small bowl. Add the soy sauce, mirin, ketchup, lemon juice and sesame oil

Mix well and refrigerate sauce until ready to serve

In a separate bowl, for the mustard sauce combine hot water, mustard and gochujang – whisk this and set aside

Bring oil to high heat in a skillet. Saute ground chicken and onions for 4-5 minutes. Break up the chicken into small pieces. 

Add a bit more oil, water chestnuts, mushrooms and garlic to chicken

Prepare the stir fry sauce in a bowl by mixing the soy sauce, Worcestershire sauce and mirin 

Add stir fry sauce to the pan and saute mixture a couple of minutes and transfer chicken mixture to a serving platter. 

Remove two sauces you set aside earlier (sugar sauce/mustard sauce) and whisk them together

Serve chicken mixture in lettuce leaves and spoon mixed sauce on top or serve on side for dipping
Nutrition
Calories:
335
kcal
Carbohydrates:
18.9
g
Protein:
22.3
g
Fat:
20
g
Saturated Fat:
4.1
g
Cholesterol:
96
mg
Sodium:
1069
mg
Potassium:
763
mg
Fiber:
1.9
g
Sugar:
13.8
g
Calcium:
18
mg
Iron:
2
mg