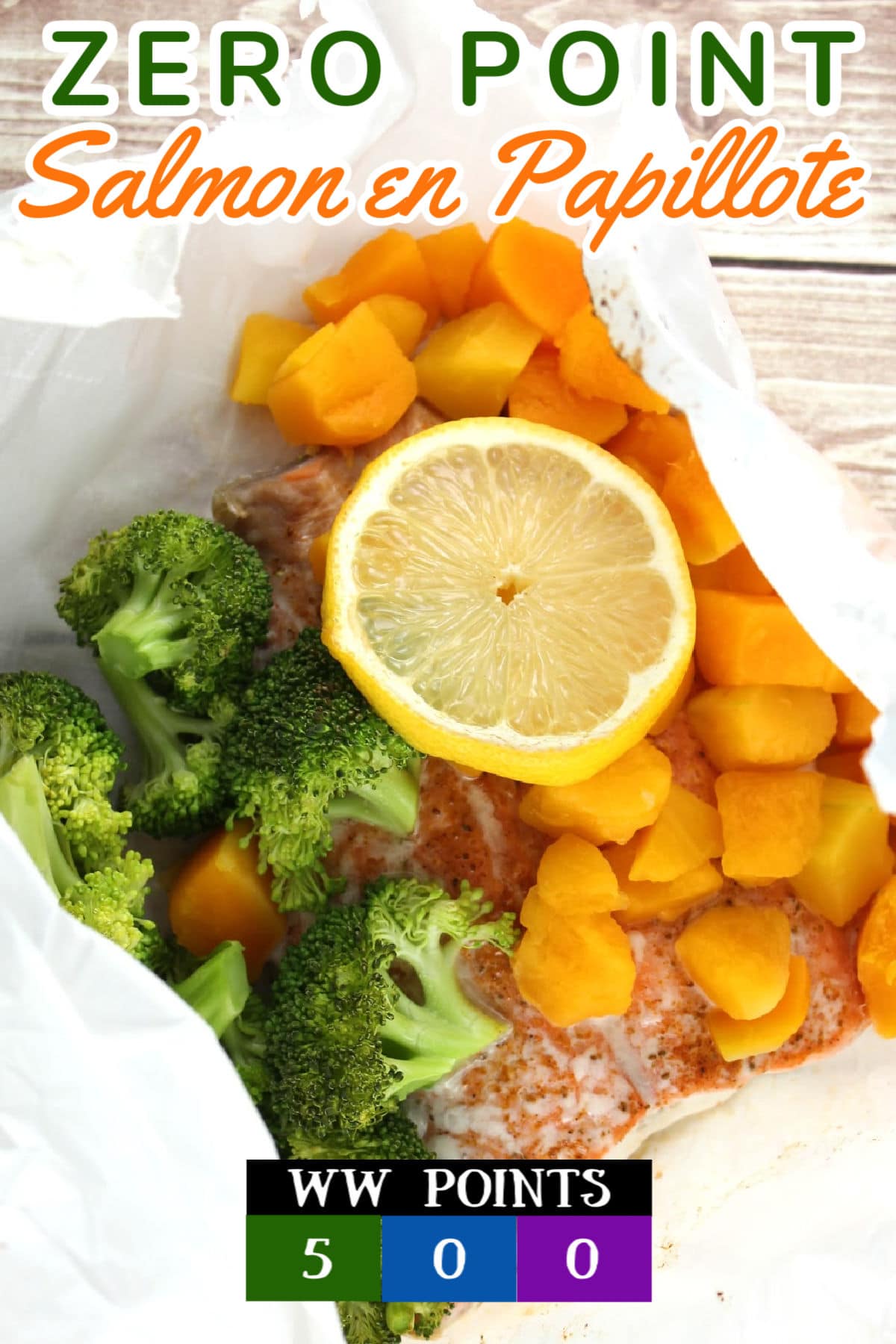 Besides being super GOOD FOR YOU – this dish is so easy to make! En papillote sounds fancy – but it just means "in paper" – so you pop all the ingredients in parchment paper – and bake it for 30 minutes. It only takes 5 minutes to put together! That's the kind of meal I need on a weeknight!
What are Zero Point Foods?
Weight Watchers has a list of zero point foods – they are low in fat and calories. Depending on which plan you're on the list is bigger or smaller. On the Purple plan, there are a TON of zero point foods – but on the Green plan, there are fewer. What's the difference? Things like salmon and beans are zero on purple but not green. When you're on Purple you have fewer points for the day – compared to Green. (i.e. 19 vs 35). I'm on Green because I need a little more restriction.
What's in Salmon en Papillote?
Lastly – I scoured the zero point food list to find something that felt starchy – and the butternut squash was perfect! Plus – you can get a bag of it in the freezer department! WooHoo! That starchiness makes it feel like you're eating sweet potatoes – but you've got the zero point factor going on!
Do you like Parchment Paper or Parchment Bags?
As far as the parchment paper – you can use regular parchment paper – and I did for this because I was out of my favorite parchment bags. With the paper you just sort of bring the sides up and fold them over a few times so it stays together. Then fold the sides under like you're wrapping a gift. I'm not going to lie – I've been known to staple them if I can't get them to stay! Bhahaha! That's why I started buying the bags – they are really great quality and not that expensive.
You will LOVE this salmon en papillote – it's so easy and the Greek yogurt sauce on top is perfect! It adds the creaminess and a much needed sauce. Normally I would have put butter on all of this – but the Greek yogurt was perfect! Definitely no need for butter! Zero points victory!!!!
Looking for other Weight Watchers-friendly recipes?
Zero Point Turkey Chili
Two Point Breakfast
Seven Point Goulash
One Point Lemon Blueberry Donuts