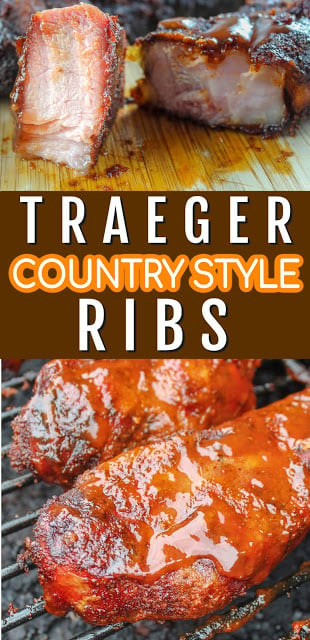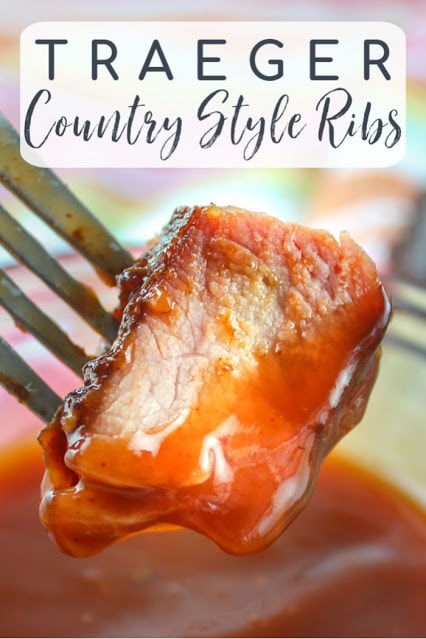 Smoked country style ribs on the Traeger are a delicious new way to enjoy an affordable and delicious cut of pork.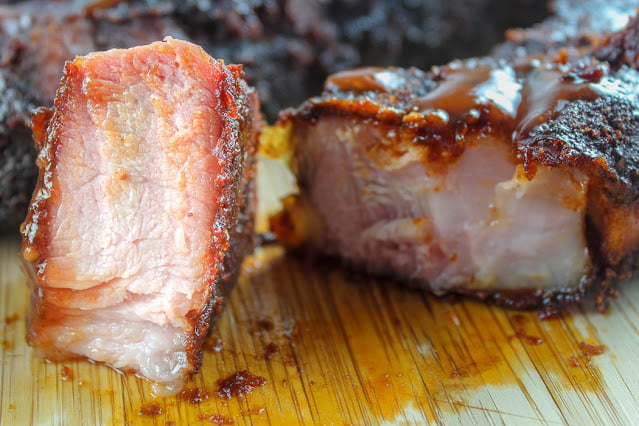 This post is sponsored by Iowa Pork. All opinions are my own.
Growing up in Iowa – my Dad cooked all the time and one of his favorites was country style ribs. We would always bake them in the oven and they came out tender and juicy. But now – I'm all grown up and have been in love with my Traeger grill. It's great for low and slow smoking and I had to breath new life into these country style ribs!
The funny thing is – even being from Iowa – I didn't actually visit a pig farm until I moved to Ohio. Now I've been to a few! I learned so much from Uncle Squeals and I got to shower in a barn and play with piglets!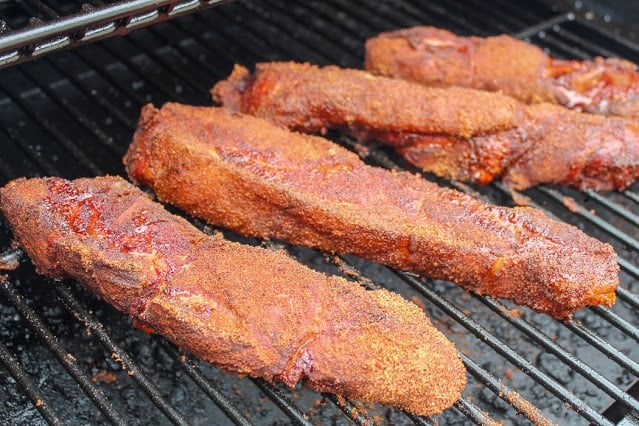 Ingredients for Smoked Country Style Ribs:
How to smoke Country Style Ribs on Traeger Grill:
I'll tell you – it's a process – but it's definitely worth it in the end!
First you rub the ribs – I have a rub recipe for you – but you can also use any poultry rub you like. I like Historic BBQ – they have a Red that is for pork & poultry that I love!
Once the ribs have the rub – you put them on your up-to-temp Traeger grill at 225. You need to cook them at this low temp to smoke your ribs. This will add a lot of flavor to the ribs – although it does take time.
You'll need to smoke the ribs at this temp for about three hours – this is low and slow baby!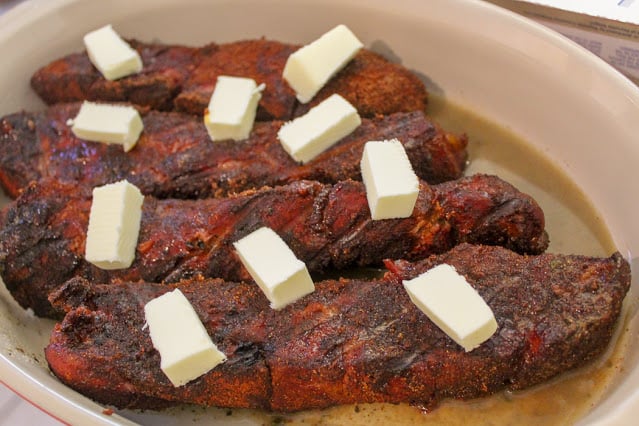 At this point you're going to remove the ribs from the grill and put them in a pan. You'll add apple juice and butter to get some moisture in the ribs. You can raise the temp to 275 on the Traeger and bring the meat up to 190 degrees.

After that you'll remove them from the pan, sauce them and back on the grill to add sauce and let that set in for about 15 minutes . Then they're FINALLY ready! This whole process took 4-5 hours – but it was sure worth it.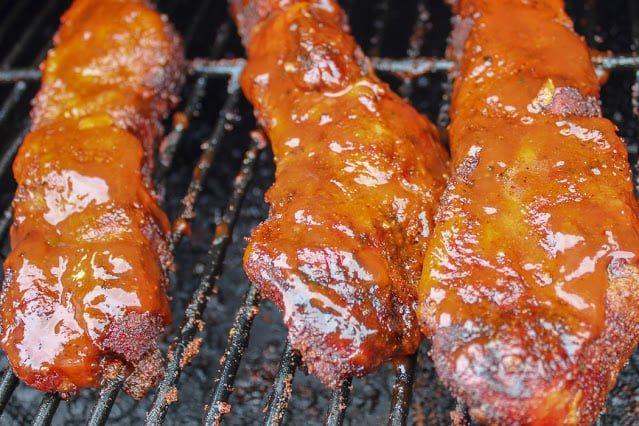 What are Country Style Ribs?
Country-Style Ribs are from the blade end of the loin – near the shoulder. They are very meaty and there are actually no bones! These actually have pork loin and some pork blade meat – so some of the meat is more lean – while other parts more fatty. I like them because it provides a nice balance all the best parts!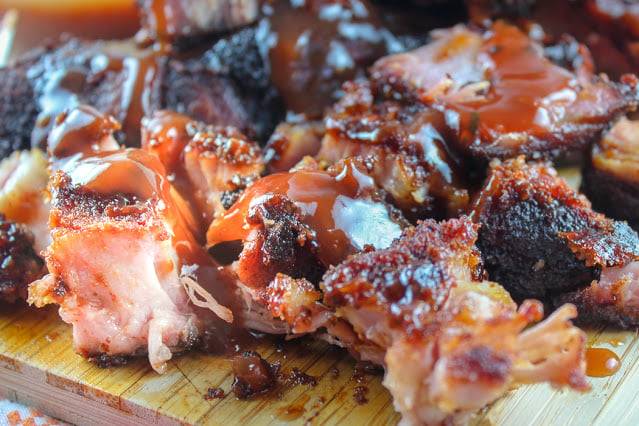 Can you make Country Style Ribs Faster on the Traeger?
Yes – you can definitely do a quicker method like you would with a pork loin or even chops – they just won't be smoked. This recipe for smoking is low and slow – more time consuming but it does produce a delicious flavor. Always be sure to check the temp on your pork – here's a quick guide to pork temperatures.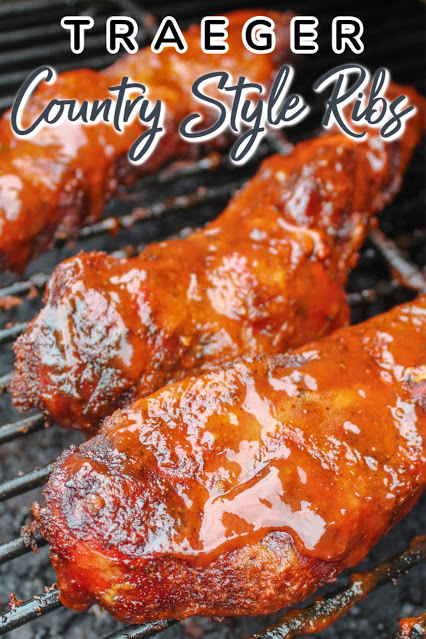 What to serve with Smoked Country Style Ribs
Obviously – when you've got ribs – you've got side dishes – here are some of my favorites!
Other Traeger Recipes: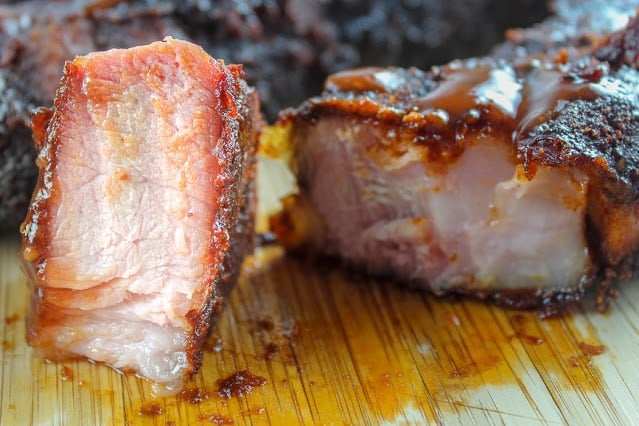 Traeger Smoked Country Style Ribs
Smoking country style ribs on the Traeger is a delicious new way to enjoy an affordable and delicious cut of pork.
Ingredients
Ribs
2

lbs

country style ribs

BBQ Rib Rub

4

tbsp

butter

1

cup

apple juice
Instructions
Rub country style ribs with BBQ rub – or use a premade. My favorite is Historic BBQ

Setup your Traeger to cook at 225 degrees and place ribs on grill. Cook until ribs are at 155 degrees – approx 3 hours. Spritz the ribs with apple juice every hour until they get up to temp.

When the ribs hit 155, remove them from the Traeger, and use tongs to place each of them in a large roasting dish or disposable pan.

Add a half cup of apple juice to the roaster, along with four pats of butter. Cover the pan tightly with aluminum foil, and return the ribs to your smoker. 

Then adjust the temp of your smoker to 275, and let ribs cook until meat temp is 190. It will take about 60 minutes for them to come up to temp. 

When they are all up to temp, remove the ribs from the roasting pan and place them back on the grill rack and return to the smoker.

Brush each of the ribs with your favorite bbq sauce, and let them cook at 275 for about 15 min.

Remove from grill and let rest for 10 minutes – then (finally) enjoy!
Notes
What if I don't have a smoker? How would I make this on a regular grill? 
You just need wood chips. Soak them in water for 30 minutes before starting the grill. One cup of wood chips will last for about 20 minutes. Keep adding chips to the grill throughout the process. 
If you use a charcoal grill, light the coals, when the coals are ready, place them on one side of the grill. Place some of the wood chips on top of the coals. Place your food on the side without the coals to cook it with indirect heat.
Nutrition
Calories:
1005
kcal
Carbohydrates:
25.5
g
Protein:
58.9
g
Fat:
74.2
g
Saturated Fat:
29.7
g
Cholesterol:
252
mg
Sodium:
3728
mg
Potassium:
1154
mg
Fiber:
3.2
g
Sugar:
16.9
g
Calcium:
134
mg
Iron:
6
mg