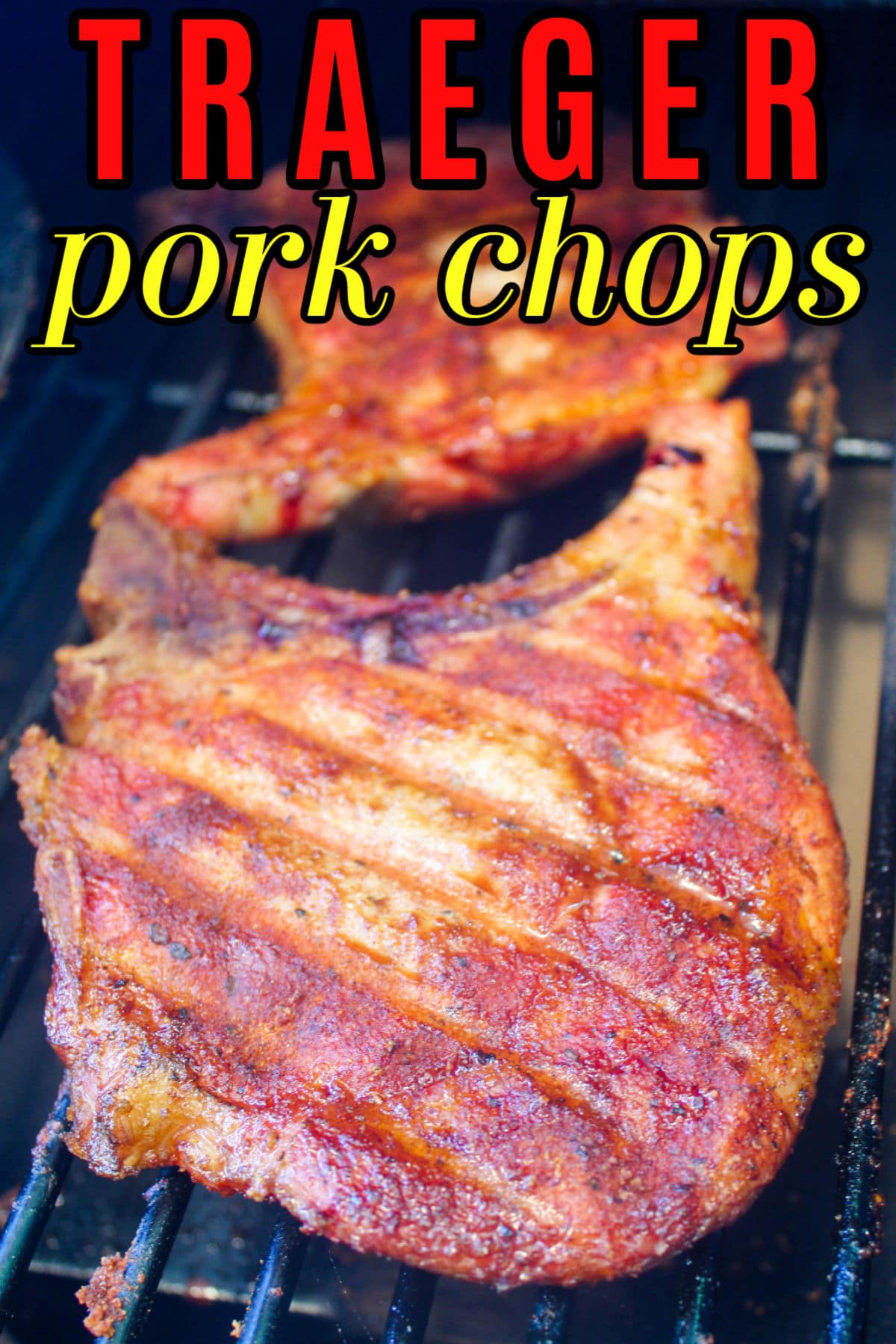 These Traeger Smoked Pork Chops have just the right amount of smoky flavor from those wood pellets but are still so juicy and tender!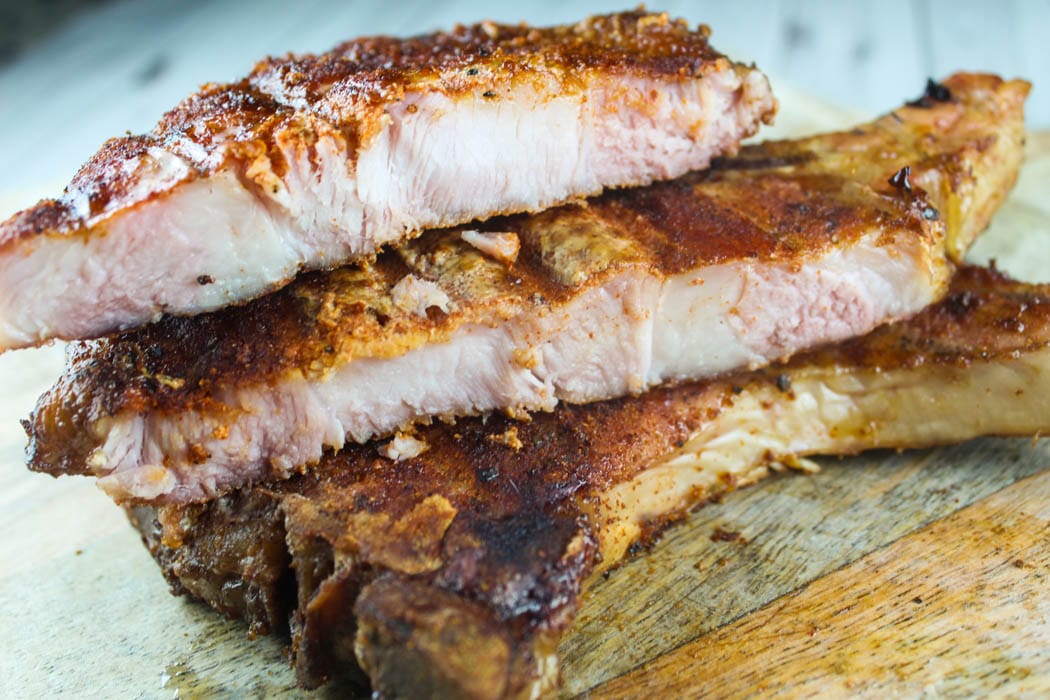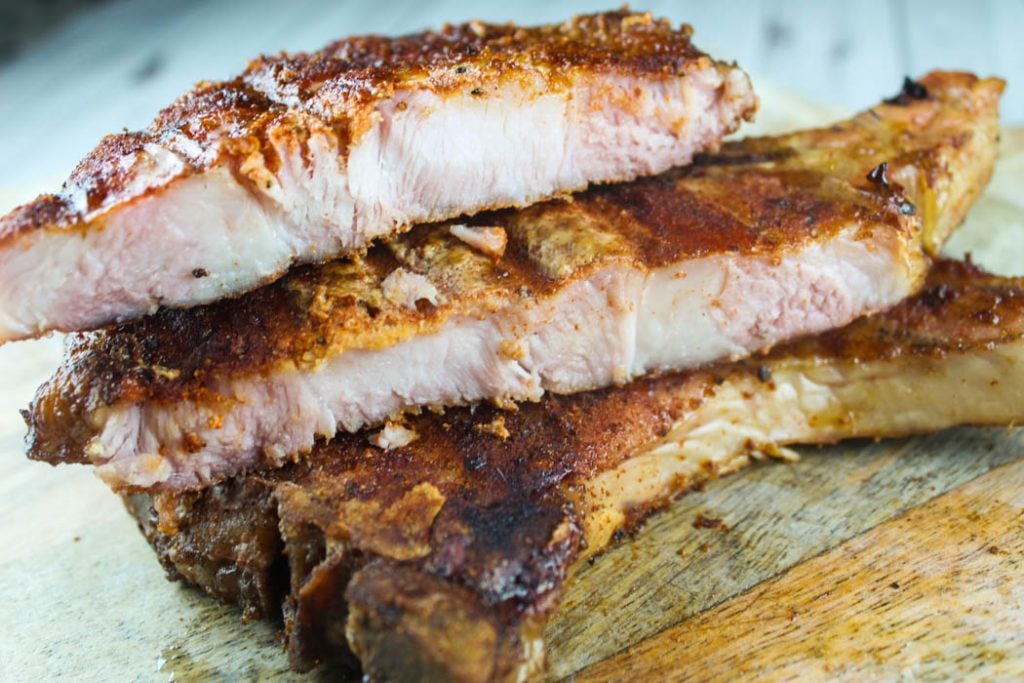 What You Will ❤️ About Smoked Pork Chops
Easy!!! Using the Traeger is so simple – just flip the switch and you're smoking!
Smoked Perfection! I love the smoky flavor that the pellets add. These were fairly thin chops so they only took two hours to smoke.
Juicy! Smoking chops means you're cooking them low and slow and that holds in ALL the juices. No dried out chops here!
This post contains affiliate links which I make a little money on purchases. Thanks in advance! I am an Amazon associate as well as a member of other affiliate programs.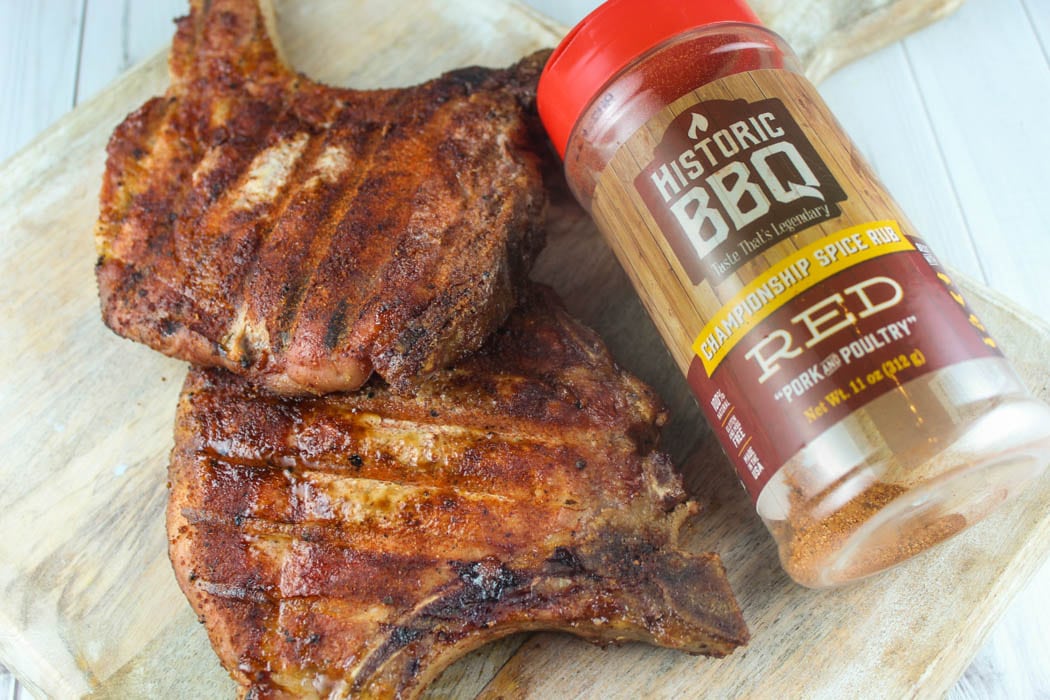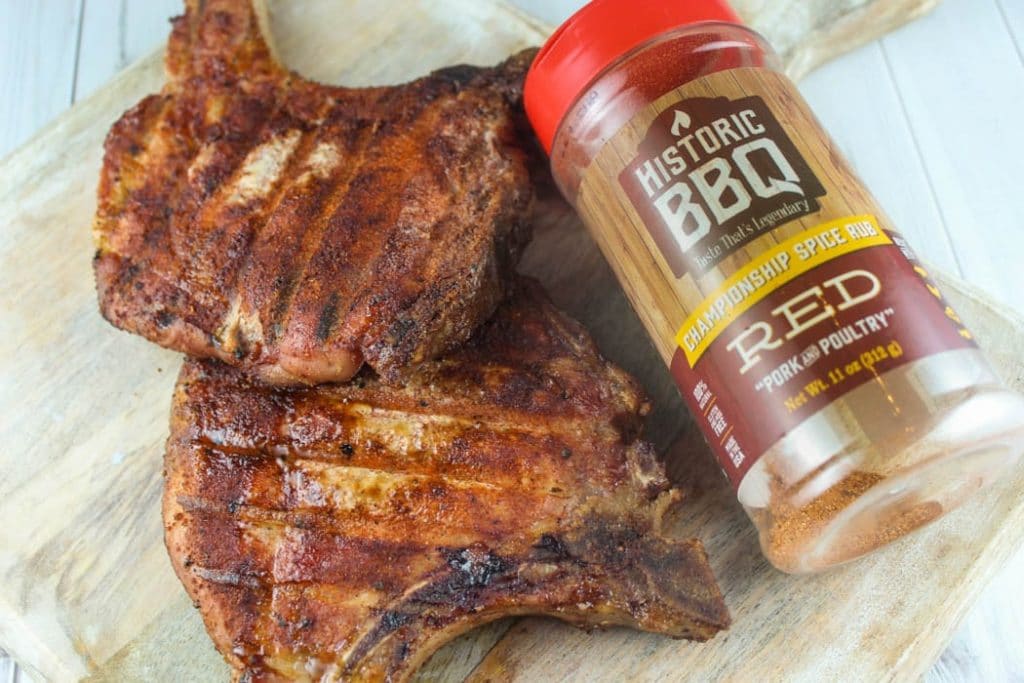 Smoked Pork Chop Recipe Ingredients
This recipe utilizes a brine for the pork chops to tenderize them a bit more. Here's what you'll need:
Brine – water, Kosher salt, brown sugar
Pork Chops – I really like to use bone-in pork chops for recipes – they have a little more fat and a lot more flavor!

Thick cut pork chops may take a little longer cooking time – just be sure to use your instant read meat thermometer to be sure the pork chops are 145º

BBQ Rub Seasoning – my favorite is Historic BBQ Red seasoning – but you can use your favorite seasonings (a good mix is smoked paprika, black pepper, salt, garlic powder)
Bone-in vs. Boneless Pork Chops
I always prefer bone-in pork chops – they have a little bit of fat on them as well as the bone – both of which add FLAVOR!!! Boneless chops may seem convenient but dry out more quickly. Do yourself a favor and go for the bone-in – every time! Plus the bone is like a handle for eating!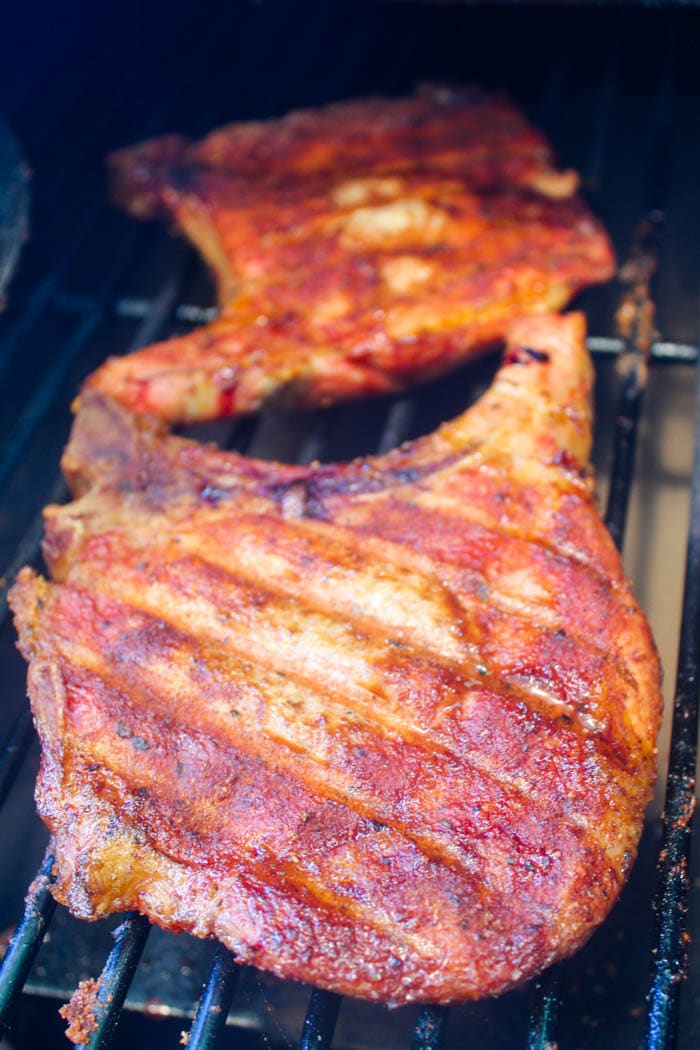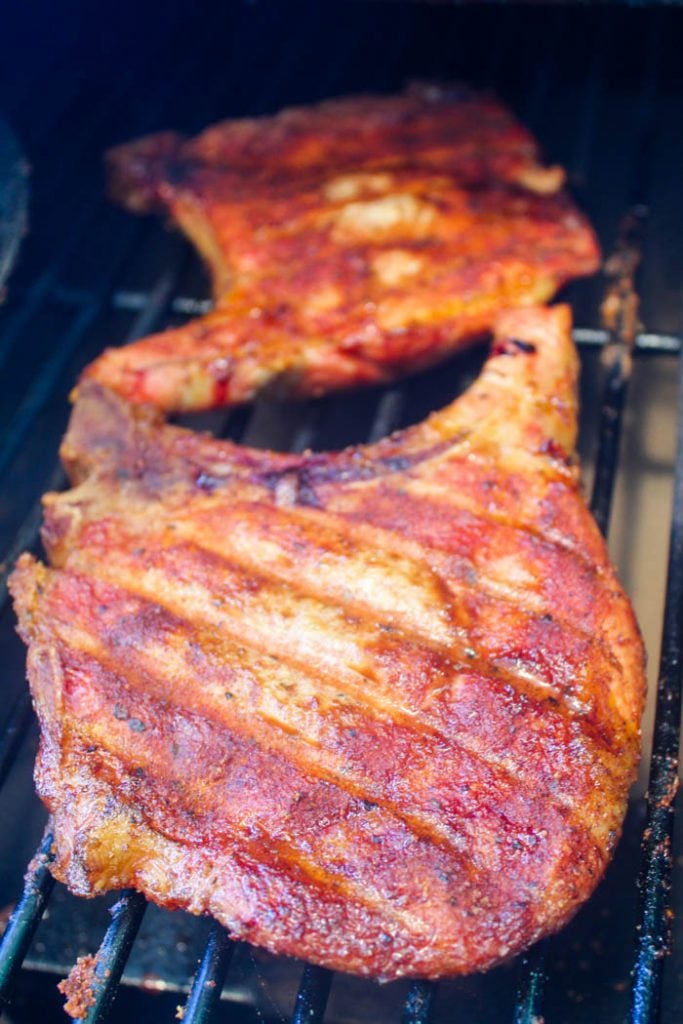 How to smoke pork chops on a wood-pellet grill?
For smoking pork chops in your Traeger pellet smoker (or any smoker or wood pellet grill) – you have to go low and slow. (No high heat here!) Be sure your pellet hopper is full as well!
For the Brine: Dissolve the salt and brown sugar in 1 gallon of water. Once dissolved, fully submerge the chops in the brine and refrigerate overnight.

For best results, remove chops from brine about an hour before you start cooking. You want to bring pork chops to room temperature before putting on the grill.

Pat chops dry with paper towels and generously rub with bbq seasoning on all sides of the pork chops.
Smoke pork chops for 2 hours at 225º. You'll find Traeger specifics in the recipe card below.
Remove chops when internal temperature reads 145℉ when instant-read thermometer is inserted into the middle of the chop. Let rest 5 minutes before serving. (I don't trust the temperature probe on the Traeger – so I like to use a separate thermometer.)

Depending on the thickness of the chops – they may be done in a little more or less than 2 hours. It's why you use your meat thermometer and rely on internal temps – it gives you perfect tender pork chops every time.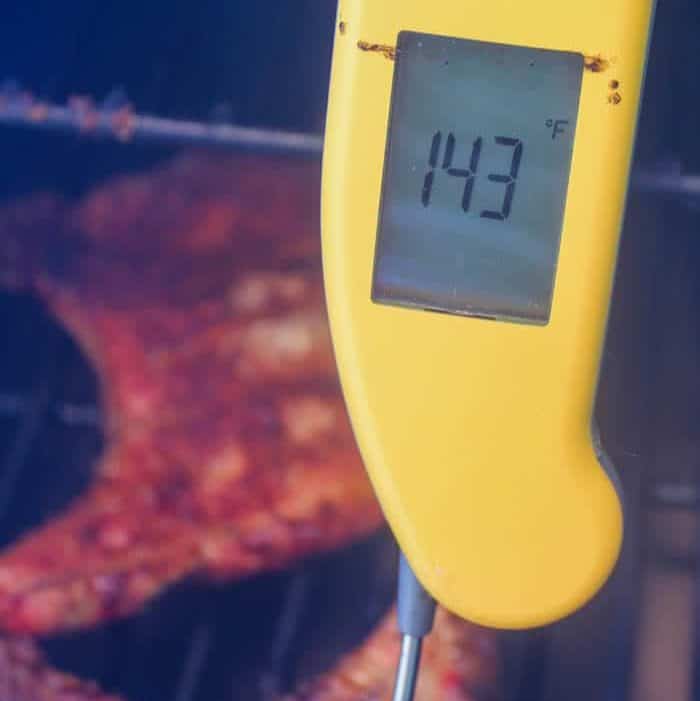 Common Questions
Is it safe to eat pork at 145 degrees?
YES!!! The desired temperature for cooking pork is 145º! Pork are now raised indoors and fed a very specific feed which means you don't have to fear undercooked pork! Pork is definitely not only safe – but it tastes amazing – when you cook it to 145!
Pro Tip: Why do you brine pork chops?
The perfect way to make the most juicy pork chop is by brining it first! This helps impart as much juice into your chops as possible through osmosis. I brined these amazing bone-in pork chops in a simple solution of water, table salt and brown sugar overnight.
What if I don't have a smoker? How would I make this on a regular grill? Or what if I want MORE smoky flavor?
If you want more smoky flavor – you've got a couple options! These options work on a regular charcoal or gas grill – or will ADD MORE smoke to your smoker.
Wood chips – Soak them in water for 30 minutes before starting the grill. One cup of wood chips will last for about 20 minutes. Keep adding chips to the grill throughout the process.

With a charcoal grill, light the coals, when the coals are ready, place them on one side of the grill. Place some of the wood chips on top of the coals. Place your food on the side without the coals to cook it with indirect heat.

Smoker Tubes – A smoke tube is a metal tube with holes. Fill that tube with wood pellets and light with a butane lighter. Once the pellets catch fire – let them get started – then blow the flames out. Set them in the grill and shut the lid. The smoke flavor is all those tubes will leave behind!
What kind of wood pellets should I use to smoke my pork chops?
There are many flavors of pellets that work in your Traeger pellet grill. I keep it simple and always use the Traeger Signature Blend which is a blend of Maple and Cherry. That said if you're looking for something specific for pork – the best are Apple, Hickory and Cherry.
What to serve with these easy pork chops?
Pork chops are an easy protein and they go with everything! Here are my favorite side dishes:
More Delicious Traeger recipes with Pork
I've got a ton of great easy pellet grill pork recipes – here are a few of my favorites: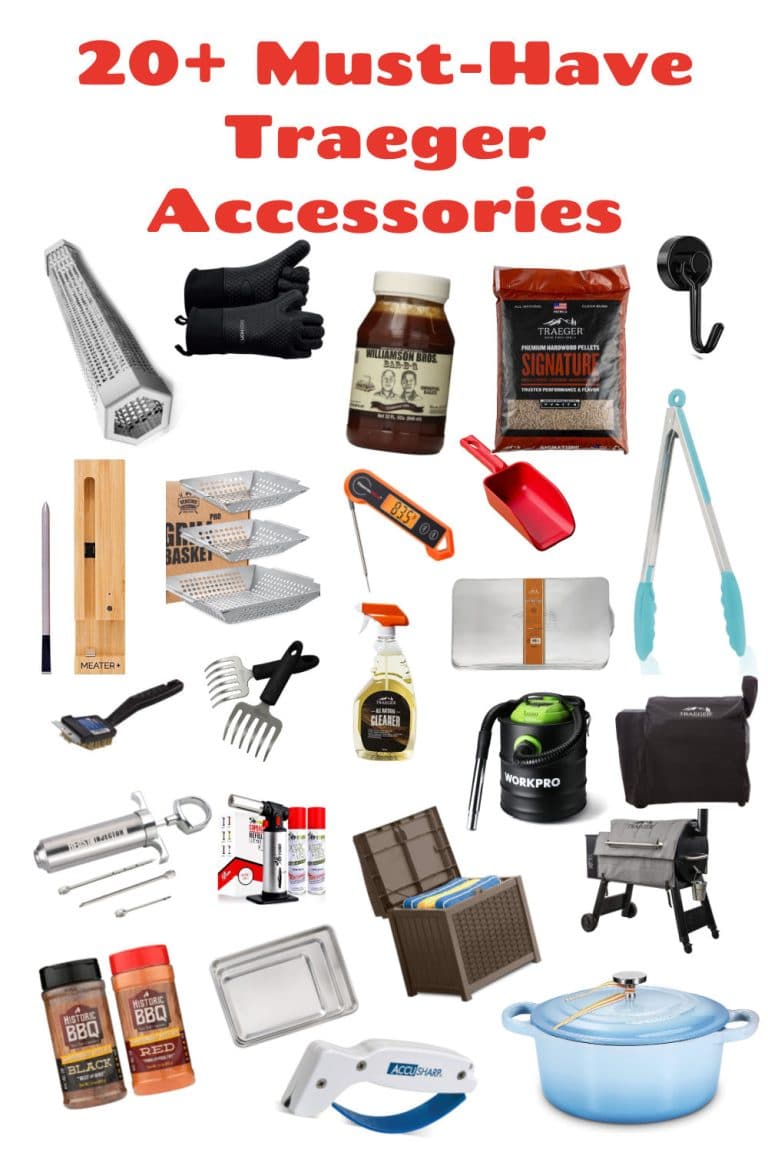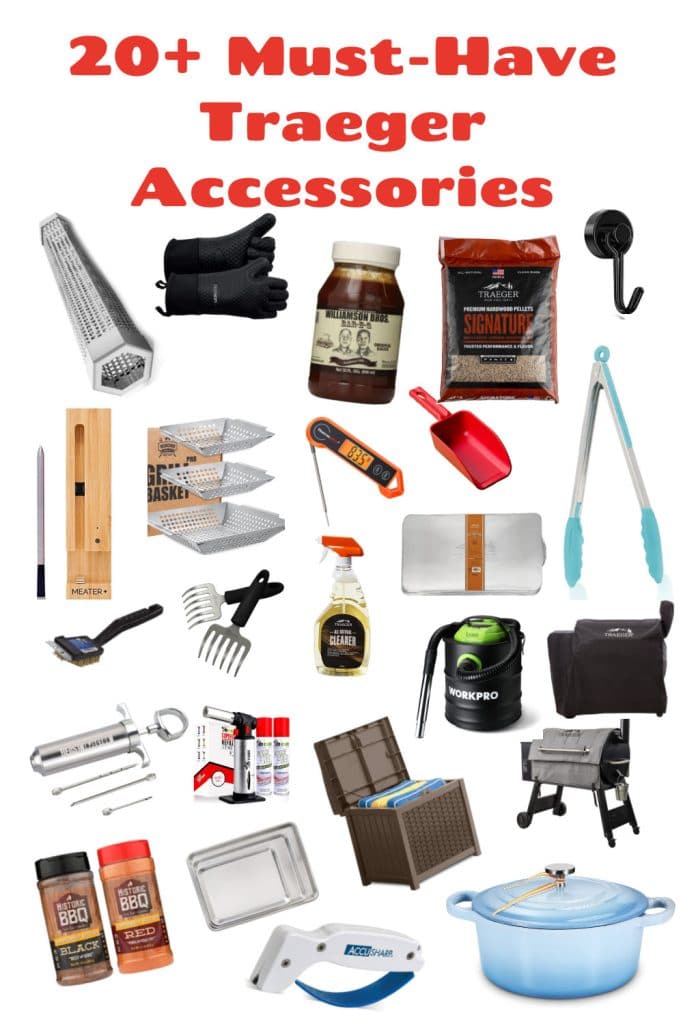 I absolutely love my Traeger Pellet Grill and you can pretty much use it right out of the box! But over the years I've definitely found that there are some Traeger smoker accessories that make everything a lot easier!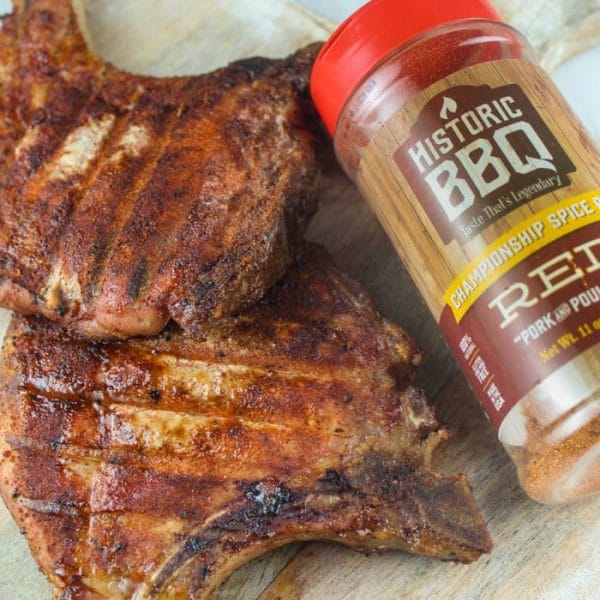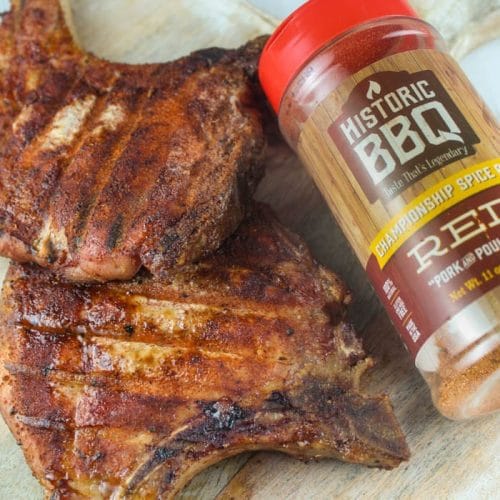 Traeger Pork Chops
Cooking pork chops on your Traeger is the WAY to go! It's juicy and smoky – just a plate of delicious right there!
Ingredients
1

gallon

water

1/3

cup

salt

1/2

cup

brown sugar

4

pork chops

1/4

cup

pork bbq seasoning
Instructions
For the Brine: Dissolve the salt and sugar in 1 gallon of water. Once dissolved, place the chops in the brine and refrigerate overnight. Make sure chops are fully submerged weighing it down if necessary.

When ready to cook, set Traeger temperature to 225℉ and preheat, lid closed for 15 minutes.

While the grill preheats, remove the chops from the brine, pat dry and rub with bbq seasoning

Place chops directly on the grill grate and smoke for 2 hours or until an instant-read thermometer reads 145℉ when inserted into the middle of the chop. Let rest for 5 minutes before serving.
Notes
You do not have to brine the chops but I think it adds to the juiciness
Use your favorite bbq seasoning powder – I like Historic BBQ Red for Pork and Poultry
Always take your pork off between 140-145 degrees – it will heat to 145 and is safe to eat with a blush of pink
**We are not dietitians and recommend you seek a nutritionist for exact nutritional information. The information in the nutrition box are calculated through a program and there is room for error. If you need an accurate count, I recommend running the ingredients through your favorite nutrition calculator.**
Nutrition
Serving:
1
chop
Calories:
256
kcal
Protein:
18
g
Fat:
19.9
g
Saturated Fat:
7.5
g
Cholesterol:
69
mg
Sodium:
1436
mg
Potassium:
275
mg
Calcium:
23
mg
Iron:
1
mg