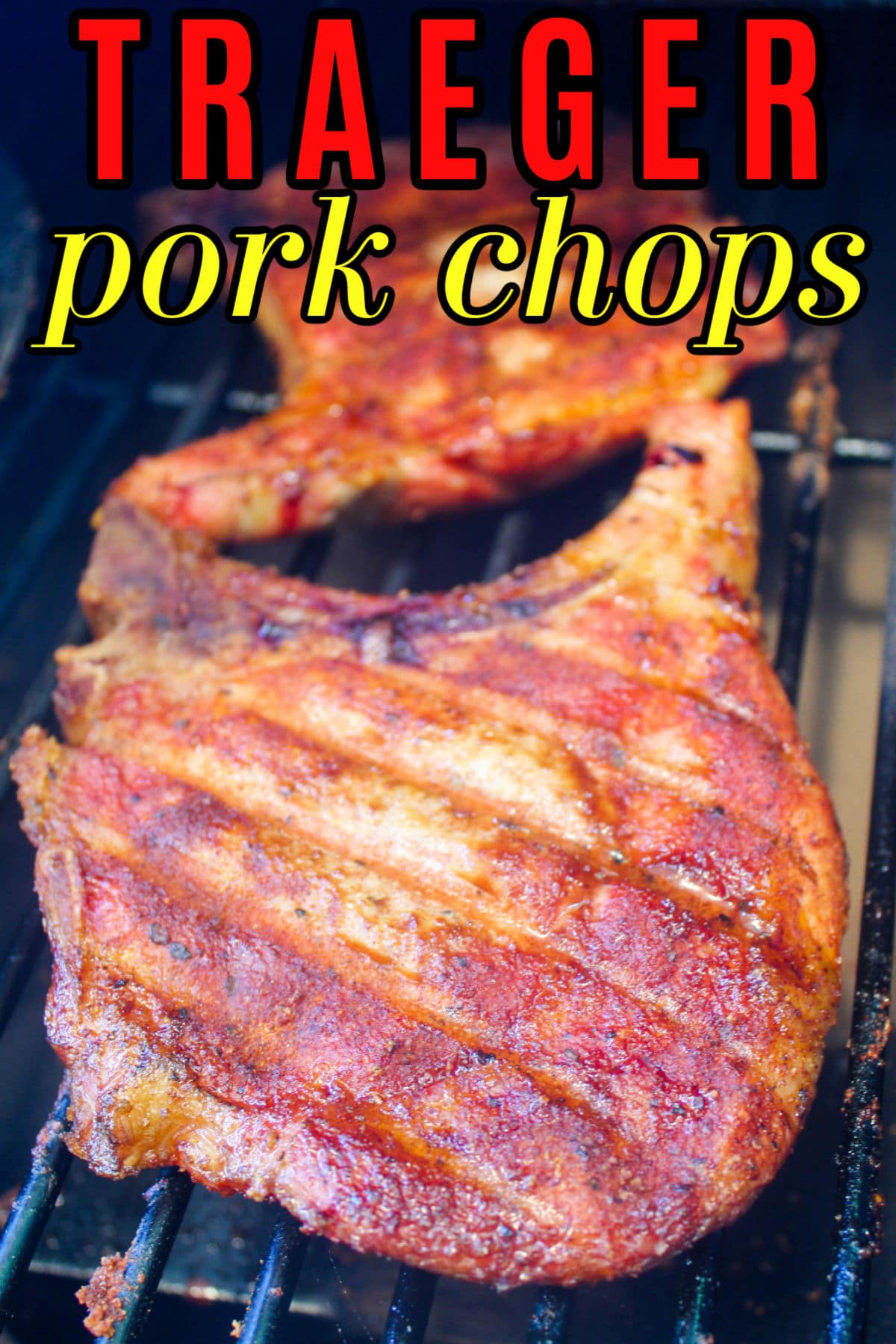 Cooking pork chops on your Traeger is the WAY to go! It's juicy and smoky – just a plate of delicious right there! I've become so addicted to my Traeger – every time I fire it up – I'm making multiple items and these smoked pork chops have just the right amount of smoky flavor but are still juicy.
Jump to Recipe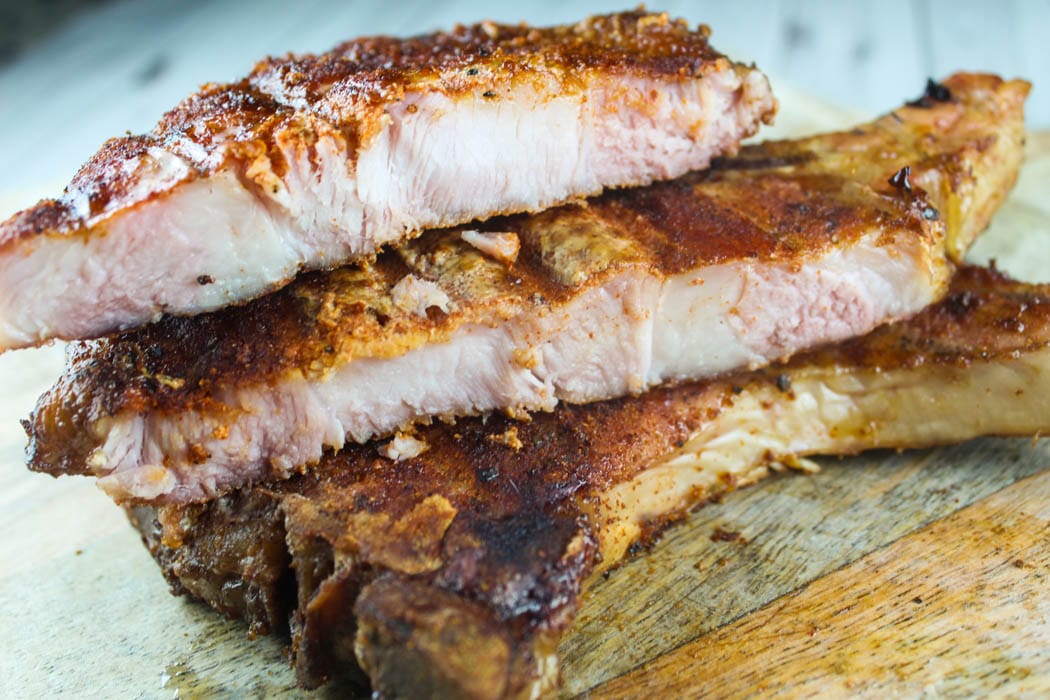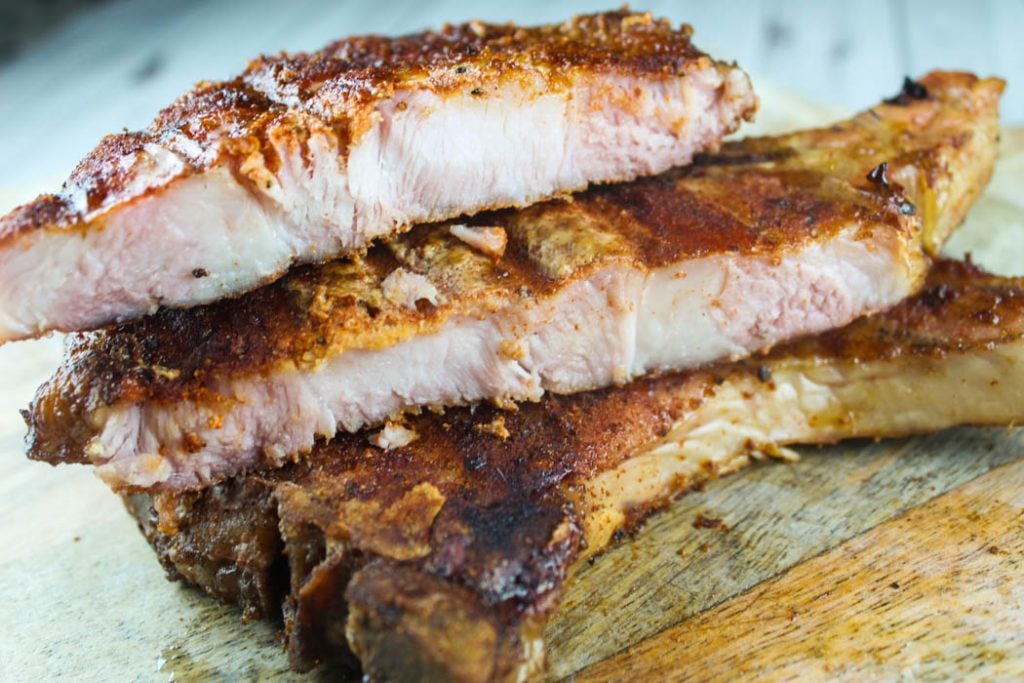 The thing I love about my Traeger is how easy it is to use – since it's electric – you just flip a switch and it's on! I'm not a fan of a gas grill – but the Traeger adds so much flavor from those pellets!!
Why do you brine pork chops?
The best way to make pork chops is by brining them first! This helps impart as much juice into your chops as possible through osmosis. I brined these bone-in pork chops in a mixture of water, table salt and brown sugar overnight.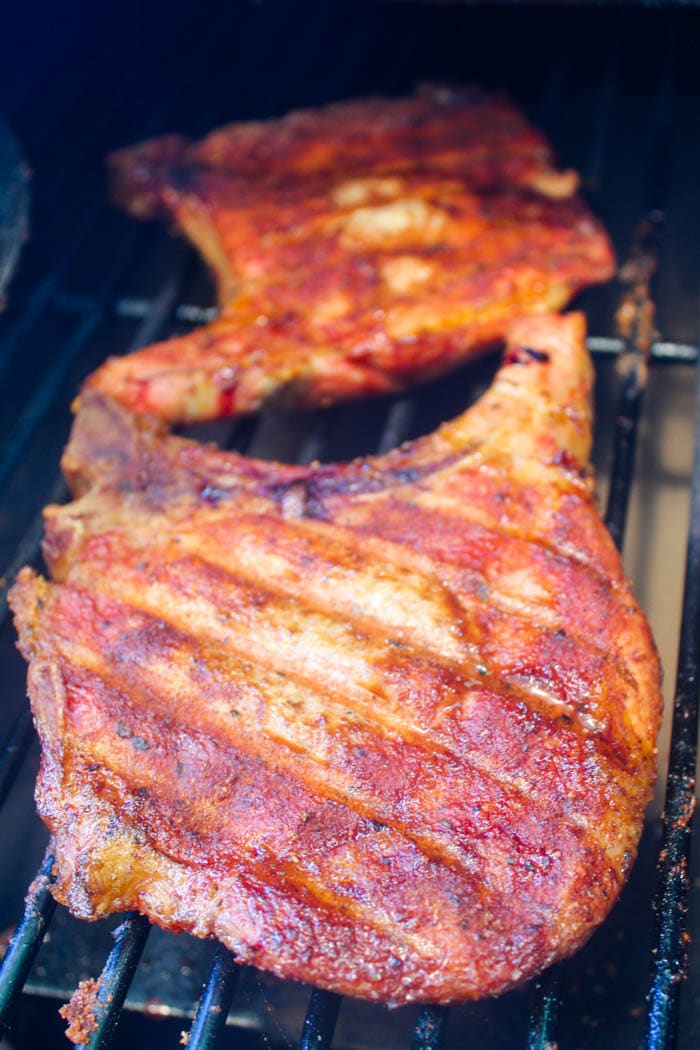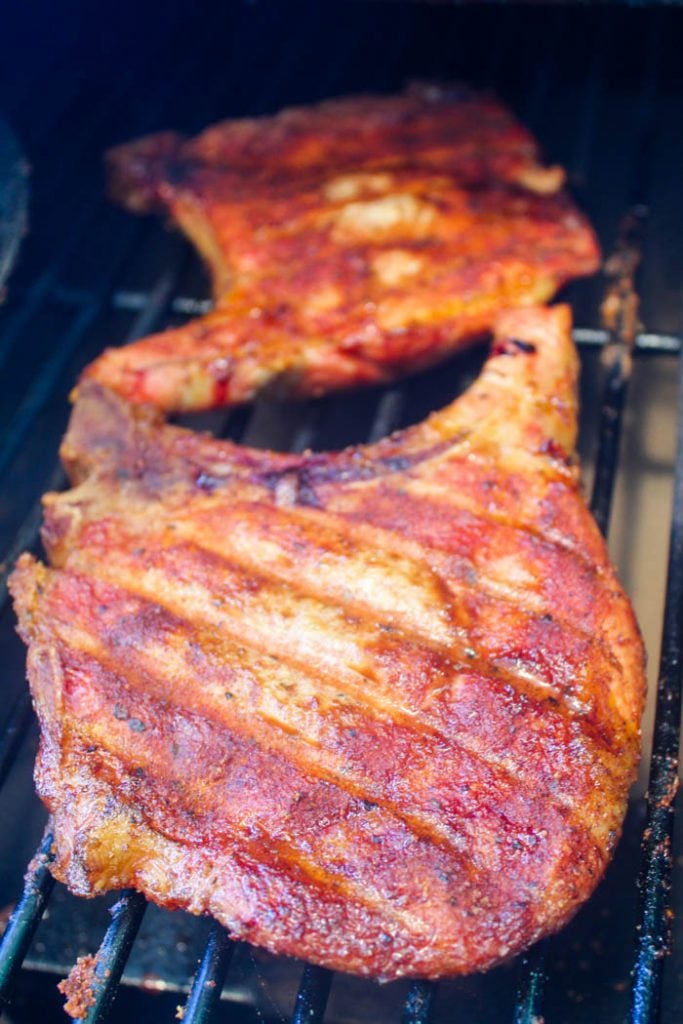 How to cook pork chops on the Traeger grill?
For smoking chicken breast in your Traeger (or any smoker) – you have to go low and slow. Set your smoker to 225 degrees – it takes about 10 minutes to come to temp. With the Traeger – you turn to smoke first for five minutes. Once smokes starts to come out – you can turn it to 225 temp and let it heat. Also – be sure your pellets are full! You don't want to run out mid-smoke.
While your Traeger is coming to temp – prep your pork chops. I rubbed them generously with Historic BBQ Red and that's all I do! Once the Traeger is up to temp – place your seasoned pork chops onto the grill. You'll smoke them for 2 hours – flipping them at the 1 hour mark.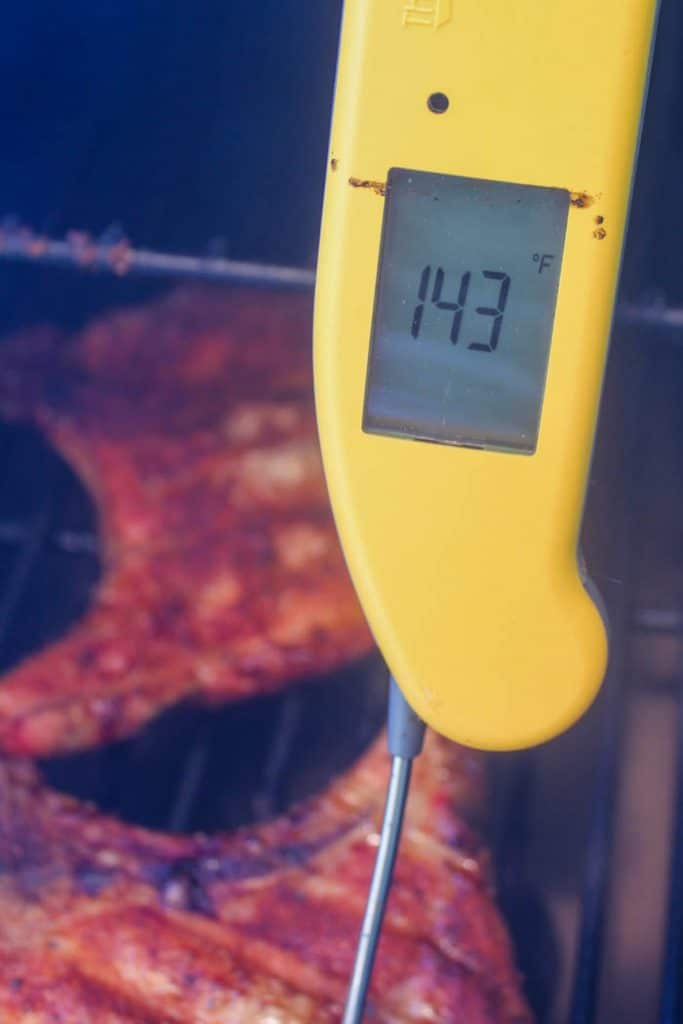 Is it safe to eat pork at 145 degrees?
YES!!! Pork are raised indoors and fed a very specific feed nowadays which means you don't have to fear trichinosis from undercooked pork! Pork is definitely not only safe – but it tastes amazing – when you cook it to 145! I take it off right around there and let it rest for 5 minutes and it will come up to temp. So delicious and juicy!!!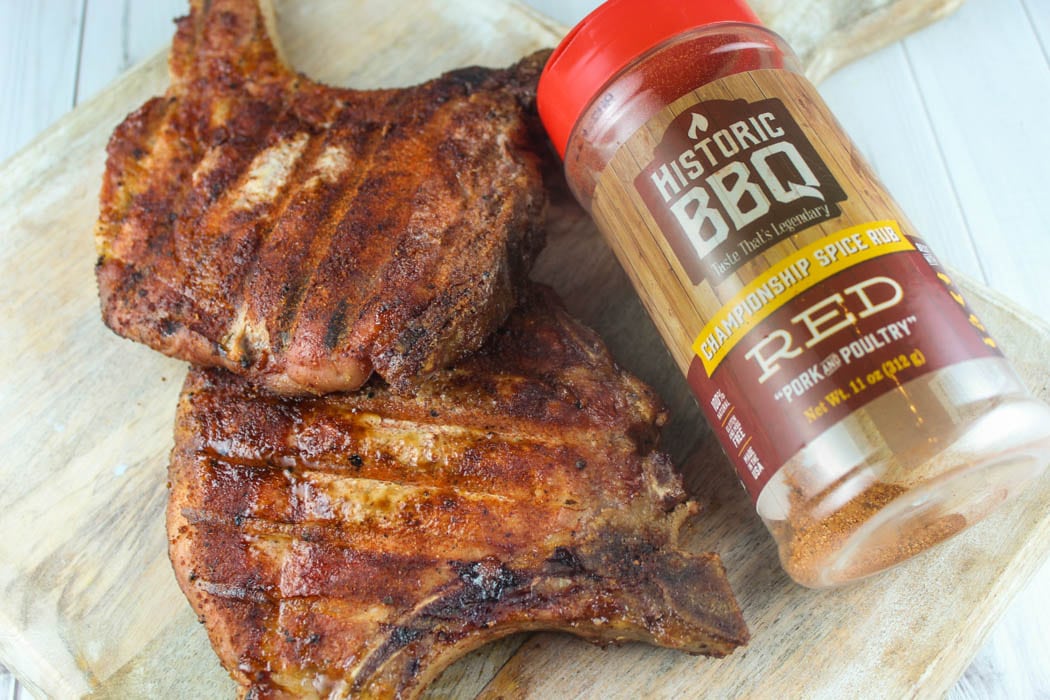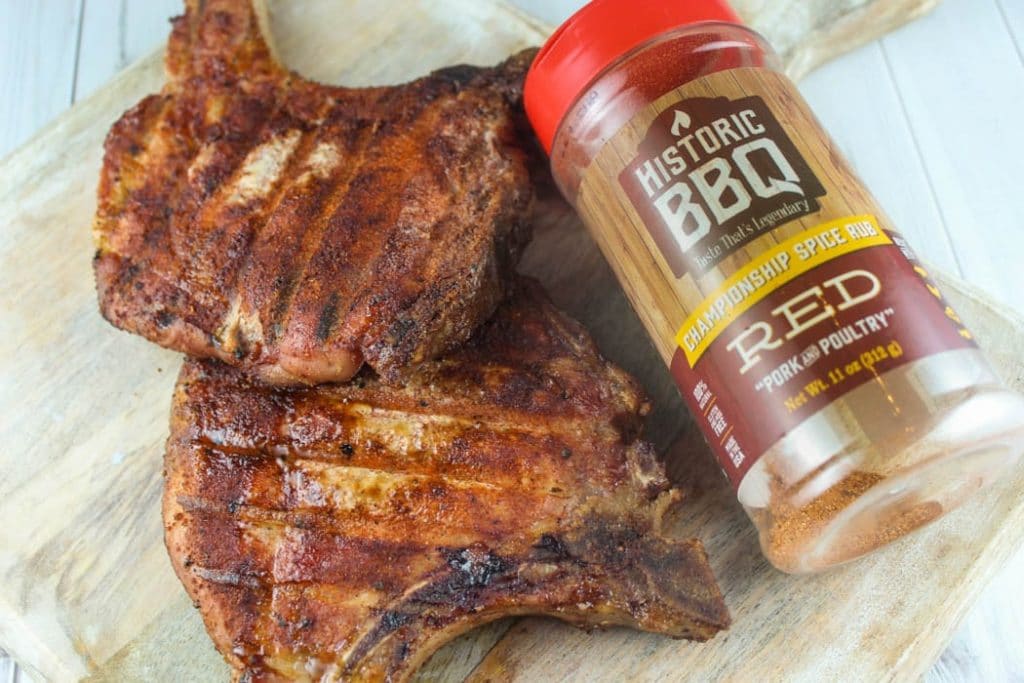 What to serve with pork chops?
Pork chops are an easy protein and they go with everything! Here are my favorite side dishes: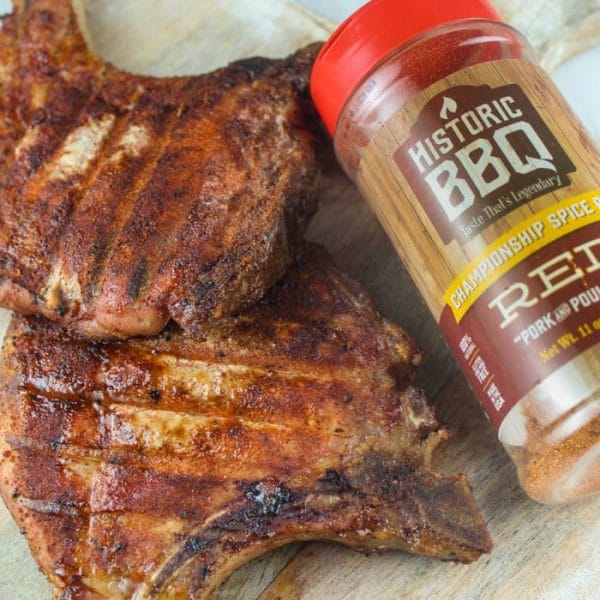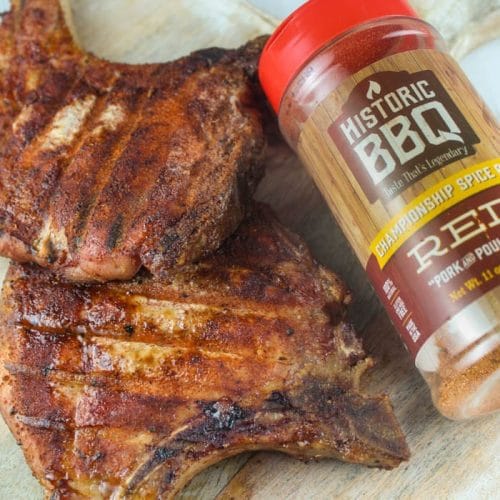 Traeger Pork Chops
Cooking pork chops on your Traeger is the WAY to go! It's juicy and smoky – just a plate of delicious right there!
Ingredients
1

gallon

water

1/3

cup

salt

1/2

cup

brown sugar

4

pork chops

1/4

cup

pork bbq seasoning
Instructions
For the Brine: Dissolve the salt and sugar in 1 gallon of water. Once dissolved, place the chops in the brine and refrigerate overnight. Make sure chops are fully submerged weighing it down if necessary.

When ready to cook, set Traeger temperature to 225℉ and preheat, lid closed for 15 minutes.

While the grill preheats, remove the chops from the brine, pat dry and rub with bbq seasoning

Place chops directly on the grill grate and smoke for 2 hours or until an instant-read thermometer reads 145℉ when inserted into the middle of the chop. Let rest for 5 minutes before serving.
Notes
You do not have to brine the chops but I think it adds to the juiciness
Use your favorite bbq seasoning powder – I like Historic BBQ Red for Pork and Poultry
Always take your pork off between 140-145 degrees – it will heat to 145 and is safe to eat with a blush of pink
Nutrition
Serving:
1
chop
Calories:
256
kcal
Protein:
18
g
Fat:
19.9
g
Saturated Fat:
7.5
g
Cholesterol:
69
mg
Sodium:
1436
mg
Potassium:
275
mg
Calcium:
23
mg
Iron:
1
mg