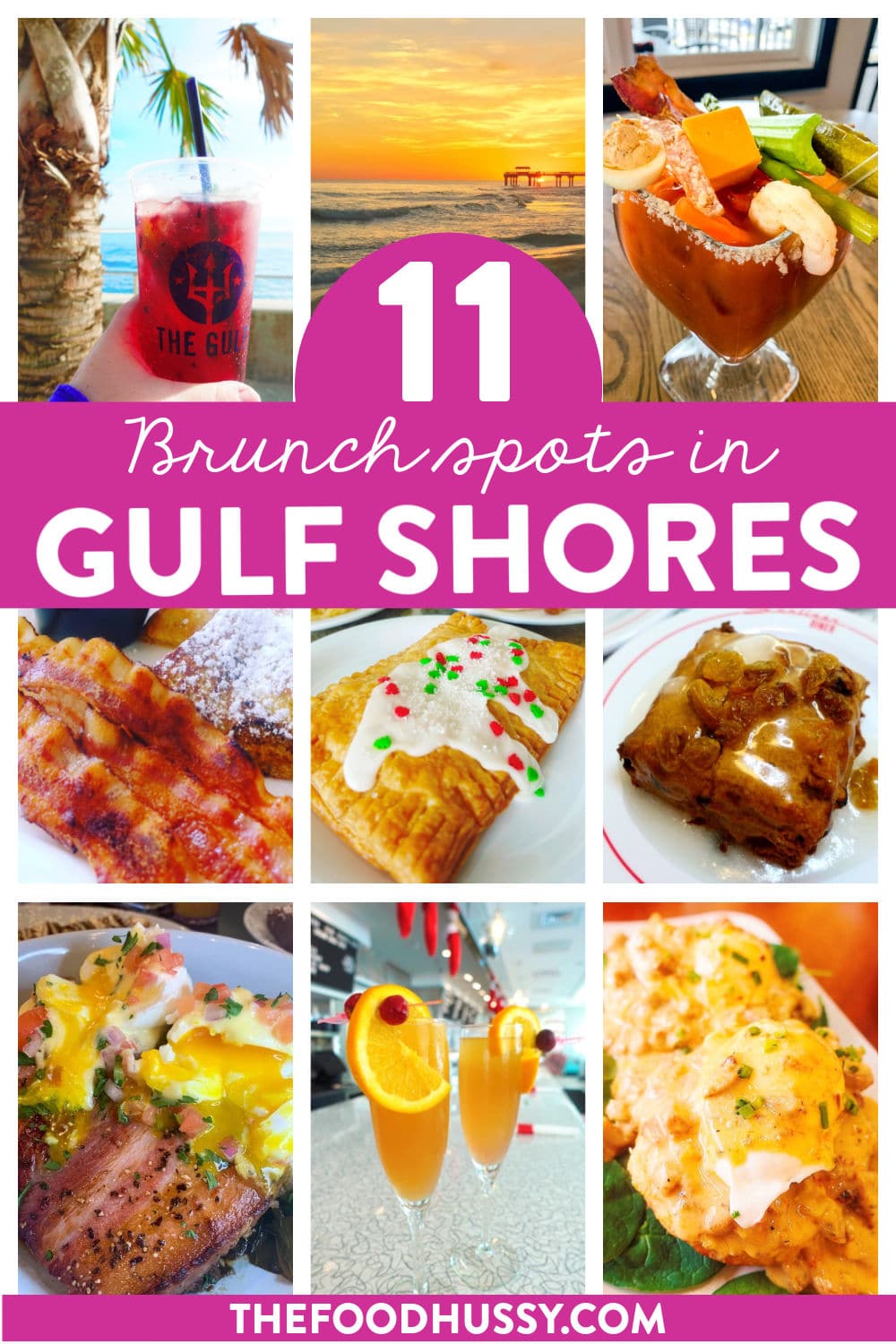 Gulf Shores, Alabama is my favorite vacation spot and there are countless delicious places to Brunch in Gulf Shores! I've got the best spots that you MUST check out!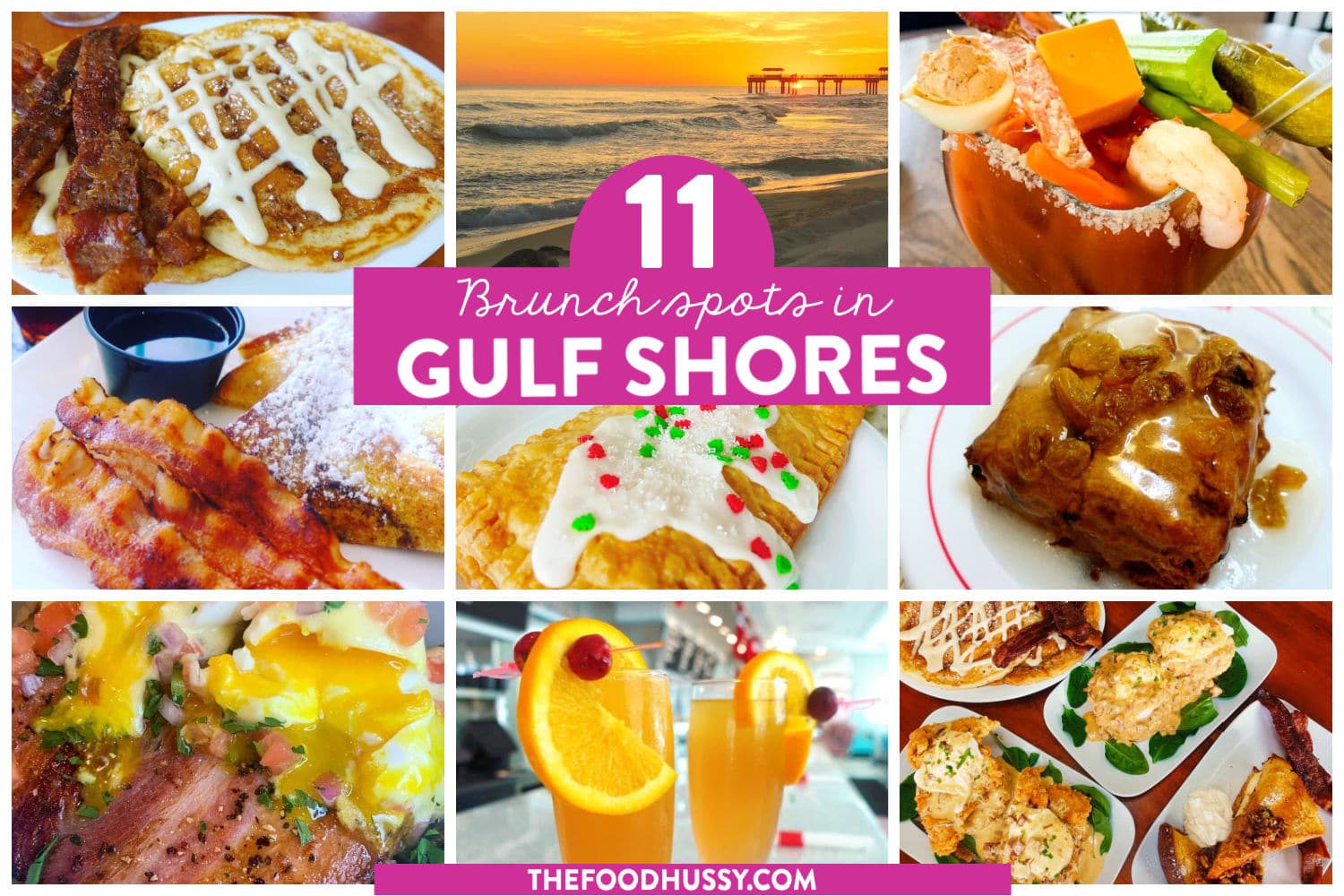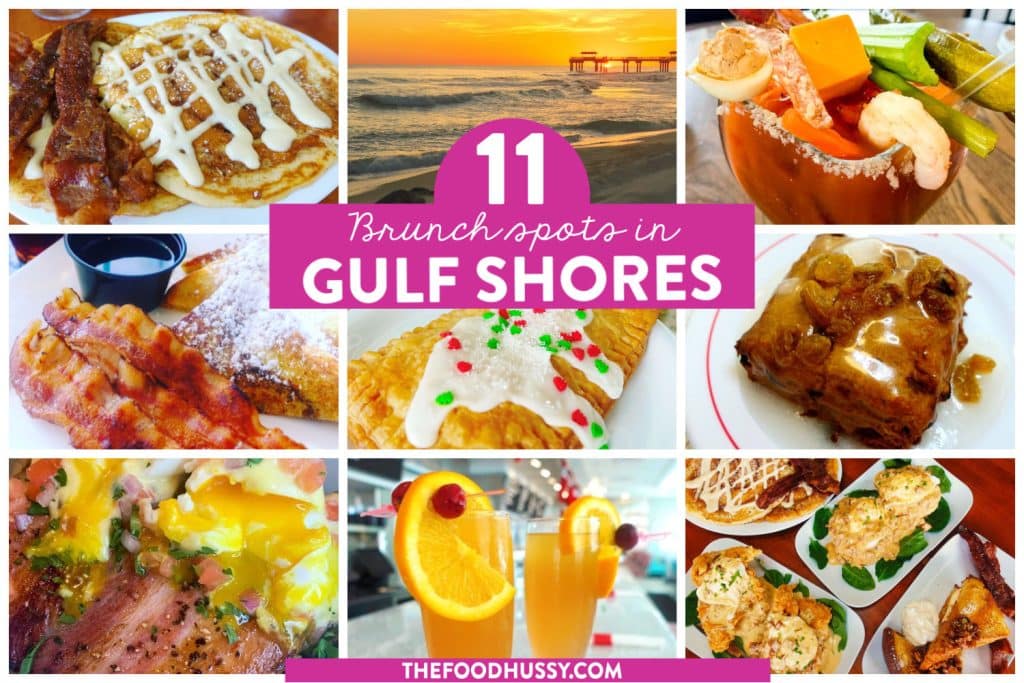 If you're here – you already know that Gulf Shores is a great place to visit! I've even got a list of over 30 activities you can do around the Gulf Shores and Orange Beach area.
But we're here to talk about BRUNCH! Brunch isn't just for Sundays – when you're on vacation – brunch is every day! That's the best thing about visiting Gulf Shores and Orange Beach area is that you can get between all the great places in about 15 minutes!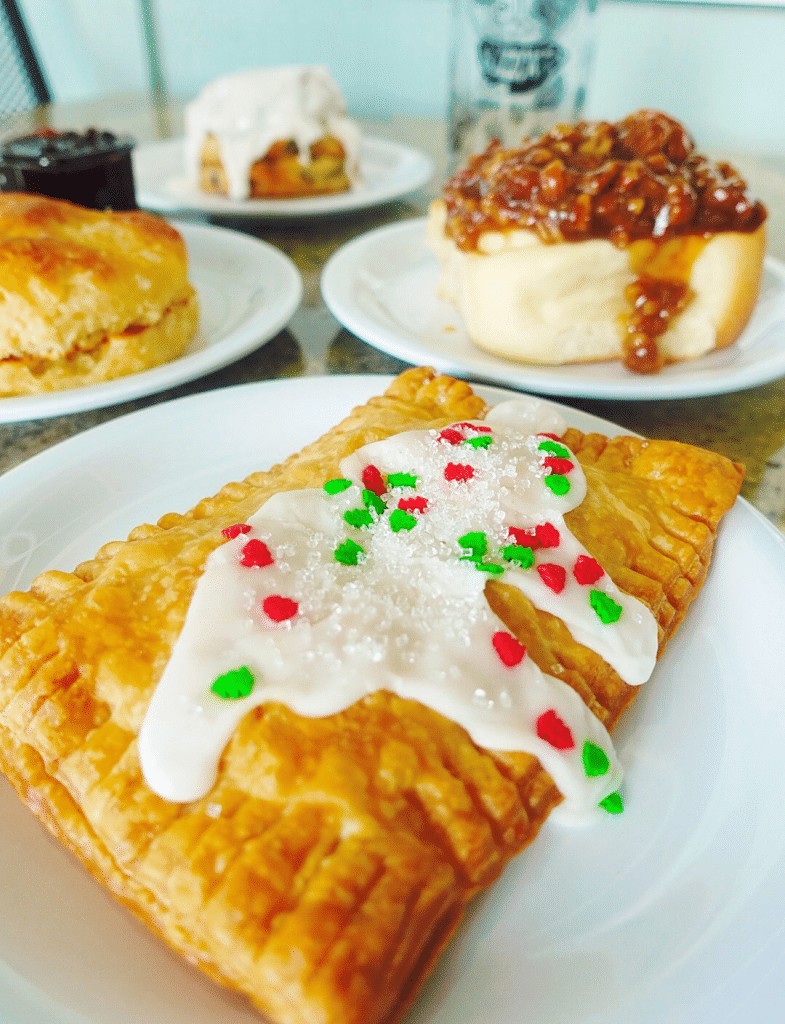 Why We Love BuzzCatz
BuzzCatz Coffee & Sweets is a cute little coffee shop with home-baked pastries and a cute cat theme. I'm a cat lover so I had to visit! I took home the cute glass you see in the background even.
What to Order at BuzzCatz
Housemade Pop Tarts – filled with a pastry cream and I couldn't help but eat the whole thing!
Cat Head biscuits – they were about the size of a cat head – and were served with their homemade jam. (The cinnamon raisin was my favorite)
Pecan Pie Cinnamon Roll – no icing needed!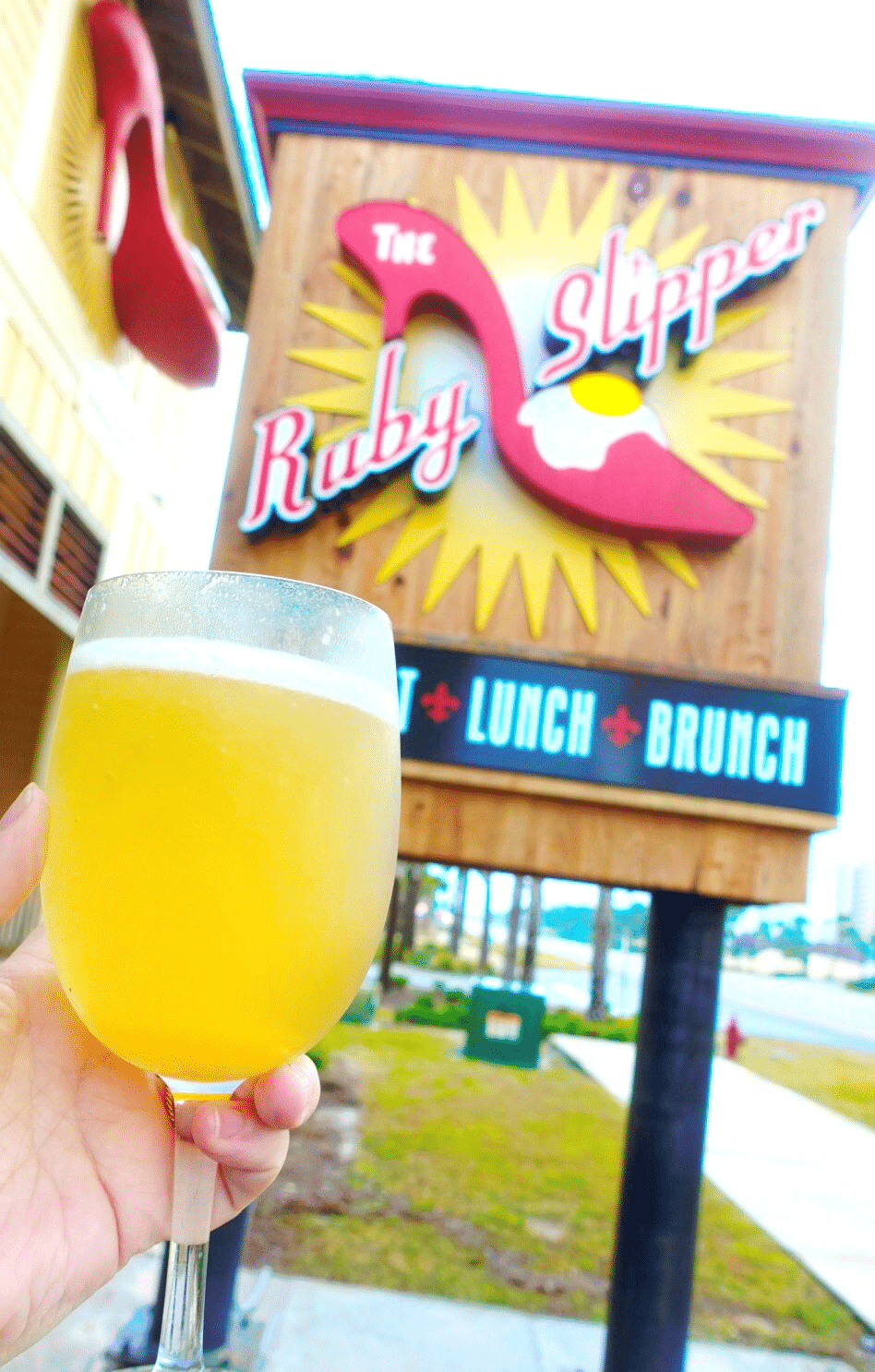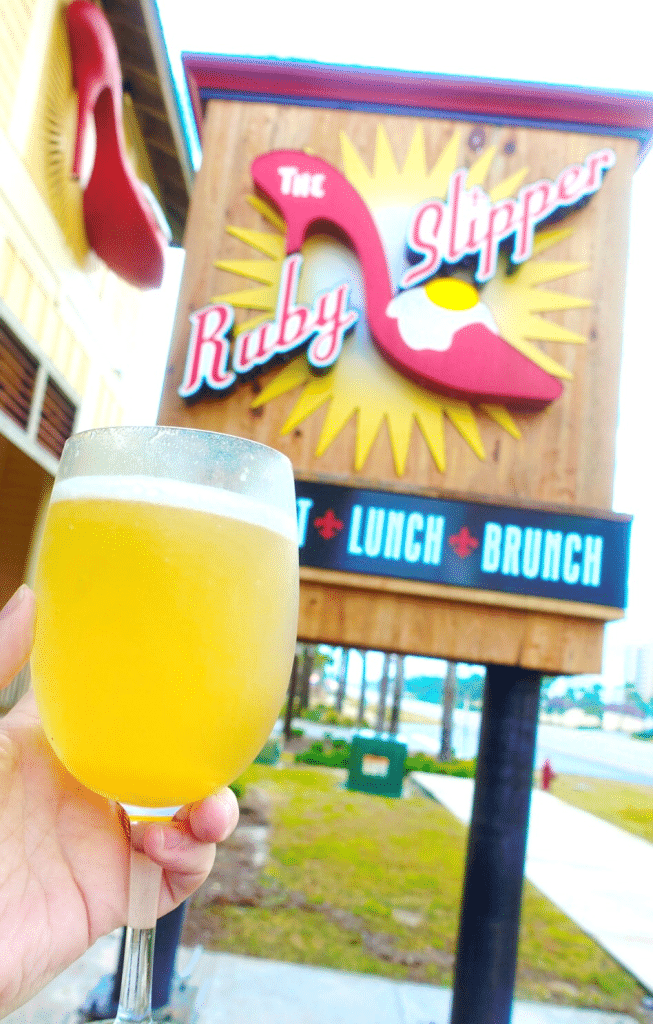 2. Ruby Slipper Cafe – 24151 Perdido Beach Blvd – Orange Beach, AL
Why We Love Ruby Slipper Cafe
The Ruby Slipper Cafe is a staple in New Orleans and are expanding across the south. Their Gulf Shore location is right on the main strip in Orange Beach – you can't miss it – or those mimosas!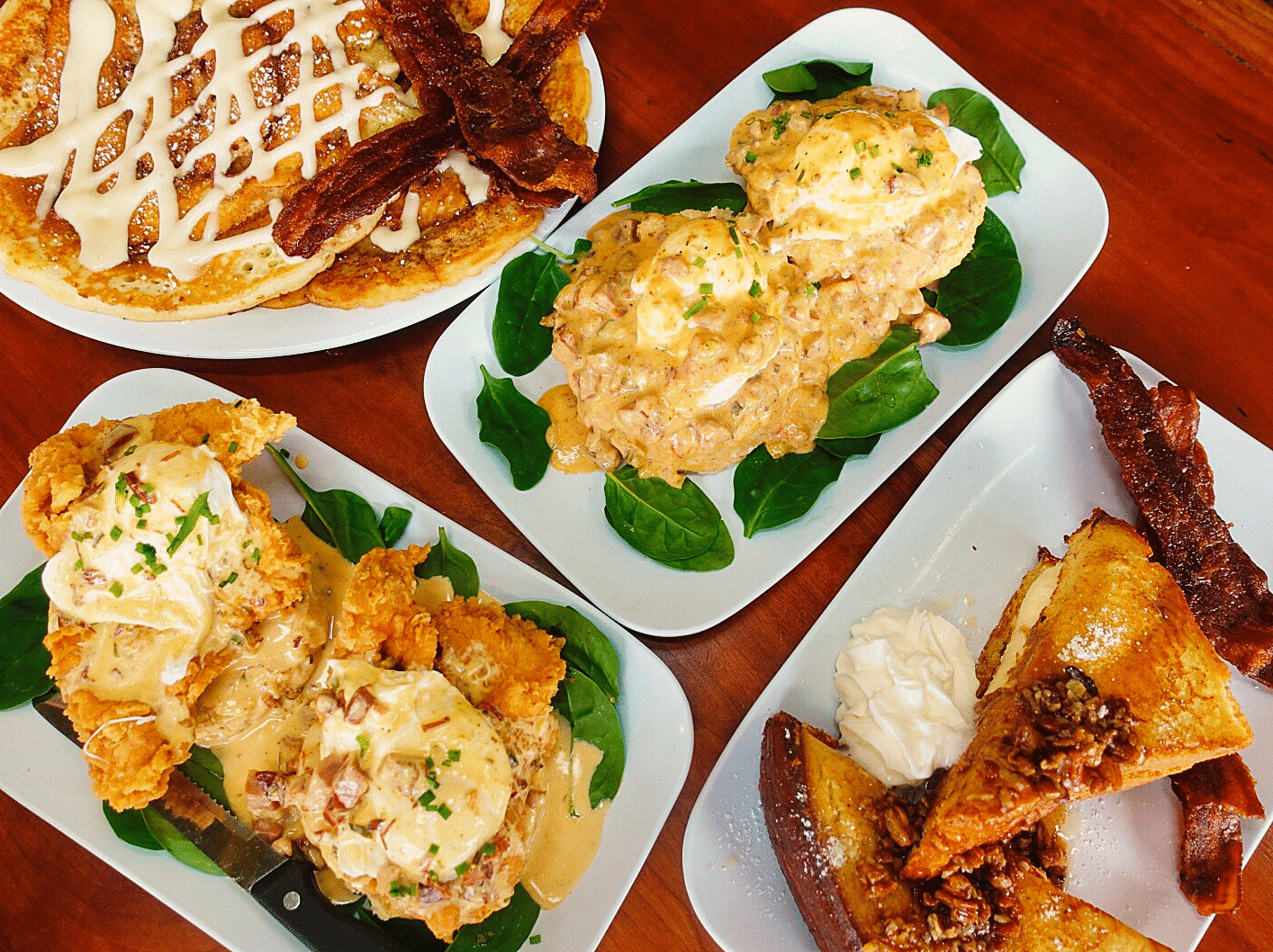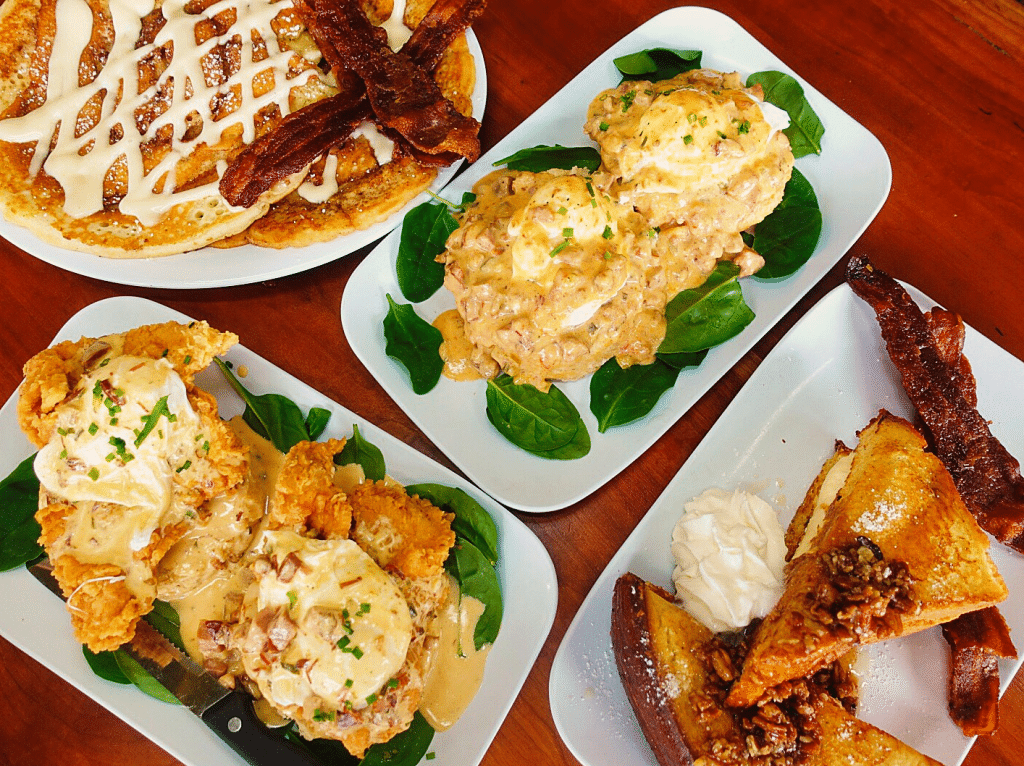 What to Order at Ruby Slipper Cafe
Eggs Benedicts – this is their specialty! My favorite was the Biscuits & Gravy Eggs Benedict. Homemade biscuits topped with a poached egg and their in-house biscuits and gravy! So yum! The Chicken St. Charles was sooooo good too!
Pig Candy – their candied bacon is so legendary – I had to make my own copycat version!
Cinnamon Swirl Pancakes – Classic buttermilk pancakes with cinnamon & brown
sugar filling & a cream cheese glaze – yes please!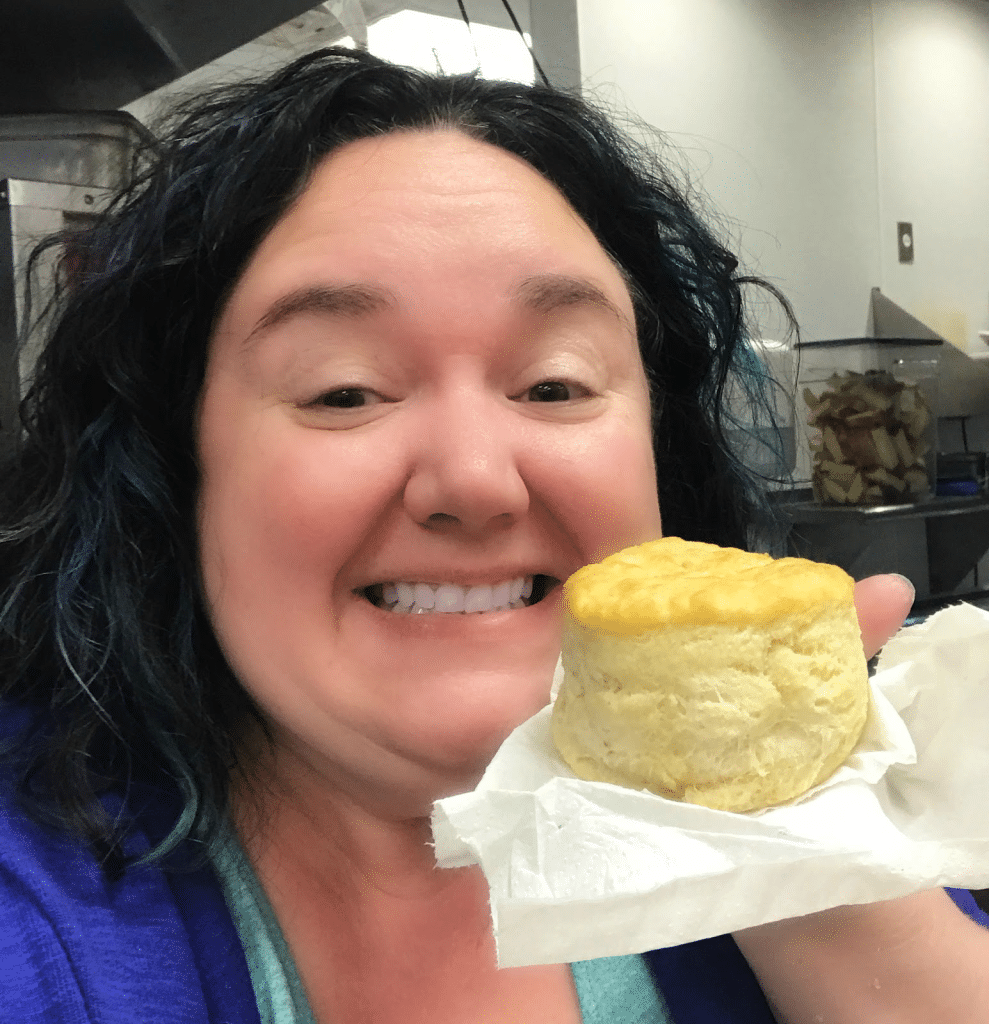 Ruby Slipper also invited us to come back and learn the secrets to their biscuits! I'm obviously a biscuit queen and here's the Ruby Slipper Biscuit Recipe so you can make them yourself!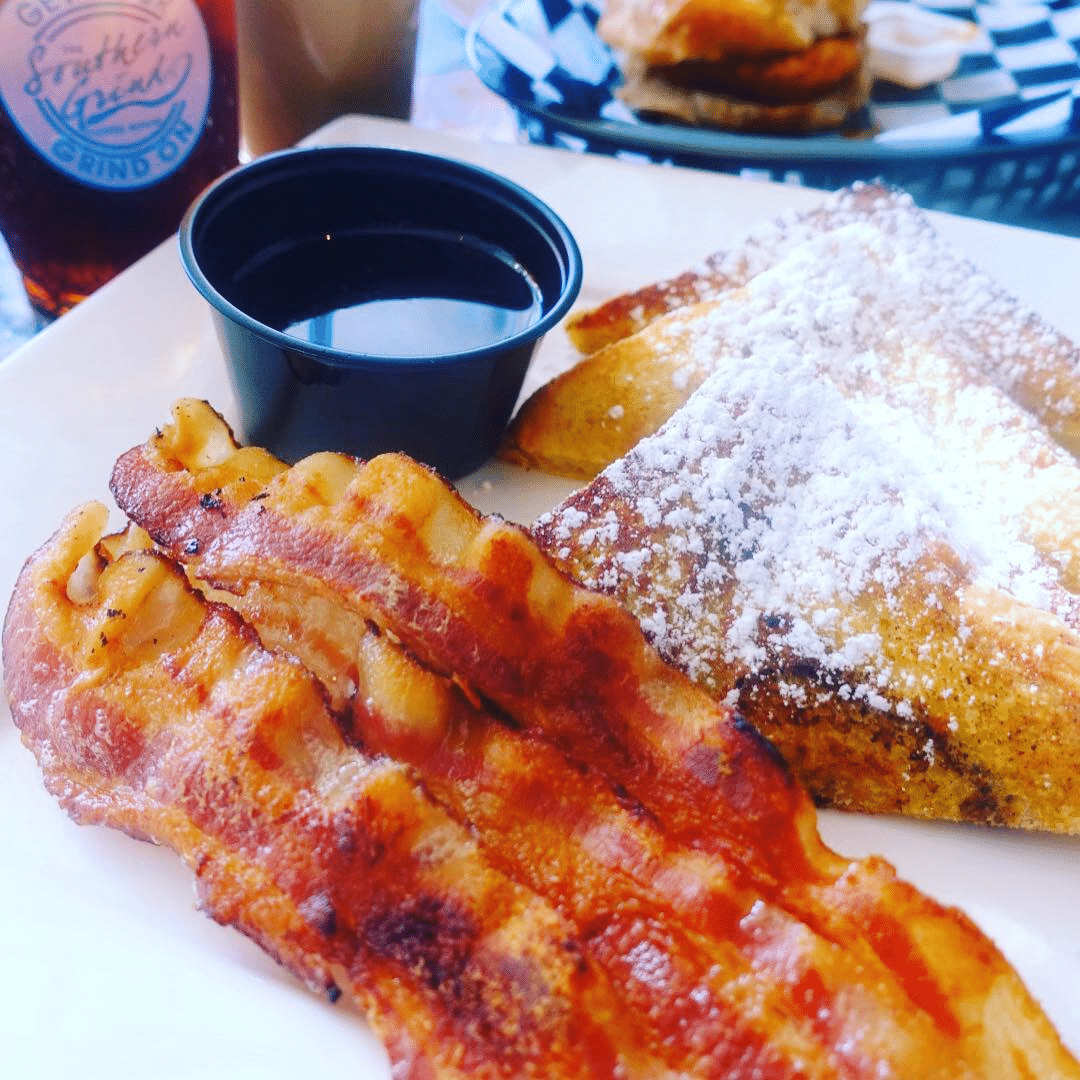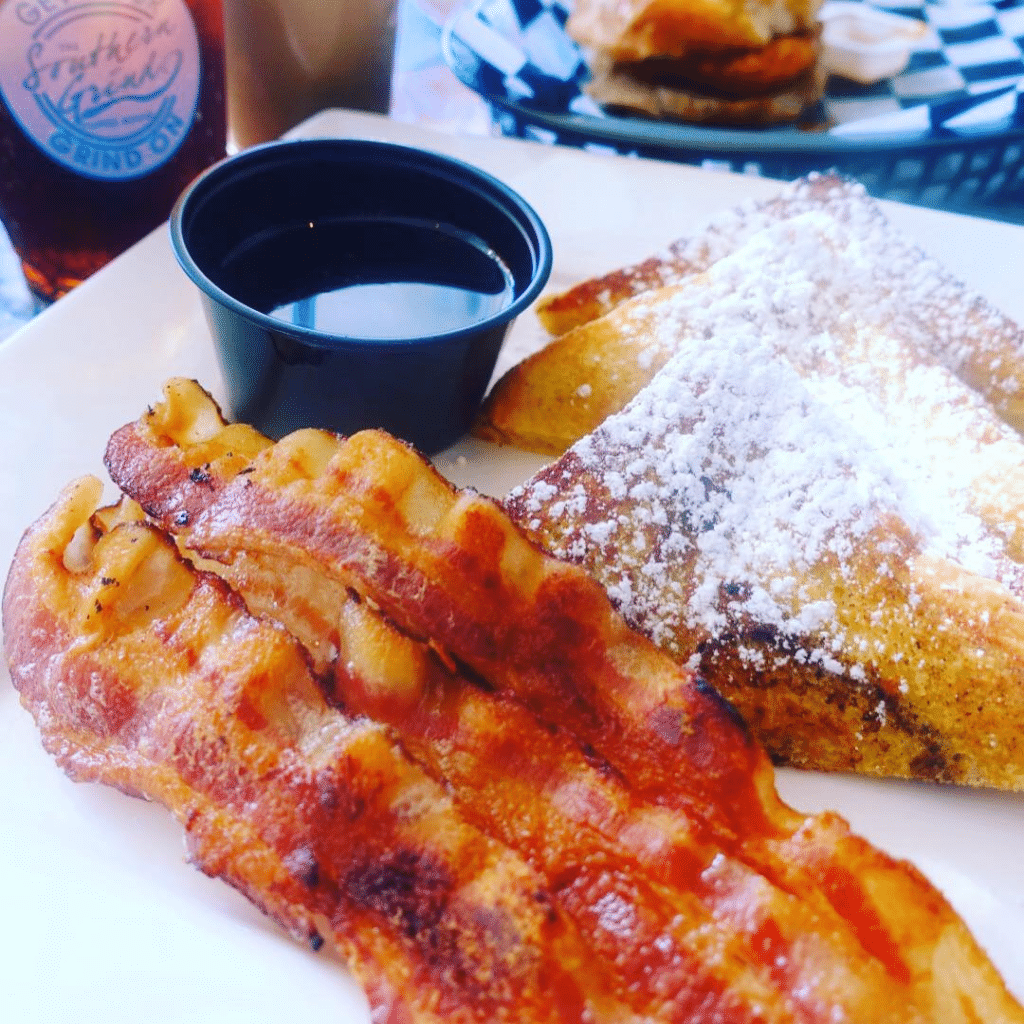 Why We Love Southern Grind Coffeehouse
Southern Grind Coffeehouse was another great find – they're really known for their coffee – but we also grabbed a bite – since we were there. Their decor is really awesome – it's very beachy and they have so many cute art & decor items for sale too! We visited their Orange Beach location at Hotel Indigo but they also have one at the Wharf.
What to Order at Southern Grind
Creme Brulee Latte – all of their coffee drinks are delicious but this was my favorite!
Cinnamon French Toast – Cinnamon swirl bread with a side of bacon!
Belgian Waffle – be sure to get the strawberries & cream version!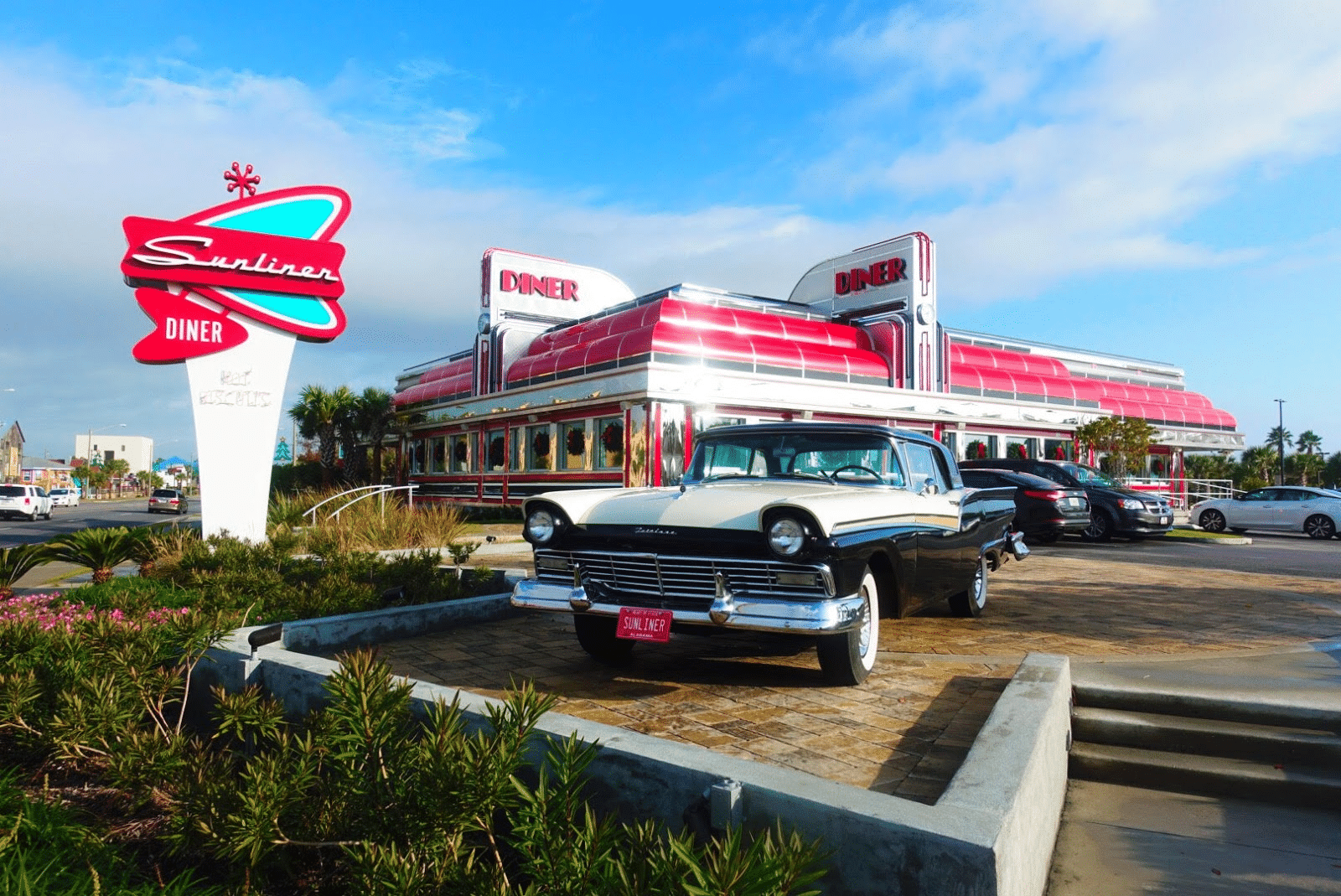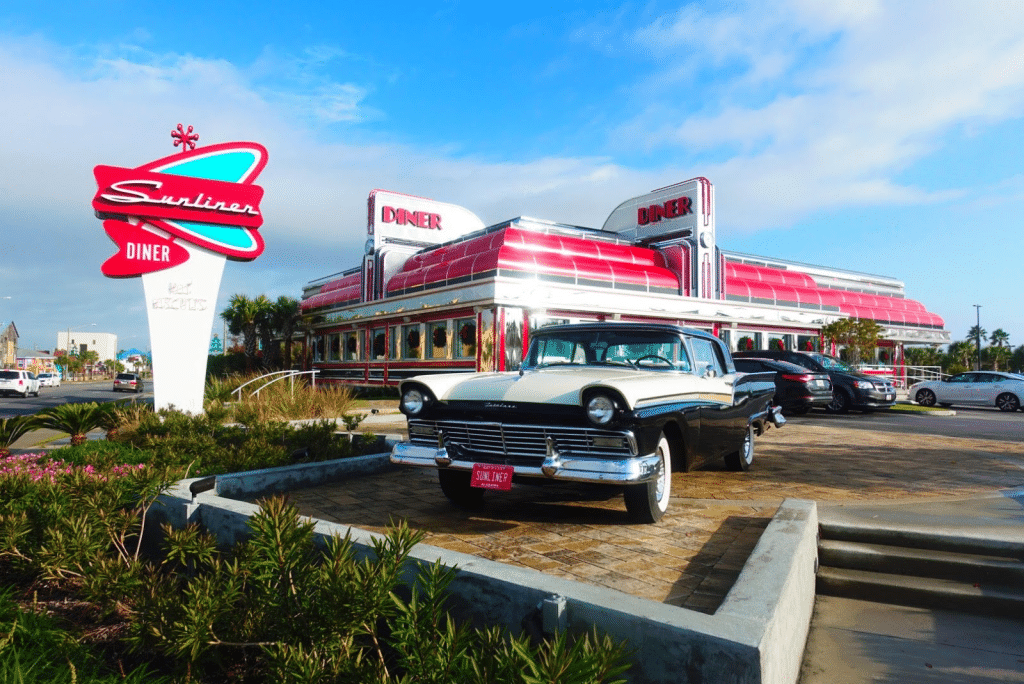 4. Sunliner Diner – 100 E 2nd Ave – Gulf Shores, AL
Why We Love Sunliner Diner
Sunliner Diner is a super cute 50's style diner with a classic car out front – and it's pristine!!! It's picture perfect for sure!!! Plus they have amazing food that make for the best breakfast in town!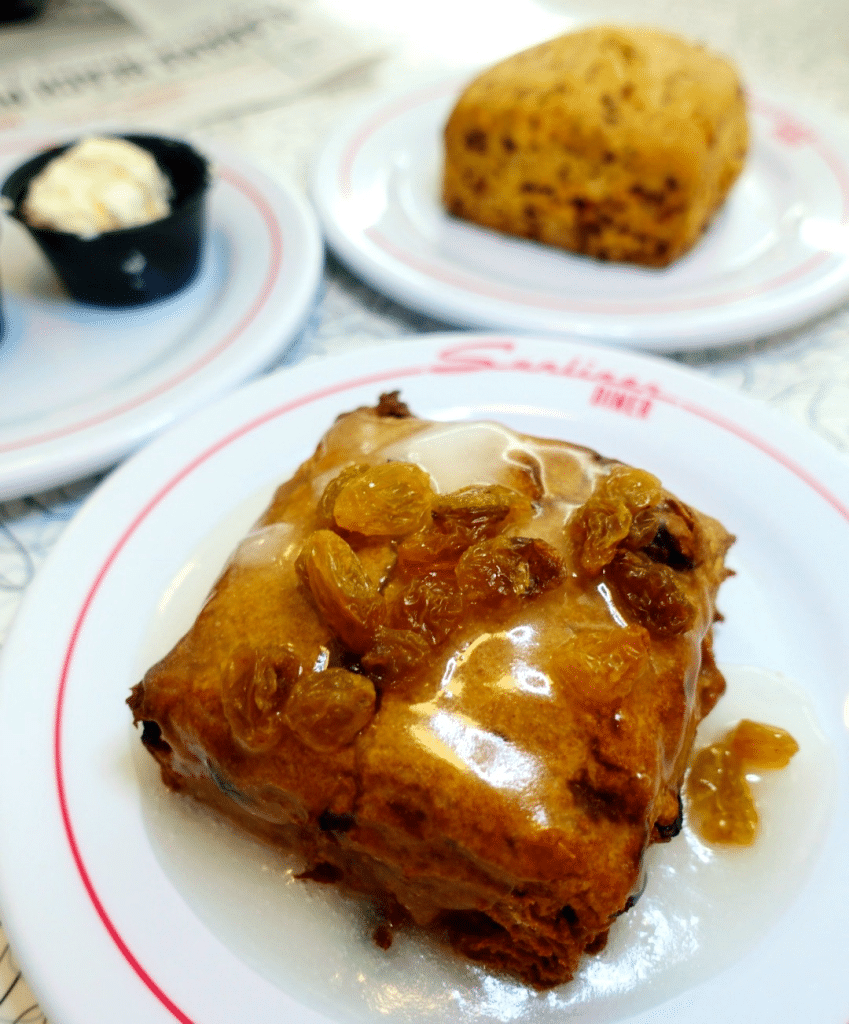 What to Order at Sunliner Diner
Mimosas – I'm not much of a drinker but if there's champagne – I'm in! They also do specialty mimosas during the holidays!
Specialty Biscuits – I loved the Cinnamon Raisin Biscuit with a light glaze on top. My friend Stephanie loved the Bacon Cheese Ranch biscuits so much that she made a copycat version herself!
Corned Beef Hash – House made corned beef, bell peppers, onions and hash browns topped with poached eggs and a horseradish cream sauce. I loved it so much I made a copycat version of this delicious corned beef hash!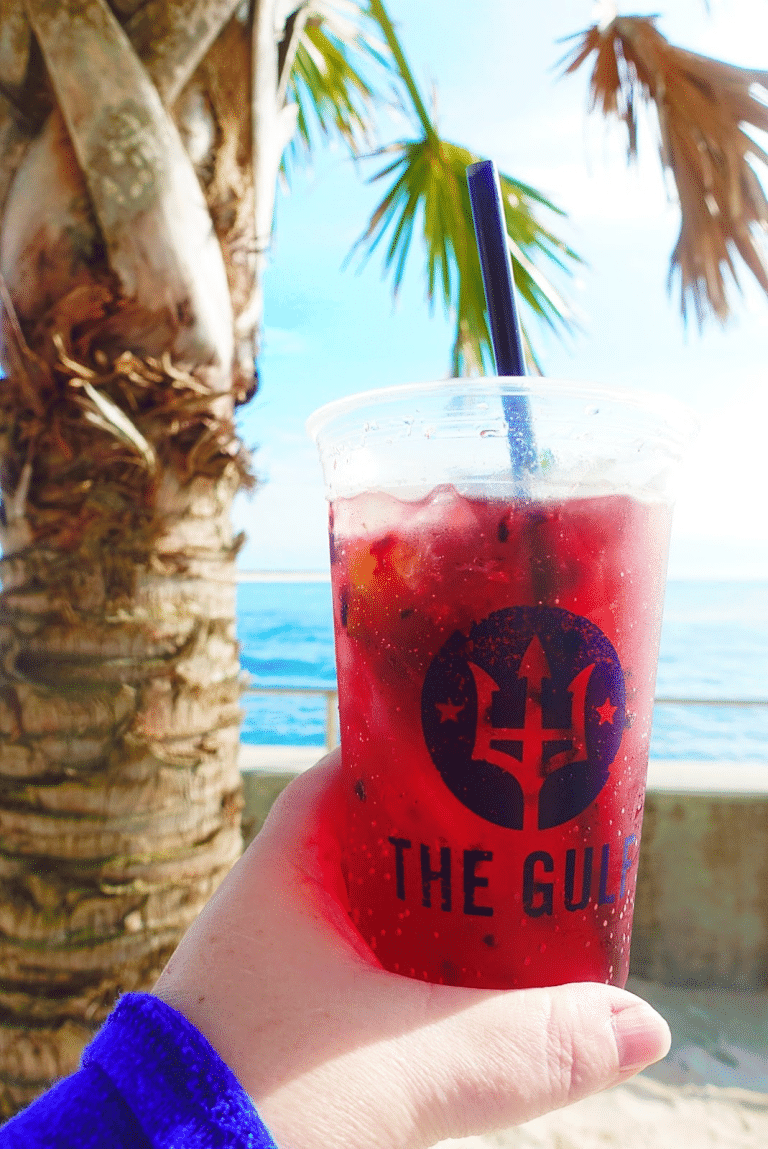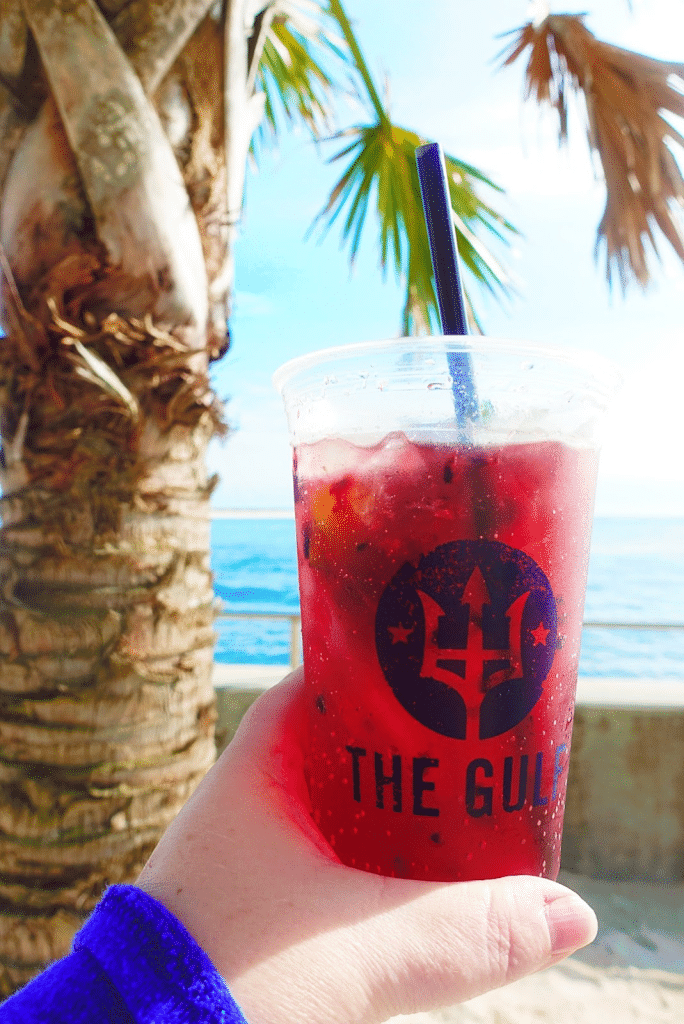 5. The Gulf – 27500 Perdido Beach Blvd – Orange Beach, AL
Why We Love The Gulf
The Gulf is my all-time favorite!! Get your toes in the sand because the Gulf is RIGHT ON THE WATER! It's a little more lunch than breakfast but it's still delicious and the best seat in the area! Picnic tables on the beach, a cute shop with the CUTEST pillows, candles, cards, etc.; and lots of spots in the sun or shade. I go at least twice every visit to Gulf Shores!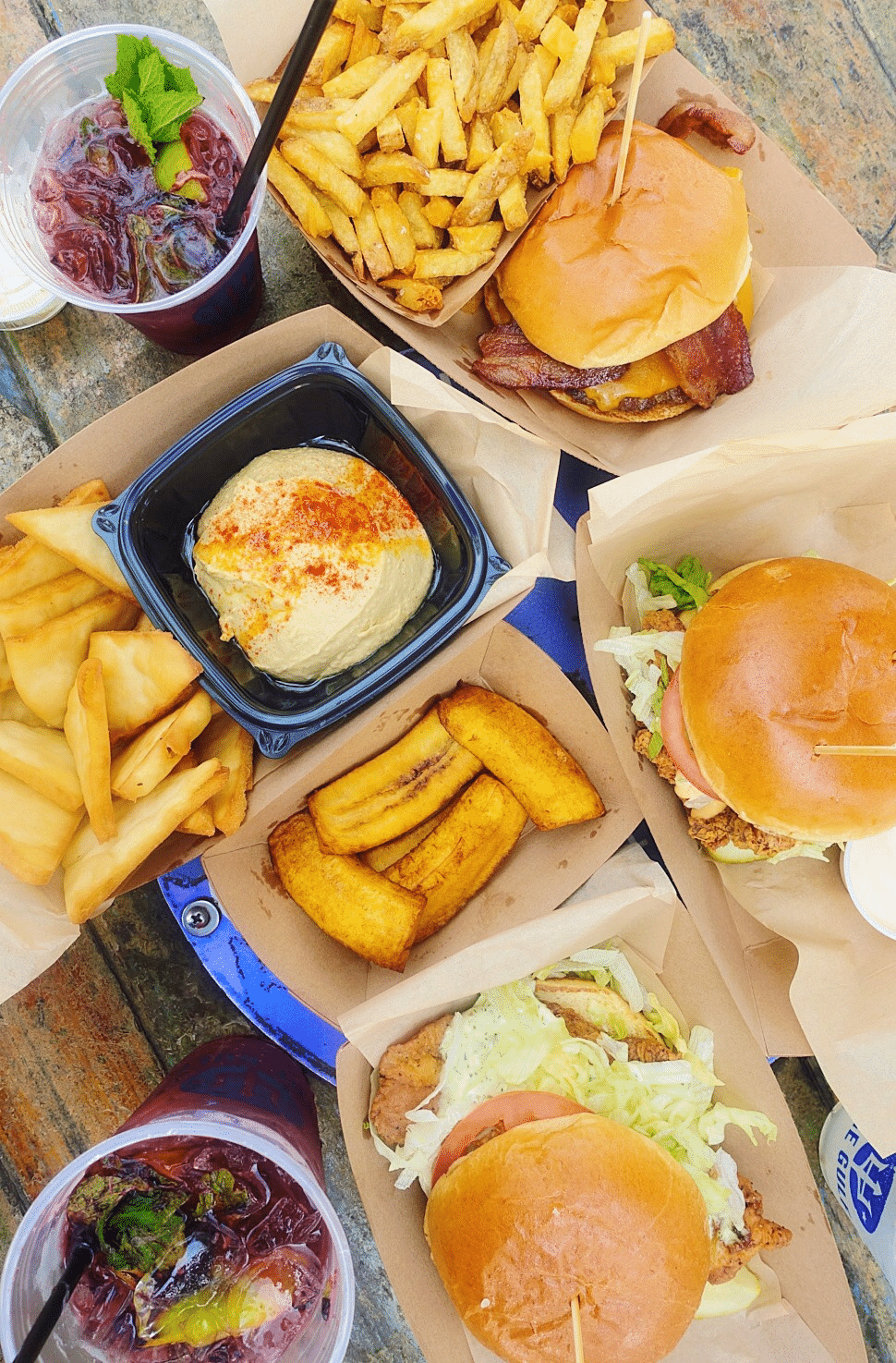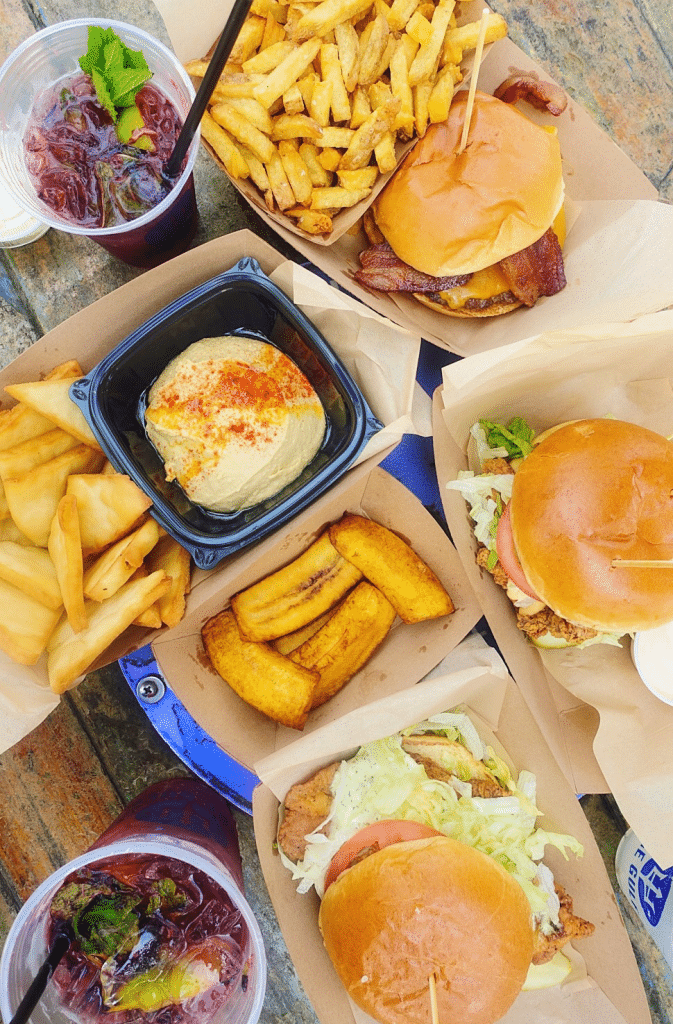 What to Order at The Gulf
Tuna Poke Bowl – when you're on the water – eat seafood and this poke bowl is the best I've ever had! It's so fresh and light!
Grouper Sandwich – so delicious and served with a lemon dill sauce that I couldn't get enough of!
Shrimp Tacos – The pineapple corn salsa is so good on those grilled Gulf shrimp!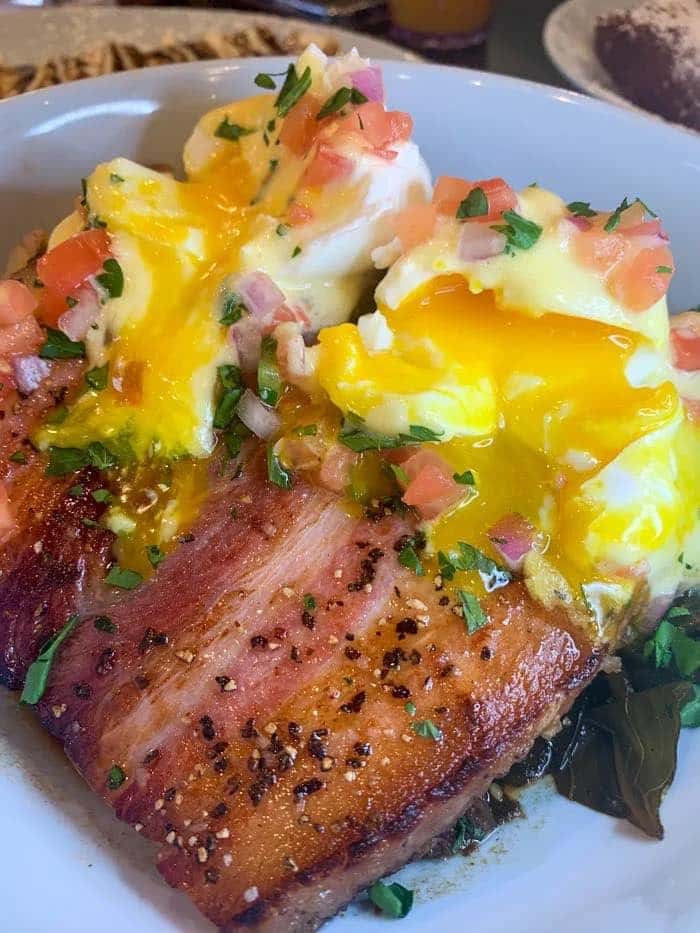 6. OSO Early – 27370 Canal Rd – Orange Beach, AL
Why We Love OSO Early
OSO Early is off the main drag but it's worth the drive! It's a great coffee shop, a quick grab-n-go stop (breakfast sandwich anyone?) and a delicious restaurant all in one! This is another must-try stop when you're in Gulf Shores.
What to Order at OSO Early
Bacon Bowl – braised pork belly, creole hash browns, collard greens, poached eggs, hollandaise and bloody mary pico! Every single component is PERFECTION.
Nassau Cheese Grits – Filled with sauteed peppers, onions and ham and then finished off with bacon, tomatoes and gouda. (My copycat recipe!)
Bushwhacker Pancakes – the famous Bushwhacker drink of Gulf Shores comes to life in pancakes!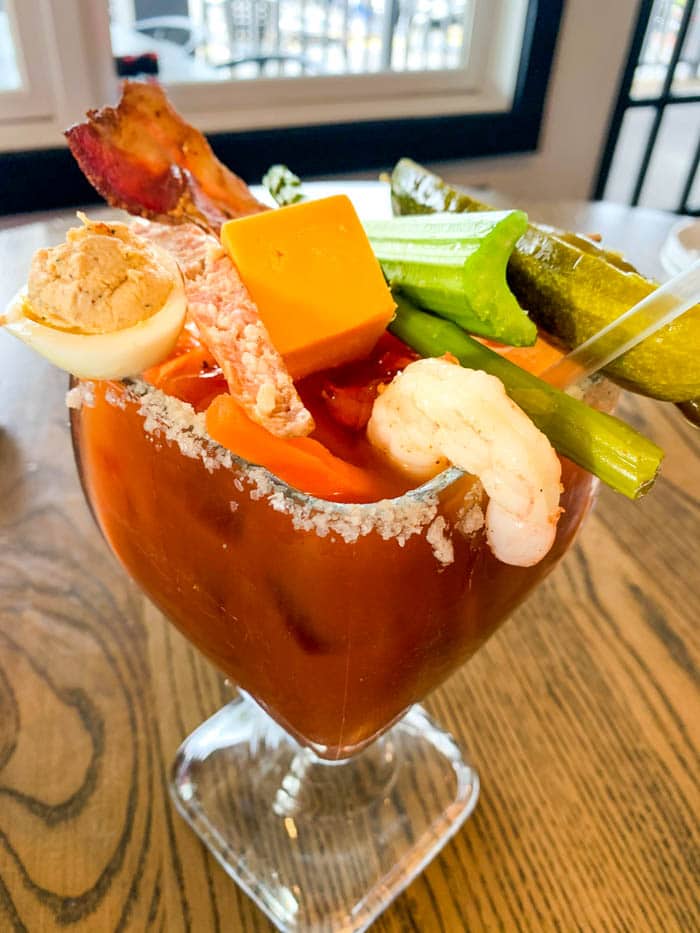 7. Brick & Spoon – 24705 Canal Rd – Orange Beach, AL
Why We Love Brick & Spoon
Brick & Spoon is THE place to go if you're looking for an amazing Bloody Mary! They even have a Bloody Mary menu where you can add all sorts of things like a deviled egg!
What to Order at Brick & Spoon
Bloody Mary – they have a build-your-own menu so go for it!
Beignets – You don't have to go to New Orleans for these powdered sugar delights!
Breakfast Tacos – loaded up with chorizo and a mango salsa – so good!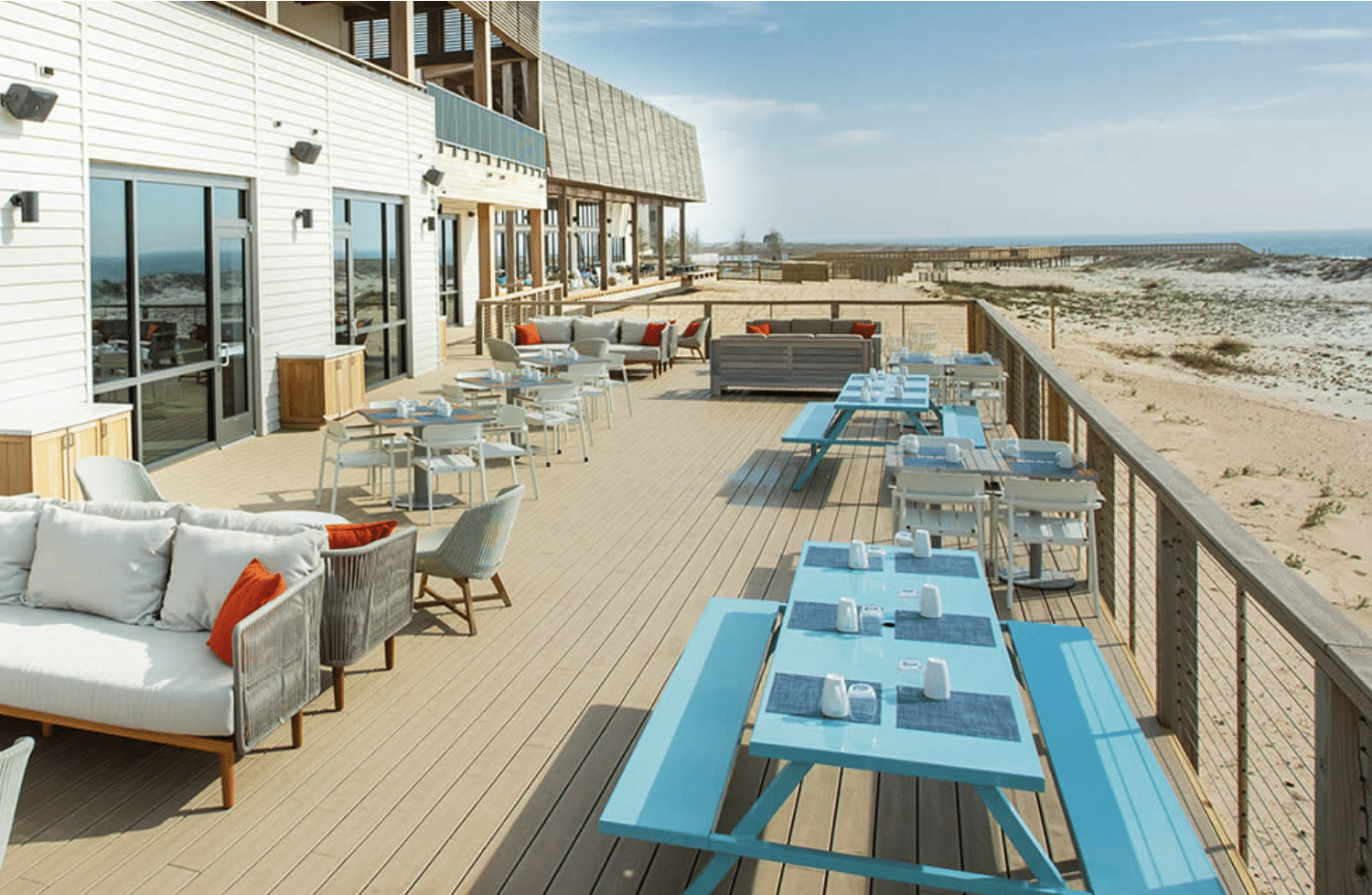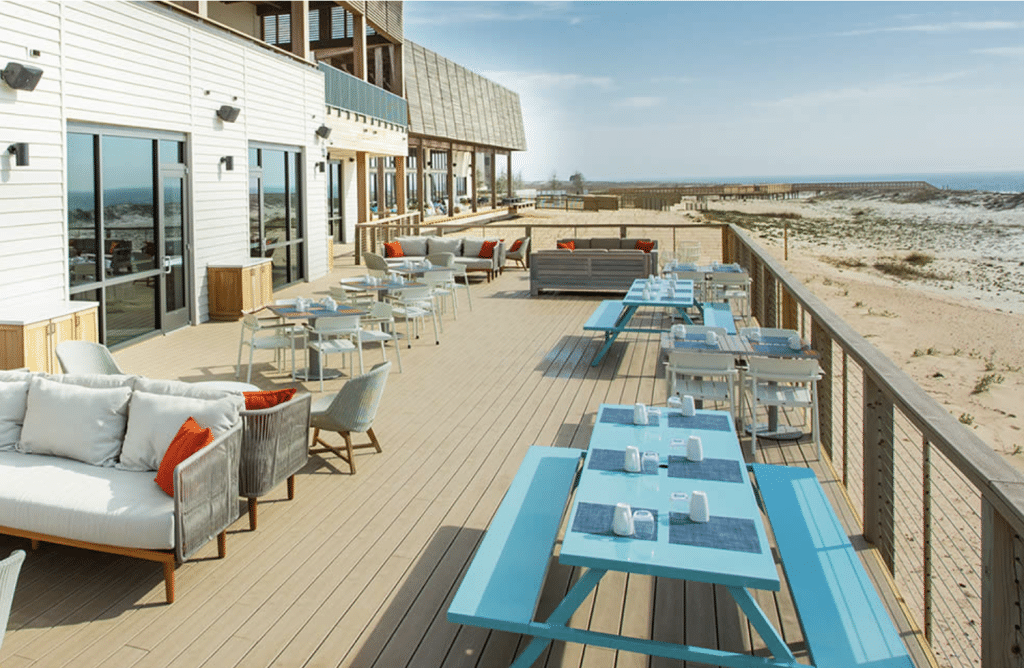 8. Foodcraft – 21196 East Beach Blvd – Gulf Shores, AL
Why We Love Foodcraft
Foodcraft is THE place to go for the breakfast buffet or a Sunday brunch! They are part of the Gulf State Park so you've got a great view and places to walk after you indulge!
What to Order at Foodcraft
New York Strip Steak & Eggs – grilled steak, eggs, tomatoes and home fries with a cajun remoulade! Wow!
Banana Bread French Toast – bananas, pecans, bourbon-maple syrup and bacon!!! are all things I want to eat on a Sunday!
Crab Cake Benedict – Crab cakes are my favorite! They're served on an English muffin and topped with spinach, poached eggs and a Cajun citrus tarragon sauce.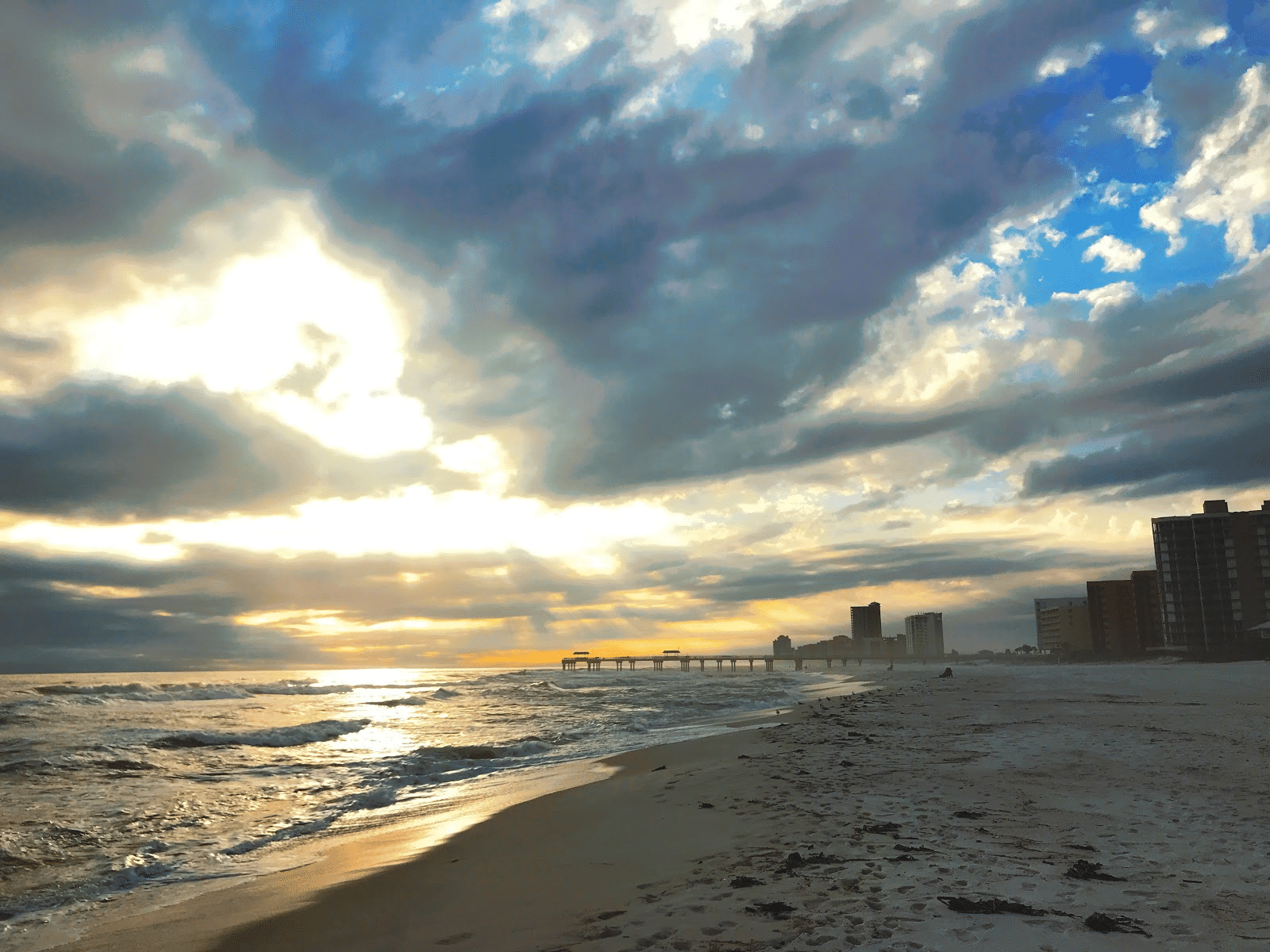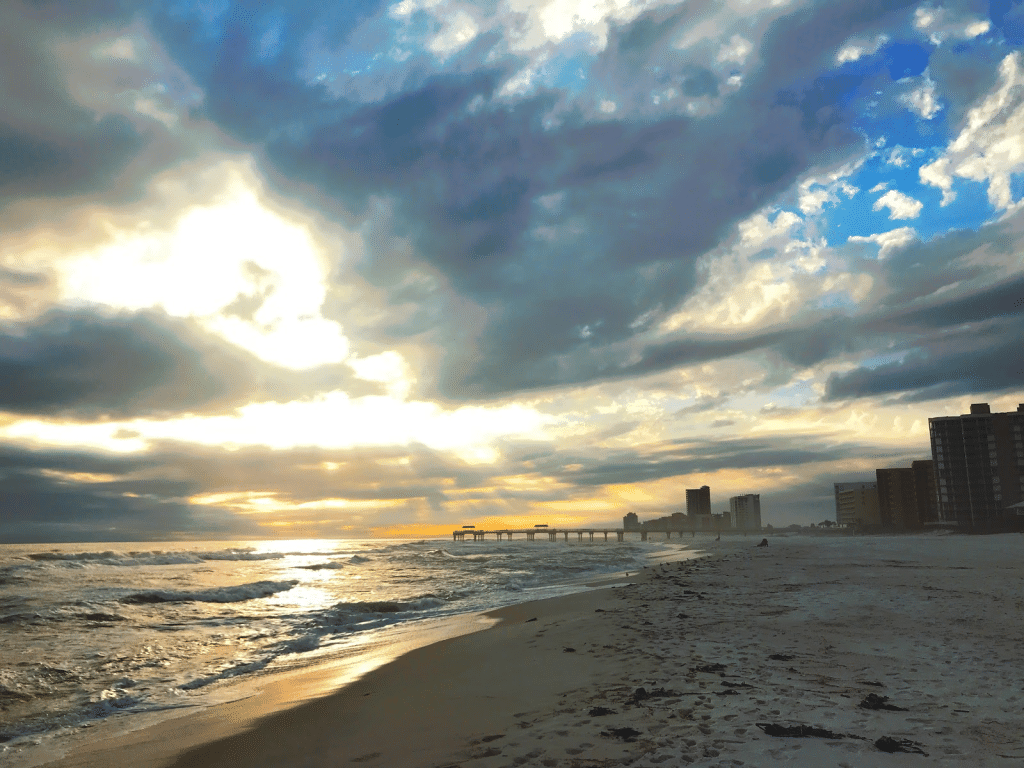 More Brunch Spots in Gulf Shores
No need to go to Waffle House when you're on vacation – there are plenty of options! Here's a few more:
Tacky Jacks – with locations in Gulf Shores, Orange Beach and Fort Morgan – it's one of the most eclectic and fun restaurants. While the menu options are not online, they open at 8am (it's 5 o'clock somewhere) and have daily breakfast specials with bacon, eggs, sausage and more.
Kitty's Kafe – An unassuming diner in a strip mall with classic breakfast items like Dried Beef Gravy on Toast and lots of Kountry-style breakfast options! They also have lunch salads and sandwiches too.
Safari Club at Alabama Gulf Coast Zoo – Sunday brunch from 10a-3p features chiaquiles, benedicts, blueberry pancakes & more. Plus – you can go to the zoo after!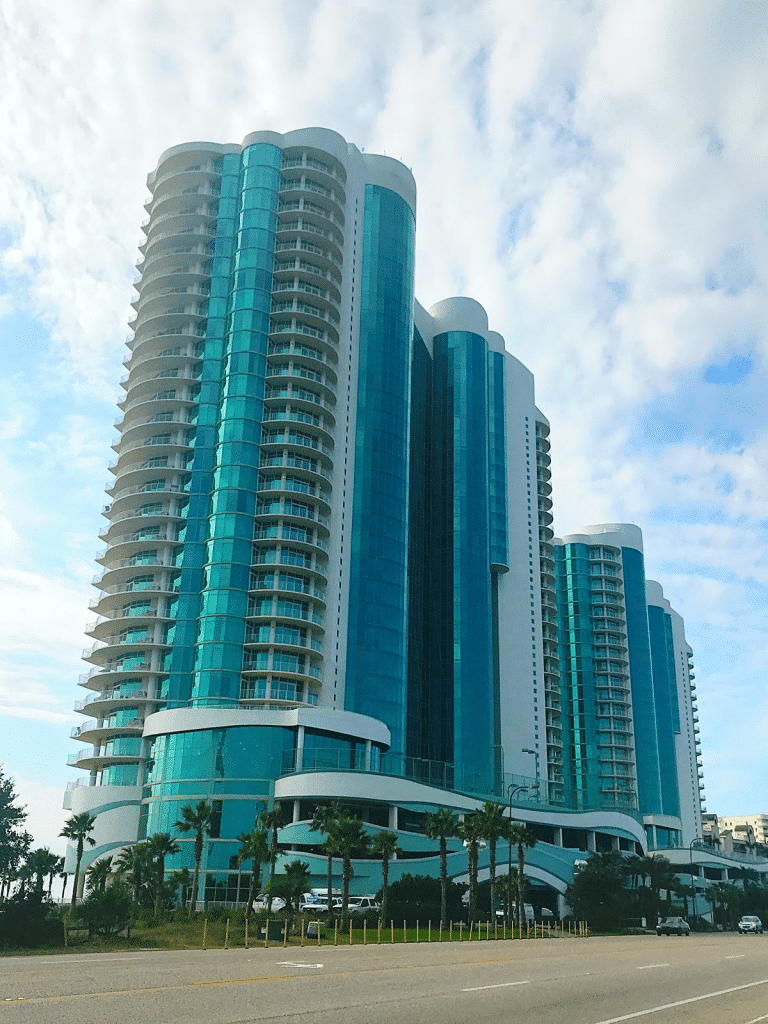 We stayed at Turquoise Place and it was amazing! We had a four bedroom condo and it had all the amenities – a huge kitchen and dining room, grill on the patio, jacuzzi tub in the master bath, the most comfortable beds ever and so much more. We also learned that they launder the duvets after every guest – which is NOT something that happens in nearly any other vacation rental!

I can't even begin to share all the benefits – free beach towels, free parking, cabanas, pools, fitness clubs, daily activities and games, a lazy river and more! The whole facility is beautiful. I can't wait to go back!!!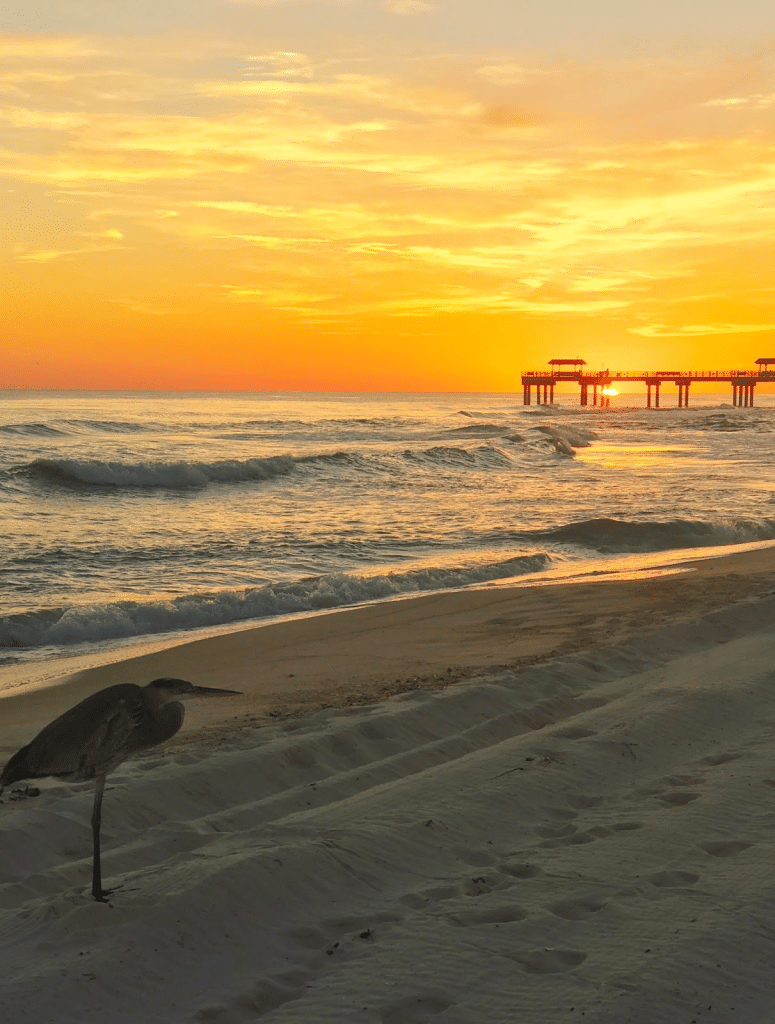 Sunsets were the best!!! I met this little guy while I was down there taking pics one evening! So beautiful!!!! We absolutely loved our trip and I can't wait to go back.