Last December I had the pleasure of visiting the Gulf Shores in Alabama with my friend Stephanie! We had so much fun and our guide Eva was a blast. She took us to all the best places to eat, drink and enjoy!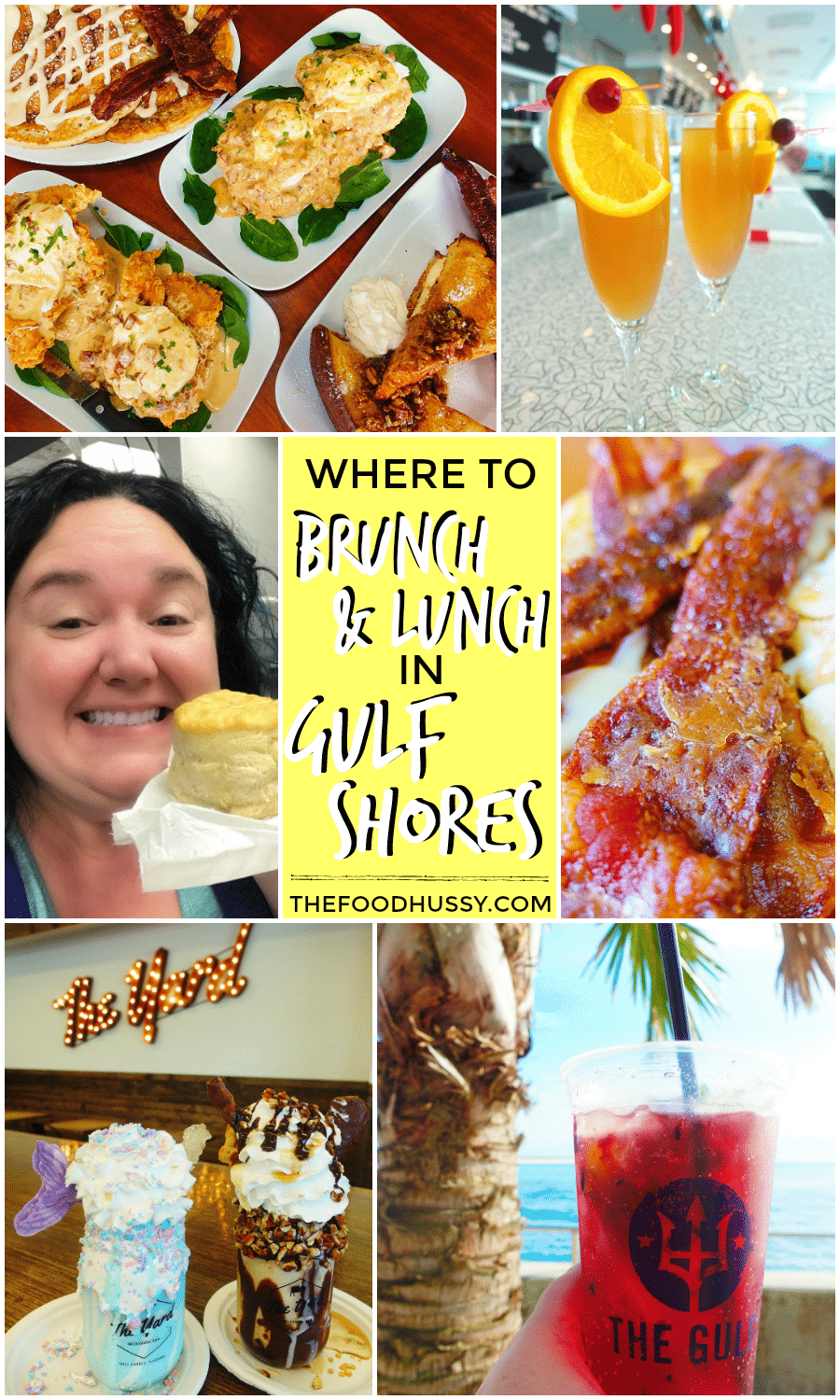 I have to tell you – I'm pretty much ready to move to Gulf Shores! It is such a fun area – we got to play with lemurs at the zoo, we drank fun fruity drinks on the beach, listened to great live music and – of course – ate our way through the area! Let's dive in!
We went so many places and had so much amazing food – I had to break it up – so today – I'm going to tell you about all the great places to eat for breakfast, lunch and brunch! Plus – there are a couple of things you're going to see here that I'm going to remake at home! That way – if you can't get to the Gulf Shores today – you can have a taste of it at home!!!
We LOVED BuzzCatz Coffee & Sweets! It's this cute little coffee shop with home-baked goodies and a cute cat theme. Steph and I are both cat lovers so we had to visit! I took home the cute glass you see in the background even.


They had so many delicious treats – this pop tart was filled with a pastry cream and I couldn't help but eat the whole thing! Every restaurant has biscuits and BuzzCatz was no different – they had these Cat Head biscuits – they were about the size of a cat head – and were served with their homemade jam.


There was also quiche, cinnamon raisin cat head biscuits and that ginormous pecan pie cinnamon roll! Come hungry! We were very excited when Kimberly their pastry chef came out and talked to us – she was a delight!!!


BuzzCatz Coffee & Sweets – 25689 Canal Road – Orange Beach, AL
Next up was The Ruby Slipper Cafe – they're a staple in New Orleans and are expanding across the south. Their Gulf Shore location is right on the main strip in Orange Beach – you can't miss it – or those mimosas!
Their Eggs Benedicts are their specialty – and we tried a few of them plus Pig Candy, pancakes and french toast! Yes – I think we killed the whole menu!! There were so many things to try – we couldn't say no. The table next to us was laughing as we stood on chairs and rearranged our food 100x before taking a bite! But it was definitely worth the wait.
They had a weekend special that was amazing – it was a Biscuits & Gravy Eggs Benedict – oh mylanta – this was my FAVORITE!!! I'm now convinced I need to master the poached egg! This beauty was their homemade biscuits topped with a poached egg and their in-house biscuits and gravy. We were really trying to stick to a two-bite rule but man oh man – it was not possible at Ruby Slipper!
Eva – our guide – went for the Chicken St Charles – fried chicken breast on top of their buttermilk biscuit topped with poached eggs and a pork tasso cream sauce. Oh no – it wasn't good at all. Bhahaha! We could not stop eating!!!
They also recommended their Cinnamon Swirl Pancakes which are classic buttermilk pancakes with cinnamon & brown
sugar filling & cream cheese glaze – oh yeah and then a side of pig candy. Shut the front door! I mean – I know you guys are all drooling right now – with good reason – it's ridiculous!
The Pig Candy – where do I even begin? Here's the thing – I'm not actually always a fan of the candied bacon craze – but this was amazing! It was crunchy and sweet but still meaty. Oh man – it was delicious!!


Ruby Slipper Cafe – 24151 Perdido Beach Blvd – Orange Beach, AL
The most fun thing though is that the folks at Ruby Slipper Cafe invited us to come back for a hands-on biscuit making class!!! Steph and I went in very classy. I mean – look at her with her pinky up! I might have tried to eat a pound of butter…
But let me tell you – it didn't take long for our personalities to come out! She tried to attack me with biscuit hands!!! What the hell???? The look of pure joy on her face is one I'll never forget!
I also can't forget the biscuits! Look at that biscuit – THAT I MADE!!!! I'm a biscuit queen and here's the Ruby Slipper Biscuit Recipe so you can make them yourself!
Southern Grind Coffeehouse was another great find – they're really known for their coffee – and I had a really great Iced Mocha Latte – but we also grabbed a bite – since we were there. Their decor is really awesome – it's very beachy and they have so many cute art & decor items for sale too! We visited their Orange Beach location at Hotel Indigo but they also have one at the Wharf.


Southern Grind Coffeehouse – 22843 Perdido Beach Blvd – Orange Beach, AL
Onto my personal favorite breakfast spot of the trip – Sunliner Diner! As you can tell – it's a 50's style diner with a classic car out front – and it's pristine!!! It's picture perfect for sure!!!
Then on the inside – same thing! They have this big booth in the middle of a car and our server was more than happy to play photographer for us. He was so fantastic – I wanted to take him with us for the rest of the trip! It's so cute inside!
He forced us to try their mimosas (haha) – they were holiday themed with cranberries. These were strong mimosas but I liked them. I'm not much of a drinker – as you know – you champagne is my one vice – so sure – throw in some orange juice! I'm in! The staff at the Sunliner are all so happy too – every person had a big genuine smile and was more then helpful. We loved it!
They also are known for their biscuits – you see a trend here? Their biscuits are different though – they're square and more dense – but just as delicious!!! I tried the Cinnamon Raisin Biscuit – oh it was so good! It had this sweet and light glaze on top and was filled with regular and golden raisins! Steph got the Bacon Cheese Ranch biscuit you see in the background and was lucky enough to get the recipe! And I have to say – hers looks even more delicious!!!
I also found something I loved so much I had to make! I ordered their Corned Beef Hash and loved it! Tender house-made corned beef, green & red peppers, sweet Vidalia onions and hash browns topped with two poached eggs, horseradish cream and a Sunliner biscuit! Here's my copycat version of the Sunliner Diner's Corned Beef Hash!!


Sunliner Diner – 100 E 2nd Ave – Gulf Shores, AL
You can get lunch at any of the places we visited as well – but we did have lunch at a few other places – and The Gulf was my favorite!! It's located near Alabama Point in Orange Beach and is RIGHT ON THE WATER! The restaurant is built out of shipping containers and everything is open – it's just this huge open restaurant with little fun spaces everywhere. Picnic tables on the beach, a cute shop with the CUTEST pillows, candles, cards, etc.; and lots of spots in the sun or shade. I could literally picture myself there ALL THE TIME!!!
The menu is huge – with tacos, burgers, sandwiches and then fun stuff like plantains and hummus – plus fantastic drinks!!! We were so excited for this spread! I had been dying for a fish sandwich! Eva wanted to show us that there was more to the area than fish – but at the end of the day – I still wanted a big ol' fish sandwich and I GOT IT!!!
Steph's blog is called Plain Chicken for a reason – she loves chicken – so she went for the fried chicken sandwich. She was so funny because she was so good all week about not cleaning her plate (because seriously – if we ate everything – we wouldn't fit back on the plane!!) – but with this sandwich – she gave in and ate every bite!
I went for the Grouper Sandwich and was not disappointed – it was served with a lemon dill sauce and was so freakin good!!!! Everything at The Gulf was delicious – plus we just loved the location and the beach feel.


The Gulf – 27500 Perdido Beach Blvd – Orange Beach, AL
Lastly – we went to The Yard Milkshake Bar – it's one of those crazy milkshake places! These milkshakes were the SMALL size and they are PRICEY AF! Each one was $16!!!! But they were so fun! I couldn't believe the combinations that they had and all the stuff in them!!! Listen to what we got!


The Mermaid – Birthday Cake ice cream inside a marshmallow cream dipped jar. topped with whipped cream, marshmallow cream, mermaid candy jewels, rock candy stick and a white chocolate mermaid tail.


The 5 Pieyow – Praline pecan ice cream in a chocolate iced jar. Topped with whipped cream, crushed pecans, fudge and maple syrup drizzle, chocolate dipped bacon and a waffle on top.


Are you serious????? These things are bonkers! When you go – you get to keep the jar too! They were delicious and definitely shareable!


The Yard Milkshake Bar – 3800 Gulf Shores Parkway – Gulf Shores, AL
In between all that eating – we did get to enjoy the beach! It was December so there wasn't any swimming happening but we had a hot tub on our deck so we got to enjoy the view every night! I went for a walk on the beach a couple of times – so beautiful!
We stayed at Turquoise Place and it was amazing! We had a four bedroom condo and it had all the amenities – a huge kitchen and dining room, grill on the patio, jacuzzi tub in the master bath, the most comfortable beds ever and so much more. We also learned that they launder the duvets after every guest – which is NOT something that happens in nearly any other vacation rental!


I can't even begin to share all the benefits – free beach towels, free parking, cabanas, pools, fitness clubs, daily activities and games, a lazy river and more! Since we were there in December – we didn't get to enjoy everything but the whole facility is beautiful. We loved it!!! I can't wait to go back!!!
Sunsets were the best!!! I met this little guy while I was down there taking pics one evening! So beautiful!!!! We absolutely loved our trip and I can't wait to go back. Be sure to sign up for my email newsletter because I'll be sharing my Copycat Sunliner Diner Corned Beef Hash recipe on Wednesday!