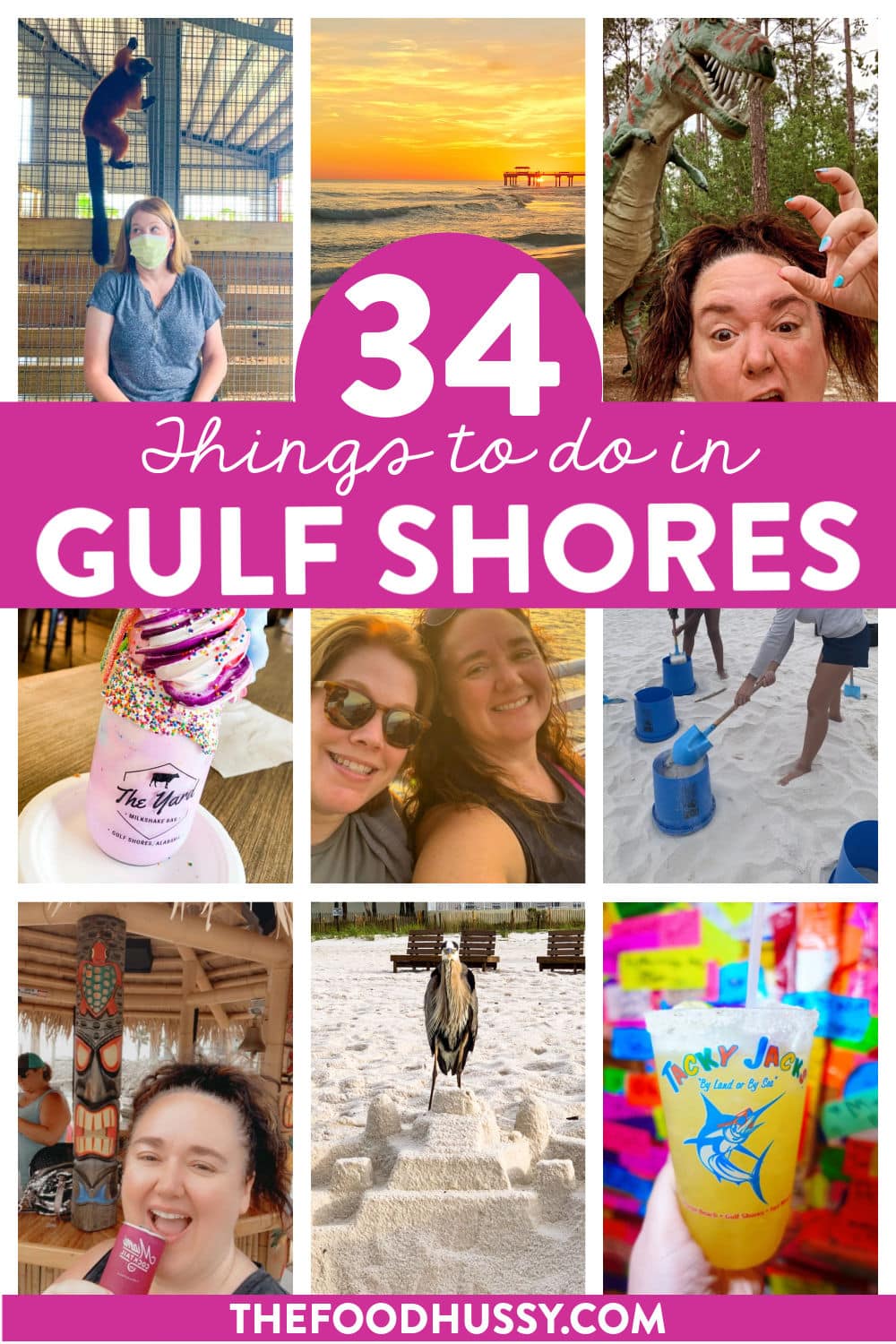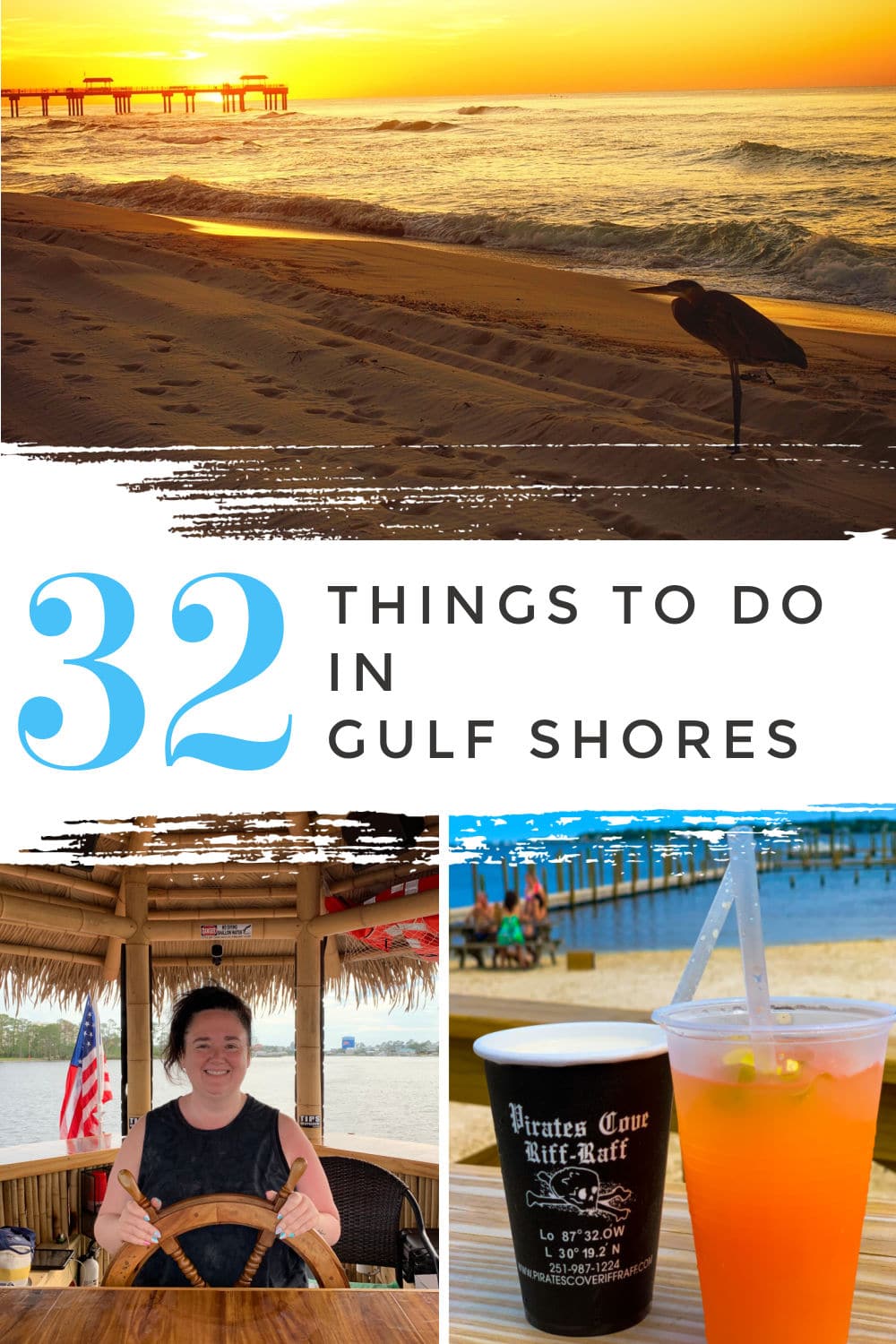 There are so many things to do near Gulf Shores and Orange Beach – this list will give you a big jump on all the ideas for trip planning! You'll find over 30 things to do for folks of all ages! Whether you want to fish, beach, eat, drink or see the sites – I've got you covered!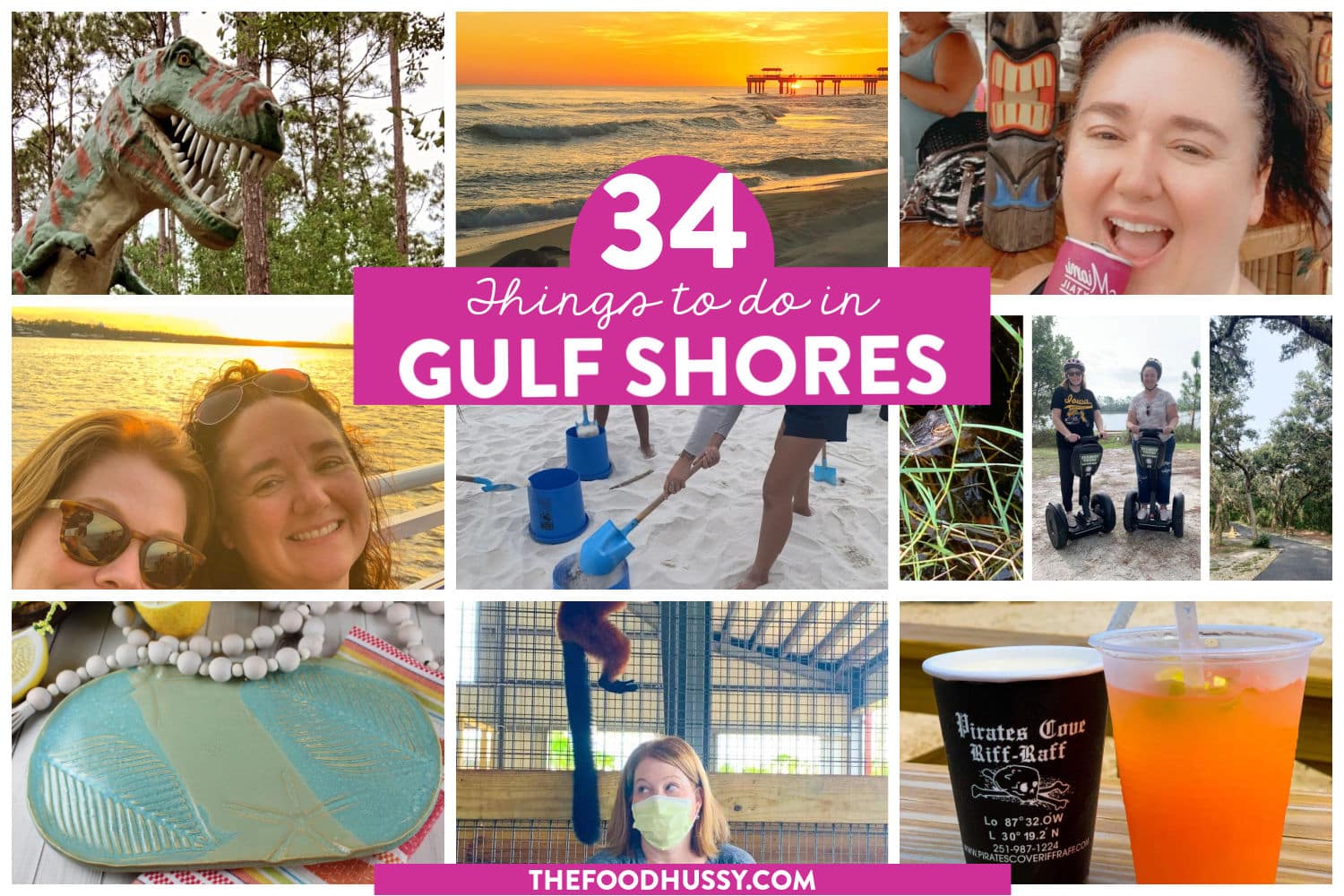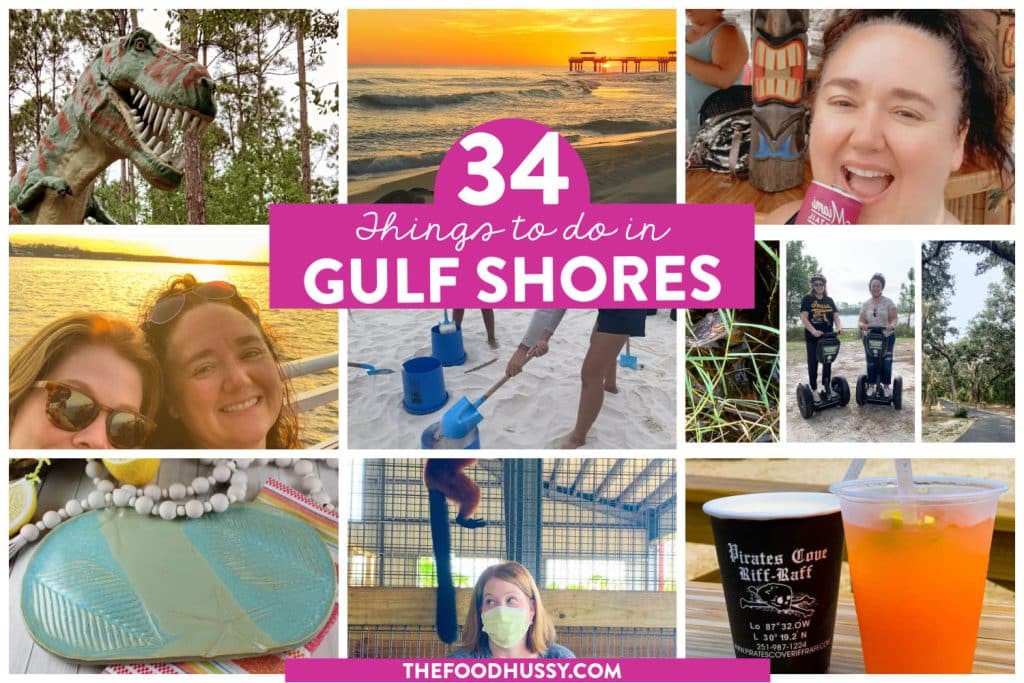 What You Will ❤️ About Gulf Shores AL
The Beach! Every beach has beautiful white sand and is relaxing.
Getting Around! This might be my favorite thing is how easy it is to navigate the area. You definitely need a car – but everything is in a straight line – so you won't get lost!
The Food!! As a foodie – I love Gulf Shores. The Gulf is my absolute favorite place – it's my first and last stop every time – don't miss it!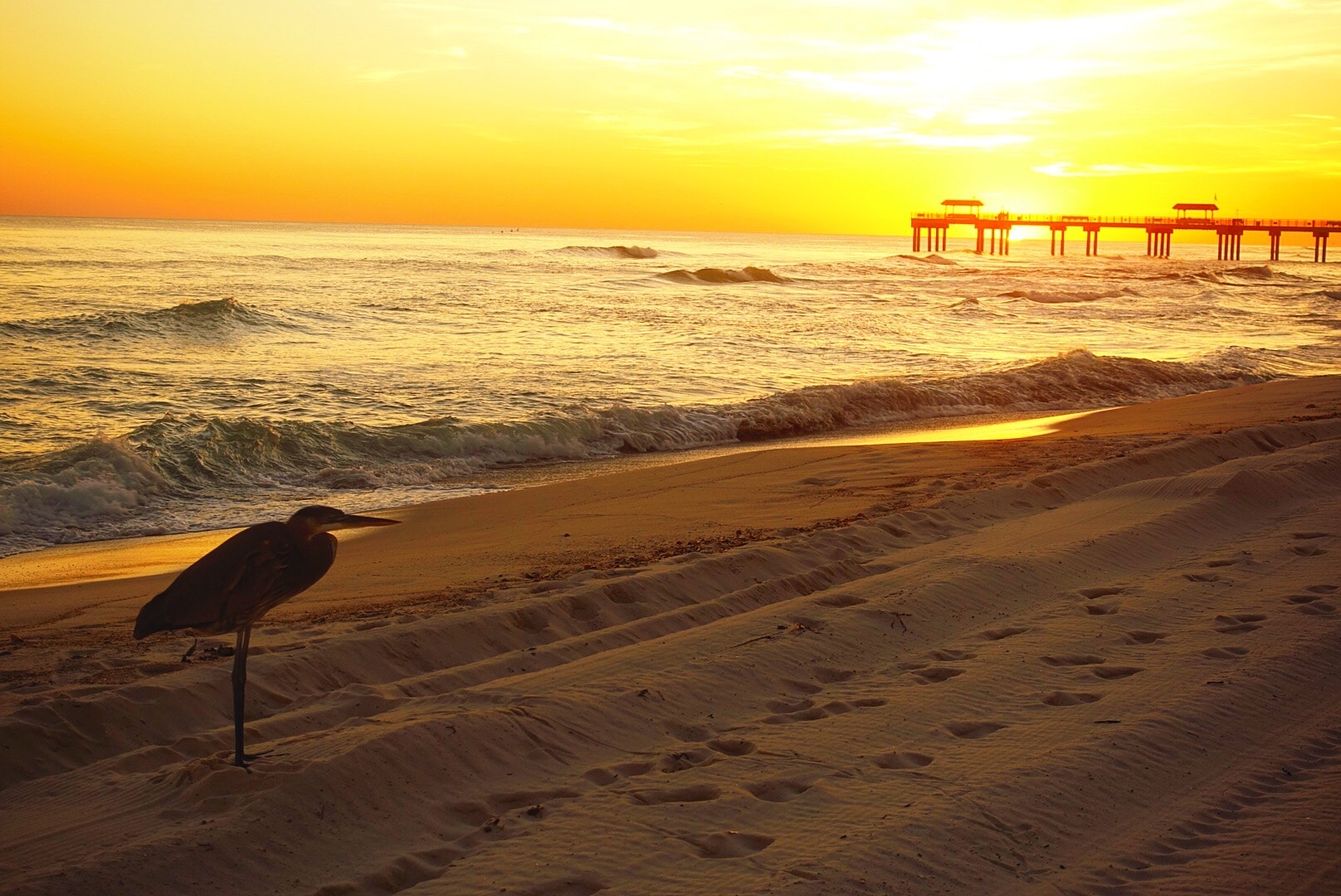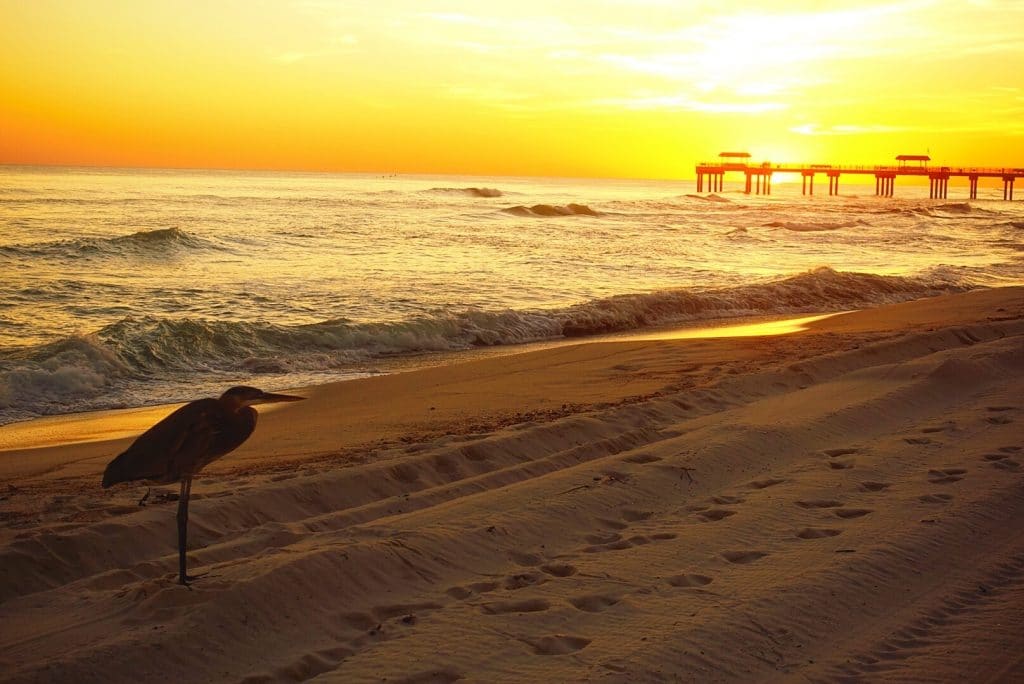 Sunset on the Beach – I'll start with my favorite thing to do – sit on the white sands of Gulf Shores beaches! There is nothing better than experiencing a sunset on the beach. I love a beach vacation, so every night, I check my phone for sunset time and head down from the condo to sit on the beach for an hour. So peaceful!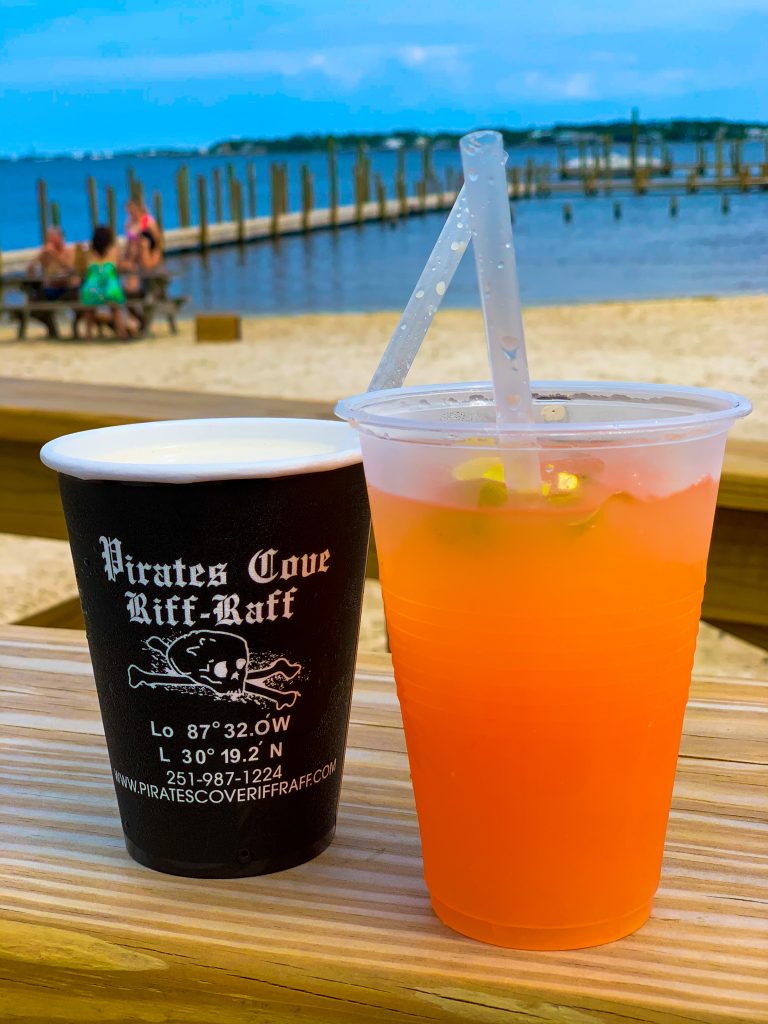 2. Pirates Cove – this is a hidden gem for sure! It's definitely a favorite of locals – there's a little beach, lots of beach dogs and some killer drinks! It's off the beaten path for sure – but if you want to relax with the locals – this is THE place!
3. Big Beach Brewing – Jim & Julie decided Gulf Shores needed a brewery and the were right! There's no food – but you can get tasty beers, wine or even a local soda!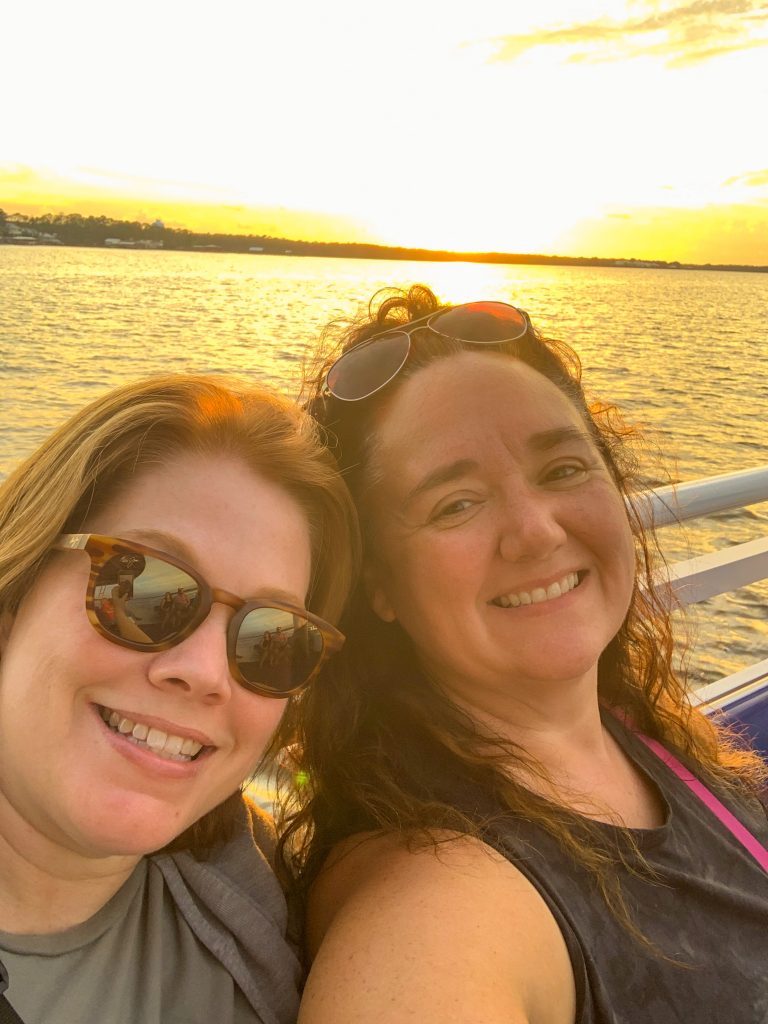 4. Dolphin Cruise – If you're near the Gulf – you can always find a dolphin boat! I went on the Cetacean Cruises Sunset Dolphin Tour on my most recent trip with my BFF from home. We had a BLAST and saw SO MANY dolphins! The cruise director really was a dolphin expert and the staff were so much fun – especially Karen – she made the ride! It takes off from the Wharf – so there's plenty of great dining spots after the cruise.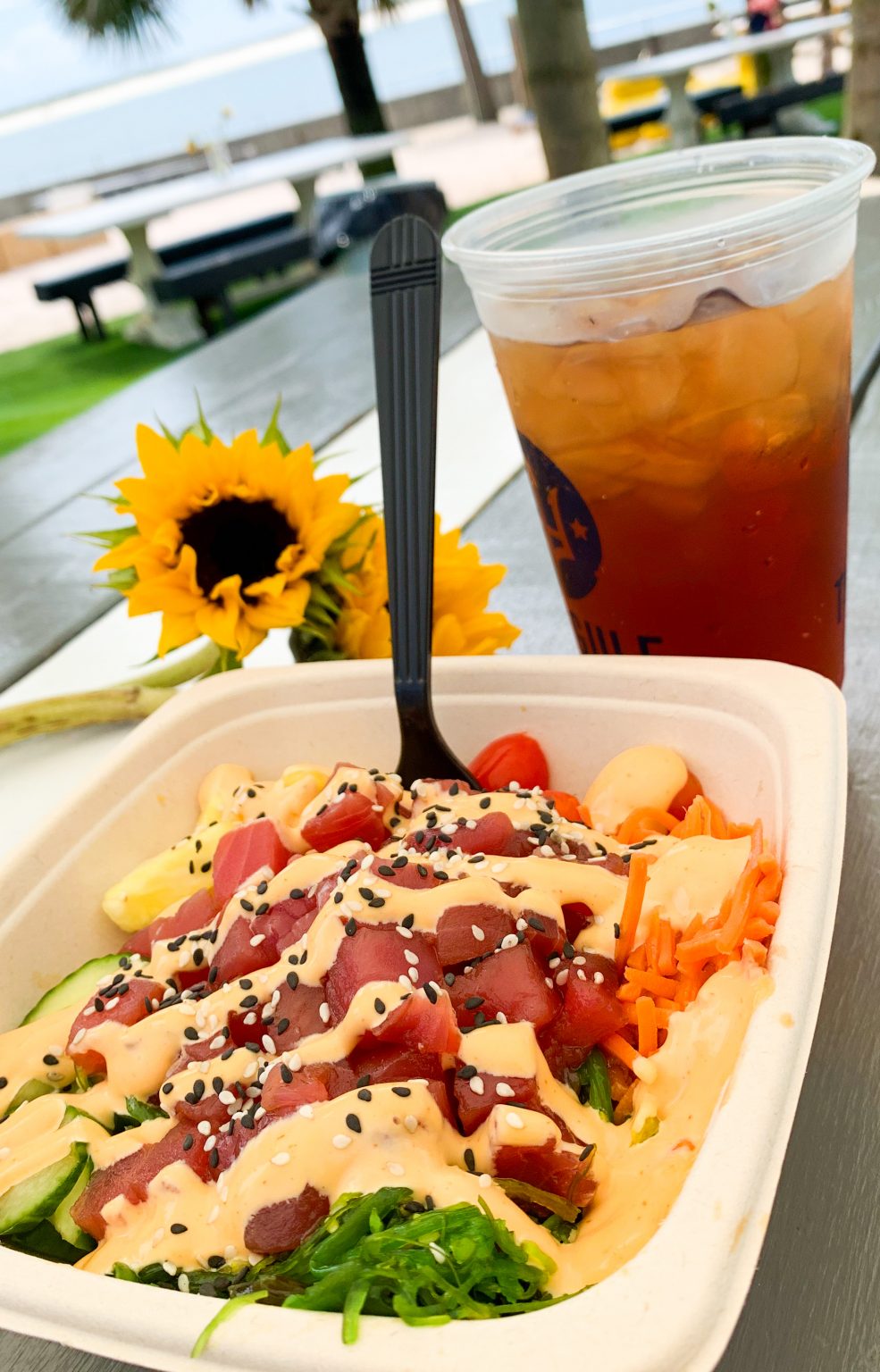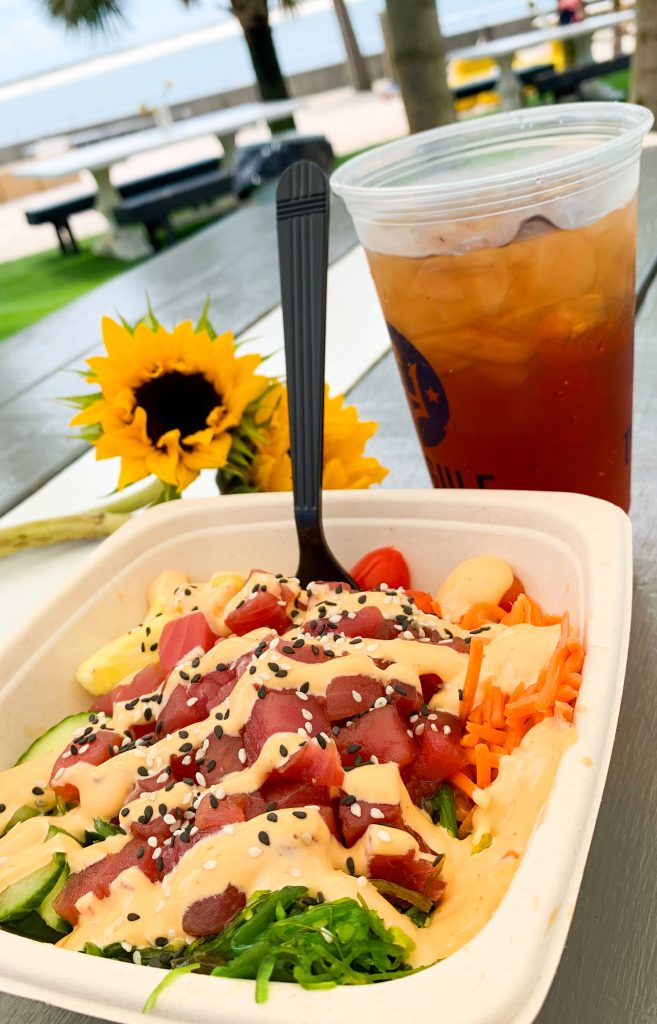 5. Poke Bowl at The Gulf – One of my absolute favorite places I always go is The Gulf! It's right on the beach with picnic tables everywhere. Better yet – the food and drinks are amazing. My favorite is the Poke Bowl – it's got locally caught tuna and is so light and fresh – you'll devour every bite!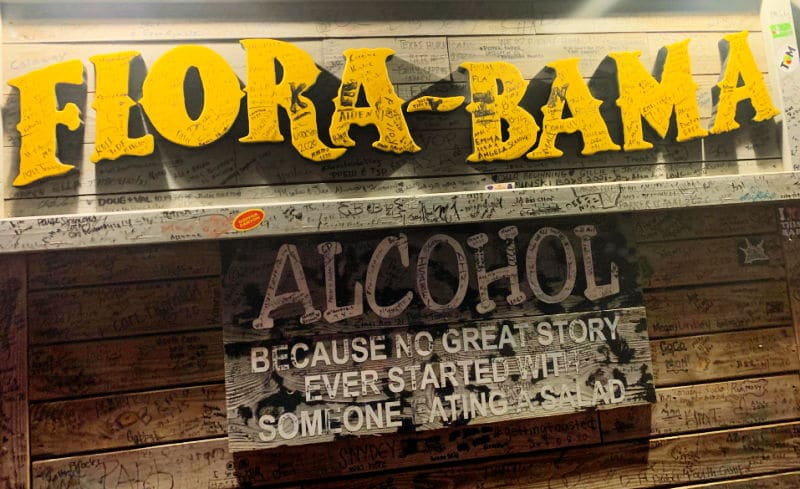 6. Florabama – All visitors HAVE to stop at the Flora-Bama – it's a legendary music venue! We went on a Saturday night and it was so much fun! There are 4 stages – all with live music – and we found one we loved! Each one had a different style of music and different atmosphere – there's really something for everyone.
And – be sure to grab a bite at the Yacht Club across the street – their Crab & Parmesan Hash Puppies are the best thing I've eaten in the Gulf! And the only place I ever had oysters that I liked!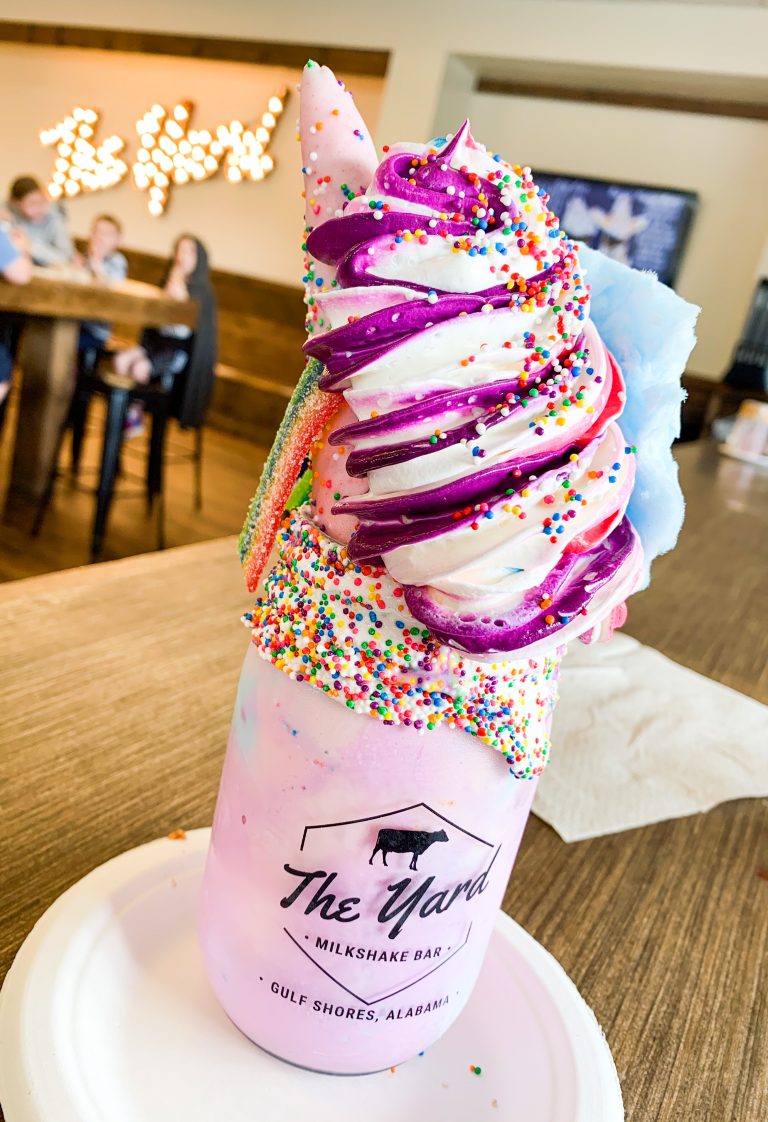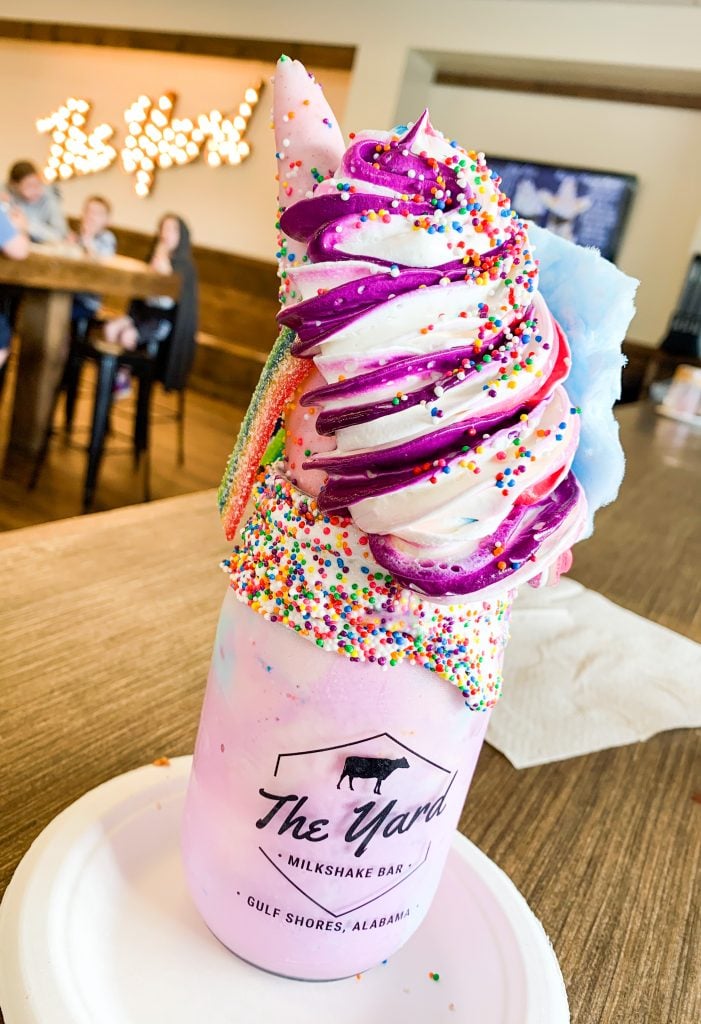 7. The Yard Milkshake Bar – What's the other thing besides water you want when it's hot?! ICE CREAM!!! The Yard milkshakes are LEGENDARY but don't miss out on their edible cookie dough – or just make it yourself with my copycat recipe! Kids will love this place and all the crazy shakes they can get!
8. Kayaking – Every time I visit Gulf Shores, my friend Eva tries to get me to kayak. I can't swim so it freaks me out – so I haven't done it yet – but she keeps trying to talk me into it!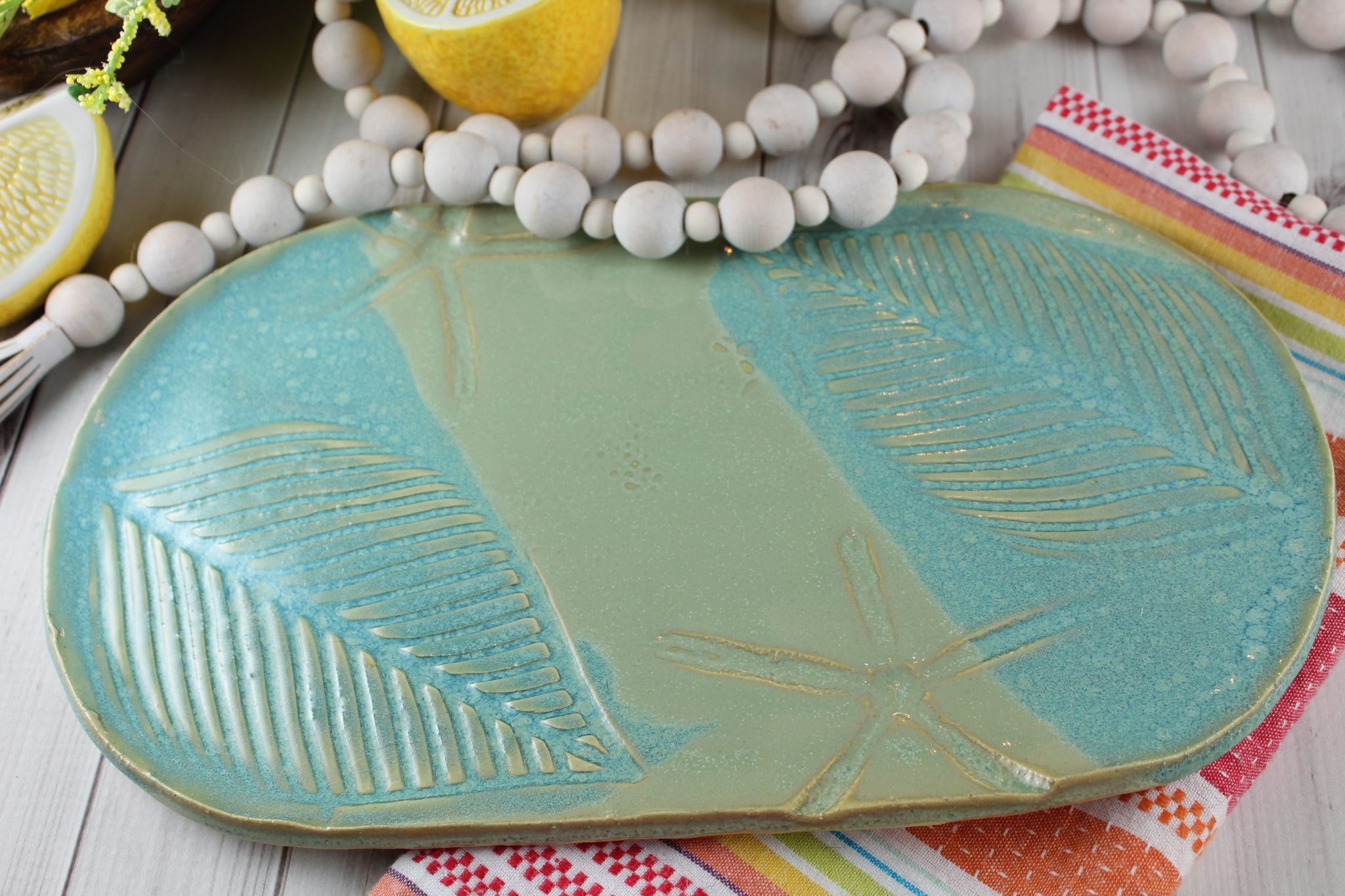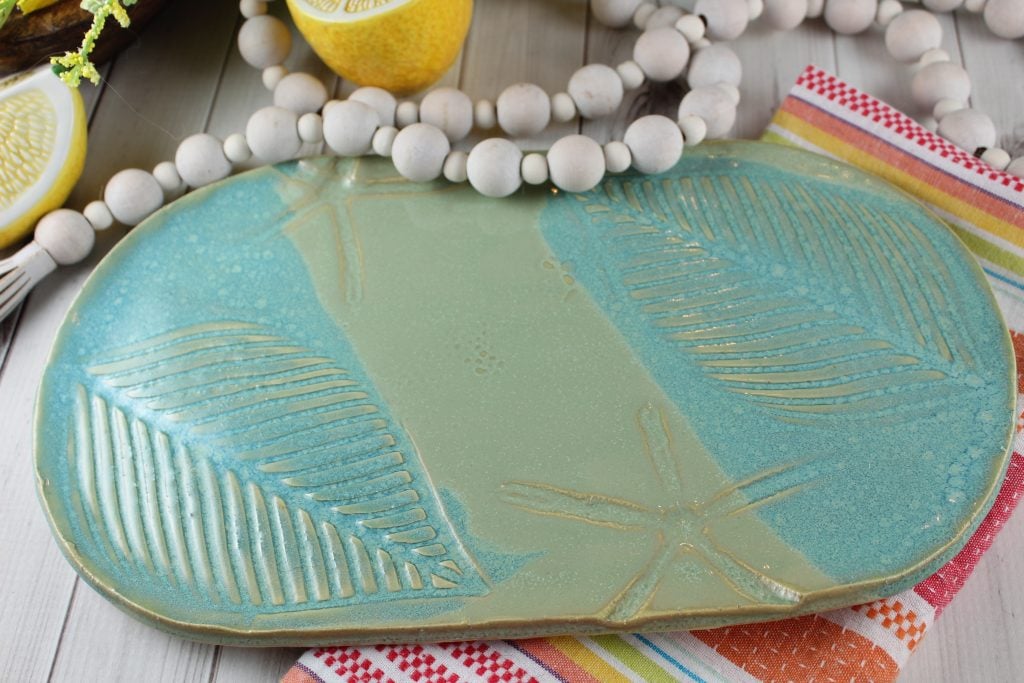 9. Make your own pottery – I was so excited when we decided to make pottery! The cool thing was the Arts Center had multiple options – we chose a simple version where we basically cut a slab of clay in a shape, molded it a bit by hand and then added texture. We then picked out a glaze we wanted and they fired it and shipped it to us! The class was super quick and fun – and be sure to ask to see the studio puppy! (And yes – that's the tray I made – isn't it cool and beachy!?!)
10. Fort Morgan Historic Site – It's also nice to take in a little history and Gulf Shores has it in Fort Morgan. They were a key defense port in a number of war battles from the Civil War and more. It's only about a half hour from downtown Gulf Shores.
11. Fishing – If you've got someone in your group that likes to fish – they'll have a great time in the Gulf of Mexico! There are so many charters and fishing opportunities! Red Snapper and Sailfish are big – but here's a chart of the fishing seasons.
12. Live Music at Fresh Off the Boat – there are so many amazing restaurants in Gulf Shores and so many of them have live music. The one I enjoyed was Fresh Off the Boat – the food was amazing, it was a great casual atmosphere and the owners were a delight. Plus their local musician was great as well and super friendly.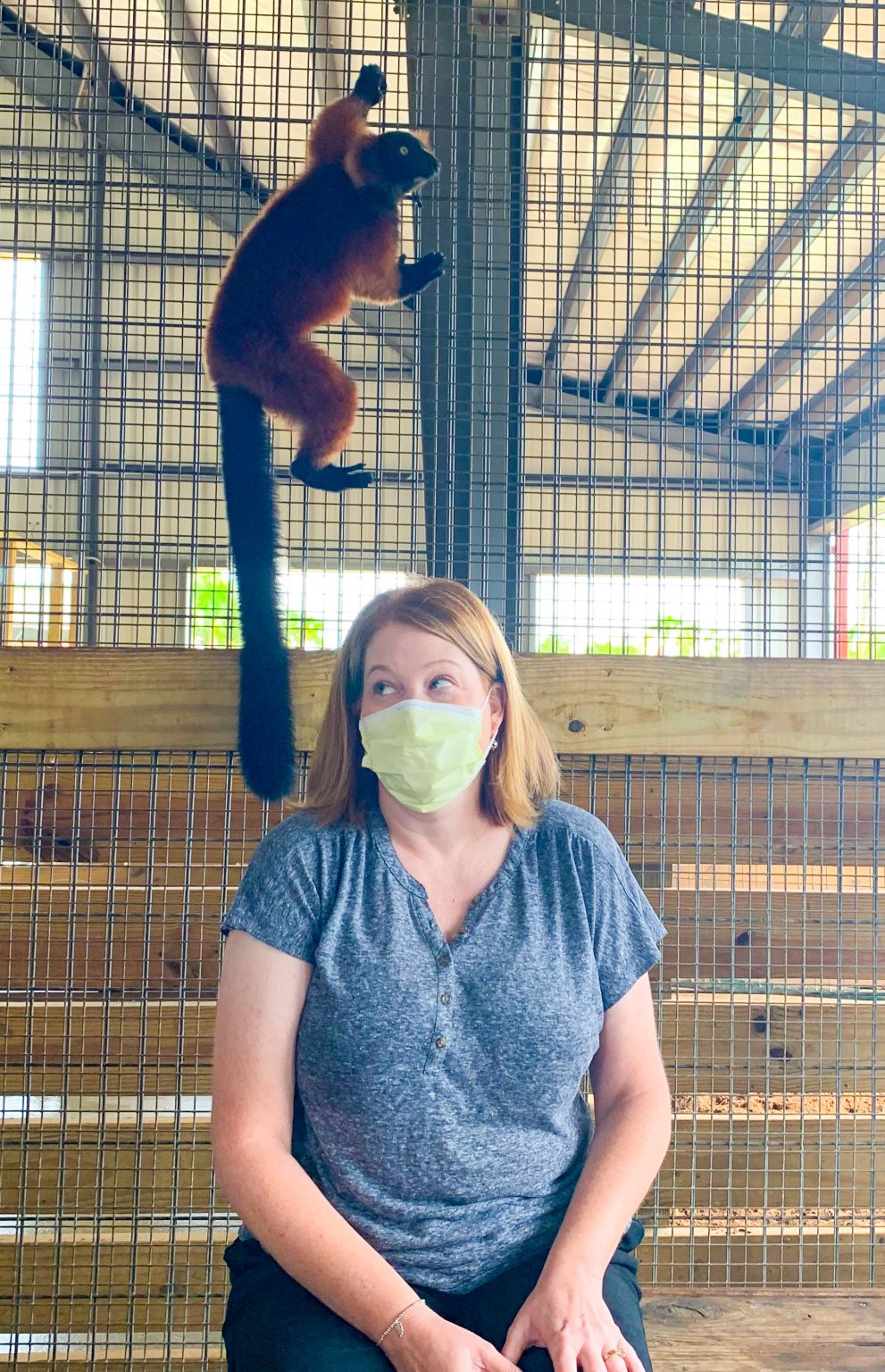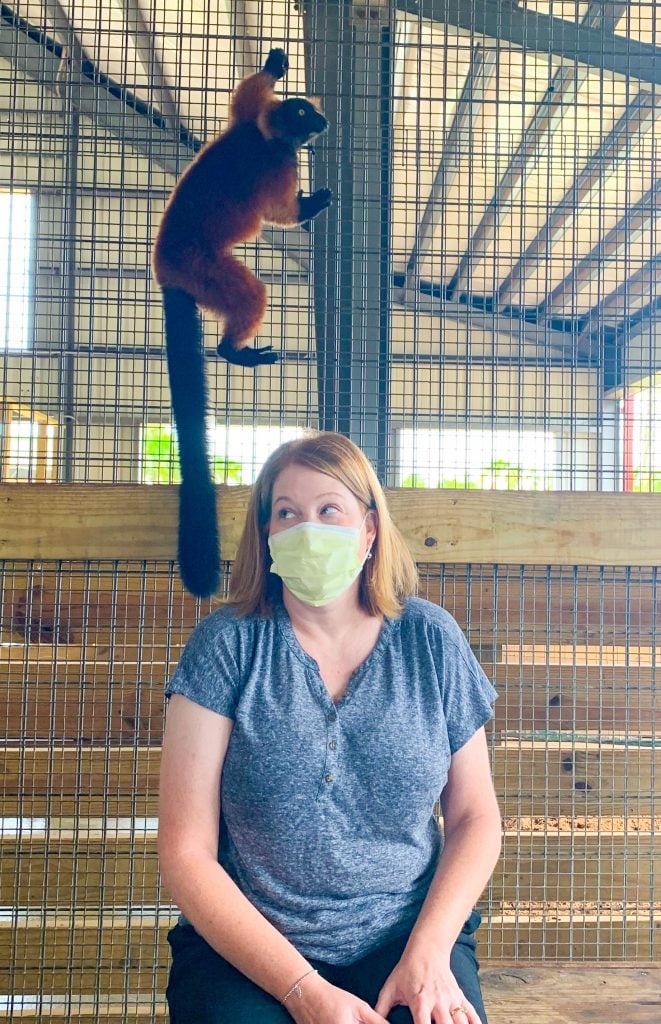 13. Alabama Gulf Coast Zoo – I'm a sucker for a zoo and the Gulf Coast Zoo is so cute! It's not the biggest zoo – but you get up close with everyone and they have some really fun animal encounters. They have more than a petting zoo – we got to play with lemurs, pet a sloth and hang out with kangaroos! It's a definite must-stop!
14. Get a Bush Whacker! – The Bush Whacker is pretty much the signature drink of Gulf Shores and every place has one. And if you just can't wait to try this boozy milkshake – my girl PlainChicken has her own Bushwhacker recipe!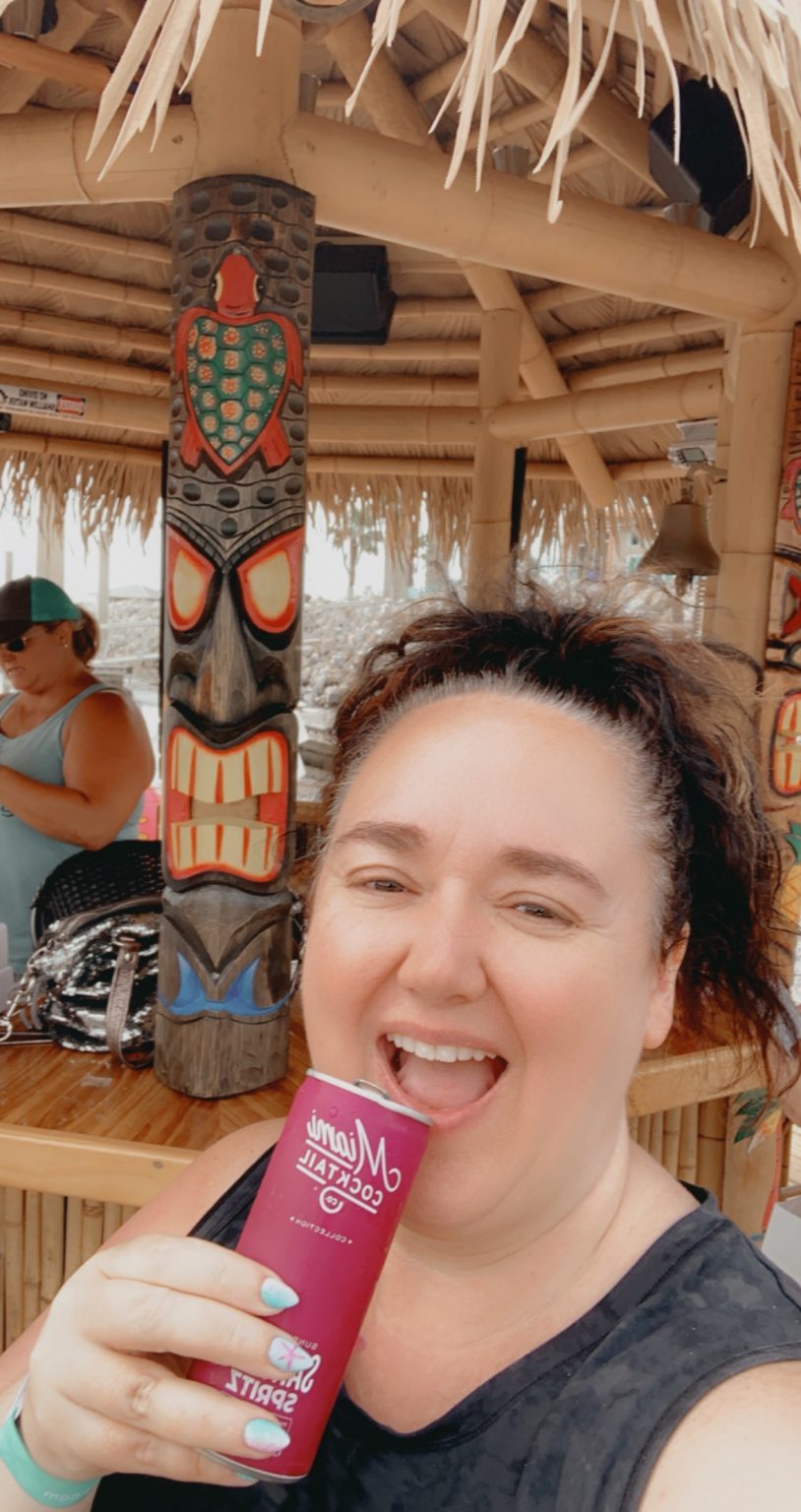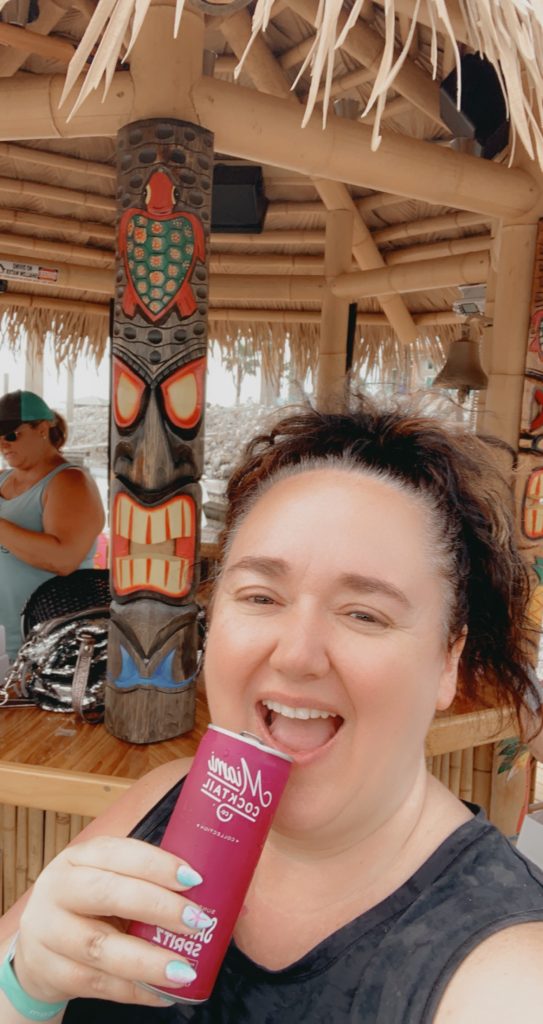 15. Cruisin Tiki's – How can you turn down a floating tiki hut? It's also BYOB – just drink responsibly – and you can bring food too! It was a blast!
16. Ferris Wheel at The Wharf – If you're looking for a one-stop shop for fun – the Wharf entertainment district is it! Whether it's food, entertainment, shopping or even a place to stay – they have it. One of the most things is their giant ferris wheel – be sure to check it out. And stop by The Pantry for a quick bite – they made us some amazing charcuterie boards for our Cruisin Tiki's cruise!
17. Massage at the Beach Club – When you're on a vacation – it's all about relaxation – so be sure to check out the Beach Club and get a massage in the spa! It's amazing! They have a whole resort that is a bit more private – but the spa is open to the public.
We also stayed at the Beach on our last trip and loved it! Great amenities like reserved chairs on the beach are a must! The Coast restaurant is also great for fresh seafood!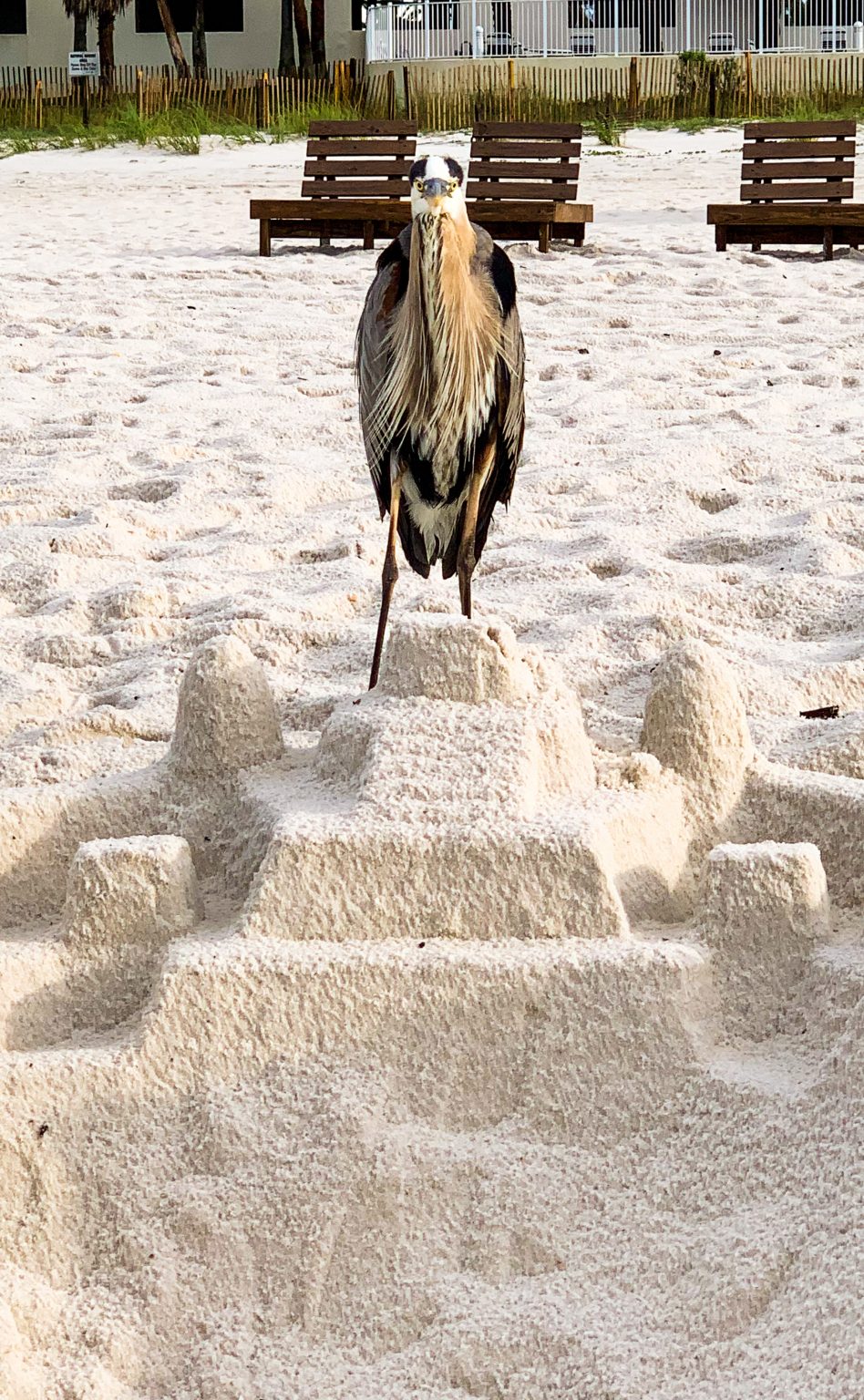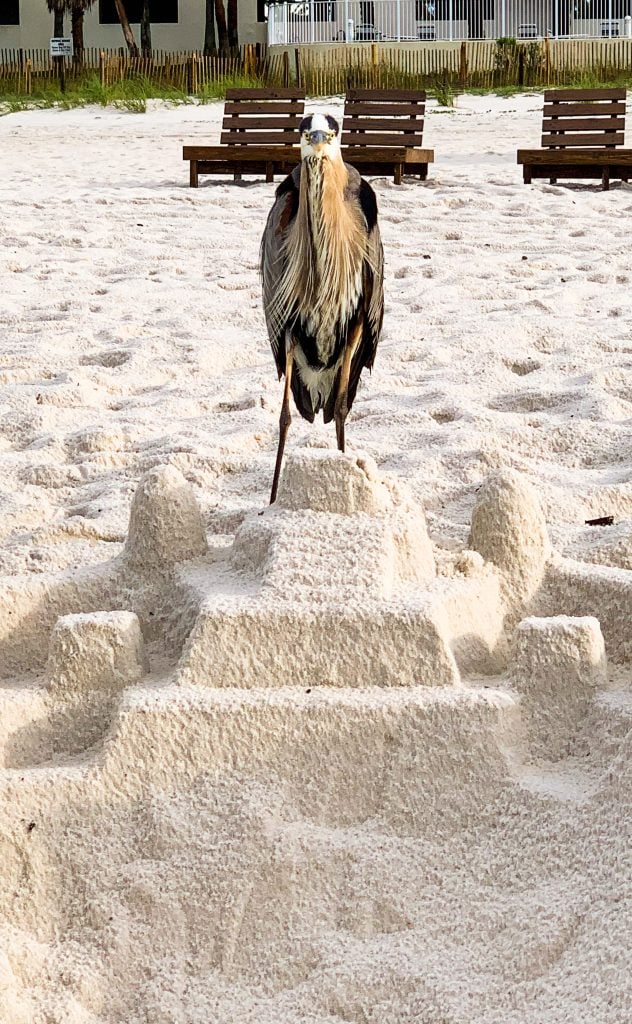 18. The Beach! – Elephant in the room – GO TO THE BEACH! It's perfection! Whether you're laying out, building sand castles, taking a walk or anything else – every white sand beach is more beautiful than the next!
19. Mini Golf – Like any tourist destination – there are a ton of mini-golf places and they're just fun for all ages. I like Beachside for the atmosphere.
20. Pink Pony Pub – I'm not much of a drinker but the girls made me get out and indulge a little and the Pink Pony turned out to be my favorite place! I had a Raspberry Blast and let me tell you – I could have had about 5 more of them! Yum! We got nachos too which were HUGE!!! It's a very fun and historic place – must stop!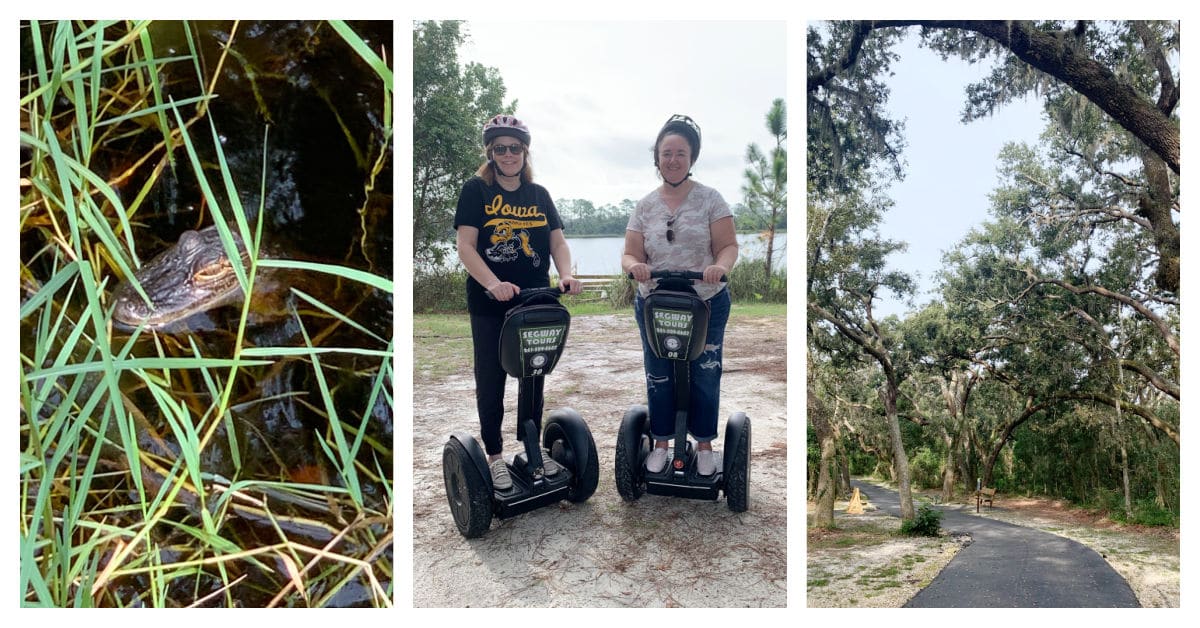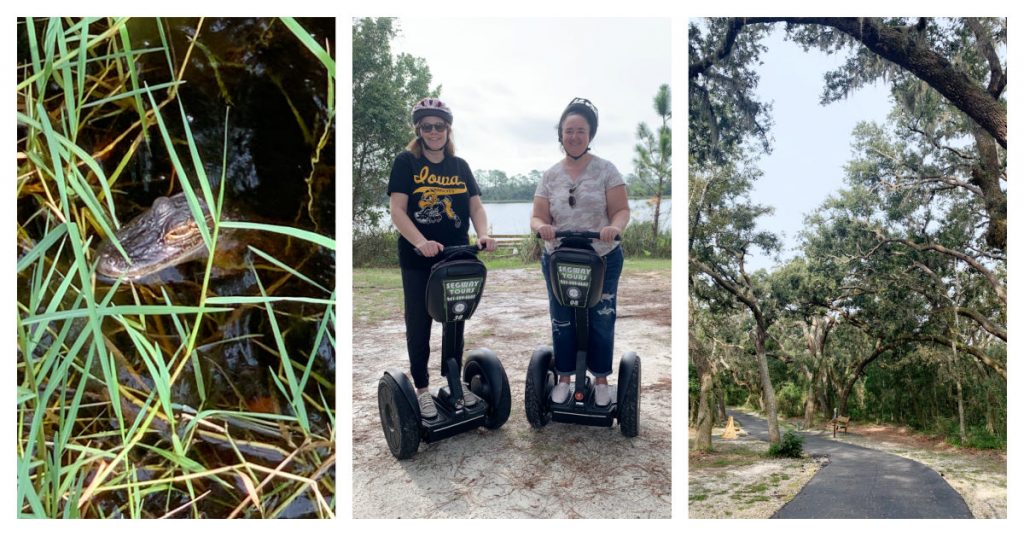 21. Coastal Segway – One of my favorite things to do in any new city is a Segway tour! I'm not very athletic and – no worries – you get a quick lesson before you take off. We had so much fun and my BFF said this was her favorite thing we did during the whole vacation! The Gulf Shores tour is in the Gulf State Park – so it's incredibly scenic! Our tour guide was super knowledgeable and we saw alligators and a tortoise in their natural habitat! You can also bike or walk these backcountry trails in the park!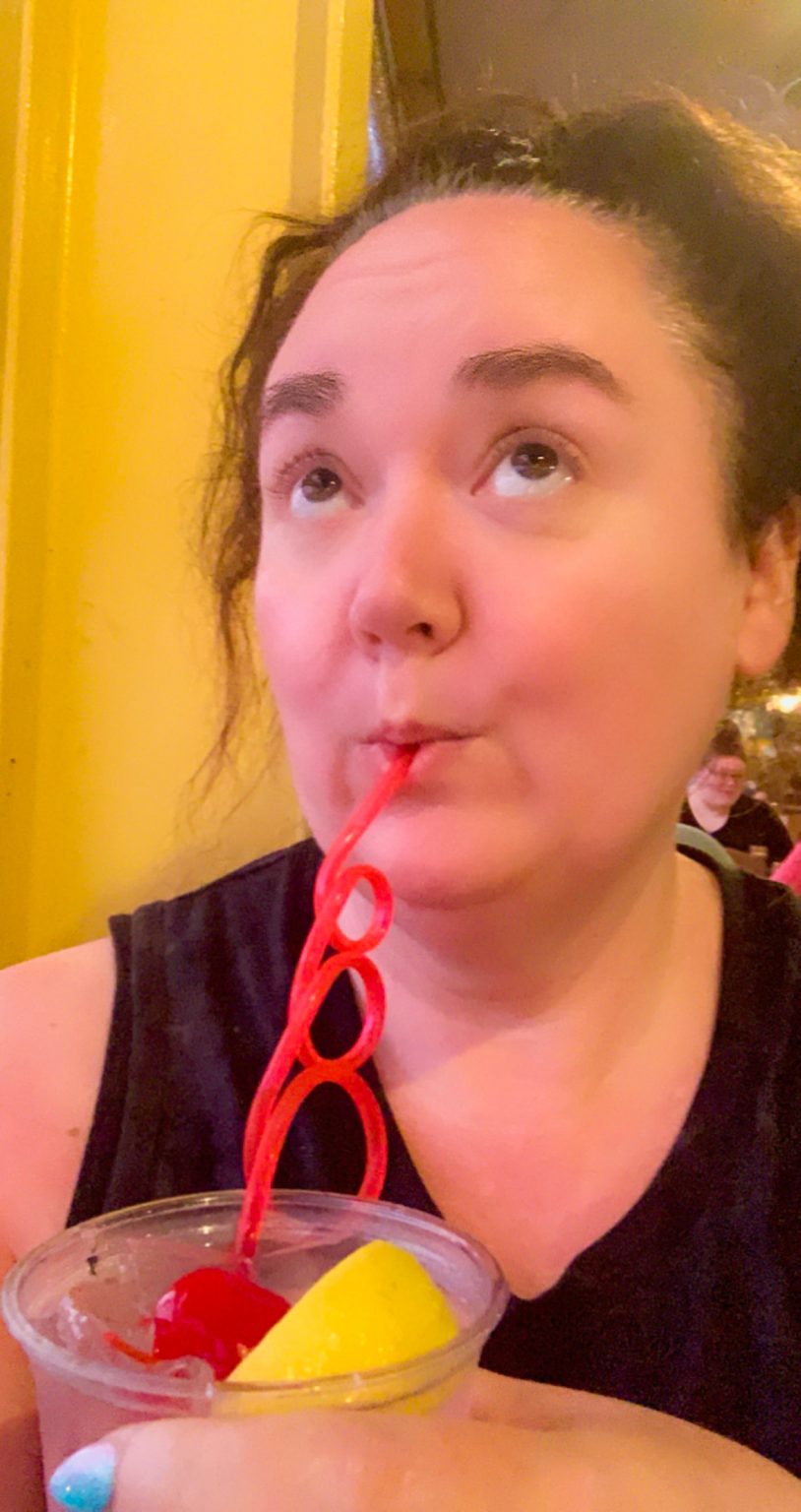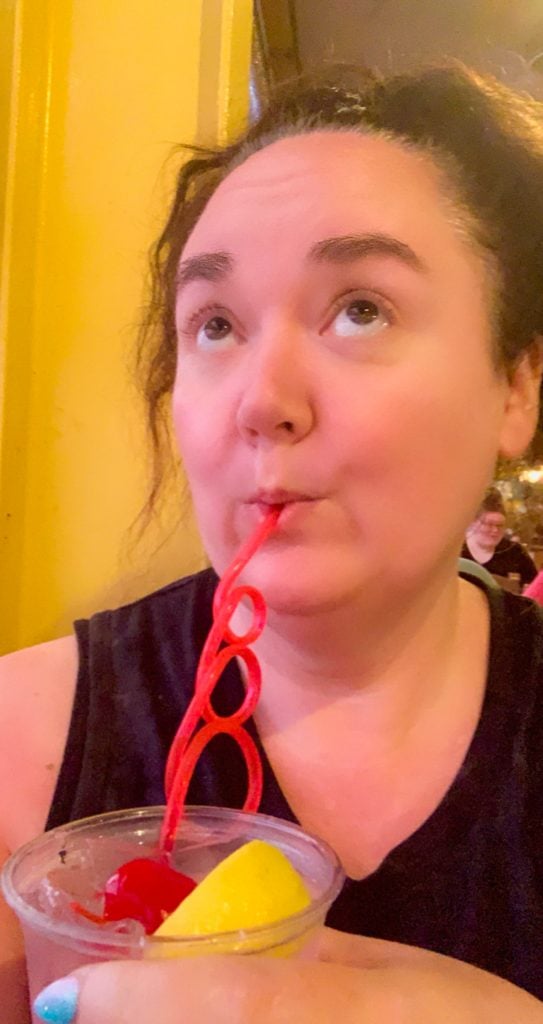 22. Lulu's – Jimmy Buffett's sister Lucy created Lulu's and man – it is a party place any time of day or night! The fried crab claws and Lulu's WOW sauce are not to be missed! and the Live music, arcade games, a ropes course, delicious food and fun servers.
23. Parasailing – Now something you'll NEVER catch me doing – but if you aren't deathly afraid of heights and love adventure – you should try Parasailing! Everyone that's brave enough has told me how amazing it is – so please do it for me!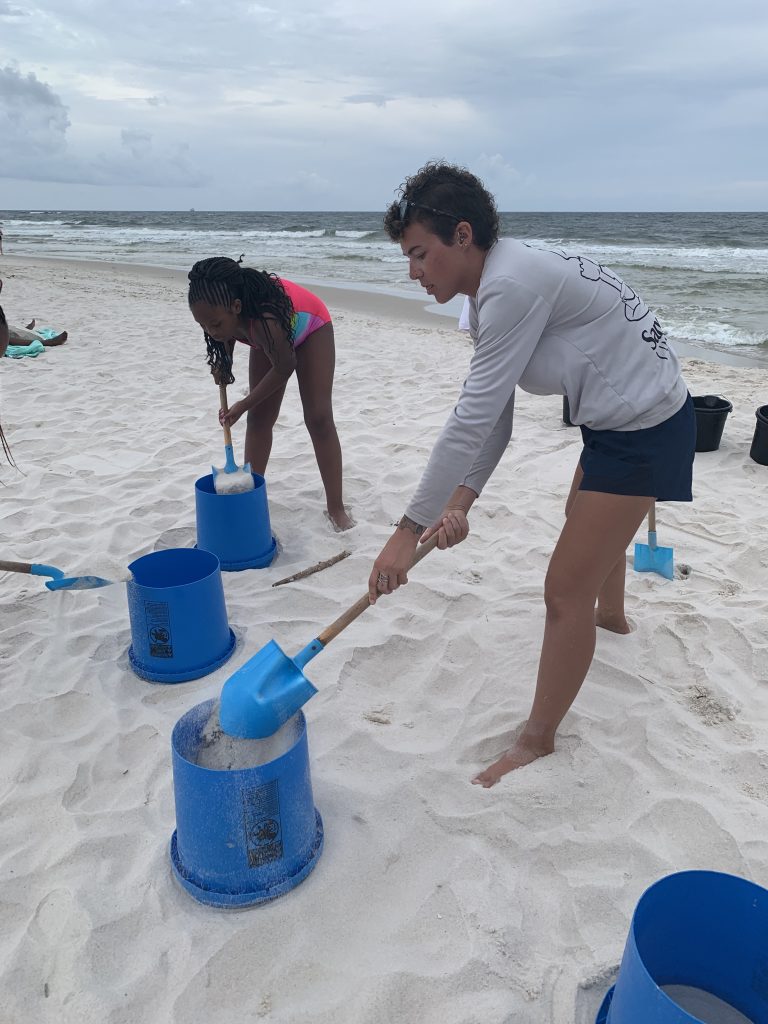 24. Sandcastle University – While we were enjoying a beach day – we got to learn a bit more about sandcastles and how to make them successfully! Our instructor was super friendly and jumped in with us to make them. It was really fun and would be great for a family vacation!
25. Gulf State Park – Whether you want to hike, fish, dine or camp – you can do it all at Gulf State Park! Be sure to grab cocktails at Perch – great atmosphere and beautiful at sunset! Don't miss the hiking trails! They also have a campground with cabin rentals if you're looking for a place to stay.
If you want to fish – head to the Gulf State Park Pier. You can rent rods & reels, get your license for the day and catch your own dinner! They did have some damage from the hurricane but the restrooms are open.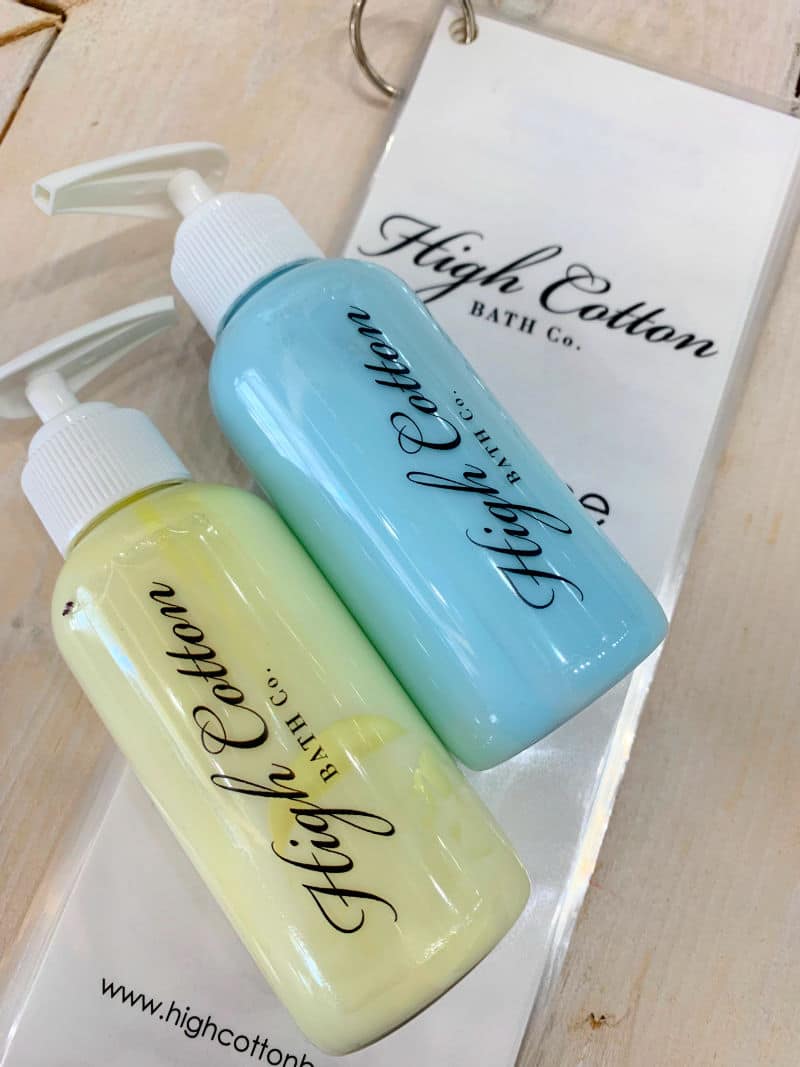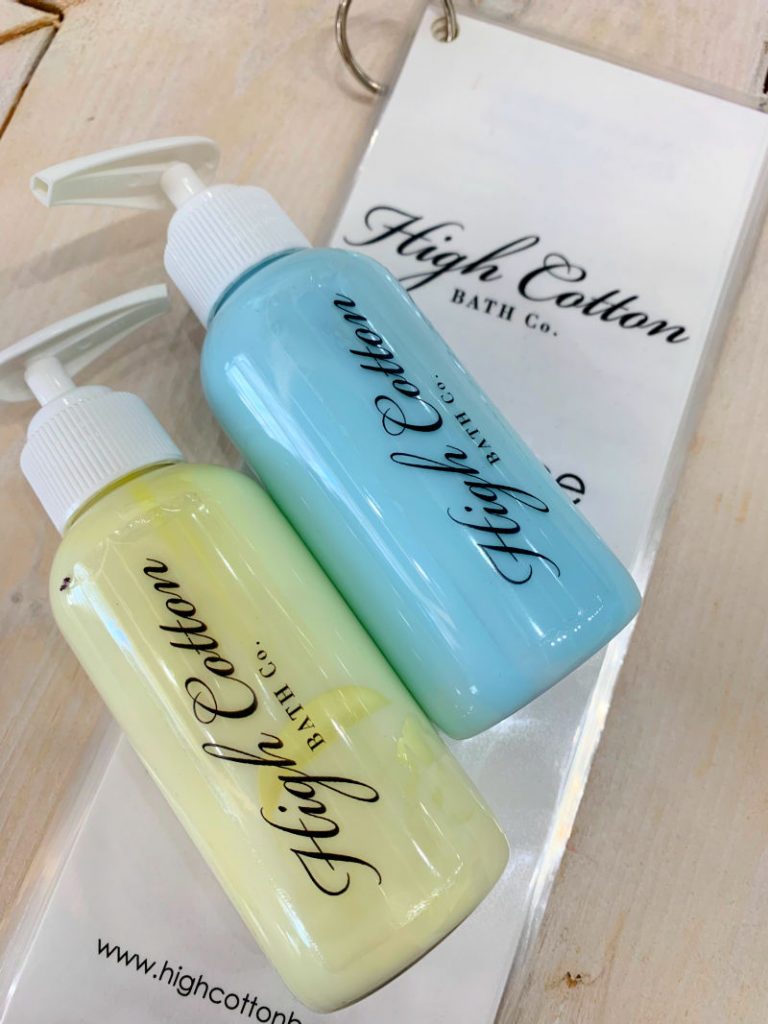 26. Shopping – There are a ton of cute shops all around Gulf Shores! I urge you – if you see a shop that catches your eye – pull in and check it out! My favorite was High Cotton Bath Co at the Wharf. We even got to do a little class where we made our own lotion to take home with us! You got to pick your product, scent and color – then they mixed it for us. I really LOVE this lotion too!
27. The Sunliner Diner – If you want a delicious breakfast – stop into The Sunliner Diner! It's a 50's themed restaurant and you can't go wrong there! Or click here for more Breakfast options in Gulf Shores! I've also got a copycat of their Corned Beef Hash recipe.
28. Escape Room – There are a bunch of Escape Rooms in Gulf Shores and the fun thing about them is – a lot will have a local bent on one of the rooms. Whether you're visiting with a group or just you and a friend – make a reservation – you'll have a blast! (I've always gotten out too – so team up with me!)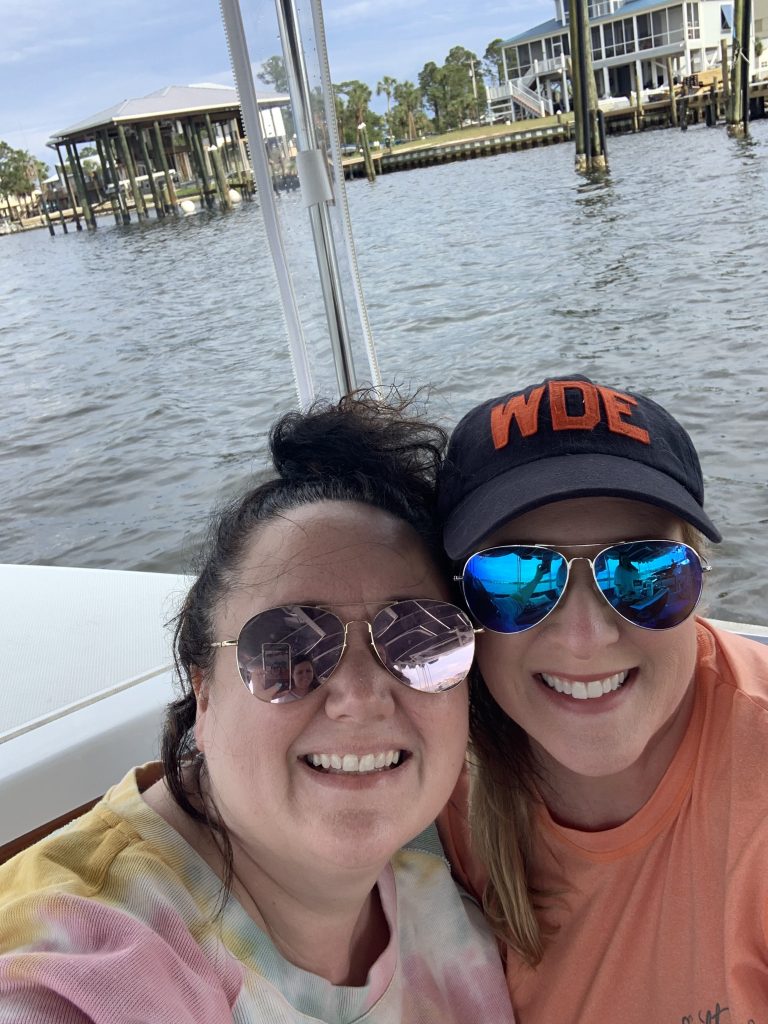 29. Anonyme Cruise – I'm a sucker for a boat – and we also went on the Anonyme Cruise with Captain DD. It's an electric boat so its super quiet and so relaxing. I recommend a sunset cruise – and you can bring your own food and drink on board to enjoy yourself a little more!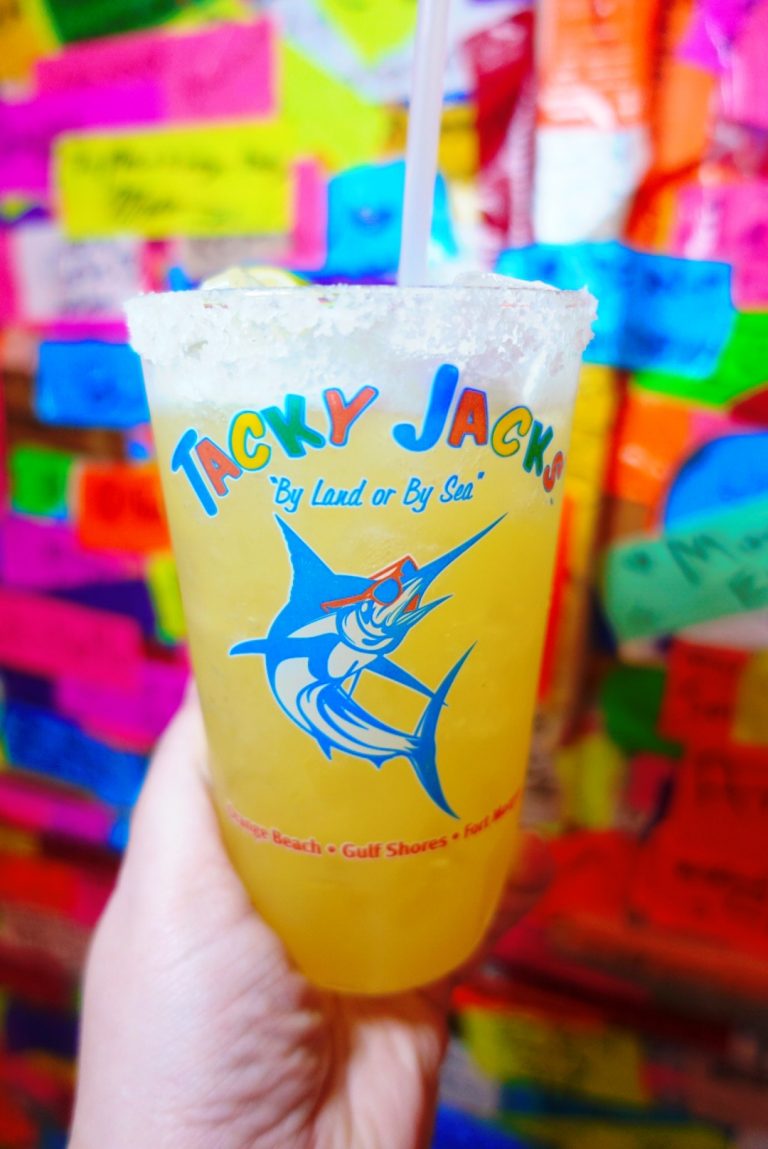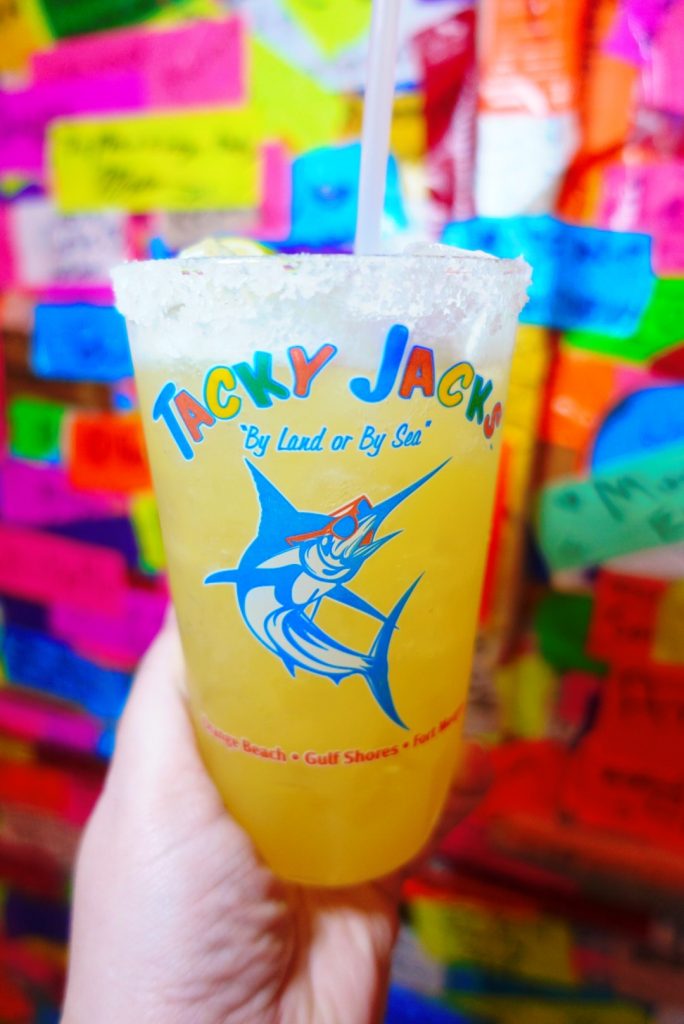 30. Drinks & Food at Tacky Jacks – When I saw Tacky Jacks – I knew I would love it! It's an explosion of neon colors and you can write something on neon duck tape and stick it anywhere – I mean – seriously?! The Garbage Nachos were so good – I had to copycat them for myself! (They also have a tasty Bushwhacker as well.)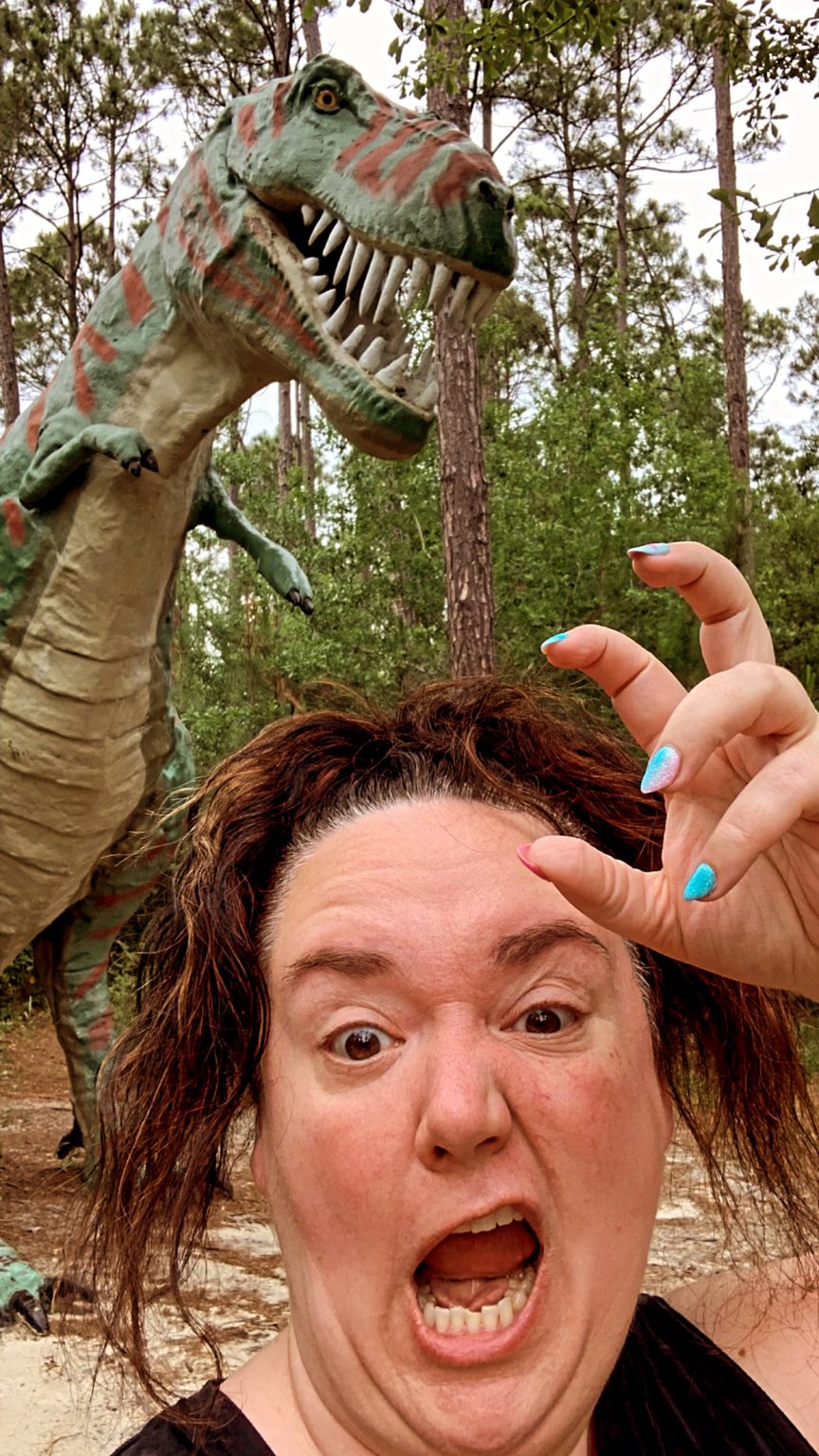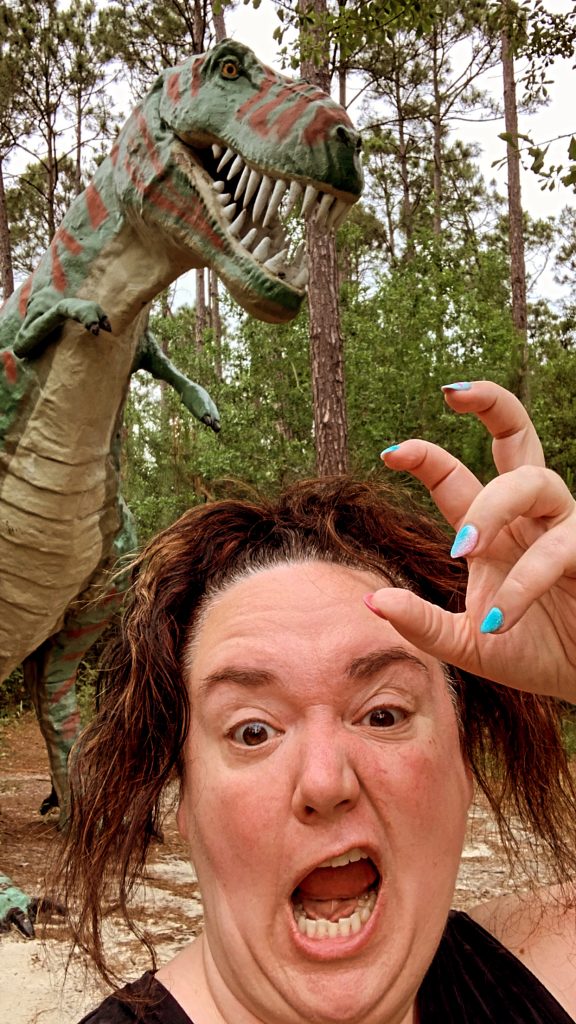 31. Dinosaurs in the Woods – yes – a perfect roadside attraction. You can see a T-Rex in the middle of the woods of Alabama! They also have something called Bama-Henge (Stone Henge replica in the woods). It's a fun quick stop that is fun because you have to do a little exploring to find them all!
32. Lazy River at Turquoise Place – Turquoise Place is a favorite of mine to stay at – their condos are amazing! If you're a guest, they have beach chairs you can rent in prime spots, swimming pools and even a lazy river. It's right on the beach and is sheer perfection!
33. Waterville USA – Who doesn't want to hit a water park when it's hot out? Waterville USA is super fun water park and amusement park with an abundance of slides, a wave pool and a lazy river!
34. Bon Secour National Wildlife Refuge – This is one of the last remaining undisturbed coastal barrier habitats. Bon Secour even means safe harbor. They were established to protect sea turtles, songbirds and even the Alabama beach mouse. All trails are for foot traffic only here.
There are truly so many amazing and fun things to do in Gulf Shores! This list is really just the tip of the iceberg – but I hope it gave you some new ideas and convinced you to make your own trip to Alabama beaches!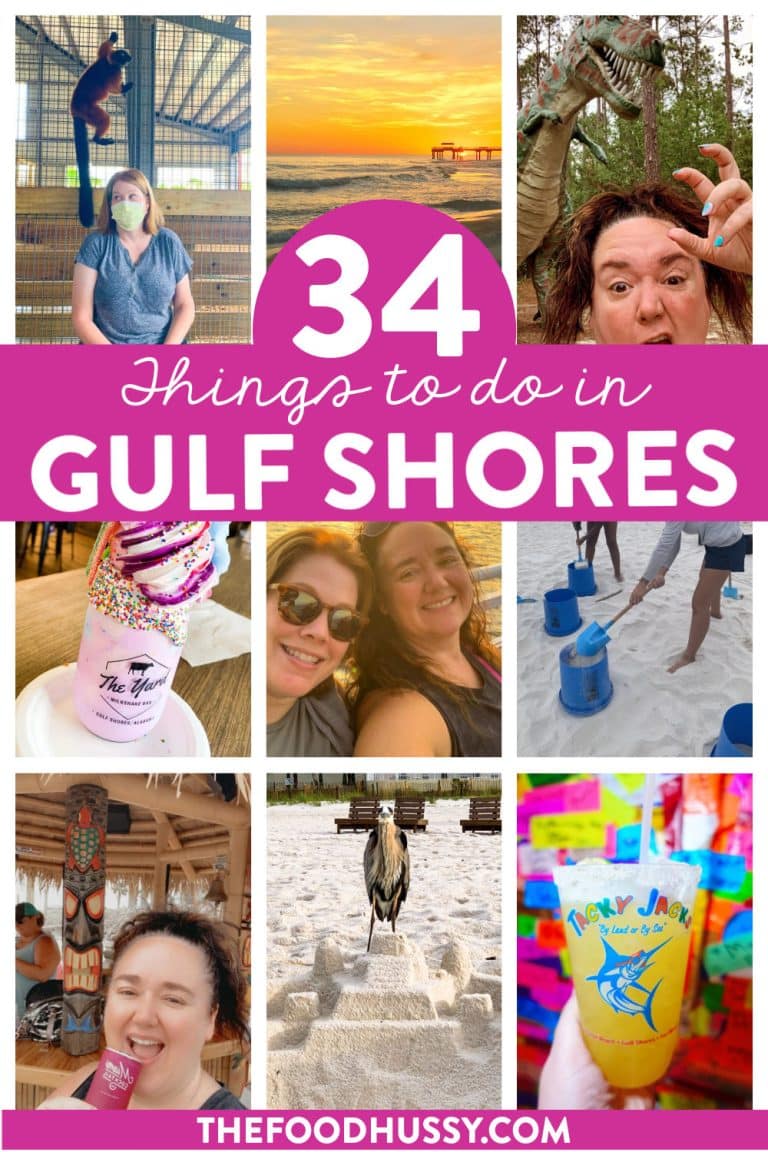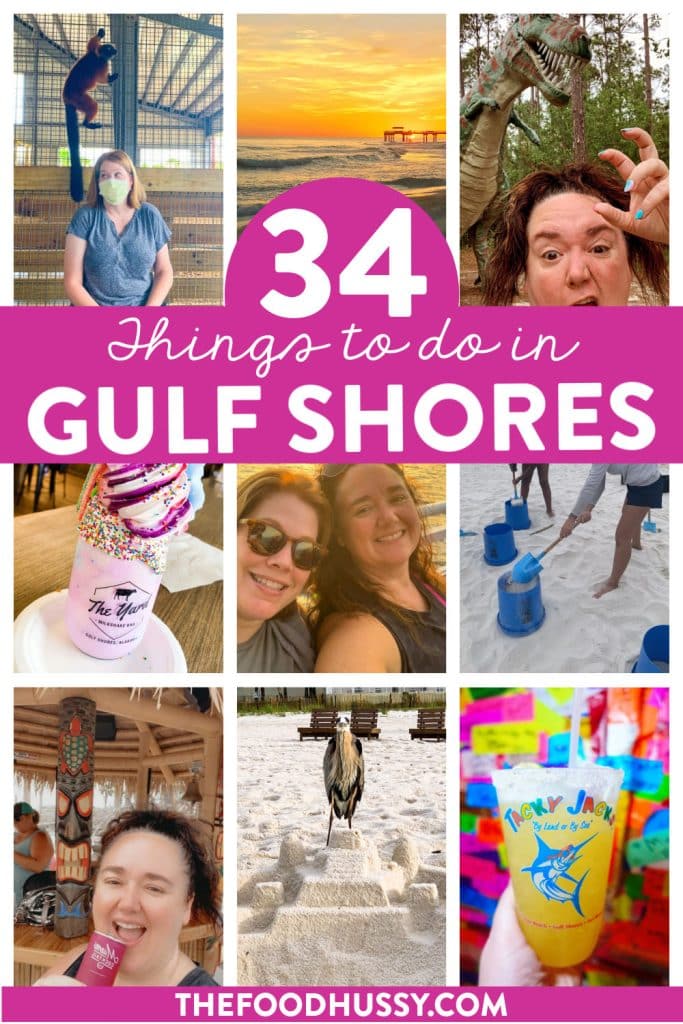 Looking for the BEST places to eat in Gulf Shores?
Copycat Recipes from Gulf Shores