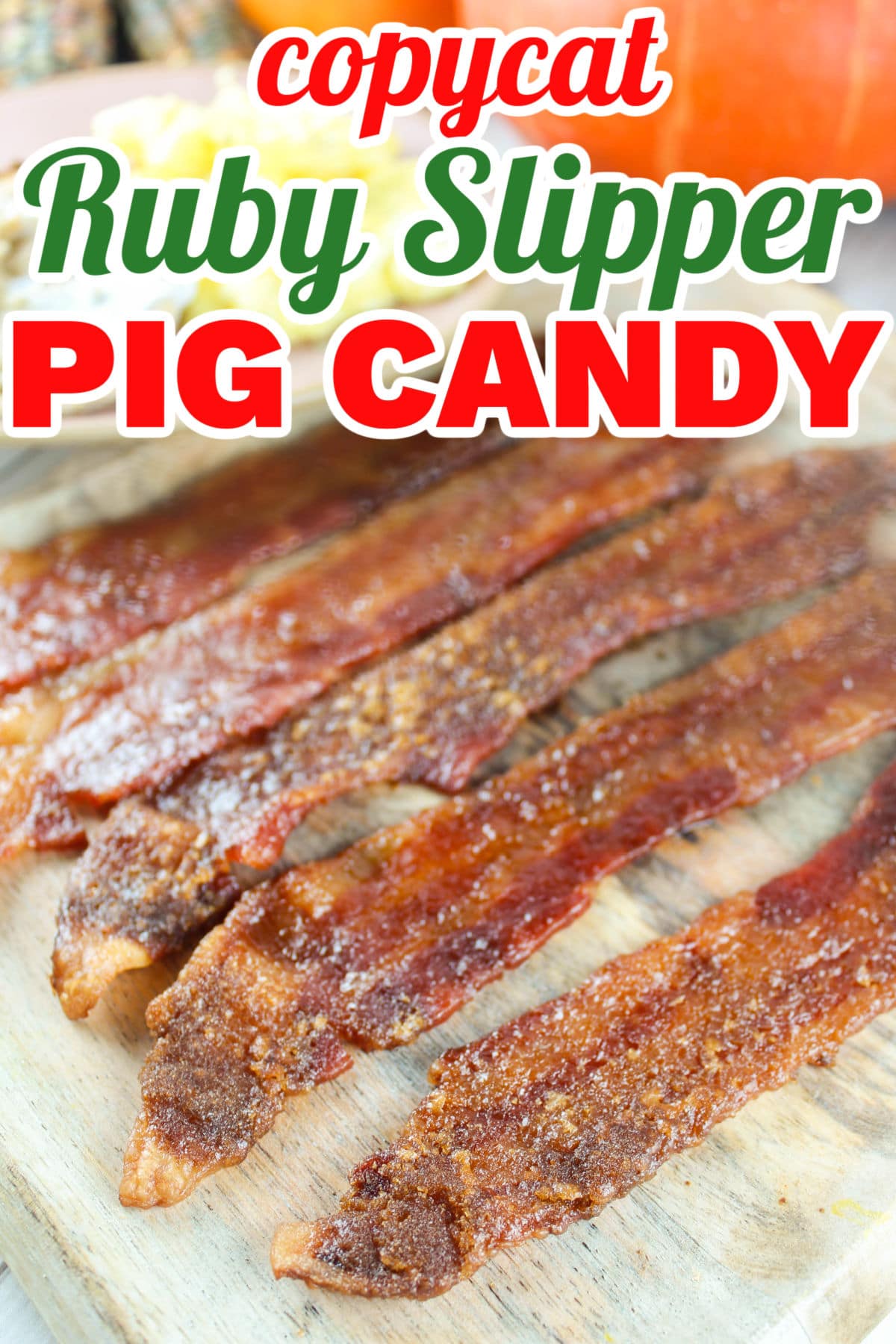 This Copycat Ruby Slipper Pig Candy is heavenly!!! I mean – I didn't realize bacon could get better – but when you slather it with brown sugar – it does! And now – I have the recipe and can make it at home – any time I want! Woohoo!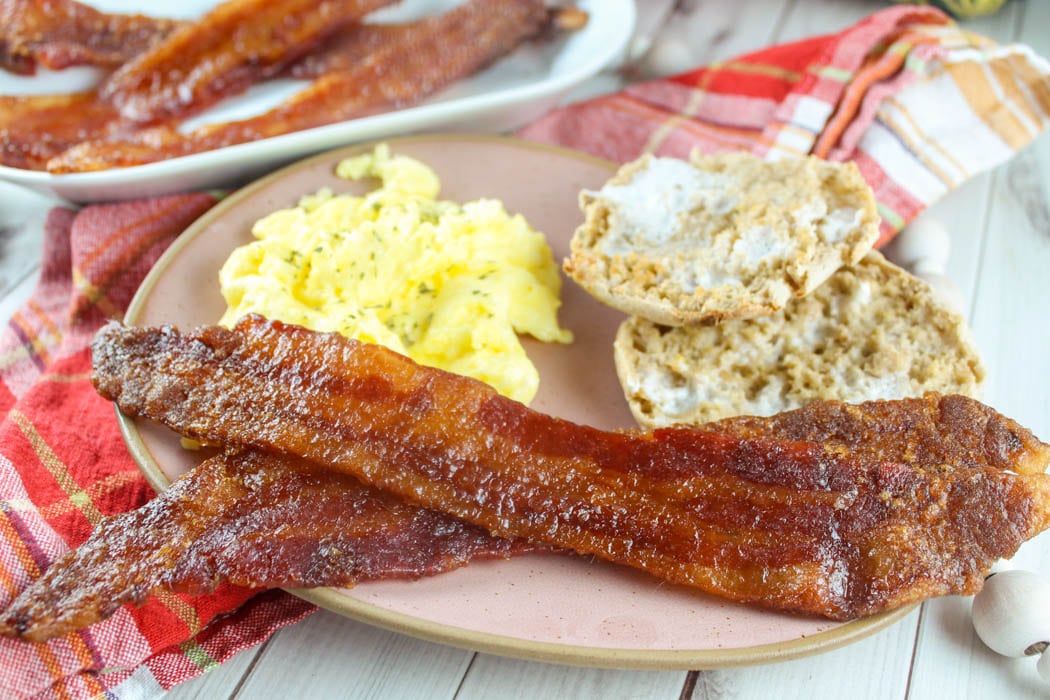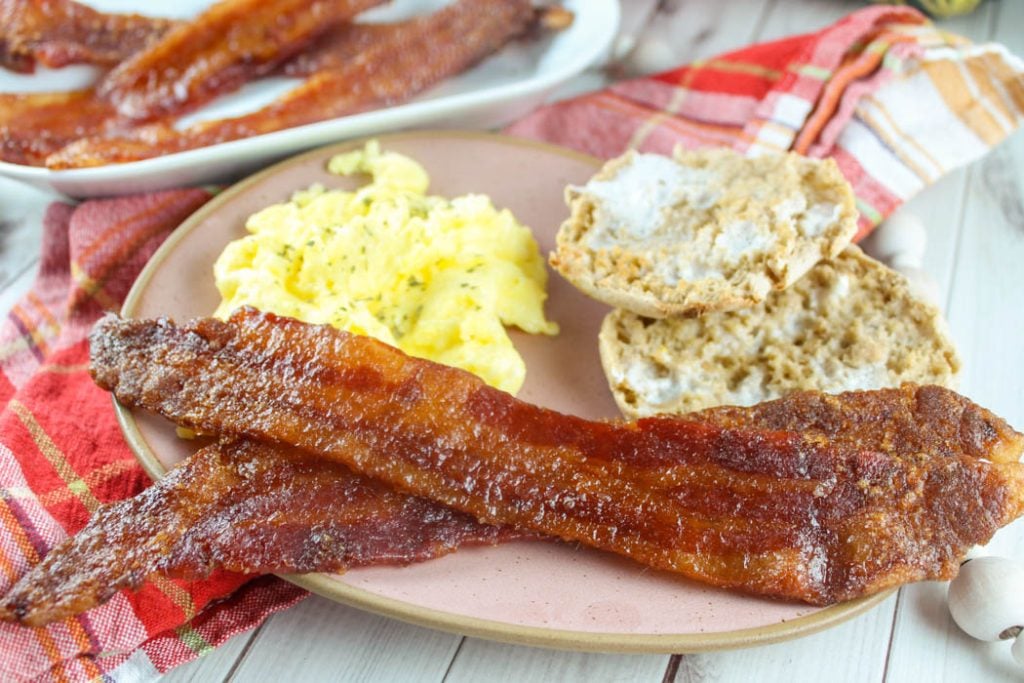 Jump to Recipe
The thing about Pig Candy – or candied bacon if you're not familiar – it's decadent – but yet – still meaty. It's a perfect balance of the PIG and the CANDY! I first had this at Lucky's Cafe in Cleveland but I really like this version from the Ruby Slipper. It's a perfect first course to your brunch.
If you're not familiar with Ruby Slipper Cafe – they're a fantastic brunch spot in Louisiana, Alabama and Florida. I've been to the ones in NOLA and Gulf Shores. It's also on my Gulf Shores Breakfast Favorites list. They specialize in biscuits and benedicts – which are both amazing. The Pig Candy is one of their best selling apps for a reason!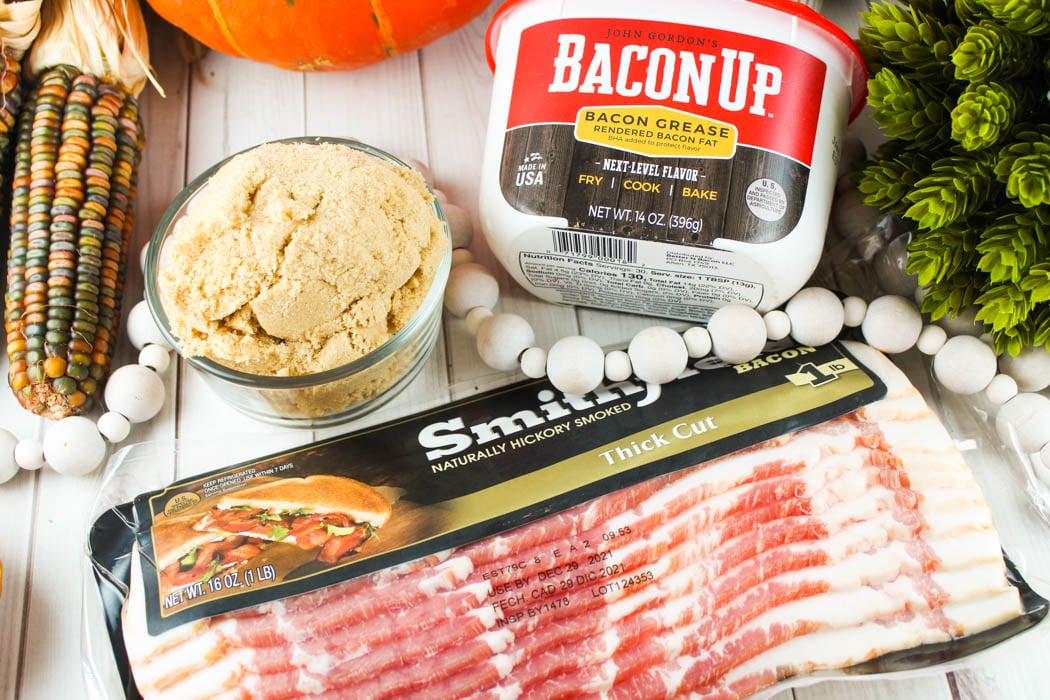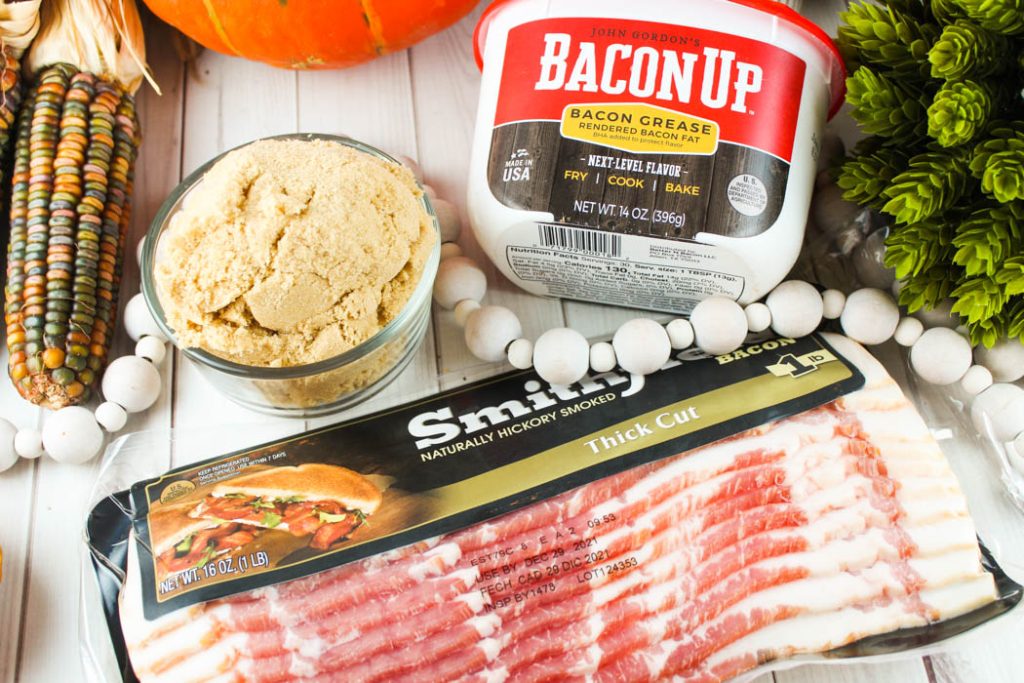 What's in Pig Candy?
Well you can sure guess that there's bacon and brown sugar – but the third ingredient might surprise you! It's…DRUM ROLL PLEASE…BACON GREASE!
Yes – you make candied bacon by smearing it with bacon grease! Hey – don't knock it until you've tried it!
For the bacon grease – a lot of folks save bacon grease in a can (like grandma used to) – but there's now a handy product called Bacon Up which is "clarified" bacon grease. It's made by a bacon plant – so it's made from real bacon. It's great for using on a flattop Blackstone style grill, to make gravy with and lots of other things – basically anywhere you might use oil, butter, lard, etc.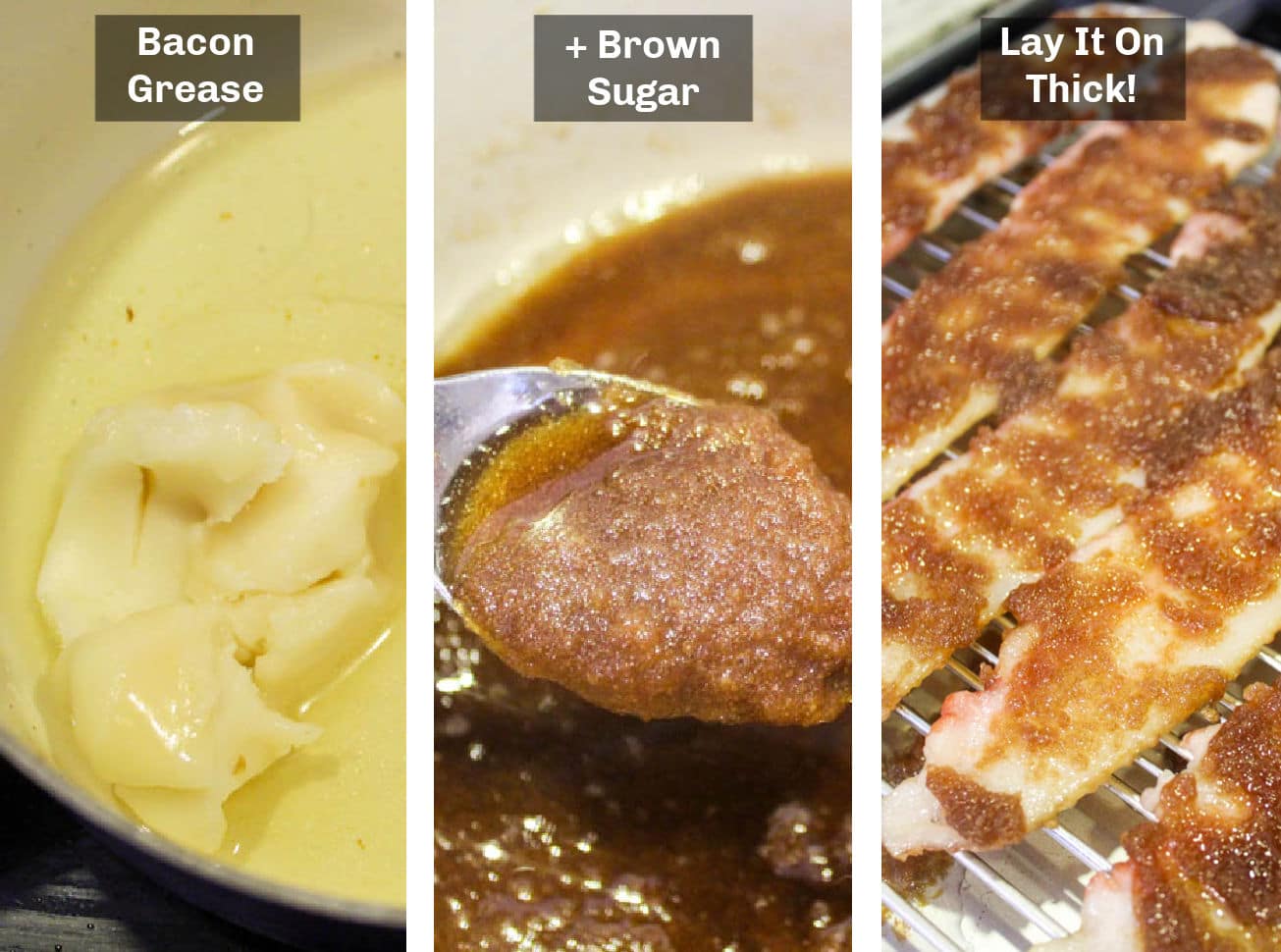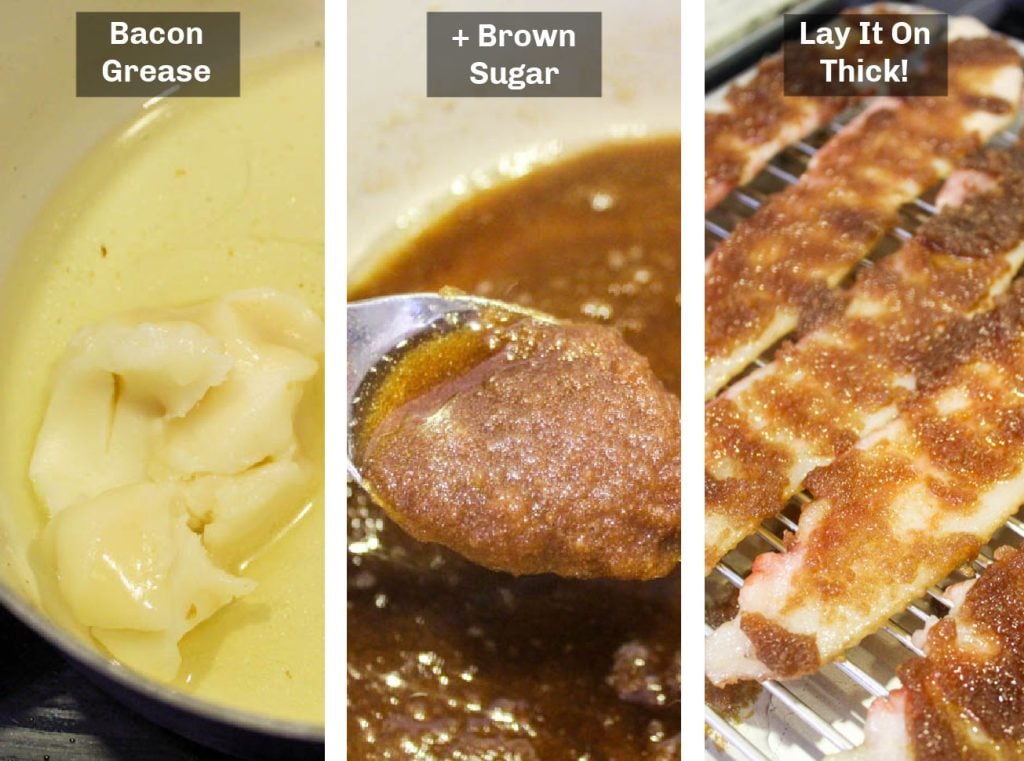 How do you make Candied Bacon?
It's pretty easy to make – let me walk you through how to do it:
Start your bacon in the oven – bake for 15 minutes at 400 (this is for thick cut bacon)
When there's five min left, heat your bacon grease on the stove in a small sauce pan until it melts
Slowly add the brown sugar and whisk it into the melted grease. Mixture should be smooth.
Once timer is up, remove bacon from oven and spoon mixture onto bacon slices. Lay it on thick if you want a heavily candied bacon.
Put bacon back in oven for 10-15 more minutes
Don't let the bacon cook until it's "crispy" unless you REALLY like it crispy. It will crisp up as it rests.
Tips, Tricks & FAQs
How long will it take with regular (not thick cut) bacon?
Regular bacon takes about 20 minutes – so 10 minutes – then top with brown sugar mixture – then 10 minutes more.
What if I don't have bacon grease?
You can purchase Bacon Up from the links mentioned. You could also use regular canola/vegetable oil, butter or lard. We recommend the bacon grease as that's the way they do it at the Ruby Slipper – but any of these will work.

Or – you can use the grease from the first half of the bacon cooking in the oven. When you take it out of the oven – pour that grease into a sauce pan and mix in your brown sugar. There might not be quite enough – but you can always add a little extra canola or vegetable oil. (I would not use olive oil.)
Should I use light or dark brown sugar?
Either is fine – I actually used a mixture of both because I was low on both!
Can I make candied bacon in the air fryer? on the grill? on the stove top?
You can make it in the air fryer – I'm working on a recipe for that. It's a little tricky because it blows around more (air fryer bacon). Also on my list to try on the grill – I've done bacon on the grill and it's YUM!!!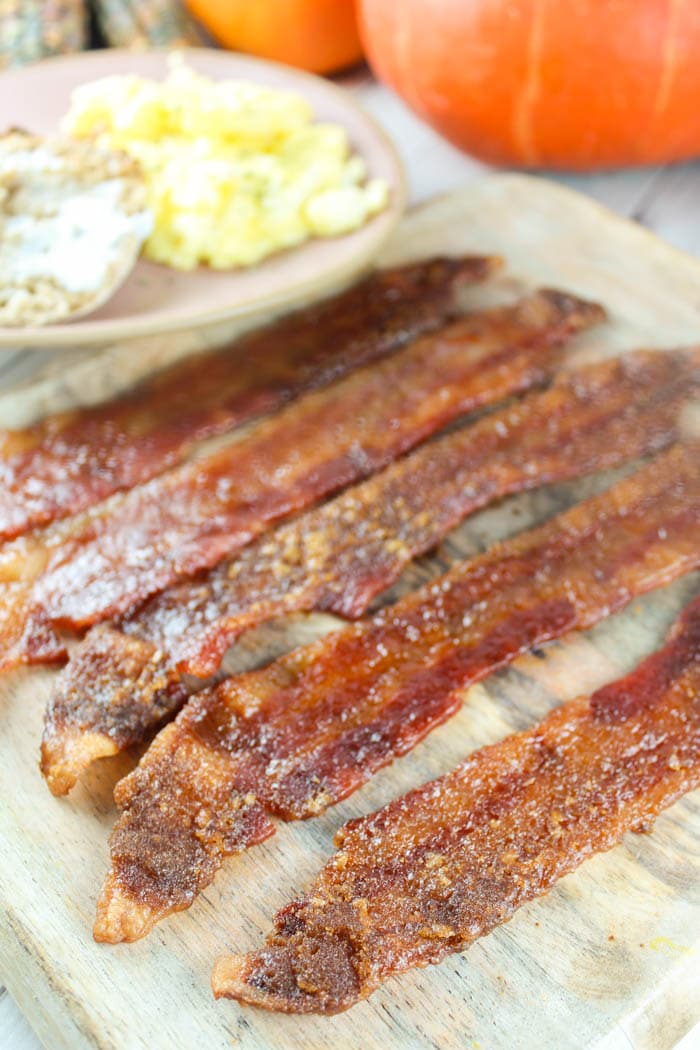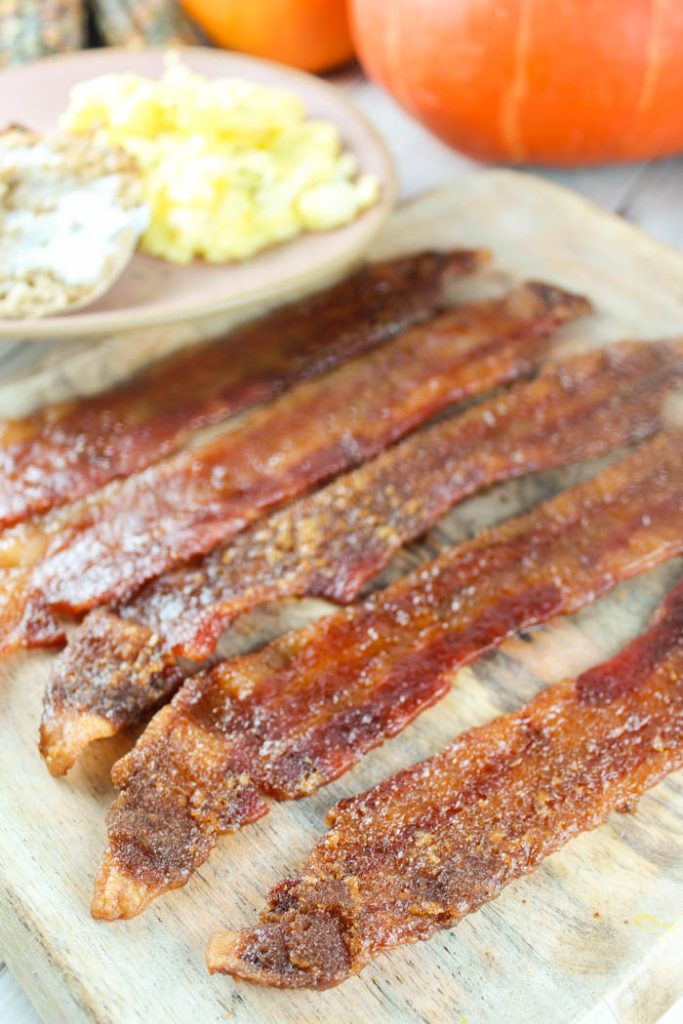 Favorite Bacon Recipes
Favorite Breakfast Recipes
Favorite Gulf Shores Copycat Recipes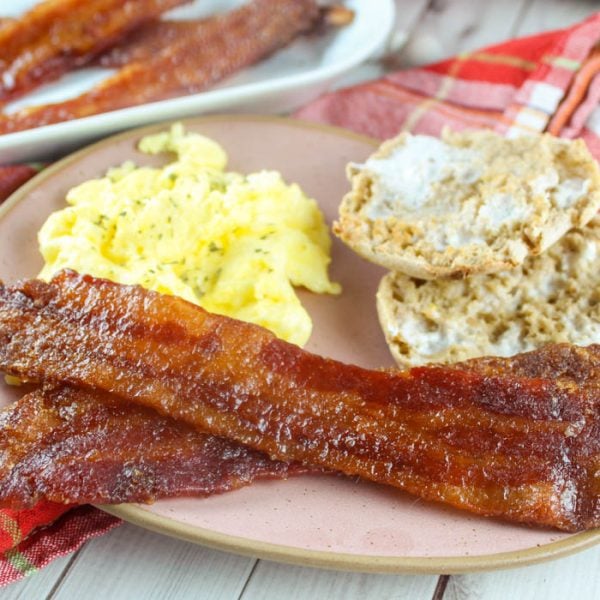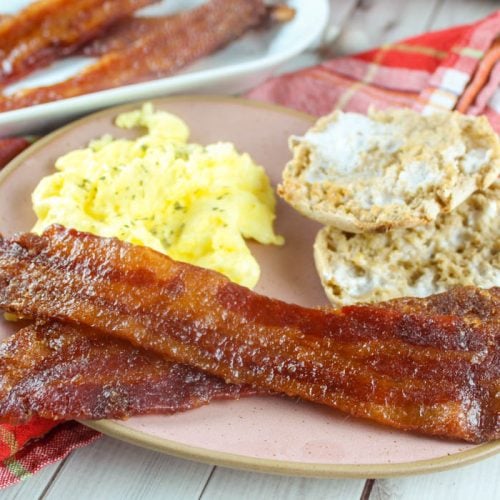 Copycat Ruby Slipper Pig Candy
This Copycat Ruby Slipper Pig Candy is heavenly!!! I mean – I didn't realize bacon could get better – but when you slather it with brown sugar – it does!
Ingredients
1

lb

thick cut bacon

note: cooking times are for THICK CUT

1

cup

brown sugar

1/2

cup

Bacon Up bacon grease

(or your own bacon grease)
Instructions
Lay raw bacon on a lined sheet pan on a cooking rack and place in preheated 400 degree oven

Cook bacon for 15 minutes

If you don't have Bacon Up or bacon grease – you can use the bacon grease after the first 15 minutes of cooking for the above steps

After 10 min in the oven, add bacon grease to a medium sauce pan and heat on medium high

1/2 cup Bacon Up bacon grease

Heat grease for 2 min or until melted and warm – then add 1/2 cup brown sugar

Whisk to combine then add rest of brown sugar and whisk until all sugar has melted and mixture is smooth

Set brown sugar mixture aside

Remove bacon from oven and spoon brown sugar mixture over bacon.

If you want a thick layer of "candy" – lay it on thick! If you just want a touch – use a pastry brush.

Bake for an additional 10-15 minutes until the candy is set

Remove from oven and remove cooling rack from cookie sheet to cool more quickly. Bacon will set up and become less bendy as it rests for a few minutes
Nutrition
Serving:
2
slices
Calories:
473
kcal
Carbohydrates:
30.5
g
Protein:
10
g
Fat:
34.4
g
Saturated Fat:
13.8
g
Cholesterol:
62
mg
Sodium:
583
mg
Potassium:
39
mg
Sugar:
28.1
g
Calcium:
24
mg
Iron:
1
mg