I've been doing intermittent fasting with a lot of success but I still need to watch what I eat. I love my zero point turkey chili – I'm not a strict Weight Watchers person – but I know if something is zero points – it's good to go!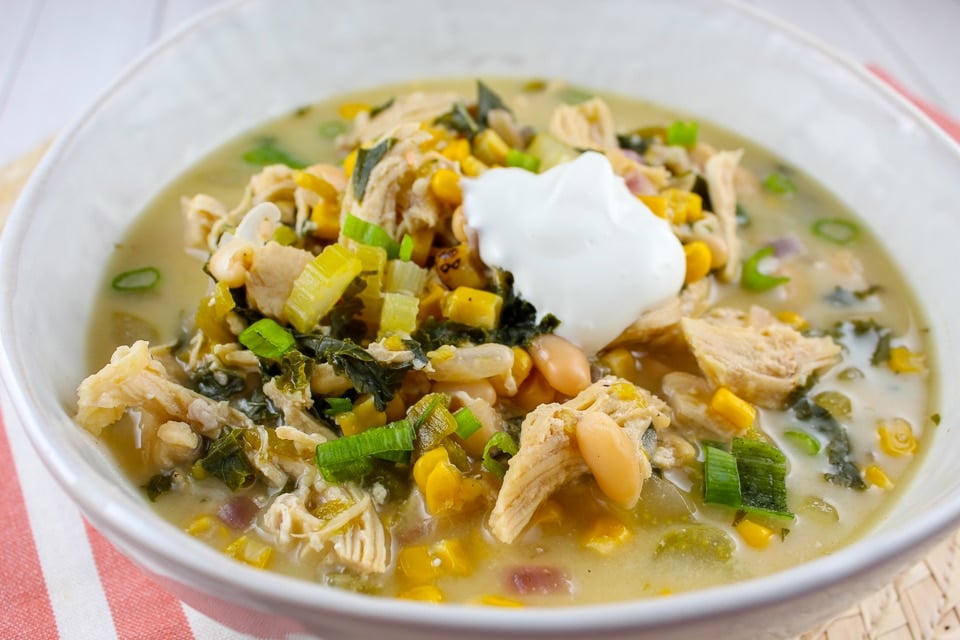 But then I thought there has to be a way to make a healthy white chicken chili! So off to the drawing board I went – with the zero point food list in hand – I created a recipe for a skinny white chicken chili for two.
How to make white chicken chili
I started by poaching chicken breasts – but you can also use a rotisserie chicken. From there – you just saute onions and celery then pour it all together. There's canned northern beans, green chiles, fire roasted corn, finely chopped kale, chicken broth and just a couple of seasonings. Then to make it creamier – after you remove the chicken chili from the heat – add the greek yogurt. Yum!
How to make white bean chicken chili thicker
There are a couple of ways to make this skinny white bean chicken chili thicker – first do NOT drain the beans – that liquid is thick – so it helps with the chili. You can also mix 1 Tbsp water and 1 Tbsp cornstarch in a bowl and make a slurry – then add that to your chili. I don't think you'll need to do that with my chili it was just right!



Can white chicken chili be frozen?
This super easy weight watchers chicken chili can definitely be frozen! I had a big bowl for dinner – then I packed up the rest in these freezer safe glass dishes. Now I've got lunches whenever I need them!



What to serve with skinny white chicken chili
I wanted to stick with the healthy route since I was having skinny white chicken chili and toasted a 100 calorie english muffin! But if you're want to indulge a little – try my garlic cheese toast! Or if you want more veggies – the Olive Garden Salad is always a hit!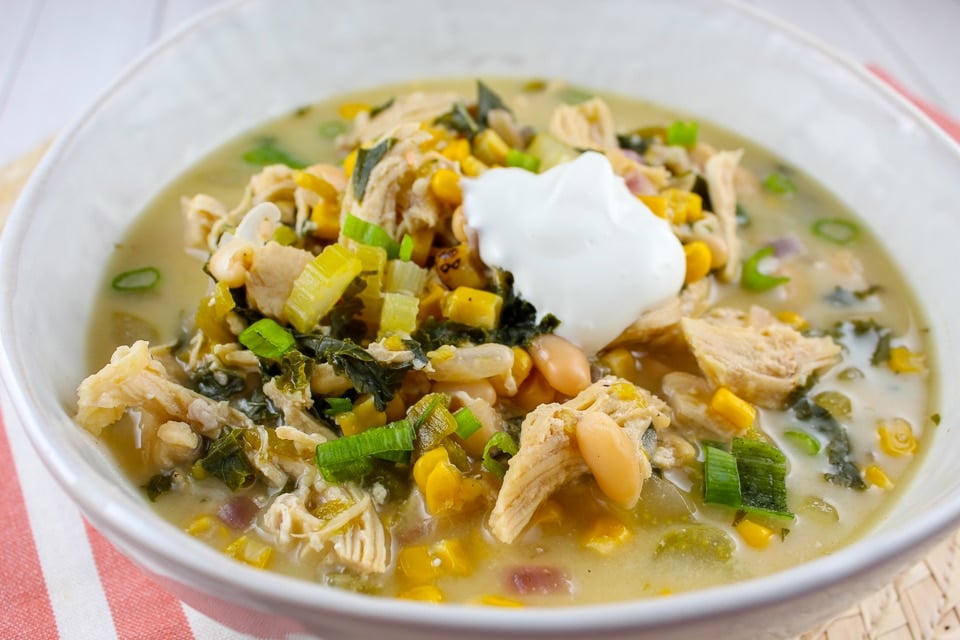 Zero Point White Chicken Chili
prep time: 10 M
cook time: 35 M
total time: 45 M
I love white chicken chili but I'm trying to watch what I eat – this recipe is perfect! It's 0 points on the new WW points list! ZERO POINTS for a filling, delicious dinner! There's even kale in it – but shhhh don't tell the family – they'll never know! #zeropoint #chickenchili
ingredients:
3 chicken breasts
non-stick spray
1 Tbsp garlic
2 stalks celery, diced
1/4 red onion, diced
1 can great northern beans, Undrained
1 can fire roasted corn, drained
2 cups coarsely chopped kale
4 oz can diced green chiles
2 cups fat free chicken broth
1 Tbsp cumin
2 Tbsp salt
10 oz greek nonfat yogurt
chives or cilantro
instructions:
How to cook Zero Point White Chicken Chili
Fill 2 qt saucepan with water and chicken breasts. Turn on high until water boils and then remove lid and turn heat down to medium. Boil chicken breasts for 10 minutes until center is 165. Shred chicken.
In large soup pot or dutch oven, spray pan with non-stick spray and add garlic, celery and onion. Saute for 3 minutes until it starts to soften.
Add shredded chicken and all remaining ingredients except the yogurt and cilantro to a large soup pot or Dutch oven.
Bring to a simmer and let cook for 15-20 minutes.
Remove from heat and add yogurt
Stir and serve. Top with cilantro or chives
NOTES:
– I don't like much spice – so this is pretty mild – add jalapenos if you want to spice it up
– You can swap out rotisserie chicken instead of poaching the chicken breasts
– You can swap out spinach for the kale
Recommended Products:
https://images-na.ssl-images-amazon.com/images/I/81hJvbE3KhL._SL1500_.jpg
Knife Set
Freezer Storage Bowls