Well – it's January – and that means everyone on the planet is trying to eat healthier and I'm here to help you get off on the right foot. My beloved coworker Maria is on Weight Watchers and is always talking about having zero point dinners… She gave me her list of zero point foods and I went to town!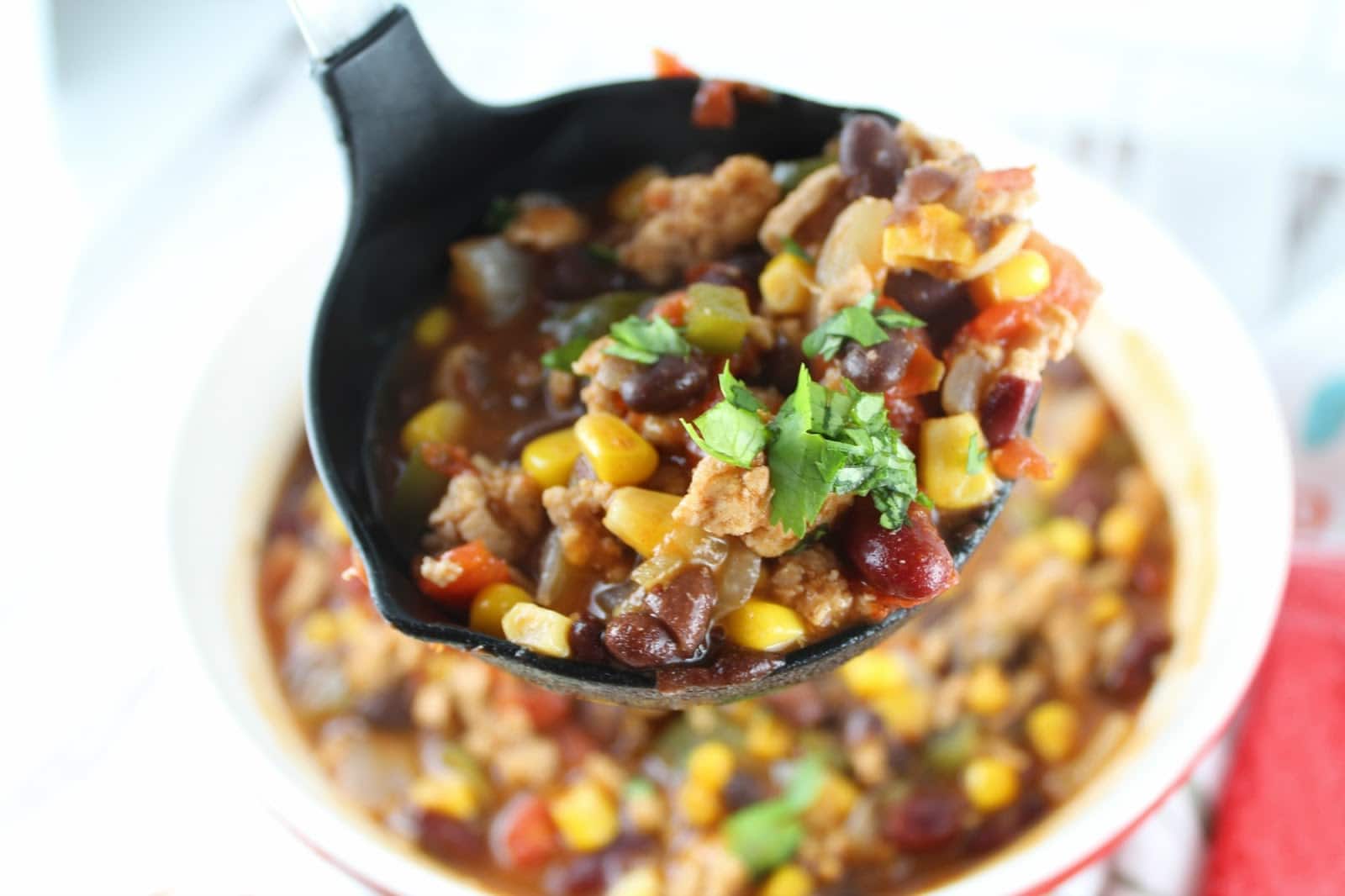 First up is this Zero Point Turkey Chili! Is it chili? Is it soup? Well it's a little more soup the first time you eat it and more chili when you reheat. But either way – it's delicious!!! I'm not a fan of spicy foods – so this is a mild chili.


** UPDATE ** Be sure to check out my Zero Point White Chicken Chili too!!! ** UPDATE **
Can you freeze this zero point turkey chili?
I really loved this zero point chili – and as someone that's cooking for just 1-2 – it makes a big pot of chili (about 6 – 2 cup servings). But you can freeze it! So I popped three of these in the freezer – now I've got lunch for work! (ZERO POINT LUNCH!) There's nothing in these that won't freeze well – so it's perfect – and that way you're not eating chili 4 days in a row!
You will really love this Zero Point Turkey Chili! My mom was so upset I put the leftovers in the freezer because she wanted more the next day! This will put a smile on the face of any family where someone is on Weight Watchers – because it is massively tasty but doesn't taste like you're on a diet!
How do you make zero point turkey chili?
Making zero point chili is very easy – you brown ground turkey and then add the rest of the ingredients – literally that's it!!! When it's done – if you want a little extra fun – plop a dollop of plain Greek yogurt on top with diced cilantro. I mixed it in and it gave the chili a nice creamy texture. And STILL ZERO POINTS! It's nice when the flavors of the food are the highlight!
Yield: 6 servings
Zero Point Turkey Chili
This turkey chili packs a lot of flavor and so many tastes in each bite – but the best part – it has ZERO POINTS. Now what does that mean? If you're on Weight Watchers – it means you're very happy! If you're not – it basically means – eat up!!! It's really healthy!
prep time: 15 mins
cook time: 25 mins
total time: 40 mins
ingredients
1 lb lean ground turkey
1 small onion, diced
1 green pepper, diced
1 can (15 oz) kidney beans, undrained
1 can (15 oz) black beans, undrained
1 can (15 oz) roasted corn, undrained
1 can (15 oz) diced roasted tomatoes, undrained
1 can (4.5 oz) diced green chiles, mild, undrained
1 can (8 oz) tomato sauce
1 Tbsp minced garlic
1 Tbsp salt
1 pouch taco seasoning
Chopped fresh cilantro
Plain Greek Yogurt
instructions
Brown ground turkey, onion and green pepper in a large pot until cooked through
Add taco seasoning, garlic and salt, stir until all meat is coated
Add remaining ingredients and stir.
Cook over medium heat, letting simmer for 15 minutes.
Optional: Top with a dollop of plain Greek yogurt and cilantro
Looking for other Weight Watchers-friendly recipes?
Zero Point White Chicken Chili
Two Point Breakfast
Seven Point Goulash
One Point Lemon Blueberry Donuts