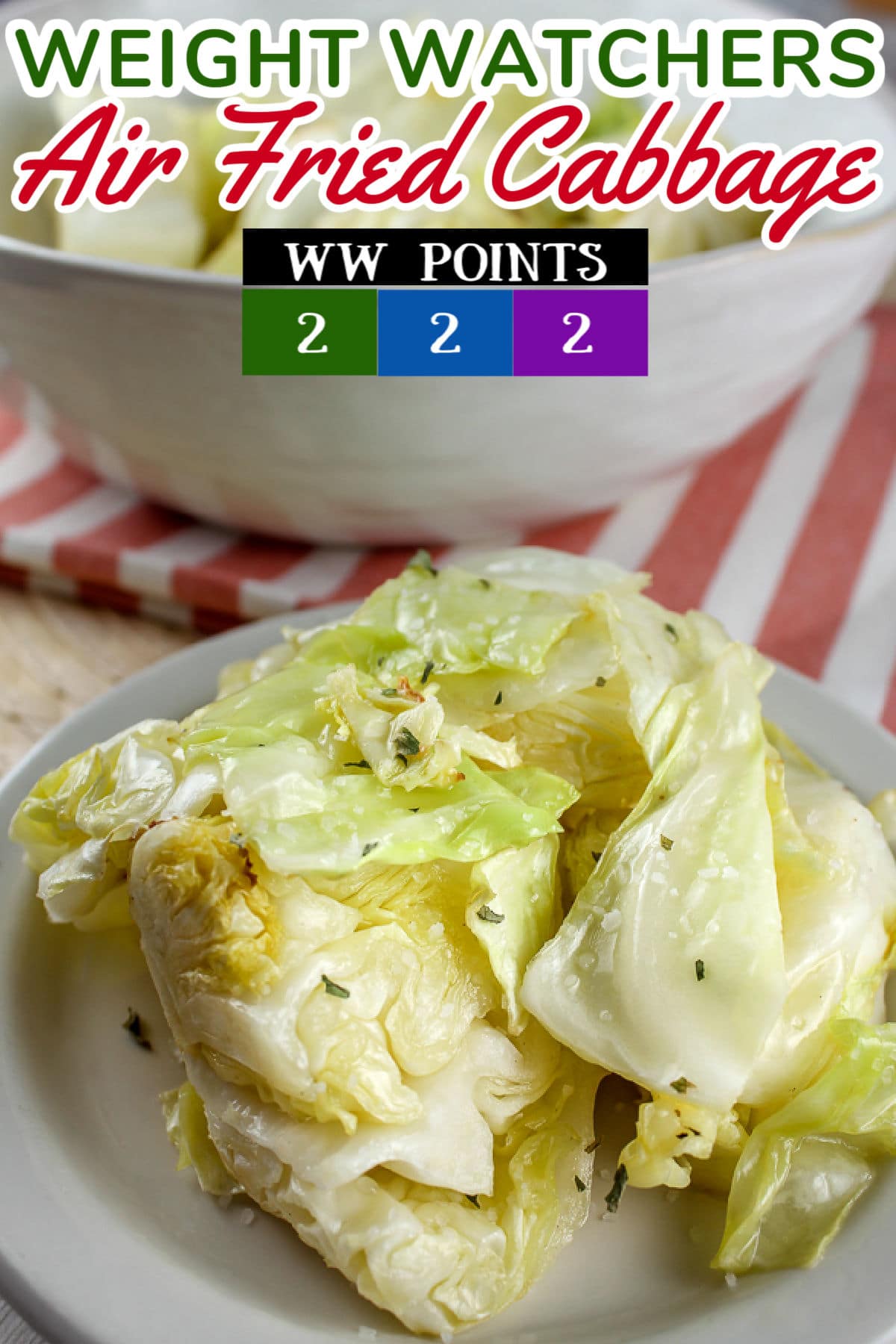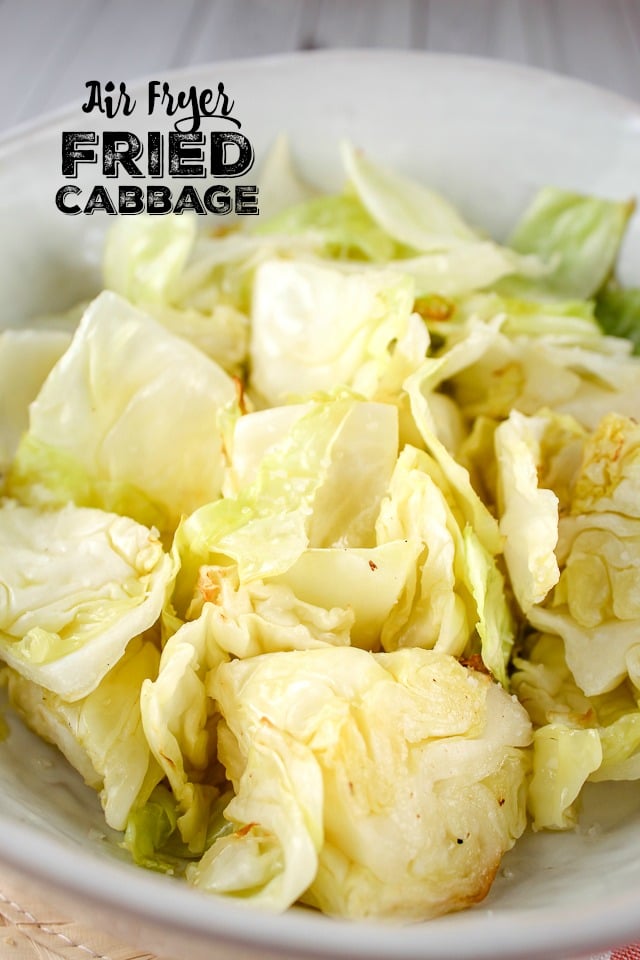 Air fried Cabbage is such a healthy food – typically we think of cabbage as either cold & crunchy or hot & soggy – but NOT anymore! I made cabbage in my air fryer and it's a delicious way to enjoy this nutritious vegetable! It's light but still has a nice bite to it! It's a great HEALTHY, low carb side dish for any meal!
Jump to Recipe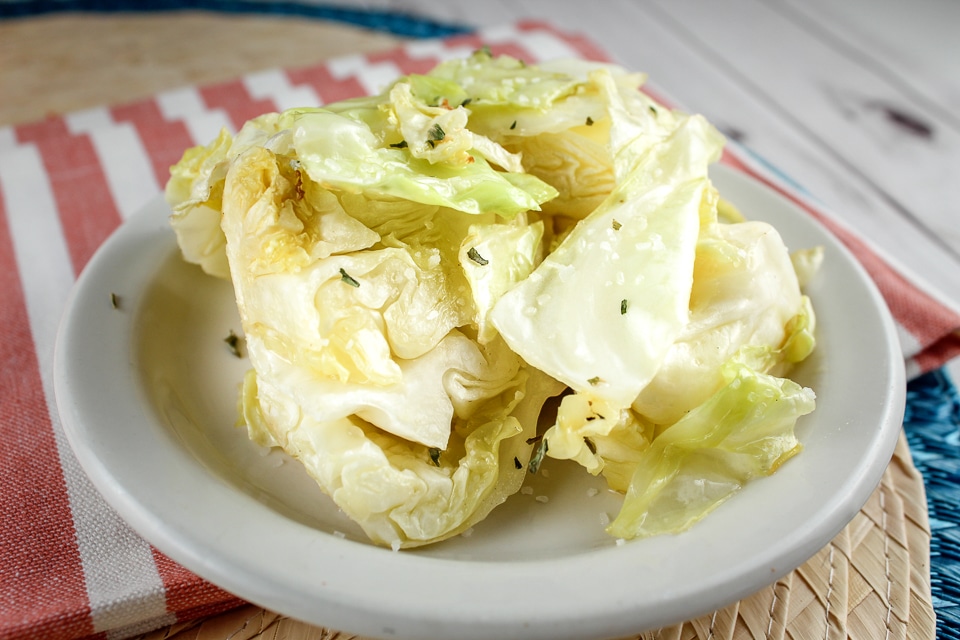 I actually like cooked cabbage as long as it's still got some crunch to it! So I decided to give my air fryer a whirl and see what we could do to make fried cabbage in the air fryer! You can also add kielbasa or smoked sausage to this and make it a main dish! It cooks in the same amount of time!
Can you air fry cabbage?
Yes! It was beyond easy! Air frying cabbage is a great way to enjoy this uber-nutritious vegetable cooked to a tender perfection! The hot air from the air fryer cooks your veggies with less oil and less time! Here are the simple ingredients you'll need for this cabbage dish:
Cabbage – figure about 1/4 head of cabbage per person if you're having this as a side dish
Olive Oil – you can also use avocado oil if you're looking to try something different
Salt
Black Pepper
Optional: you can get fancy (haha) and add more seasonings like:

garlic powder
onion powder
Old Bay seasoning
chili powder
Italian seasoning
Parmesan cheese
What kind of cabbage is best for the air fryer?
There are over 400 types of cabbage – but most commonly you've got 5 types and you can do all of them in the air fryer!
Green cabbage – this is the most common type and what I'm using here. It's a bit rubbery when raw but gets soft and a little sweet once you cook it!
Red cabbage – also known as purple cabbage and it's used a lot in cole slaw and stir fry.
Napa cabbage – also known as Chinese cabbage – it's more oblong in shape – it's great in egg rolls and spring rolls
Savoy cabbage – the most tender & sweet cabbage – it's great for cabbage rolls
Brussels sprouts – okay – they're not cabbages but they're in the same species!
How do you air fry cabbage?
This air fryer cabbage recipe is so easy – you just delicately season and pop in the air fryer. It's ready in less than 10 minutes!
Slice cabbage in one of two ways – be sure to cut out the cabbage core and not use that in your cooking
"steaks" – which are just thick slices (my air fryer cabbage steaks recipe here)
rough cut the steak slices into large chunks
In a mixing bowl, toss cabbage with olive oil, salt, pepper and your favorite seasoning
Place cabbage pieces in air fryer basket in a single layer
Air fry at 375 degrees F for 5-10 minutes of cooking time – the longer you air fry – you'll get crispy edges which are so great!
That's it! Pop the pieces in the air fryer and then flip & stir halfway through. You'll come out with crunchy and nutritious "fried" cabbage!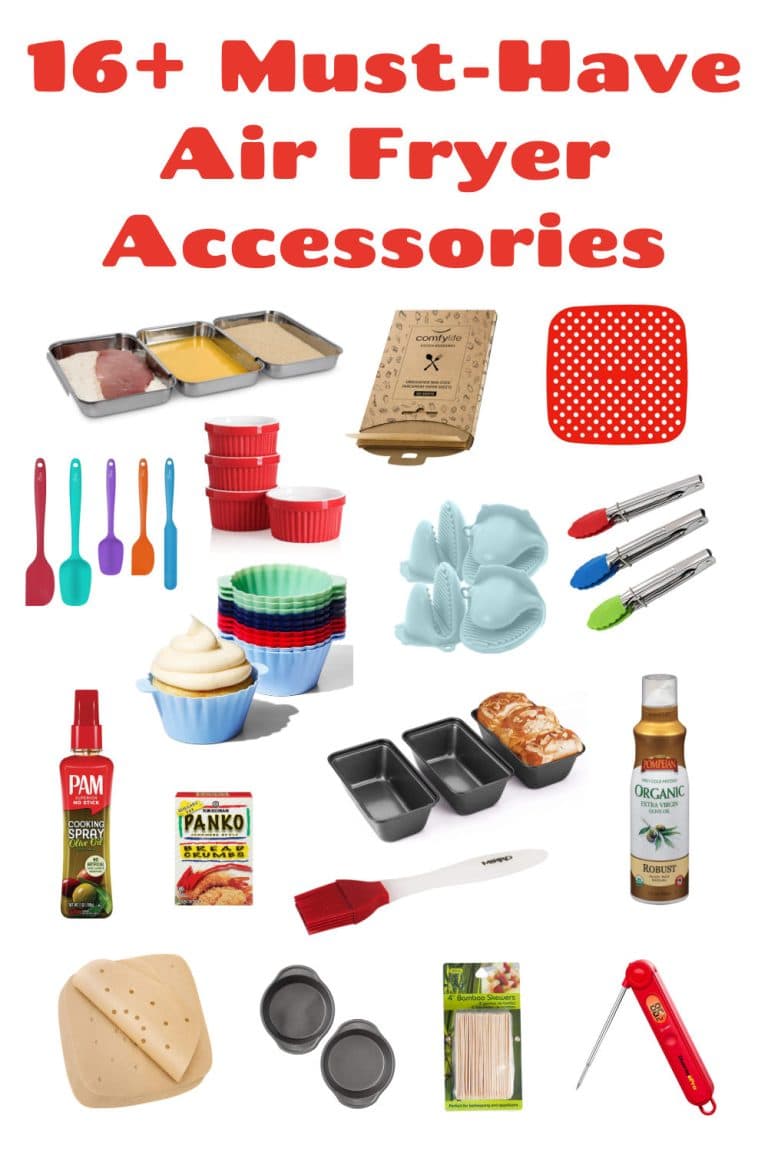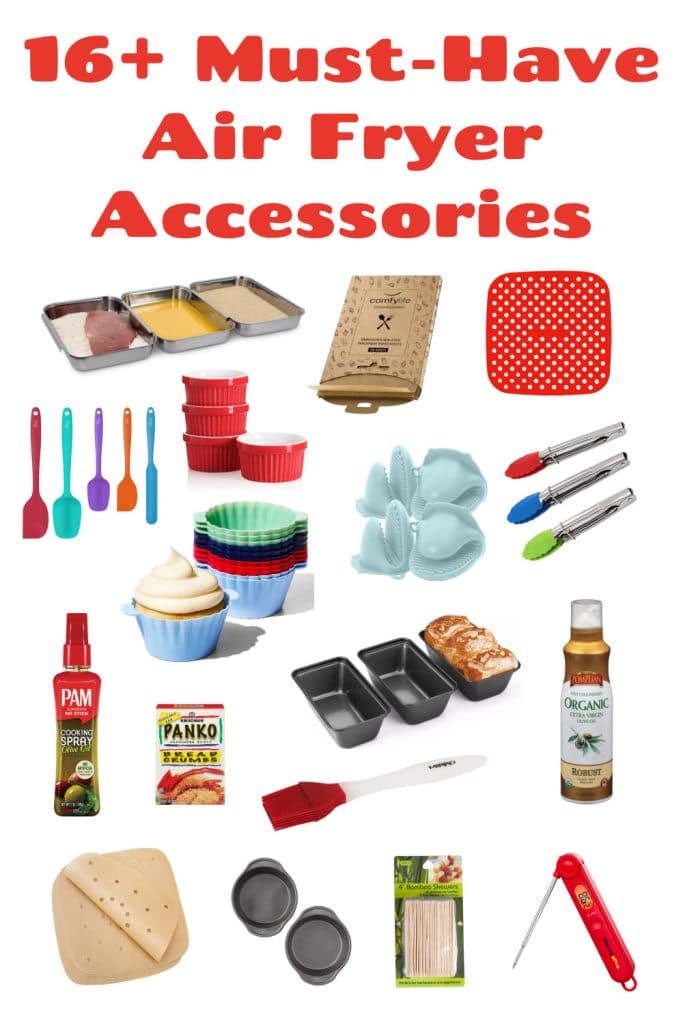 Best Air Fryer Accessories
Here's my ultimate list of best air fryer accessories – whether you have a basket- or oven-style! I've also included a price guide as well as my favorite recipes for those accessories.
How do you store and reheat leftovers?
The whole head of cabbage makes enough for 4-6 people. That said – you might have leftover cabbage! Store in an air-tight container and refrigerate up to a week – or freeze up to three months. Reheat in the air fryer at 325 for 5 minutes.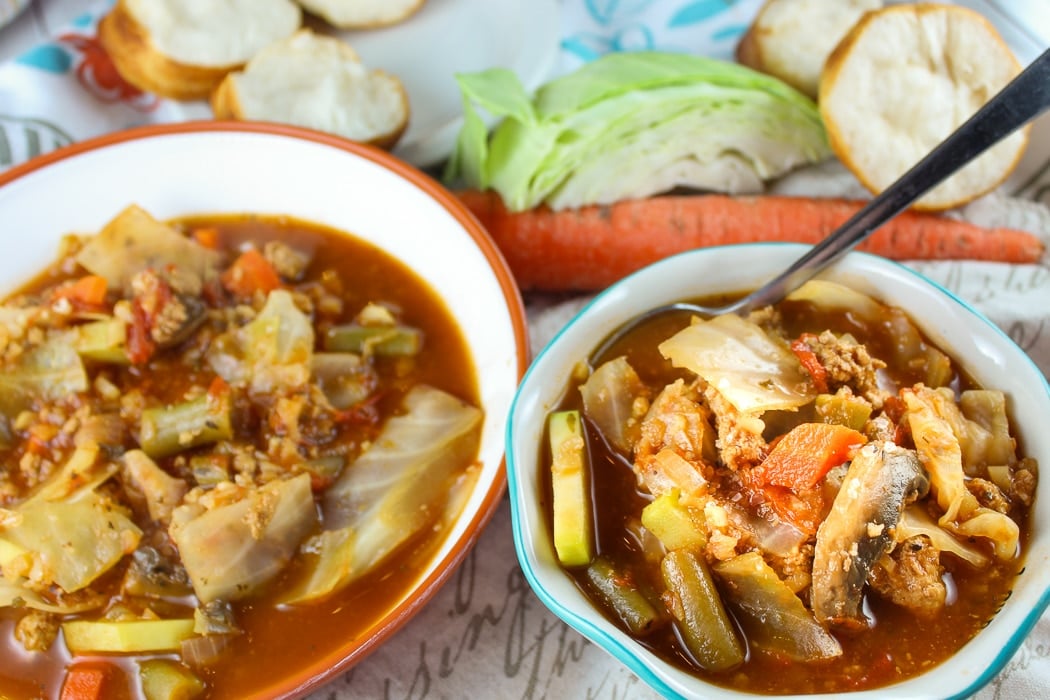 More delicious Cabbage Dishes
More Air Fryer Vegetable Recipes
You can basically air fry every vegetable – I really like using my air fryer for side dishes like baked potatoes, brussels sprouts and cauliflower! You can find all of them in my Air Fryer Recipes section or in my Air Fryer Facebook group!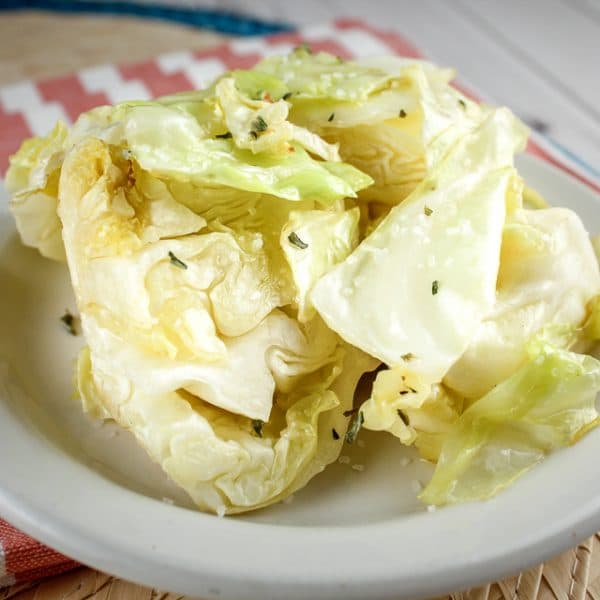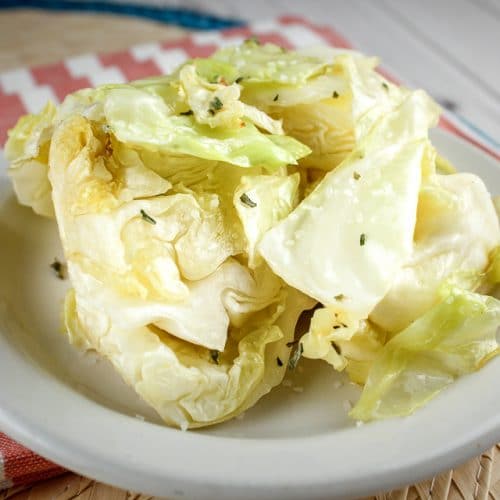 Air Fried Cabbage
Air Fried Cabbage is my new favorite side dish. Cabbage is such a healthy food – and we think of it as either cold & crunchy or hot & soggy – but NOT anymore! This healthy fried cabbage is light and still has a nice bite to it!
Ingredients
1

head cabbage

2

tbsp

olive oil

1

tsp

coarse sea salt

1

tsp

fresh ground pepper

1

tbsp

Old Bay Garlic & Herb seasoning
Instructions
slice cabbage into 2" slices – then quarter the slices

places pie shaped slices into air fryer

drizzle olive oil over all slices of cabbage

sprinkle salt, pepper and Old Bay on cabbage

1 tsp coarse sea salt,

1 tsp fresh ground pepper,

1 tbsp Old Bay Garlic & Herb seasoning

air fry at 375 for 5 minutes

toss cabbage with tongs – pieces will fall apart into large chunks

air fry 3-4 additional minutes
Notes
– You can also cut the cabbage into bite size pieces from the start – it will fall apart after cooking anyway
– Be sure to use coarse sea salt – you want to taste it! It's so much better!
– You can also add bacon to this! I use precooked bacon and dice it into bite size pieces and let it air fry with the cabbage.
– Weight Watchers Points: 2 across all plans (green/blue/purple)
**We are not dietitians and recommend you seek a nutritionist for exact nutritional information. The information in the nutrition box are calculated through a program and there is room for error. If you need an accurate count, I recommend running the ingredients through your favorite nutrition calculator.**
Nutrition
Serving:
0.25
head
Calories:
105
kcal
Carbohydrates:
10.4
g
Protein:
2.3
g
Fat:
7.2
g
Saturated Fat:
1.1
g
Sodium:
272
mg
Potassium:
304
mg
Fiber:
4.5
g
Sugar:
5.7
g
Calcium:
72
mg
Iron:
1
mg