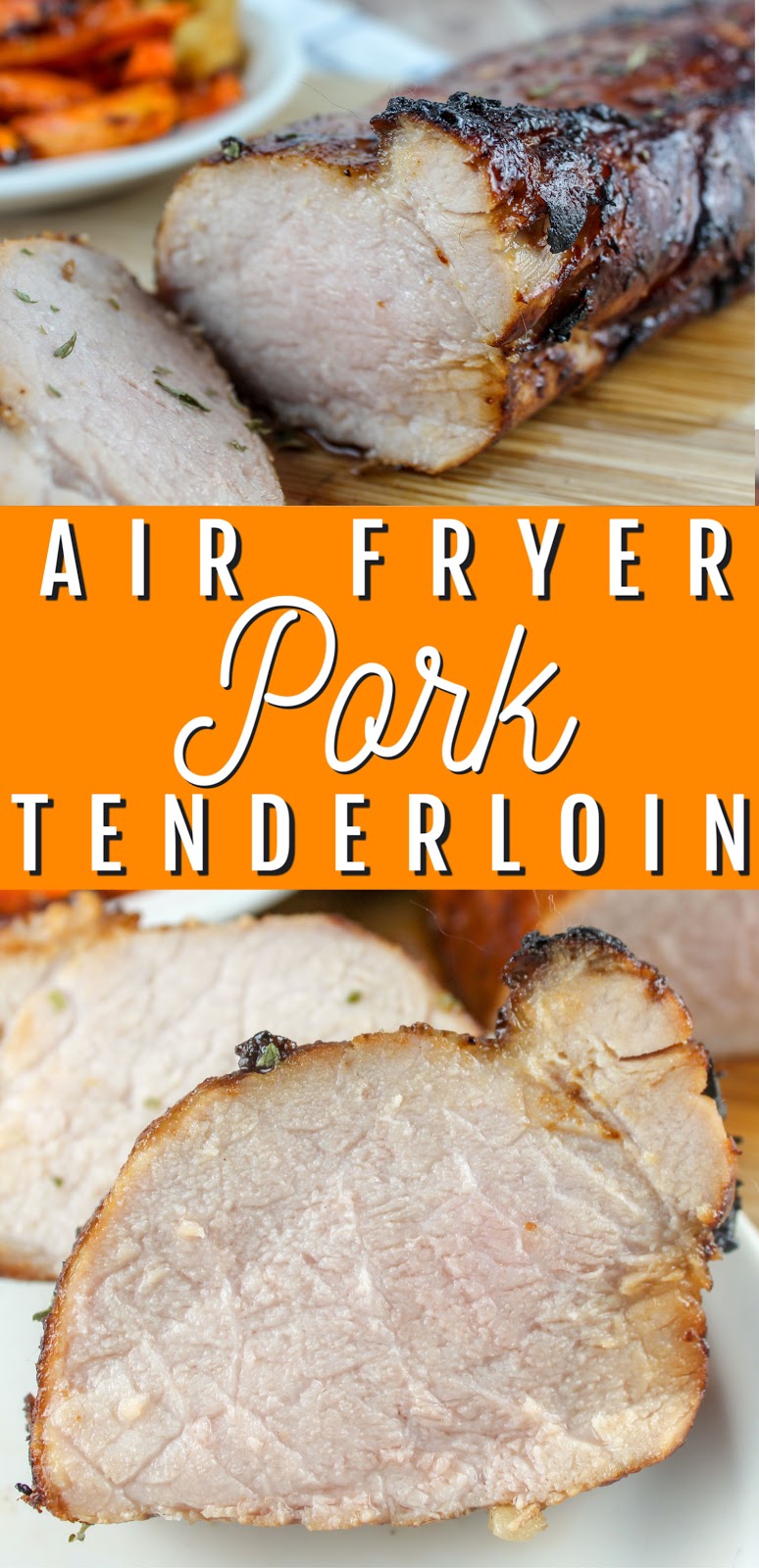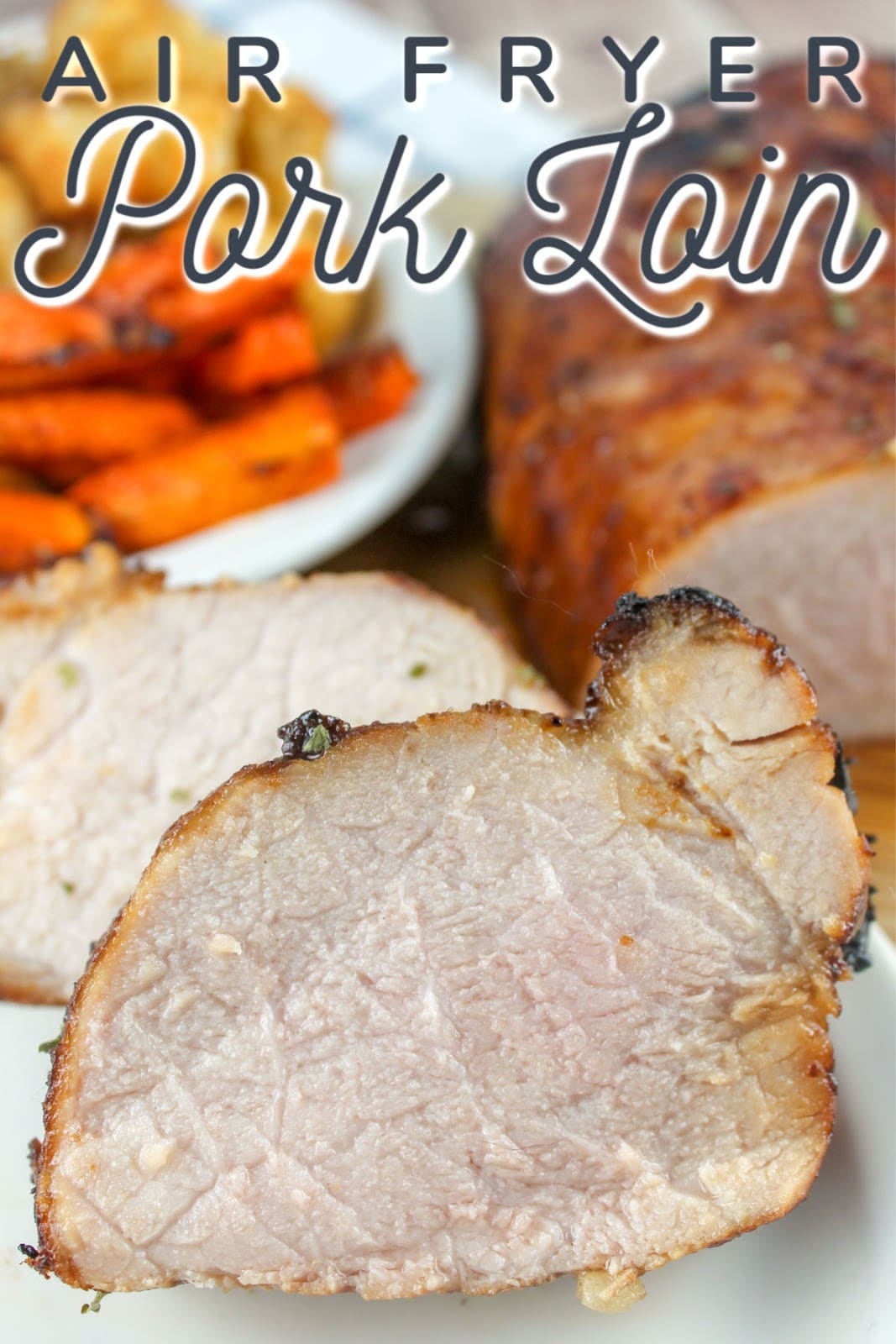 Pork Tenderloin is one of my favorite cuts of meat – it's always juicy & easy! I popped mine in the air fryer & WOW – half the time & twice the flavor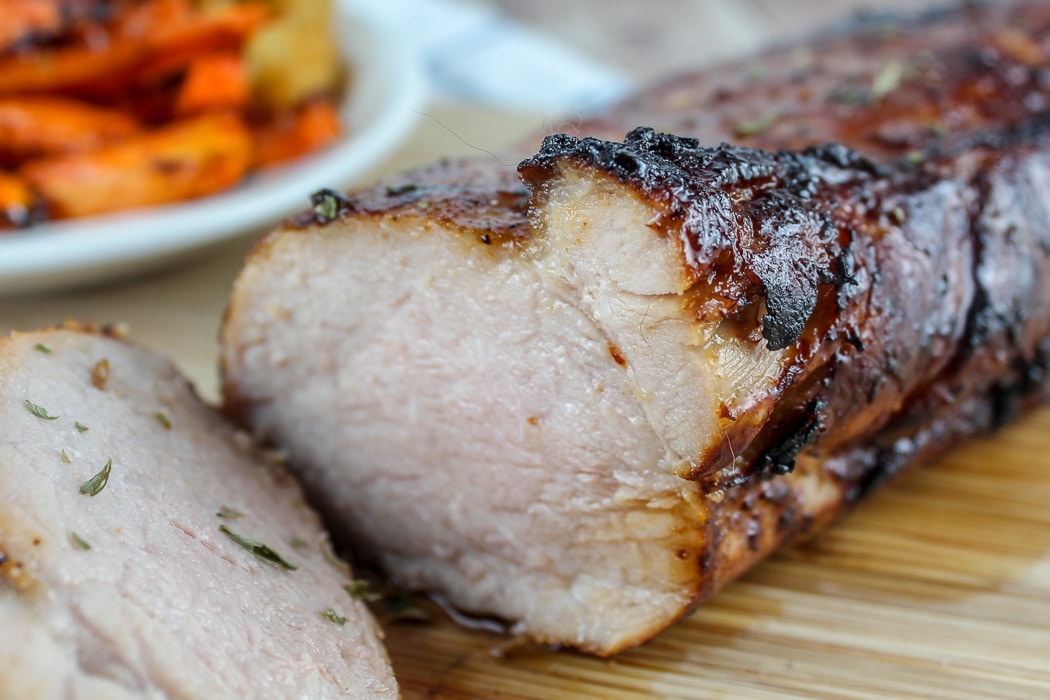 This post is sponsored by Ohio Pork. All opinions are my own.
Making pork loin in an air fryer is so easy and there's nothing to it! You can just SEE how juicy it is!
How long to cook a pork loin in an air fryer?
Determining how long to cook your pork in the air fryer really depends on the size. This was about a 1.5 pound pork loin fillet – which is a cut of pork loin – but it's going to cook very similarly to a tenderloin. This was ready in 25 minutes!!! It's very important to have an instant read digital thermometer so you can check the temperature of your pork! It's ready at 145 degrees – so be sure to not overcook it.
What is a good marinade for pork?
Pork loin and tenderloin work great with a marinade – they're very forgiving cuts of meat that you can use a garlicky Italian marinade, spicy Mexican or even an Asian marinade with. For this pork loin air fryer recipe I knew exactly what I would do – I have had a Bourbon Barrel aged Worcestershire Sauce burning a whole in my cupboard for a few months now! So I put together a delicious pork marinade with that as my base. If you don't have that – you can use regular Worcestershire and you can always add a shot of Bourbon to it if you feel like it!
Other than that – add dijon mustard, ginger, brown sugar, garlic and soy sauce – along with olive oil – so delicious! It really caramelized in the air fryer. I also threw some carrots in about halfway through – and I would have put in a baked potato if I'd had any!
How to cook a pork loin in an air fryer?
After you marinate your pork – I recommend overnight – you take the loin and pop it in the air fryer. THAT'S IT!!! I bought the new Paula Deen 9.5 quart air fryer specifically to use with this recipe! I saw a video of her using it to make TWO pork loins and had to try it! I also have a Philips XL (here's a link to Philips XXL) but it's too small for this. The Paula Deen is great when I'm making things that need more surface area.
After you pop the loin in the air fryer – you set it to 350 degrees and 20 minutes! I temp check it at 20 minutes and once it's a140-145 I take it out and let it rest. That allows the juices to rest in the loin.
Isn't it beautiful though?
This boneless pork loin in an air fryer is everything! It was so juicy and you can just see that blush of pink in the loin fillet. That's how you know it's not going to be dry! Taking it out at 140-145 ensures the juiciness. And this was even great reheated in the microwave with my leftovers. I had chopped up some carrots and put in the air fryer with the loin halfway through – just tossed in olive oil, salt and pepper. It was great for lunches all week!
Pork Loin Recipes
If you're looking for other delicious pork loin and air fryer pork recipes – I've got you covered! And be sure to join my Air Fryer Facebook group for new recipes every Friday!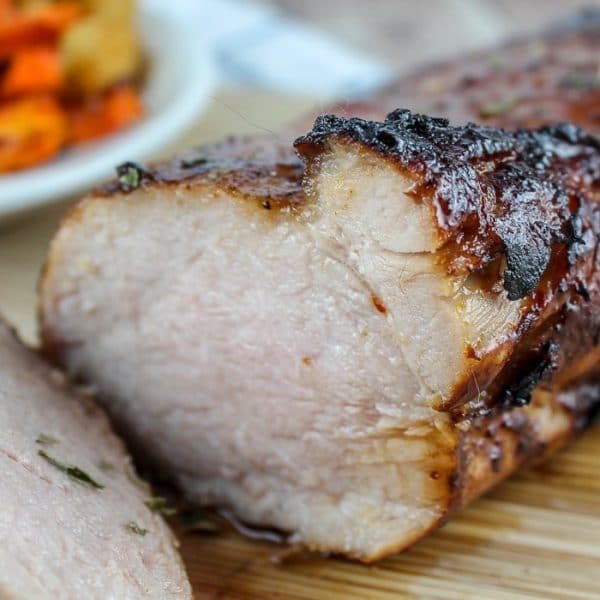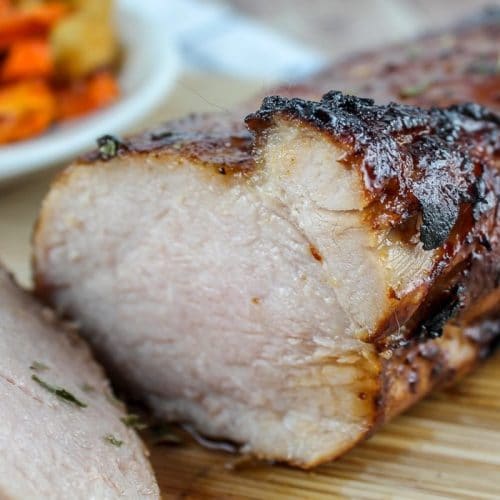 Air Fryer Pork Tenderloin
Pork Tenderloin is one of my favorite cuts of meat – it's always juicy and easy! I popped mine in the air fryer and WOW – half the time and twice the flavor!
Instructions
place 2 lb pork loin or tenderloin in a ziplock bag and add all ingredients. mush the ingredients around so they get mixed together and coat the loin.

2 lb pork tenderloin,

1 tbsp dijon mustard,

1 tsp white pepper,

1/2 cup Bourbon Flavored Worcestershire sauce,

1/2 tsp ginger,

1/4 cup olive oil,

2 tbsp brown sugar,

1/2 cup soy sauce,

2 tsp minced garlic

marinate in the fridge overnight

air fry loin at 350 for 20-25 minutes

temp check pork to be sure its 145 degrees. remove to cutting board and let rest for 5 minutes before cutting
Nutrition
Serving:
0.3
lb
Calories:
220
kcal
Carbohydrates:
0.7
g
Protein:
39.6
g
Fat:
5.3
g
Saturated Fat:
1.8
g
Cholesterol:
110
mg
Sodium:
313
mg
Potassium:
637
mg
Calcium:
9
mg
Iron:
2
mg