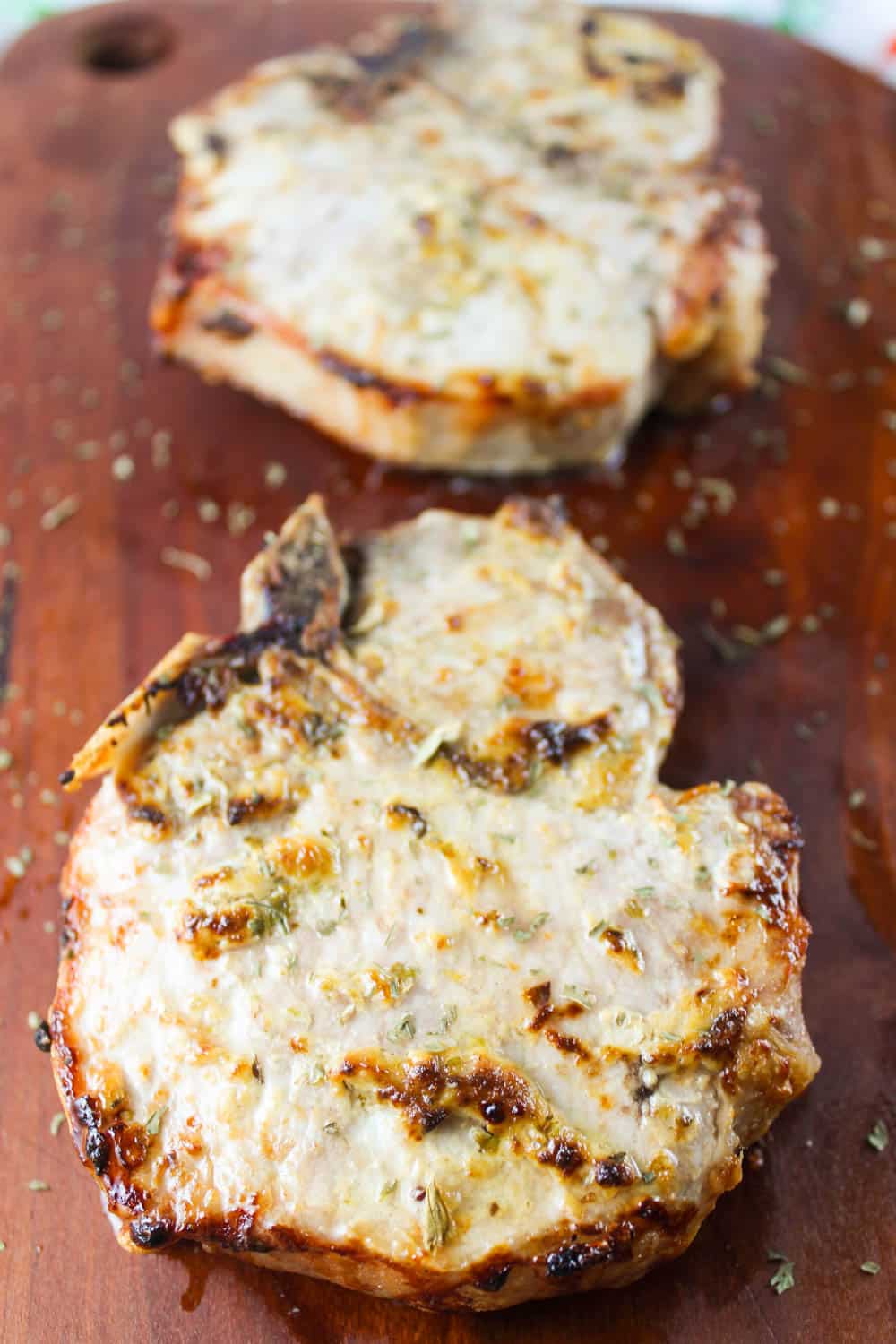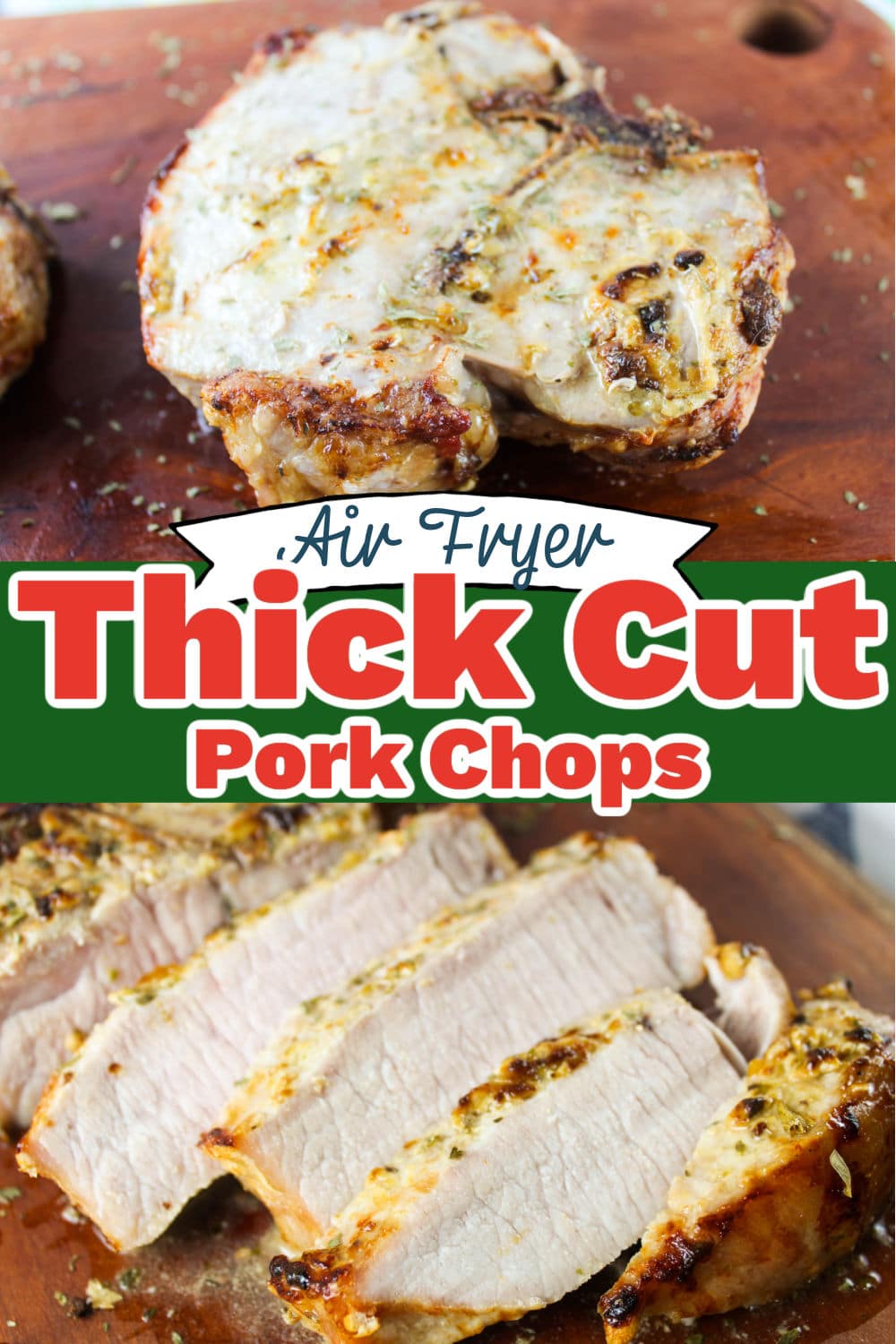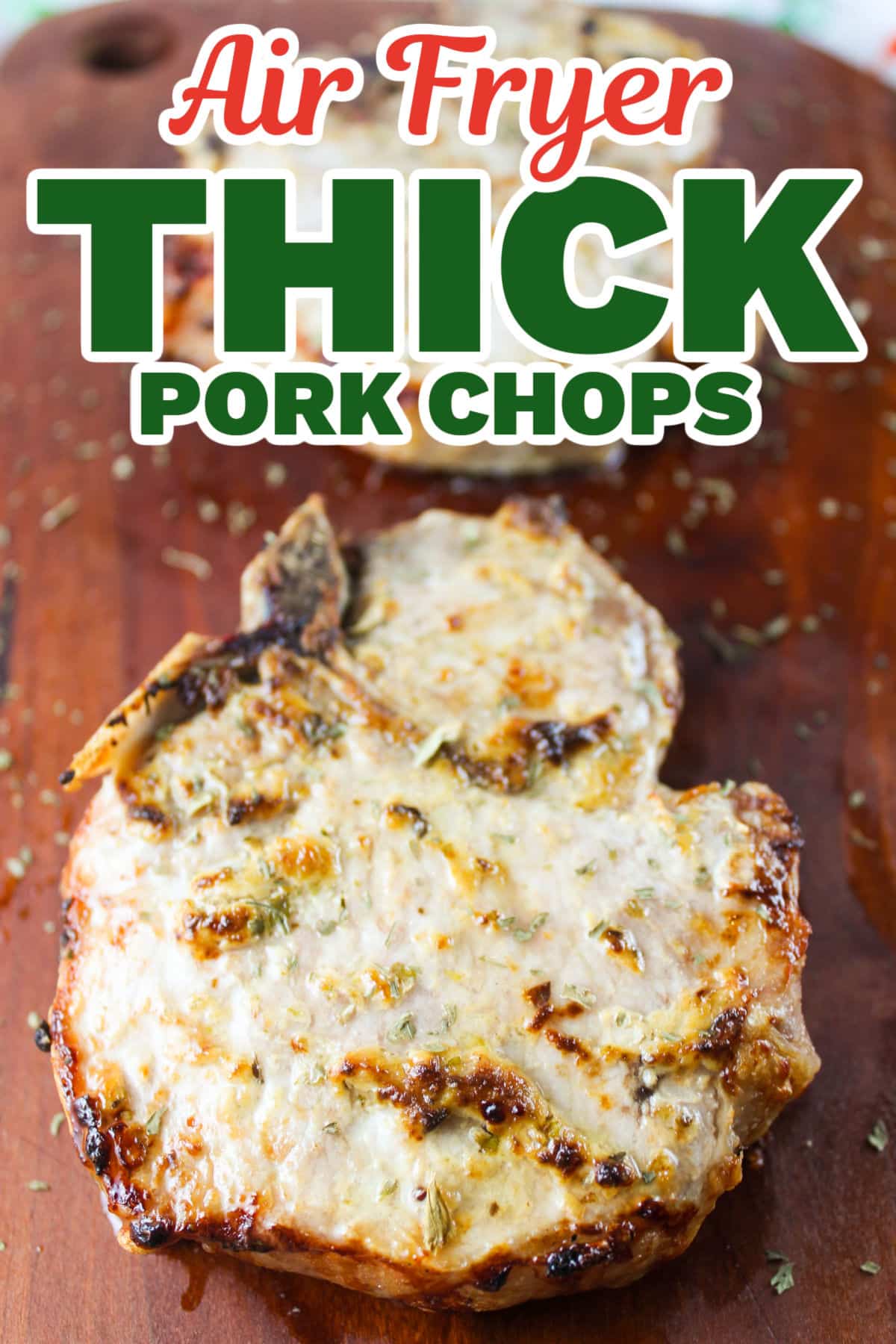 Thick Cut Pork Chops are juicy and full of flavor when you make them in the air fryer! And you can go from fridge to plate in just 20 minutes!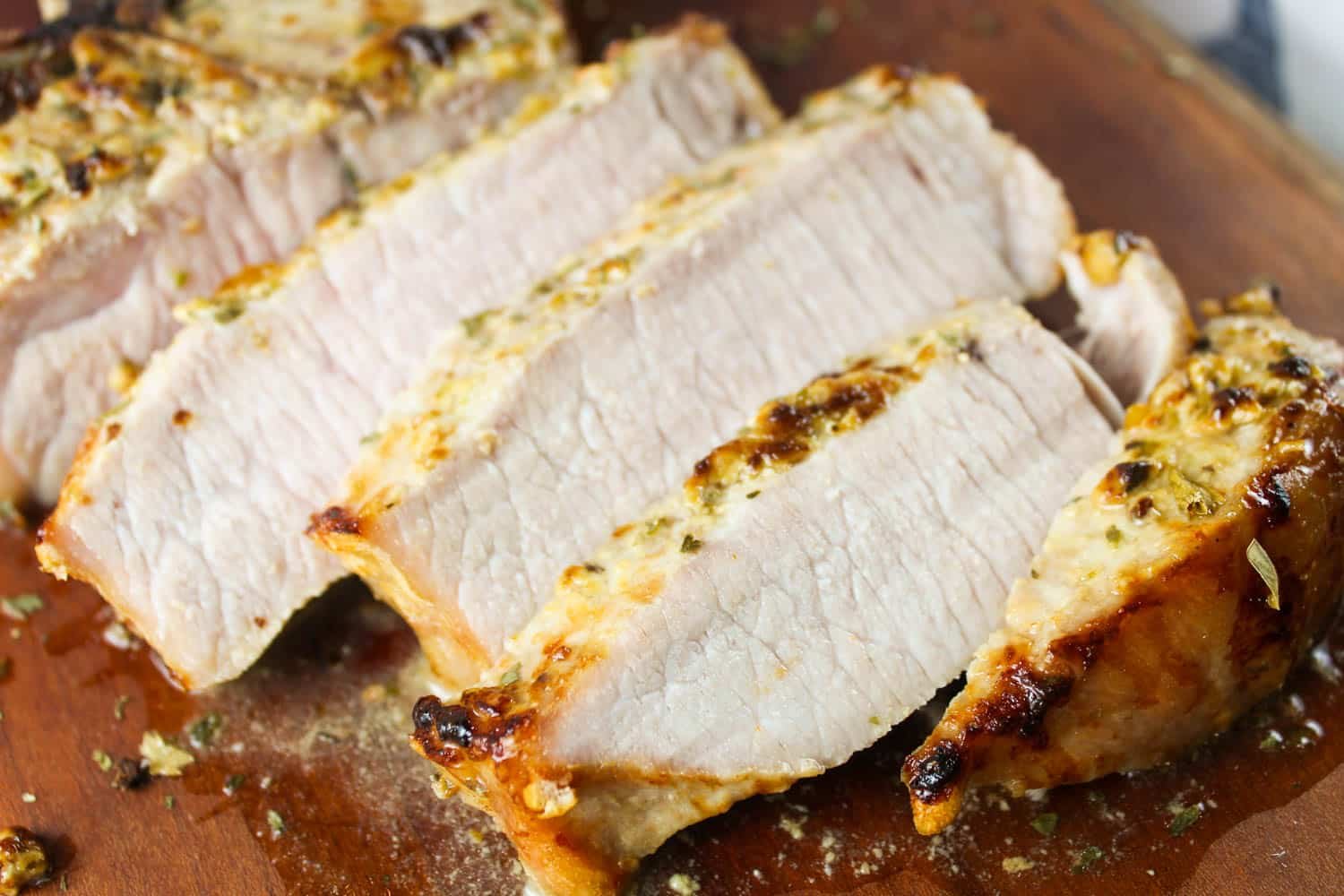 What You Will ❤️ About Pork Chops in the Air Fryer
Quick! These only take 18 minutes in the air fryer – so perfect for a weeknight dinner.
Flavor Punch! I'm a big fan of Dijon mustard and using that to make a seasoning paste that you brush on gives these chops a punch of flavor!
2 Min Prep! All we're doing is brushing on the seasoning – so there's no prep time!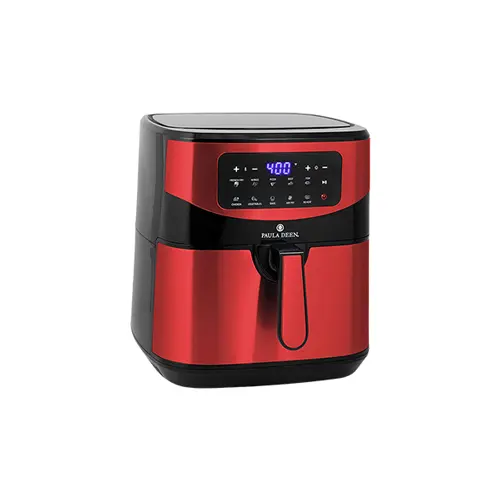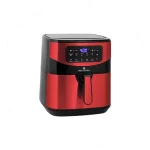 This recipe was made using the Paula Deen Air Fryer.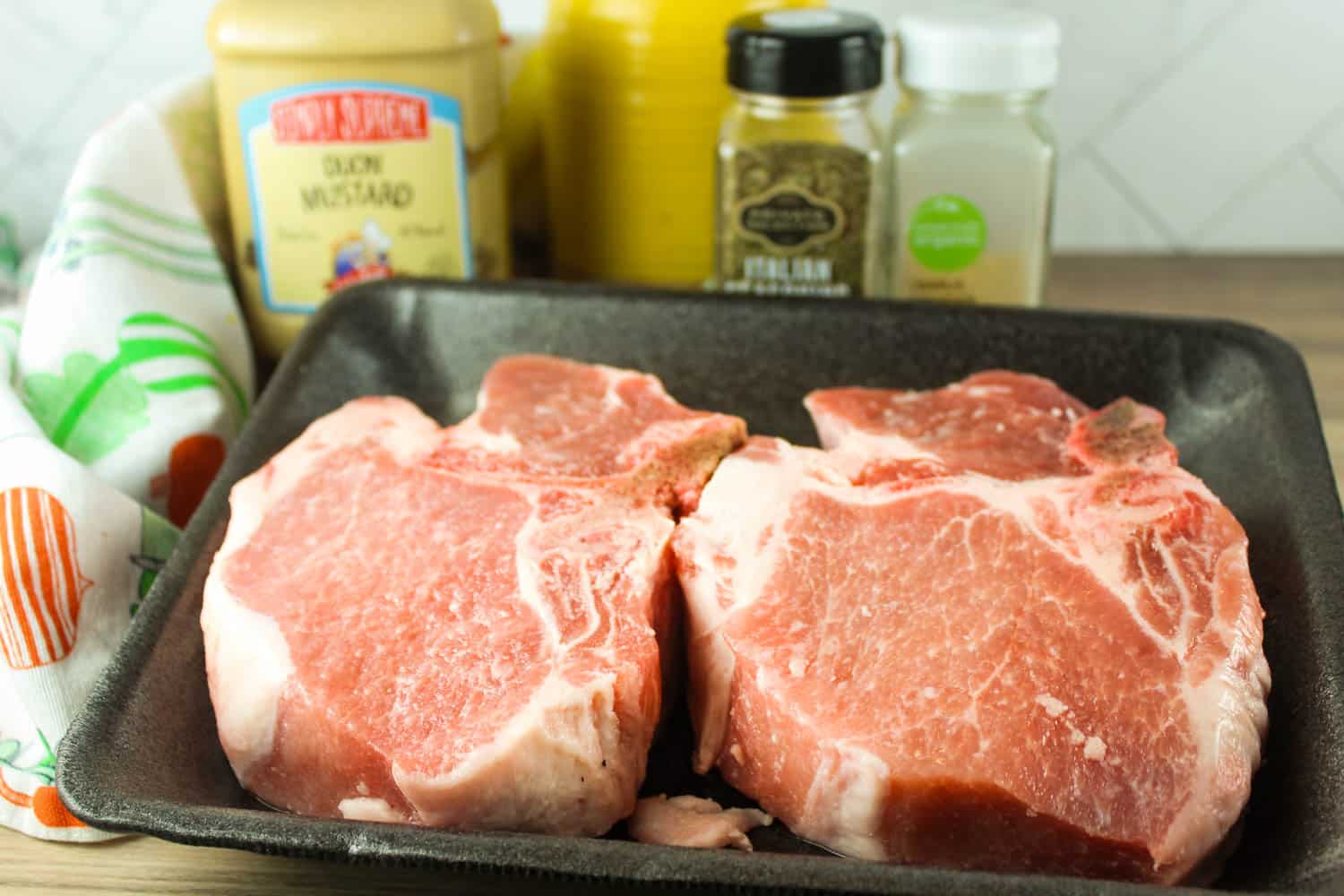 Air Fryer Pork Chop Recipe Ingredients
Super simple seasoning paste on these thick cut bone-in pork chops
Bone-in thick cut pork chops – these are about 1.5″ thick

I always like bone-in chops because they add more flavor to the meat and don't dry out so quick.
If cooking boneless pork chops – decrease cook time to 13-15 minutes and test with Instant Read Thermometer
If chops are thicker – add 1-2 minutes to cook time

Seasoning Paste – This is a quick mix you can whisk together in 2 minutes and brush on your pork chops that adds a burst of flavor!

Olive Oil
Dijon Mustard
Italian Seasoning
Garlic Powder
OPTIONAL: Other great seasonings would be paprika, onion powder, black pepper and brown sugar

Pork chops tend to be salty enough – I don't add salt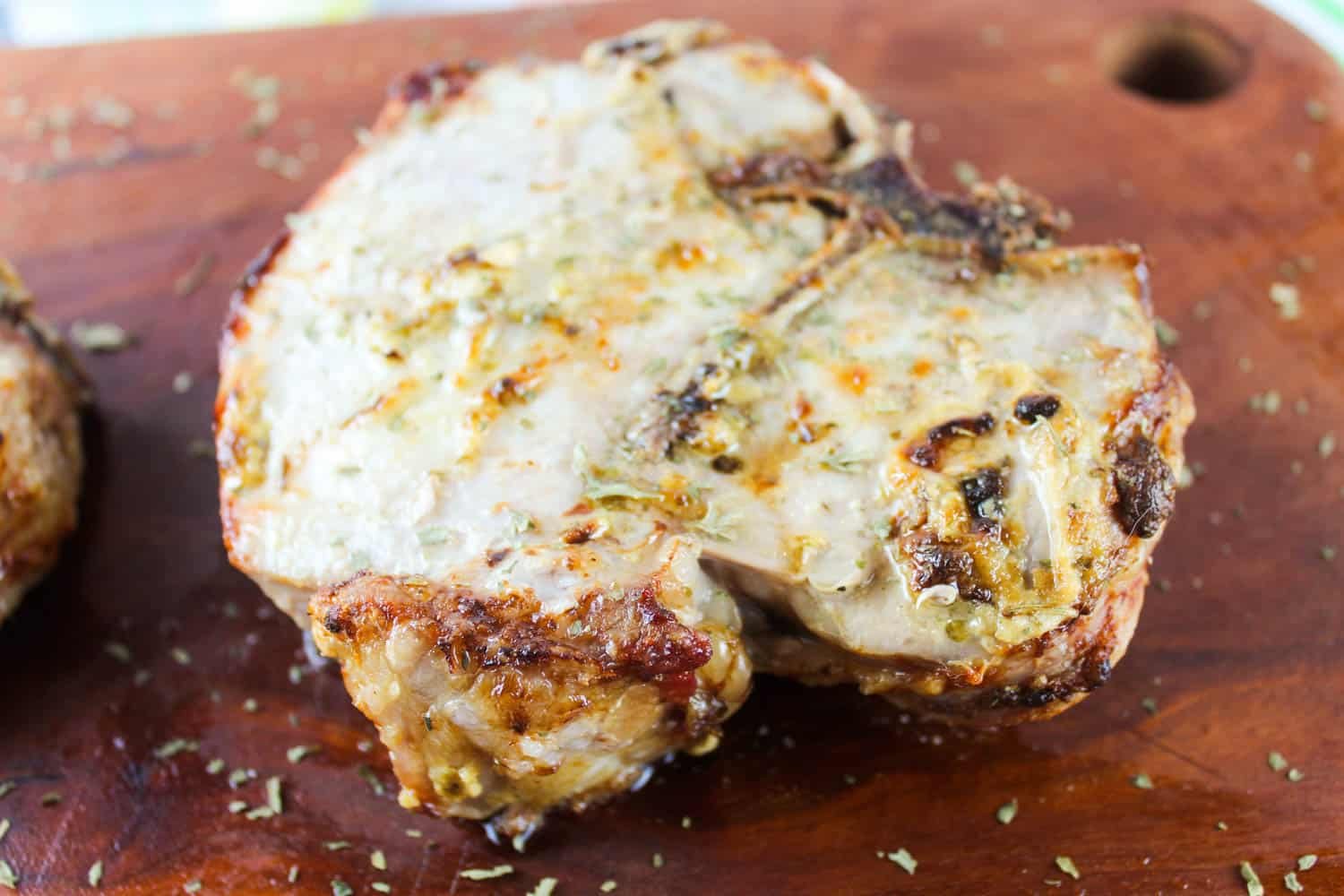 How to Make Pork Chops in the Air Fryer
These thick cut pork chops are super juicy in the air fryer and they're easy to make! Here's what you do:
Rinse pork chops out of packaging and pat dry with a paper towel
In a small bowl, mix together oil, mustard, garlic and Italian seasoning into a paste
Spray air fryer basket with nonstick or line with a sheet of parchment paper.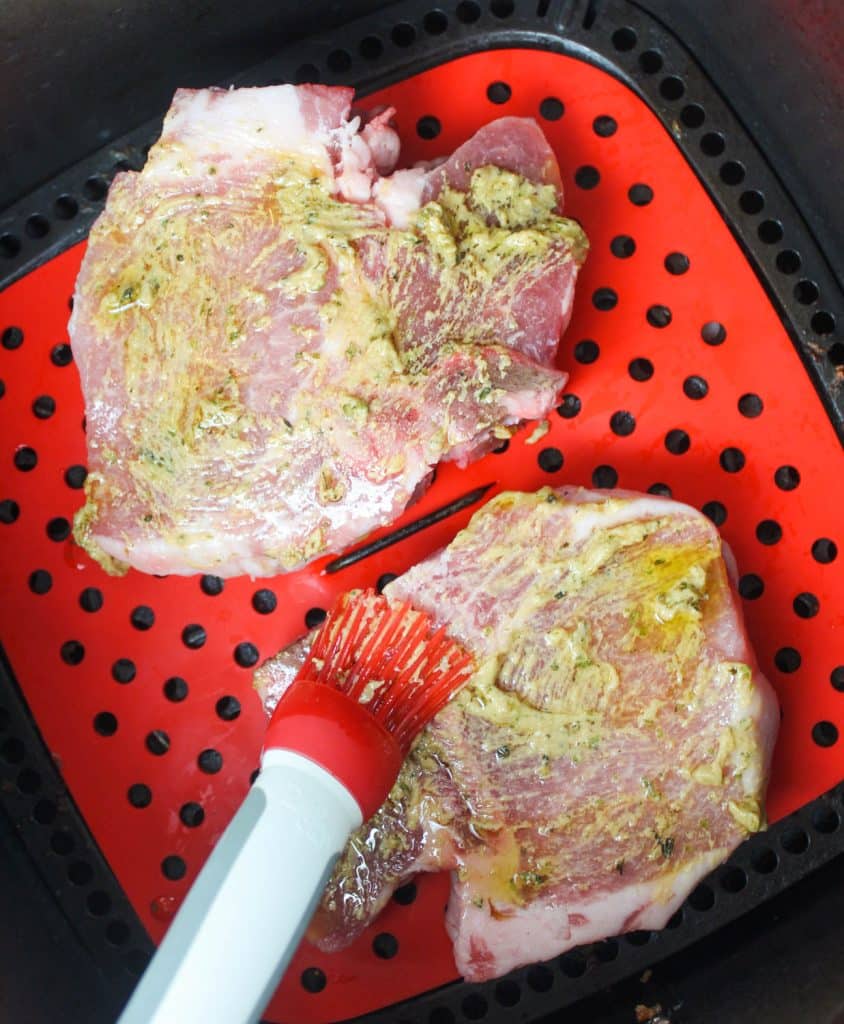 Place pork chops in air fryer basket. Brush top and sides of the pork chops with seasoning paste.
Air fry at 370ºF for 18 minutes or until internal temp reaches 145ºF. Flip pork chops half way through cook time and baste with any remaining paste.

This instant-read thermometer is less than $10!

Remove pork chops from air fryer and let rest for 5 minutes before serving
This post contains affiliate links which I make a little money on purchases. Thanks in advance! I am an Amazon associate as well as a member of other affiliate programs.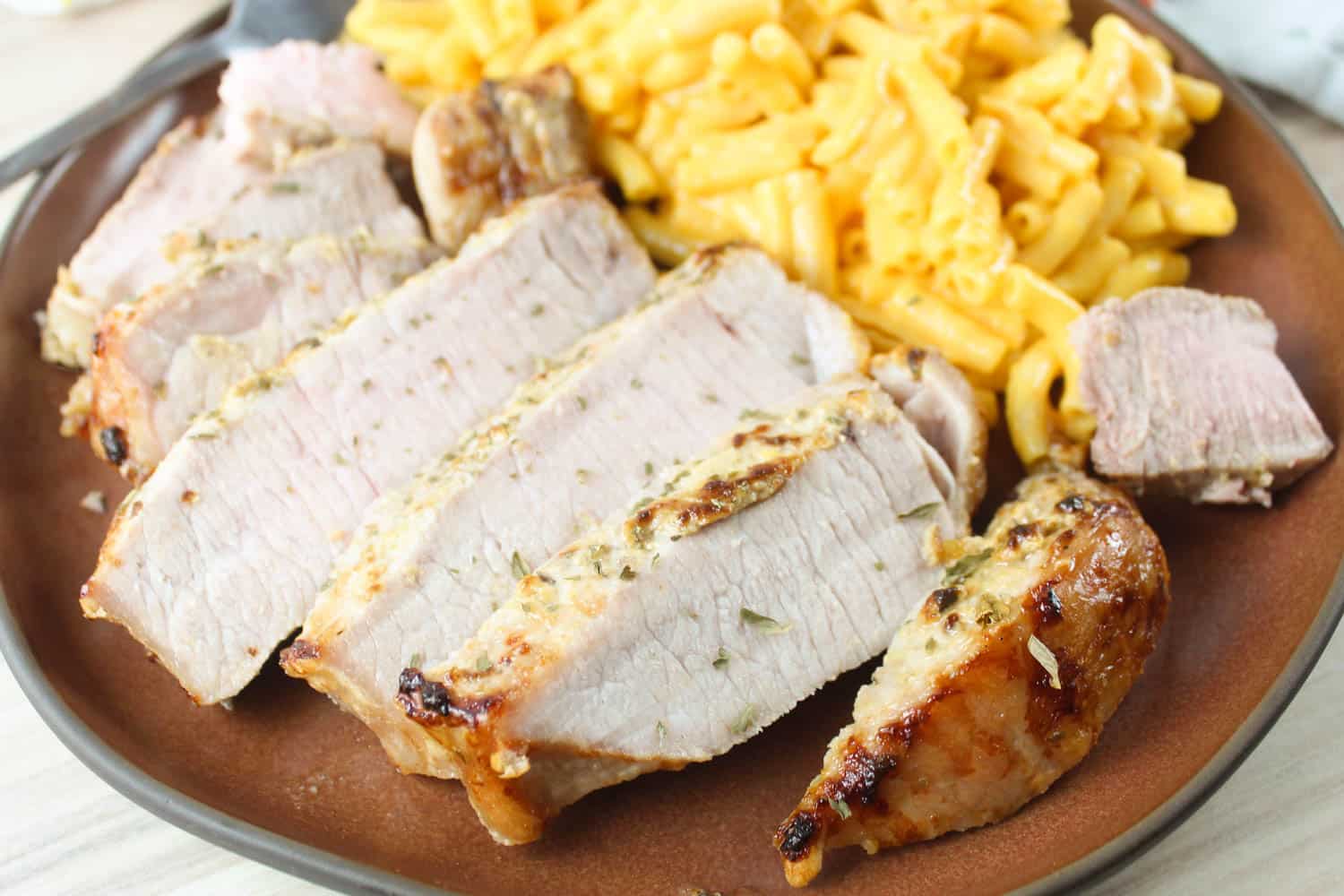 Tips, Tricks & FAQs
How long should you cook thick pork chops in the air fryer?
15-20 minutes depending on the thickness and if they are bone-in or boneless. Always UNDERCOOK foods because you can always add more time but you can't unburn something!
What temperature should I cook pork chops in my air fryer?
I cook at 370º – I don't like to cook too high of a temp because they can get dry more quickly.
Should I preheat my air fryer for pork chops?
You can as it might help sear the chop when you set it in but I did not. It's definitely not necessary.
How do you know when pork chops are done in an air fryer?
Your instant read meat thermometer is your best friend. Pork chops are done at 145º with a blush of pink in the center. This is the key to juicy and tender pork chops!
Why are my pork chops tough in the air fryer?
You overcooked them. Cook to 145º internal temperature at the thickest part of the pork chop.
How do you store and reheat leftover pork chops?
Store leftovers in an airtight container (I like these glass ones) in the refrigerator for up to a week. Reheat in the microwave for 1-2 minutes or in the air fryer at 250º for 5 minutes.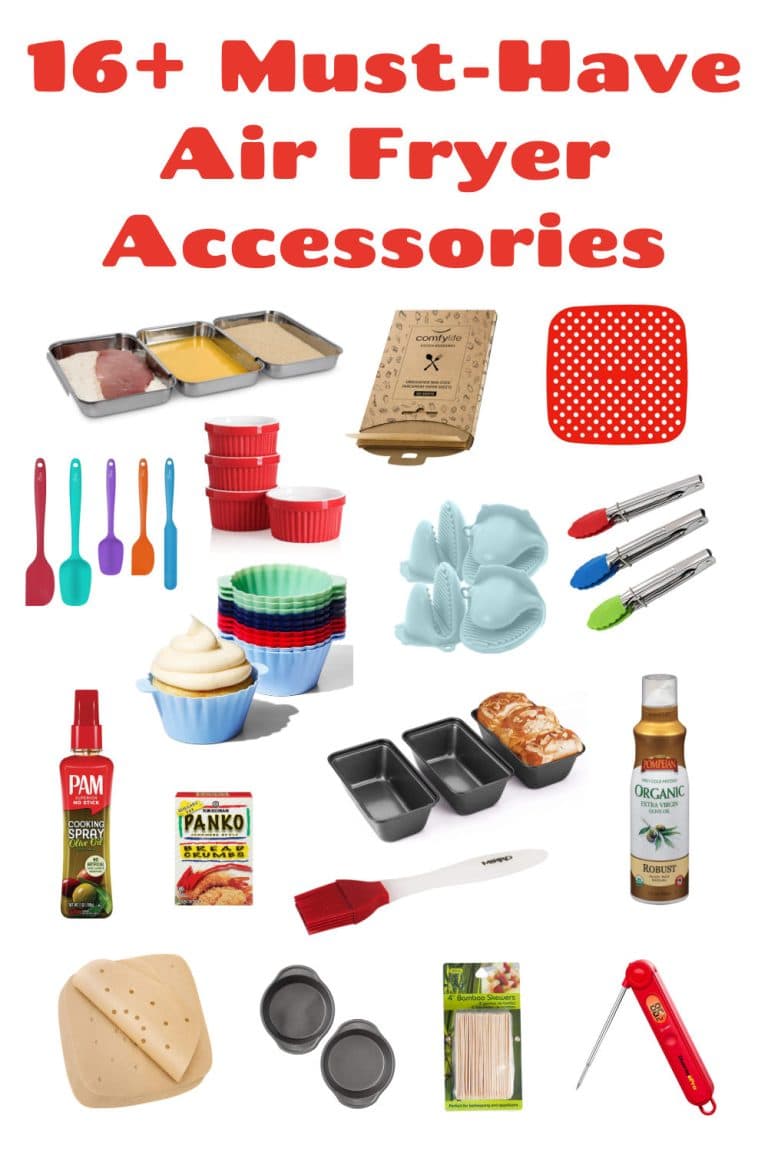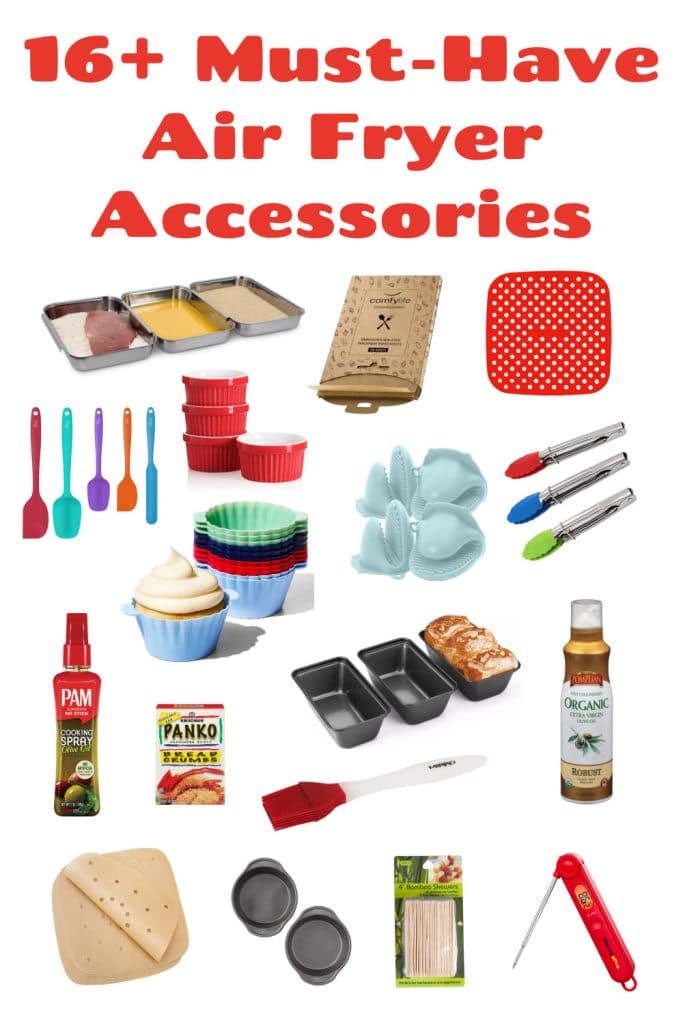 Best Air Fryer Accessories
Here's my ultimate list of best air fryer accessories – whether you have a basket- or oven-style! I've also included a price guide as well as my favorite recipes for those accessories.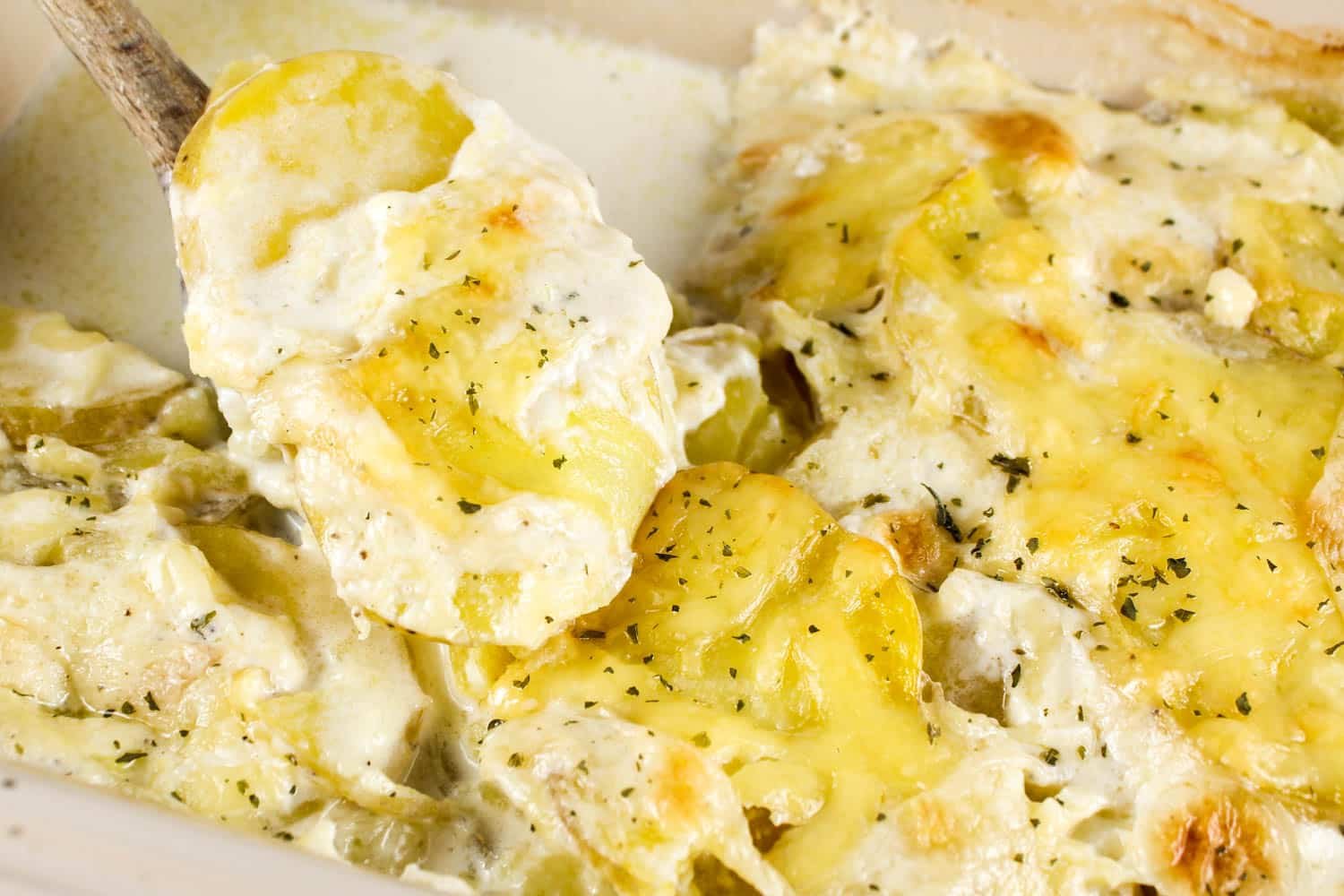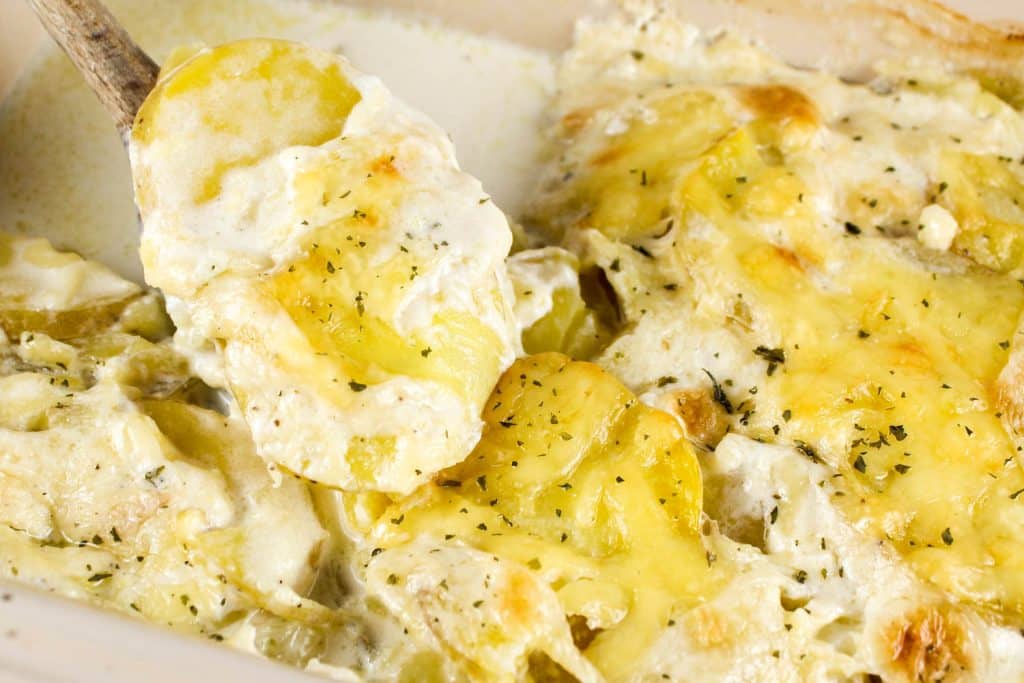 Side Dishes to Serve with Air Fryer Pork Chops
More Air Fryer Recipes for Pork
Air Fryer Vegetables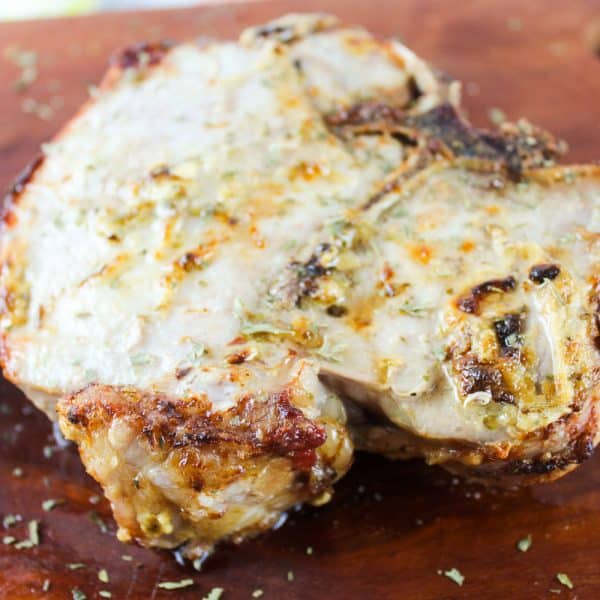 Air Fryer Thick Cut Pork Chops
Thick Cut Pork Chops are juicy and full of flavor when you make them in the air fryer! And you can go from fridge to plate in just 20 minutes!
Instructions
Rinse pork chops out of packaging and pat dry with a paper towel

2 bone-in thick cut pork chops

In a small bowl, mix together oil, mustard, garlic and Italian seasoning into a paste

1 tbsp olive oil,

2 tsp Dijon mustard,

1 tsp Italian seasoning,

1/2 tsp garlic powder

Spray air fryer basket with nonstick or line with a sheet of parchment paper.

Place pork chops in air fryer basket. Brush top and sides of the pork chops with seasoning paste.

Air fry at 370ºF for 18 minutes or until internal temp reaches 145ºF. Flip pork chops half way through cook time and baste with any remaining paste.

Remove pork chops from air fryer and let rest for 5 minutes before serving
Notes
**We are not dietitians and recommend you seek a nutritionist for exact nutritional information. The information in the nutrition box are calculated through a program and there is room for error. If you need an accurate count, I recommend running the ingredients through your favorite nutrition calculator.**
Nutrition
Calories:
358
kcal
Carbohydrates:
2
g
Protein:
36
g
Fat:
23
g
Saturated Fat:
6
g
Polyunsaturated Fat:
3
g
Monounsaturated Fat:
11
g
Trans Fat:
0.2
g
Cholesterol:
117
mg
Sodium:
149
mg
Potassium:
611
mg
Fiber:
1
g
Sugar:
0.1
g
Vitamin A:
31
IU
Vitamin C:
0.1
mg
Calcium:
52
mg
Iron:
2
mg