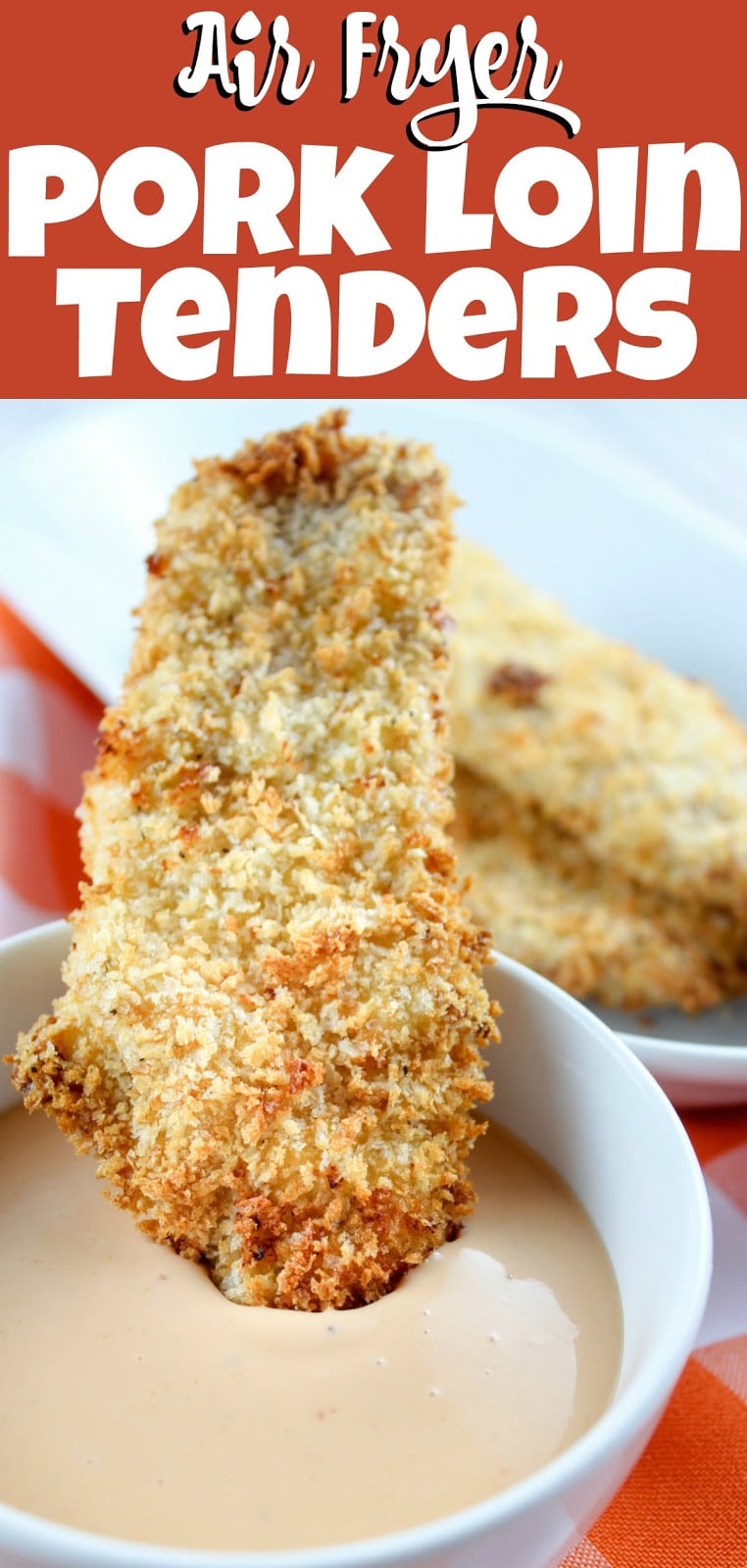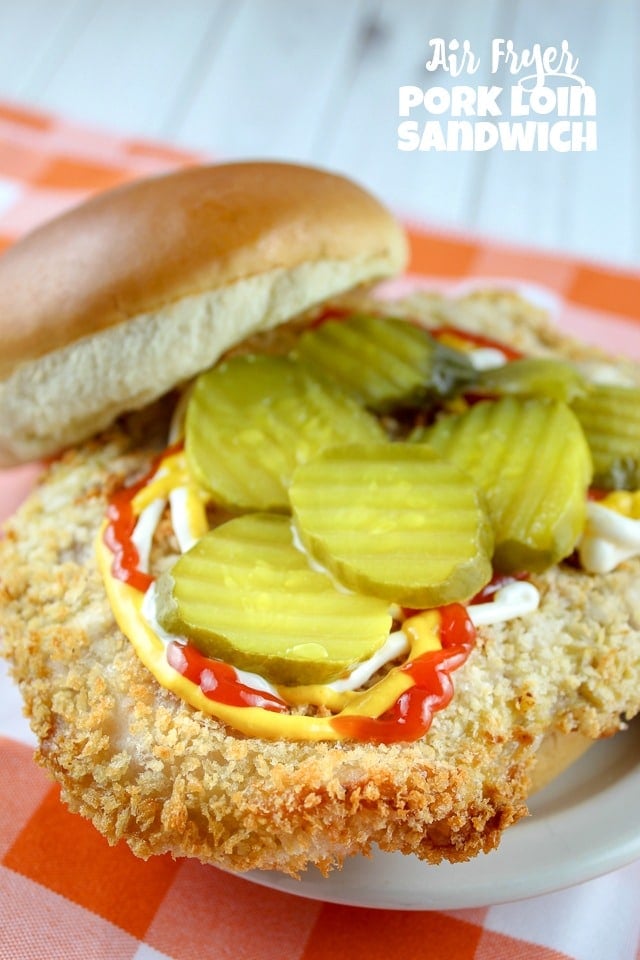 An Iowa Breaded Pork Tenderloin Sandwich should have the pork patty as big as your head! These pork tenderloins might not be quite as big as the ones back home – but in the air fryer they're super simple!
If you're a long-time Food Hussy fan, you know that I'm originally from Iowa. Iowa is in my heart and soul and I still consider it "home" even though I have been living in Ohio for over 15 years!
I have two food loves in Iowa – the Maid Rite and a Breaded Pork Tenderloin sandwich (they even have a Tenderloin Trail!). I've long conquered the Maid Rite (even made them into sliders) – but now it's time for the Breaded Pork Loin Sandwich!
Can you make the breaded pork fritter sandwich in the air fryer?
Most definitely! It's the same process as you'd make them in a frying pan – but no oil! I love it. The process is super easy – you take your pork chop and you pound it SUPER thin – the thinner the better for me! Then you dredge in flour, egg and panko. Spritz with cooking spray and into the air fryer!
How do you tenderize your pork chop?
The quickest and easiest way to a super thin chop is to take a boneless pork chop (don't be afraid of fat in your pork – fat = flavor!) and put it in a zipper bag. Then use the FLAT side of your meat tenderizer and get out those aggressions! Pound it super thin!! When you think you've done enough – give it a few more whacks!
I really think pork is tender on it's own and love a thick juicy chop – but for this sandwich to be authentic – you need it super thin.
I made my Iowa breaded pork tenderloin two ways! I did a couple chops full size for sandwiches like you see above. Then – after pounding thin – I cut the other chops into pieces like you would have for a chicken tender! These are perfect as dippers or for a slider sandwich! (That's Freddy's Fry Sauce on top – yum!)
I top my sandwiches with pickle, mayo, ketchup and mustard – always! And you can see the pork is still moist and juicy – no dry chops here!


The best way to tell if your pork is done is to use a meat thermometer (my favorite is this one!) and pork is safe to eat at 145! (Here's an easy temp chart if you're curious.) And that's when it's the best! Juicy with a blush of pink! With these tenderloin sandwiches – they're so thin – you don't really need to temp them – but you can if you like.
I loved the idea of Breaded Pork Tenderloin Dippers! I just cut the thin chop into three strips and did the same breading technique and air frying. You just air fry for a minute less per side and the spritz of cooking spray helps them turn golden brown.
Where is the best place to buy pork?
I always get my pork at the grocery store. Being from Iowa – I know that 1/3 of the pork in the US comes from Iowa. We have pigs, cows, corn and soybeans…and I love it! You can feel good knowing that the pork you're buying at the grocery store is coming from a family farm and helping support their local economy.
What are other quick and easy pork recipes?
I have no shortage of pork recipes on my blog – Here are my favorites:
Air Fryer Pork Recipes
You can find more ideas in my Air Fryer Recipes section or in my Air Fryer Facebook group!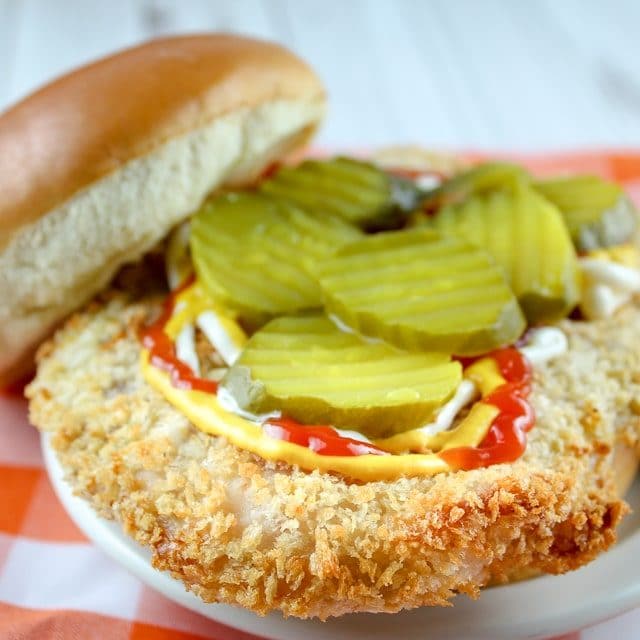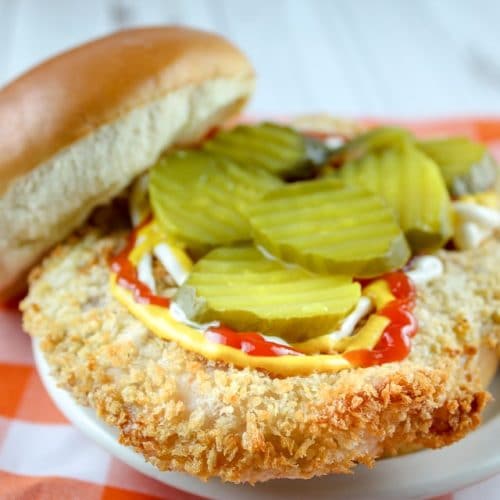 Air Fryer Pork Loin Sandwich
As an Iowan – a breaded pork tenderloin sandwich is near and dear to my heart but I just can't find a good one here in Ohio. So – I took to the kitchen and made my own! The best part is you can make big sandwiches with them or slice them up and make tenders or sliders!
Instructions
Place one pork chop in a ziploc bag and pound them until just 1/4-inch thick – using the flat side of a meat tenderizer.

Get two plates and a bowl. In one plate, pour flour. In bowl, whisk together eggs, salt & pepper. In the last plate, place the bread crumbs and stir in salt & pepper.

1/2 cup flour,

2 eggs,

1 cup Panko bread crumbs,

salt,

pepper

For full size sandwich – Take one flattened chop and dredge both sides in flour, then egg, then bread crumbs. For tenders – slice flattened chop into 3-4 slices and dredge as noted.

Gently place pork into air fryer. Spritz with olive oil spray.

For full size sandwich – air fry at 400 degrees for 5 minutes. Open air fryer, flip, spray and air fry for 5 minutes more. For tenders – air fry at 400 for 4 minutes per side – spraying each side with olive oil spray. Transfer to a plate and repeat the process until all pieces of pork are fried.

For full size sandwich – serve on bun and top with mayo, mustard, ketchup and pickles. For tenders – dip in your favorite sauce! (Honey Mustard, Ranch or Fry Sauce!)
Nutrition
Serving:
1
pork chop
Calories:
436
kcal
Carbohydrates:
39.1
g
Protein:
35
g
Fat:
15.1
g
Saturated Fat:
5.5
g
Cholesterol:
55
mg
Sodium:
737
mg
Potassium:
141
mg
Fiber:
2
g
Sugar:
2.5
g
Calcium:
71
mg
Iron:
3
mg