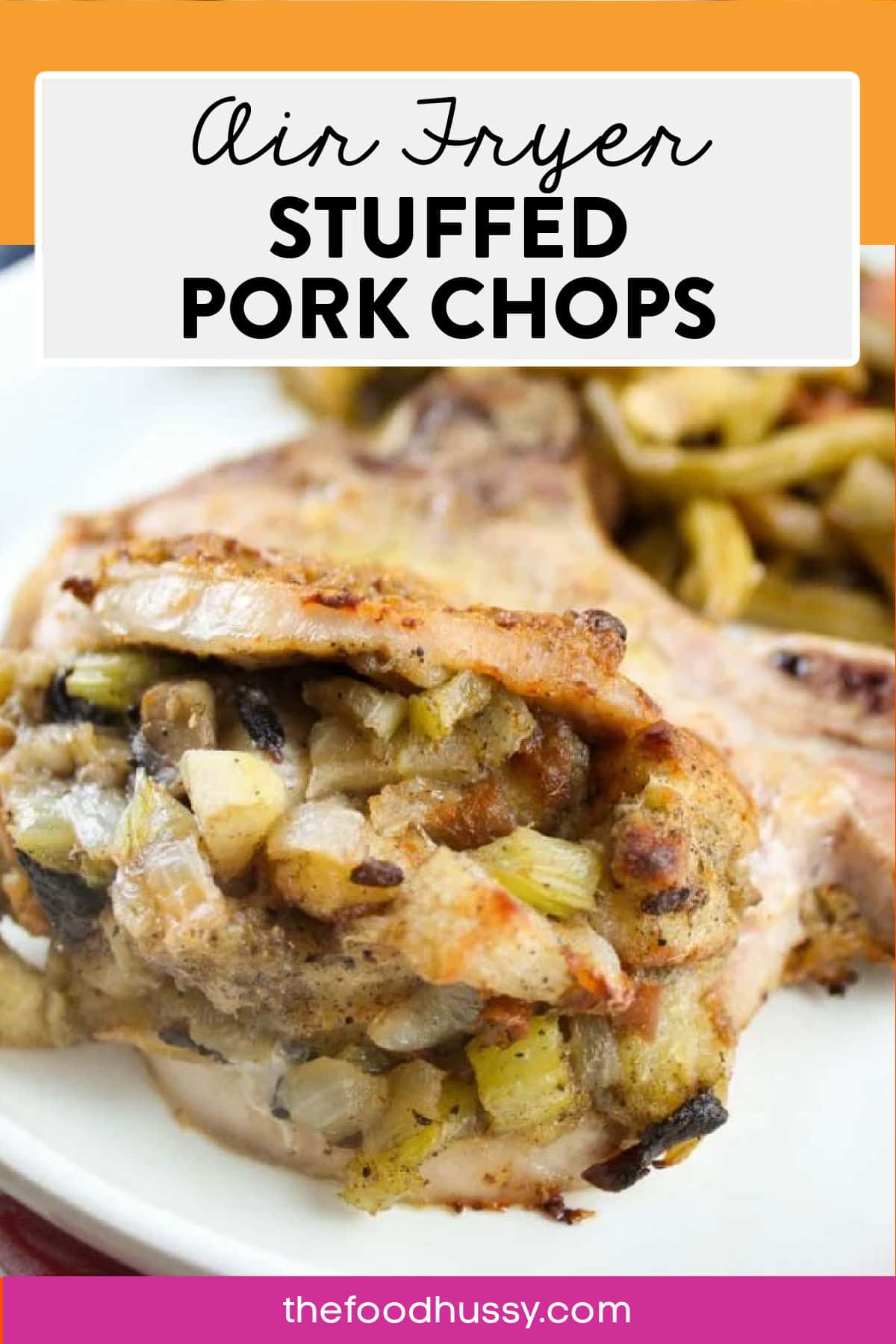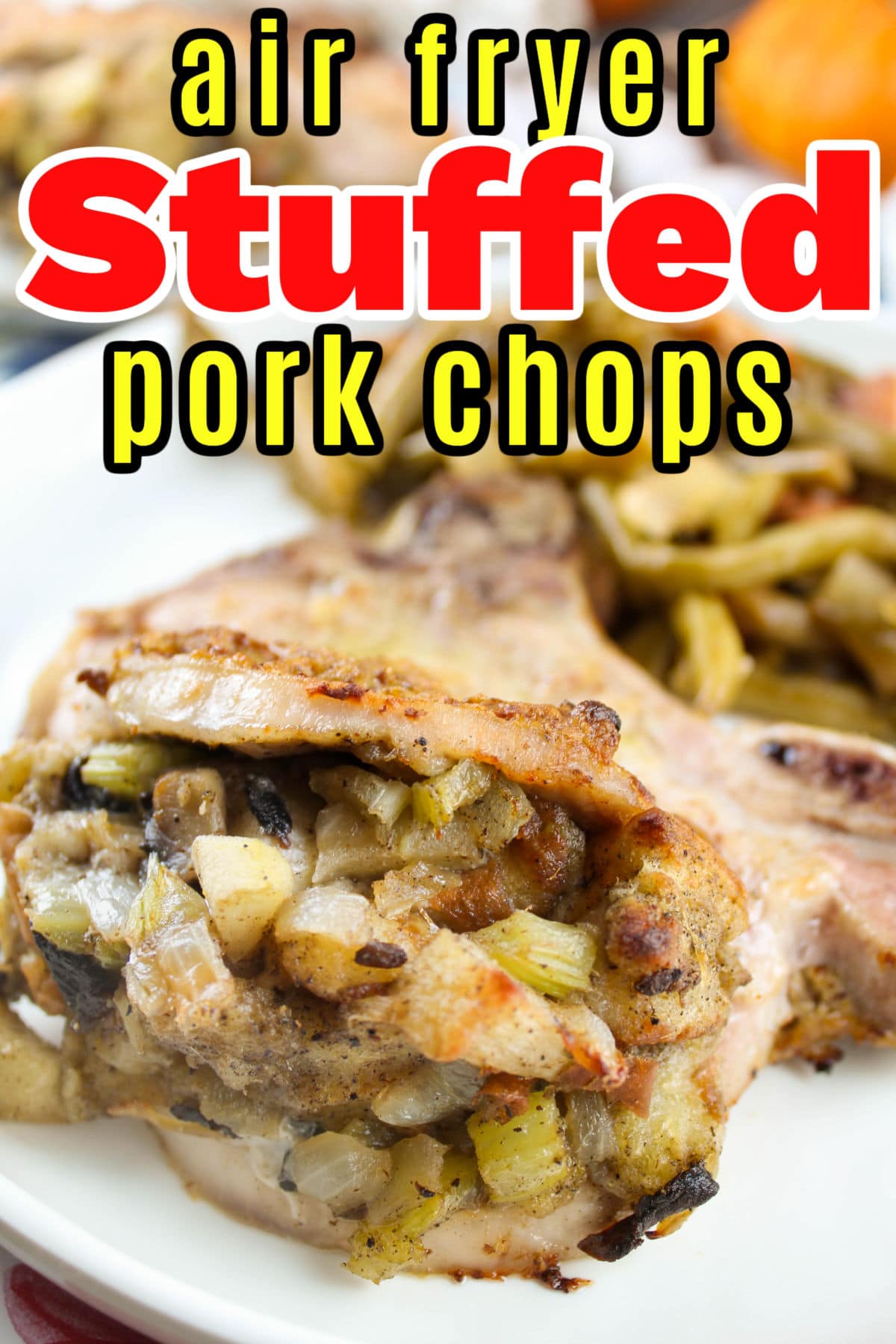 Air Fryer Stuffed Pork Chops go from fridge to table in less than 30 minutes and the stuffing has that wonderful bite of fall with diced apple! Using your air fryer ensures you'll have juicy pork chops with tenderness in every bite!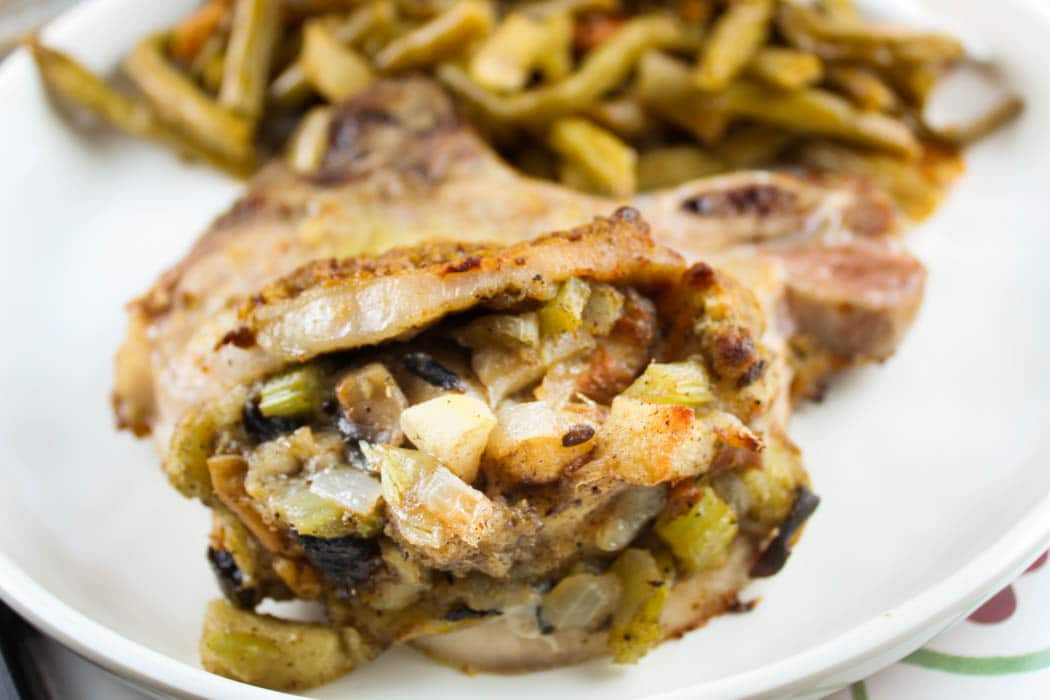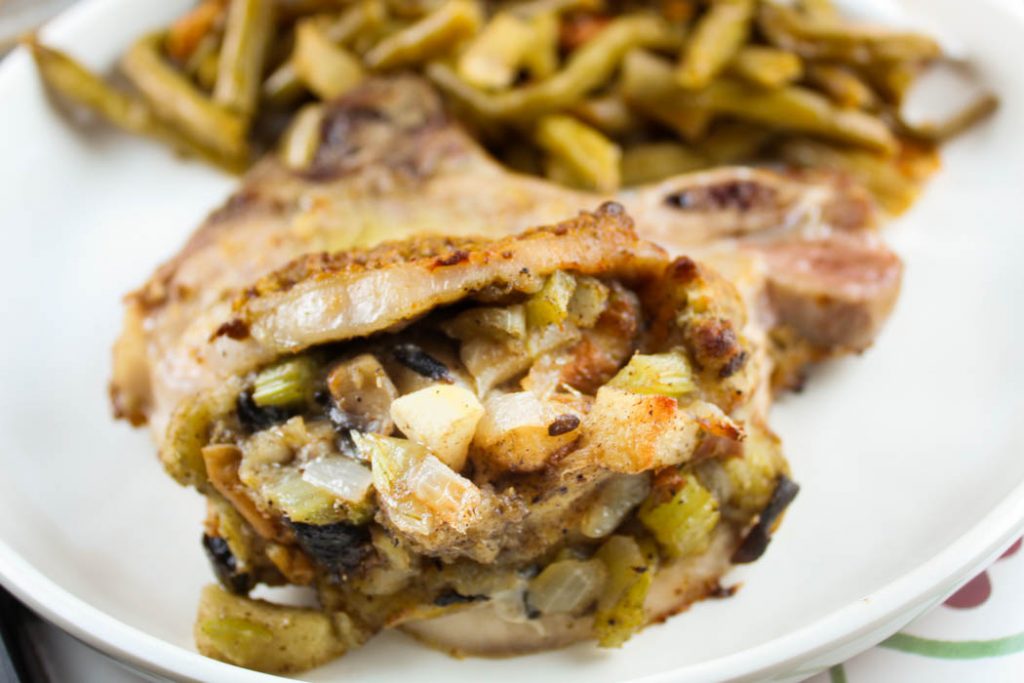 What You Will ❤️ About Stuffed Pork Chops
Under 30 Minutes! This meal goes from fridge to table in only 23 minutes!
Homemade Stuffing! This homemade stuffing is so good – you'll never use boxed again!
Juicy & Tender! Pork chops in the air fryer are done so quickly and you'll be shocked how juicy they are!
What's a good pork chop for stuffing?
Thick Chops – Try and find thick pork chops – at least 3/4″ thick if possible – so that you have some room to slice and stuff them. (No thin pork chops for this recipe!)
Bone-in Pork Chops – The bone keeps the flavor in and makes them less dry when you cook them.
Fat = Flavor – Keep a little fat on those chops! You can trim it off after you cook it – but it adds FLAVOR to the chops when cooking!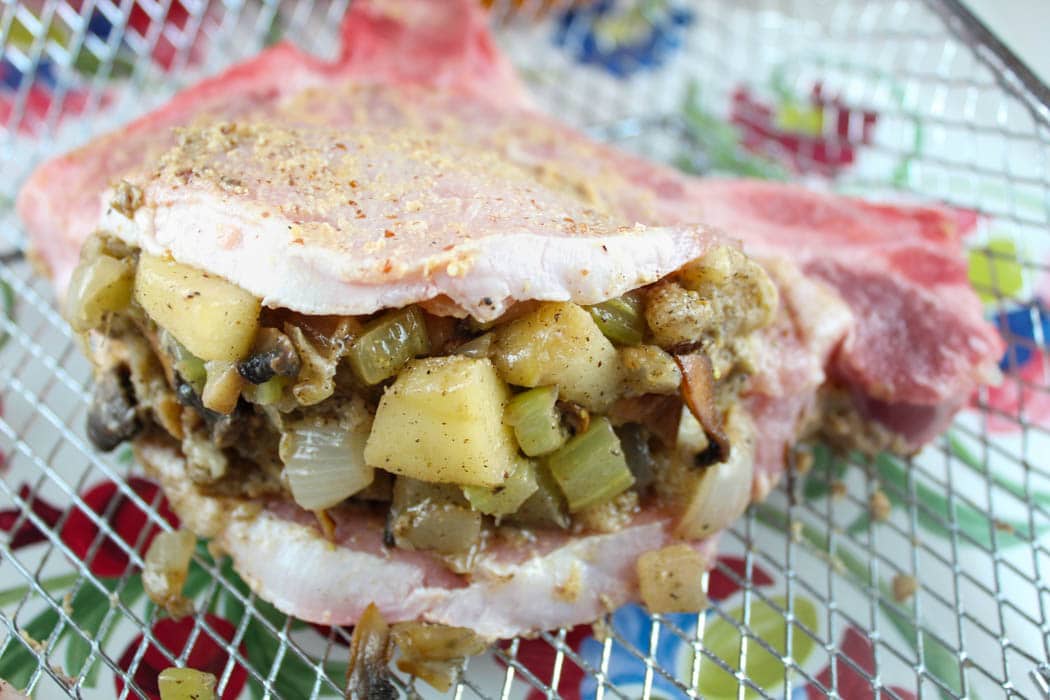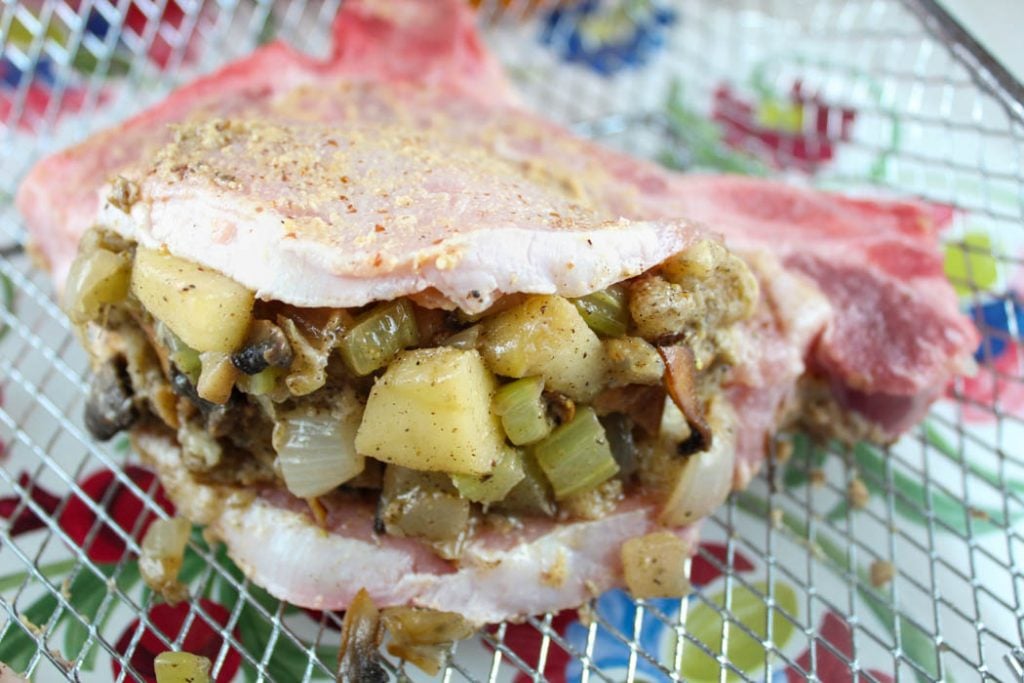 What's in Stuffed Pork Chops?
Stuffing is so EASY to make and homemade is 100X better than store bought. Here's what you need:
Salted Butter
Onion, Celery, Mushrooms – the most important ingredients!
Green Apple (this is an add-on to my regular crock pot stuffing)
Bread – I used leftover sub buns and hot dog buns but you can use any bread you have
Thanksgiving spices: Poultry Seasoning, Sage, Thyme (you could add garlic too if you like!)
Salt & Pepper
Bouillon + Water – I love using Better than Bouillon so much more than those hard little cubes! Lots of flavor instantly!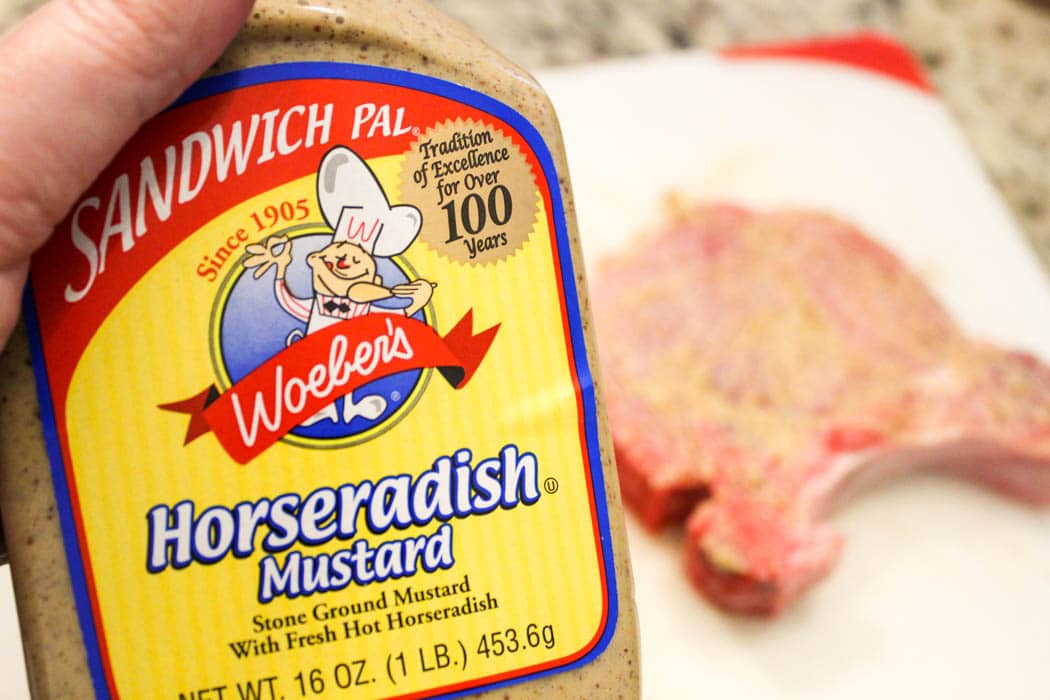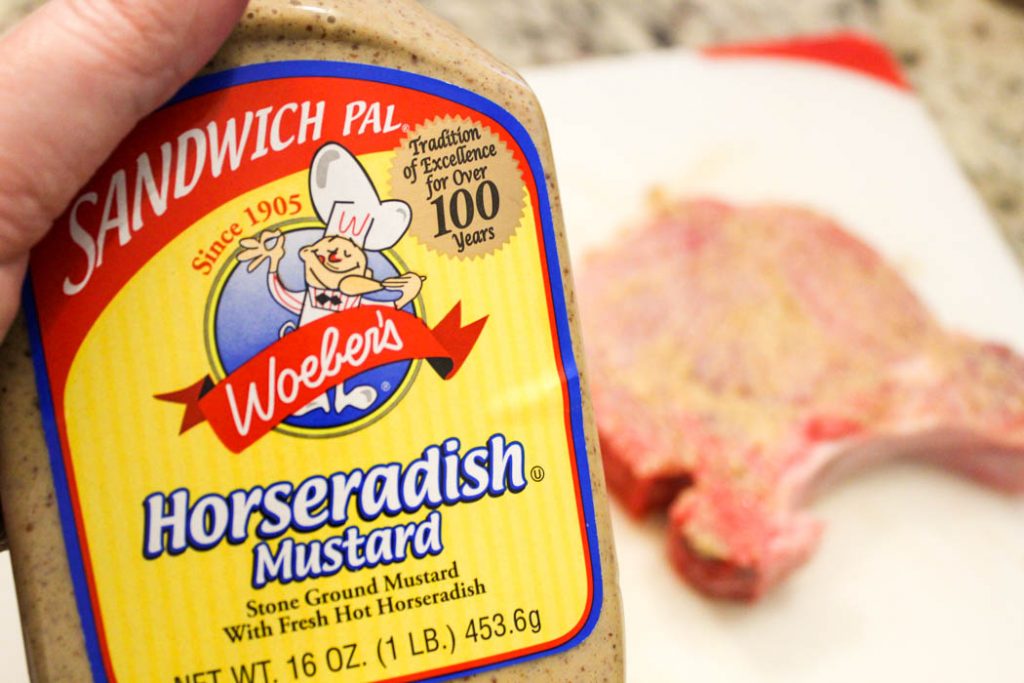 Finally – of course – you'll need: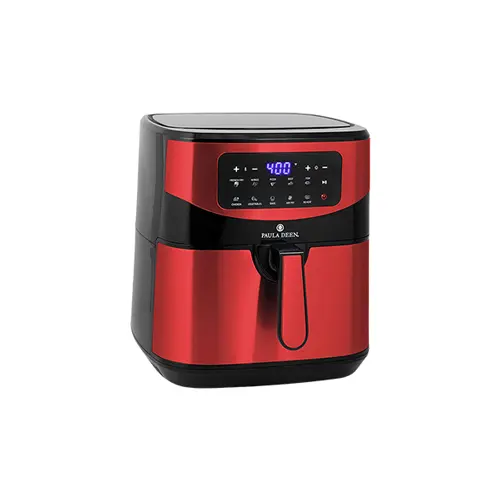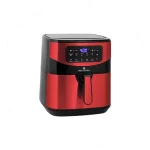 This recipe was made using the Paula Deen Air Fryer.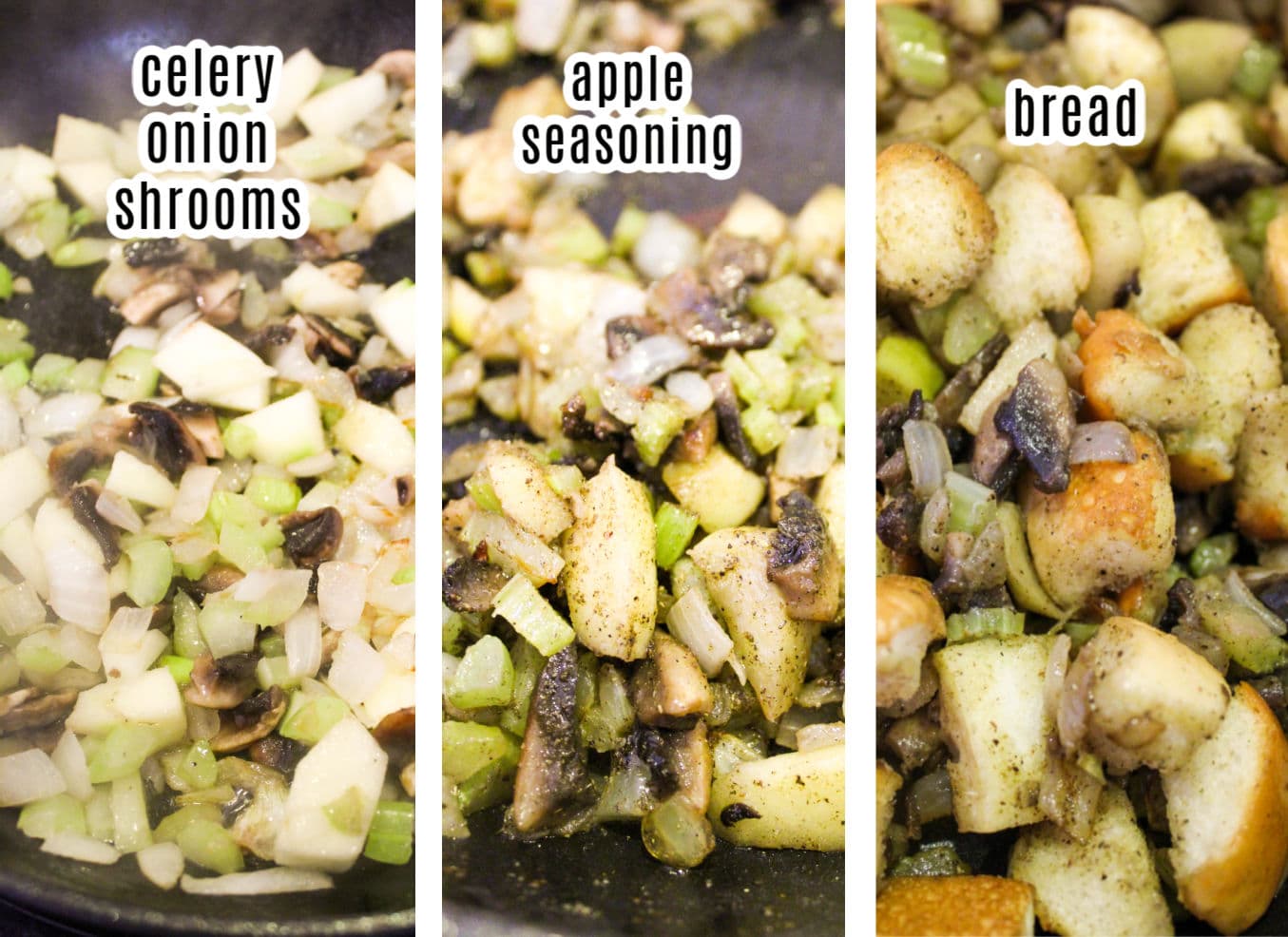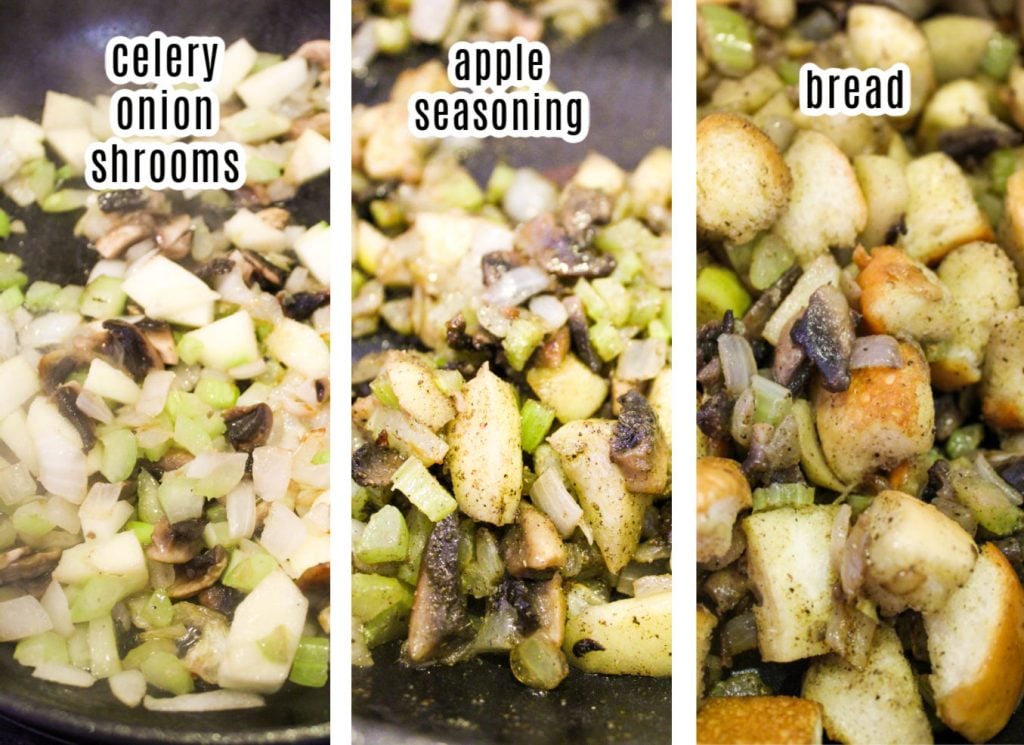 How do you make Air Fryer Stuffed Pork Chops?
This is an easy recipe – since you're making stuffing first – there are a few extra steps – but it's worth it to make from scratch! (The homemade stuff is the best part!)
1. Make the stuffing
Melt the butter in a large skillet over medium high heat
Add celery, onion, mushroom and apples to butter and saute for 3-5 min until softened
Remove from heat and add seasonings to celery mixture and stir
Combine bread cubes with the veggies and stir
Mix together bouillon and water then stir. Add to the bread mixture so it sticks together a bit.
Set stuffing aside in a large bowl
This post contains affiliate links which I make a little money on purchases. Thanks in advance! I am an Amazon associate as well as a member of other affiliate programs.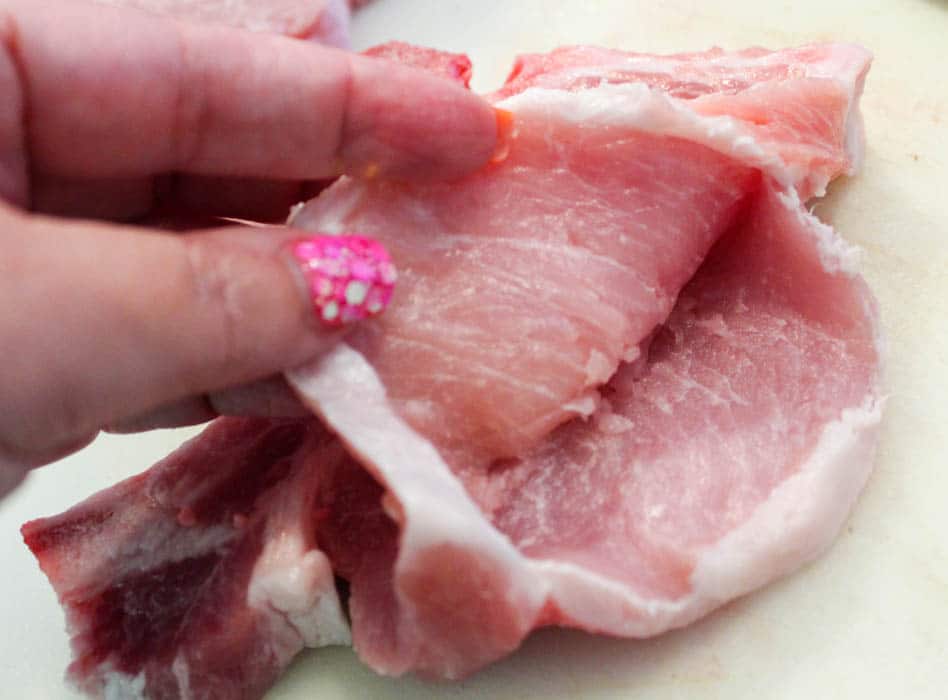 2. Stuff the chops!!!
Using a sharp knife (like a boning knife), make a horizontal slice into the side of the pork chops to make a pocket inside for your stuffing

Be sure to cut in and slice away to get a nice sized pocket – go towards the bone about 3″. You might need to make little "swipes" with the knife to keep going.

Fill each pocket by hand with a handful of stuffing mixture. You'll have enough to do four pork chops. Push the stuffing towards the bone and mush it in tight!
Preheat your air fryer to 375º (turn on for 3 min at 375º if you don't have a preheat setting). Spray air fryer basket with nonstick cooking spray
Brush the sides of each pork chop with mustard (horseradish, deli, dijon – whatever you have) and spritz with a touch of olive oil spray
Place pork chops in the basket in a single layer and air fry for 8 minutes (no need to flip pork chops)

Check internal temp of pork chop meat (not bone) with an instant read thermometer to be sure the internal temperature is 145º

Remove from air-fryer basket and serve!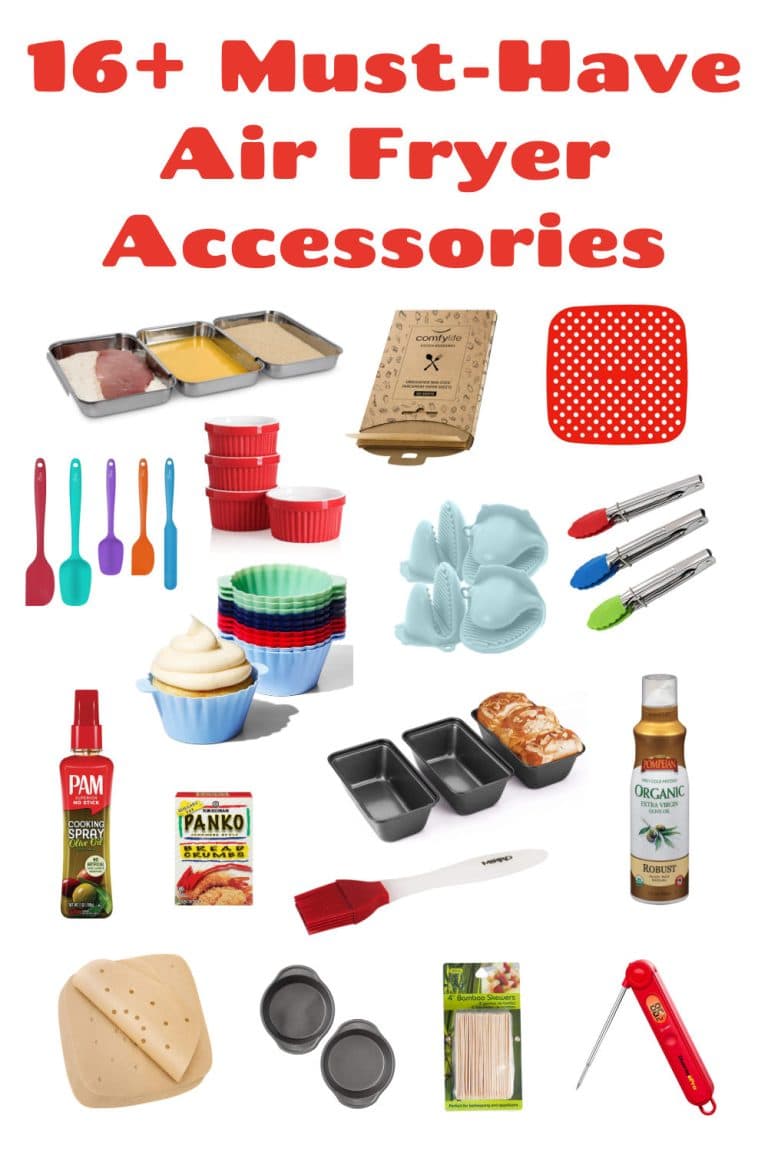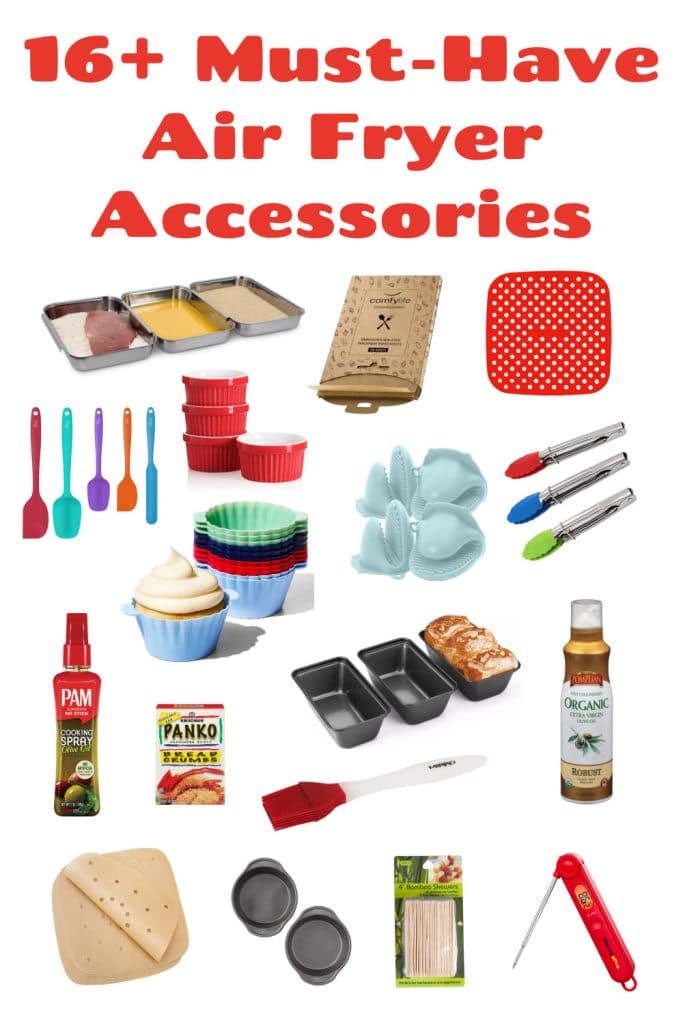 Best Air Fryer Accessories
Here's my ultimate list of best air fryer accessories – whether you have a basket- or oven-style! I've also included a price guide as well as my favorite recipes for those accessories.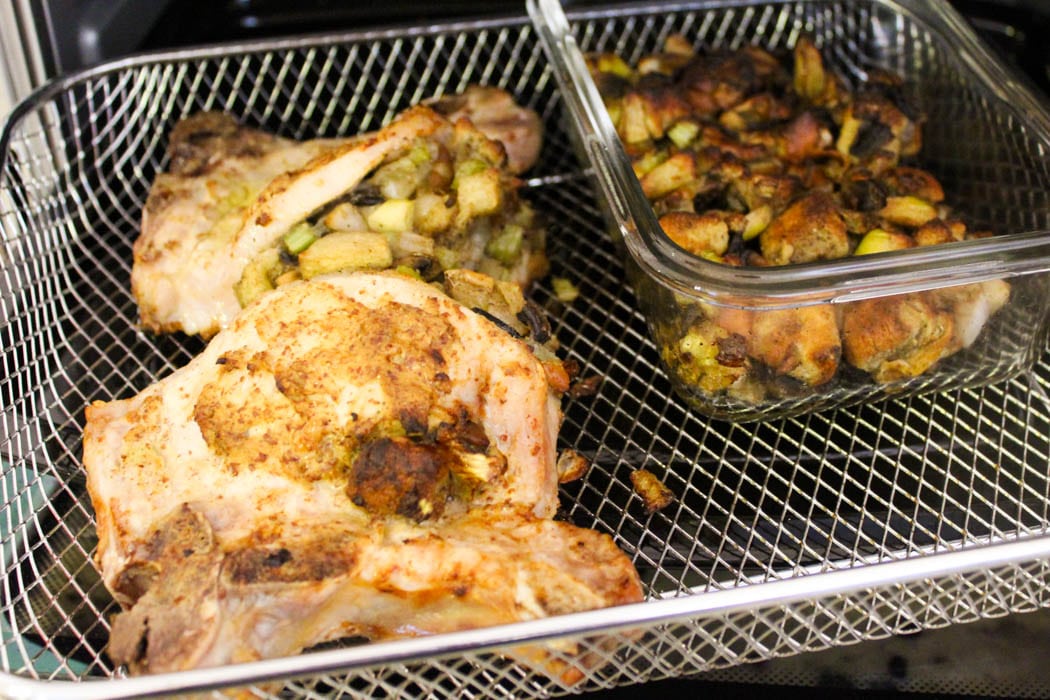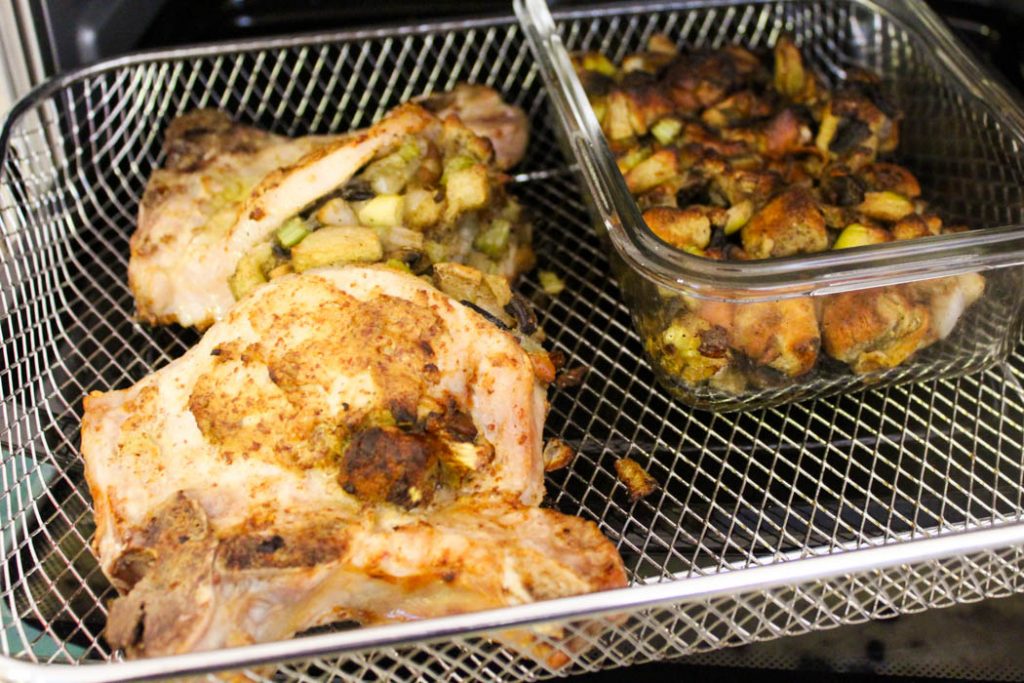 Tips, Tricks and FAQs
Can I use boneless pork chops?
Of course you can use boneless chops – I just find that bone-in chops have more flavor which keeps the pork juicy.
Can I use boxed stuffing?
Sure – use whatever stuffing you like – or even a cornbread stuffing. This is just my favorite recipe and the amount is just right for these chops.
What temperature should I cook pork chops to?
Pork is safe to eat at 145º – I always use an instant read meat thermometer in the thickest part of the meat to check the internal temperature of the pork. You can actually take the pork out at 140º and let it rest for a few minutes and it will come up to temp.
Doesn't stuffing need an egg?
Well – if you're making the stuffing recipe as a side dish – yes – you need eggs. BUT for this recipe – the egg isn't needed! (And yes – I might have figured this out because I forgot the egg and didn't realize it until the chops were stuffed. Doh! But it worked and was delicious!)
Do I need to use the apple?
Well no – but I recommend it! I don't even like green apples – but apples and pork chops are perfect together and it really added a ton of flavor and texture to the stuffing – you'll love it!
What kind of mustard should I use?
I ran out of Dijon – but I had some amazing Woeber's Horseradish Mustard in my fridge – so I used that! So good! Really – use whatever mustard OTHER than plain yellow. Don't we all have 14 mustards in our fridge door? Or is that just me?!
Can I short cut with Stove Top Stuffing?
You can sub out box stuffing mix if you're short on time but this homemade stuffing is one of my favorite ways to have a little Thanksgiving flavor any night of the week!
How do you store and reheat leftovers?
Store leftovers in an airtight container (I like these glass ones) in the refrigerator for up to a week. Reheat in the microwave for 1-2 minutes or in the air fryer at 350º for 5 minutes.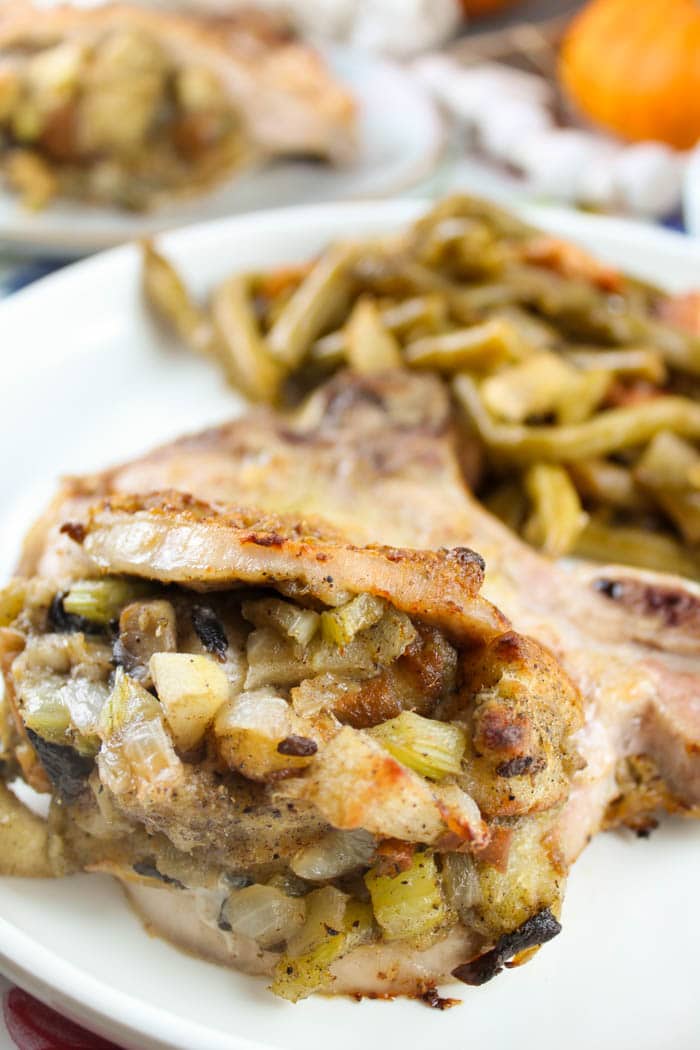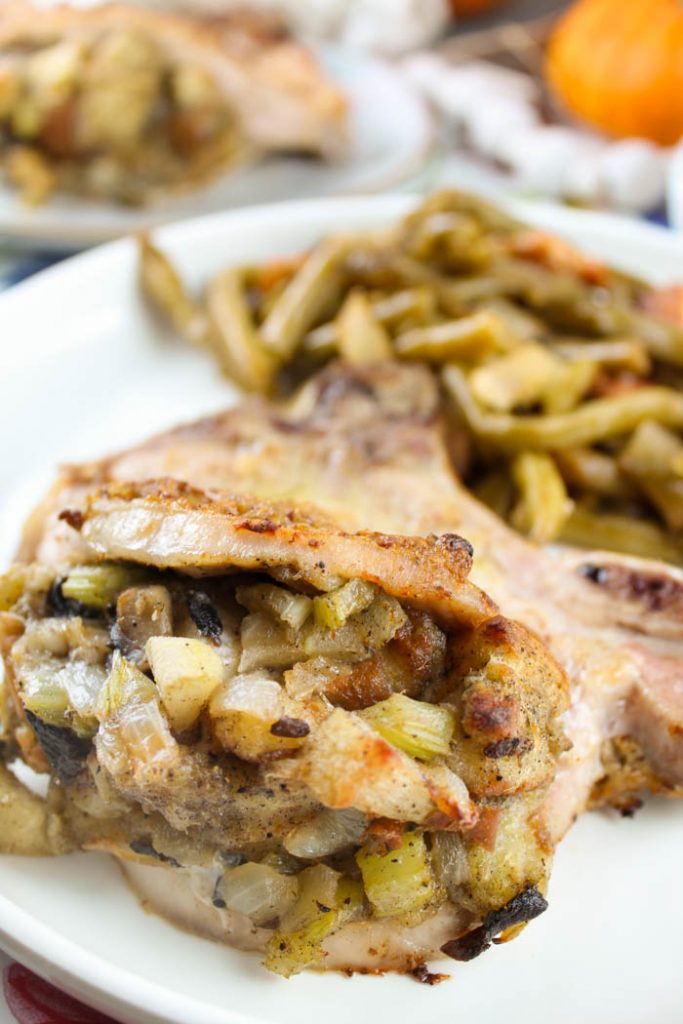 What to serve with stuffed pork chops?
This pork chop recipe is super delicious and just missing a nice big side of veggies – here are some ideas for things to serve on side of the pork chops::
Other delicious Air Fryer Recipes with pork
These delicious air fryer pork chops are a great meal and it's amazing you can make them in the air fryer! Here are some other great air fryer meals: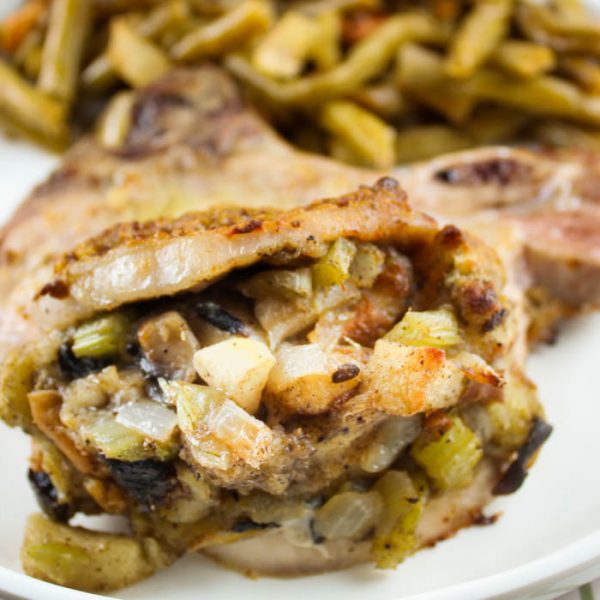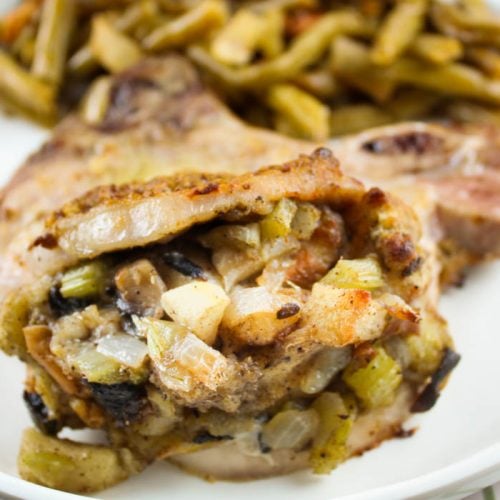 Air Fryer Stuffed Pork Chops
Air Fryer Stuffed Pork Chops are an amazingly quick and easy meal that everybody will love! Plus – the stuffing is a wonderful bite of fall with diced apple and all those wonderful Thanksgiving spices that come in stuffing!
Ingredients
6

tbsp

butter

1/2

cup

onion

diced

1/2

cup

celery

diced

1/2

green apple

peeled & diced

4

oz

mushrooms

washed & sliced

4

slices

thick cut bread

diced

1/2

tsp

poultry seasoning

1

tsp

sage

1

tsp

thyme

1/2

tsp

salt

1/4

tsp

black pepper

1/2

tsp

Better than Bouillon Chicken

1/4

cup

water

4

thick-cut, bone-in pork chops

3/4" thick

4

tbsp

horseradish mustard

or djion
Instructions
Stuffing
Melt butter in a skillet over medium heat.

Add onion, celery, apple and mushroom in skillet and saute for 3-5 min until all softened, stirring frequently

1/2 cup onion,

1/2 cup celery,

1/2 green apple,

4 oz mushrooms

Take skillet off heat and add poultry seasoning, sage, thyme, salt and pepper

1/2 tsp poultry seasoning,

1 tsp sage,

1 tsp thyme,

1/2 tsp salt,

1/4 tsp black pepper

Add in bread cubes and stir

Microwave water for 45 seconds and add bouillon. Stir to dissolve

1/4 cup water,

1/2 tsp Better than Bouillon Chicken

Add chicken broth slowly to skillet – stirring to mix and coat all bread so stuffing starts to stick together a little

1/2 tsp Better than Bouillon Chicken

Set stuffing aside to absorb broth a little
Pork Chops
Using a boning knife, cut a deep pocket in pork chops, cutting close to the bone. You might need to take "swipes" with your knife to cut deep enough

4 thick-cut, bone-in pork chops

Preheat Air Fryer to 375 (if you have one that needs to preheat)

Fill each pocket with a handful of stuffing – it's easiest to just use your hands. Mush the stuffing into the pocket and pull the top of the pork chop over the stuffing. We're not flipping – so no need to secure with a toothpick – it's fine.

Brush top of pork chops with mustard and spritz with a touch of olive oil spray

4 tbsp horseradish mustard

Lay pork chop into basket of air fryer (oven or basket style)

Air fry at 375 for 8 minutes

Check temperature with a meat thermometer to 145 – be sure to check the meat – not touching the bone. If chops are thicker – they may need 3-5 min longer.
Notes
**We are not dietitians and recommend you seek a nutritionist for exact nutritional information. The information in the nutrition box are calculated through a program and there is room for error. If you need an accurate count, I recommend running the ingredients through your favorite nutrition calculator.**
Nutrition
Serving:
1
chop
Calories:
337
kcal
Carbohydrates:
27.3
g
Protein:
23
g
Fat:
14.1
g
Saturated Fat:
6.4
g
Cholesterol:
73
mg
Sodium:
1119
mg
Potassium:
408
mg
Fiber:
2.9
g
Sugar:
6.1
g
Calcium:
80
mg
Iron:
3
mg