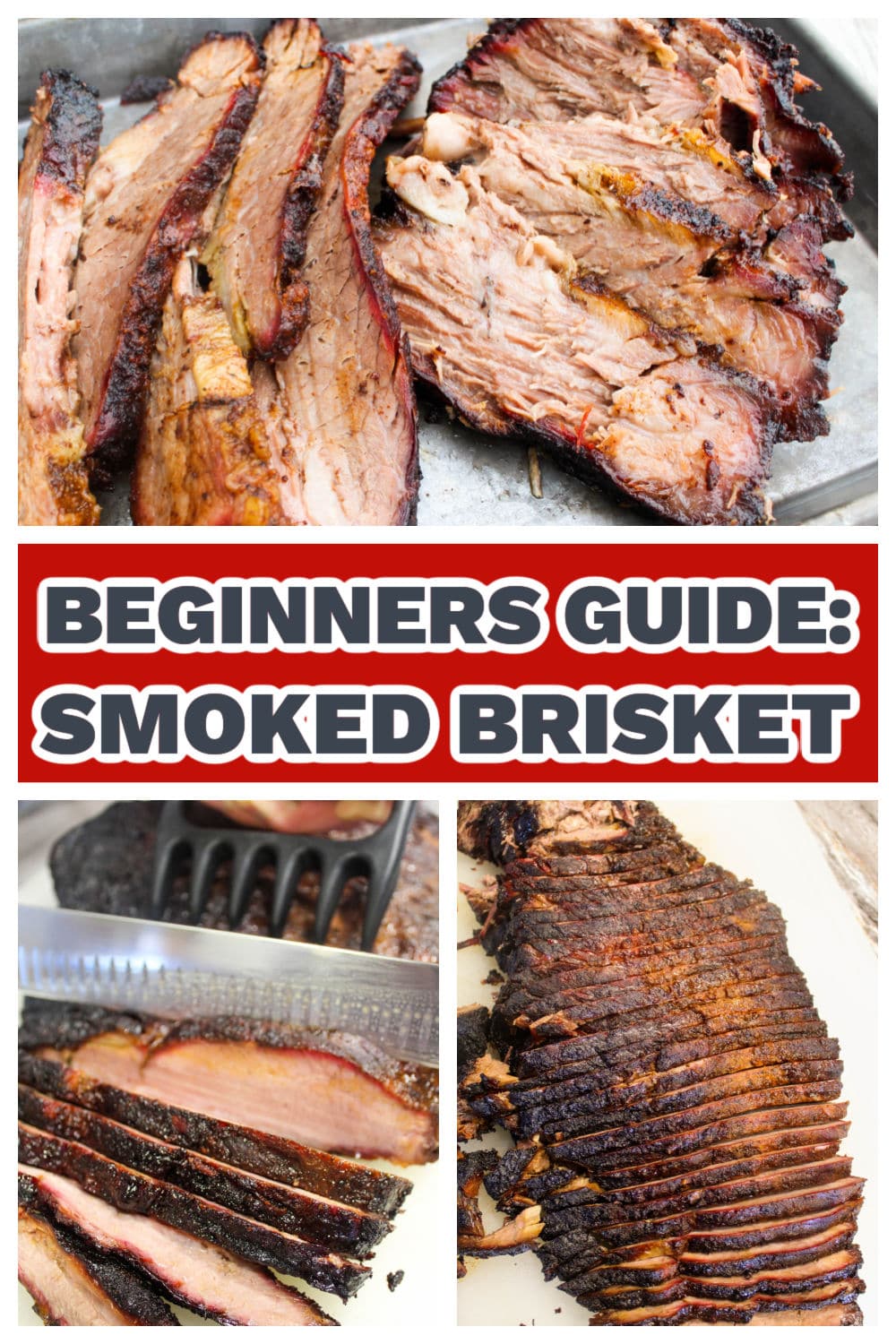 Smoking a brisket can be fairly intimidating – especially to a beginner! But I'm here to help dispel the anxiety and nerves and give you all the tips and tricks for the cooking process of how to smoke a brisket on a pellet grill. It's a labor of love that takes a couple of days – but it's worth it when you get that perfect smoke ring!!!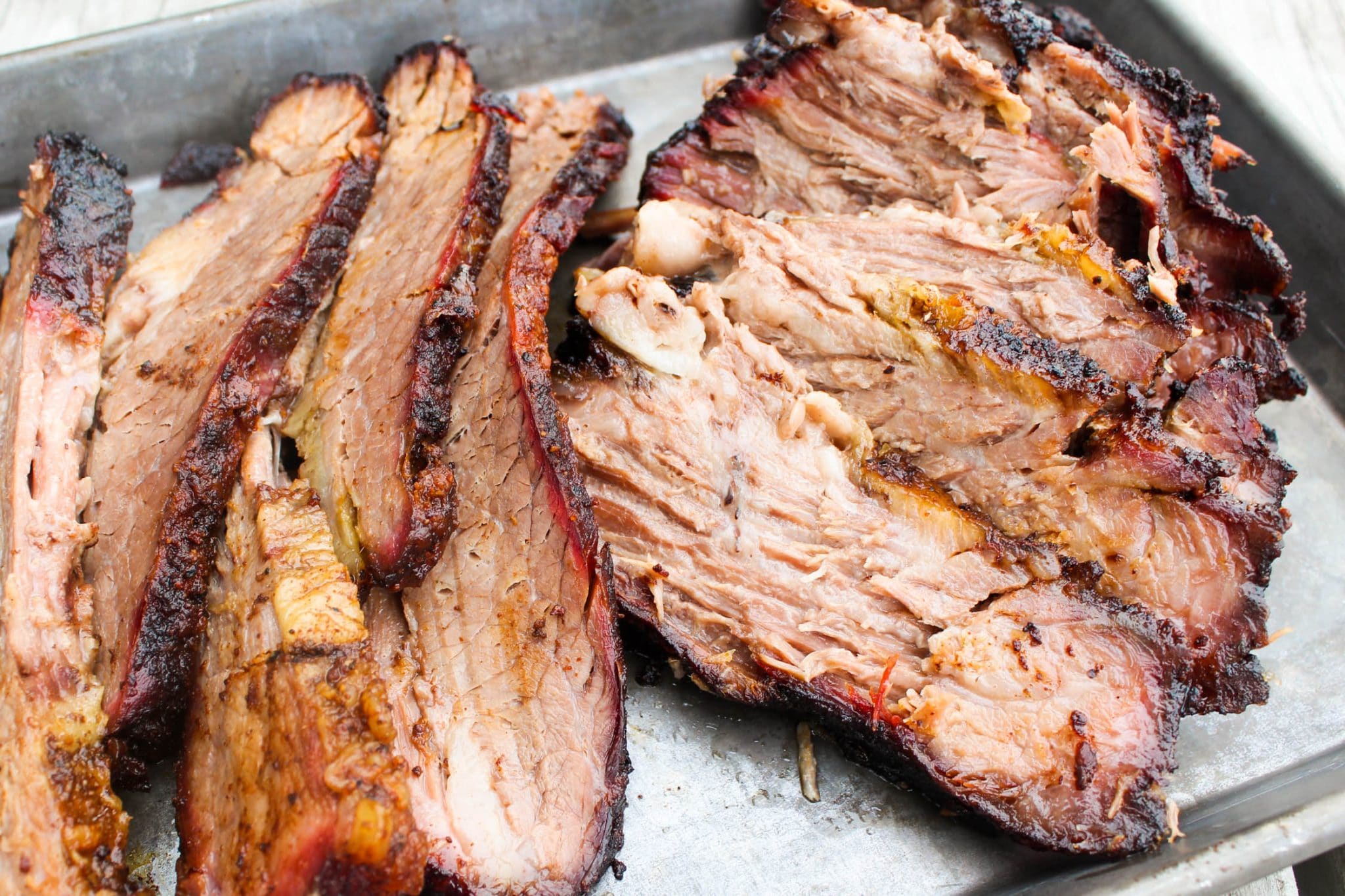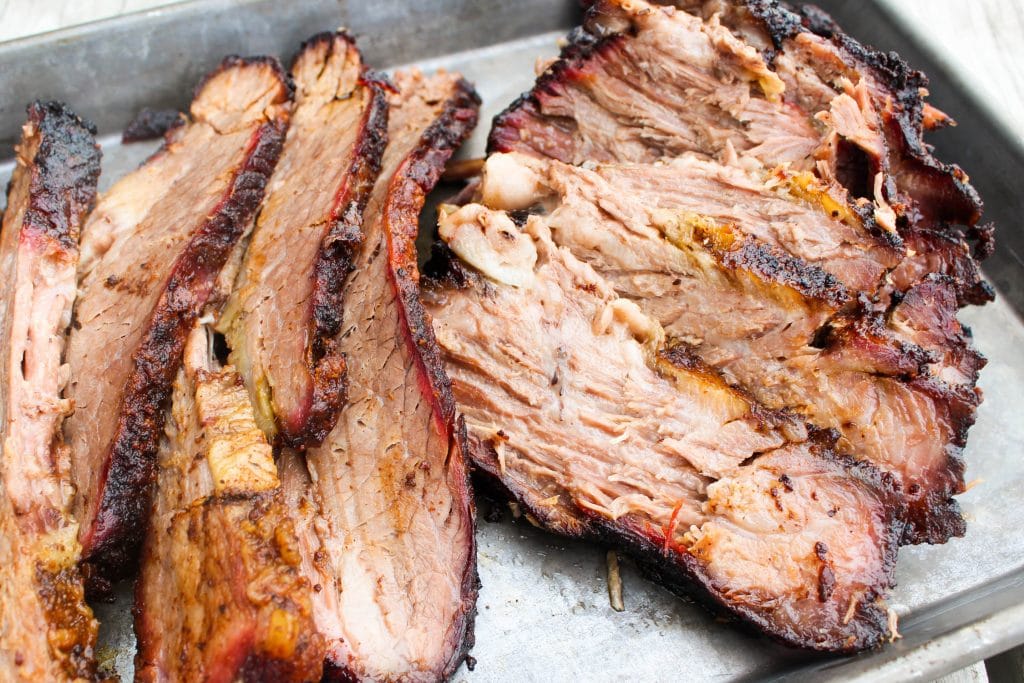 There are quite a few steps – but I want to walk you through them and show you that you can do it! Normally I'm a Traeger Grills loyalist for my smoking – but I actually went home to Iowa to make this first time brisket with my BFF's husband Nick. He's made brisket before – bragged about it – sent me pics that made me drool! So – I asked for his help! He's got a pellet grill – and that's the main thing – whether it's a Traeger or another brand – a pellet grill is the way to go! Fill that hopper – set the temp and let it do the work for you!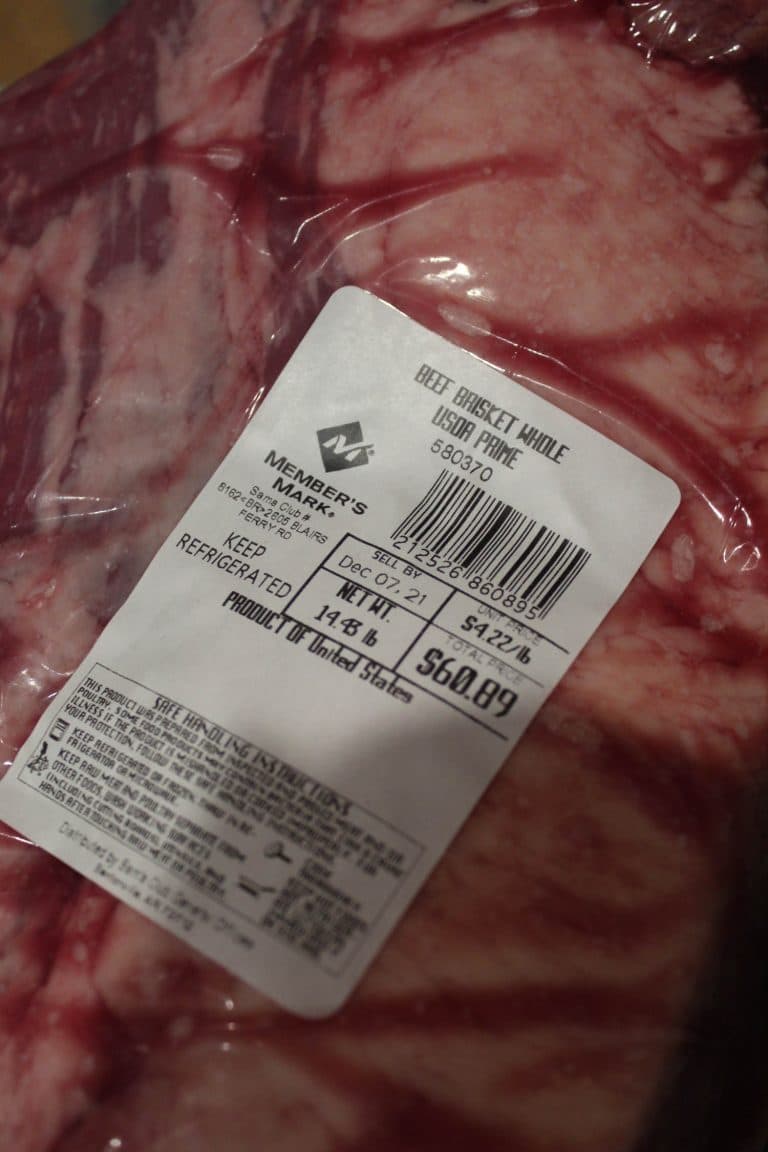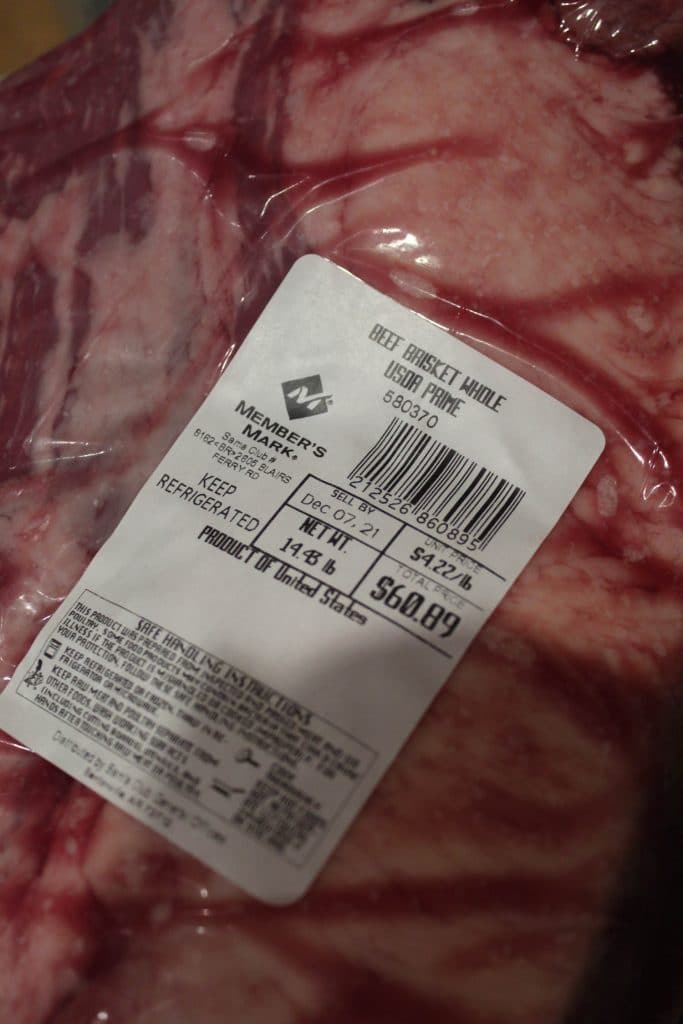 Ingredients for an amazing Smoked Brisket Recipe
Brisket – yup – that would be helpful! I've got tips below on what type of brisket you'll want to buy.
Favorite BBQ Rubs – I've got a list of all the rubs we used – but you can go as simple as salt & pepper. The thing with rubs is – every pellet grill owner has a BAG of seasonings that they love – use what you love! On a brisket – layer the seasonings! Go for it!
Injection Powder – I used Kosmos Beef Brisket Injection Powder
Water or Beef Broth – You'll need water or beef broth to mix with the powder for your injection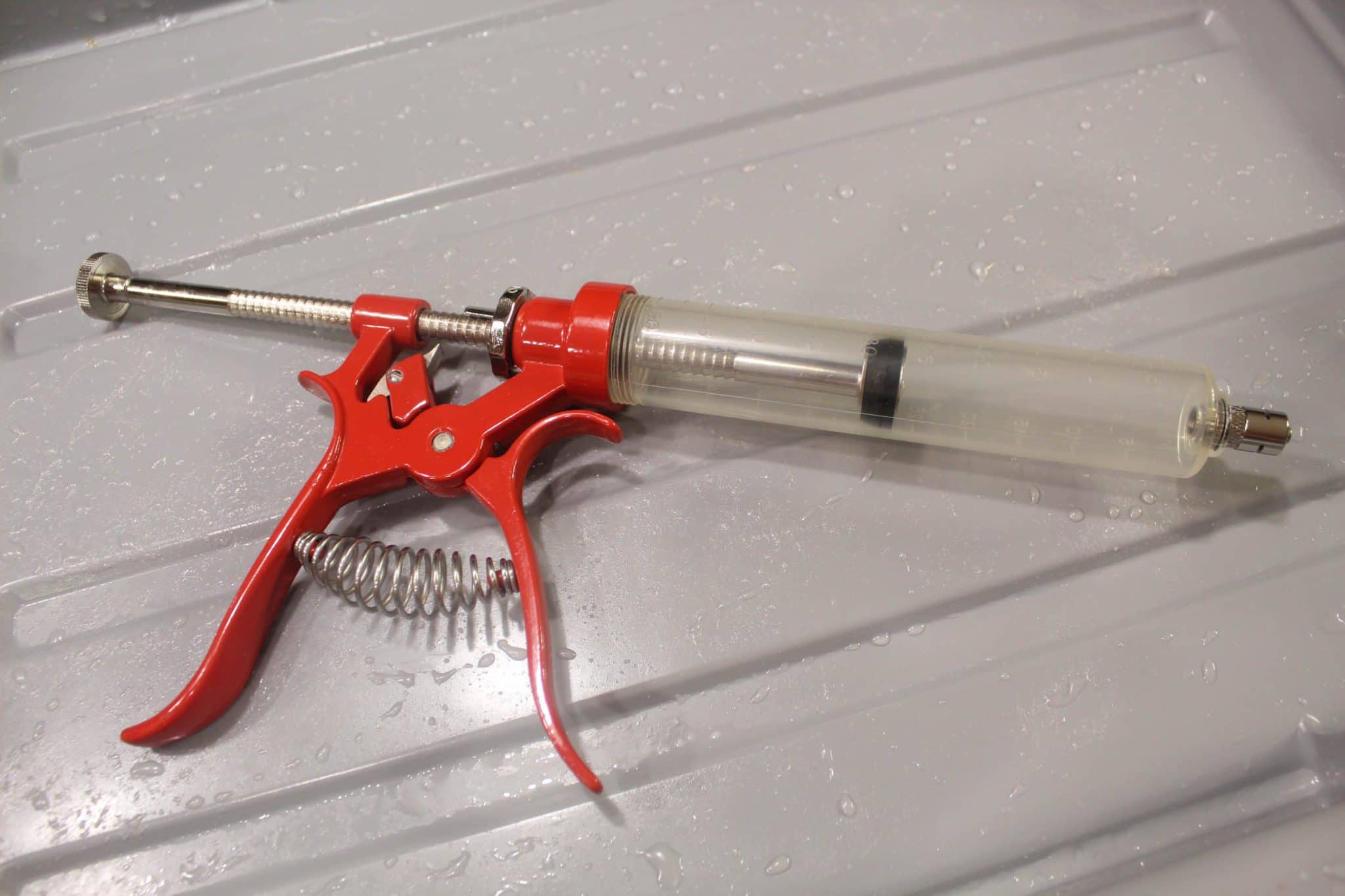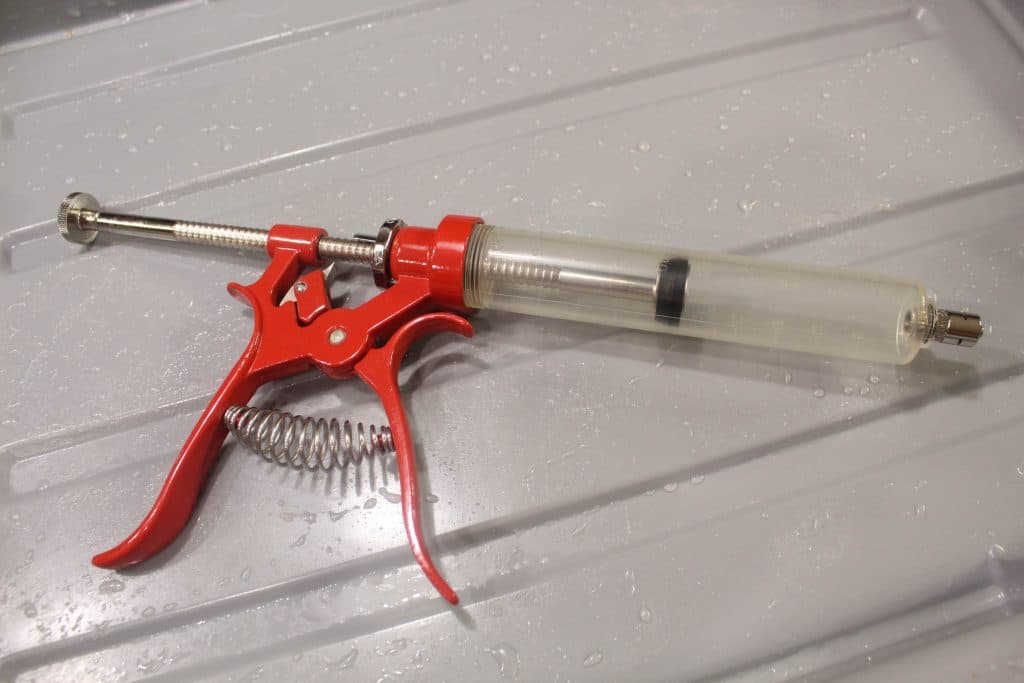 Tools Needed to Make the Perfect Beginner Smoked Brisket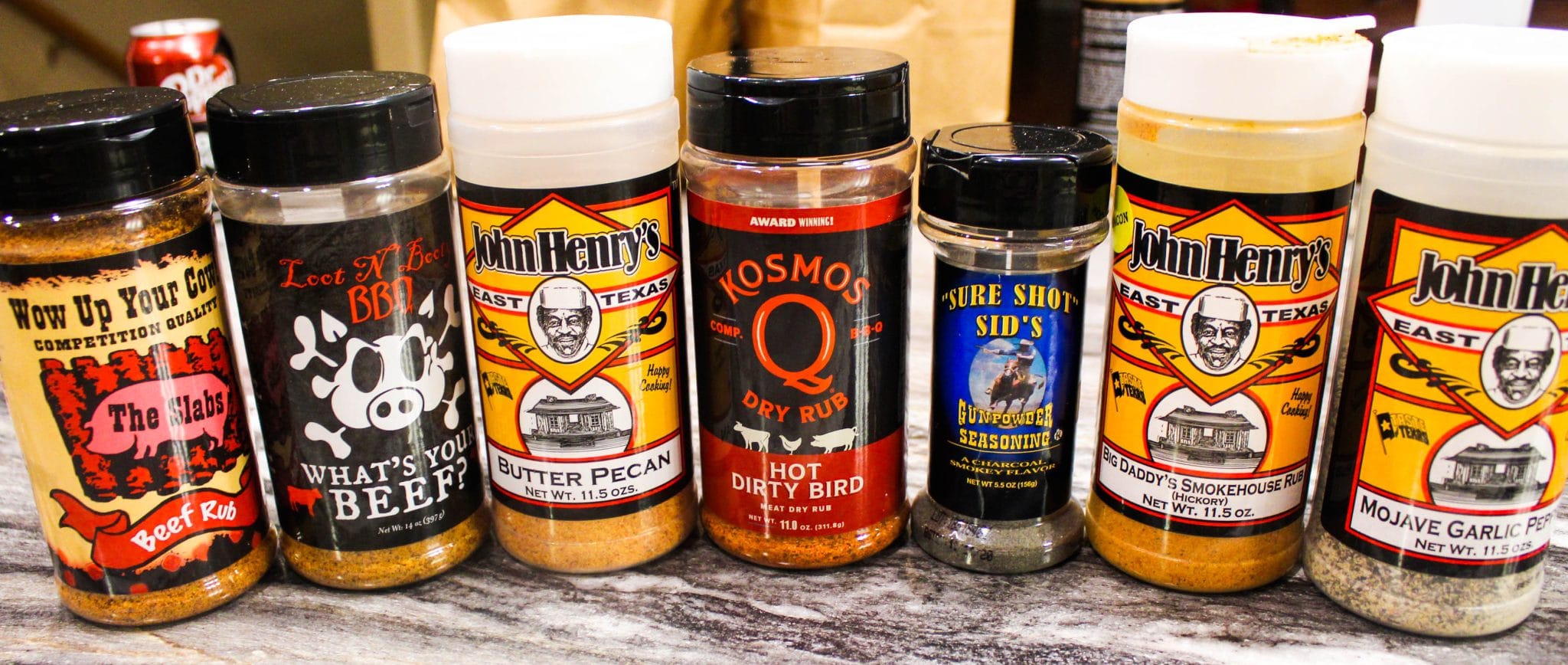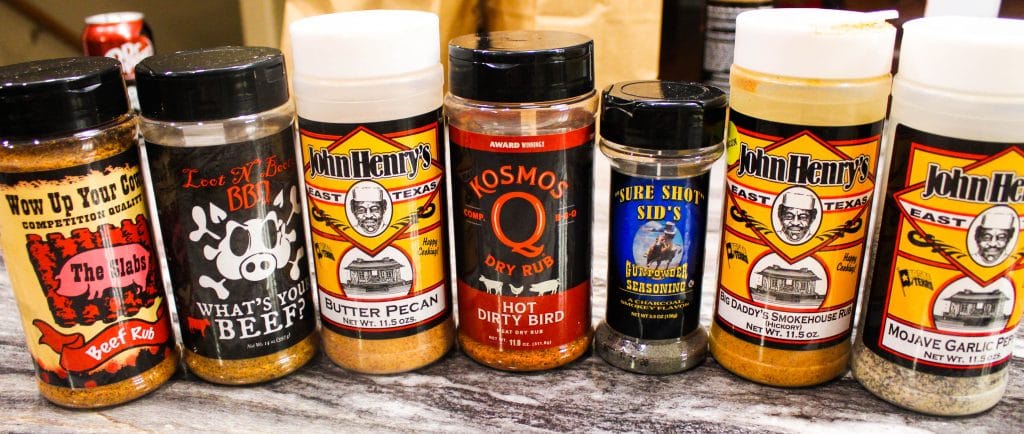 Rubs & Injectors Used for the Perfect Smoked Brisket
There are so many great BBQ Rubs out there with so many different flavors but whatever the mixture you use will make a great recipe for your brisket! This is what we used though – and yes – we used ALL of them!
If I was going to make this again at home – I would go more simple and do the Kosmos Injection and pair it with Historic BBQ Black seasoning and call it a day.
How to Prepare your Brisket for the Smoker
There are so many steps to making your a perfect brisket – none of them are difficult – but you just want to make sure to check all the bases! I'll walk you through everything you need to get to the melt-in-your-mouth brisket everyone craves!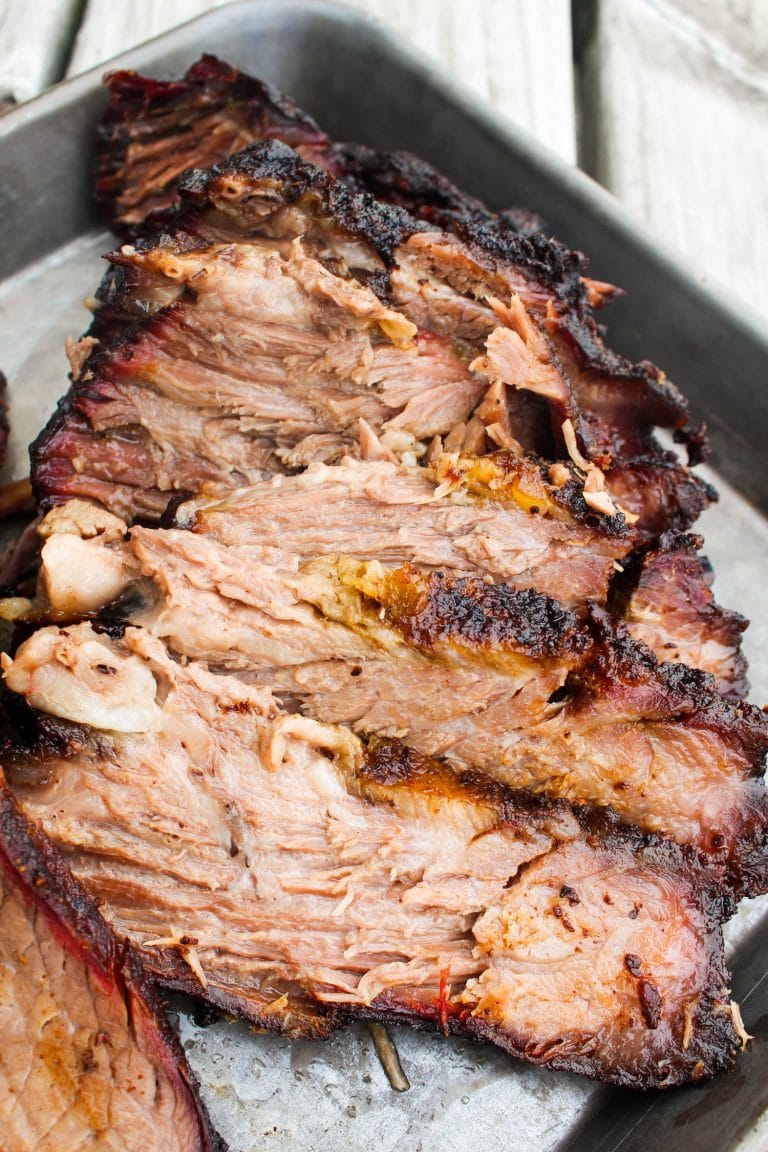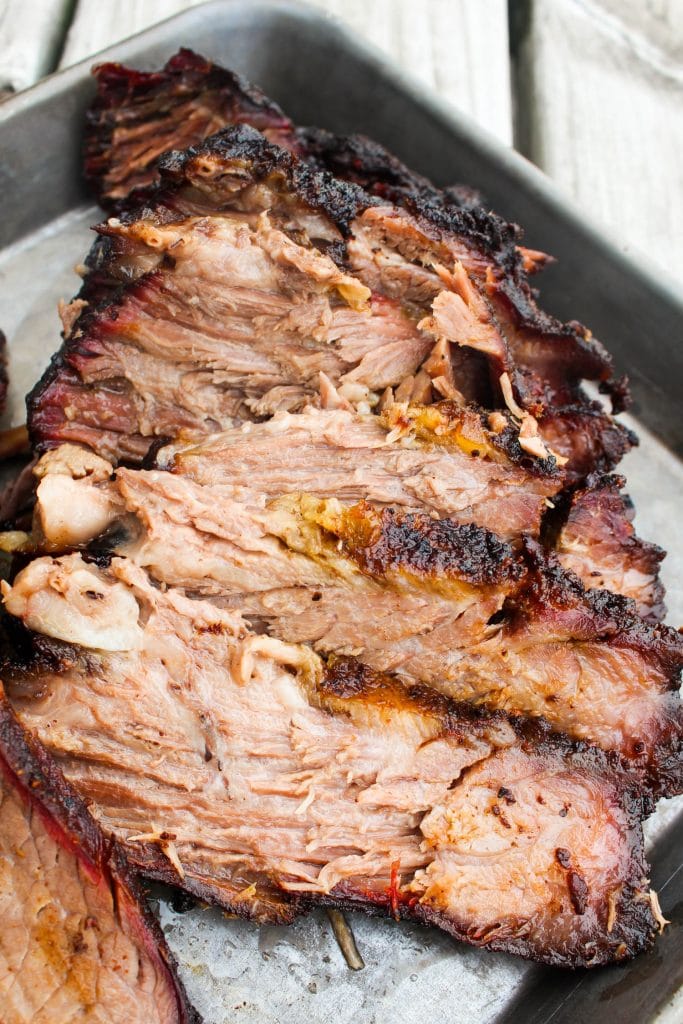 Timing & Steps for the Best Smoked Brisket
Day 1:

Selecting your brisket
Trimming the fat
Seasoning & Injection
Refrigerate overnight

Day 2

Smoke for 12+ hour long cook

Day 3

Rest for 2 hours
Warm & Slice
EAT!!!!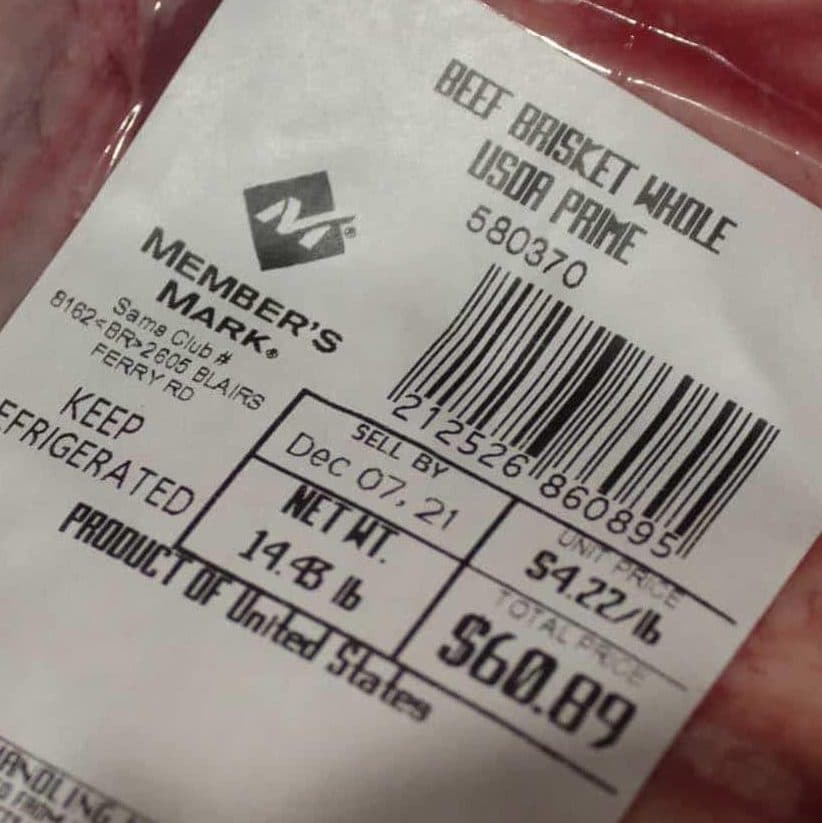 What kind of brisket should I buy?
Be sure to get a WHOLE brisket – the flat brisket is the thinner part of the brisket and won't be quite as juicy. The whole will give you all the fat you need to make this melt in your mouth.
If you purchase your brisket from a butcher shop – you can ask for tips and pointers – but the price might be higher. I had an expert with me (my BIL Nick) – so we bought the brisket at Sam's Club and then he helped teach me how to trim. You can also get a brisket at the grocery store if that's more convenient.
How much brisket should I buy?
Leftover brisket is amazing but you might not want to be eating brisket for a week straight! If you're feeding a group – figure a half pound per person – and then over plan a little for leftovers. That said – the size of the brisket can range from 3 to 15 pounds. We figured – this is an intensive cook – so let's go all out and get a 15 pound brisket!
How to Trim Brisket
You want to trim off big thick excess chunks of the fat cap – all while still leaving some fat. Where those big thick slabs of fat are – be sure to leave approximately 1/4″ fat around the brisket. Trim out any little fat pockets you find as well but don't trim it all! You'll also want to trim off any of the silver skin on the brisket – it's a tough "thick" skin that has a silvery shimmer and it doesn't break down during the cooking process – so trim that off!
You'll likely trim off 1-2 pounds of fat from your brisket – so that will also shorten the cook time!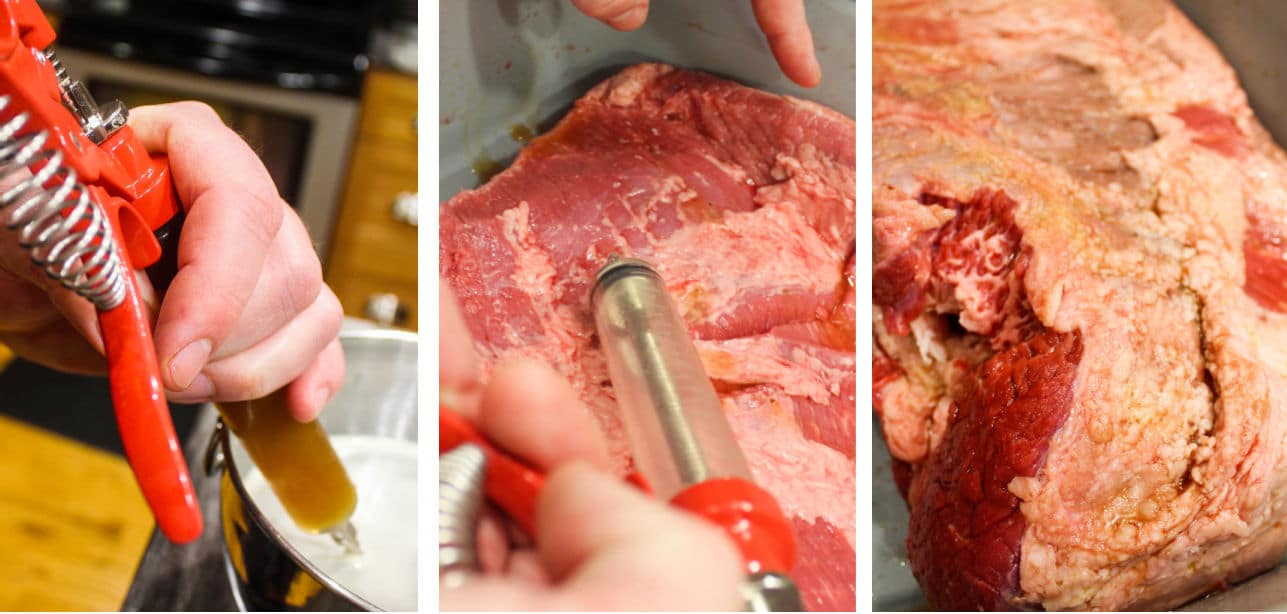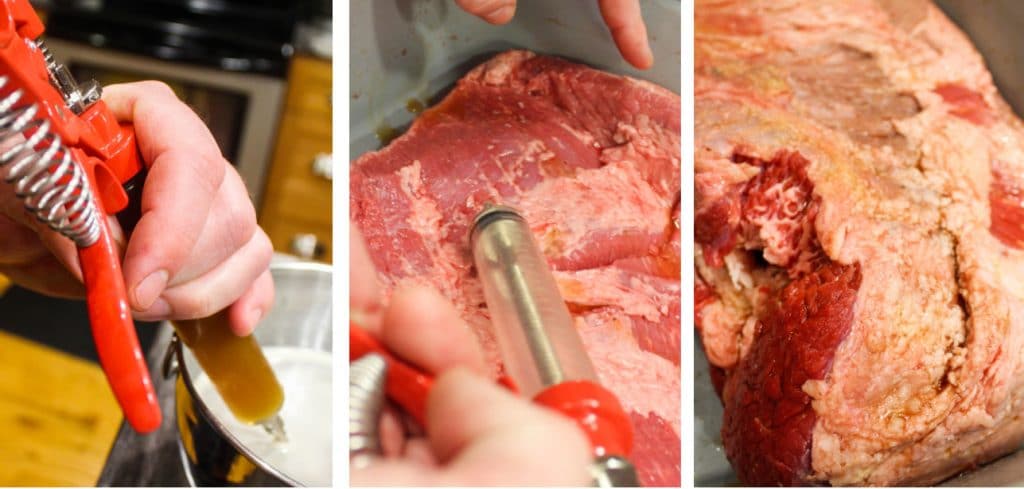 Smoked Brisket Rub & Injections
I recently met up with a competition BBQ guy and he said you can do a brisket with simple seasonings – like salt and black pepper – so don't overthink it when it comes to the rubs. That said – my meat fairy is a rub guy and we used 7 different rubs PLUS an injection. So go with salt & pepper – or go a little overboard and have fun with some new rubs! I would DEFINITELY use an injector though – I think that made a hella-difference!
That said – once the fat is trimmed – we're ready to inject and season!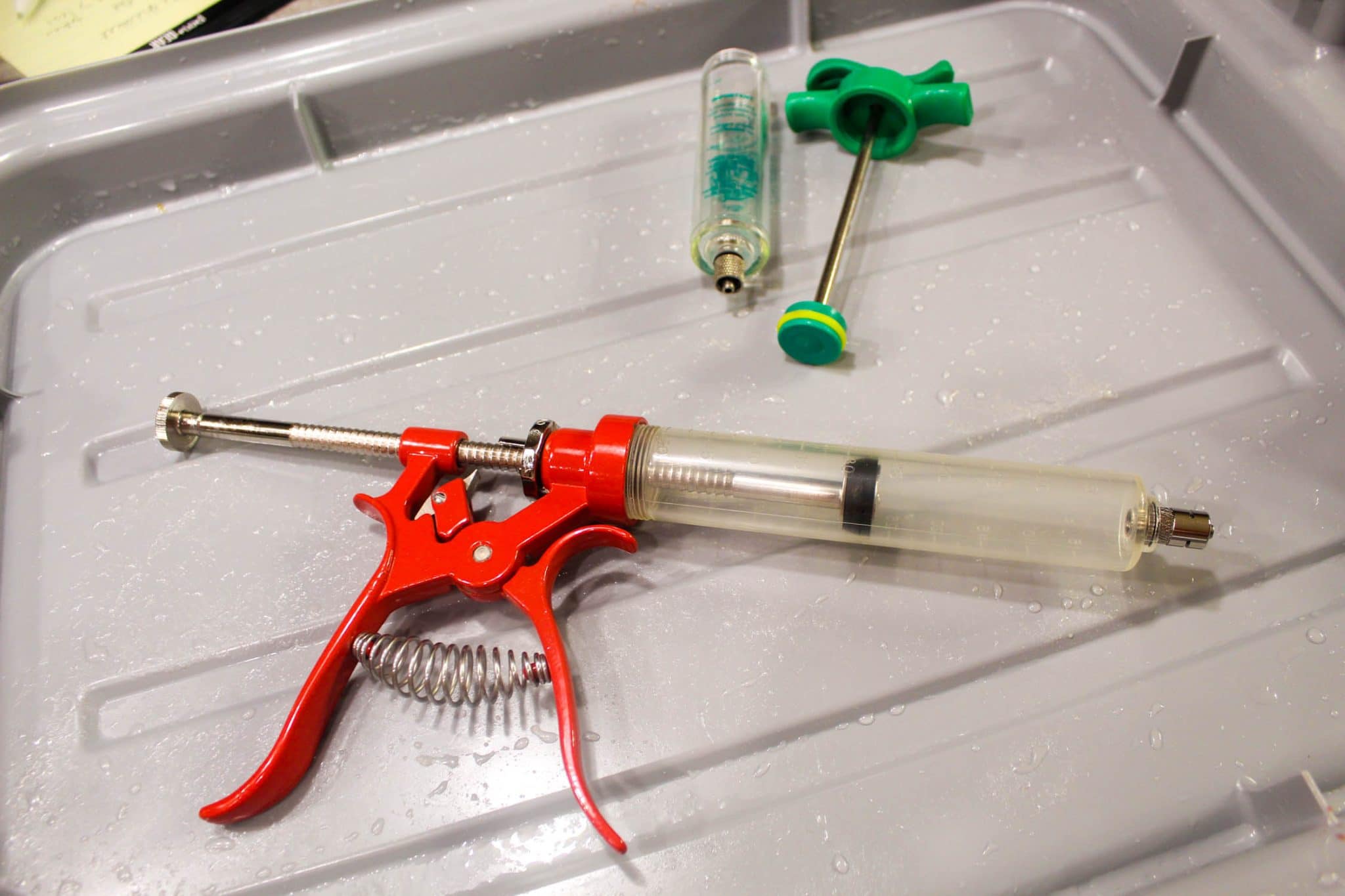 For the injection, we used the Kosmos Injection Seasoning – 1/3 cup powder to 2 cups liquid (beef broth or water). Then using an injector, we injected all over the brisket – both sides. My brisket coach is a former vet tech so we used a much larger injector (red) than the little plastic ones (green) most bbq folks have. It's super easy and fun – you mix the liquid together and then just suck it up and stick the brisket all over – injecting the liquid.
I will say – watch out for arrant squirts! I might have shot my eye out while injecting the brisket! You're making holes and sometimes the liquid goes in one and out another!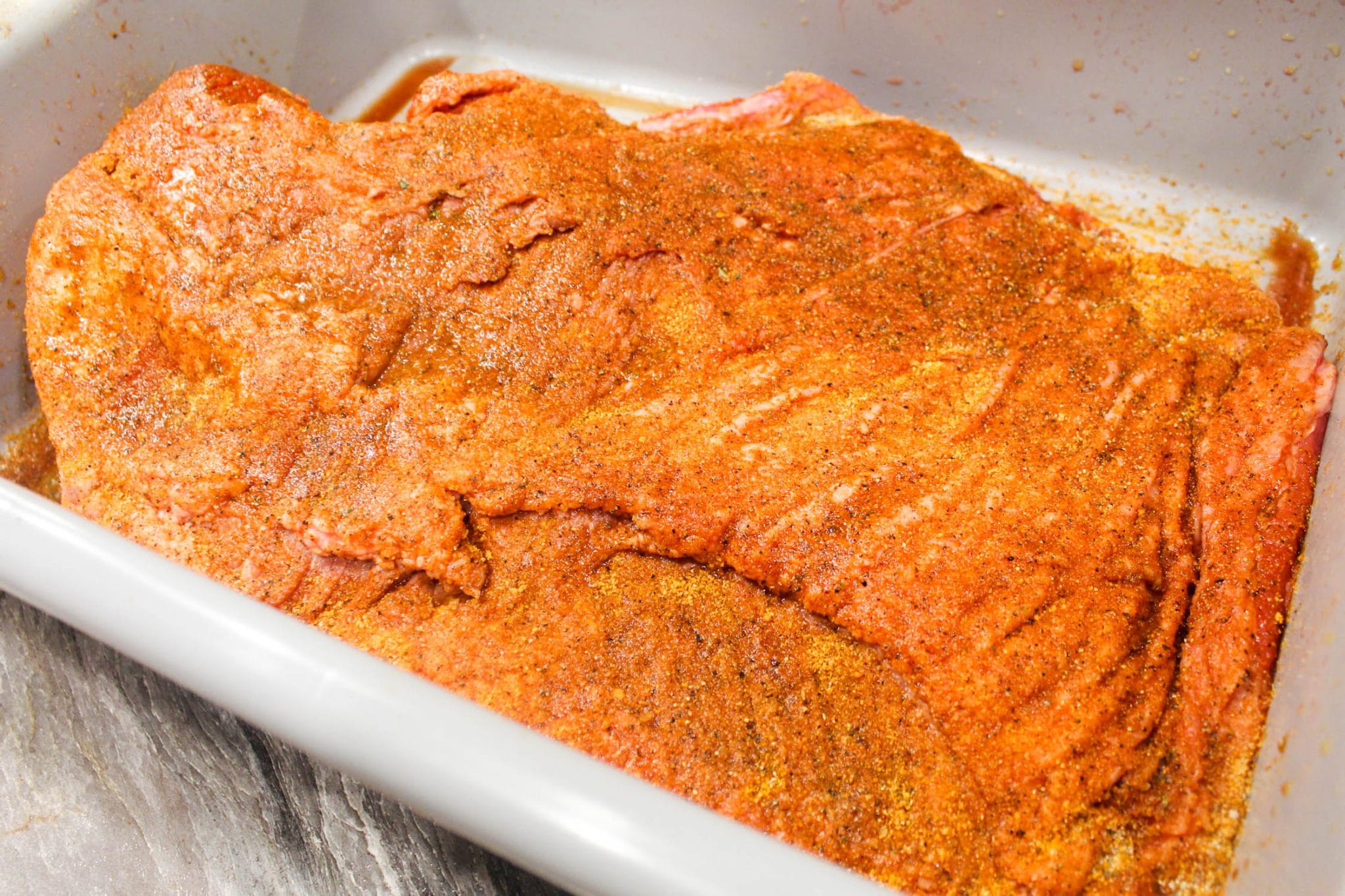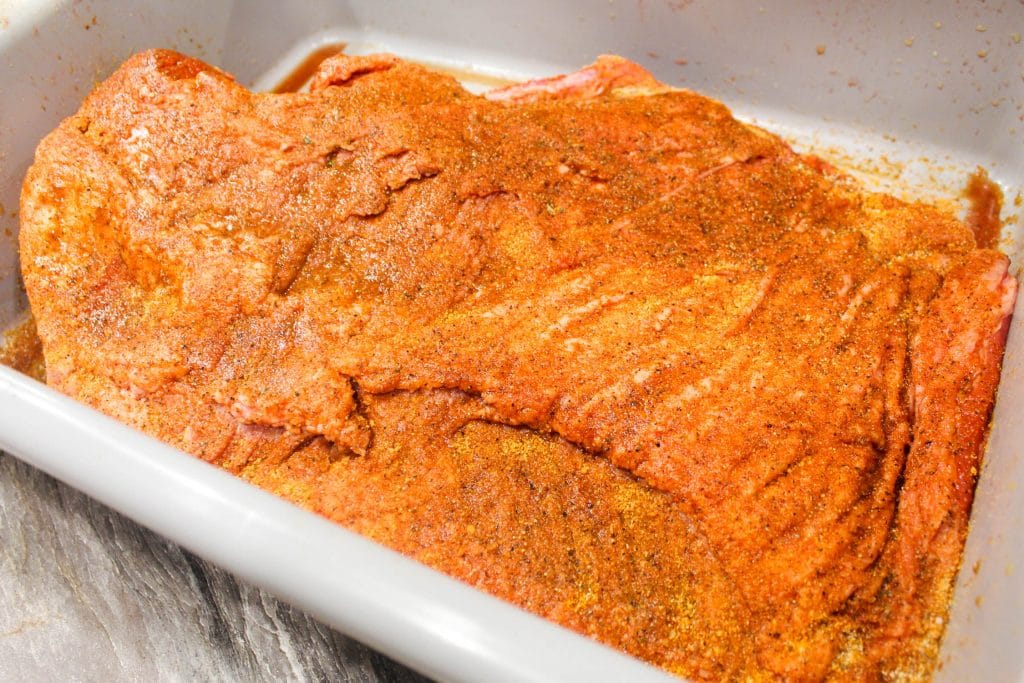 After you've used all your injection liquid – it's time for the dry rub! I have the list above – but as I said – you can go as simple or as complex as you like! With each rub – heavily coat and then push the seasoning into the brisket. Then flip the brisket – season and push in again! And don't miss the sides of the brisket – get those coated too!
At this point – you're going to cover with plastic wrap or in a plastic meat tub with lid and refrigerate your rubbed brisket overnight for those seasonings to soak into the meat. There are some pretty handy meat tubs you can get now that are great for this step. See below for all the tools and supplies we used!
What wood to use for smoking brisket?
I recommend Hickory and Mesquite type of wood pellets for smoking a brisket on a pellet grill.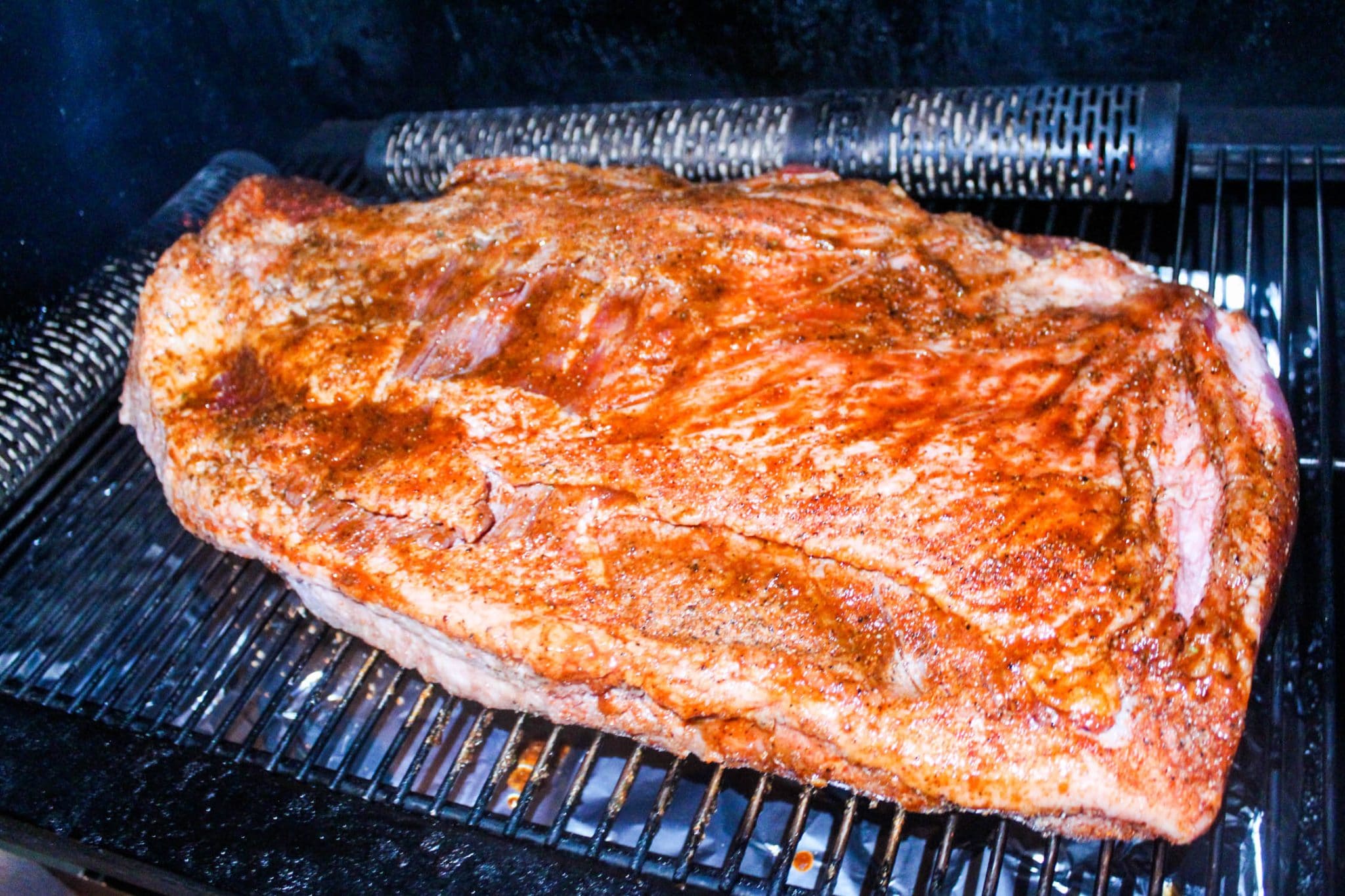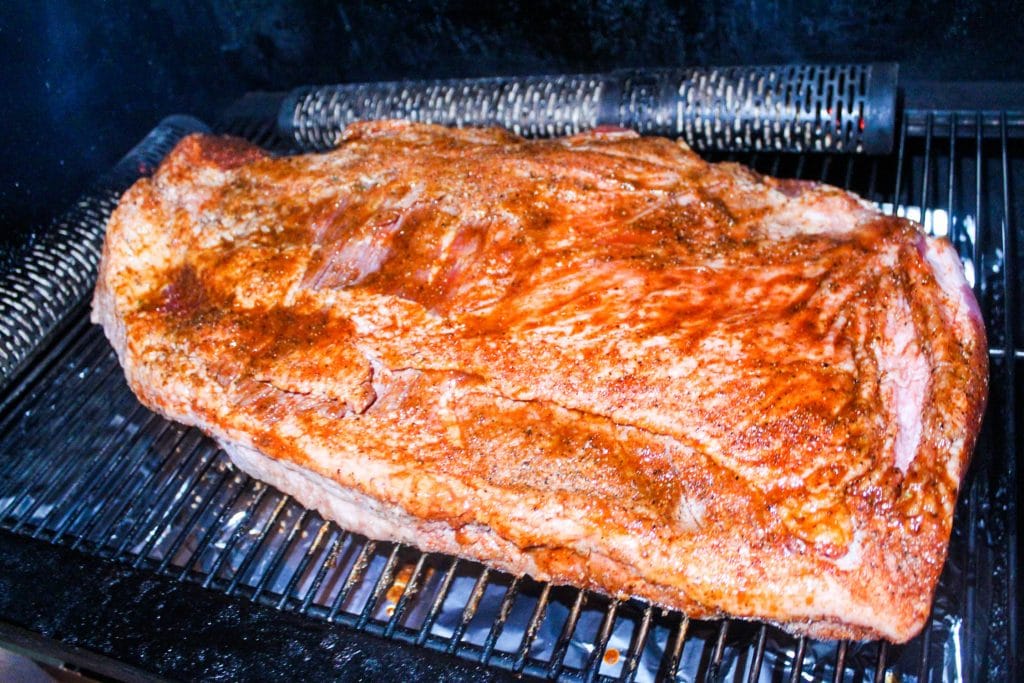 Should I use smoke tubes for extra smoke?
Yes! I really like imparting all the smoke flavor that I can. We used two smoke tubes full of pellets for this 15 lb brisket. Once the tubes are full, light them with a butane lighter. You need that high powered lighter to get those pellets lit. Once they are lit, blow out the flame and then set the tubes onto the grill grate of the smoker. These will smoke throughout the brisket smoke.
What Is The Best Temperature To Smoke A Brisket On A Pellet Grill?
For best results, always smoke at 225 degrees fahrenheit. It's low and slow and works the best no matter what kind of pellet grill you are using.
Do You Smoke Brisket Fat Side Up Or Down?
Once the pellet grill temperature is up to 225 degrees, place brisket on the grill. The best way is to cook brisket fat-side up – then it all melts down into the meat!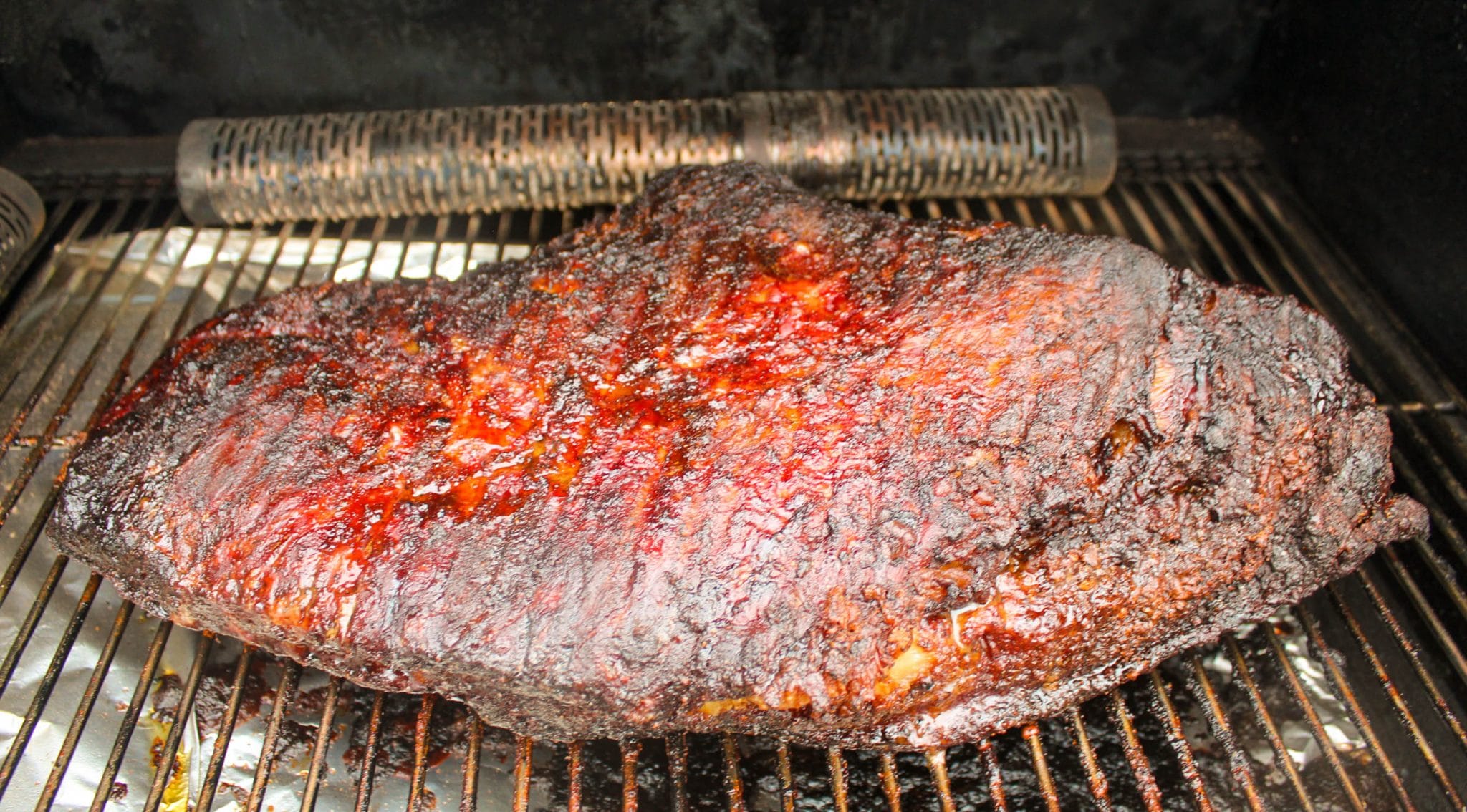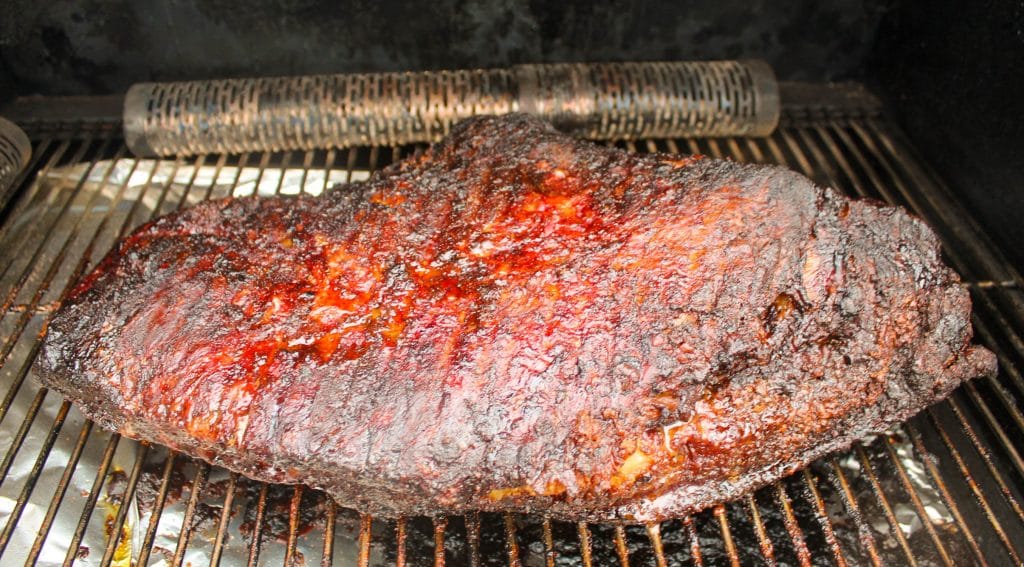 How Long Does It Take To Smoke A Brisket On A Pellet Grill?
I was a little nervous about this – I'd heard about stalls and 18 hours to smoke a brisket. Well – anxiety gone! The general rule of thumb is a little less than 1 hour per pound. Our 15 lb brisket (which lost 1-2 lbs after trimming) took 11 hours to come to temp! I was actually sleeping when it happened – thankfully the meat fairy woke up at 5am to check it.
We planned to eat the brisket for lunch – so we started it around 6pm – thinking it would be done around 9am. Nick got up at 5am to check on it – and it was done!
How Do You Know When Smoked Brisket Is Done?
You should always use a meat thermometer for checking your meat. I just bought a Meater temperature probe that will connect to my phone so I can monitor the temp from in the house! Brisket is ready to come off the smoker when the internal temperature reaches 205 degrees F.
If you're more of a "feel" than a number person – you'll know it's done when it's like sticking the thermometer in a stick of soft butter! (YUM!)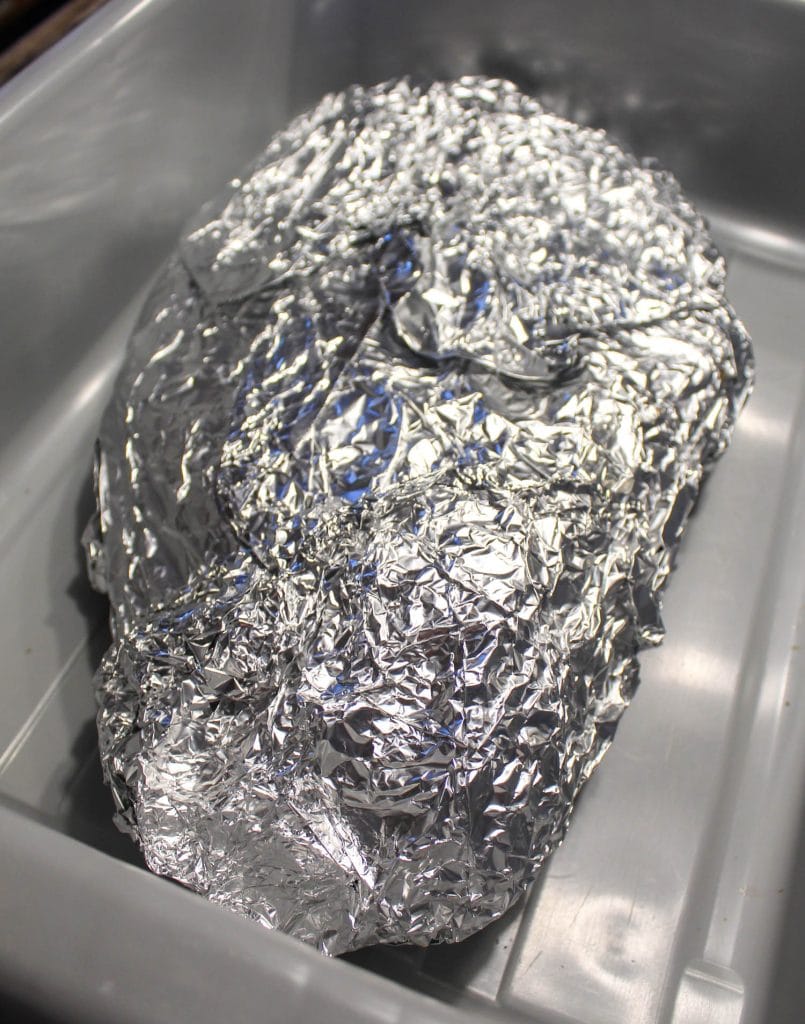 Should I Wrap My Brisket? How long should a brisket rest?
Yes – once your brisket is done – wrap brisket in butcher paper or aluminum foil and place your wrapped brisket in a cooler (no ice) and let the meat rest for at least 2 hours. Give it a nice long rest for all those juices to relax their way into the brisket.
Why Is My Brisket Not Getting Up To Temperature?
Sometimes you'll experience a stall where the meat temp reaches approximately 150 degrees F and just stays there – not rising. There are a lot of theories around why and what to do – but basically wait it out – it will come out of it and keep moving again. Just make sure your pellet hopper is full!!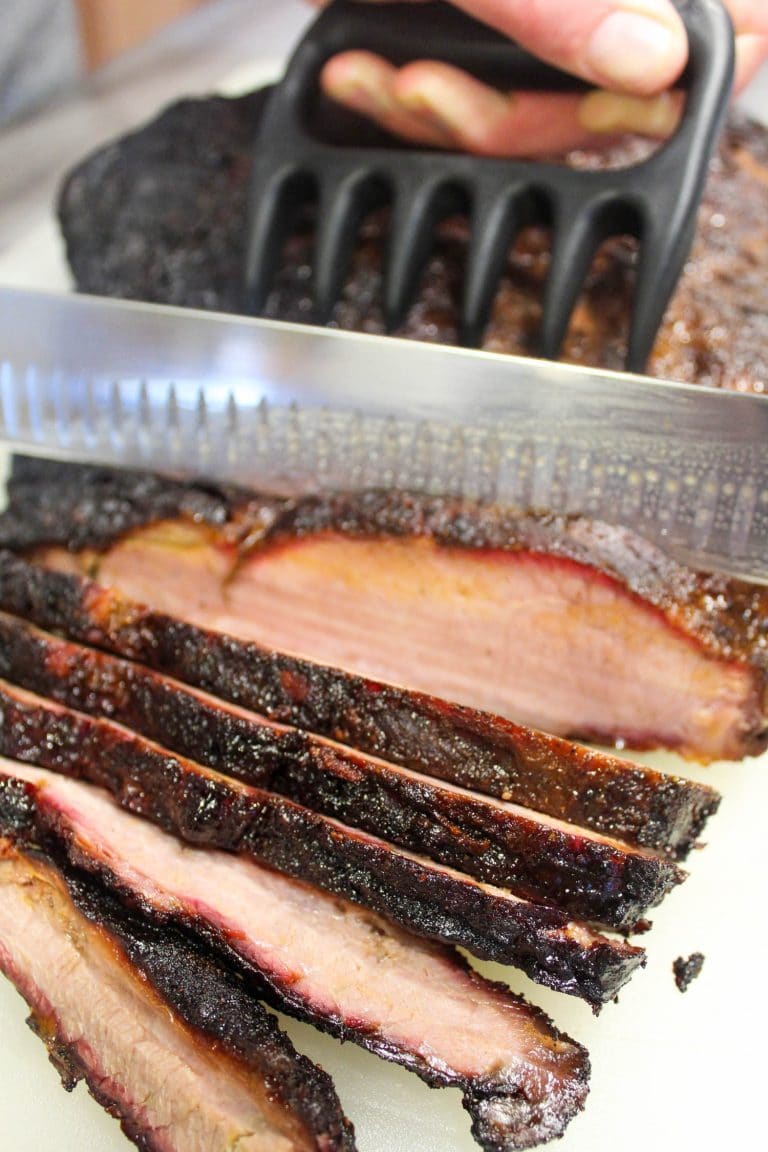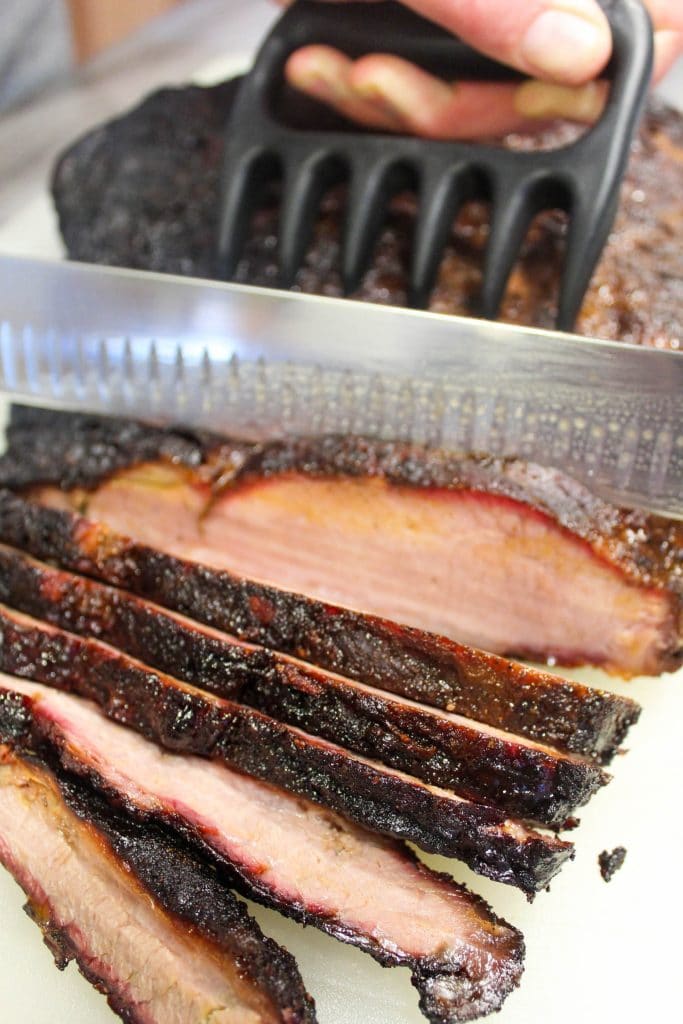 Reheating your Smoked Brisket
As you let your brisket rest – it's going to cool down. You'll likely want to heat it back up – if you're waiting a while to eat. We finished so early that we had to reheat the brisket. My favorite method is to preheat the oven to 300 degrees F and place the whole brisket in for 30-40 minutes to bring it back up to temp. This will give you the perfect brisket that will slice beautifully.
What Can I Make With Leftover Brisket?
burnt ends – chop up leftovers, add seasoning and sauce and smoke for another hour!
tacos – rough chop and make tacos! perfect with avocado, onion and cilantro!
sandwiches – grab some sub rolls, melt on some provolone and you've got an amazing sandwich!
What to serve with Smoked Brisket
Other delicious Traeger recipes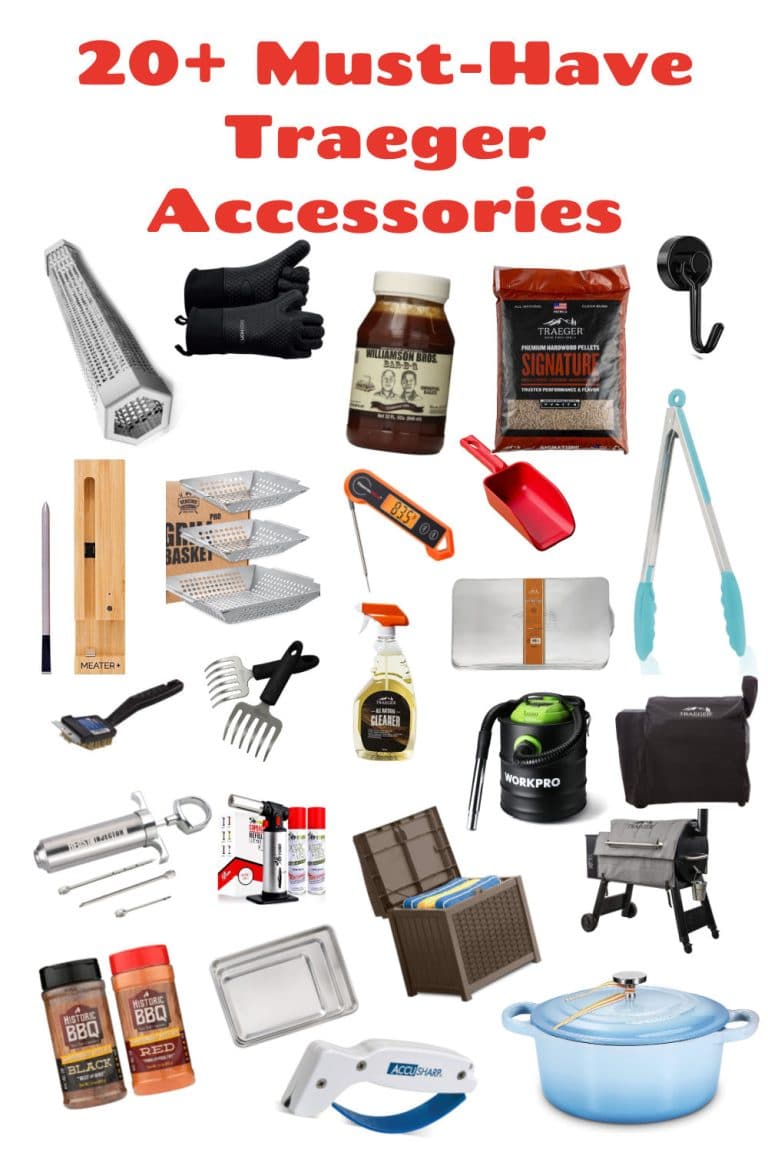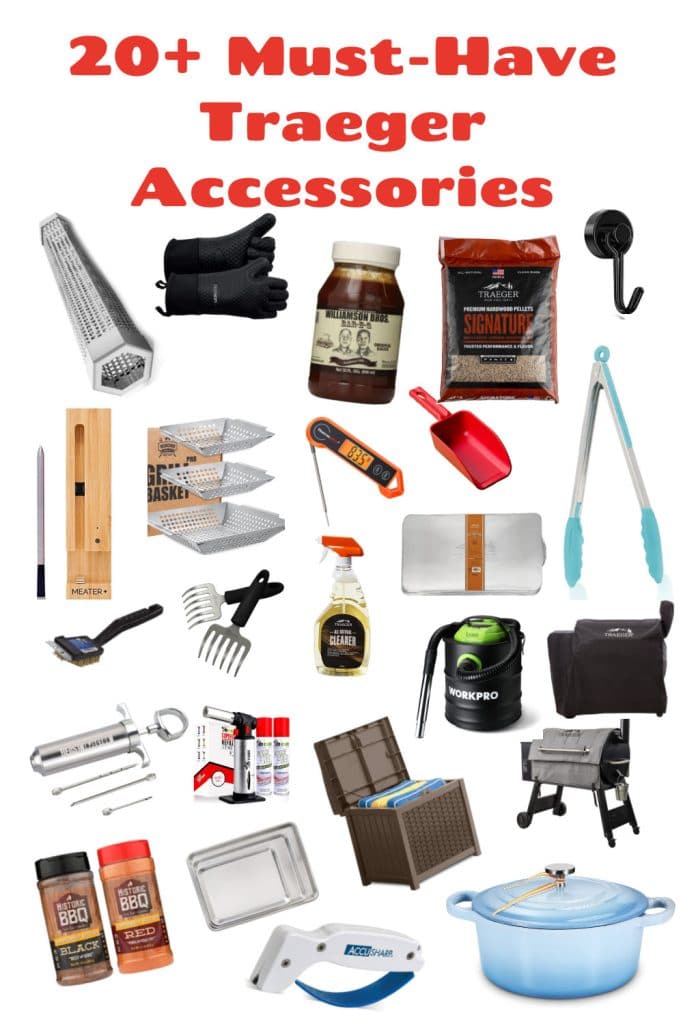 I absolutely love my Traeger Pellet Grill and you can pretty much use it right out of the box! But over the years I've definitely found that there are some Traeger smoker accessories that make everything a lot easier!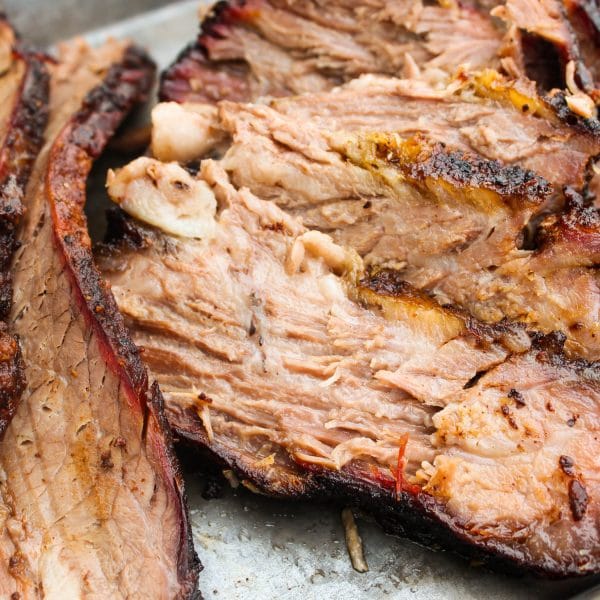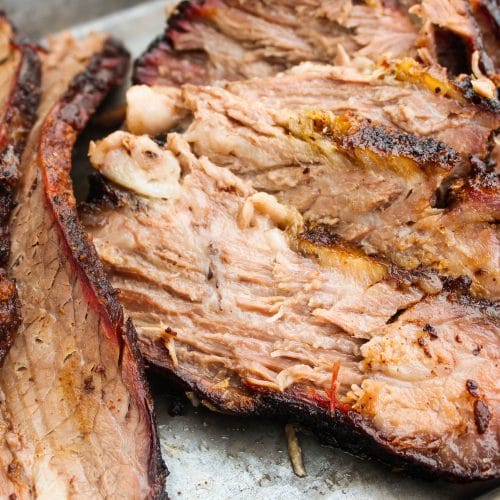 Beginners Guide to Smoke a Brisket on a Pellet Grill
Smoking a brisket can be fairly intimidating – especially to a beginner! But I'm here to help dispel the anxiety and nerves and give you all the tips and tricks for the cooking process of how to smoke a brisket on a pellet grill. It's a labor of love that takes a couple of days – but it's worth it when you get that perfect smoke ring!!!
Ingredients
1

15 lb

Beef Brisket

2

cups

beef broth

1/3

cup

Kosmos Beef Brisket Injection Powder Mix

1/2

cup

favorite bbq rub
Instructions
On a large cutting board, trim fat cap off brisket with a boning knife to leave approx 1/4" fat

Mix together 2 cups beef broth and 1/3 cup Kosmos Beef Brisket Injection Powder until powder is dissolved. It helps to warm the beef broth.

2 cups beef broth,

1/3 cup Kosmos Beef Brisket Injection Powder Mix

Place brisket in a large tub. Using an injector, inject the brisket on all sides and use up all of the injection liquid

Heavily coat all sides of brisket with the bbq rubs of your choice

Cover your brisket with plastic wrap and refrigerate overnight

Preheat your smoker to 225 degrees F

If using smoke tubes, fill with pellets and light with butane lighter. Blow out flames and set on grill grates on side and back.

Place brisket on preheated smoker fat side up

If using a smart thermometer, insert probe thermometer into brisket. Be sure to check that your hopper is full of pellets.

Smoke at 225 for 45-60 minutes per pound – typically overnight

When meat reaches 205 degrees F – remove from smoker.

Wrap brisket in butcher paper or foil and place in empty cooler to rest for a minimum of 2 hours.

If longer than 2 hours, you may need to reheat brisket. Preheat oven to 300 degrees and place whole brisket – still wrapped – in oven for 30-45 minutes.

Remove from wrap and slice against the grain with brisket knife
Notes
**We are not dietitians and recommend you seek a nutritionist for exact nutritional information. The information in the nutrition box are calculated through a program and there is room for error. If you need an accurate count, I recommend running the ingredients through your favorite nutrition calculator.**
Nutrition
Serving:
0.5
lb
Calories:
250
kcal
Carbohydrates:
0.4
g
Protein:
17.1
g
Fat:
20.1
g
Saturated Fat:
8
g
Cholesterol:
72
mg
Sodium:
2022
mg
Potassium:
21
mg
Fiber:
0.2
g
Calcium:
21
mg
Iron:
2
mg