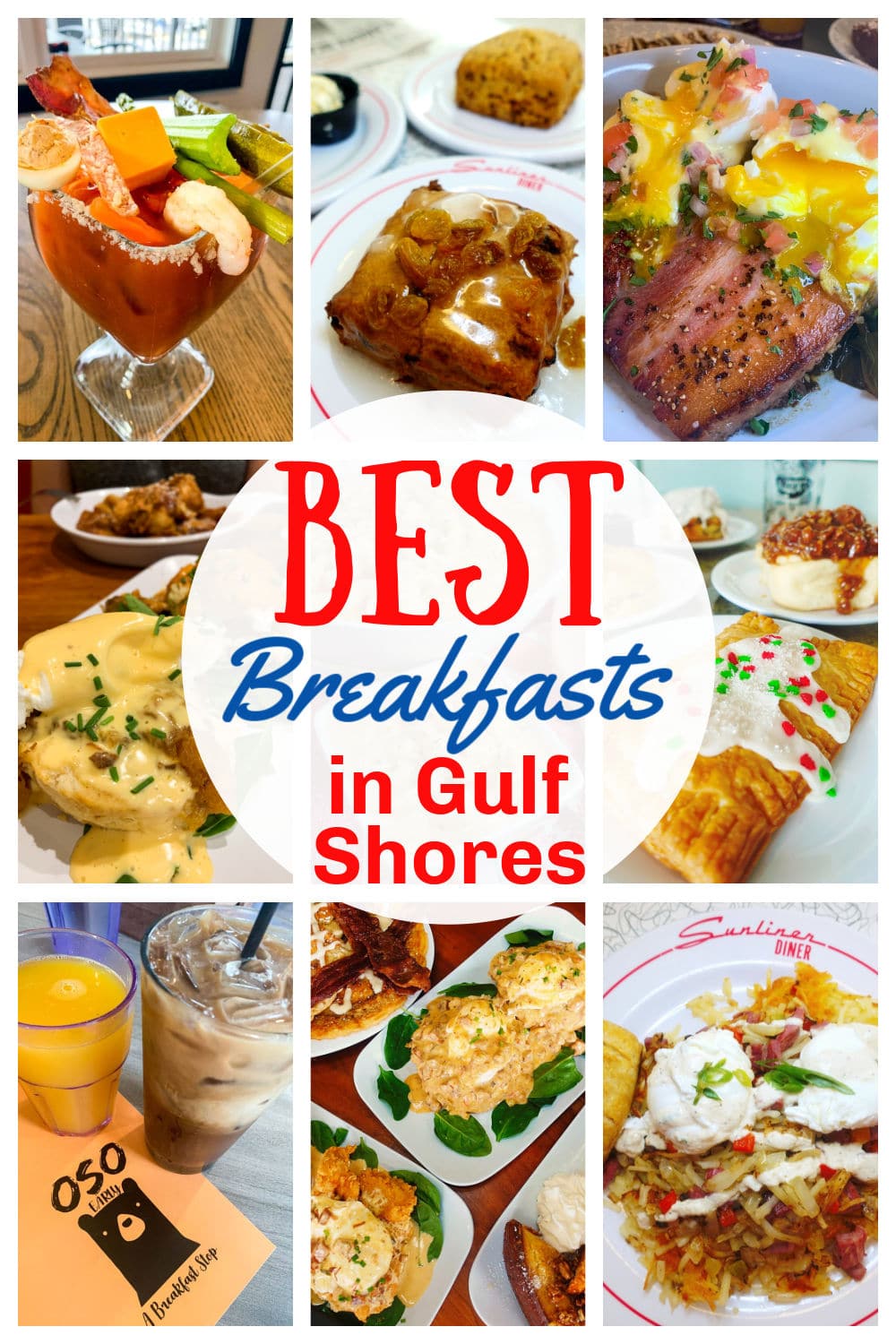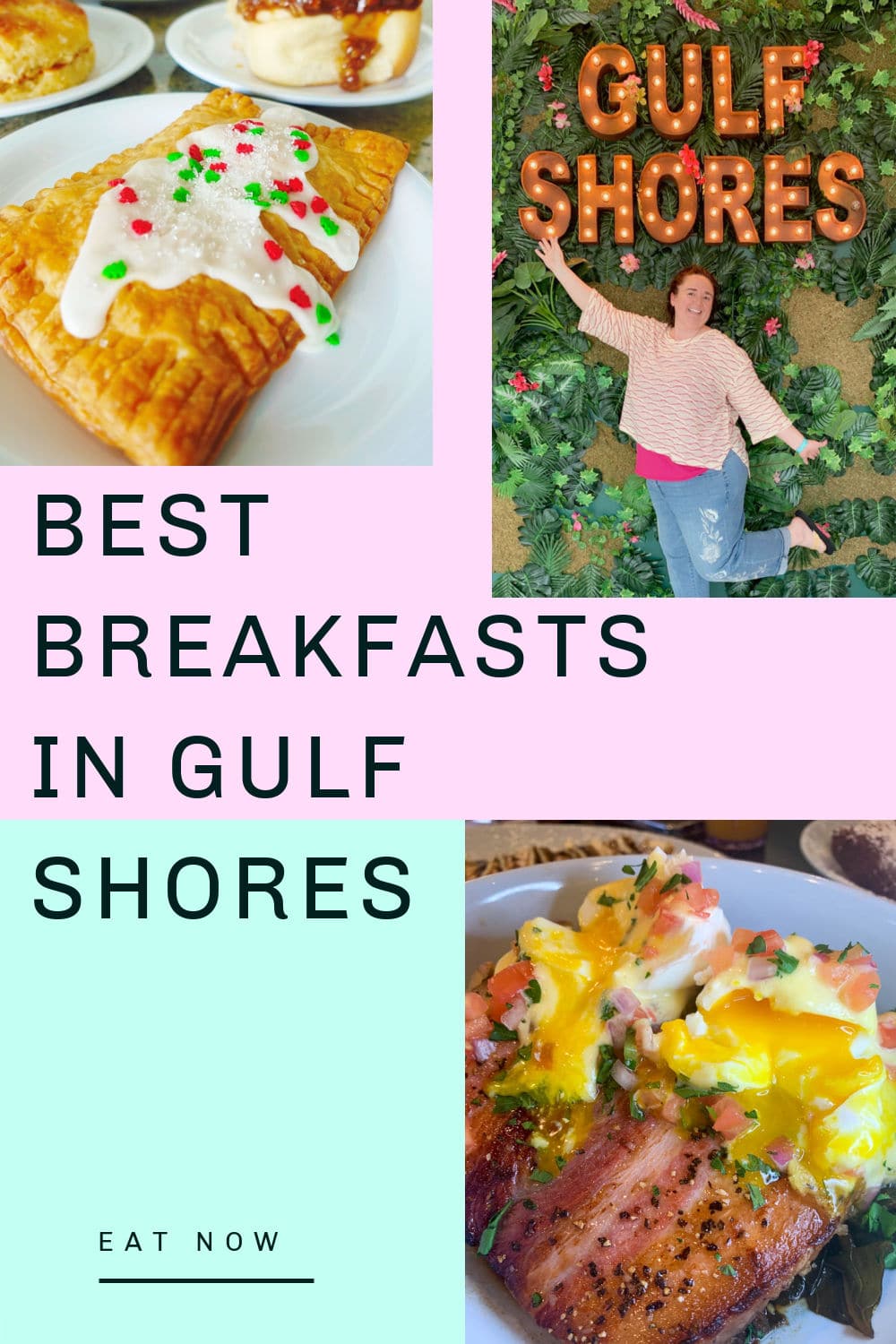 These are the BEST breakfasts in Gulf Shores! I recently went on vacation down there and it's always my favorite spot. My favorite meal of the day is breakfast and I have definitely eaten my way through Gulf Shores – so you can trust me on this one!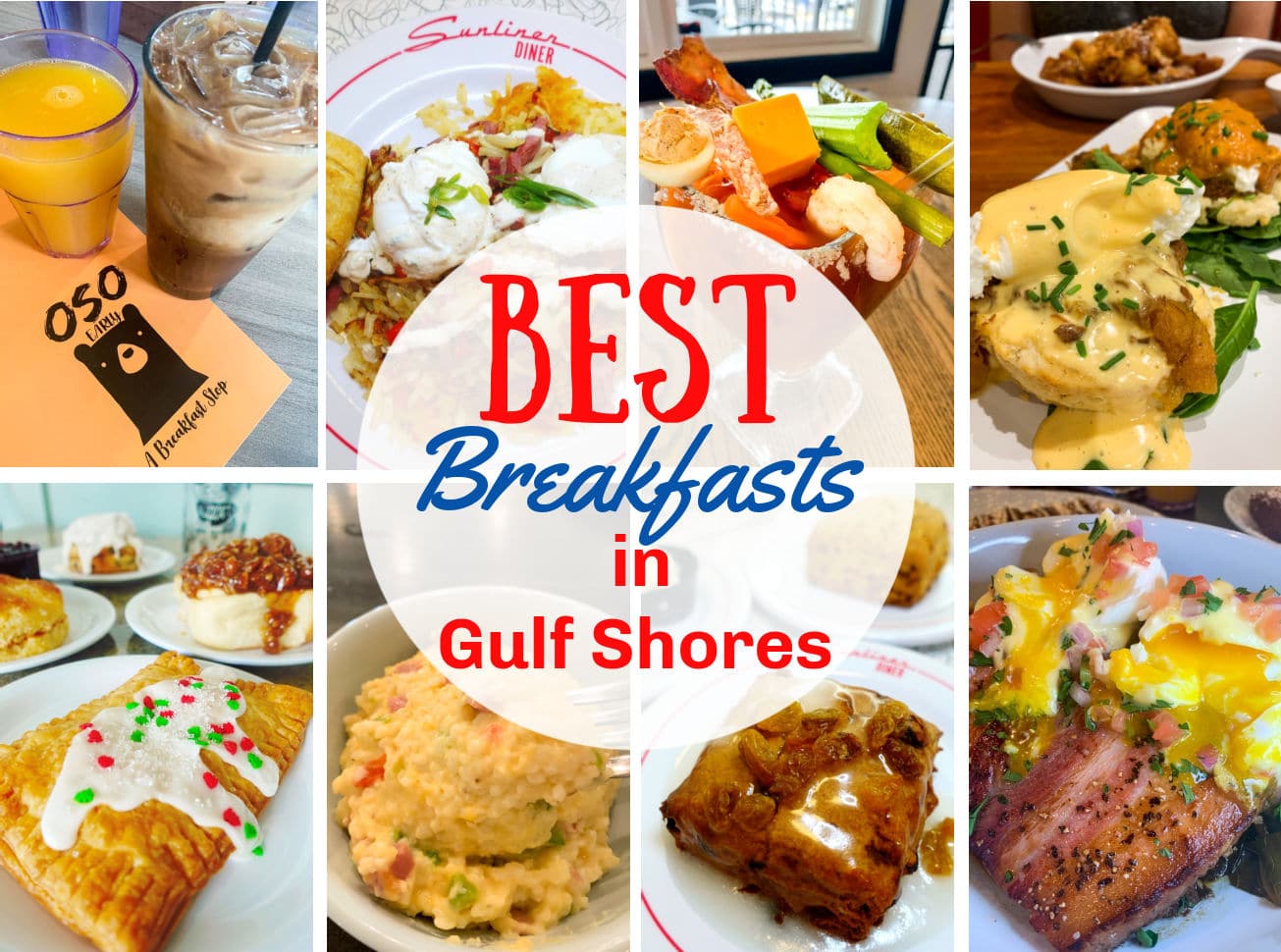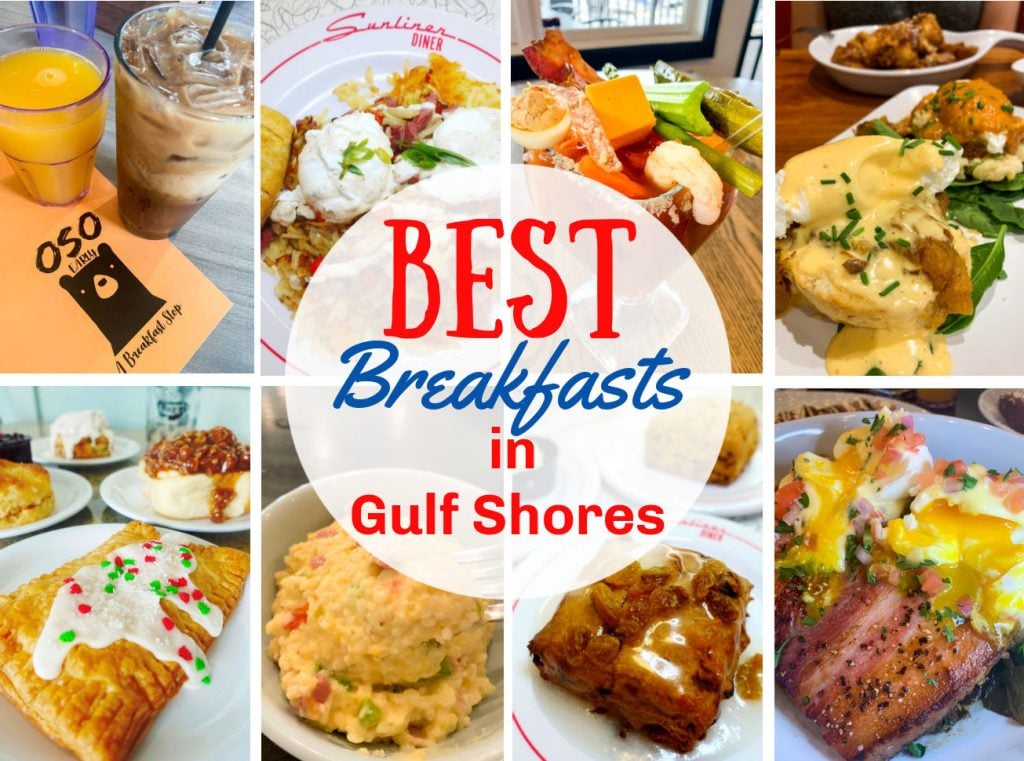 I feel like I've tried everything – so I want to just give you the best of the best – whether you like a bloody mary, pancakes, coffee, bacon or biscuits – I've got you covered!
Best Pastries in Gulf Shores
I have a couple of places that I love for pastries when I visit Gulf Shores – first off is BuzzCatz Coffee & Sweets in Orange Beach. They have homemade pop tarts, amazing Cinnamon Rolls and so much more. I'm a big fan of all the cats on their merch too! It's just a super cute coffee shop.
If you want something quicker – stop by The Pantry at the Wharf in Orange Beach. They've got snacks of all kinds but also grab-n-go foods like coffee, granola bars, cannolis and beignets! They also have super cute gifts, cold drinks and try to get unique and locally sourced items whenever possible. They also have a Concierge Service if you're interested in something more custom! (we got amazing charcuterie boards from them another day!)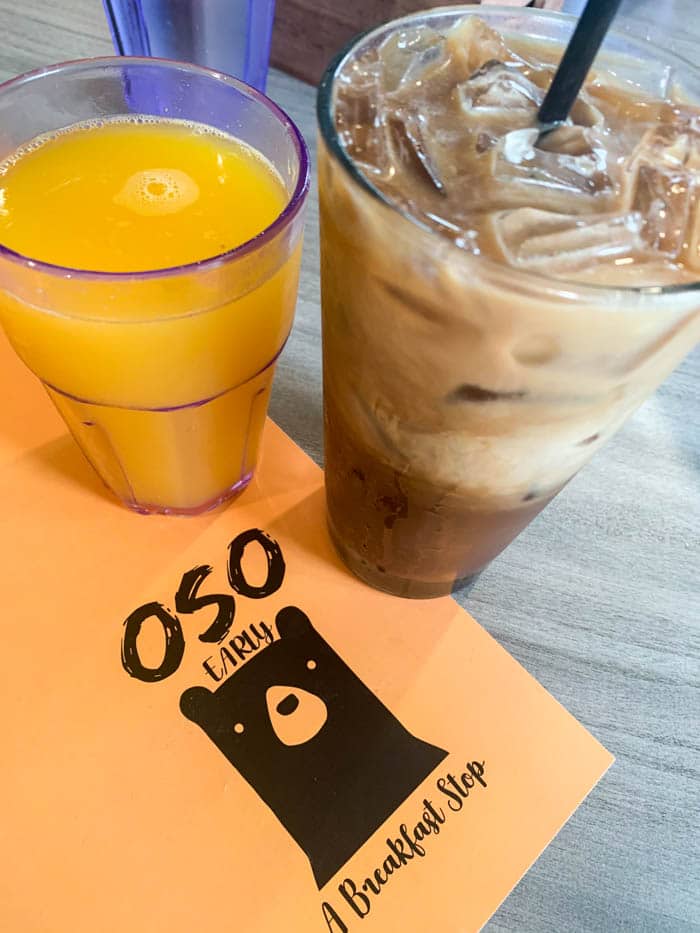 Best Coffee & MORE in Gulf Shores
In the past couple of years – I've gotten really into iced coffee – now mind you – it's gotta have a healthy portion of milk and chocolate – but it's still coffee!
We stopped for breakfast at OSO Early in Orange Beach and were not disappointed! The front of OSO Early has a quick stop coffee bar – you can walk up and order something quick and grab and go things like breakfast burritos and muffins. The orange juice is also fresh squeezed in-house every day! If you want to sit down – head to the back and relax for an amazing breakfast! There's also a nighttime OSO at Bear Point if you decide to try them for dinner.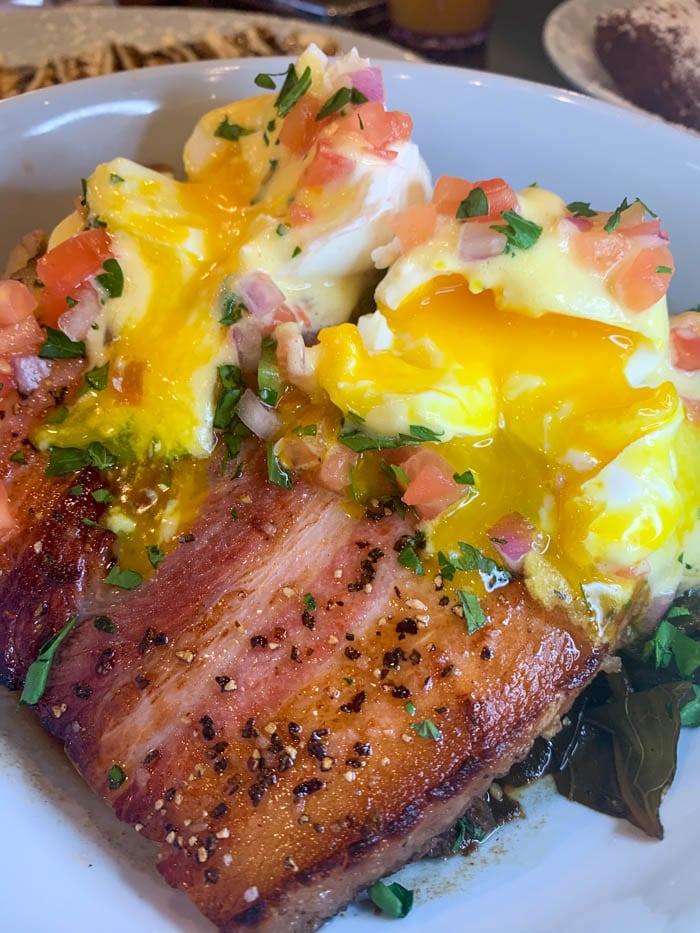 My favorite item in addition to the iced mocha latte was the Bacon Bowl. The layers in here are amazing: collard greens, creole hash browns, bloody mary pico, braised pork belly, poached eggs and hollandaise. Literally every bite was better than the last and that was a GIANT piece of pork belly – wow – so amazing!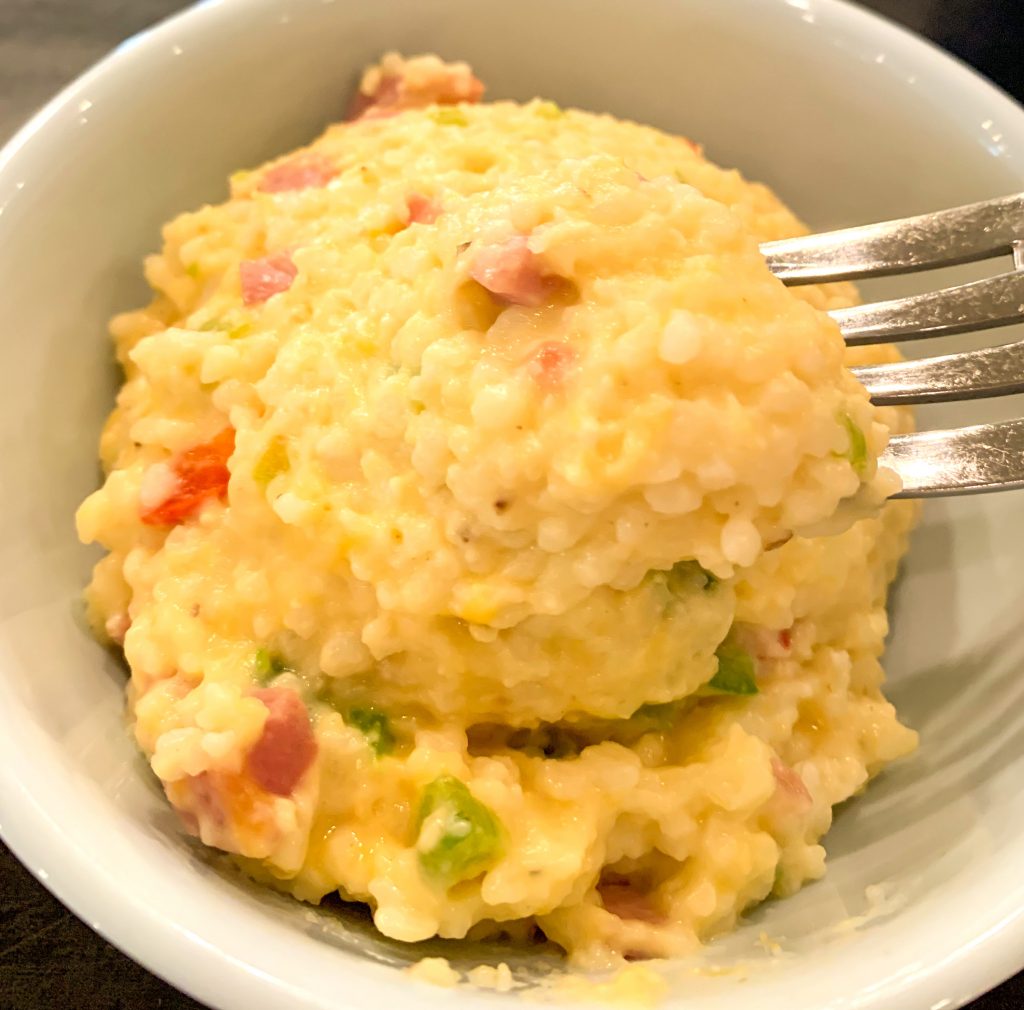 Also – not to be missed – are their Nassau Cheese Grits. Now I don't really even like grits – but these – are so much more than grits! There's ham, peppers, and cheese!!! I promise you will NOT be disappointed.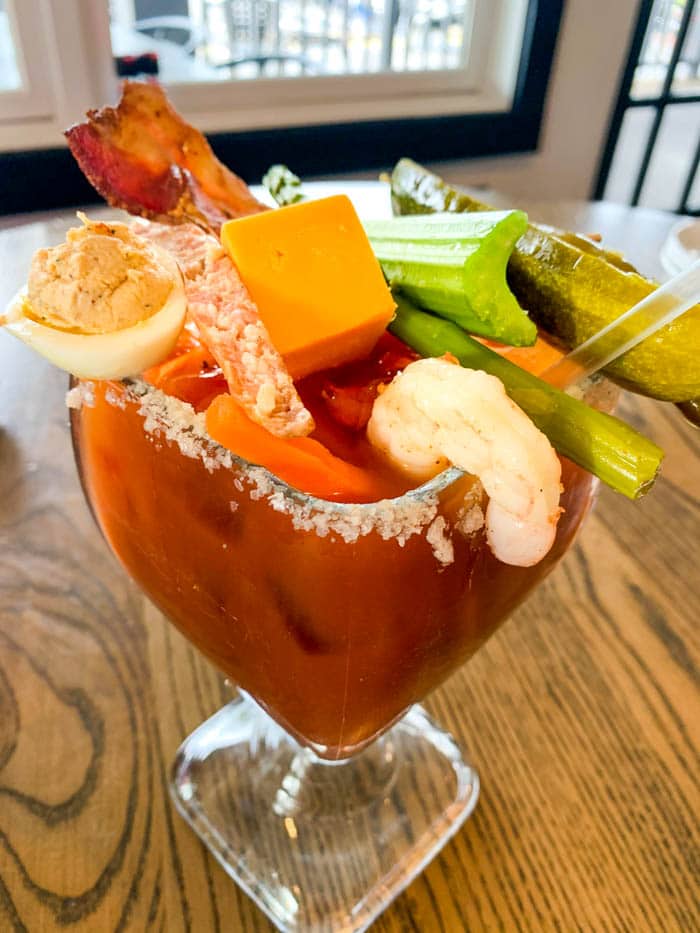 Best Gulf Shores Bloody Mary
Brick and Spoon for me hands down had the best Bloody Mary! Why? Just look at it!!! You can add all this stuff to it! I will admit – this was my FIRST bloody mary in my life! I never cared for tomato juice but as I've gotten older – I like it – and this was pretty tasty! My favorite additions were the bacon, cheese and shrimp – they make that vodka go down a little more smoothly at 9am.
Best Biscuits in Gulf Shores
This is a tie – because I fell in love with both spots here – first up: Ruby Slipper. They actually taught us how to make their biscuits. They have every kind of benedict you can imagine – all on top of their amazing buttermilk biscuits. You can't go wrong with anything! (And don't miss the Pig Candy – whoa nellie!) My favorite of the benedicts was the Bayou Shrimp – with gulf shrimp sauteed with pork tasso and creole tomato sauce served over fried green tomatoes and biscuits.
My other favorite biscuit place is the Sunliner Diner! (They also have a tasty mimosa!) Their biscuits are very different – they are square and can be savory or sweet. My friend Steph got the bacon biscuit recipe out of them and it is so delicious!
Best Traditional Breakfast in Gulf Shores
I'm also going to give the nod for "traditional breakfast" to Sunliner Diner – I made a copycat of their Corned Beef Hash – but also love their blueberry pancakes! It's not super fancy – but it's traditional and delicious – you just can't go wrong.
I really hope you enjoy many breakfasts on your next visit to Gulf Shores! It's literally my absolute favorite US-based vacation spot and I can't wait to go back!
Copycat Recipes from Gulf Shores
I love making copycat recipes – here are my favorites: