I know – a lot of food bloggers hate chain restaurants. I'm not a fan – I try not to go – but sometimes – you just wanna or you just gotta. A couple weeks ago we were shopping for something at Kenwood Mall and I just didn't feel like leaving or going to the food court – so – Cheesecake Factory it was! (p.s. the website is annoying)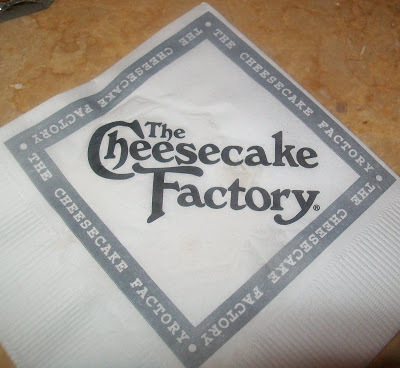 The factory is next to the main entrance at Kenwood and has an entrance inside the mall as well. They also have a quick and handy cheesecake-to-go in case you just want to run in and grab a piece on the way home – which I've done many times.
Their menu – if you haven't been – is literally a book. I am TERRIBLE with decisions so it takes me a good 10 minutes to order. Be prepared.
First we got fresh bread – which is a nice touch. The butter was cold (booo!) but I warmed it up in my hands and had some anyways. Larry isn't a fan of the "bread with chunks on it" so I had that – and it was really good – even a bit sweet.

I got a small salad first – the salad was pretty boring but the honey mustard did have a kick.
Larry got the Salmon Lunch special – BBQ salmon – he was a bit worried about that but it was amazingly delicious. the vegetables were good as well. All in all – really tasty meal and I think it was $12.95 (no prices on website – ultra annoying!). The onion rings were cold and a little greasy. But really – this was a good price for the amount of food (they always serve SO MUCH!) and the salmon was really tasty with the BBQ seasoning on it.
I got the Roasted Vegetable & Goat Cheese pizza and added chicken. I'm a sucker for goat cheese and it was good. I could only eat 1/2 with the salad so took the other 1/2 home for lunch. Ingredients were good and I definitely enjoyed it.
We actually skipped the cheesecake on this visit. Larry's allergic so he can't even have it and I probably shouldn't. 🙂
Why Should You Go? Well if you've got a bunch of people that all want different things – you can all find something here. Mexican, Italian, Chinese, American and everything in between. Plus the cheesecake is phenomenal. If you haven't had that – then just go now – seriously – close the browser and go. Chocolate Coconut Cream is my favorite.