I'm a bit obsessed with Carlos O'Kelly's – it's a "Mexican" restaurant back home in Iowa – but it's very Americanized. That said – it's my favorite! Every visit – I force my friends to go! We get salsa, queso and cheese enchiladas.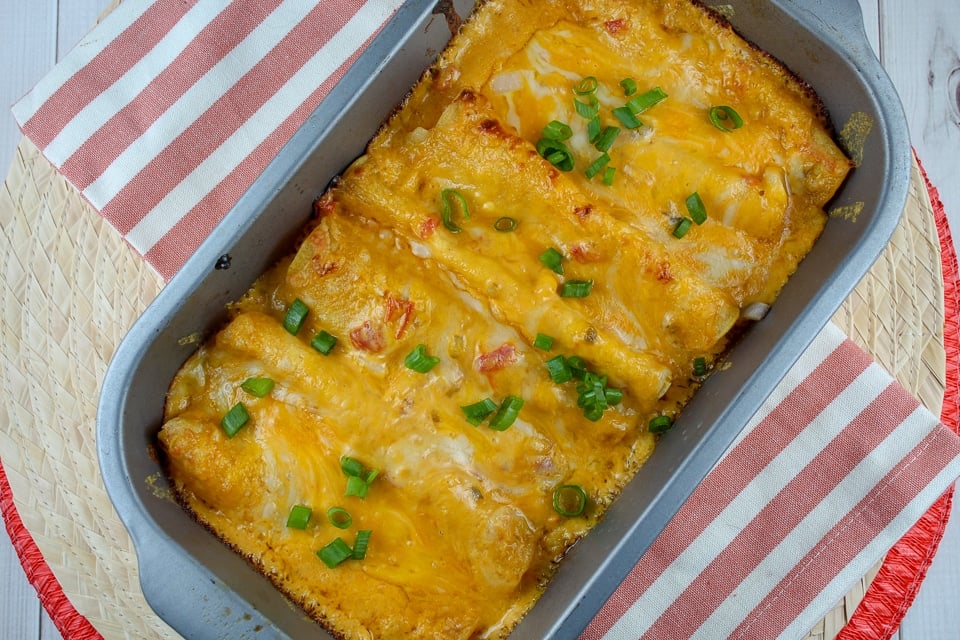 Well, I've made the salsa & queso recipes – but today – it's all about the enchiladas. These are simple cheese & onion enchiladas but instead of the regular "red" sauce – I always get queso! So it's cheese, cheese and MORE CHEESE!!!
How to make cheese enchiladas with queso?
These are really easy to make! I made up the Carlos O Kelly's queso recipe the day before. It is by far THE BEST QUESO you'll ever have! You'll need half of it for this recipe.


Then you heat your tortillas – I have a couple of options in the recipe for how to heat them. Then add shredded cheese and onions to each tortilla and roll them tightly. Put them in a baking dish, cover with queso and cheese and bake! So delicious and so easy!

Can you freeze cheese enchiladas?
Yup – this is a great recipe to freeze! If you want to double it and use all the queso you can make one pan for dinner and a second pan for the freezer. Then just thaw completely and bake for 30 minutes at 350.
How long are cheese enchiladas good for?
If you've got leftovers – they're good in the fridge for 3-4 days. Or you can always freeze the leftovers after baking and then you've got an easy to grab lunch for another day!
Other Copycat Recipes from Carlos O'Kelly's: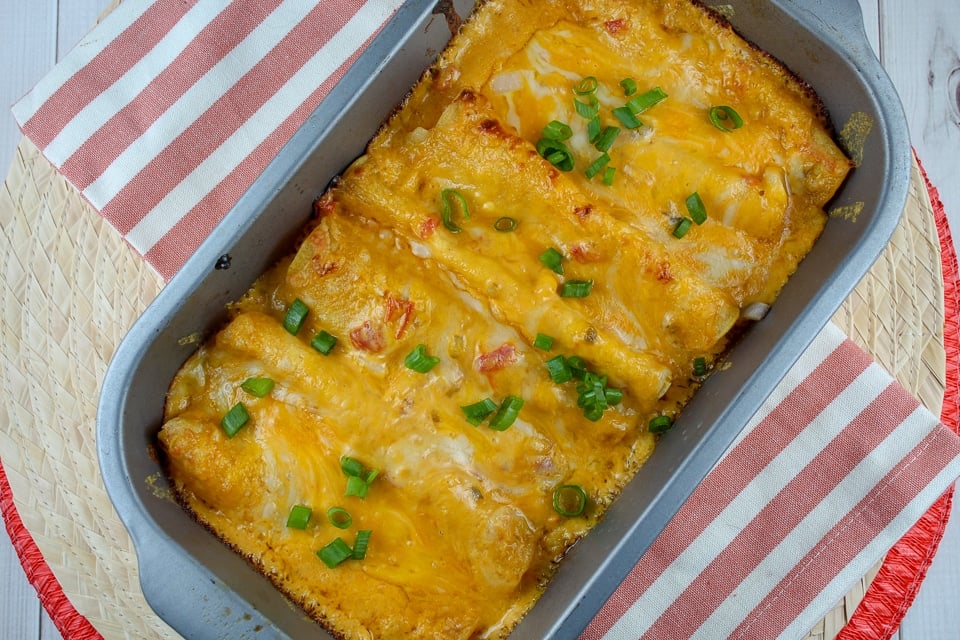 Copycat Carlos O'Kelly's Cheese & Onion Enchiladas
prep time: 10 M
cook time: 10 M
total time: 20 M
Carlos O'Kelly's is my favorite restaurant back home so I'm always recreating my favorite dishes. Their queso and salsa are my favorite – but this is the entree I always get – Cheese & Onion Enchiladas but with queso instead of enchilada sauce. So yes – cheese + cheese and a little more cheese. Yum! #queso #enchiladas #cheeseenchiladas
ingredients:
8 six-inch corn tortillas
2 cups cheddar cheese, shredded
1 1/2 cups monterrey jack cheese, shredded
1/2 cup diced onion
1/2 recipe of Carlos O'Kelly's Queso
instructions:
How to cook Copycat Carlos O'Kelly's Cheese & Onion Enchiladas
Make Carlos O'Kelly's Queso ahead of time
Preheat oven to 450
Mix together cheddar & jack cheese in a bowl
Take corn tortillas and heat them

either separate them and place in the air fryer at 350 for 2 minutes
heat oil in a skillet and blanch the individually 30 seconds on each side

Prepare a rectangular baking dish by spraying it with non-stick spray
On a cutting board, lay tortilla out and top with 1/4 cup cheese mixture
Sprinkle 1 Tbsp onion on top of cheese
Tightly roll tortillas around the cheese and onion
Spread 1/2 cup queso on the bottom of the dish
Place each roll seam side down in the baking dish
Continue with remaining tortillas
Smother enchiladas with queso
Top with remaining shredded cheese – make sure all queso is covered or it'll burn
Bake in 450 degree oven for 5-8 min until cheese is melted