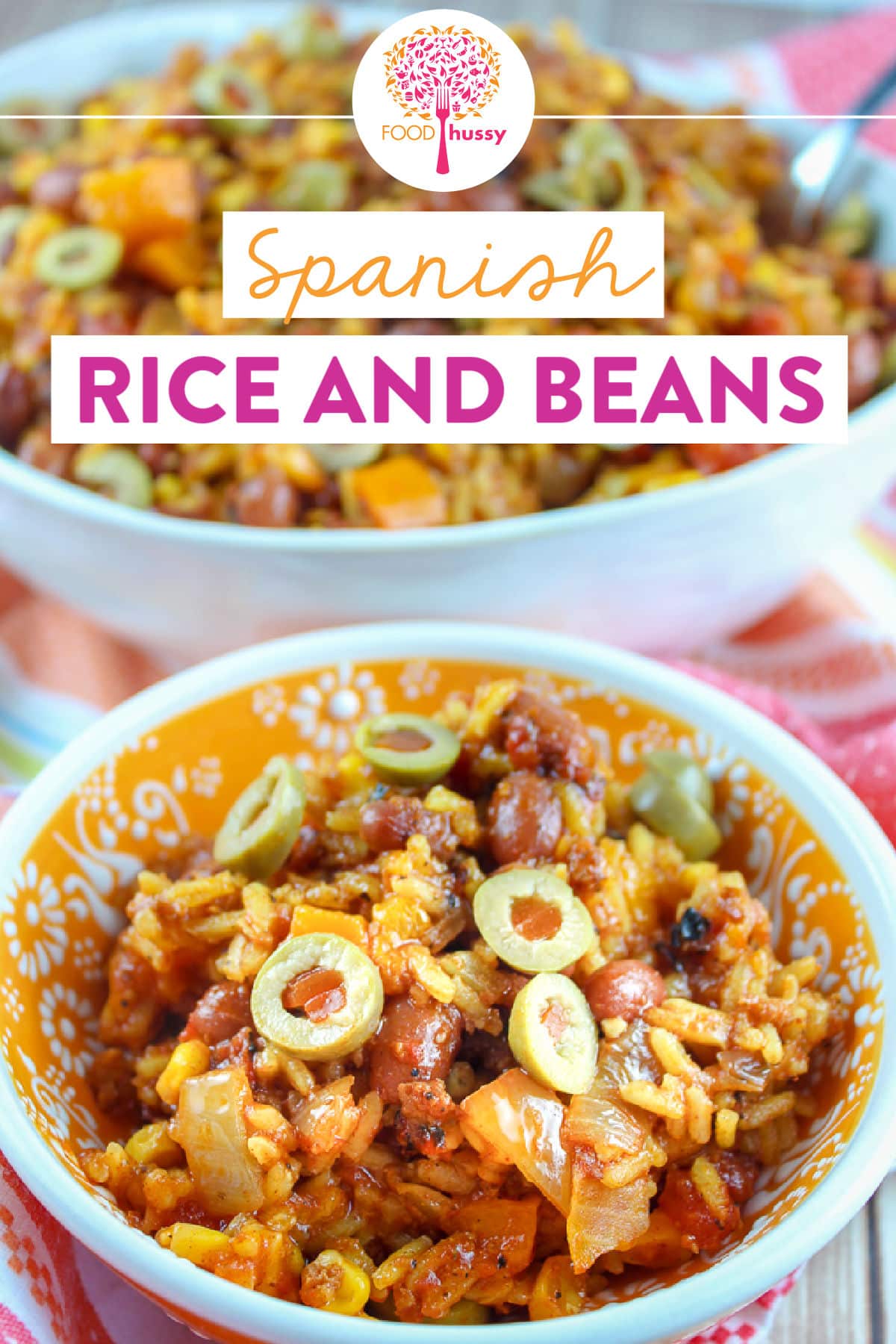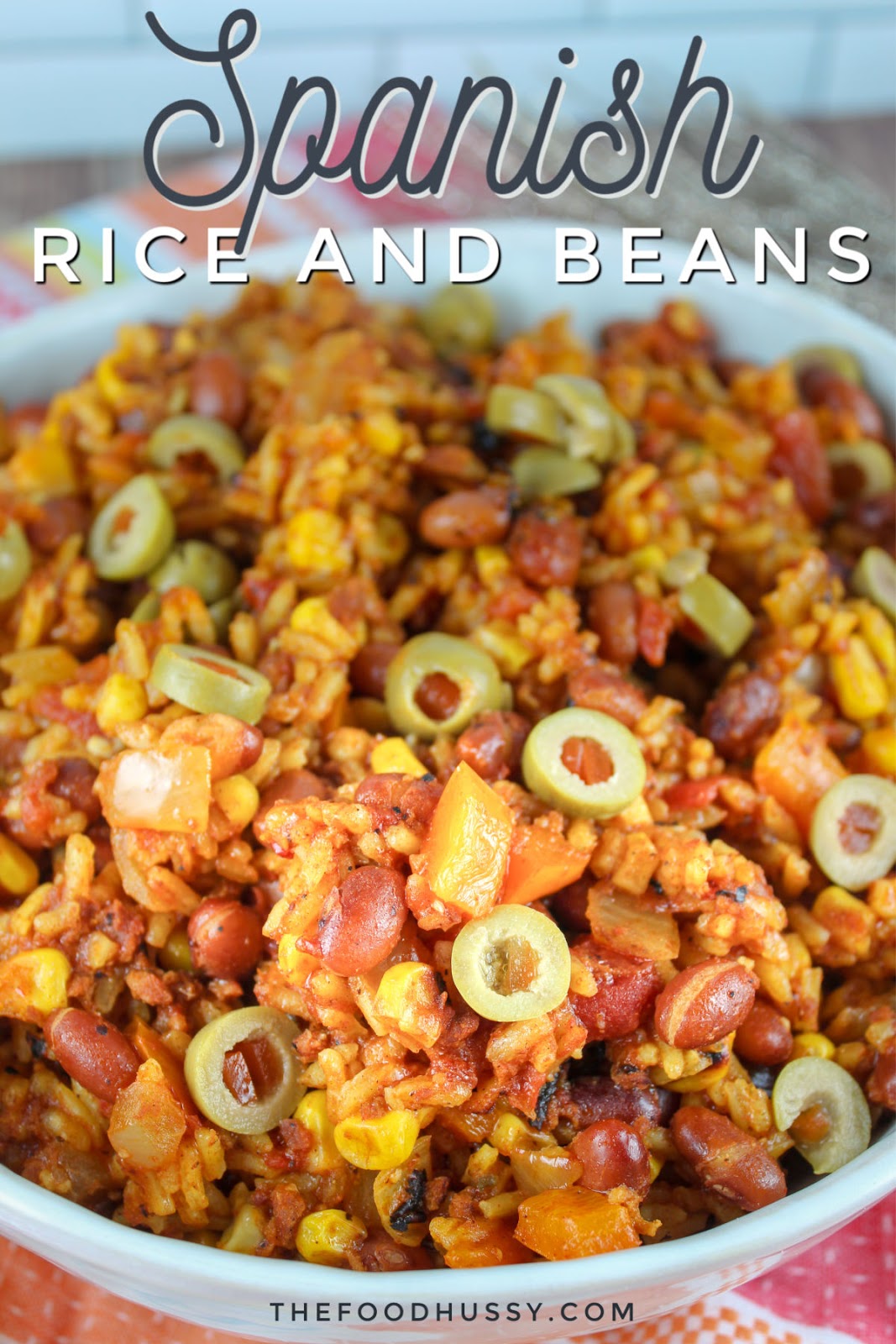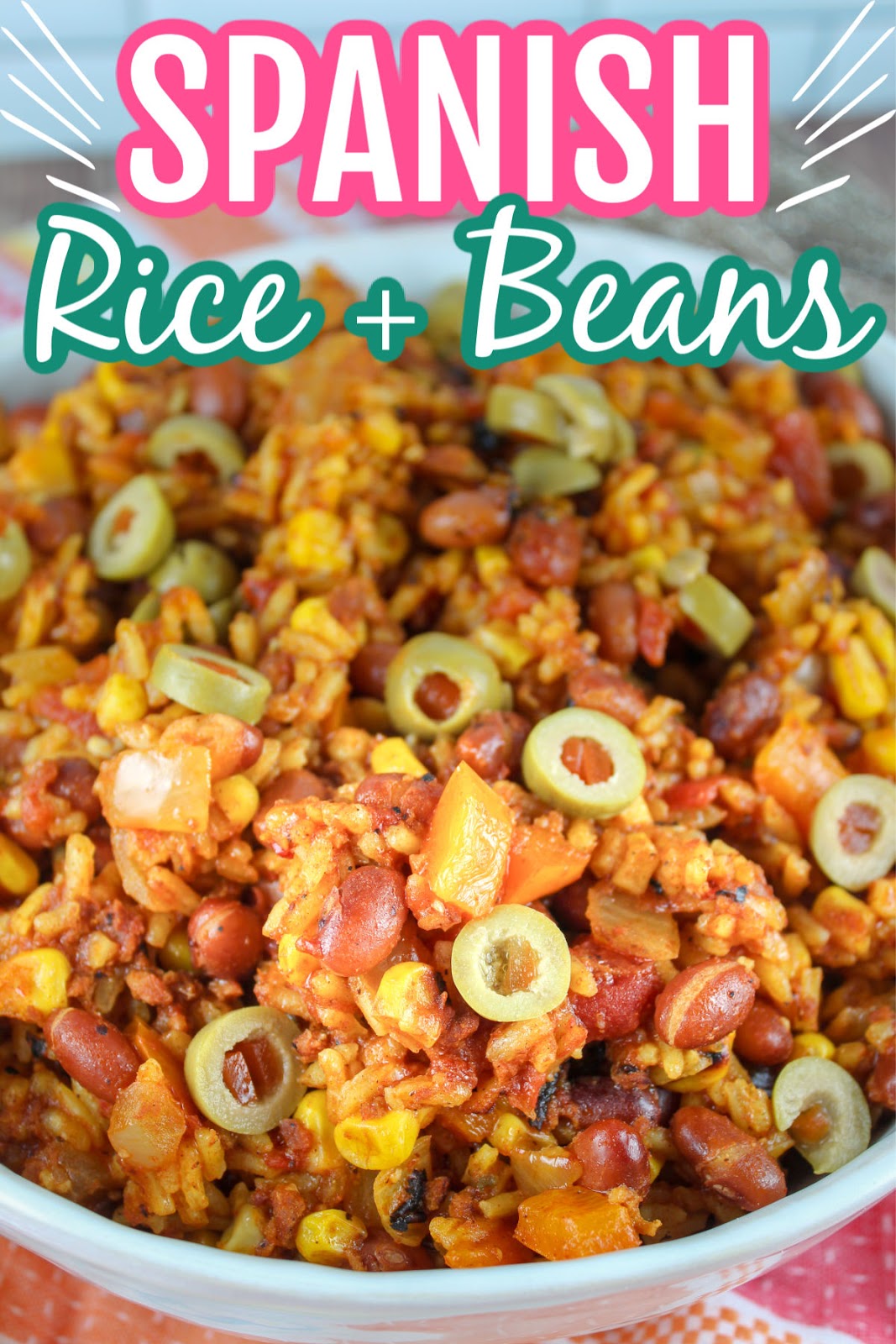 Spanish Rice and Beans is great because one pot does the whole job. Packed with rice, beans, chorizo, veggies and more – this hearty dish is a great side or full meal!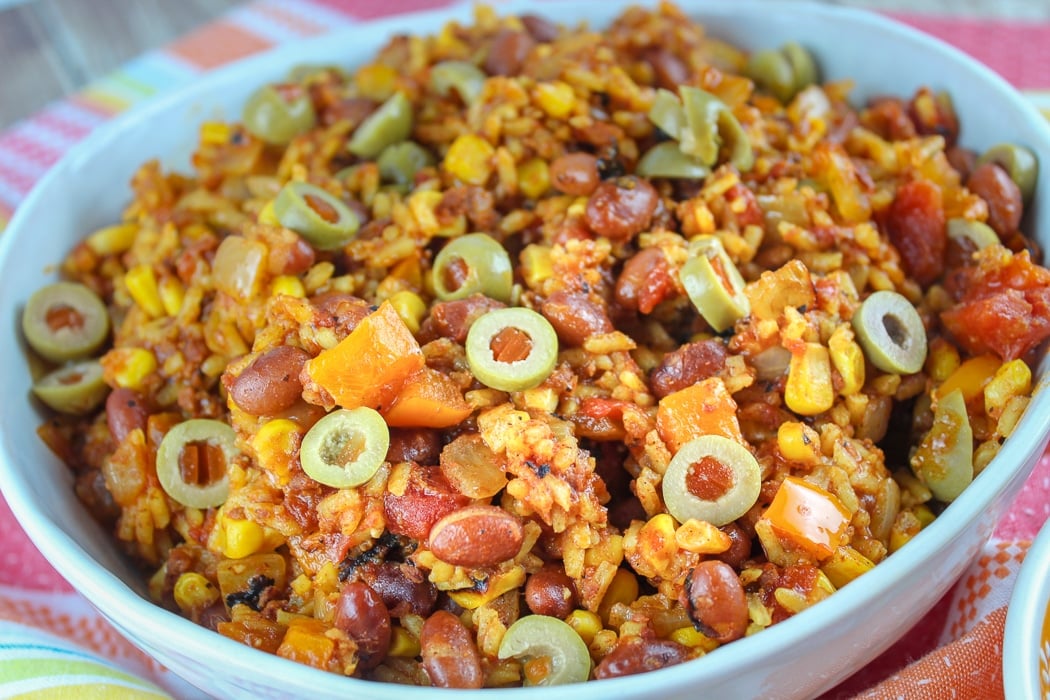 What You Will ❤️ About Spanish Rice and Beans
This Spanish Rice & Beans recipe has everything – rice, chorizo, beans, peppers, onions, tomatoes and lots of FLAVOR!! I even sprinkled sliced Spanish olives on top – this adds a cool zing to the dish – I loved it! Plus:
Affordable! Rice & beans are super cheap at the market – so you've got a dish that stretches!
Versatile! This is a great one-pot dish but you can also make burritos out of it, serve it as a side or even top it with a fried egg for brunch!
One Pot! I love a one-pot dish – less dishes! Woohoo!
Spanish Rice & Beans Ingredients
There are quite a few ingredients here – but if you're missing one – leave it out! It's all a pot of deliciousness! Here's what you need:
Fresh Veggies: Bell Pepper, Onion
Canned Veggies: Fire Roasted Tomatoes, Red Beans, Corn, Green Olives
Rice: Yellow Saffron Rice – I went for the saffron rice to make it easier but you could use long grain rice, jasmine rice or basmati rice and just add saffron.
Protein: Chorizo
Chicken Brother & Water
Seasonings: Smoked Paprika, Cumin
Recipe Variations
Meat – swap out the chorizo for hamburger, bacon, or even diced chicken breast
Vegetarian – leave out the meat all together and switch to vegetable broth for a vegetarian meal!
Peppers – if you like green or red bell peppers more than orange, or poblano for a little spice – swap it out!
Beans – swap the red beans for black beans, pinto beans or kidney beans
How to Make Spanish Rice & Beans
Heat a Dutch Oven on medium high heat with a bit of oil.
When pan is hot, add chorizo, minced garlic, bell pepper and onion. Saute and stir for 3-4 minutes until peppers start to soften and chorizo is mainly done.
Add uncooked rice, tomatoes, chicken broth, water, beans, corn, smoked paprika and cumin. Stir together and simmer with the lid on over medium heat for 15 minutes.
Stir and check the moisture level and rice doneness.

If rice isn't done, and there's still liquid – cook for 5 min more.
If rice isn't done, but pot is dry and starting to stick – lower heat and add 1/2 cup water and cook for five minutes more.
If rice is done – you're ready to serve!

Stir to mix everything and top with sliced green olives. Add chopped fresh cilantro as well if you like!
Tips, Tricks & FAQs
What spices go in Spanish Rice?
Saffron, Cumin & Smoked Paprika are the key ingredients and the saffron and paprika add that bright, rich color!
What are some creative ways to serve leftover Spanish Rice & Beans?
Think of it as your Chipotle Rice – take that rice out of the fridge and add it to tacos or make a burrito out of it and add some cheese, lettuce and sour cream! You could even add it to enchiladas!
How do you store and reheat leftovers?
Store leftovers in an airtight container (I like these glass storage ones) in the refrigerator for up to a week. You can store in the freezer for up to three months. Reheat in the microwave for 2-3 minutes.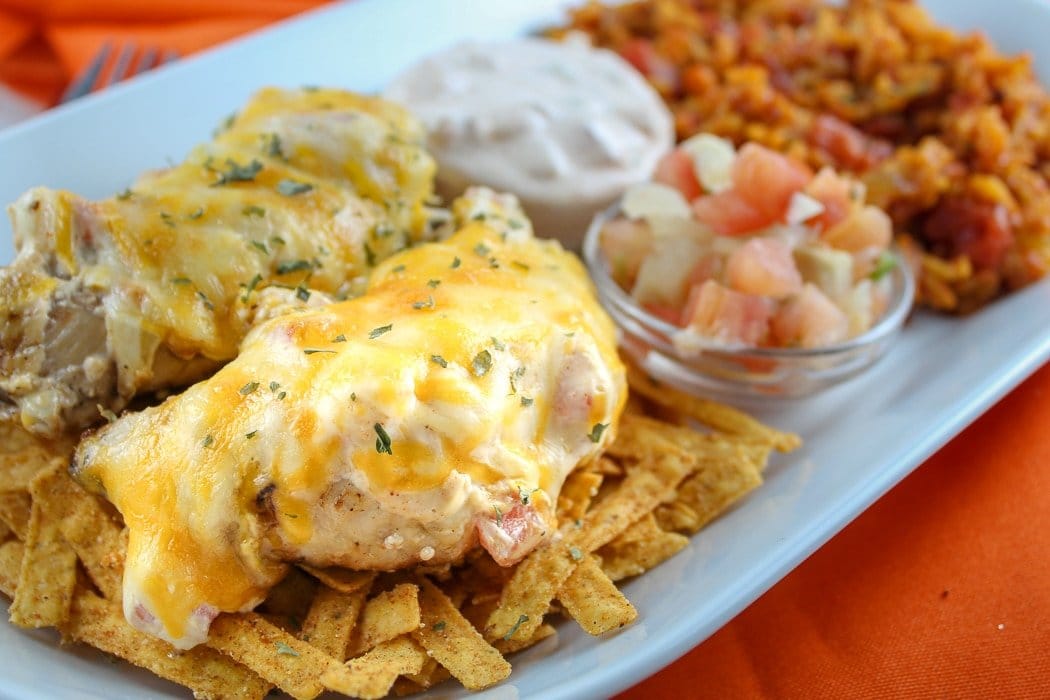 Side Dishes to Serve with Spanish Rice
One Pot Meals
Delicious Meals Featuring Rice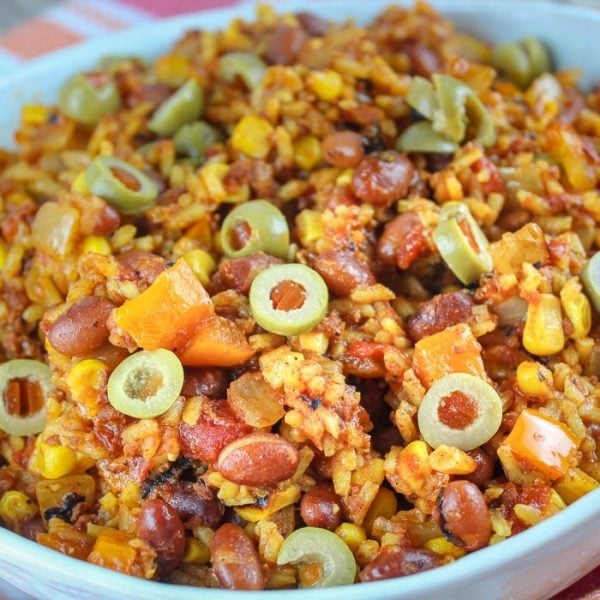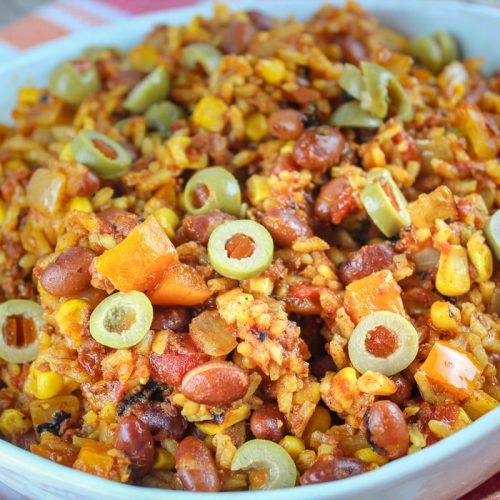 Spanish Rice & Beans
Spanish Rice and Beans is great because one pot does the whole job. Packed with rice, beans, chorizo, veggies and more – this hearty dish is a great side or full meal!
Instructions
Heat a Dutch Oven on medium high heat with a bit of oil.

When pan is hot, add chorizo, minced garlic, bell pepper and onion. Saute and stir for 3-4 minutes until peppers start to soften and chorizo is mainly done.

1/2 bell pepper,

1/2 onion,

1 tbsp minced garlic,

1/2 lb chorizo

Add uncooked rice, tomatoes, chicken broth, water, beans, corn, smoked paprika and cumin. Stir together and simmer with the lid on over medium heat for 15 minutes.

8 oz pkg yellow saffron rice,

14.5 oz fire roasted tomatoes,

14.5 oz chicken broth,

1.5 cups water,

14.5 oz red beans,

8.25 oz corn,

2 tbsp smoked paprika,

1 tbsp cumin

Stir and check the moisture level and rice doneness.

If rice isn't done, and there's still liquid – cook for 5 min more. If rice isn't done, but pot is dry and starting to stick – lower heat and add 1/2 cup water and cook for five minutes more.If rice is done – you're ready to serve!

Stir to mix everything and top with sliced green olives. Add chopped fresh cilantro as well if you like!

1/4 cup green olives,

salt & pepper to taste
Notes
**We are not dietitians and recommend you seek a nutritionist for exact nutritional information. The information in the nutrition box are calculated through a program and there is room for error. If you need an accurate count, I recommend running the ingredients through your favorite nutrition calculator.**
Nutrition
Serving:
0.75
cup
Calories:
568
kcal
Carbohydrates:
73.3
g
Protein:
24.4
g
Fat:
20.8
g
Saturated Fat:
6.4
g
Cholesterol:
33
mg
Sodium:
1527
mg
Potassium:
888
mg
Fiber:
7.8
g
Sugar:
4.8
g
Calcium:
58
mg
Iron:
5
mg