Sometimes for dinner – I just want to grab one pot and have it do the whole job – this Spanish Rice and Beans recipe is just that! One meal – one pot and you're going to love it!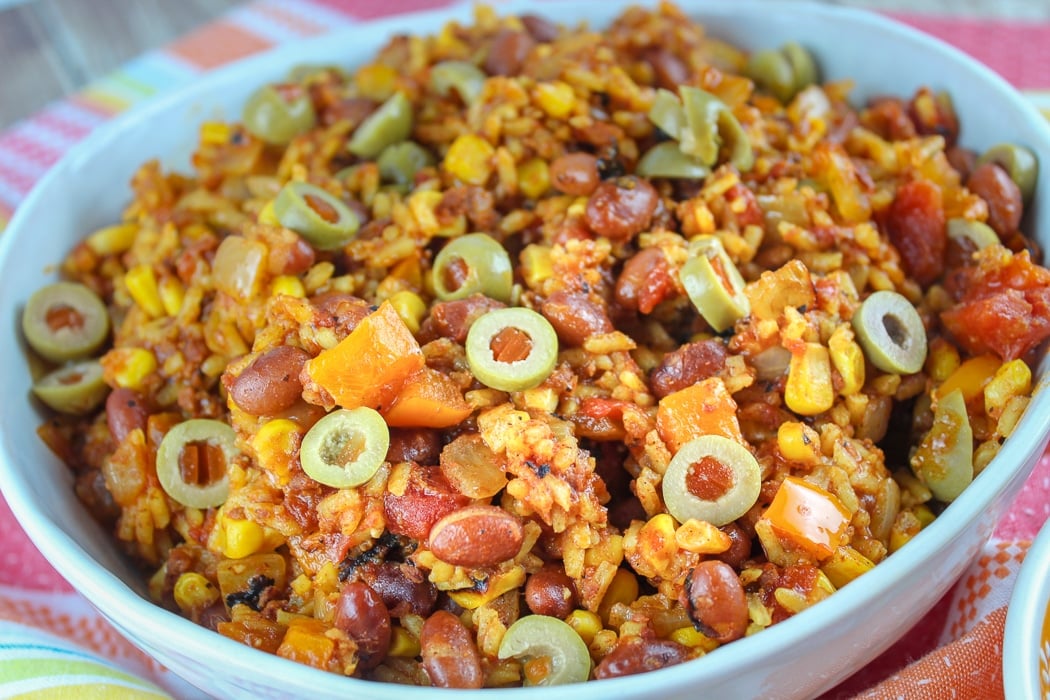 This Spanish Rice & Beans recipe has everything – rice, chorizo, beans, peppers, onions, tomatoes and lots of FLAVOR!! I even sprinkled sliced Spanish olives on top – this adds a cool zing to the dish – I loved it!
How do you make Spanish Rice?
I looked up a lot of different recipes and found some essential elements – rice obviously – but you can really use the kind of rice you like – I went with a saffron rice – it gives the rice a beautiful color.


But first – you saute your chorizo, garlic, pepper and onions – I added half pound of chorizo so it didn't add a lot of meat – but it added SO MUCH FLAVOR and that beautiful color! Once you saute that together – you add everything else!


That last step is adding rice, tomatoes, red beans, corn, chicken broth, water, paprika and cumin and then letting the goodness simmer together! Yum!



What spices go in Spanish Rice? What makes Spanish Rice orange or yellow?
Lots of questions on the interwebs about this – when I was doing research saffron, cumin and paprika kept showing up – so I went that route. And, as you can see, the colors are beautiful. I found the saffron rice at my grocery store – so that already had the seasoning – then added the smoked paprika which just spills color out everywhere! That combination definitely brings the color and so much flavor – with the chorizo – you don't need anything else!
This is a hearty dish – and again – you've only got a little meat with the chorizo. If you're not a fan – you can either swap and use bacon when you're sauteeing the vegetables – or just leave it out alltogether – it will definitely still be delicious.


I always like to mention that you should always make this YOUR WAY. I love orange pepper – so I used those – but if you prefer green – go for it! I used fire roasted diced tomatoes – but regular diced will be fine. Don't like red beans – use black beans! Feel free to ask any questions as you're making it!
I know you are going to love this Spanish Rice and Beans and will be making it on the regular for your family!


If you're looking for other great dinner dishes with rice – I've got you covered! PF Chang's Fried Rice is one of my most popular recipes. Applebee's also has these new Irresist-a-bowls and I love their Orange Chicken Bowl – so freakin delish! Panera's Warm Grain Bowls are also filled with lots of healthy stuff – I like the Mediterranean Grain Bowl the best!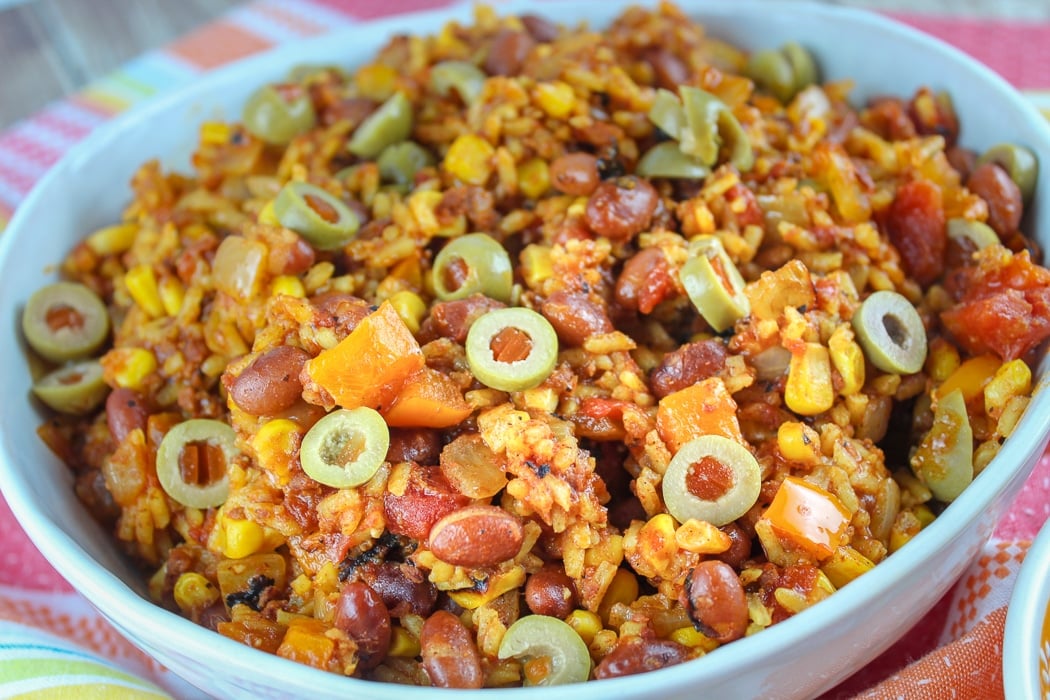 Spanish Rice & Beans
prep time: 5 M
cook time: 20 M
total time: 25 M
Spanish Rice and Beans is such a delicious meal and you can really customize it to your family's tastes. I love mine with peppers, onions and lots of flavor! (garlic, cumin, paprika and more!)
ingredients:
1/2 bell pepper, diced
1/2 onion, diced
1/2 pound chorizo (optional – you can also use 4-6 slices bacon, diced)
1 Tbsp minced garlic
1 8 oz package saffron yellow rice
14.5 oz can fire roasted tomatoes
1 14.5 oz can chicken broth
1.5 cups water
1 14.5 oz can cooked red beans, drained (or black beans)
1 8.25 oz can corn
2 tbsp smoked paprika
1 tbsp cumin
1/4 cup sliced green olives
salt, pepper to taste
instructions:
How to cook Spanish Rice & Beans
Heat a pot with a bit of oil.
Add minced garlic, bell pepper and onion. (You can add chorizo or bacon too if you want to add meat!)
Fry everything for around 3 minutes before adding uncooked rice, tomatoes, chicken broth, water, beans, corn, smoked paprika and cumin.
Stir everything together and simmer on medium for 15 minutes. Stir and check the moisture level and rice doneness. – If rice isn't done, and there's still liquid – cook for 5 min more – If rice isn't done, but pot is dry and starting to stick – lower heat and add 1/2 cup water and cook for five minutes more. – If rice is done – you're ready to serve!
Stir to mix everything and top with sliced green olives
Recommended Products:
Saffron Rice
Spanish Olives
Serving Bowls
Did you make this recipe?
Tag
@foodhussy
on instagram and hashtag it #foodhussyrecipe