My recent visit to Atlanta was so much fun! We went on a Real Housewives of Atlanta Food Tour and we ate a LOT of food! One place I loved was Mary Mac's Tea Room. It's an iconic restaurant in Atlanta and we pretty much ordered the whole menu!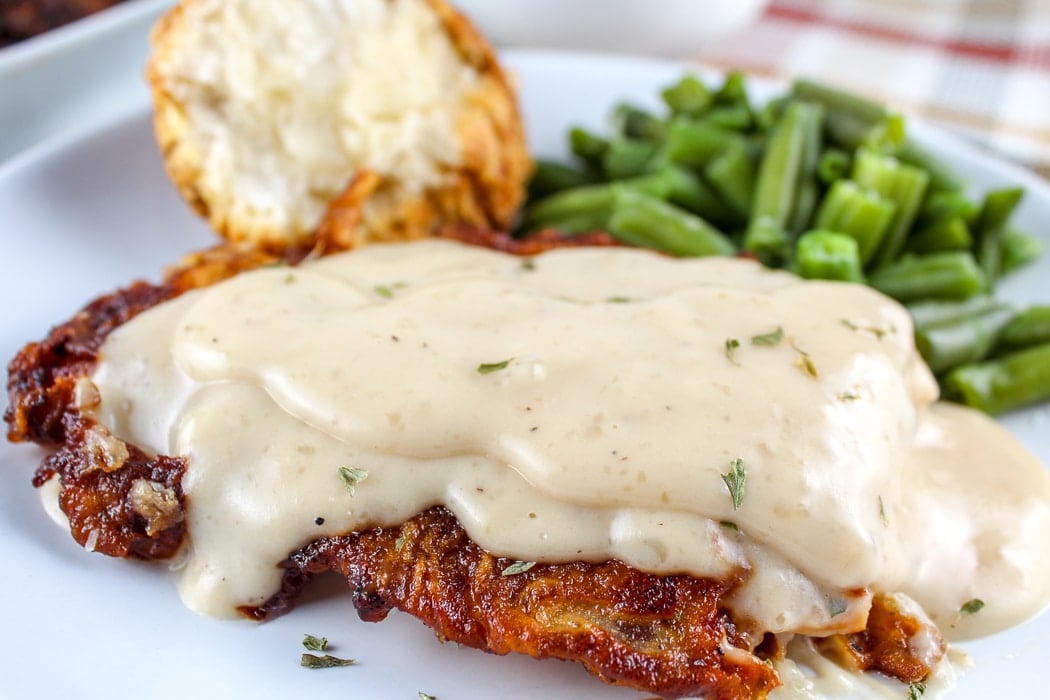 My lunch choice at Mary Mac's was the Chicken Fried Chicken. It's a pounded thin chicken breast that is fried and then topped with gravy. I loved lunch so much that I bought the Mary Mac's cookbook and took pieces of recipes to remake this delicious lunch!
What is Chicken Fried Chicken?
Fried chicken is typically bone-in chicken pieces – where as chicken fried chicken is typically a boneless piece of chicken. The process is the same though. It's also a take on chicken fried steak which is a thin boneless slice of beef that is fried in the same way you would fried chicken.
How to make Chicken Fried Chicken at home
Making chicken fried chicken and gravy at home is pretty easy – it's just a lot of things all happening at the same time. You bread the chicken – I use these Pampered Chef breading trays – they're super handy! You dip the chicken in buttermilk – then a flour mixture – then into the skillet. While you're chicken is frying – put together your gravy. I used chicken broth, milk and water for this gravy. My gravy is a little more brown because I used a fancier broth from Roasted Chicken – it was really good!
For the chicken – you can either buy chicken breasts and pound them thin – or buy the thinly sliced chicken breast. I did the latter just to save time.
Where to eat Chicken Fried Chicken?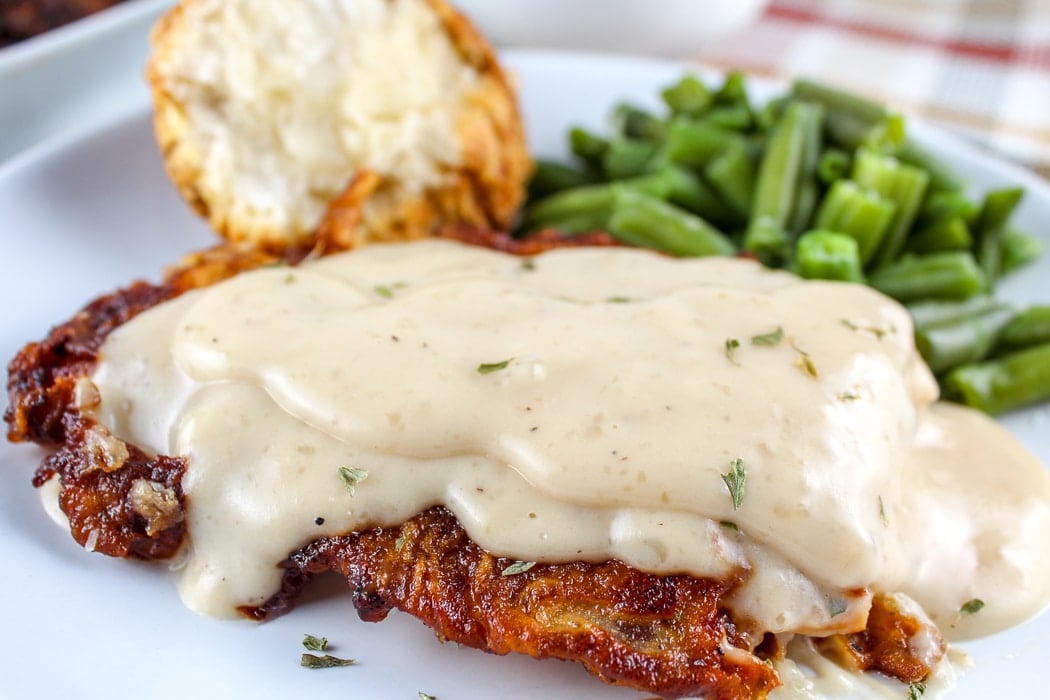 Copycat Mary Mac's Tea Room Chicken Fried Chicken
prep time:
cook time:
total time:
My recent visit to Atlanta was an explosion of ideas for my blog! One restaurant was full of great food – the iconic Mary Mac's Tea Room. I loved their Chicken Fried Chicken and couldn't wait to come home and make it for myself! Crispy fried chicken and a thick creamy gravy – yum!
ingredients:
Fried Chicken
1 cup peanut oil
1 lb thinly sliced chicken breasts
2 tsp salt
1 tsp pepper
3/4 cup buttermilk
2 cups flour
1/2 tsp white pepper
Chicken Gravy
1.5 cups chicken broth
3 Tbsp flour
1 cup whole milk
1/2 cup water
2 Tbsp cornstarch
1 tsp salt
1/2 tsp white pepper
1/2 tsp black pepper
instructions:
How to cook Copycat Mary Mac's Tea Room Chicken Fried Chicken
Fried Chicken
Heat oil in heavy 12 inch frying pan to 375.
Rinse chicken and pat dry with paper towels
Sprinkle 1 tsp salt and pepper on chicken and rub in
Place buttermilk in breading tray or plate
Place flour, salt, white pepper in 2nd breading tray or plate
Dredge the chicken pieces into the buttermilk then into the flour mixture and place them on a tray/plate
Place the chicken in the oil
Cover and reduce the heat to medium and brown the chicken slices on each side – approx 4-5 minutes each side
Drain on cooling rack
I did the pieces two at a time – so you may need to add a touch more oil and bring it up to temp again
Chicken Gravy
While chicken is frying, in a small sauce pan, heat 1/2 cup of the broth over low until just warm.
In a larger saucepan or Dutch oven on medium heat, heat remaining broth for 2-3 minutes
Whisk flour into the small pan to form a smooth paste.
Slowly add the paste from the small pan to the larger pan with broth, stirring well.
Cook slowly on medium, stirring constantly for 5 minutes, until blended and gravy thickens
In measuring cup, mix cornstarch into water until dissolved
Gradually add the water and milk to the gravy mixture – alternating and adding slowly, beating constantly with a whisk until smooth.
If the gravy is too thick, add more water or milk
Add the salt, white pepper and black pepper
Serve warm gravy over chicken fried chicken breast slices
Recommended Products:
Mary Mac's Tea Room Cookbook
Copper Chef Casserole Skillet with Lid
Peanut Oil
Did you make this recipe?
Tag
@foodhussy
on instagram and hashtag it #foodhussyrecipe