My dad was a believer in canned vegetables and these gloppy cans of corn and whatever were on the table at least once a week!
I always wondered how creamed corn was made – what was it exactly?!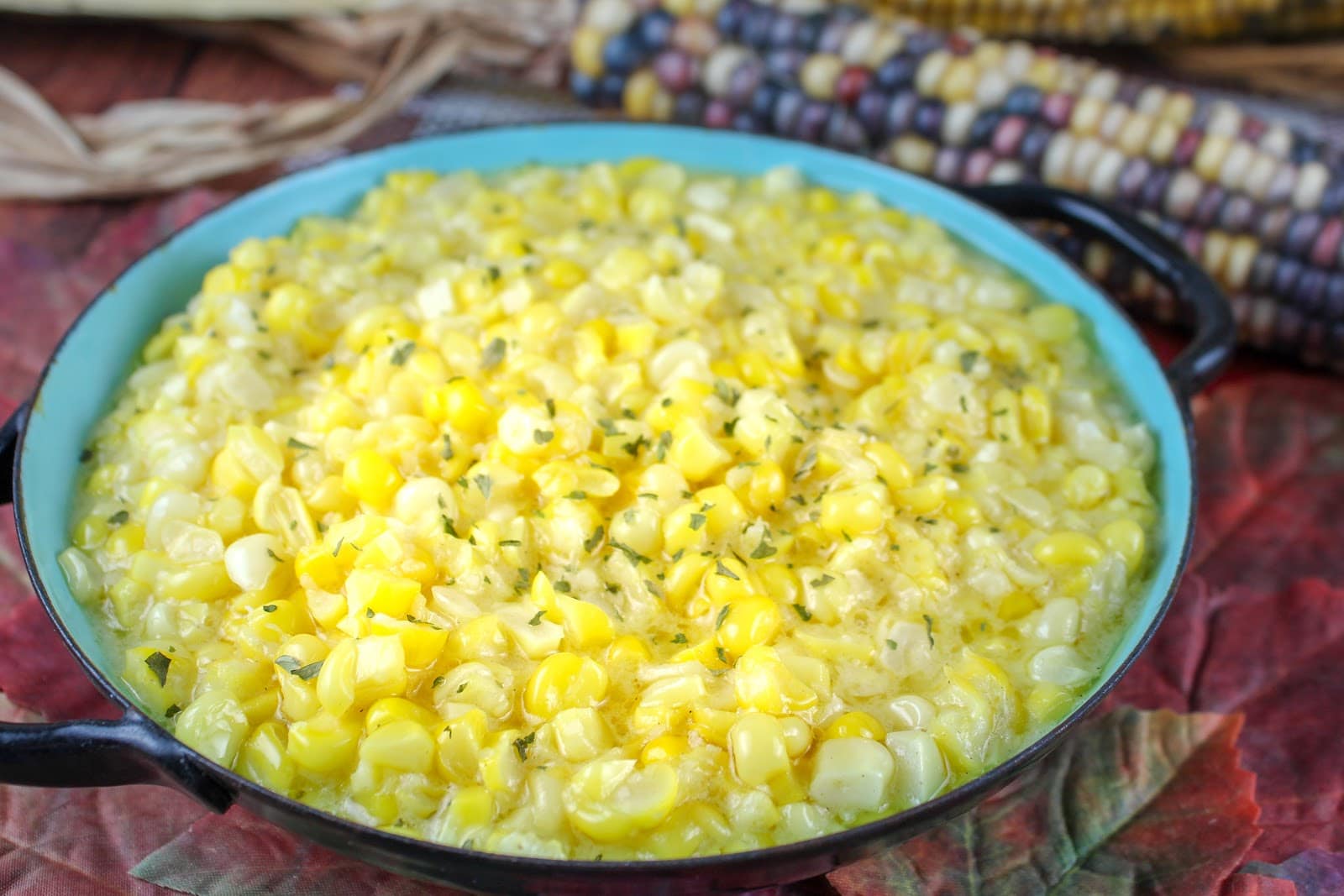 Luckily they have a 75th Anniversary Mary Mac's Tea Room Cookbook that I got on a Kindle! And – I was looking for side dish recipes and found this and thought it would be a perfect holiday creamed corn recipe!


The main thing I noticed about this fresh creamed corn is how light it is! It's not heavy and gloppy – it's light and creamy and sweet. I loved it — and IT TAKES MINUTES TO MAKE!



How to make fresh creamed corn from scratch?
The ingredients in creamed corn are so simple: corn, butter, salt, pepper, sugar and milk. What makes creamed corn creamy is the "milk" in the corn. It's really the most important step in the process – when you're cutting the kernels from the cob – you cut them off in thin layers – not all at once and then – you scrape the ears on the side of the bowl and get the milk out of the cobs! That's what thickens the creamed corn!


Then you saute the corn in butter, salt & sugar and finally – add a little milk and let it thicken.
Can you freeze creamed corn?
Creamed corn CAN be frozen! I tried it out and it was still delicious! If you're reheating in a pan – just add a little milk – but in the microwave it was just fine as is.
Here's a few tips to make your creamed corn perfect:
– Buy fresh corn – even fresh corn out of season will work better than frozen.
– Don't refrigerate the corn! Try and make the corn within a day or two of bringing it home but don't refrigerate it. I had to make this recipe twice because the first batch of corn (that I had in the fridge) didn't have that "milk".
– Slice the kernels off in layers – not whole kernels
– Don't use bacon grease! The original recipe from the cookbook says you can use either bacon grease or butter but it didn't work for me.
What to serve with fresh creamed corn off the cob?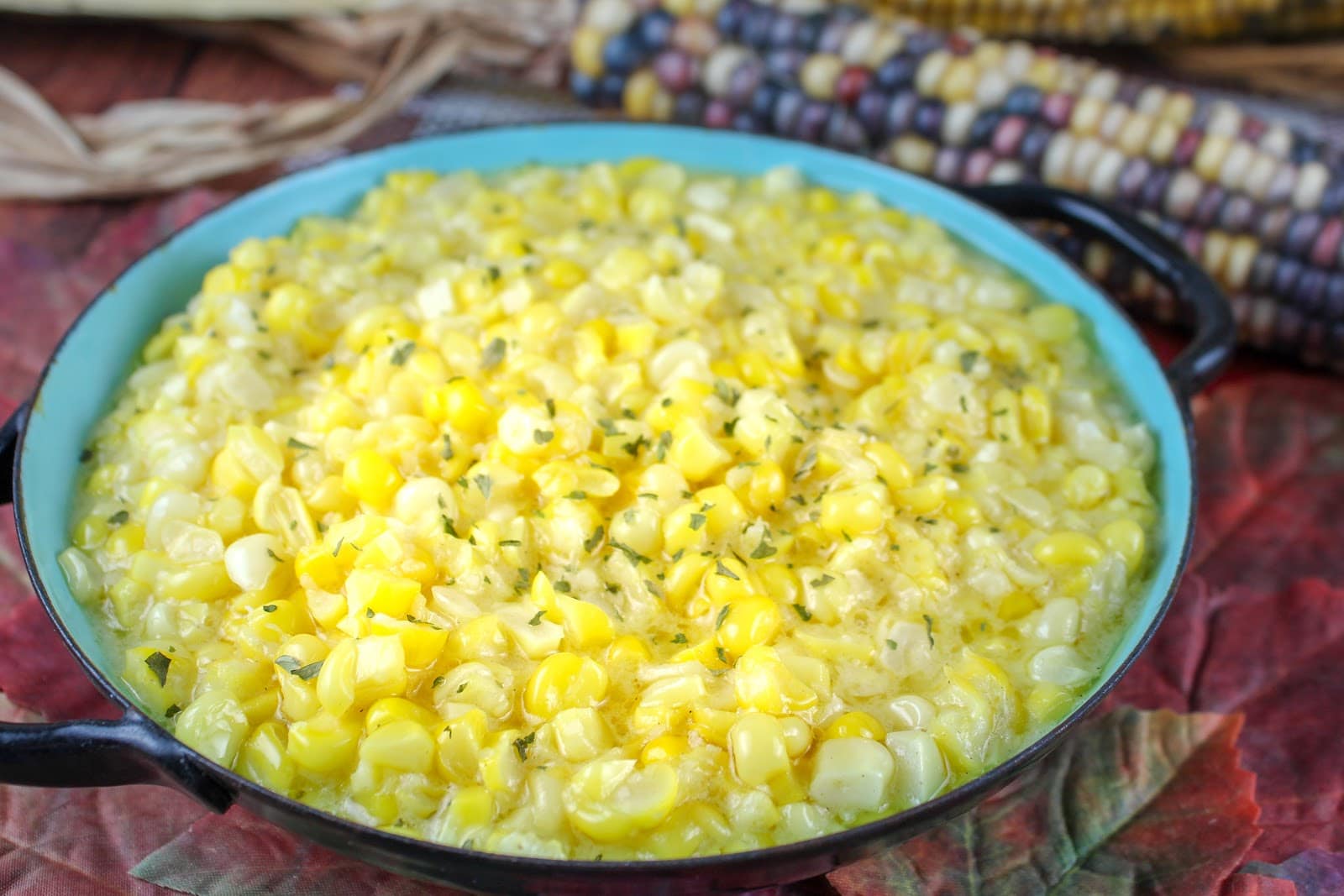 Mary Mac's Creamed Fresh Corn
prep time: 10 M
cook time: 15 M
total time: 25 M
I have never liked creamed corn from a can – it's thick and gloppy. I finally had REAL FRESH creamed corn and it's delicious! It's also shockingly easy to make!!! This creamed corn is on the table in 15 minutes. You'll never serve the canned stuff again.
ingredients:
6 ears fresh corn, shucked and silks removed
8 tablespoons salted butter
1 teaspoon salt
1/8 teaspoon white pepper
2 teaspoons sugar
1/4 cup room temperature whole or 2% milk
instructions:
How to cook Mary Mac's Creamed Fresh Corn
– With your ear of corn in a large bowl – you're going to cut the corn off the cob – but it has to be in this specific way! You're basically going to cut each side of the cob 3x – here's how you do it:
1. Using a sharp knife, cut the ends of the kernels off (about 1/3 of the kernel) each cob. Be sure to ONLY cut off part of the kernels.
2. Do another cut on each side of the cob – this time you can cut deeper but you don't have to cut all the way to the core.
3. Run the ears of corn on the side of the bowl and scrape each side of the cob down the side of the bowl and get the MILK out of the cobs. This is CRUCIAL to the recipe!
– In a large skillet, melt the butter over medium heat.
– Add corn with juices to the skillet.
– Stir in the salt, white pepper and sugar and bring to a simmer.
– Cover and cook for about 10 minutes until the corn is tender.
– Add milk and stir. Heat for another couple of minutes.
– Serve!
NOTES:
– Even off season fresh corn is better than frozen – and do NOT put corn in the refrigerator after you buy it at the store – that dries up the "milk" in the corn
– You can use frozen corn for this recipe – you'll want to dice up the corn and add more milk – if not cream
Recommended Products:
Cast Iron Skillet
Wusthof Chef's Knife
Wicker Cornucopia
Did you make this recipe?
Tag
@foodhussy
on instagram and hashtag it #foodhussyrecipe