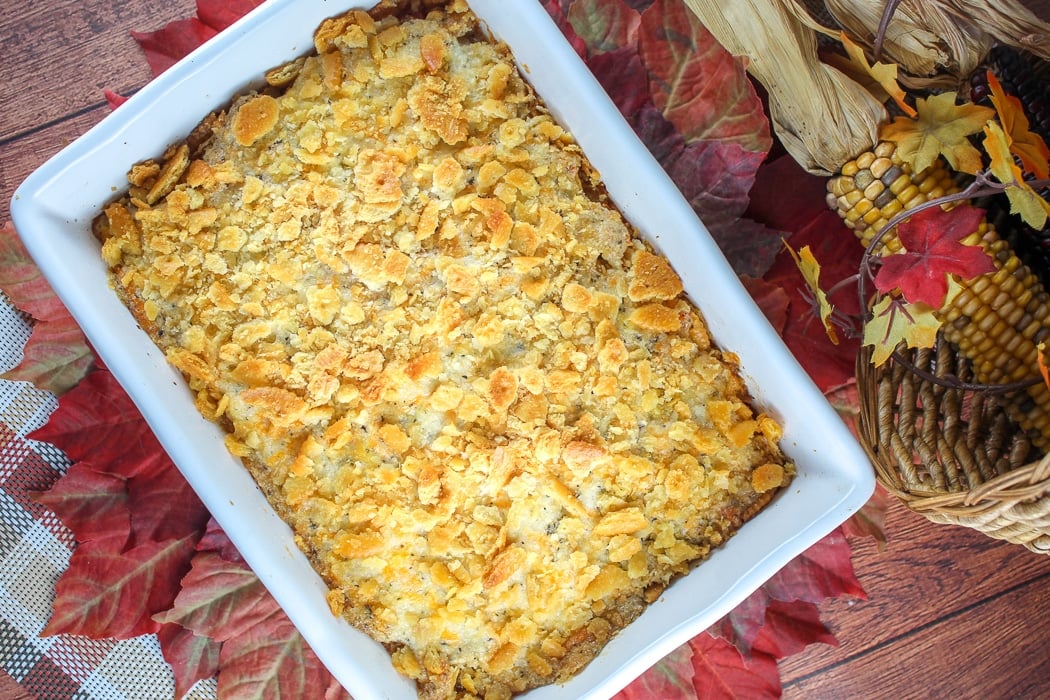 It has so many great recipes and one of them is this Ritz cracker tomato casserole that they call tomato pie! They said they added it ten years ago and today it's one of their top side dishes and their most requested recipe!
How to make tomato pie?
I love this recipe because it's a crustless tomato pie – I'm just not much for making pie crust and feel like a cheater when I buy one – so this is a layered tomato casserole. The best part about this tomato pie is that it's made with canned tomatoes – so you can have it any time of year!


You layer Ritz crackers, canned tomatoes, sauteed onions – then you top it with more crackers. The final layer is a mixture of mayo and cheeses that you spread across the top – then add another layer of crackers! It's so easy!!
Once all the layers are done – you pop it in the oven for a perfect (and easy) baked tomato casserole. I love that baking dish that I got at this little local gift shop in Northern Kentucky – Bake your groove thing! How fun!
Can you make tomato pie ahead of time? Can you reheat tomato pie?
This tomato pie is easy to make but there's not much of a need to make it ahead of time. You can saute the onions ahead of time and then layer it all together. I don't like to make it ahead of time because the crackers get soggy. For reheating – I would reheat in the oven to crisp up the crackers. You might even add a few more new crushed crackers to the top for that crunch!
What is good to serve with tomato pie?
Well we have to start with my other two Mary Mac's favorites! First up – their Chicken Fried Chicken – it's so delicious – and the tomato pie is a perfect side dish for it! My other favorite side is their fresh creamed corn – you'll never eat that canned glop again! I think this easy tomato casserole pairs great with my air fryer salmon too!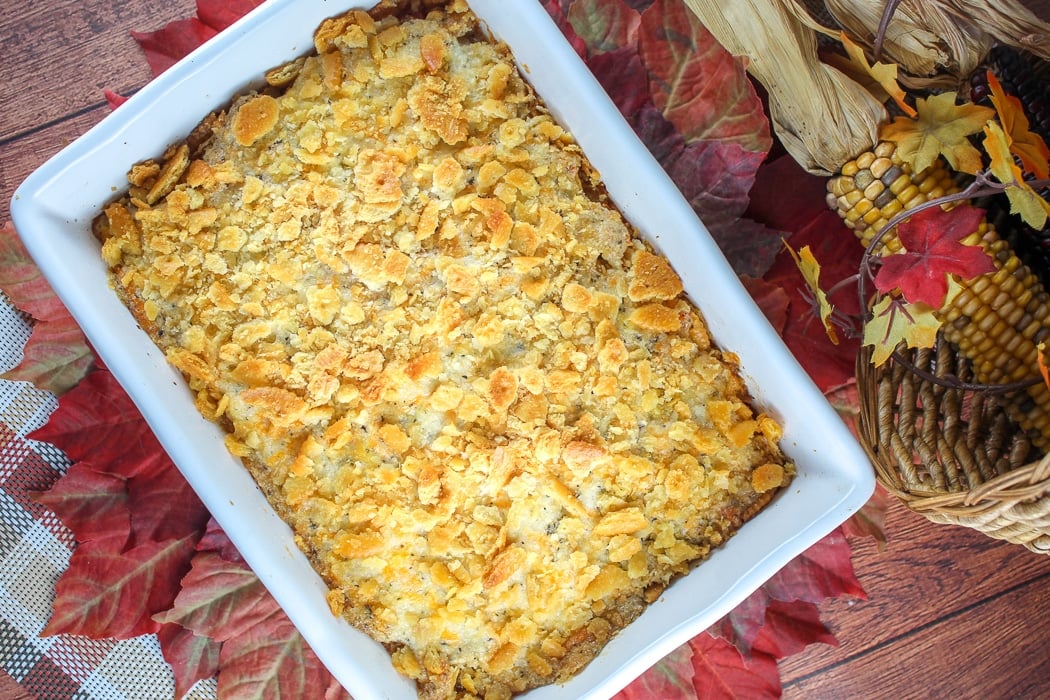 Copycat Mary Mac's Tomato Pie
prep time: 15 M
cook time: 30 M
total time: 45 M
Mary Mac's added this dish to their menu in 2009 and since then it's in their top five side dishes ordered and their most requested recipe. It's a great side dish for all of your holiday dinners coming up. It's comfort food and a favorite of mine now!
ingredients:
2 Tbsp olive oil
1 medium sweeet onion, THINLY sliced
salt and pepper
1/2 box Ritz Crackers (2.5 sleeves)
2 – 14.5 oz cans diced fire-roasted tomatoes, undrained
1 cup mayonnaise
1 cup grated cheddar cheese
1/2 cup grated Parmesan cheese
1 Tbsp basil
instructions:
How to cook Copycat Mary Mac's Tomato Pie
Preheat oven to 350 – spray a 1.5-2 qt casserole dish (8×8 square or 5×7 rectangle) with non-stick spray
Heat olive oil in a large skillet over medium heat
Add onions and cook, stirring occasionally until softened and carmelized, about 4-5 minutes.
Add salt and pepper and remove from heat.
Crush 1 sleeve of Ritz crackers in the bottom of the casserole dish (I prefer to crush by hand – I like the varied sizes of the pieces vs. pulverizing them with a food processor)
Pour 1 can of tomatoes (undrained) over the crackers
Spread 1/2 of the sautéed onions over the tomatoes
Repeat the tomato/onion layers
Crust 1 sleeve of Ritz crackers on top of the tomato/onion layer
In a bowl, mix together mayo, cheddar, Parmesan and basil
Spread this mixture on top of the cracker crumbs. You have to put it on in spoonfuls and then spread lightly with a knife otherwise it just sticks to your cracker crumbs. I laid the mayo mixture on a spot and then lightly spread it and repeated until I covered the crackers.
Crush 1/2 sleeve of Ritz over top of the mayo mixture
Bake for 30 minutes
Serve
Recommended Products:
Copper Chef Set
Mud Pie Baking Dishes
Butter Crackers
Did you make this recipe?
Tag
@@foodhussy
on instagram and hashtag it #foodhussyrecipe