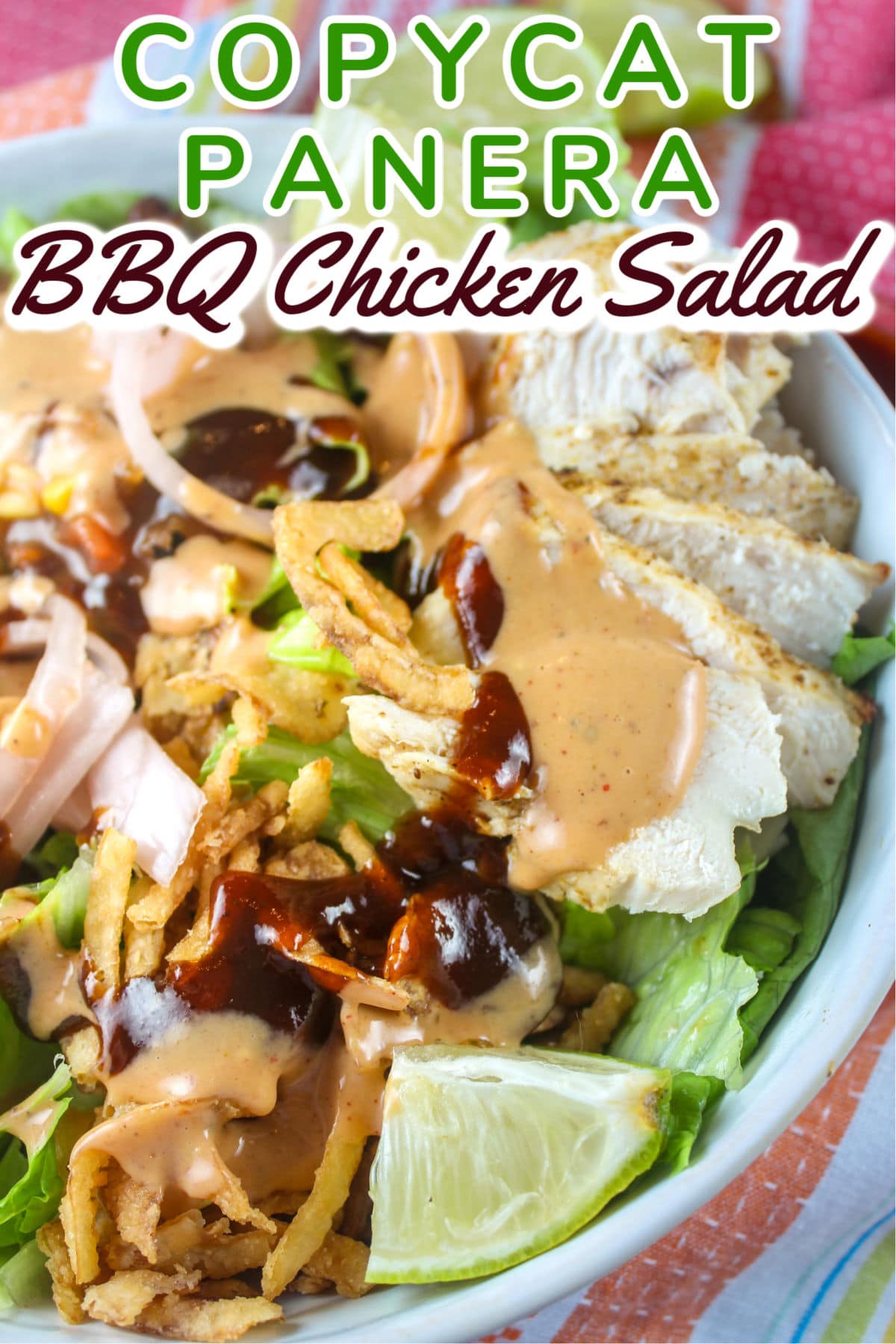 Panera's BBQ Chicken Salad starts with romaine lettuce, and it's topped with citrus-marinated chicken, black bean & corn salsa, pickled red onions and fried onions. Then, it's topped with a BBQ Ranch dressing and a sweet barbecue-style cider vinegar dressing.
I tried this new salad as soon as it came out – it is such a delicious lunch! I came home and made my own Copycat version the next day! Short on time? You're in luck – I have some sneaky short cuts that help you make my new favorite salad recipe super quick!
Jump to Recipe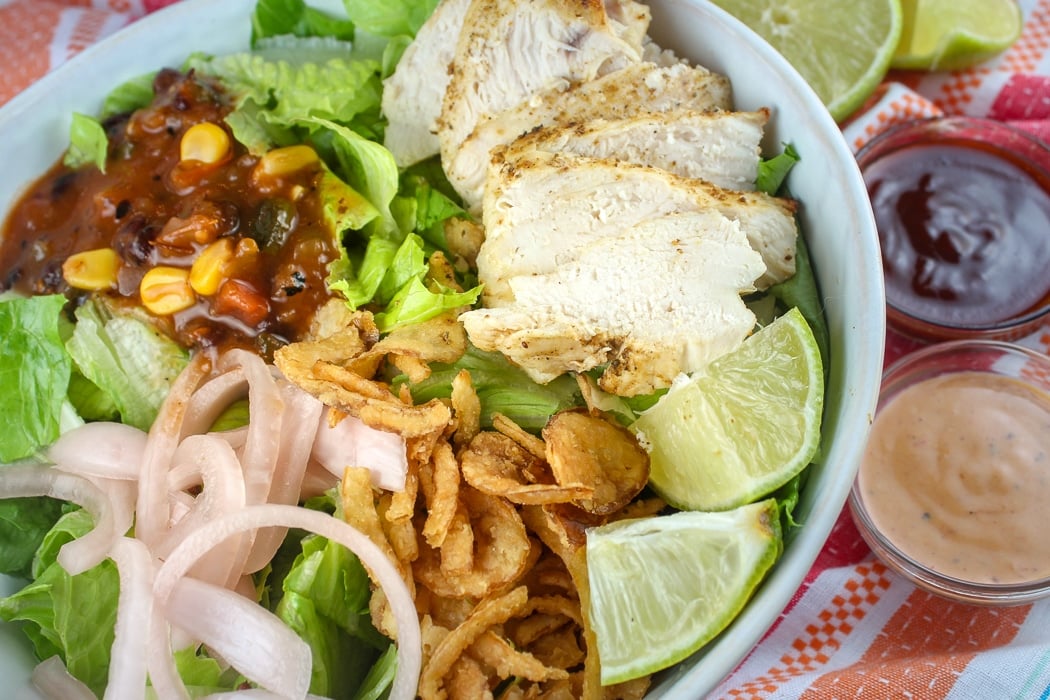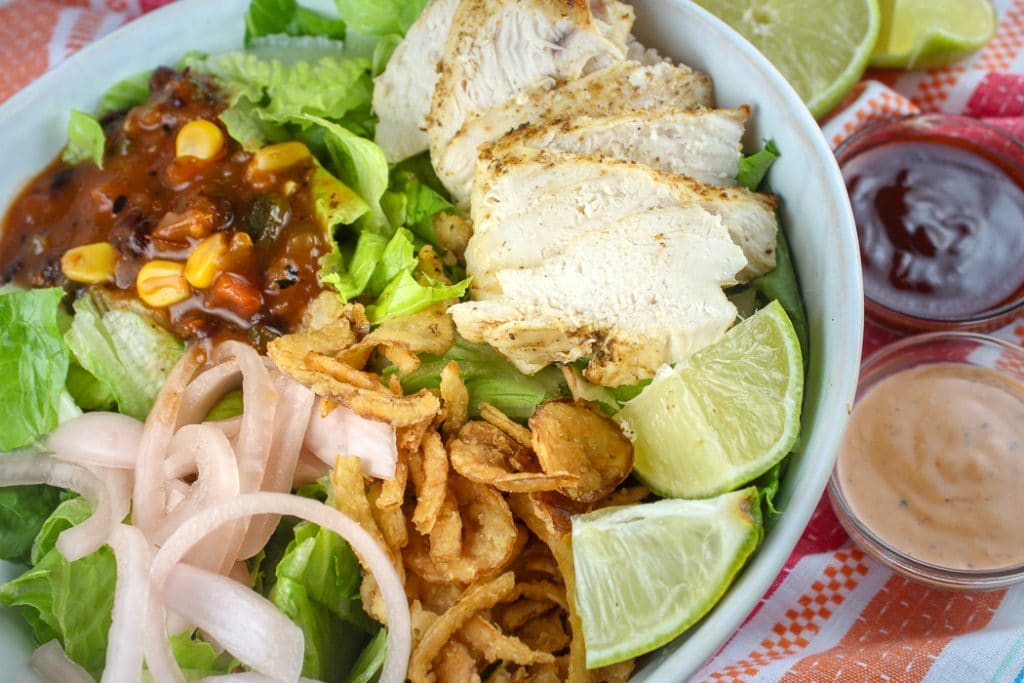 What is on the Panera's BBQ Chicken Salad?
This dish – as most of the salads at Panera – has a bunch of little components. So here are the ingredients and the short cuts I take to make this dish in a total time of 10 minutes!
Romaine Lettuce – I buy the packages with 3 heads and just pull one out and rough chop it. It stays fresher longer than the pre-bagged lettuce.
Chicken – I always use the Mojo Criollo marinade because their chicken is in a citrus marinade – it's cheap and readily available (Iberia or Goya brand is great) – and there's no need for extra spices like pepper or garlic powder – the marinade has everything in it!

If you're looking for a short cut – rotisserie chicken will work

Black Bean and Corn Salsa– to save time, I use a store bought version.

If you don't feel like buying one – you can just add some canned corn kernels and canned black beans

BBQ Ranch Dressing – this is easy – take your bottle of ranch and add in some bbq sauce! I went with a thick Kansas City BBQ Sauce from Kroger.
Pickled Red Onions – the same recipe I have for no-cook fridge pickles – do just a jar of red onions only! You will use them ALL THE TIME!
Frizzled Onions – who has time to frizzle an onion – whatever that is?! I bought the french fried onions in the salad fixins area – I love the crispy salt and onion flavor!
Apple cider vinegar BBQ sauce – guess what? I have 6 bottles of BBQ sauce in my pantry – none were apple cider vinegar-ish. So I took that Kansas City BBQ and added some apple cider vinegar – it was identical!!! (I know because I got extra sauce when I ordered so I could taste test later!)
Lime – gotta have a lime to squeeze over the top for extra zing!
The moral of the story – don't feel like you have to "from scratch" everything! Use quality ingredients and you'll be fine. And I promise – my chicken tastes better!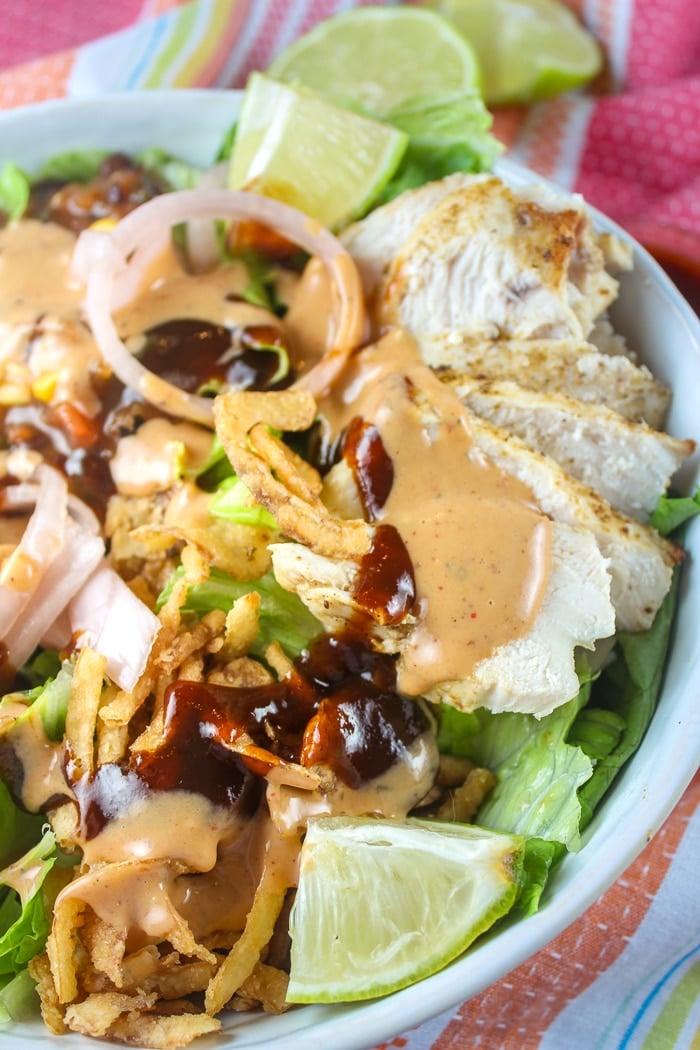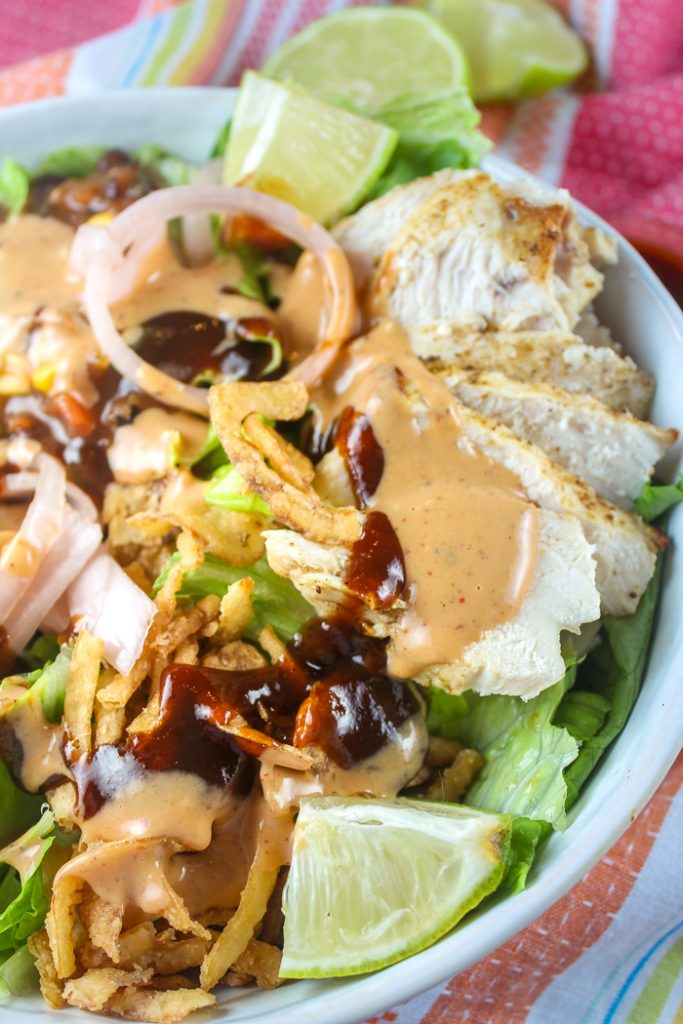 How do you make this Copycat Panera Bread BBQ Chicken Salad recipe?
This flavorful dinner salad recipe is also easy to make!!! Let's go:
Lay out a slice of parchment paper and place chicken breast on top – then fold parchment over top of chicken. Pound chicken breast lightly to even thickness
Rinse and place chicken and mojo criollo marinade in a ziplock bag. Seal bag and marinate chicken breast in refrigerator at least 60 minutes (up to overnight)
Air Fry Chicken at 350 for 10-12 minutes until temp is 160 degrees

You can also oven bake your chicken breast or even use a grill pan but the air fryer is the juiciest!

In two small bowls – you'll prepare your dressings:

in one bowl, mix 1/4 cup bbq sauce with apple cider vinegar
in second bowl, mix ranch with 1/4 cup bbq sauce

In two large bowls, chop romaine lettuce into small pieces and split between each large bowl
Top each bowl with with salsa, pickled onions, crispy onions
Drizzle barbecue sauce and ranch dressing over top of salad
Slice chicken breast and split between two bowls
Squeeze fresh lime juice over each salad and serve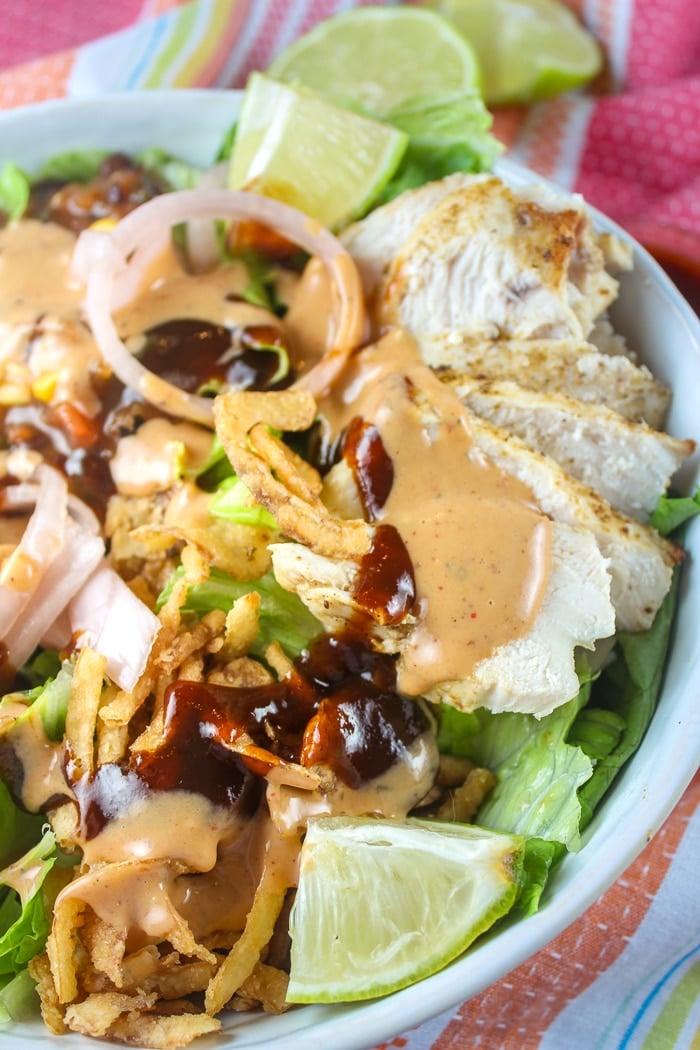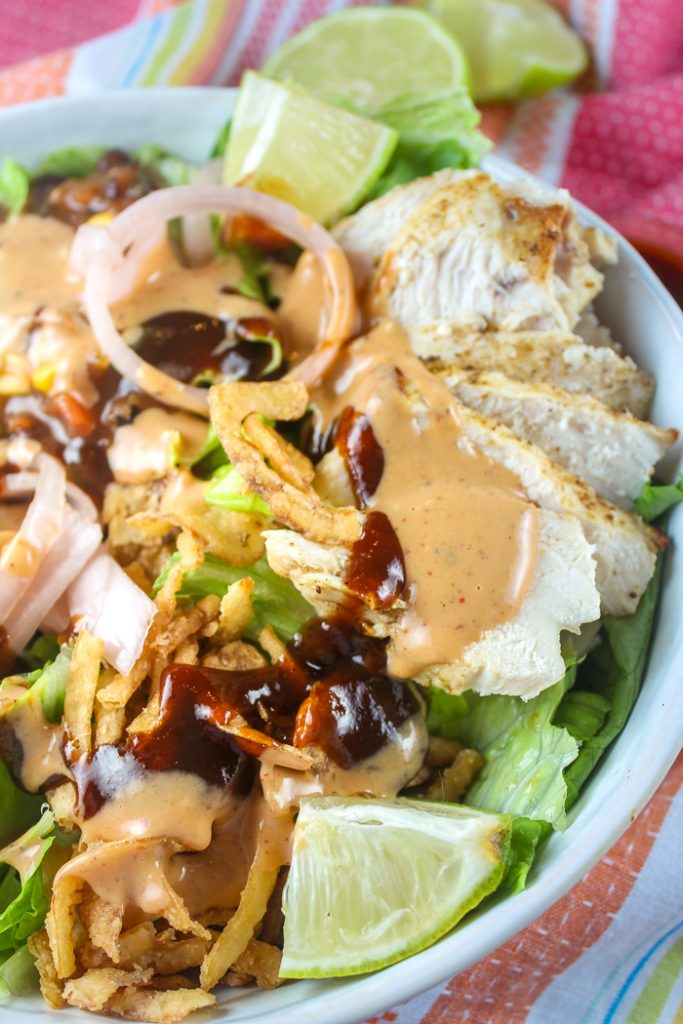 How many calories are in a BBQ chicken salad from Panera?
This is such a low-calorie salad at Panera! The whole salad is 490 calories and the half is only 250 calories. My copycat salad is a bit higher with 560 calories for the whole salad – but I can guarantee that's because I have MORE toppings and it's bigger!
What to serve with Panera's BBQ Chicken Salad?
This is definitely my favorite dinner salad recipe and it goes with so many sides! You can grab some tortilla chips if you're in a hurry – but here are my favorite dishes to pair with this salad:
Other favorite Panera Copycat Recipes – including soups, sandwiches and salads!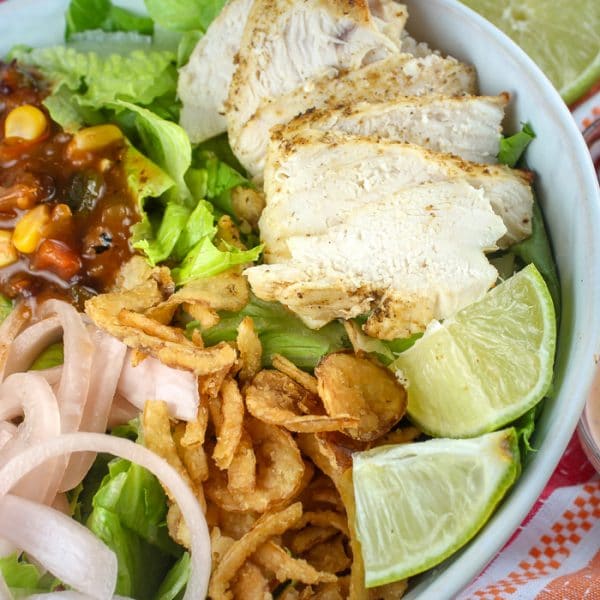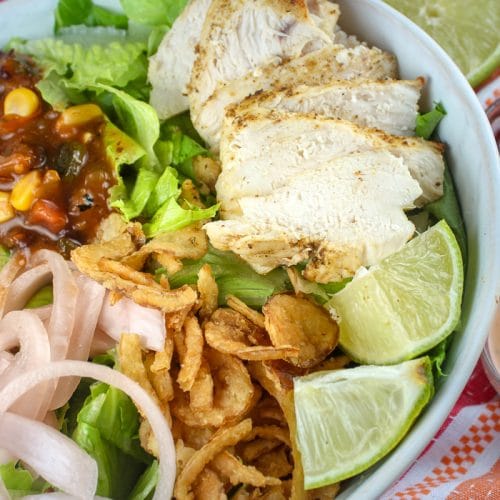 Copycat Panera BBQ Chicken Salad
Panera Bread is lighting it up with new dishes including an updated BBQ Chicken Salad! I got this new salad as soon as it came out and had to come home and make a Copycat version right away!
Instructions
Lay out a slice of parchment paper and place chicken breast on top – then fold over parchment. Pound chicken breast lightly to even thickness

Marinate chicken breast in Mojo Criollo marinade at least 60 minutes

1/2 cup Mojo Criollo Marinade

Air Fry Chicken at 350 for 10-12 minutes until temp is 160 degrees (or bake your chicken breast – but AF is the juiciest!)

In two bowls – you'll prepare your dressings:

– in one bowl, mix 1/4 cup bbq sauce with apple cider vinegar

– in second bowl, mix 1/4 cup bbq sauce with ranch dressing

1/2 cup Kansas City BBQ Sauce,

1/4 cup Ranch dressing,

1 tbsp Apple Cider vinegar

Tear one head romaine lettuce between two bowls

Top each bowl with with salsa, pickled onions, crispy onions and dressings (bbq and bbq ranch)

1/4 cup black bean & corn salsa,

1/4 cup pickled red onion,

1/4 cup fried onions

Slice chicken breast and split between two bowls

Squeeze 1/2 lime over each salad and serve
Notes
**We are not dietitians and recommend you seek a nutritionist for exact nutritional information. The information in the nutrition box are calculated through a program and there is room for error. If you need an accurate count, I recommend running the ingredients through your favorite nutrition calculator.**
Nutrition
Calories:
561
kcal
Carbohydrates:
79.9
g
Protein:
27.4
g
Fat:
18.3
g
Saturated Fat:
3.6
g
Cholesterol:
64
mg
Sodium:
1972
mg
Potassium:
703
mg
Fiber:
3.7
g
Sugar:
37
g
Calcium:
98
mg
Iron:
8
mg