This Copycat Red Lobster's Parrot Isle Jumbo Coconut Shrimp & Pina Colada Sauce will have you instantly transported to the beach!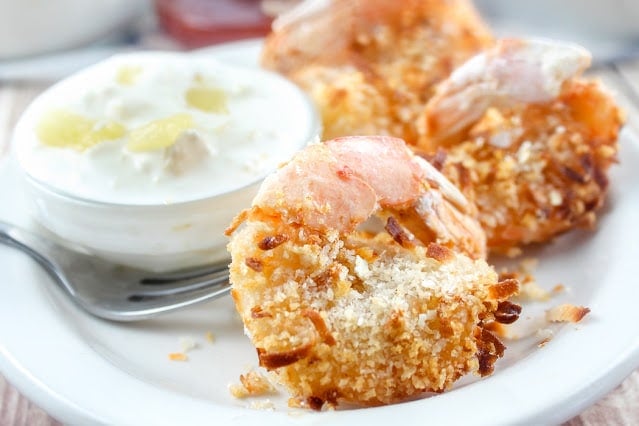 My favorite part about this dish is the Red Lobster coconut shrimp dipping sauce! It's light, creamy and coconutty with bits of pineapple and I've got the recipe!
How do you make jumbo coconut shrimp?
It's actually fairly easy! You can do it in the air fryer or on the stove top. I bought jumbo grilling shrimp that was already deveined and butterflied. From there – you coat the shrimp in cornstarch, dip in coconut cream and then coat with a mixture of coconut and panko bread crumbs – and that's all there is to it!
I like making the shrimp in the air fryer – it's cleaner and healthier – you just set them in the air fryer and they're done in 7 minutes. You can also make on the stove top – you'll just need to heat oil in a pan and fry the shrimp for 2-3 minutes. Shrimp cooks pretty quickly – so the oil is quicker but not as healthy.
How do you make coconut shrimp dipping sauce like Red Lobster?
This copycat Red Lobster coconut shrimp recipe wouldn't be complete without the Pina Colada dipping sauce! It's super easy to make – a little can of coconut cream mixed with sour cream, pineapple and lime juice. If you use unsweetened coconut cream – you'll also want to add sugar. When I made this I actually got an order from Red Lobster so I could try the sauce side by side and tweak it until it was just right.
What goes with Red Lobster coconut shrimp?
Side dishes aplenty will go with this delicious Red Lobster Coconut Shrimp Recipe! My favorite are: