This Copycat Red Lobster Crab Alfredo is my absolute favorite! I order the dish every time I go to Red Lobster! But it's actually super simple to make at home – so now I can have it whenever I want…Yum!!!! (Crab legs are soooo easy to cook too and I share my tips!)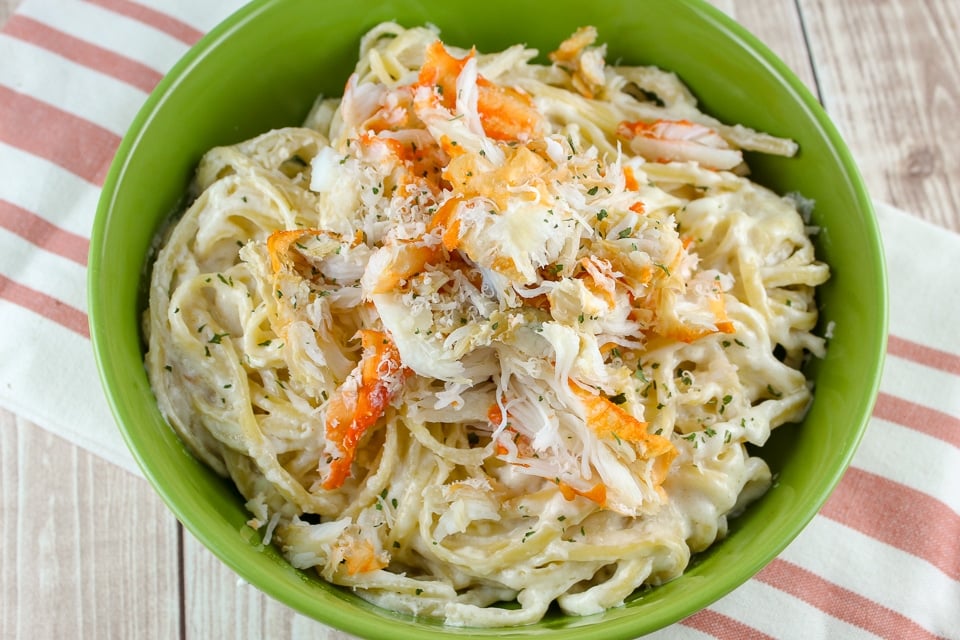 Red Lobster Crab Alfredo was my absolute favorite "fancy dish" growing up! When I hit my teen years, my Dad would take me to Red Lobster for my birthday. I loved it so much – and it was such a treat (we were poor). Now as a grown up – it's like every time I make it – it's my birthday again!
Red Lobster Crab Alfredo Recipe Ingredients
You likely have everything you need – except the crab – already in your house! Here's what you'll need for this delicious alfredo recipe:
linguine – I love linguine but you can use any noodle shape you want (fettucini, spaghetti, etc) – I would probably NOT use angel hair as it doesn't stand up to the alfredo sauce enough
butter
minced garlic – you can use fresh or jarred – I use the jarred for convenience
all purpose flour
half and half – you can also use heavy cream if you like – or mix heavy cream with regular milk
Parmesan cheese – please don't use the pre-grated stuff! Buy a wedge and grate fresh – it's sooo much better!
crab meat – more on this later! I've got all the breakdown and info on what crab you should and should NOT use!
What kind of crab do you use in crab alfredo?
You've got a few options when using crab in a recipe – let's discuss:
Crab legs

King Crab – King Crab legs are much larger and my choice every time. They taste so sweet – it's pure decadence! And – it's a lot less work for more meat. They're more expensive but I feel like it's completely worth it. Sometimes of the larger Kroger stores carry King Crab but other times I have to go to a seafood market or a larger store to get them. You can also get it online from Alaskan Seafood sites.
Snow Crab – Snow Crab are the skinny legs you'll often see on buffets. Snow crab meat is not quite as sweet but there is much less meat in each leg and it's a workout to crack them all!

Crab meat

Lump crab – You'll find lump crab meatin cans or refrigerated tubs in the grocery store – here's what to look for:

Canned – don't buy it. Just don't. Please. It's super finely shredded and has no flavor.
Refrigerated Tubs – most of these containers are see-thru – look for crab that has larger chunks – not just shreds. I often get this for recipes as it's quick to just open and use. It isn't cheap – but that's because it's real crab and tasty! They usually cost in the $10-$15 per tub range.

Imitation crab – I love imitation crab – but not for this. I use it in pasta salad and in my copycat Chinese buffet crab casserole (that's my favorite dish at every buffet!)
For this recipe – I would definitely recommend either King Crab or the refrigerated tubs of crab meat.
How do you prepare Crab Legs?
Little known fact – All the crab legs you buy are pre-cooked – they cook them on the boat when they're caught!
So you're just really reheating the meat – which is simple but you don't want to over cook it!
There are two ways to heat your crab legs:
Stove Top – You want to steam – not boil crab legs. You can heat up a big pot of water and put a steamer basket inside and then lay the legs on top and out of the water. Put the lid on and steam for 3-4 minutes.
Microwave – Wrap the legs in wet paper towels and microwave for 3 minutes.
Once your crab legs are reheated, you can crack and pull the meat out.
Tips for Cracking Crab Legs
I've become somewhat of a crab cracking expert over the years! Here are a few tips:
Get a crab cracker tool – it just makes life easier – the one tool is like scissors for the legs and the other cracks them.
Use the cracking tool on the middle of the leg or on the joints
If you crack on the joint and open it up – sometimes you can pull it apart and the meat will come out attached. It's so exciting when you get a good crack!
If you crack it and still aren't getting the leg open – use the scissor tool (or scissors) to slice open the leg so you can pull it open. A fork works as well! I put one tine in the crack and then pull up to open the leg more.
When I'm making crab, I like to just crack it all at once and put the crab meat in a bowl. You can get into a rhythm with the cracking and it's just nice to get it all done and then enjoy!!
How to make Crab Alfredo like Red Lobster?
This dish is easy to make – you'll be shocked by how easy alfredo and crab are to make!
Cook linguine according to package directions – I prefer my pasta a little al dente
While pasta cooks, if using crab legs, steam & reheat your crab legs either in the microwave or on the stoveIf using microwave – wrap frozen crab legs in a damp paper towel and heat for 3 minutes
If using stove stop – place large pot on stove with a steamer basket. Place legs on top of steamer basket and steam for 3-5 minutes
If using lump crab meat – you can skip this step – no need to reheat.
Once legs are done – set on towel until cool to touch
This is a great time to drain the pasta as well
Crack crab legs and pull out crab meat. Break meat apart into bite size pieces.
In a skillet or large saucepan melt butter over medium heat.
Lower heat to low
Add garlic and stir for 1 min.
Stir in flour and cook for 1-2 minutes until it looks sandy.
Pour in the half and half into pan and whisk until a thick sauce forms.
Stir in the cheese and salt.
Simmer a few minutes to blend the flavors.
Remove from heat and add cooked linguine to sauce mixture and stir
Divide linguine alfredo into pasta bowls and place the crab meat on top of the alfredo sauce

If using lump crab meat – add it in with the pasta so it heats just a bit

Sprinkle with additional parmesan cheese and garnish with fresh parsley

If you want a little zing – sprinkle cayenne pepper on top at the end!
How many servings does this recipe make?
This recipe is designed for two servings. If you have more people – you can double the recipe for the pasta and alfredo sauce. I like a lot of crab meat – but one pound of legs (or one tub of refrigerated crab meat) should serve 2-4 people.
How much is crab alfredo at Red Lobster?
Prices vary at Red Lobster restaurants based on location – but here in the Cincinnati area it's $20.99 for the full dinner size portion and $18.99 for the lunch portion.
How do you reheat Red Lobster crab alfredo?
Reheating this dish isn't too hard – stick to simplicity and reheat in the microwave for just 2 minutes. If you want an alternative you can put it in a small saucepan – you can add a touch of heavy cream if it seems a bit dry.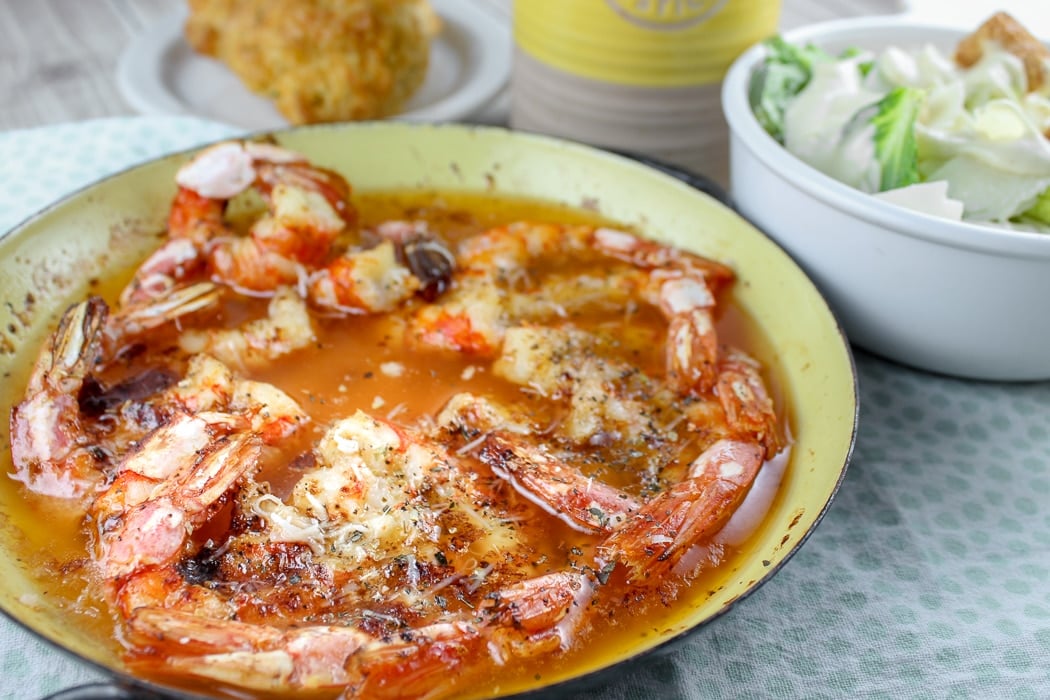 More Red Lobster Copycat Recipes
Other Copycat Alfredo Recipes
More Recipes with Sweet Delicious Crab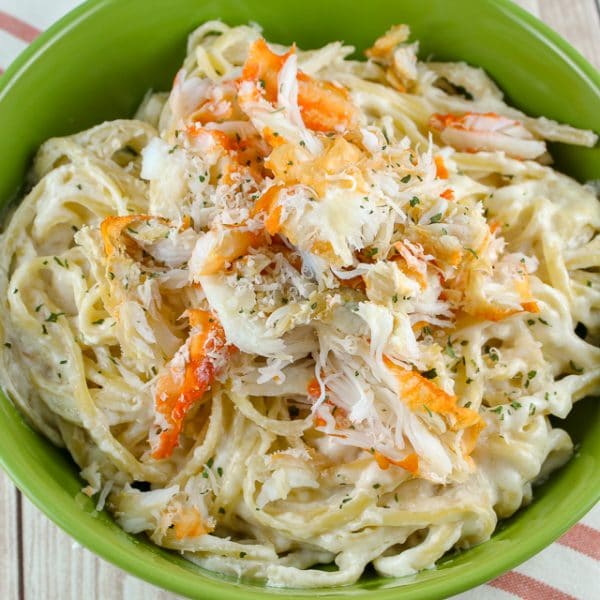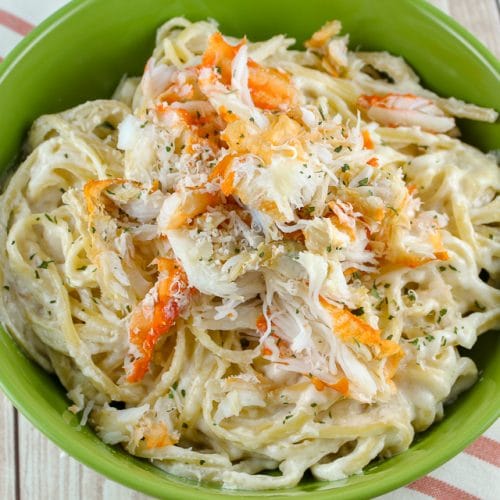 Copycat Red Lobster Crab Alfredo
Red Lobster's Crab Alfredo is just my absolute favorite! I order it every time I go! But it's actually super simple to make at home – so now I can have it whenever I want…Yum!!!! (Crab legs are soooo easy to cook too!)
Instructions
Cook linguine according to package directions – I prefer my pasta a little al dente

While pasta cooks, if using crab legs, steam & reheat your crab legs either in the microwave or on the stove

If using microwave – wrap frozen crab legs in damp paper towels and heat for 3 minutes

If using stove stop – place pot on stove with a steamer basket. Place legs on top of steamer basket and steam for 3-5 minutes

If using lump crab meat – you can skip this step – no need to reheat.

Once legs are done – set on towel until cool to touch

Crack crab legs and pull out crab meat. Break meat apart into bite size pieces.

In a skillet on medium high, melt butter.

Add garlic and stir for 1 min.

Stir in flour and cook for 1-2 minutes until it looks sandy.

Whisk in the half and half and stir until the mixture forms a thick sauce.

Stir in the cheese and salt.

1/4 cup grated Parmesan cheese,

1 tsp salt

Simmer a few minutes to blend the flavors.

Remove from heat and add cooked linguine to sauce mixture and stir

Plate linguine alfredo and top with crab meat

If using lump crab meat – add it in with the pasta so it heats just a bit

Sprinkle with grated parmesan and parsley
Nutrition
Calories:
676
kcal
Carbohydrates:
48.2
g
Protein:
29
g
Fat:
40.8
g
Saturated Fat:
24.5
g
Cholesterol:
189
mg
Sodium:
1945
mg
Potassium:
366
mg
Fiber:
0.3
g
Sugar:
0.4
g
Calcium:
662
mg
Iron:
3
mg