This Copycat Red Lobster Crab Alfredo was my absolute favorite "fancy dish" growing up! When I hit my teen years, my Dad would take me to Red Lobster for my birthday. I loved it so much – and it was such a treat (we were super poor). Now as a grown up – I do still love it.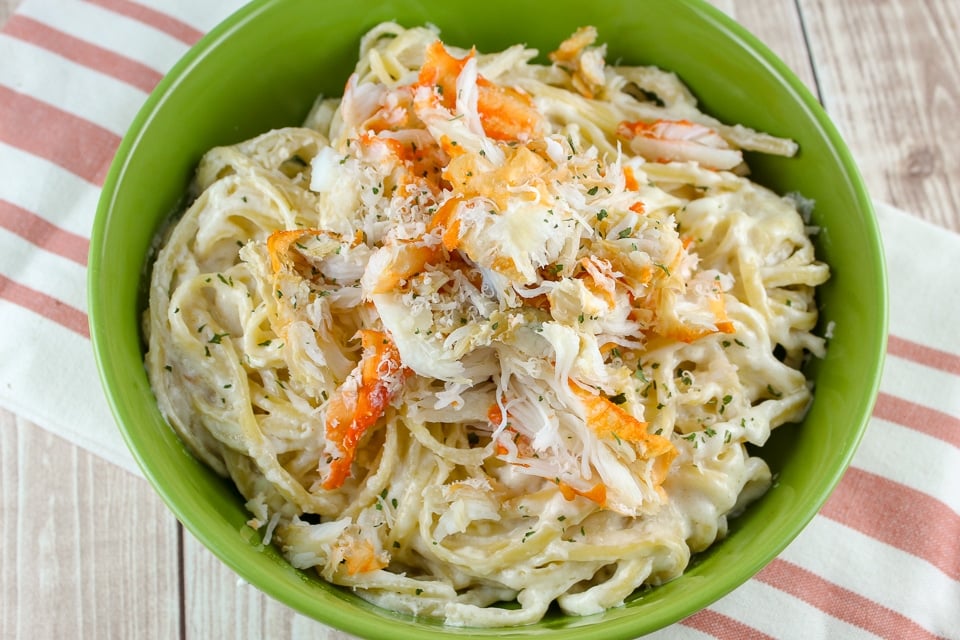 Now – I make it at home all the time! You're sort of making three things at once – but they're all quick and easy – so it's just a little timing magic and you're good! This is the best crab pasta recipe you'll find!
How to make Crab Alfredo like Red Lobster?
So you've got three major components: pasta, crab, Alfredo (duh). I get the pasta done first – that can sit for a few minutes and heat up when you mix it with the sauce.
How to make Crab Legs
You can either use crab legs and heat them up or buy pre-"shucked" crab. If you're going to get crab legs – I always choose king crab – so much more meat! All crab legs you buy are pre-cooked – they cook them on the boat when they're caught! You can either steam it on the stove or even in the microwave. More on that if you scroll.
Then when your pasta and crab are ready – make your alfredo sauce. It only takes a few minutes and I recommend using low heat!
What kind of crab do you use in crab alfredo?
There are three kinds of crab meat: King Crab, Snow Crab, Imitation Crab. I love imitation crab in a cold pasta salad but not in a heated dish! Snow crab tastes good but the legs are super skinny and it's too much work for the amount of crab you get. King Crab is where it's at! The legs are big and full of meat!
How do you prepare King Crab?
It's actually simple! You can heat up a big pot of water and put a steamer basket inside and then lay the legs on top and out of the water. Put the lid on and steam for 3-4 minutes. Or set them on a plate and cover them with a wet paper towel. Microwave for 3 minutes. Done!
You'll love this creamy Crab Alfredo as much as I do! I used lots of crab meat because – why not?! It's delicious! I hope you enjoy it as much as I do!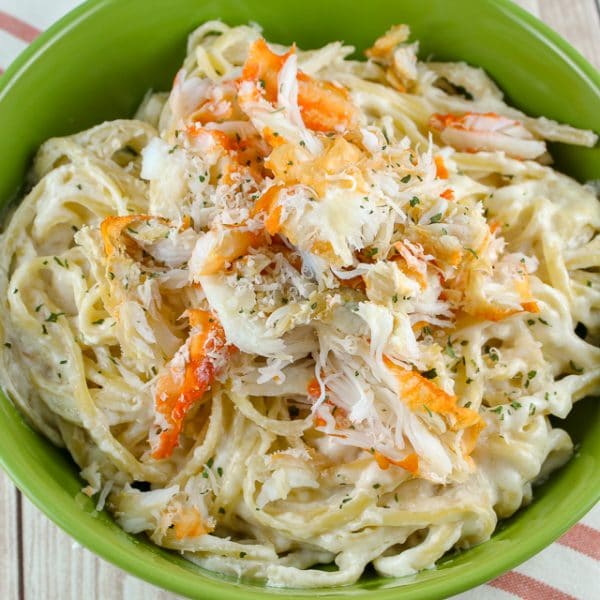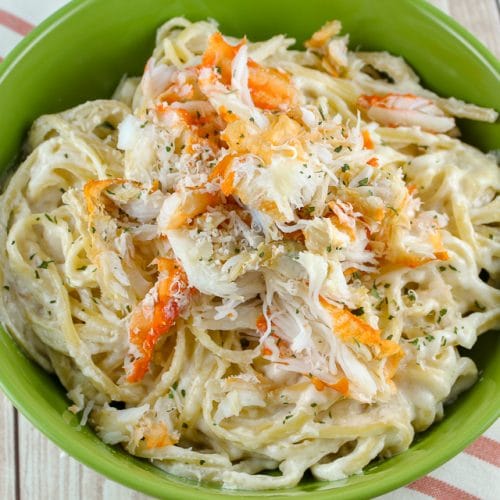 Copycat Red Lobster Crab Alfredo
Red Lobster's Crab Alfredo is just my absolute favorite! I order it every time I go! But it's actually super simple to make at home – so now I can have it whenever I want…Yum!!!! (Crab legs are soooo easy to cook too!)
Instructions
Cook linguine according to package directions

While pasta cooks, wrap frozen crab legs in damp paper towels

Microwave crab legs for 3-4 minutes

Remove from microwave and let cool to touch

Crack crab legs and pull out crab meat. Break apart into bite size pieces.

Melt butter in sauce pan.

Add garlic and stir for 1 min.

Stir in flour and cook for 1-2 minutes until it looks sandy.

Whisk in the half and half and stir until the mixture forms a thick sauce.

Stir in the cheese and salt.

Simmer a few minutes to blend the flavors.

Remove from heat and add cooked linguine to sauce mixture and stir

Plate linguine alfredo and top with crab meat

Sprinkle with grated parmesan and parsley
Nutrition
Calories:
676
kcal
Carbohydrates:
48.2
g
Protein:
29
g
Fat:
40.8
g
Saturated Fat:
24.5
g
Cholesterol:
189
mg
Sodium:
1945
mg
Potassium:
366
mg
Fiber:
0.3
g
Sugar:
0.4
g
Calcium:
662
mg
Iron:
3
mg