Red Lobster's Shrimp Scampi has always been one of my favorite dishes! I was shocked at how easy it was to make it at home! This copycat version is SPOT ON!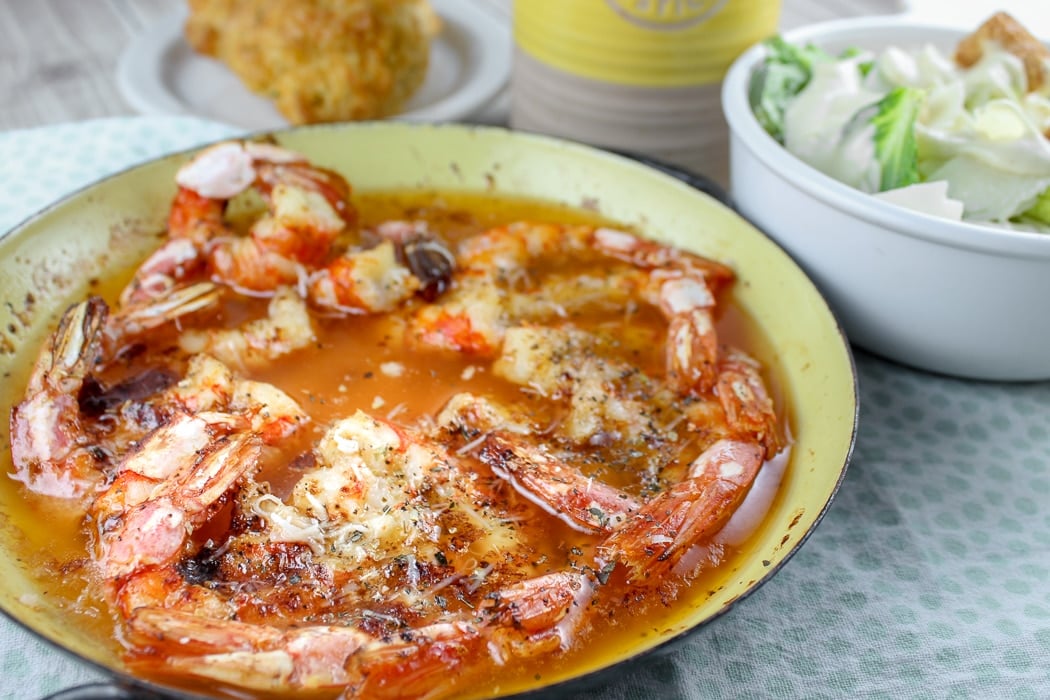 I ordered Red Lobster Shrimp Scampi on Door Dash and then made my own version the next day to be sure I had my copycat recipe just right. This recipe is made in the oven – just like Red Lobster – and it's keto friendly!!!
How to make Red Lobster Shrimp Scampi?
You know it's going to be good when there are Cheddar Bay Biscuits and a Caesar Salad in the background!


This copycat recipe is SO EASY!!! First – you melt a stick of butter, a little EVOO and garlic in a baking dish (oven on broil). Then you add the shrimp! Roll it around in the garlic butter- and back under the broiler – THAT'S IT!!


I would recommend a small (8″) round baking dish with low sides – think along the lines of a pie plate or round baker. This allows you to make a pretty design with the shrimp in a circle and gets the food close to the heat in the broiler!





The garlic shrimp scampi at Red Lobster is made with medium raw shrimp – but I like to use the extra large shrimp when I'm making it at home! I mean – why mess around here?


Here's a tip for buying shrimp! I always get RAW shrimp that is peeled and deveined. Now tails on or off is a personal preference. In a dish like shrimp scampi – I like tails ON – because it gives you a handle for picking up the shrimp out of the butter sauce. Now when I'm using shrimp in a pasta dish – I always cook tails OFF because I don't want to stick my fingers in my food.





I took a peek at some other "copycat" recipes out there and some of them had wine and lemon in them. There's no mention of wine in the Red Lobster menu and there's definitely not even a hint of lemon in the dish. So this Red Lobster shrimp scampi recipe is made without wine or lemon. You can definitely squeeze a lemon on top after it comes out of the broiler though!



Other delicious copycat recipes:
Copycat Red Lobster Shrimp Scampi
prep time: 10 M
cook time: 5 M
total time: 15 M
Red Lobster's Shrimp Scampi has always been one of my favorite dishes and I can't believe HOW EASY it is to make at home!!!! This copycat version is spot on – and so simple!
ingredients:
1 pound large shrimp, peeled and deveined, tails on
Kosher salt and freshly ground black pepper, to taste
2 tablespoon olive oil
1 sticks salted butter, at room temperature (1/2 cup)
2 tsp cloves garlic, minced – or 2 Tbsp jarred minced garlic
1/4 teaspoon dried basil
1/4 teaspoon dried oregano
Shredded Parmesan or Romano cheese
instructions:
How to cook Copycat Red Lobster Shrimp Scampi
Pat dry raw shrimp with tails on with a paper towel
Season shrimp with salt and pepper, to taste.
Heat oven to broil
In an oven-safe baking dish – place olive oil, butter and garlic in the skillet/crocks
I recommend an 8 inch round ceramic dish
Place baking dish in broiler and heat until butter melts (low – 5-6 min, high 3-4)
Once butter is melted, remove the baking dish from the oven.
Hold the shrimp by the tails and roll it around in the garlic butter and place in the baking dish.
Place the dish back in the oven for 4 minutes on high broil.
Remove promptly from the oven and sprinkle with basil, oregano and shredded cheese.
Serve as an appetizer, on top of angel hair pasta or with crusty bread and enjoy!
Recommended Products:
Minced Garlic
Baking Dish
Red Lobster Cheddar Bay Biscuits
Did you make this recipe?
Tag
@foodhussy
on instagram and hashtag it #foodhussyrecipe