One thing a lot of folks love at Olive Garden is their Shrimp Scampi. It's such a classic dish and it's buttery and garlicky! It's such a delicious and light dinner – you'll love it!!!!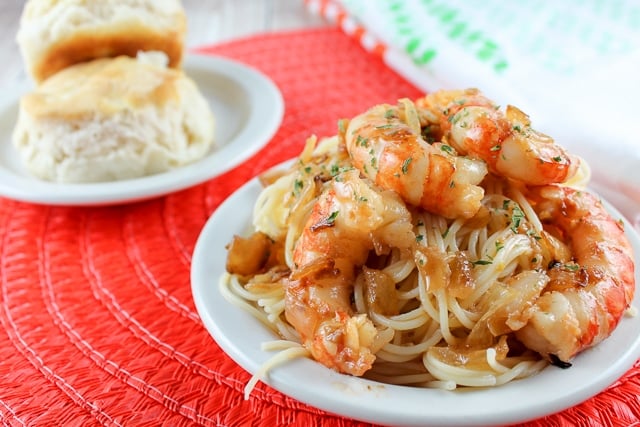 I have always had a deep love for the Olive Garden. If you didn't know (haha) I'm originally from Iowa and spent a lot of time in Iowa City and Cedar Rapids and have to say – Olive Garden was a big friggin deal! It was one of the places me and my bestie would go at least twice a month!!! (And Carlos O'Kelly's!)
How to make Olive Garden Shrimp Scampi recipe
This dish is a breeze to make! It goes together so quickly – you start the pasta water and as it's starting to boil – get started by sauteeing onion and garlic – then you add the butter and wine – reduce – add shrimp and you're done! Since you're using angel hair pasta – it only takes 4-5 minutes to boil.
For the shrimp scampi recipe, I used these giant shrimp and mistakenly had bought the kind I had to peel – oye vay – never doing that again! My tip is be sure to buy the RAW peeled and deveined shrimp – they cook up in just 2 minutes – and are so much better than the pre-cooked!
What to serve with Olive Garden Shrimp Scampi?
How to make Shrimp Scampi without wine?
You can easily swap out chicken broth for the wine. I'm not a drinker so I bought one of those mini-bottles of wine to use just for this. Or if you're wondering which wine you should use? Just go for a cheap white wine – chardonnay is great!
Can you freeze Olive Garden Shrimp Scampi?
I wouldn't. Shrimp is such a quick cooking seafood – and the whole dish comes together quickly – you're going to be much better off not freezing it and having it fresh. What about reheating shrimp scampi? It's ok – but the sauce might separate a little and be very buttery – still good as long as you like butter! haha
Yield: 4
Copycat Olive Garden Shrimp Scampi
Olive Garden is the OG of Italian food and I love it. One of my favorite dishes that sporadically makes an appearance and is a staple is Shrimp Scampi! A delightfully light dish served over angel hair pasta – you'll love it!
prep time: 15 mins
cook time: 8 mins
total time: 23 mins
ingredients
1 1/2 lb medium fresh shrimp, shelled
2 Tbsp olive oil
1 medium onion, diced
1/2 cup white wine
3 cloves garlic, crushed (I used 5 cloves – I love garlic!)
3 Tbsp parsley, finely chopped
1 pinch crushed red pepper
4 oz butter
1/2 lb angel hair pasta, cooked according to package directions
Salt and pepper to taste
instructions
HEAT oil in a saute pan. Add onion and sauté for 2 minutes. Add garlic and sauté for 1 minute; do not brown. Add butter, wine, red pepper, salt and pepper and reduce by half.
ADD shrimp and cook 1-2 minutes until fully cooked.
TRANSFER pasta to plate and top with shrimp mixture.