Tater Tot Casserole is one of my favorite recipes – it's comfort food and so delicious – right?! But guess what else? It's high calorie and not very healthy! Well guess what?! I found a way to make a tater tot casserole that is healthy!!!! Woohoo!!!!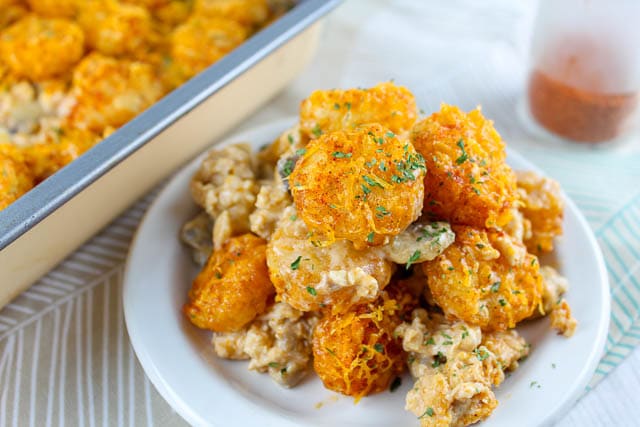 Now yes – I know – they're not tater tots – they're actually Crispy Crowns – but I used them because my secret ingredient in this casserole is my (now famous) Taco Johns Potato Ole Seasoning Mix! This seasoning mix is served on Crispy Crowns and is one of the most popular recipes on my site! I wanted to find more ways to use it and this was the perfect recipe for it!


This recipe makeover is a stunner! You will not believe the difference – and I think it tastes even better than the original.
So the recipe makeover?! Yes! I started out by using ground chicken instead of ground beef – in a casserole – especially with seasoning – you can't tell the difference. Then I used a low fat cream of mushroom soup to help take out some of the unnecessary calories. The last major changes were less tots/crowns and less cheese. With this version – you still get crispy potato in every bite without using an entire bag – and you still get the cheesy flavor – but it's just much lighter!


I know how popular Weight Watchers is – so I used the freestyle points calculator on both recipes and you will not believe the difference! The original recipe is 21 points per serving!!! (To set the stage – you might get 24 points for a whole day!) My Skinny version has FOUR POINTS PER SERVING!!



The other change I made is that Taco John's Potato Ole Seasoning Mix! I doubled down on it by mixing it into the ground chicken when I browned it and put it on top before I baked it. This seasoning mix does have a kick to it – so if you're not a fan of spicy – then just add a little less in each place.
You will love this new Skinny version and your family will never know the difference! It's such simple changes that we made and now it's something you can truly enjoy without feeling like you're overindulging! Go for it!
Yield: 4
Skinny Mexican Tater Tot Casserole
I love a Tater Tot Casserole but I'm also trying to lose weight! This is a recipe makeover taking Tater Tot Casserole from 21 Weight Watchers points to FOUR! (pts per serving) It's also zingy from my favorite seasoning recipe! You'll love it!
prep time: 15 mins
cook time: 30 mins
total time: 45 mins
ingredients
2 tbsp olive oil
1 lb ground chicken
8 oz mushrooms
1 Tbsp taco johns seasoning mix
1 can light cream of mushroom soup
1 cup cripsy crowns (or tater tots)
1/4 cup finely shredded cheddar cheese
instructions
preheat oven to 350
heat oil in skillet – or if you're using nonstick – you can skip the oil
brown chicken and mushrooms until cooked through
add taco johns seasoning and stir
add cream of mushroom soup and stir
put in 8×8 baking dish
top with crispy crowns
if you like it spicy – sprinkle top with additional taco johns seasoning mix
bake for 30 minutes
remove and add cheese (no need to put back in oven – it's such a small amount it melts quick)